Private Pier — Fishing License Required
Why do you so often remember the fish you lost? One of the largest bat rays I ever hooked, and lost, was on this small pier. I had arrived early one morning and as usual was using two rods. One was a small rod that I was using to jig for jacksmelt and herring. The other was a slightly heavier spinning pole rigged with 15-pound test line which had a high/low leader baited for perch. The heavier outfit was cast out and the drag set very loose in case a large fish struck the offering. And one did!
About twenty minutes after starting, a fish hit the bait on the heavier rod and headed west toward the Pacific. The rod was bent and line was streaming off the reel when I got to it. I grabbed the rod, adjusted the drag, and the scrimmage began. Soon the fish stopped and we started a little game. I would pull in a few yards and then the fish would simply pull out what I had retrieved. This went on a few times but slowly I began to gain ground. I was a little worried since it was fairly light line but line and tackle were in good condition.
After ten minutes, I had the fish approaching the pier and it surfaced, a large bat ray, which I estimated at 80-100 pounds in weight (although guesstimates tend to be on the high side). Since I had my treble hook gaff with me, I felt I had a good chance if I could keep the ray out of the piling. However, telepathy must have been at work because the fish headed around the end piling and toward the shore. Immediately I had visions of a similar fish I had once lost at the San Antonio Pier. But this ray seemed to stop and just sit on the bottom. I couldn't budge it but at least it wasn't taking out line.
I decided to take a chance and took off almost all the drag and waited a few moments. Sure enough, the ray began to take line, reversed its course, and headed back out into deep water. But after five more minutes, and a little give and take, I had the fish up to the wharf. It still wasn't going to be easy but I had a chance.
I was alone and had to hold the rod with one hand while dropping the treble hook gaff line with the other. My first drop nearly snagged the beast but just missed. Then, just as I was getting ready to make a second drop, the fish jerked the line and it was the piscatorial equivalent of Pearl Harbor—a disaster. Goodbye to Mr. Mud Marlin! I had loosened the drag but the line still parted; it had evidently become frayed when the bat ray went around the piling.
It had been a great fight but in some ways I didn't mind losing the fight. I have reached the point where I return most of these rays to the water anyway; they are an interesting species and one of the best fighters you will encounter when fishing inshore waters. Why not let them live to fight again?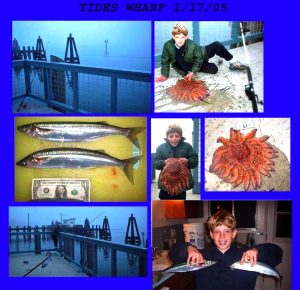 Minnow Magnet visits the wharf
Environment. The wharf fronts the bay and presents a similar environment and fish to that at the Lucas Wharf with one exception. Although water is fairly shallow, just deep enough for the smaller commercial boats to unload their catch, it seems a little deeper than that at the Lucas Wharf. The bottom is primarily bay mud (again with some eel grass) and the old pilings act as fish attractants. During the summer there is often heavy vegetation around these pilings which attracts even more fish but which can also tangle your line if you're not careful.
Anglers are presented two areas to fish. The first is on a small float situated directly in front of the restaurant. Many like this spot but it can interfere with those who wish to land their boats next to the float. The second area is on the pier off to the left of the landing area, directly across a small patch of water. That is where I usually fish. It is more out of the way and also seems a better fishing spot. The one problem with it is that some pilings are latched together and extend quite a ways up into the air, thus making it hard to land a big fish as mentioned above.
Fish. The primary species here are jacksmelt, a few flatfish, bat rays and sharks, and a number of different perch. The main perch caught are blackperch, pileperch, white seaperch, rubberlip seaperch, striped seaperch, a few rainbow seaperch, walleye surfperch, silver surfperch and, most numerous, shinerperch. The main flatfish are starry flounder, sand sole, and a few halibut. Bat rays (simply called sting rays by most) and sharks are common, especially at night.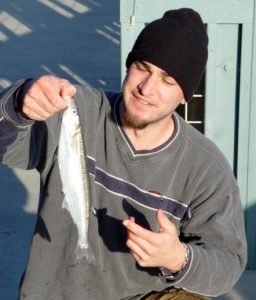 Jacksmelt — Ethan

Fishing Tips. Recommendations would be the same as Lucas Wharf. Try multi-hook bait riggings (i.e., Sabikis or Lucky Luras) for jacksmelt and occasionally Pacific herring or Pacific sardine. Try high/low leaders, size 6 or 4 hooks, on the bottom, baited with shrimp, mussel, pile worms or ghost shrimp, for the larger perch. Fish during the winter and spring (up to about the end of April) and around the pilings for the larger perch. Fish during the winter or early spring on the bottom for starry flounder; use a fish finder-type leader and use pile worms, ghost shrimp, clams or anchovy for bait.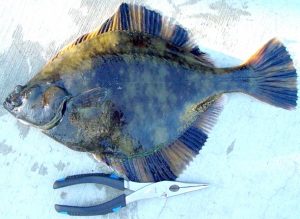 Starry Flounder
During the summer, fish mid-depth for smaller perch and just below the surface of the water for large jacksmelt. Most of the year, particularly summer and fall months, will also see sharks and rays landed, especially bat rays. However, since there are no lights at night, anglers might want to move down to the Lucas Wharf.
Spring through fall will see thousands (maybe millions or trillions for all I know) of small shinerperch down around the pilings. They can be a lot of fun for small kids and also can offer some live bait for halibut, sharks, rays, and perhaps even a stray striped bass. Little skill is needed for the shiners; simply drop a couple of size 8 hooks baited with small pieces of pile worms down to the bottom and you soon should be rewared with a fish.
Crustaceans. Some people are funny and prefer to crab rather than fish; to each his own but that of course also leaves more fish for me (unless they are throwing their crab nets out by my fishing line). Three types of crab are found here — red (rock) crabs, rock crabs,  and Dungeness crabs but it's the first two, especially the red crabs, that really shine. Luckily the first two can also be caught year round.  Dungeness have a limited, roughly eight month season (typically early November to June or July (check the regulations for changing dates).
<*}}}}}}}}}>< — A note from Rock Hopper

Date: May 24, 2004; To: Pier Fishing In California Message Board; From: Rock Hopper; Subject: Tides Wharf – Bodega Bay – 5-20, 5-21, 5-22 (long)
5-20 — Hit up Tides Wharf solo on Thursday evening after work, mainly to just practice throwing my 5′ cast net. Got there at about 5:00PM and threw both mine and Monte's cast net for nada. Fished a Sabiki for awhile and got a bunch of small hits, but nothing stuck. Also fished squid on a sliding sinker while switching between the Sabiki and cast nets. At about 8:00PM, just as the tide turned and the sun went down, I was talking to a guy about the Tides Wharf. I was telling him how this spot was cool because the bar is right there, but how we rarely catch anything here.
Just as I'm saying that my Baitrunner starts screaming and I hook into a big ray that immediately heads to the left and snaps me off in the pilings of the boat dock. I re-rig, cast out, and about five minutes later my drag is screaming again. This time I land a small (~12lb) ray. Re-bait, cast out again, and not more than five minutes later I get tagged by what felt like a small shark, but it swims right toward me and wraps around the pilings. Now it's about 9:00PM. Bait up, cast out, BAM! – ~4.75′ leopard. After that, from 9:00 – 11:00PM every cast is picked up by a leopard shark. I landed seven from 3′ to just under 5′. One of my best nights fishing ever, and I left while the fish were still biting. Since I was solo I didn't bring my digi. ; – (I fished only one pole due to fear of double hook-ups!
5-21 — Took the day off and headed down to Great America with my GF and her kids. The park was closed to the public which meant I actually had fun. Got back and picked up my buddy Ethan and shot back out to the Tides. In all my haste I grabbed my camera bag and left the camera sitting on my computer desk. Ouch! Got out and fishing at about 9:30PM. First hit came minutes after casting and I landed a 3.5′ leopard. Next up was Ethan with a 4′ leopard, then I landed two bat rays at about 15lbs, and 20lbs, then Ethan landed a monster ray that was probably close to 60 or 70lbs, very fat. This was his first BIG ray and, once he got the hang of it, he played it nicely. It even had him rubbing against the far left pilings, but he got it out and landed it. We both fished squid on sliding sinkers, one pole each. The large ray was landed on 20lb Momoi line. We left at 11:30PM.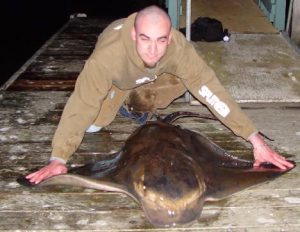 Bat ray — Ethan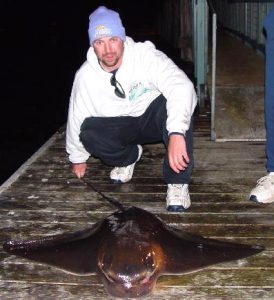 Bat Ray — Rock Hopper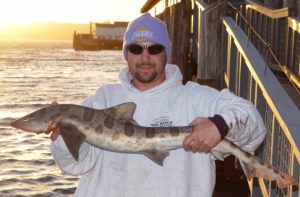 Leopard shark — Rock Hopper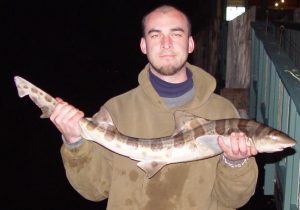 Leopard Shark — Ethan

5-22 — Went back out on Saturday, this time with Newgen. Fished from about 7:30PM 'til 11:45PM. A lot slower this night, but still good fishing for this spot. I drew first blood with a small bat ray. Next up was Newgen with the little leopard shrk pictured above, then I landed a decent ray in the 20 -30lb range. Bent up my hook pretty good so I switched to a new leader I had made earlier, which is basically a sturgeon leader – two 5/0 barbless circle hooks separated by two beads. I hooked into a BIG leopard shark, fought it for a good two minutes, then POP! Hooks came unbuttoned. Cast out again and get nailed fairly quickly. This time it's a bat ray and it's ripping line, then POP! Hooks came unbuttoned again! Those hooks are tricky. I never "set" the hook on either fish, they just popped out. Anyway, switched back to a trusty 7/0 Owner and cast out. We saw some smelt in the water, so I started throwing my cast net. During mid-cast of the net my pole goes off and line is screaming. Nate grabs my pole and I let him battle the ray. He lands the small ray pictured in the next post…
Röc´K HòppéR – Proud supporter of UPSAC! Go LaKeRs!
<*}}}}}}}}}>< — An interesting article about perch at the wharf.
Perch action reaching peak
When the steelhead seasons gurgle to a close at the end of February, anglers should start to think seriously about fishing for the hordes of seaperch that move into the beach and bay areas of the north state all during the month of March, when this action peaks out.
This week I've gotten many reports of good to great perch fishing action in the local bays as well as along the north and south coastal sections. One of the best reports comes from the special Bodega Bay area where the premium of all perch, the rubberlips, are making a showing.
Al Ritteman at the Tides Wharf says that anglers are scoring at will on several species of perch and rubberlips, which began to arrive last week, are beginning their annual spring spawning runs. Al says that this action usually lasts at least until May and sometimes even keeps going until early summer.
The top bait currently being used is shrimp in one form or another. At Bodega Bay anglers also use the little soft shell crabs that can be harvested at low tides right below the dock where the best fishing takes place. They string the shrimp or crabs on a No. 2 hook and most fishermen working the pier use a standard two hook rig with the weight at the bottom.
—Jim Freeman, Outdoors dateline, Fremont Argus, February 23, 1970
<*}}}}}}}}}>< — This is a private wharf that is primarily used for commercial fishing operations; it doesn't have to allow anglers the right to fish. Stay out of the way, clean up after yourself, and do purchase bait or food at the wharf when possible. This should help to keep the wharfs open for other anglers.
History Note. Bodega Bay is named for Juan Francisco de la Bodega y Quadra, the Spanish explorer and captain of the schooner "Sonora" who entered the bay on October 3, 1775. His map called the bay Pto y Rio del Capitan Vodega that later became Puerto de la Bodega. Russians who used the bay in the early 1800s at first called it Romanzov and then, by the 1830s, Hafen Bodega oder Port Romanzov. It has been called Bodega Bay since 1850.