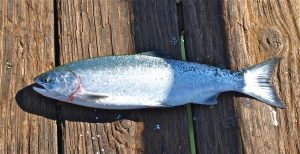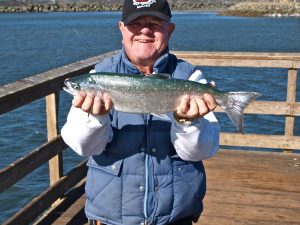 A highlight each year in the harbor is the arrival of Pacific herring. Anglers will flock to the Coast Guard Jetty, Citizens Dock and even the B Street Pier for the tasty fish. Although the jetty seems the "primo" spot in the harbor, and will be filled with people using Sabiki-type bait rigs or nets, both piers can also be productive.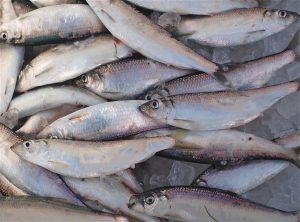 Pacific Herring
The advantage of the piers is, of course, the fact that no license is required. One day I was fishing for herring off the jetty when approached by a couple of anglers from Oregon. Was this a good spot? Yes. Did you need a license? Yes on the jetty but not on the public piers. They moved to Citizens Dock (which unfortunately wasn't as productive that year as the jetty).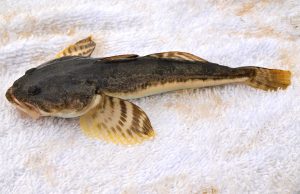 Staghorn Sculpin
One fish that is common, in fact far too common, is small staghorn sculpins. Sometimes the bottom seems to be covered with the "bullheads" and they'll grab baits seemingly tar too big for their mouths. They are too small to eat but can make decent live bait if fished slightly above the bottom. If allowed to rest on the bottom (when using a Carolina rig)  they will sometimes burrow into the  bottom mud which makes them a little hard to spot by the fish being sought.  But, it can be hard to keep them off your hook.
The herring generally run from January to February (but the runs can start earlier and end later) and the best times are usually during high tides so check the papers. Most people use bait rigs and dress with rain clothing since rain is to be expected that time of the year. People will fill their coolers with the fish, some to be eaten and some to be saved as bait during the salmon season.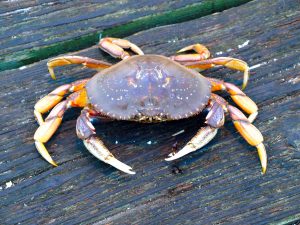 Be prepared to share space with the crabbers. As mentioned, this pier has proven to be a top-notch spot for crabs and at times this can be to the detriment of anglers actually fishing for fish. Crabs like to gobble up the bait while crabbers gobble up the railing space. One night I visited the pier for a little potpourri fishing and was startled to see crab pots tied every 7-10 feet around the entire end of the pier, in fact the outer 1/3 of the pier. There must have been at least 50-60 crab pots out there and if you wanted to fish a spot you had to do so amidst the pots and the ropes to the pots as well as the families that were crabbing and having a little social gathering. Every few minutes a pot would be pulled in and then tossed back out (generally as far as the person could throw it); it was a loud and disturbing racket which didn't help the fishing and I blamed my lack of success at least in part to the din of the crabbers. But, they were catching crabs and certainly had as much right to the pier as I did.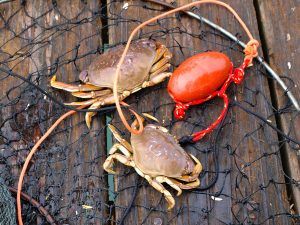 Dungeness Crabs
The Dungeness crab season is generally the first Saturday in November through July 30 and the ability to catch good numbers of crabs, combined with the no license requirement at the pier, means both locals and people from southern Oregon flock to this pier. The result can be the conditions mentioned above and I wonder if certain sections couldn't be reserved for the crabbers and others for fishermen, at least for those months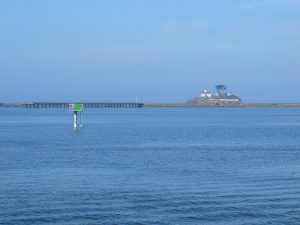 The "B Street Pier" and Battery Point Lighthouse as seen from across the bay at Citizens Dock
The Pier Rats Speak

Date: December 5, 2000; To: PFIC Message Board; From: pathcode; Subject: (In reply to: Citizen's Dock posted by Ken Jones)
Crabbed the B Street Pier in Crescent City Monday and Tuesday. Got two legal rocks, one red, and one Dungeness. First time I've crabbed in thirty some years. Tuesday (Nov 28) was real slow until about and hour before low tide. Then we were getting 12+ crabs to a ring, some nearly legal. Fished both days without a bite. Are those fat sea lions in the harbor doing a job on the fish inhabitants? Buying and reading 'Pier Fishing in California' renewed my interest in fishing and crabbing. Thanks Ken!!
Date: July 18, 2001To: PFIC Message Board; From: dennis glasi; Subject: Trip to Oregon/Crescent City
Got back last night. I hoped to get to Anacortes, Wash in the San Juan's but got tired of driving up I-5 so made a right turn to Winchester Bay, Oregon. Dug a batch of soft shell clams and steamed them for dinner. Drove down to Coos Bay the next day and dug some more soft shells. Made some good oil and garlic over linguini with lots of fresh clams. Excellent!!
Next day, I drove down the coast to Crescent City, CA for some fishing off the pier. The bay was loaded with anchovies as far as you could see in any direction. Billions of them. A million birds were feasting on them, seals were in all their glory and a huge grey whale was in the bay eating his share. What a sight. The bay was black with them. I didn't have a bait pole so I told a young Asian boy that was using a Sabiki rig that if he supplied me with live bait, I would give him 50% of my catch. He obliged and I sent a live 'chovie down on a sliding leader. I had a hook up of something in about one minute. It spit the hook and soon afterwards the wind started to howl at about 30 knots so I called it a day.
Date: June 8, 2003; To: PFIC Message Board; From: James Bond; Subject: the cursed docks
Went fishing on The Cursed Dock aka the B Street Pier in Crescent City trying for flounder or perch. No bites, nothing. Probably because of low tide. Lots of herring swimming around though; too bad I didn't have one of those baitfish rigs. Setup: Shimano Syncopate, 6-foot Ugly Stick, sliding setup, prawns and squid
Date: August 15, 2008; To: PFIC Message Board; From: Ken Jones; Subject: Trip to the North Coast
Tuesday 8/12—"B" St. Pier: I decided to head over to the "B" St. Pier that sits at the other end of Crescent Harbor; a pier that has always disappointed. Here the bottom is sand and mud and typically the choice is schooling fish on the top (jacksmelt, walleye surfperch, silver surfperch, Pacific herring, etc.) or a bottom fish—sole and flounder during the day, a possible skate or shark at night. The big rig was cast out for a bottom fish while the light rig was set up with a high low and pile worms for perch by the pilings. The perch were missing but some small kelp greenling were present by the pilings; unfortunately, so too were the juvenile black rockfish. As for the heavier rig? All it was attracting was crabs and they were doing quite a job on the baits—anchovies, cut mackerel, and finally squid. I did put a live shinerperch out for halibut but even that wound up being attacked by the crabs. I finally decided to call it quits. It seemed that small hooks yielded unwanted small fish (the black rockfish), large hooks yielded crabs.
"B" St. Pier: 7:35-9:05 PM
Fish Totals: 12 Black Rockfish (juvenile), 5 Kelp Greenling, 1 Shinerperch, 1 Staghorn Sculpin, 1 Very Large Rock Crab. All fish released.
Date: August 28, 2013; To: PFIC Message Board; From: Ken Jones; Subject: Trip to Crescent City
Day 4—Monday: Tired and a little hungry I finally decided on a break before heading out to the "B" Street Pier. However, by the time I reached the pier the wind was REALLY blowing as in it was almost hard to stand up straight. No one was on the pier and I hated NOT to fish a few more hours but it just seemed fruitless. A few more pictures and I called it a day.
Day 5—Tuesday: I was scheduled to meet up with a friend at Trinidad at 1 PM but wanted to fish "B" Street for a few hours, and Citizens Dock one more time. Thus I was out at the pier at sunrise and got what I feel were some nice pictures. No wind, little current, but few fish. This has always been one of my most disappointing piers. It's a beautiful pier, in a beautiful setting, but totally surrounded by a mud bottom. The big perch have never shown an affinity for the pilings, the flatfish are few and far between, and you're at the mercy of pelagics passing by the pier. It's almost always good for crabs but I wasn't crabbing. I've thought for years they should build an artificial reef by the pier and the feelings haven't changed. Other than a few juvenile yellowtail rockfish nothing really showed with the exception of a couple of king salmon smolt that had the audacity to hit my pile worms. Bullheads (staghorn sculpin) of course were present as they were throughout the trip (giving rise to the title—"Bullhead Trip"). It was an interesting visit however between the beautiful dawn and a lady who brought out her parrot to the pier. We had a nice talk and it added something different to an otherwise slow fishing trip.
Date: September 8, 2013; To: PFIC Message Board; From: FishInTheRain; Subject: Salmon at B Street
Salmon were hanging around under the end of B Street Pier in Crescent City this afternoon. They wouldn't take my bait; all I had was shrimp and Fishbites. No other fishermen were on the pier at the time.
Date: September 8, 2013; To: PFIC Message Board; From: Bigindaboat ; Subject: Salmon at B Street
 Wow, better outfit yourself with some pink Mad River steelhead worms and go get yourself some orange meat!
Date: September 8, 2013; To: PFIC Message Board; From: anchovy aaron; Subject: Salmon at B Street
Chartreuse spinners or spoon. When all else fails salmon will still eat chartreuse.
 Date: October 6, 2015; To: PFIC Message Board; From: Ken Jones; Subject: B Street Pier/Crescent City
I fished the "B" St. Pier in Crescent City Saturday morning for a couple of hours and was getting nothing on the bottom except bullheads and crabs when I spotted some anchovies. I caught a few with a Sabiki, put one on for live bait, and got a surprise, a 23-inch silver (Coho) salmon. I didn't expect that. I was going to fish the pier Friday night but the winds were ferocious, 30-40 miles per hour with gusts topping fifty. I walked out on the jetty to take a few pictures of the pier, lost my hat to the wind, could hardly stand up, and decided it would be futile to go fishing in that wind. The next morning it was still windy, which made it difficult to fish, but I decided I had to at least try it for a couple of hours. It proved to be a wise decision given the salmon. Of course being a silver salmon it was illegal and had to go back into the water.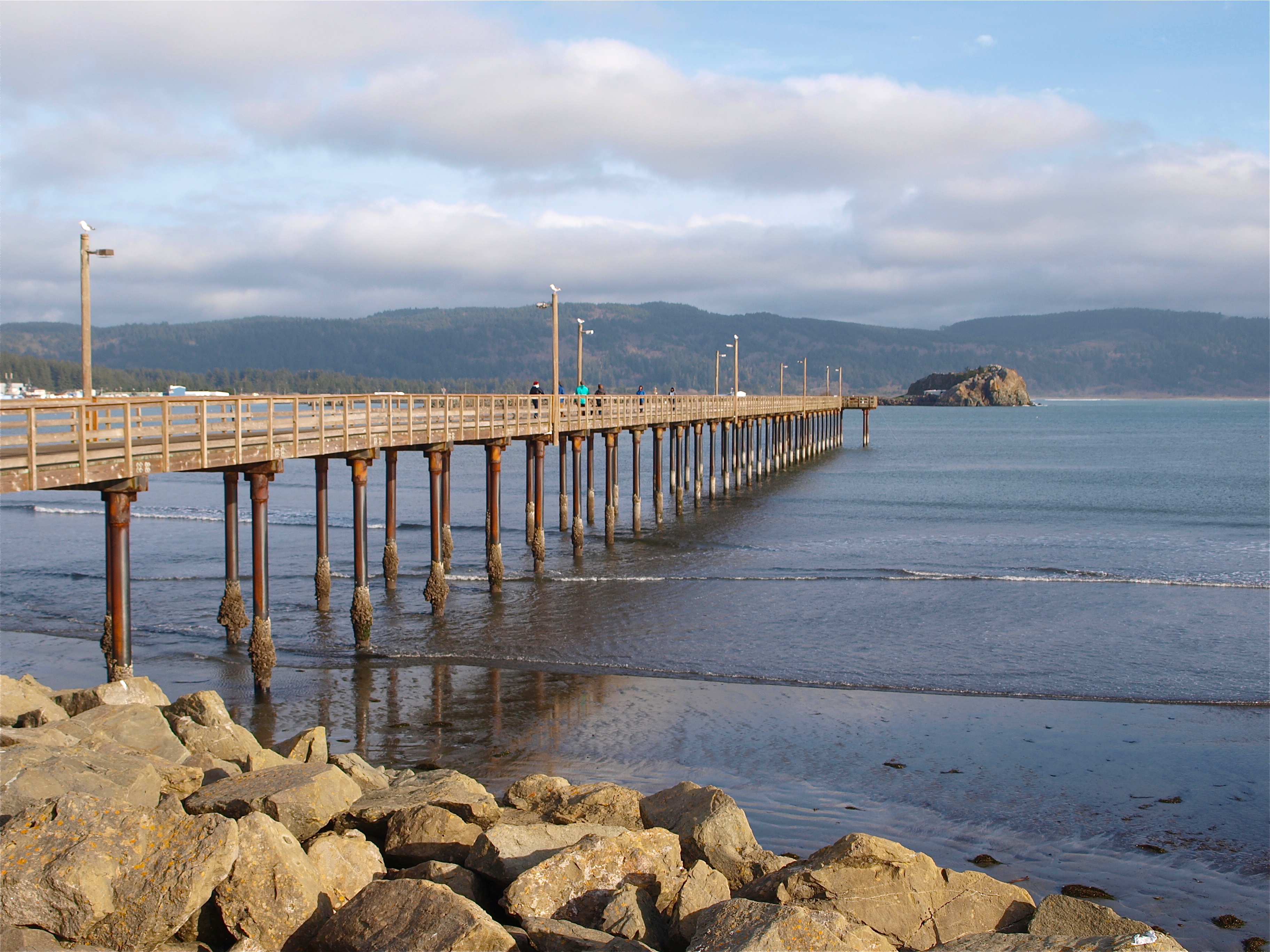 Pier Fishing In California Fish Reports
September 1997—William Van Dyke, of Popeye's Bait & Tackle at the foot of the pier, says there has been a good run of mackerel, Pacific herring and jacksmelt at the pier. Anglers are using bait rigs or very small hooks and beads to attract and hook the fish. Some of the mackerel are up to 3-feet in length which leads me to suspect they are jack mackerel (Spanish mackerel), although this El Nino year may see Pacific mackerel up in that area. Fishing for both halibut and perch has slowed.
December 1997—Linda, at Popeye's Bait & Tackle, says it has been windy, cold and rainy and few if any fish have been landed recently. However, in the first three hours of the new Dungeness crab season, eight people on the pier landed their limits, so it looks like another banner year for Dungeness crabs.
January 2000—Chris, at Englund Marine, says that he is getting reports of quite a few halibut being landed at the pier. Six fish, 15-20 inches long, were landed one day and another two fish broke the lines of the anglers. He says it is a possibility they are sand sole but all reports so far indicate they are California halibut even though it's a strange time of the year for them. Most action though is being done by the crabbers who are out in force. The weather has been pretty good for this time of the year.
 March 2001—Dave, at Englund Marine, says that anglers are beginning to pick up quite a few pogies/pumpkinseeds at the "B" Street Pier and at Citizens Dock. Unfortunately, I'm not too clear as to if they are pileperch, striped seaperch or redtail surfperch, but at least some type of perch are cooperating with the local anglers. He says anglers are also snagging some herring when the schools make their runs into the bay and that people are getting a few Dungeness crabs (although overall it has been a slow crab season).
 August 2001—Leonard, at Eugland Marine, says salmon action has been fantastic off the shoreline and that a few are also being landed from the piers and wharfs. He says there is bait everywhere—jacksmelt and Spanish mackerel. He says the salmon are being taken on 1/2 to 1 oz. Kastmasters, Little Cleos and Krocodiles.  
 September 2001—Leonard, at Eugland Marine, says visitors hitting the pier are getting a few fish—smelt, herring and flatfish. He says there's been a massive die off of fish in the harbor and the smell is somewhat overpowering.
 February 2002—Chris at Englund Marine, at the foot of Citizen's Dock says a couple of California halibut were landed recently along with some small sand sole. Crabbing has been poor. However, the runs of Pacific herring should start anytime.
September 2002—Chris, at Eugland Marine, says anglers are mainly getting some nice sand sole (which they mistake for halibut) and a few perch. Quite a few octopus are also being taken.
October 2004—The pier is seeing occasional flurries of jacksmelt along with the regular perch (walleyes, silvers and a few redtails). Some sand sole are also available. Most of the action continues to come from crabbers.
August 2006—Leonard, at Eungland Marine, reports that more people are crabbing than are fishing although a couple of good-sized leopard sharks were taken from the pier.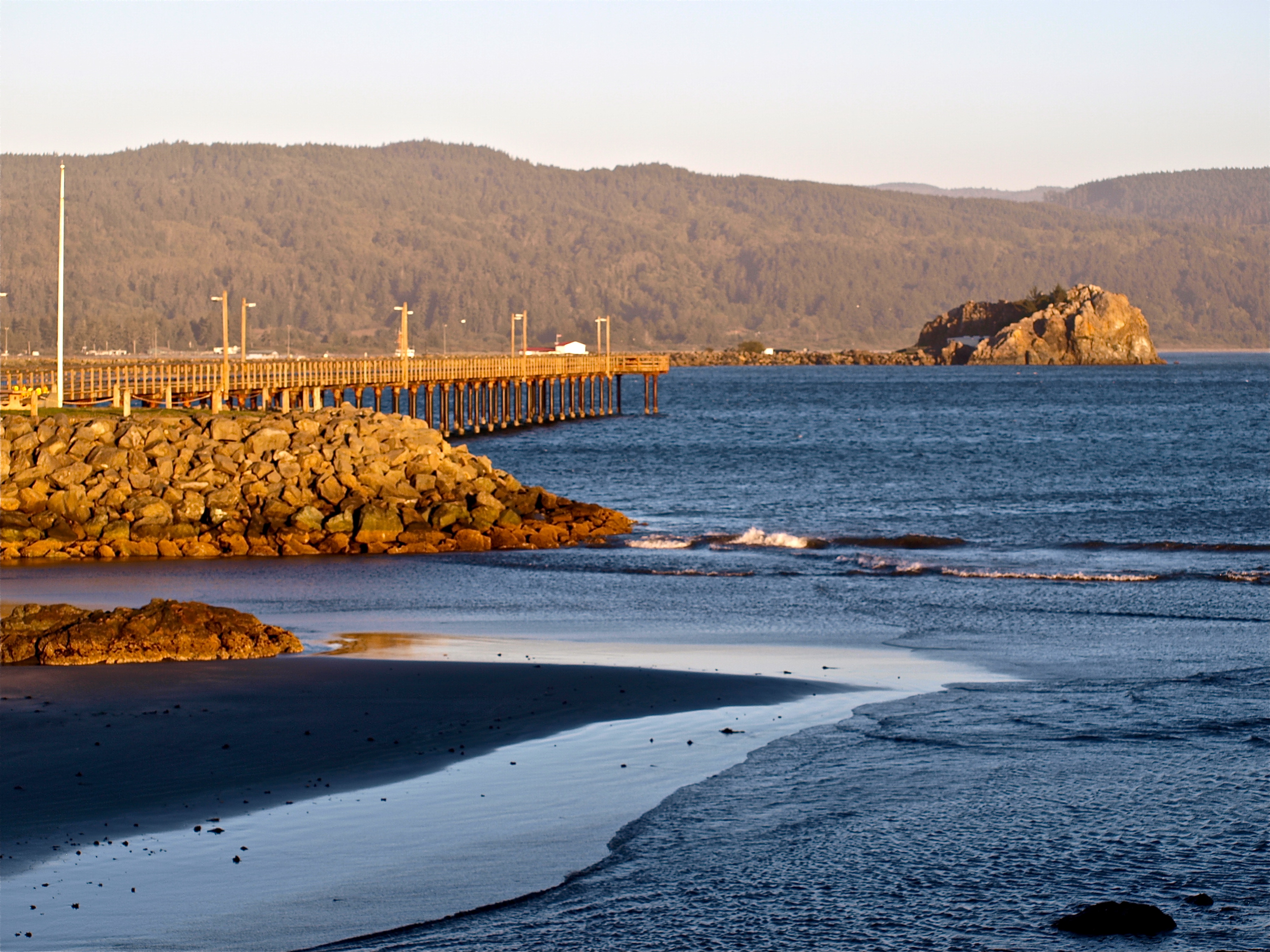 Potpourri — Perhaps More Than You Wanted To Know About The "B" Street Pier
<*}}}}}}}}}>< — For years there was a small bait and tackle shop (actually a trailer) near the front of the pier. And, for a period of time, I received fishing reports from the shop (see below). For whatever reason the shop is now gone but it sure would be nice if a shop were out there. Not only would it provide bait for anglers (which can be hard to find along the north coast) but if done correctly could provide some snacks and drinks for the tourists who seem to love to walk to the end of the pier.