I let Harold use my bait rod and he caught us bait in a matter of minutes. I offered to let him use of my aerator bucket in exchange. On my first fly-lined sardine, I managed a nice size bonito. After that I was landing the bonito like a pro. I definitely had the hot stick. I landed me double digits in just 3 hours of fishing. I could even see my bait being attacked and desperately trying to evade the little tunas. Harold and I managed a limit of bonito. He only caught one because he was too busy making bait. The bit shut off at around 10am and that is when I decided to call it quits.
Had a great time out there. I still would have enjoyed it even if I didn't catch anything. Met some nice people and got to pull on some fish. It was a beautiful day. Rod Used: Shimano Calcutta Conquest 400 w/ 12lb test and a 9′ Calcutta rod, Shimano Stella AR2000 w/ 6lb test and a 7'6 Fenwick rod.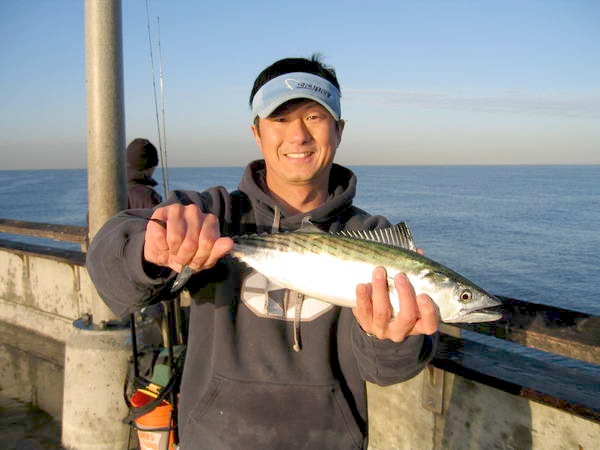 Bonito
Date: July 18, 2005; To: PFIC Message Board; From: grammar police; Subject: 7/17 Venice Pier
The Long: After a long night of booze, dancing, family fun and only 3 hours of sleep, my brother and I headed out to Venice Pier. Picked up some Lug Worms, Squid (for the Rays), and frozen 'chovies and set up shop by 7am. Was a slow day, the first 3 hours only things caught were small jigged up fish (White Perch, Smelt, Herring, Mackerel). Bait-tipped Sabikis worked OK, and most herring (Queenfish) seemed to be snagged vs. taking the bait. All too large IMO for live bait.
Later we moved from the end of the pier to the surf area/base of the pier. Must have been a nice sand bar built up near the pier. It was no more than 5′ in most spots and this is past the first roller. At the foot of the pier, this old gentleman and what looked like his handicapped grandson, maybe son were nailing the yellowfin croakers and corbina while trying to hook a surfer. Speaking of the surfers, I was yelled at for casting next to them with the Abu C3. I was launching 2-oz like a pro and getting awfully close to them. But in turn, the other side of the pier, surfers were asking us to pull our line in so they could come within 25′ of the pier to catch a wave. I bit my tongue and ignored them. Even though my brother was taunting me itching for a fight… Back to fishing. We caught two corbina (~12") and one croaker (~11") that we gave to the couple on the opposite rail.
It was funny the handicapped kid (maybe young adult) was having such a blast. His fishing mojo was really with him. He couldn't keep either of his three poles in the water. Bait, cast, fish on… His eyes lit up every time he'd start to reel. Grandpa sat close by and supervised him and gave a few pointers. I saw him land a 6" "dinner fish" as he would call them coming over the rail!
A little later a Hispanic lady was creeped out by the baby bat ray on her line. After getting the ~12" WS ray over the rail and hook removed, she started asking if anyone wanted it. I informed her they are live born with about 12" wingspan and he was probably a newborn yielding almost no meat. She asked if I would throw it back for her. Pay-it-forward if you will, I gave a quick class on proper handling (lipping) of bat rays and let her hold it for a quick photo op. After a gentleman passing by gave it a shot, I smiled at the baby and returned him to his home.
Then overcast skies burnt off around 11:30 and by noon we called it quits. I still had to drive an hour to see grandma and pick up rods, then drive home to the Bay area.
The Short: 2 rods: —7′ Rainshadow GDude special Abu c3 laced with 20# mono rigged with surf leader (hi/lo) #6 bait holder hooks with lug worms. – 10′ Sealine Okuma CD90 30# mono with hi/lo and mixed bait 'chovie and lug worms. Overcast skies, warm air temperature with no red tide in sight. Fished from 7am-noon: ('Chovies, squid, lug worms (Look like pile worms from our area)) Chris — 1 Big Eye perch, 1 Corbina, 1 Smelt; Me — 2 Herring, 2 YF Croaker, 1 Smelt, 1 (Unknown) Perch — Joey3
Date: December 21, 2005; To: PFIC Message Board; From: gordo grande; Subject: Part of Venice Pier is gone
You can't pee in the bathroom at the end of Venice Pier anymore. It's gone! Our chopper at Channel 7 was flying overhead, and there is no trace of what used to be the bathrooms…. just an empty space where they used to be. I'm sure the pier is going to be closed for sometime while they check it for structural damage. Sadly, the pier has only been open for three or four years. Prior to that, I think it was closed for over a decade. Half of the beach north of the pier seems to be gone too… I bet there are going to be a lot more holes and troughs. Up until now I considered Venice to be one of the flatter beaches around… not anymore.
Date: May 25, 2006; To: PFIC Message Board; From: gordo grande; Subject: VENICE PIER IS OPEN!
VENICE PIER REOPENED TONIGHT! Watch the 6pm News on Channel 7. It's scheduled to be our last story.
Date: June 4, 2006; To: PFIC Message Board; From: toejamb; Subject: Venice Pier
With Hermosa being closed 'til the 12th, I took a little detour out to Venice Pier. I haven't fished this particular pier for darn near 8 years and it took me a little while to get properly situated and get started in earnest. Made bait pretty quickly, (queenfish, smelt and 7-11s) and got to work. The 7-11s and smelt went untouched, but once I switched over to the queenfish, I saw some action. I had 3 halibut, all shorts, in the span of about an hour and a half. No exact measurements, just wanted to get the critters back in to the water as quickly as possible, although by eyeballing it, I'd say the biggest of the 3 was close to 20 inches. That was pretty much it for me. As for the rest of the pier, I saw the usual mackerel, big smelt, perch etc. "Mr. Happy" was at the pier as well and he landed a 6′ thresher and several shovelnose. It was a nice little excursion to a pier I don't usually fish, but if you'll pardon the expression, "there's no place like Hermosa."
Date: September 1, 2006; To: PFIC Message Board; From: Mahigeer; Subject: Stop the world, Mahigeer has caught BONITOS
Short version: caught three (3) 12-14" BONITO. The curse is over.
Long version; Went to the Venice Pier tonight around 6:30PM. As soon as I got there, someone was bringing up a 12" Bonito. I hurried to get setup. I had a homemade Sabiki with yellow and green feathers. Wouldn't you know it the darn think was all tangled up. It's like some of those anxiety dreams I have had in the past. So finally I get it halfway fixed and toss it in the drink. A few casts later and every angler's delight move happens. The line has its own life. It goes left, it goes right. The shimmering belly of the catch which is now swimming sideways makes you smile with joy. I landed the fish and ladies and gentleman it is a BONITO. Yuppie ya yey. The curse is over; the monkey is off the back, no more "Bonita Blues" for me, etc. etc. etc.
Life is good. I have the right rig, the fish is cooperating; all I need to make it better is to have some Pier Rats to share the moment with. But noooooooooo, few casts later and the homemade Sabiki gets stuck. Is it a lot of fish or some obstacle? I will never know. As I pull on the line, snap, the line breaks. There goes the homemade rig.
Next I tie a Blue Fox in Mackerel color (the one on which I landed many Macs. in Redondo after the Contractors show a while back) to a golf ball rig. I got some flashes but noting stuck. Then I switched to a green short Mega Bait. That one landed me two (2) more nice Bonies. I probably would have caught more but I think in order to make splash I was probably retrieving too fast. I would cast out far but most of the action seemed to be close to the pier. The fish would turn and go belly up and turn but it would miss the lure.
There is no comparison between excitement of lure fishing, and actually seeing your lure being chased by a predator; and the boredom of bait chucking and waiting for the fish to commit suicide. So tomorrow, I will be having BBQ Bonito for lunch and will raise a few in honor of the prey who gave its life to provide joy to this old Mahigeer (Angler in Farsi). Happy Labor Day everyone.
Date: July 24, 2007; To: PFIC Message Board; From: Mahigeer; Subject: Venice Pier
Went to the Venice pier tonight for three hours. Top of the high tide, but still a slow bite. Not much being pulled with the exception of one giant sea bass, which was properly released. One horn shark was also pulled up. There was a family where the father was new to hoop netting but he had great luck. He pulled up one 3-lb bug plus several spider crabs… For me the count was one queenfish with the Buzz Bomb and one lizardfish with the bait. That's all folks.
Potpourri— Perhaps more than you want to know about the Venice Pier
<*}}}}}}}}}>< —  I received an interesting e-mail message one day from famed fishing writer Steve Carson. The note was in response to a discussion on the Pier Fishing In California message board concerning favorite bands of the members.
Date: December 15, 2002; To: PFIC Message Board; From: Steve Carson; Subject: The Doors and Venice Pier…
According to "The Doors" bio-book "No One Here Get Out Alive," the historic meeting of acquaintances Jim Morrison and Ray Manzarek, where Morrison recited his poem that became the Doors' song "Moonlight Drive," and prompted Manzarek to say "Let's start a band and make a million bucks," took place at the foot of Venice Pier in the summer of 1965, shortly after it opened to the fishing public.
[Morrison lived in and around Venice during the time he was in UCLA. For a period of time he was homeless and slept wherever he could find a place to crash. Apparently his favorites included his friend's couches, their cars—and under the Venice Pier. KJ]
<*}}}}}}}}}>< — Apparently some pier fish wound up at Marineland. Such was the case with  this seven-gill shark in 1978. I'm not sure what happened to them when Marineland closed.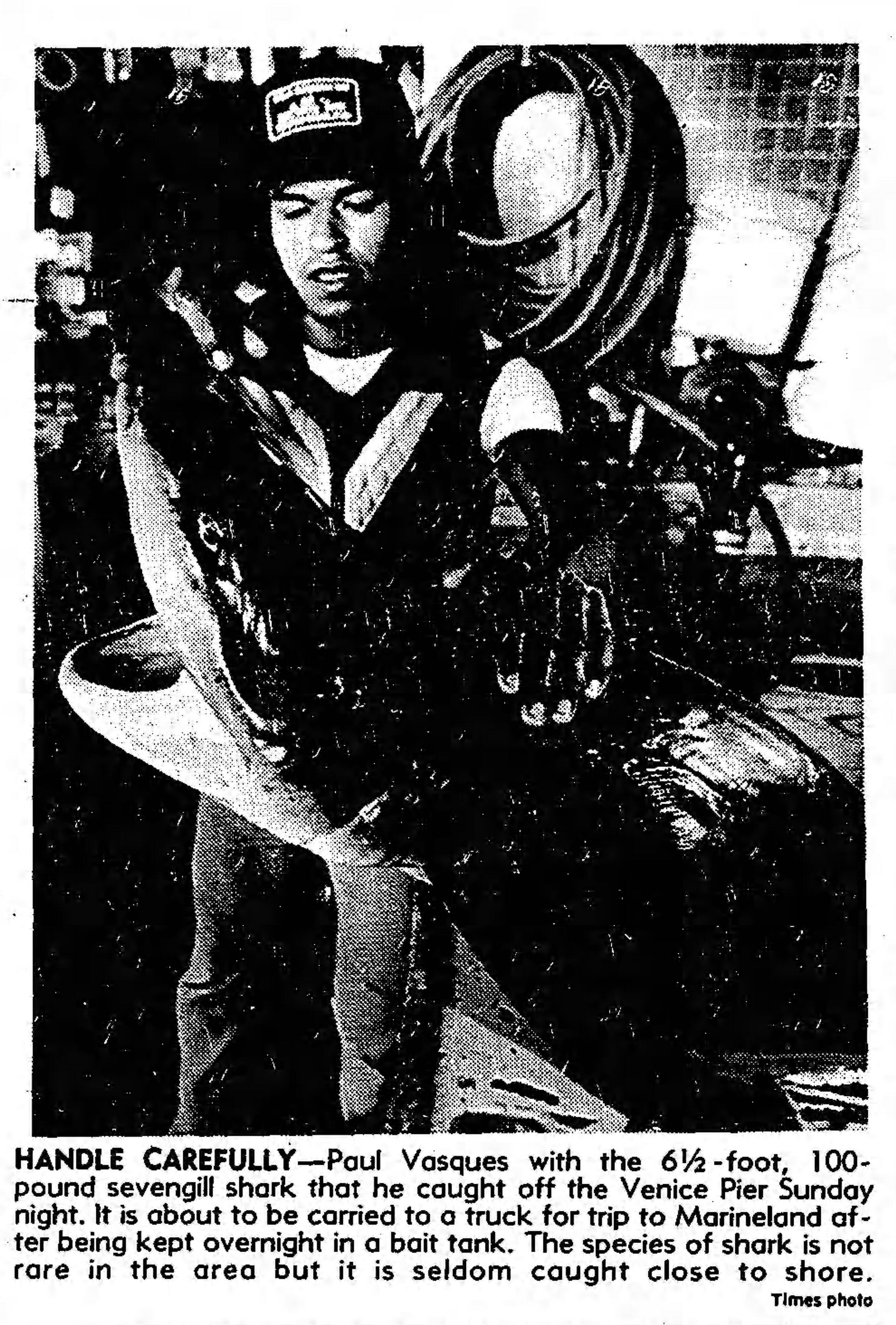 <*}}}}}}}}}>< — Many, many movies have been filmed in Venice and it started over a hundred years ago during the silent film era. The early "Amusement Piers" at Venice (Venice Pier, Lick Pier, Pickering Pier, etc.) were a favorite place for movie scenes and even after most of them closed the area along Ocean Front Walk and Windward Avenue remained popular for movies.
Perhaps to be expected, the Venice Fishing Pier became included as a site for filmmakers. The pier has been featured in several movies including Irreversible (1973); Point Blank (1991); Falling Down (1993); Uh Oh! (2003); Bounce; Lovely and Amazing; Just Married; Local Boys; Don't; and A-Team (TV).
The only one of these cinematic masterpieces that I've seen is Falling Down. Toward the end of the movie, policeman Robert Duvall meets up with psychotic defense worker Michael Douglas out at the end of the pier. Duvall nostalgically recalls the fishing at the pier, "You used to be able to fish right here, now you can't even swim in the water." Of course it's not true but it's an attitude frequently seen in Los Angeles. As for the Douglas, he jumps off the pier and drowns.
 <*}}}}}}}}}>< — The "Venice Pier Strut" is the name of a song on the album Pacific Blue by Franke Christopher, formerly of Tangerine Dream.
<*}}}}}}}}}>< — A gnashing of teeth was heard in 2003 when the Los Angeles Business Journal reported that the L.A. City Council had decided to change the name of the Venice Pier to the "Ruth Galanter Pier," after a long-time, termed-out councilwoman. The news shocked local preservationists. "I mean her (Galanter) no disrespect, but this is just another attempt to gentrify things in Venice," said Elaine Alexander, past president of the Venice Historical Society. "The name Venice and everything associated with that name needs to be preserved." The name of the pier wasn't changed.
<*}}}}}}}}}>< — Somewhat surprisingly given its fairly common, sandy bottom environment, this was one of the region's best piers during the warm-water, El Niño years in the early '80s. Many yellowtail and white seabass were landed and it also yielded relatively uncommon species like triggerfish and needlefish. Most unusual was the small, 6-pound albacore caught off the far end of the pier in April of 1981.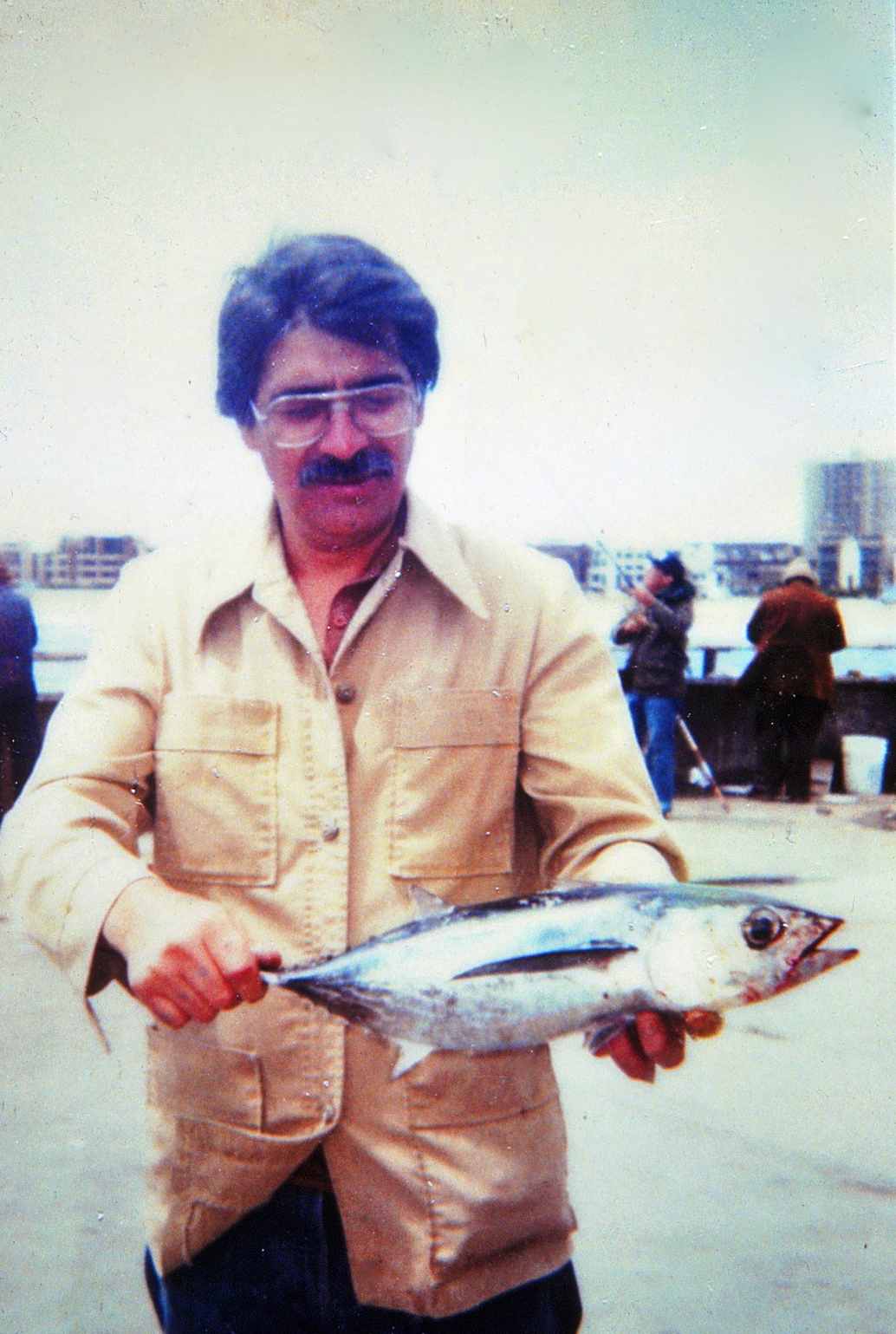 Albacore — caught April 18, 1981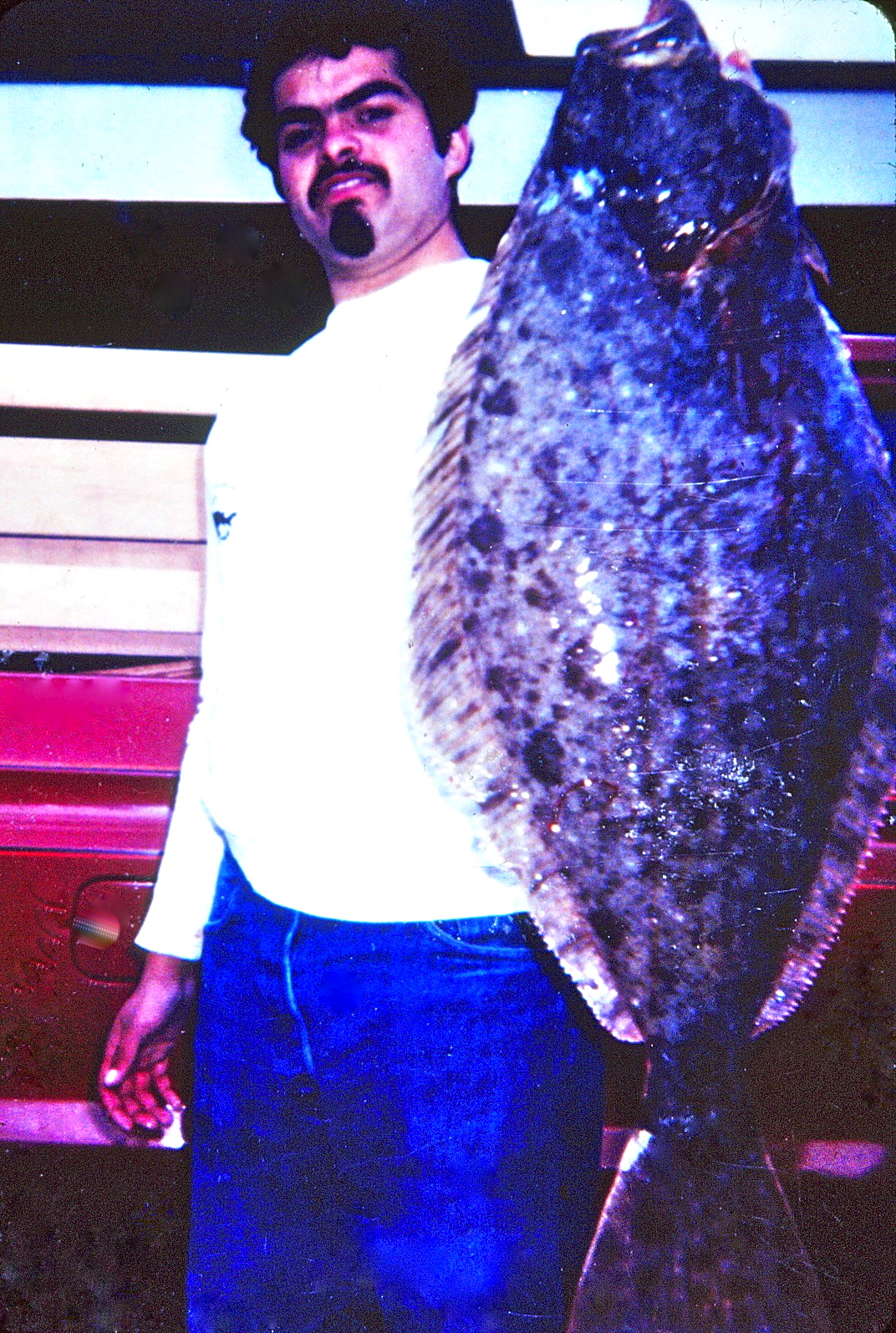 11 3/4-lb. Halibut — caught March 13, 1982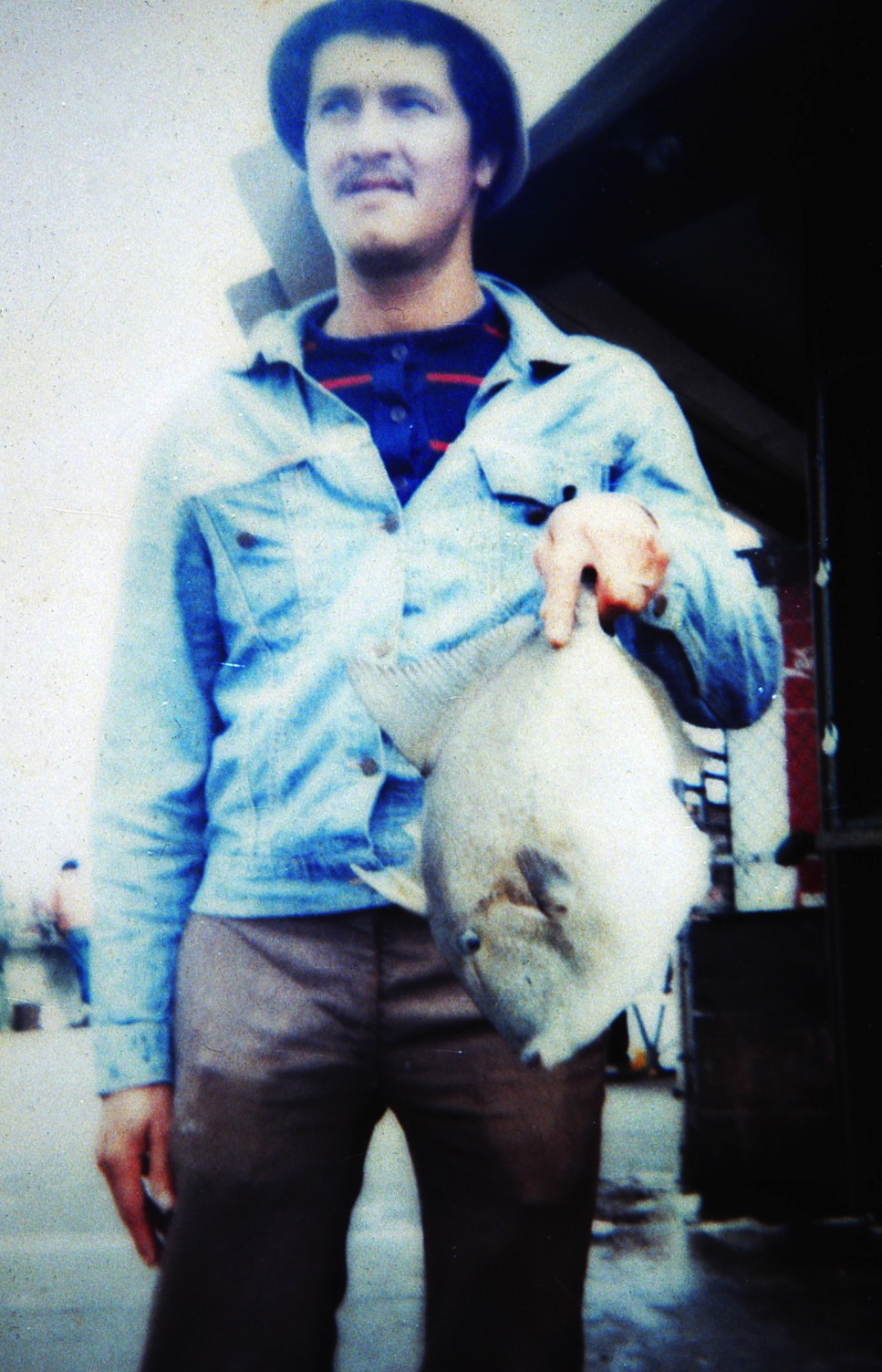 Triggerfish — caught June 20. 1982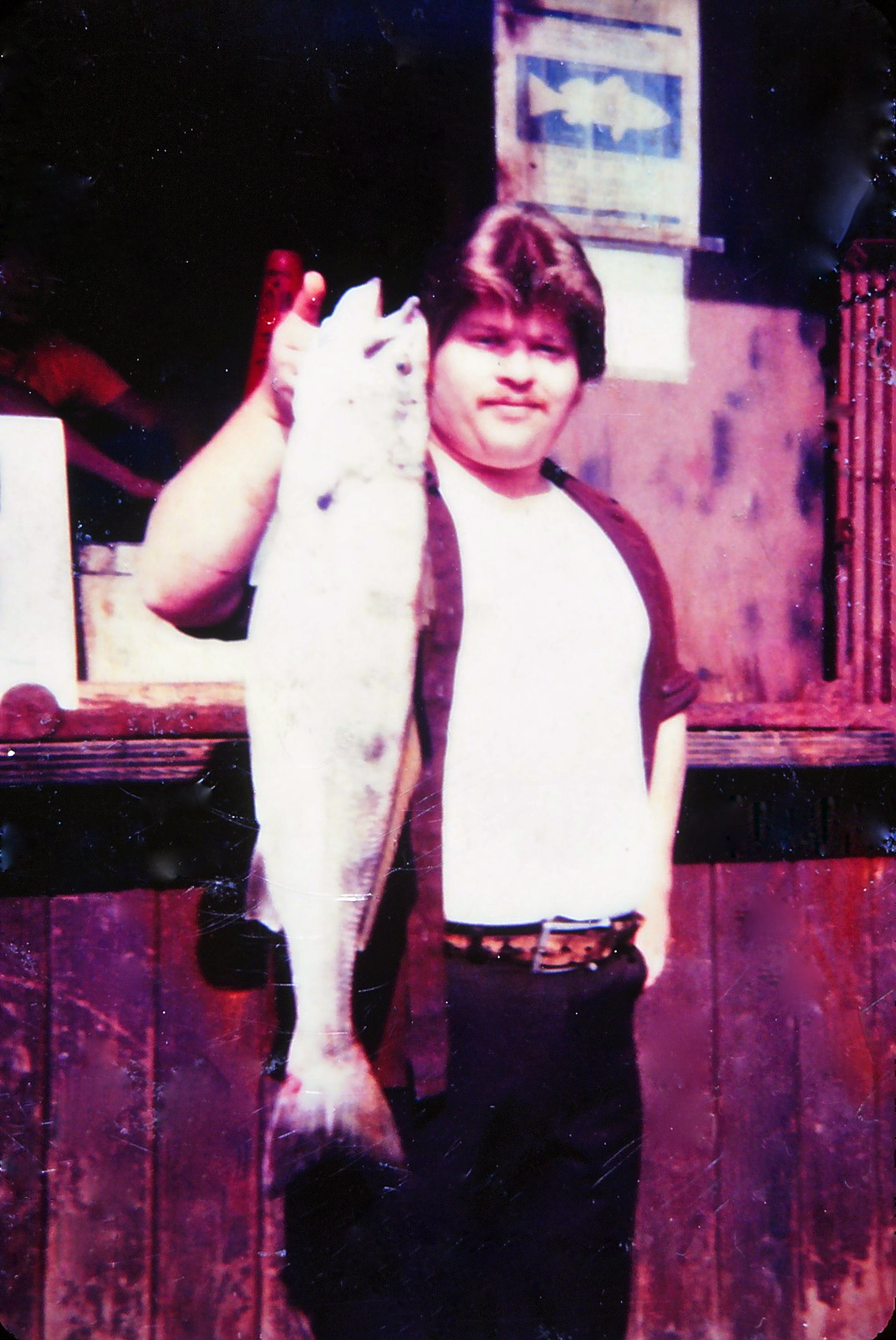 White Seabass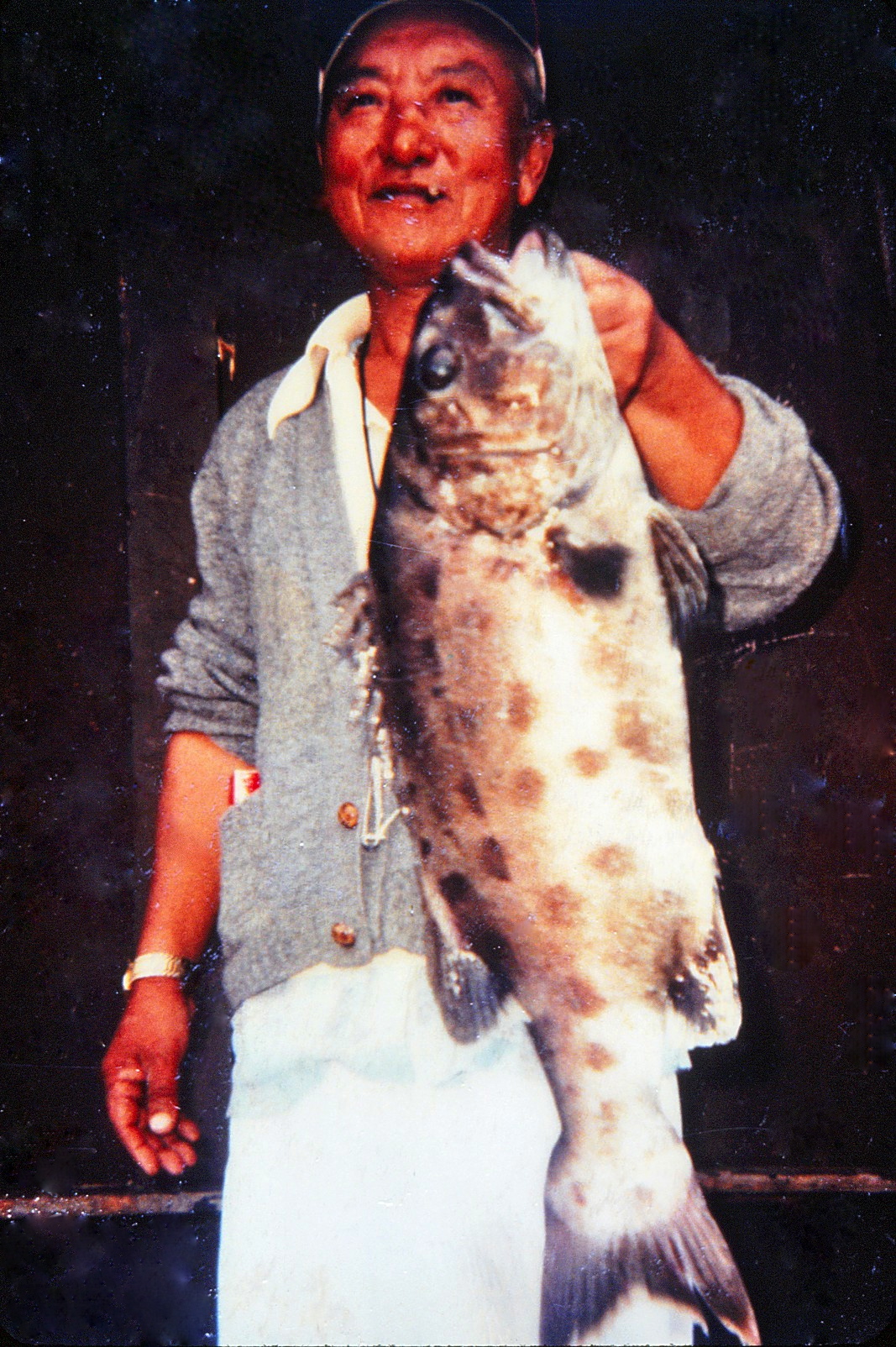 Young Giant (Black) Sea Bass (today this would be illegal)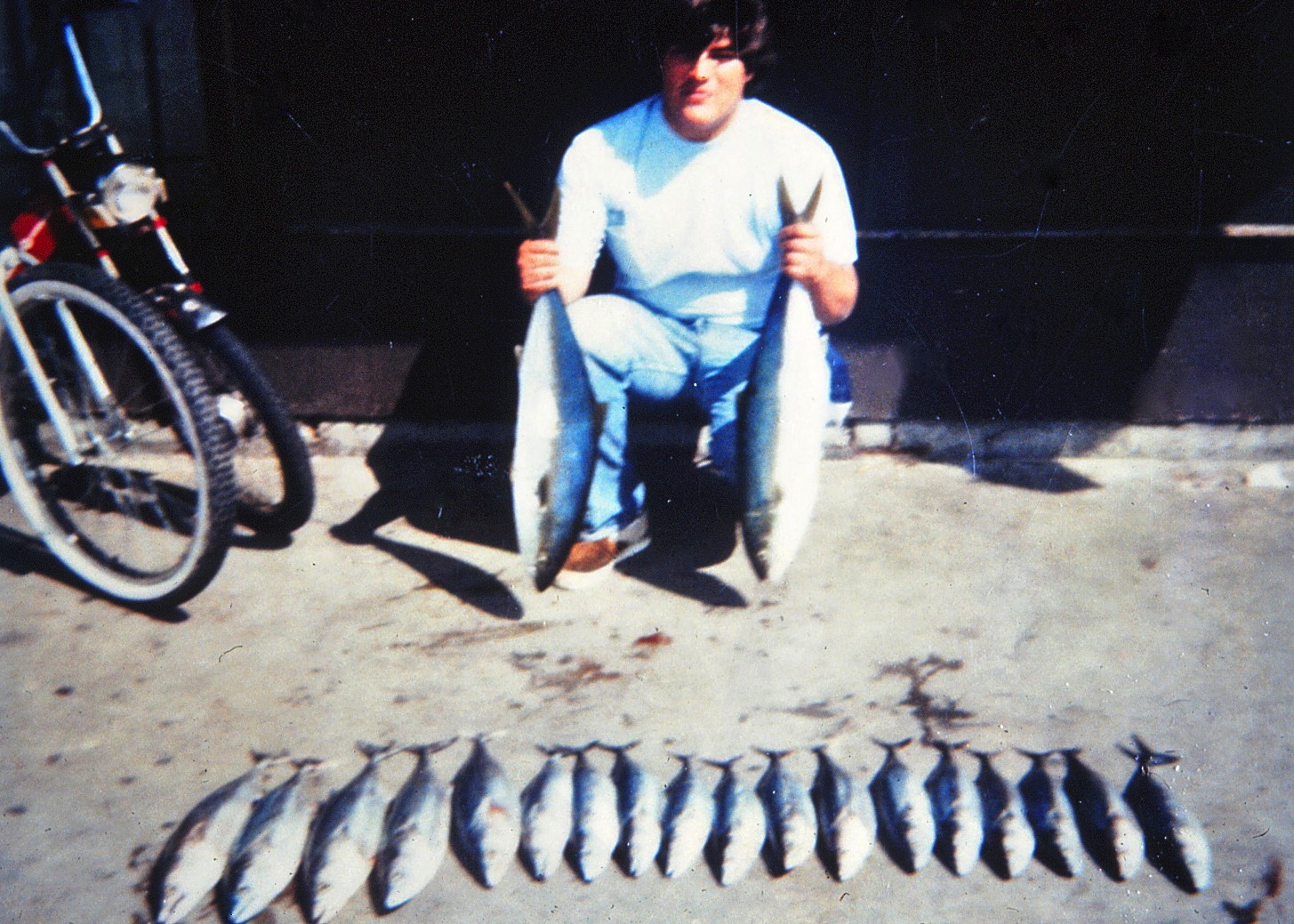 Yellowtail and Bonito
All pictures courtesy of Venice Pier Bait Shop — 1980s

<*}}}}}}}}}>< — Like Berkeley to the north, or perhaps Haight-Ashbury (the Haight) area in San Francisco, Venice has retained its bohemian flavor, a fact that most of the locals cherish. The descriptions of Venice are classic—
Venice is a quiet, shabby little place at the edge of an oil field, which extends for a mile or two along the shore. But you can still see the hotel where Sarah Bernhardt stayed. You can still live at an address on the Grand Canal (though a garbage raft will float past your window instead of a gondola); you can still admire the pure curve of a bridge which would not disgrace Italy, except that it stands among oil derricks, is made of wood and plaster and is apt to fall down soon. —Christopher Isherwood, The Shore, 1952
Venice U.S.A., Venice West, a horizontal, jerry-built slum by blue sea, warm under a semitropical Pacific sun on a Sunday afternoon. —Lawrence Lipton, The Holy Barbarians, 1959
"SoCal's quintessential bohemian playground is the legacy of Abbot Kinney (1850-1920). A tobacco mogul by trade and a dreamer at heart, Kinney dug canals and turned fetid swampland into a cultural and recreational resort he dubbed 'Venice of America'. For nearly two decades, crowds thronged to this 'Coney Island on the Pacific' to be poled around by imported gondoliers, walk among Renaissance-style arcaded buildings and listen to Benny Goodman tooting his horn in clubs. But time was not kind to Kinney's vision.