Mid-pier to the end can also see mackerel, bonito (some years) and barracuda (usually in the Fall). Mackerel are most commonly taken on bait rigs, baited or unbaited, but if they're not in a biting mood a piece of mackerel or strip of squid fished under a split-shot sinker may entice them. Often the macs will show up in the evening hours as soon as it is dark and at such times bait fished under a glow light will produce fish when nothing else seems to work. Most of the barracuda will be taken on spoons such as Kastmasters and Krocodiles (although MegaBaits are also gaining a following). Bonito will hit a variety of lures although the tried and true feather behind a Cast-A-Bubble still seems best for many.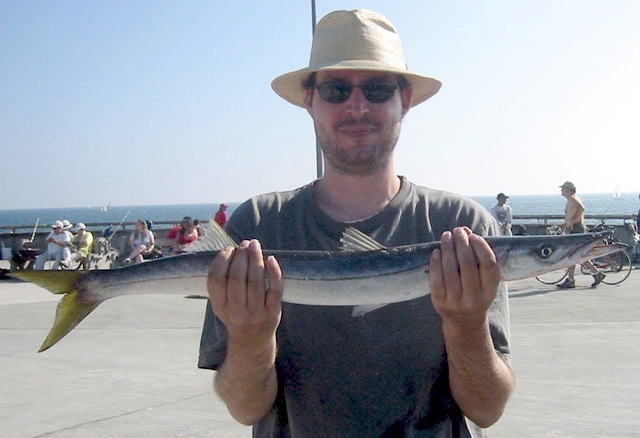 Nice barracuda
On the west side of the pier, just before you get to the end, is where the restrooms used to sit. They fell from the pier in 2005 and the remains still sit on the bottom under water. It's a great place to tangle up and lose your line but it's also a place where fish like to hang out, especially sculpin (scorpionfish). If you're willing to take the risk give it a try using cut squid or shrimp on a one hook leader.
At the end, similar techniques are used as further inshore. However, with the reef only 65 feet from the pier, anglers often try for larger fish. Fishermen should use one of the bonito riggings when schools of bonito show up and heavy tackle, at least 40-pound test, when trying for larger sharks and bat rays.
Fishing with a live bait leader baited with a small jack mackerel (Spanish mackerel), baby Pacific mackerel, sardines, queenfish, or shinerperch can sometimes yield small white seabass while warm water months may even see a few yellowtail landed. Although many resident species can be caught year-round, the best action for the pelagics is generally from June to October.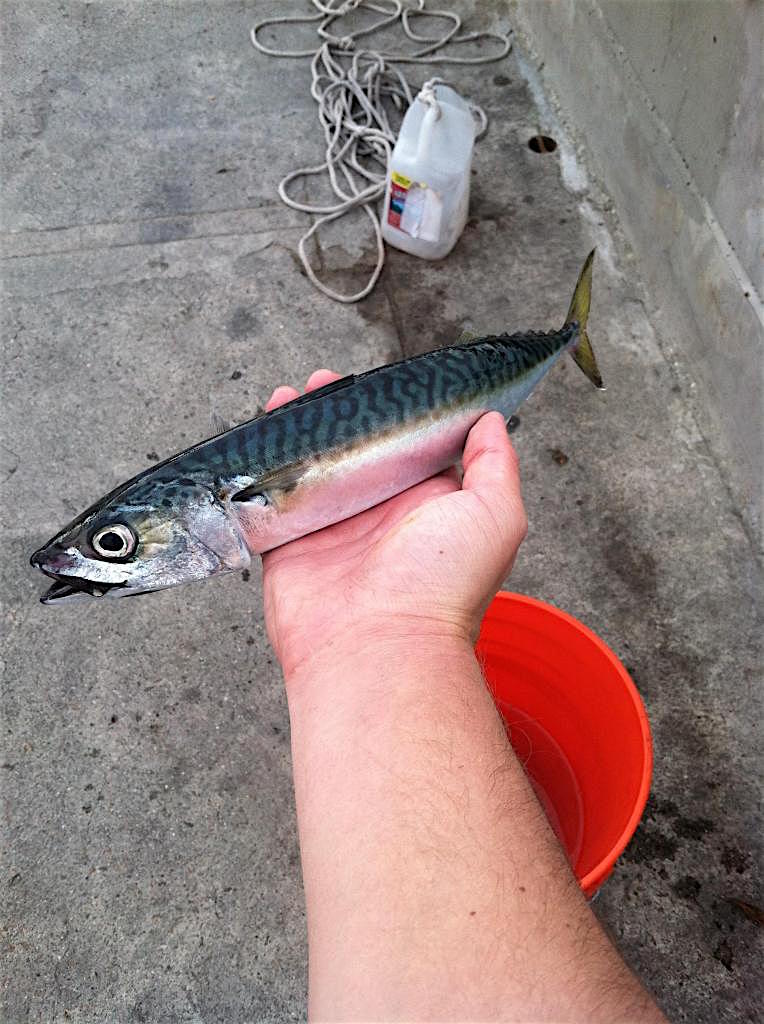 Pacific Mackerel
The end area is also where the "shark" anglers fish, at least those seeking out the larger sharks. It's not a noted pier for sharks but enough big bat rays (mud marlin), shovelnose sharks (guitarfish), leopard sharks, soupfins, and threshers are caught to keep it interesting. If specifically seeking out the larger sharays come prepared with a medium to heavy rod and reel, 40-60 pound test line and a 6/0 to 7/0 hook. For the bat rays use a big piece of squid; leopards, guitarfish and soupfins prefer a bloody piece of mackerel or sardine—or a live fish; the threshers typically are caught on live mackerel, sardine or jack mackerel fished on a sliding leader (trolley rig). Most of the sharks are caught at night but threshers often hit best in the afternoon, especially when there's a little chop on the water.
Since shark fishing is best at night, one recommendation is to be in a group if seeking out the sharays. There's usually not too much of a problem on the pier but it's not that uncommon to be accosted by the homeless as you leave the pier (some sleep under the pier) or drunks wandering over from the bars on Washington Street.
Although never really noted as a great producer of lobsters, the nearby reef does attract some of the spiny crustaceans to the area of the pier. Proof is seen in the capture of a 5 1/2 pound beauty on Labor Day weekend in 2000 that could not be kept since it was out of season.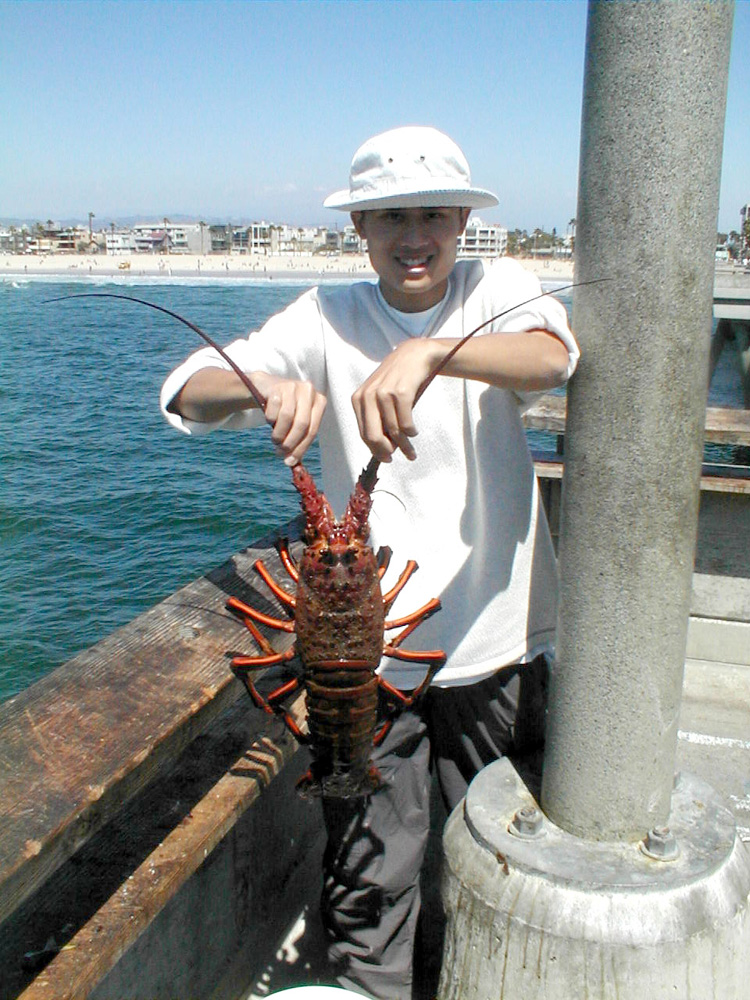 Lobster
The Pier Rats Speak —  A Bakers Dozen Posts to the Pier Fishing In California Message Board

Date: Jun 23, 2000; To: Pier Fishing in California Message Board; From: Sculpin 24/7; Subject: Venice Pier Report
Went fishing off the Venice Pier on June 23, 2000 at around 2:00 p.m. and caught a variety of fish. I caught 5 bat rays, 2 mackerel, 1 6-in. leopard shark, and 1 undersized halibut (14 in.). My dad caught 2 bat rays, 1 stingray, 1 shovelnose guitarfish, and 3 mackerel. Around the pier I saw anchovies, perch, halibut, mackerel, lots of bat rays, stingrays, shovelnose sharks, and a few small leopard sharks. Overall today seemed to be pretty good fishing. Popular Bait = Squid + frozen sardines
Date: March 25, 2002; To: PFIC Message Board; From: hookedonfishing; Subject: a dose of reality!
In reply to: Venice Pier—photos from the '80s – B&W #1 posted by Ken Jones. First and foremost, what an awesome thing Ken has done by keeping those photos and getting everyone excited about fishing as springtime arrives.
However, all you "young punks" don't need to feel like you missed out on the "Good old days" [well, ok, except for bonito!]. Since the mid-1960's, for the most part, only a couple of piers have been really good consistently. To be honest, Venice Pier was not that good at all most of the time [again, except for occasional bonito runs], [my history on it goes back to opening day in 1965].
The one huge exception was 1983, when the mother of all El Ninos swept tons of great fish all along the coast. Don't forget it also nearly annihilated the entire Redondo Harbor/Pier complex.
In particular, halibut fishing is better now than in the past 40 years.
The light tackle/catch-and-release ethic is 100 times stronger now than it was then. You were thought of as "odd" if you released anything, or used light gear.
Yellowtail ran pretty reliably inside Redondo Harbor [incl. inside pier] every autumn until the mid-70s, but if you told someone on Venice Pier about Redondo, they looked at you like you had been fishing in South America, it was considered so far away.
As for that Venice Pier albacore, that one was I think in 1980 or 1981, interestingly about the same time as an unseasonable wide-open bite on rat-size albies was going on in San Diego. It must have gotten lost, it can happen.
I remember having a major dose of skepticism at the time, [until the photo circulated], because the bait shop operator [also owned Venice Pier Bait & Tackle at foot of pier] named Carroll Ballard had tried an albacore "hoax" in 1969 with a previously frozen 24-pounder [almost pulled it off, too]. His accomplice in the hoax try was a young employee name Harold Clark, usually referred to as "Junior."
Date: July 14, 2002; To: PFIC Message Board; From: Anthony; Subject: Venice pier
I wasn't sure if I was going to get the chance to fish this weekend since I've been putting up a new fence in the backyard…Since I've been seeing a lot of big corbina around Venice Beach that's where I went. On the way there I realized I forgot my sand crab trap. That was not so bad because when I got there it was very crowded. There was no way I could surf fish. Luckily, I brought my pier fishing gear just in case. Getting live bait was hard today but I managed some queenfish, smelt, sardines, and small mackerel. Fishing was very slow the whole afternoon. Here's what I got: 1 bat ray around 15lbs on a sardine; 1 shovelnose shark on a sardine; 1 big thornback ray on a smelt; 1 blue perch on a sardine; 1 rubberlip on mussel; 2 lizardfish on mackerel and a live smelt
So, overall a slow day. The guys at the very end got a couple shovelnose and the guys near the surf had good action on yellowfin croaker, corbina, and zebra perch but that part of the pier was packed.   Anthony (Sharkbait)
Date: May 4, 2003; To: PFIC Message Board; From: Gordo Grande; Subject: Venice Pier Remote
Fished Venice Pier today from about 10:30am to 2:30 pm. Conditions were really terrible. Fierce wind, muddy water, and hardly any fish were biting. Most everyone seemed to be getting skunked, with the exception of a few small fish here and there…
The highlight of the day was watching this fellow land this "butt. He also landed a shark earlier in the morning. This beast measured 43" and we weighed it at 35 lbs! They had a helluva time landing it thanks to the winds, but perseverance paid off. They tried two gaffs and a net, and finally one of the gaffs stuck gold.
The butt had a second hook sticking out of its underside. It must have been there for a while, because it disintegrated as soon as someone touched it. He said he caught it on a live anchovy. I'm still not sure where he got live anchovies at Venice Pier. Maybe he bought them at MDR and drove over with them. Gordo Grande aka Ross
Date: May 18, 2003; To: PFIC Message Board; From: gordo grande; Subject: Venice Piers Macks
You know you're having fun when you never take the folding chair out of its bag. Fished Venice Pier on Sunday from 8:30am to about 2:00pm. It was really pretty slow for anything but baitfish, but people were having fun all up and down the pier pulling in mackerel and smelt. Triple and quadruple hook-ups were pretty common today. I caught about 15 macks and 5 jacksmelt. I kept the biggest mack for bait, and gave the rest to the family next to me. They were having Ceviche tonight!
I did get a couple of hits on the macks I threw out for bait. The first hit was something big and lethargic under the pier. I don't think it was a snag, since I was able to move it back and forth between two light poles. I felt it move a couple of times, but it didn't seem bothered too much by efforts to pull it up. I was using a Jigmaster with 30-lb line, and a 15-lb leader. Eventually the line broke. Later in the day I got a short hit on another mack I had out. The rod went bendo for a few seconds. I swung on it, but brought up my mack with a nice set of teeth marks in its middle portions. Looked like a halibut bite to me.
The high point of the day was talking to this older fellow who lives right by the pier. His name was David, and he was 77 years old. He recently had a death in the family, and was walking on the pier to clear his head. He started a conversation with me, and told me how much he enjoyed hanging around with the fishing people on the pier. It seems that he, himself, hadn't been fishing in about 20 years. It only took me a few seconds to convince him that he needed to join in the fun. I handed him my bait pole, and he was pulling his first macks in a few minutes later. Wait until you see the smile on his face! He loved it, and ended up fishing with me all day! He kept telling me that he couldn't wait to call his son and tell him about all the fish he caught! He thoroughly enjoyed the whole experience. I think I started a 77-year-old youngster on fishing!!!!
Date: October 4, 2003; To: PFIC Message Board; From: gordo grande; Subject: Danny the Dinosaur scores!
OK, so I took my friend Tom S.II, and his son, Tom S. III fishing at Venice Pier. It was the little guy's first fishing experience. He's four, and his little sister is 2. I met the whole family at the pier around 9:15, and we fished until around noon. Amazingly, the little tykes never lost interest or got bored.
We got there, and it was major red tide, at least halfway out the pier. I set up anyway. First I tied a Sabiki on to the Sunny Bear reel, (8-lb line, yellow plastic spincast reel, decals peeled off as my younger daughter outgrew them, #8 hooks on the Sabiki). Unfortunately, I soon found out that ol' Sunny Bear only had about 10′ of line on it!
Fortunately, we still had trusty ol' Danny the Dinosaur waiting in the wings. (Same as above, only it's purple, and still had the Dinosaur decals). Fortunately, Danny the Dinosaur had just enough line to make it down to the water and a few feet under the surface.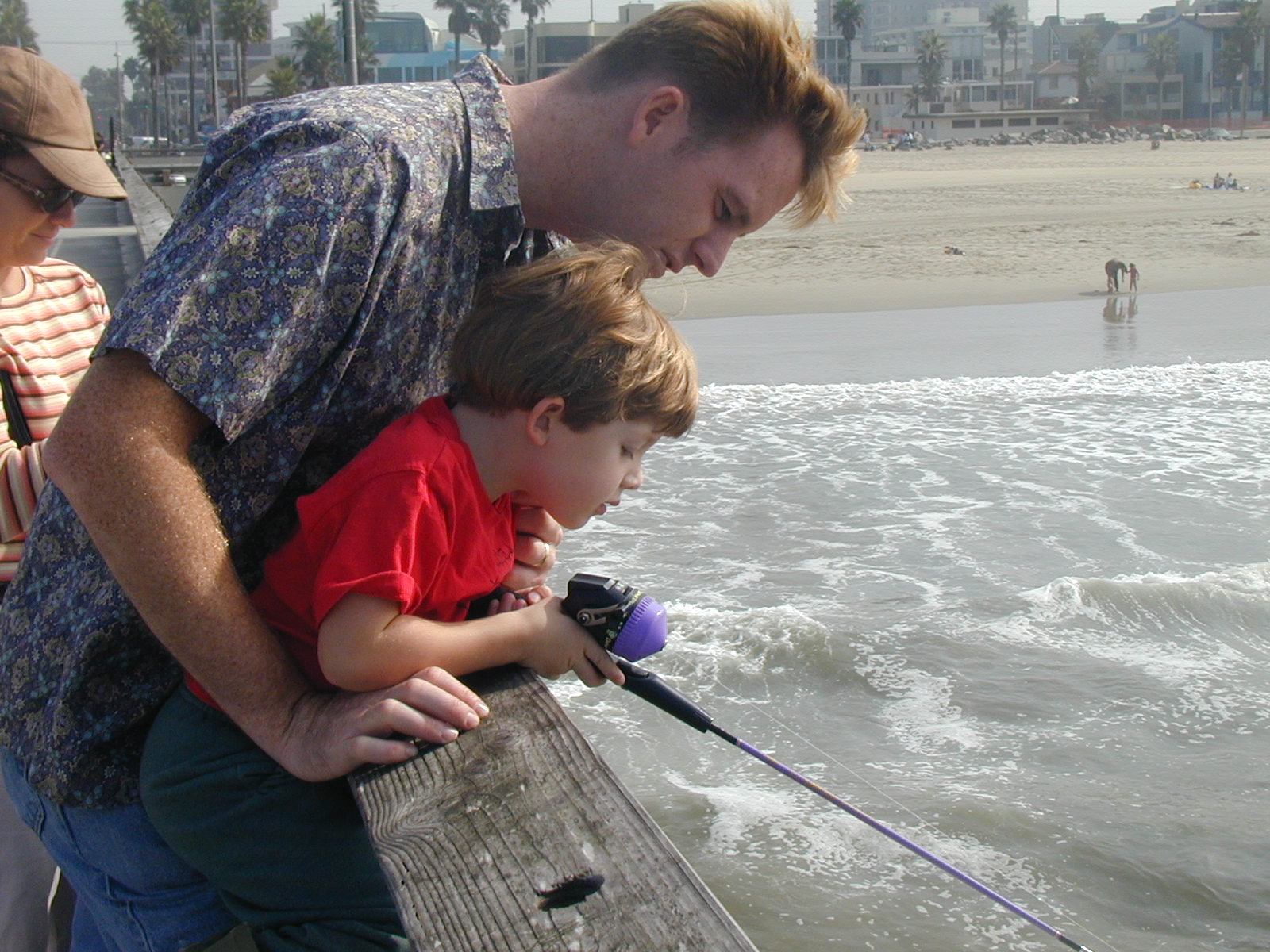 Tom and son
Lo and behold, it didn't take long, and little Tommy connected with his first fish ever… a 4″ smelt. Tommy was extremely happy, even though we forgot to warn him that the fish sometimes die. He wasn't too happy about that part. He got over it though, and the last I saw, he was walking back to the minivan with Mr. smelt snugly bouncing in a little Ziploc bag.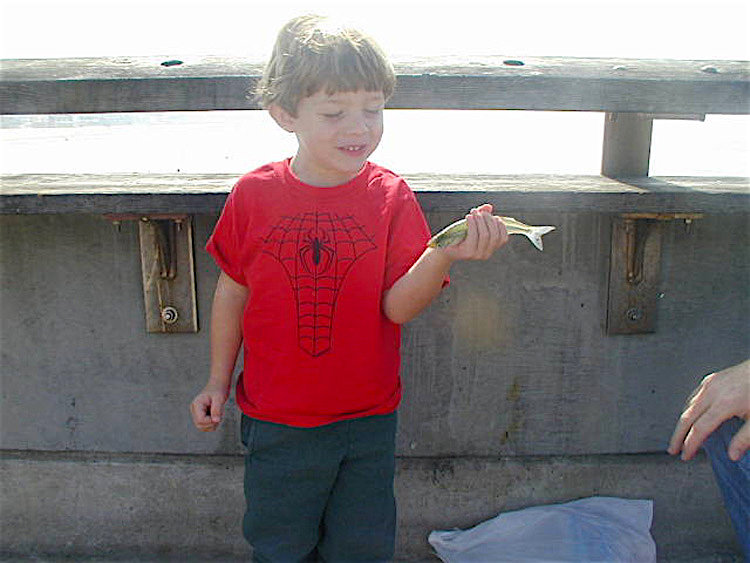 Oh yeah, I caught two more smelt, one about 12″, and one about 6″.
Date: November 17, 2004; To: PFIC Message Board; From: h2o; Subject: Venice Pier 11-15-04
I took a bike stroll on the stretch of beach on Saturday afternoon. Stopped by almost all the piers along the way. Didn't see anyone catch anything worthwhile, beside Venice Pier. There were lots of bonitos, mackerel and sardines in everyone's buckets and bags. The pier was packed with fishermen!
I haven't caught a bonito from a pier before, so I decided to give Monday morning a try. This way, I wasn't elbow to elbow with everyone and have some quite time to myself. Got to the pier at 5:30am Monday morning and found the gate closed. I had to wait to 6am for the parking lot to open. It only cost 3 bucks to park? I was amazed! This is 2004 right? I haven't paid $3 for parking in quite awhile.
It was a pretty chilly morning and made my way to the end of the pier. I stopped near the end where all the sardines and smelt were schooling and tried to make some bait. I brought two buckets, one with an aerator built in and one plain Home Depot one. I tied a rope to the home depot bucket, but found out the rope was too short. I didn't know what to do next so I filled the aerator bucket from the fishing cleaning station with water. I was hoping it was saltwater, but it wasn't. There was big school of bait, but I only managed to catch 2 smelt. On Saturday, everyone was catching the sardines by the bucket full. After more than half an hour of trying I decided to just use the two smelt for the time being. On my first catch I managed to get picked up, but I missed him. I used my second smelt and got picked up again, but missed again. That was it for my bait.
Some other fellow fishermen came and were catching the sardines and landed a few nice size bonitos. I was about to give up on the bait approach and just use some lures when a very nice person named Harold joined me. He gave some advice on how to catch the sardines. He told me to not use bait (I was using small pieces of squid with my Sabiki) and jig my Sabiki up and down and what you know, I have sardines!