Public Access Area — Status Unclear — Fishing License May Be Required
O.K., so how many piers have a major league baseball stadium practically connected to the pier?  Or, on how many piers can you look over your shoulder and see a huge baseball mitt—or an even larger green Coke bottle?  Don't even bother answering the questions because this pier is truly unique! And it is better, in my opinion, than when it was first opened. Piers are never judged strictly by the fishing (success or lack thereof), at least not in my book. The environment, or atmosphere if you will, always play a part and it's hard not to come to this pier and be somewhat amazed by the beautiful 42,000 seat Pacific Bell Park (PacBell Park) that opened next door in 2000. Here the fishing truly is secondary to the boating activities, joggers, strollers, sightseers—and now ballpark hawkers—who sort of take the pier for granted. But the pier was here first and it still offers up generally fair fishing results to those anglers willing to brave the lack of nearby parking spaces.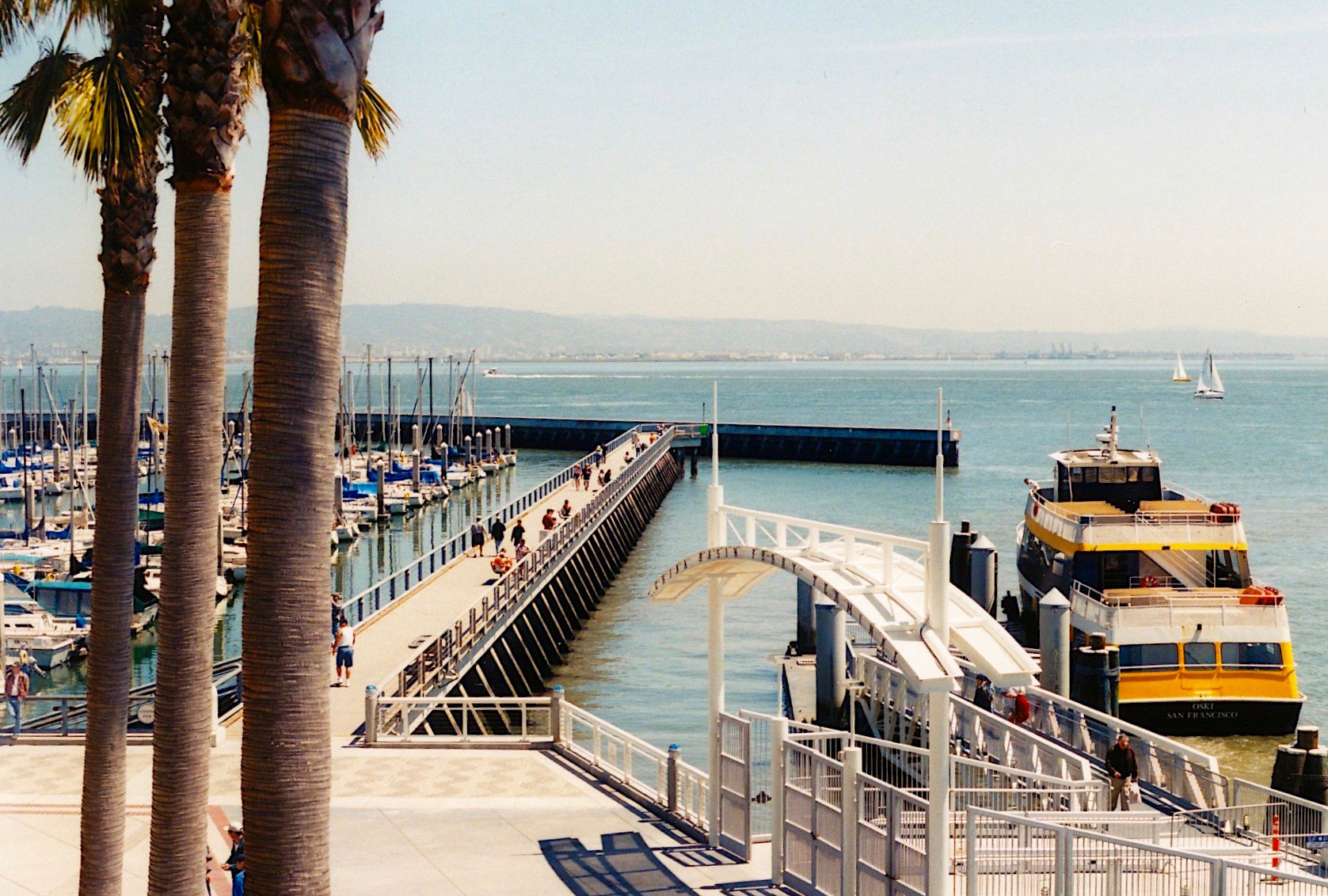 Environment. The pier is like several in the state; it is primarily a breakwater designed to protect the boats in the 670-berth marina adjacent to it. As a result, you can only fish on one side of the pier and you do not get the normal attraction that most piers and their pilings provide. Fish can swim up to the piling and the wall but not pass through them into the inner harbor area (at least not along most of the pier). In addition, about one third of the pier's usable fishing space has now been lost due to the construction of the China Basin Ferry Terminal. The terminal provides a great way to get to the ball games but blocks access to the front third of the pier. But the pier fronts onto China Basin itself and water depth seems fairly good. In addition, Pier 46 and its old pilings are off to the right which should attract fish (not to mention the pilings of the terminal itself that may attract in a few perch).
The bottom is mud and sand and there seems to be considerable debris on the bottom (after all, piers and pilings have existed in the area since the mid-1850s). Perch, jacksmelt, sharks, rays, flatfish, white croaker, and the most prized of all, striped bass, can all be caught here.
By the way, the waterway near the front of the pier, water that is no longer fishable from the pier, fronts what is now called McCovey Cove—the landing spot for long, long home runs over the right field wall and walkway. Although called McCovey Cove, Barry Bonds was the first one to hit a ball into the water and he continued to supply most of the water logged trophies until his retirement. During nearly every game the cove will fill up with a fleet of floating craft (canoes, kayaks, paddleboards, skiffs and luxury yachts) hoping to retrieve a home run ball. Of course a few may even bring along their rods and reels and fish while they're listening to the game on the radio (and keeping an eye out for incoming missile-balls).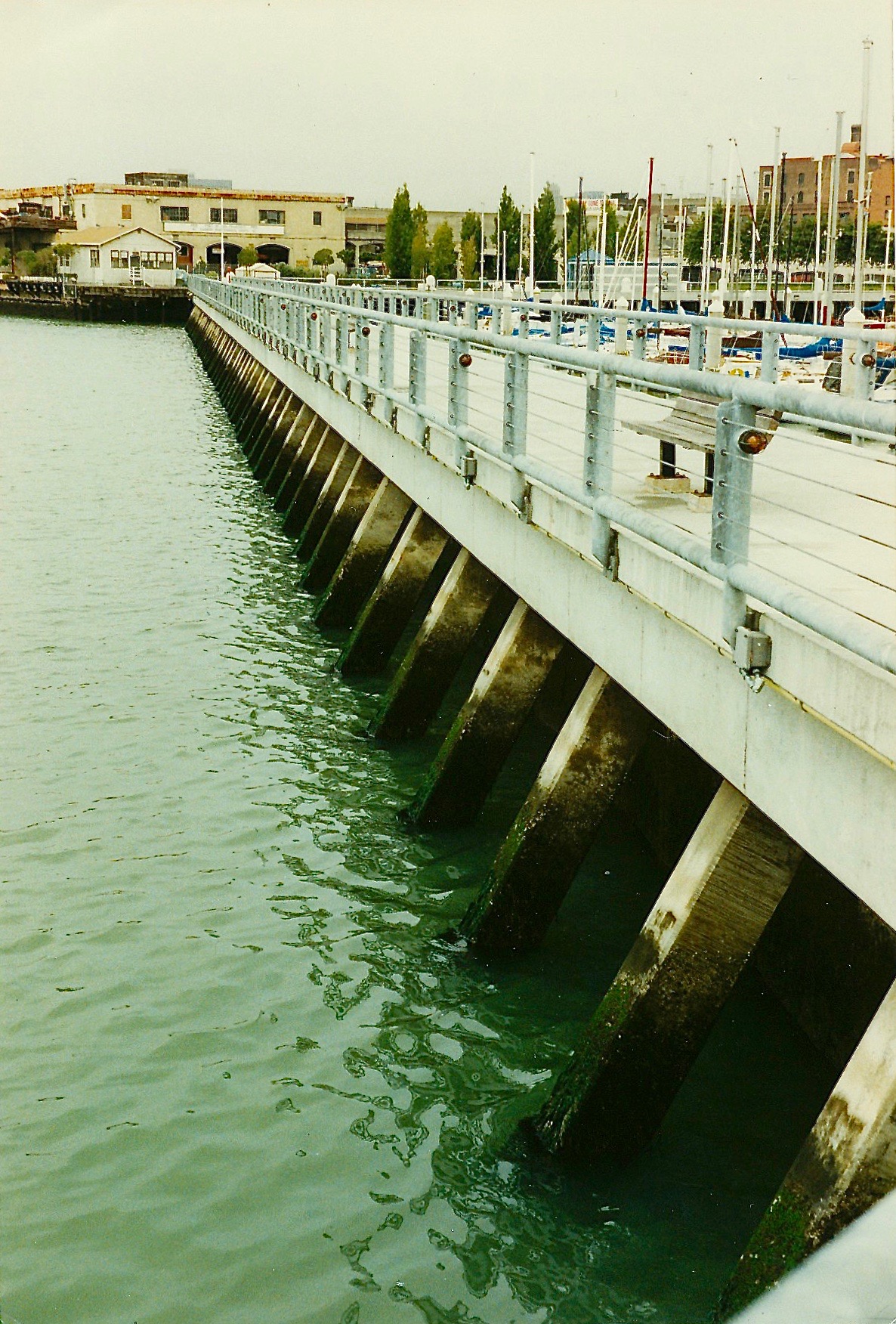 Fishing Tips. Numerically I would guess that the main fish caught here are kingfish (white croaker), jacksmelt, perch, brown smoothhound sharks, leopard sharks and bat rays. Seasonally you might catch a striped bass or halibut but your chances are only fair.
For the kingfish try using a high/low leader baited with cut anchovies or pile worms. Use size 4-2 hooks and fish on the bottom. For the jacksmelt tie a couple of size 8 hooks directly to your line, put on a piece of pile worm, or small piece of shrimp, and fish using as float so that your bait it 2-4 feet under the surface of the water. For perch, use size 6 hooks baited with pile worms on a high/low leader. You might also try grass shrimp or ghost shrimp but I've had best success with the pile worms in this area. Pile perch and white perch are a possibility year round, striped, rainbow and rubberlip will be more common during the winter and spring, while walleyes and silver perch will be caught from spring into the fall months.
Brown smoothhound sharks and leopard sharks are always a possibility although spring to fall are the prime months. For the larger leopards a live shinerperch, midshipman or small smelt can be great while cut bait—anchovies, sardines or mackerel are also excellent. Most of the smaller brown smoothhounds will be landed on cut bait while an occasional sevengill shark may add a little excitement and variety. Bat rays of course prefer squid and some big "mud marlins" are out there so make sure you have the appropriate tackle and a way to get them up onto the pier.
Larger fish are a possibility although few are actually landed here. Striped bass are still the angler's favorite and here cut bait—anchovies or sardines—are the most common fare although pile worms and artificials may also produce. A few halibut may also be encountered. Live bait, mainly live shinerperch are the preferred bait. You can also try lures on the bottom but also be prepared to lose a few due to old obstructions (such as pilings) that still litter the bed of the cove. Sturgeon should also enter the local waters, especially during the herring runs. When the diamondbacks are around try ghost shrimp, blue mud shrimp or cut herring and herring roe. As with the large sharks and rays, be prepared to have a way to bring the larger fish up onto the pier.
A final note concerns bullheads (staghorn sculpin). This is one of those piers where the bullheads may drive you crazy during the summer months because they will sometimes grab any bait they can get their mouth around and are seemingly as plentiful as mosquitoes in a swamp. Be warned.

Jack mackerel caught November 2015 — on a drifted Gulp Sandworm     
Potpourri — Perhaps More Than You Want To Know About the South Beach Harbor Marina Pier
<*}}}}}}}}}>< — I noticed this article one day in the newspaper — and I agree.
Pac Bell Is A Homer For Fishing, Ball Fans
Giants fans are the luckiest fans in sports in my opinion, and not because of Barry Bonds. What Pac Bell Park has that no other ballpark has, is a fishing pier. We have the two greatest forms of outdoor entertainment concentrated in one pristine spot. I can think of no better way of spending a day than going to a baseball game or fishing. Why not squeeze both into one day?
In the Bay Area, we not only have two ball clubs, but one of the stadiums is practically floating on a bay full of fish. Yeah, sure, everyone loves the setting; they love walking from downtown, strolling around the marina, looking at the Willie Mays statue while standing under palm trees. But they are missing the best attraction. Around the corner is a fishing pier with benches, fish-cleaning sinks, and the bay underneath. The Yankees do not have this kind of paradise. The Diamondbacks are surrounded by desert. The Orioles and Pirates have new stadiums near water, but you can't fish and watch the game at the same time. Locals consider San Francisco the greatest city in the country, but they hardly even know why. It's fishing and baseball COMBINED!
It is a wonder that so few people take advantage of this opportunity. I'll never forget the first time I wandered around outside the park looking for the "knothole gang" in right field next to the bay when I discovered a guy fishing from the pier at McCovey Cove. Robert, I think was his name, had his son with him, a big Giants flag strapped to the rail, a radio with the game on, and a line in the water. They were having the time of their lives. While he fished and listened to the game, his son played with some of the other kids on the pier. He said it was his absolute dream-come-true to enjoy his all-time favorite pastimes simultaneously. And I agree with him.
If you enjoy fishing and baseball, the options for a jam-packed day of fun in the sun (or fog) are myriad. Come early to the parking lot, have a tailgate barbecue, and fish for a couple of hours before a night game—just as they really start biting. Or show up anytime during a day game, bring a cooler and a stool, or use one of the benches along the 1/2-mile long pier, and start casting into the Cove. Just be careful to look behind you, as the day can turn ugly if you hook another fan. Bring a couple of friends and take turns watching the game for an inning through the fence in right field. Not only is it free, you can actually stick your hand into fair territory. How many places can you be in fair territory and not in the ballpark?
Since a fishing license is not necessary to fish from the official piers along the bays and coast of California, this is an excellent place to bring friends who do not ordinarily fish. I brought Mike, who, while not a fishing fanatic, has been to several Giants games. He just missed catching an Expos home run ball by a foot the night before, and eager to enjoy the park too its fullest, readily joined me for an afternoon of pier fishing last Sunday.
If you've ever wanted to have a taste of what it is like to have thousands of fans checking you out, try fishing at the ball-park. I'm so glad Mike caught the 14-in. kingfish shortly after we arrived. At least 100 people asked us if we caught anything, what kind of fish were in the cove, if kingfish taste good, what kind of bait we used, and on and on. For the record, kingfish allegedly taste good, but are bony. There are also big crabs and reportedly saltwater perch. Theoretically, you could hook a striper or salmon. Mike caught an iridescent fish on a 1/4-oz. blue-and-silver Kastmaster and threw it back after a few photos. I tried for a while with lures but switched to bait—squid, fished about 18 inches off the bottom. With that setup, I managed to pull in a crab, but as it was missing two legs, a claw and an eye, I had no thoughts of keeping the ugly thing, much less eating it. Sympathy and disgust forced me to throw it back along with my last big treble hook, which it refused to let go.
The ballpark is at the end of the Caltrain line so it could not be easier to get to. I would bring a couple different baits, maybe live anchovies or sardines, pile worms or cut squid. Kick back and enjoy the scenery, the conversations, the attention, and especially the game. Get out there!
—Chuck Baldwin, The Funky Fisherman, The Independent, August 31, 2002
<*}}}}}}}}}>< — Much of the waterfront area along the Embarcadero is now marked as a Public Shore, thus giving anglers a plethora of spots to drop a line into the water. One such area is the small parking lot at the front of Pier 40—between the Java House Restaurant and the Harbor Grill. Although the lot is primarily used for visitors to the businesses on Pier 40, I have parked there several times when visiting the South Beach Harbor Marina Pier. One day I decided to drop a line into the bay waters adjacent to where my car was parked. Soon I had a hit and pulled in a fair-sized white seaperch.Immediately I wondered if I should list Pier 40 as a new pier in the book. No, it really isn't seen as a pier fishing destination by most anglers. Nevertheless, I decided I would include this paragraph and offer up one more pier from which you might fish.
<*}}}}}}}}}>< — Times have really changed, as has this area. Old pictures, taken back in the 1850s and '60s, show South Beach as the home of numerous ship builders and show a shoreline ravaged by these same builders. Long "greaseways" extended down from the shoreline into the water (which allowed boats to be dragged out of the water for cleaning and repair); the beach itself was reminiscent of some of the pictures of European beaches in World War II, beaches that had suffered hit after hit from offshore shelling. China Basin itself was the home of the "China Clipper" sailing ships back in the 1860s.
<*}}}}}}}}}>< — Special Bay Area Regulations:
A perch closure exits in San Francisco and San Pablo Bay from April 1 to July 31. No perch may be kept other than shinerperch (20).
In San Francisco and San Pablo Bay a fishing line may not contain more than three hooks.
Sturgeon Regulations:
A sturgeon report card and tags are required for anyone fishing for or taking sturgeon. (a) The card must be in the angler's possession; (b) a tag must be used for any sturgeon retained by the angler; (c) the angler must record information on the Sturgeon Report Card immediately after catching and   keeping or releasing the sturgeon.
White sturgeon can only be kept from 40-60 inches; larger and smaller sturgeon must be released.
Green sturgeon may not be taken or possessed.
 South Beach Harbor Marina Pier Facts
 Hours: Open 24 hours.