Trouts and Salmon: Family Salmonidae
Species: Oncorhynchus kisutch (Walbaum, 1792); from the Greek roots onkos (hook), rhynchos (nose), and kisutch (the vernacular name for the species in Alaska and Kamchatka, USSR).
Alternate Names: Coho salmon, silversides, hooknose, hookbill, blueback (young salmon), jack salmon, tschaviche, showitz, quisutsch, and bielaya ryba. Called salmón plateado in Mexico. The English name coho appeared as early as 1878 as co-hu and presumably descended from such similar Indian dialect names as kwahwult (Chilliwack and Musqueam) and kúchuks (Sooke and Saanich). [Pacific Fishes of Canada, J. L. Hart]
Identification: Body elongate, mouth terminal, large, and needlelike teeth. They have irregular black spots on the back and on the upper part of caudal fin; gums are white at base of teeth. Their coloring is metallic blue above and silvery on sides. However, when spawing in freshwater their color changes. Males become dusky or bright green on their upper back and head, bright red on sides, and generally blackish below. The females are less bright—bronze to pinkish red on the sides.
Size:  To 42.5 inches and at least 31 pounds. Most taken from piers are under eight pounds.
Range: From Punta Camalú, Bahía Camalú, northern Baja California, to Point Hope, Chukchi Sea, Alaska with strays to Prudhoe Bay, Beaufort Sea, Alaska. Along the Pacific Asian coast from the Anadyr River, Russia to northern Korea and northern Honshu Island, Japan. Once common from Monterey Bay to the Chukcha Sea, Alaska.
Habitat: Spends time in both fresh water and salt water. Tends to be near the surface of the water although recorded to a depth of 318 feet.
Piers:  Relatively few silver salmon are taken from California piers. They have been recorded at the Imperial Beach Pier, the Balboa Pier, the Newport Pier and the Huntington Beach Pier. I caught what would have once been a legal-size fish at the B Street Pier in Crescent City one morning in October of 2015. Since the fish are now illegal, the fish was returned to the water. Nevertheless, a few are hooked each year north of Monterey Bay. Best bets: Pacifica Pier, Point Arena Pier, Trinidad Pier and the B Street Pier in Crescent City.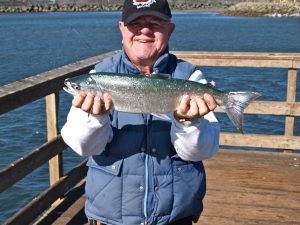 Silver salmon caught (and released) from the "B Street" Pier in Crescent City
Shoreline: Genereally not taken by shore anglers in ocean areas but caught by anglers in streams and rivers; illegal to keep.
Boats: Once a major goal of boaters but now illegal to keep.
Bait and Tackle: None since they are illegal.
Food Value: None since they are illegal.
Comments: A favorite salmon due to its aerial acrobatics. It is now illegal to keep silver salmon in California. Handle with care and return them to the water.
Apparently silver salmon once were a common catch at the Santa Cruz Wharf—"The success in the last 60 days of fishermen on the Santa Cruz Municipal Wharf in catching both steelhead and silver salmon indicates that there are a good number of fish in the area waiting for the river mouth to open up for the spawning runs. Santa Cruz Wharf Supervisor Jack Harrell has noted that he has recorded 41 silver salmon taken off the wharf this year that were products of the Monterey Bay Salmon and Trout Project hatchery. It is estimated that many more have been taken that have not been recorded."—Fish and Game, Jeff Goyett, Santa Cruz Sentinel, November 13, 1986
Some Silver Salmon caught from piers (when legal)
24 Lbs. — Belmont Pier, Fred Burkett, September 7, 1965—Source: Long Beach Independent, September 10, 1965 [the fish looks much smaller in the picture]
18 Lb. — Redondo Pier, Bill Whitely, May 4, 1940—Source: Los Angeles Times, May 7, 1940
16.5 Lbs. — Capitola Wharf, June 2003—Source: Capitola Wharf Bait Shop
11 Lb. — Stearns Wharf, Santa Barbara, "Sitting Bill" Schenk, October 19, 1994—Source: Ken Jones, Pier Fishing in California