<*}}}}}}}}}>< —  An interesting sight during a visit to this pier in July of 1994 was fly fishing lessons being given in the waters adjacent to the pier. Upwards of twenty anglers were stretched along the beach south of the pier together with an instructor who was showing them how to cast for barred surfperch. They only caught a few fish but all seemed to be having a great time in the mild surf common to the area. Unfortunately, I wasn't able to find out what artificial flies they were using. However, it reminded me of an angler who used to use a fly rod to fish for sturgeon at Joseph's Pier in Rodeo, in San Pablo Bay. I never saw him hook a fish in the shallow waters by the pier. Nevertheless, he had landed several sturgeon while using fly rods and fishing from boats in the bay (and, I must add, I saw pictures of the equipment and the fish). Since sturgeon often jumped close to the pier, it would not have been unreasonable to expect him to land a fish at the pier.
<*}}}}}}}}}>< — Sportfishing boats operated from the pier for many years but unfortunately those days are over. Would love to see it again!
Partyboat Operation
The San Luis County Board of Supervisores has awarded a one year exclusive use permit to Carl Rutherford of San Francisco and Leon Fonnesbeck of Sunnyvale to operate a deepsea fishing charter boat from San Simeon Pier. Rutherford said he and Fonnesbeck hope to base a 50 foot boat for charter from May 15 to November 15. Under the permit terms, the boat operators will be required to make about $2,000 worth of improvements to the pier.
—Fresno Bee-Republican, March 23, 1965
Partyboat operation is under way at the San Simeon Pier, catering to rock fishermen. The ship is out of Virg's Fishin' at Morro Bay and will make two trips to the fishing grounds each day. The boat is equipped with 12 bunks so those wanting to board early can catch a nap. The morning run is a five-hour trip and costs $7. The second run is four hours, tab $5. All day is $11.
—Fresno Bee-Republican, May 5, 1970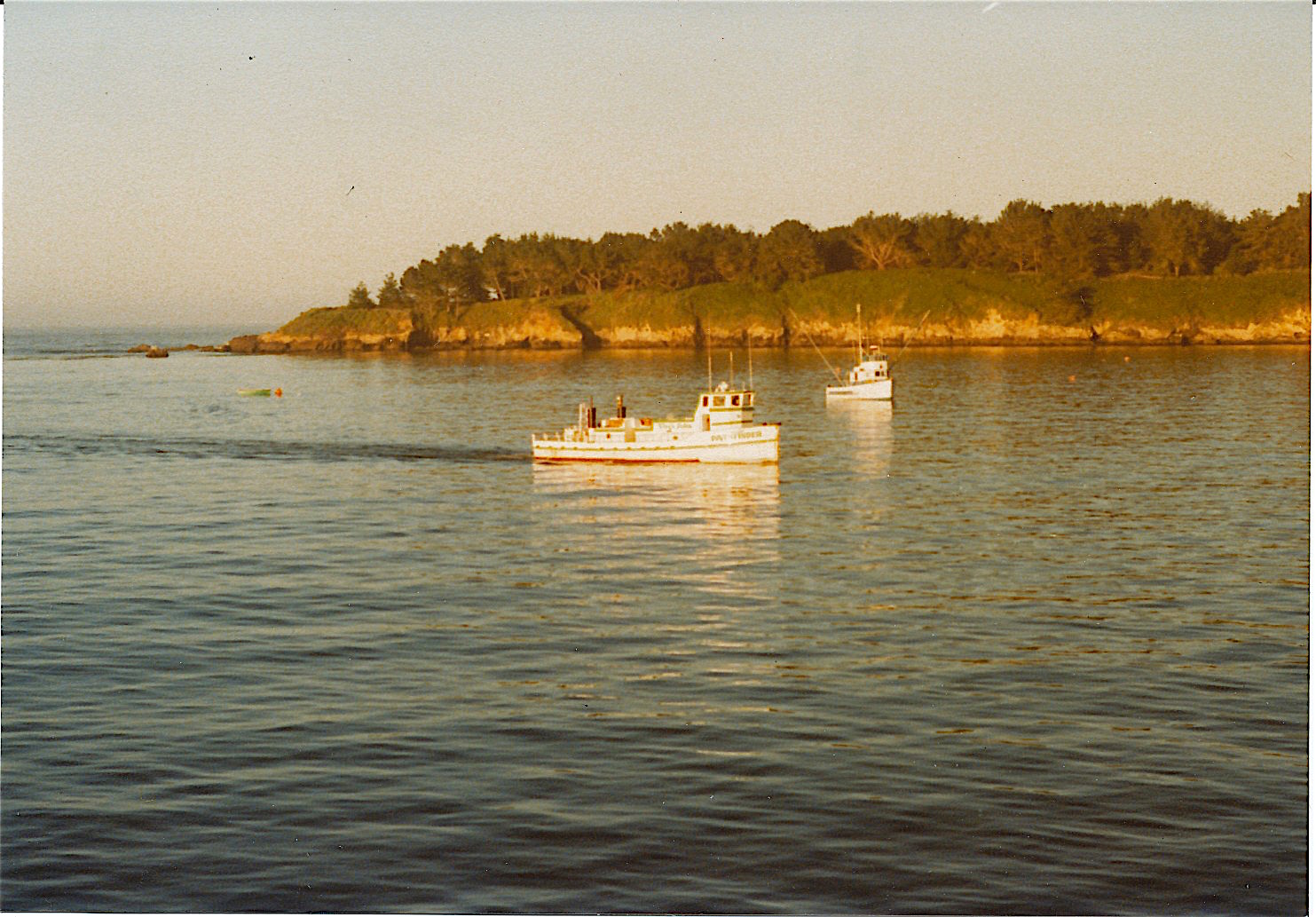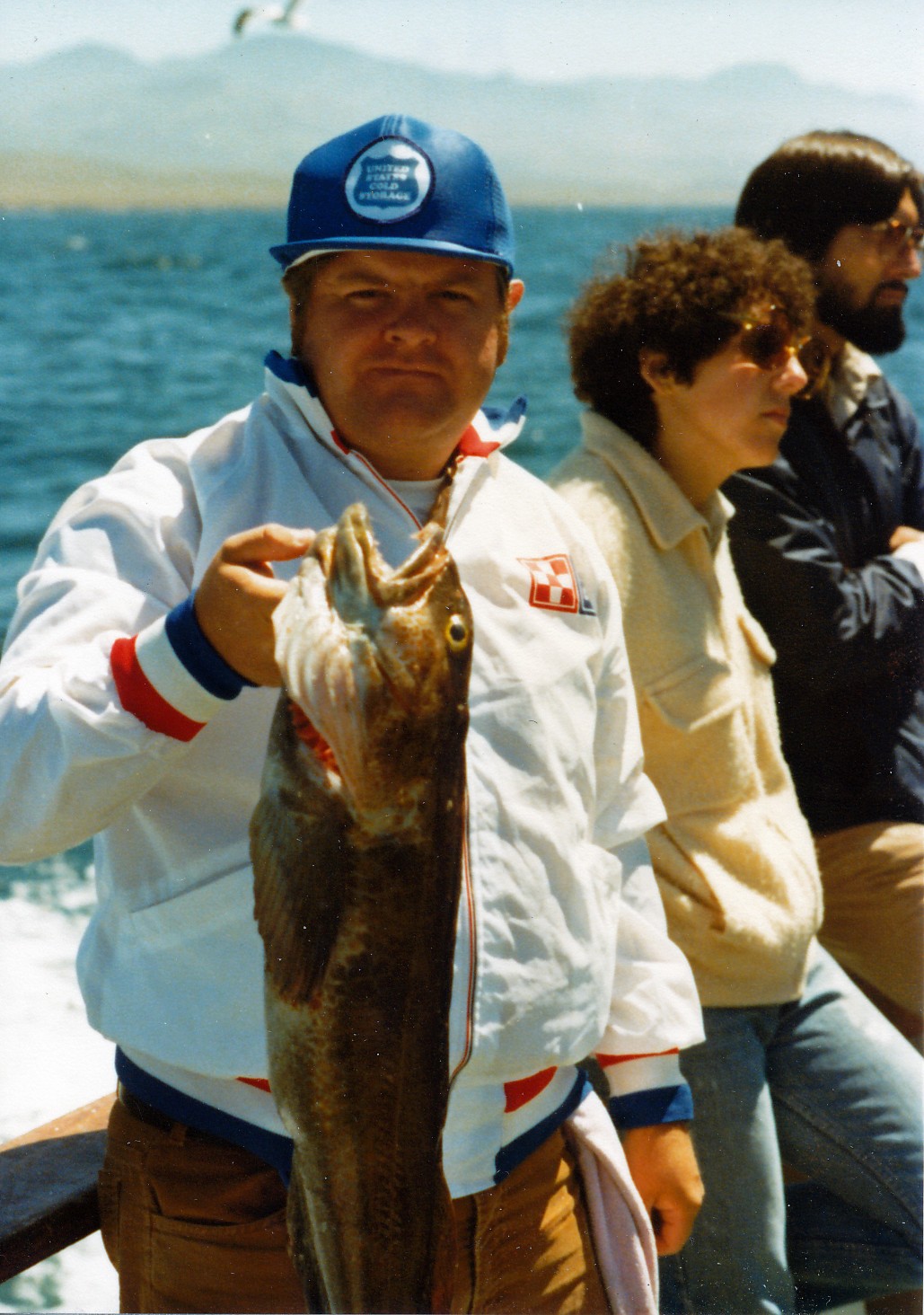 A fairly small, 8-pound lingcod that I caught on a San Simeon boat in 1978. Surprisingly, it was the jackpot winning fish.
"Another sportfishing landing has apparently fallen victim to renovation and rent increases. Nearly a year after a 400% rent increase forced the closure of Malibu Sportfishing on Malibu Pier, Virg's Sportfishing at San Simeon closed its doors and moved its operation to Morro Bay because of similar actions taken by the State Department of Parks and Recreation. "They wanted us to build a new building, not just a wood shack, but a white stucco building with a mission-style roof," said Mike Fitzsimmons, owner of Virg's Sportfishing, who also cited increased pier maintenance fees and rent increases as reasons for leaving. Fitzsimmons, who has been at San Simeon for 18 years, will still run trips to the area from his Morro Bay office but will charge $47 instead of $30 to cover the cost of the 50-mile boat ride north to the fishing grounds."
—Los Angeles Times, March 15, 1989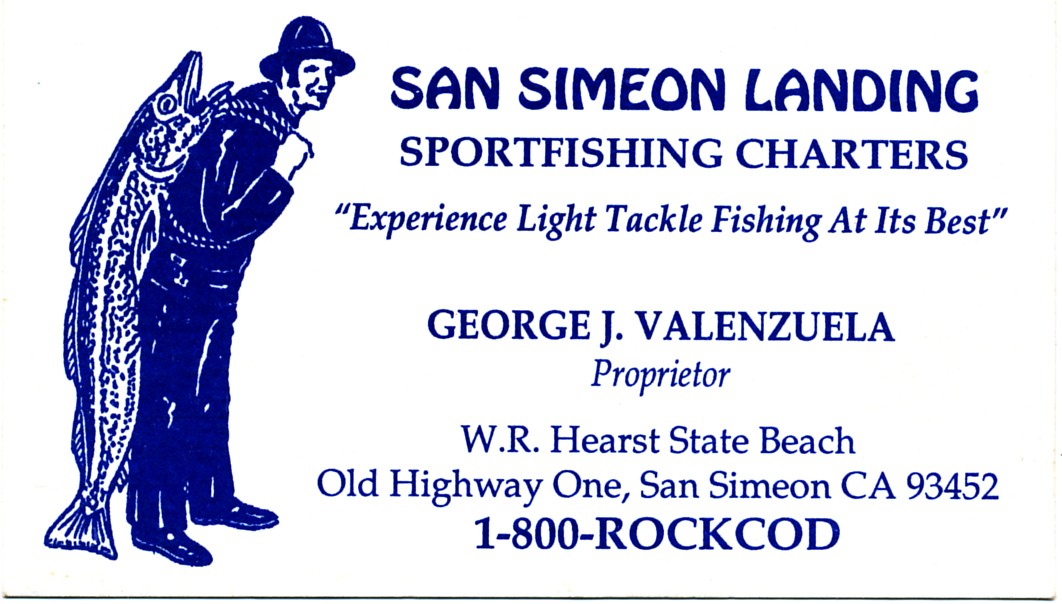 However, George Valenzuela received a state contract in July of 1989 to conduct a new landing — "San Simeon Landing" from the end of the pier. Eventually though it too would close.
<*}}}}}}}}}>< — One of my most interesting visits to the pier was a day when the sardines were running and the sea lions, seals, pelicans and other birds were on the attack. I wrote an article (with pictures) on my kenjonesfishing.com blog called "You Had To Be There."

http://kenjonesfishing.com/2011/03/san-simeon-pier-and-bay-on-thursday-%e2%80%94-you-had-to-be-there/
<*}}}}}}}}}>< —  Knuckleheadus Americanus! Although kayakers typically are not supposed to go under a pier due to fishing lines, that rule seems to be ignored here and I've seen several instances where anglers and kayakers were upset. It shouldn't be that hard to paddle AROUND the pier instead of UNDER it but that doesn't seem to be recognized by the kayakers or the people at the kayak rental station.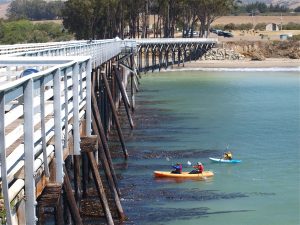 History Note. The name San Simeon honors Saint Simon and was first recorded as the name of a rancho of Mission San Miguel in 1819. In 1852 a whaling village was established out on San Simeon Point and a wharf was built up next to the wall of the rocks. Unfortunately, that wharf was unusable during rough seas. Later, when the whaling had pretty much died out, the village was moved down to the present site and, in 1864, a wharf was built. When that wharf was destroyed by storms, Senator George Hearst (who had bought the site) decided to build a new wharf. He did so in 1878, and built a wharf which extended out 1,000 feet into the Pacific to an area where the depth of water was 20 feet at low tide. The wharf was 20 feet wide for most of its length but widened to 50 feet at the end and rails were laid out to the wharf to enable freight to be hauled up to the new warehouse on the shore.
In 1957 the current pier was constructed as a pleasure pier by San Luis Obispo County and then, in 1969 after storm damage, the county and state funded repairs and an extension of 300 feet. The pier is currently managed by the state.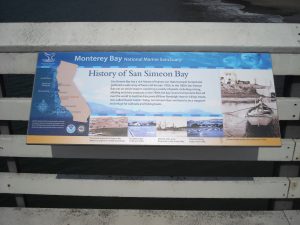 San Simeon Pier Facts

Hours: Open 24 hours a day although the pay station at the entrance to the park is only open dawn to dusk.
Facilities: There are fish cleaning stations and benches on the pier. Just up the hill from the pier are restrooms.  Entry to the park is supposed to cost $4 (seniors $3) but many people park outside the park entrance and simply walk in. [Actually, every visit I have made in the past few years has seen free entry into the park.] Lodging is found approximately three miles away.
Handicapped Facilities: Handicapped parking is available as are restrooms. The pier planking is wood and the railing is approximately 36″ high. Handicapped BBQ facilities are also available. Not posted for handicapped.
How To Get There: Highway 1 to the entrance.
Management: California Department of Parks and Recreation.