Public Pier — No Fishing License Required
The Berkeley Pier is closed for renovation and no one seems to know when or if it will be reopened.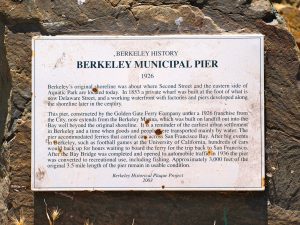 If a survey had been done over the past twenty-five years as to the most visited pier in the Bay Area, the winner undoubtedly would have been either the pier at Pacifica or this pier in Berkeley. This might seem strange since angling at Pacifica had some spectacular "salmon" years and generated a tremendous amount of publicity.  But for availability, transportation, ease of fishing, and facilities, Berkeley was hard to beat. Of course it is also located right smack dab in the center of the Rodeo-Oakland-Hayward population corridor. A lot of fishermen live close to the pier and a lot of fishermen use the pier. Of course this is now all in the past tense—the pier is closed (and maybe for good).
This pier should be  famous among those interested in piers. It was the first pier to be funded by the Wildlife Conservation Board and showed, after opening in 1959, the cost effectiveness of piers as a recreational resource. For the money spent there are few resources so heavily used — and able to be used by all segments of the population. Since then, more than forty piers have been co-funded by the WCB.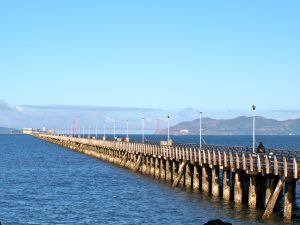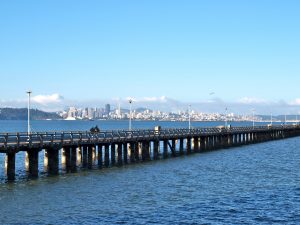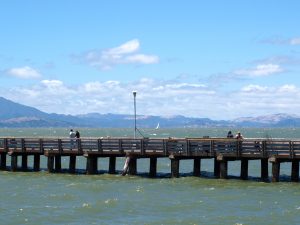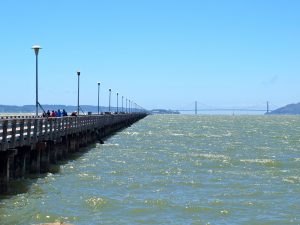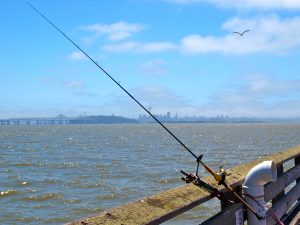 Environment. This pier extends out for more than 3,000 feet; as such, it is one of the longest piers in San Francisco Bay as well as the state. This reflects the shallow water around most of the pier. Bottom is primarily mud and there are few rocks with the exception of the shoreline area. The pier was originally built in 1926 so there are a considerable number of old pilings but mussel growth itself is fairly light. In the summertime there can be considerable growth of kelp along the shoreline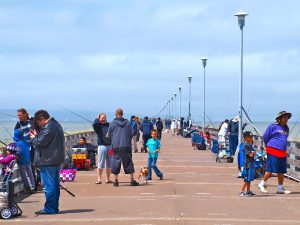 Berkeley Pier Kids Derby — 2013
The Fish. Given the heavy use, it's not surprising that a lot of fish were caught every year from the pier. However, this is one pier where the regulars really outshined the newcomers in taking fish. The neophyte angler would, much of the year, catch little or no fish, or the catch would be primarily small shiners and bullheads. Regulars on the other hand almost always could find something biting. Use of the right bait, and knowing what time of the year different species are present, will help increase the catch and the regulars had that knowledge.
Numerically, the main species caught here are shinerperch and bullheads (staghorn sculpin) but they made up the so-called incidental catch—and bait for the larger species.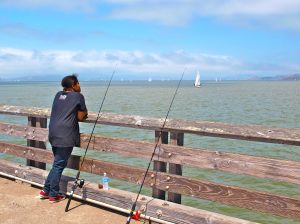 Knowledgeable locals primarily fished in season for halibut (spring through the summer), striped bass (spring into the fall), and sharks and rays (all year). Smaller prey included jacksmelt, pileperch, white seaperch, blackperch, walleye surfperch, kingfish (white croaker), sand sole, and (a few) starry flounder.
Most years would see some large halibut  (to 30 pounds), large striped bass (to 45 pounds), and a few sturgeon and salmon. Of interest was a "run" of salmon reported by PFIC regular Robert "Redfish" Gardner that took place at the pier around 1990 with anglers catching fish up and down the pier. Speculation was that it was due to a previous plant of smolts in the area. Keeper-size white seabass have also been recorded from the pier, an uncommon occurrence but still an interesting catch from the pier.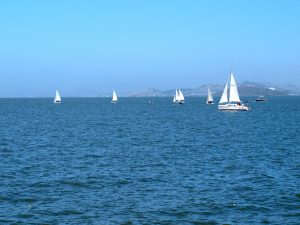 There sometimes seems to be a never ending number of sailing craft and boats on the bay
Among the most reliable of the pier's fish are the sharks and rays. It is possible to catch brown smoothhounds, leopard sharks and bat rays almost any time of the year, though summer and fall are the peak times.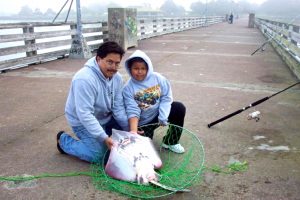 A small "big skate" taken in 2004
One of the most unusual catches at the pier, at least recently, was a close relative of the sharks and rays, a skate. While big skates are fairly common in the bay, this was a sandpaper skate (Raja kincaidii) , a deepwater skate that is rarely caught less than 200 feet deep (and it's reported down to 4,500 feet). It was caught in May of '99 by James Pan who reported that it was extremely fun to catch because it actually jumped out of the water once during the fight. However, he also reported that it did not put up as strong a fight as bat rays. What the deepwater skate was doing in this shallow water area is anyone's guess.
Another interesting report was of a small, 11-inch long barracuda taken from the pier in October 2013. A local bait shop identified the fish but I've always wondered if it might have been a lizardfish, a species that had been seen in vast numbers from San Diego to Santa Cruz that year.
Occasionally caught during the late-spring, early-summer months are American shad as they're traversing the underwater highway that runs from the ocean thru the bay and up into the Sacramento River.
Increasing seen in the past decade are a few sharays that are more commonly seen in southern California. Thornback ray (Platyrhinoidis triseriata), often called pinback sharks or banjo sharks, have become fairly common while an increasing number of shovelnose guitarfish (Rhinobatasproductus), usually called shovelnose sharks, have also shown up. No one is quite sure why the numbers have increased although they are probably left overs from the warm water years that decided to make the bay their home.  A few angel sharks have also made an appearance.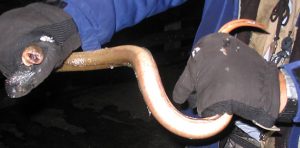 Yellow snake eel caught in 2009 by PFIC regular Mel
An interesting trivia item, at least for those interesting in such things, is that the Berkeley Pier is recorded as the northern limit for the yellow snake eel (Ophichthus zophochir), a reddish-olive to yellow eel that reaches 30 inches in length and whose range to the south is Peru. A catch by an unidentified angler was recorded in scientific journals for April 16, 1964. The fact that the twisty little beasts hang around Berzerkeley was confirmed a second time on June 23, 2006 when a PFIC regular—Mel, captured and filmed a yellow snake eel at the same pier.
Another fish caught about once in a blue moon is white seabass. There have been sporadic reports over the years with the fish generally showing up at the same time they are reported from other East Bay spots. One such occurrence happened in June of 2012 when several fish were reported including one that measured at 46 inches and another at 56 inches.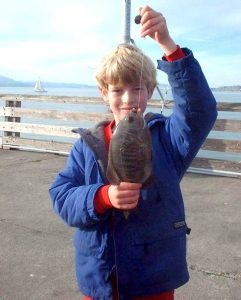 Black perch caught by Minnow Magnet (Justin) in 2004
Upsetting the apple cart as far as conventional wisdom (and scientific records) was a perplexing catch made at the pier in March of 2009 by PFIC regular rockin robin. What he caught was a greenling of some type but no one could positively identify the fish. Soon after a call was made to our esteemed fish consultant—Milton Love at UCSB—who did some checking and then replied: "This is a tough one. It is definitely a greenling. I queried three fish experts from Canada and Alaska, where greenlings are most abundant, and two said it was a whitespotted greenling (Hexagrammos stelleri) and one thought it was a kelp greenling (Hexagrammos decagrammus). Whitespotteds have never been reported as far south as California, so that would be an interesting find if true."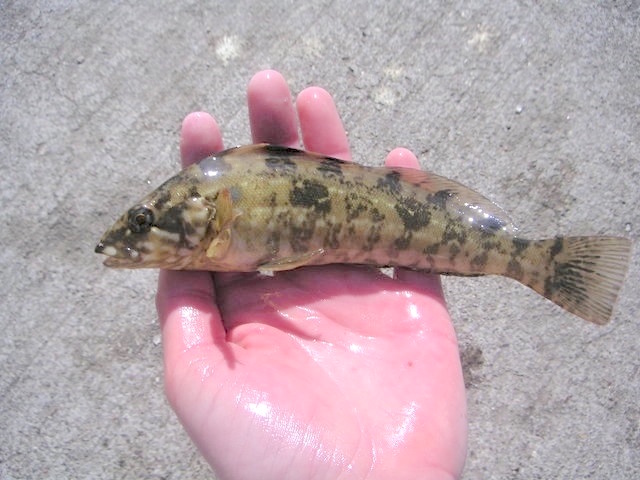 Whitespotted Greenling
Whitespotted greenling are listed and shown in Guide To The Coastal Marine Fishes of California(Lea and Miller, 1972). Their comment: "This species has been erroneously reported from northern California. A description is given to enable proper identification in case it may be present in California." So could it have been a whitespotted greenling? Since the whitespotted greenling has a listed range from Japan to Puget Sound it would indeed be a considerable extension in range and would call for a change to the record book. I'm not sure what it was but I've caught many, many kelp greenlings and never seen one that looked like the fish in question.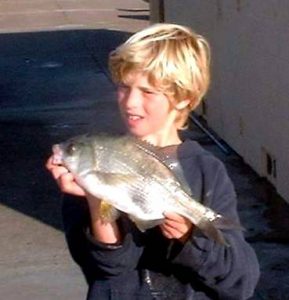 Pileperch caught by Minnow Magnet (Justin)
An interesting little fish that is rarely caught on hook and line due to its small, small mouth is the California tonguefish (Symphurus atricauda). In May of 2015, I received a note from Songslinger, one of the regulars (masters) at the pier, who reported that four to five had been seen by anglers tossing out throw nets for live bait. Initially mistaken for sanddab, Songslinger decided to check the guidebooks and sure enough they were tonguefish. Although their range is listed from Panama to Oregon, they're considered rare north of Point Conception and certainly a long ways from home at Berkeley Pier.
You just never know what's going to show up.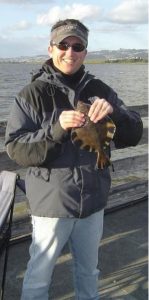 Starry flounder caught  by Jay
The pier has never been considered a good pier for crustaceans even though a lot of crabs are caught. The vast majority of the crabs attacking bait are illegal Dungeness crabs, illegal because they are too small, illegal because they are caught on a fishing line, and illegal because Dungeness crabs cannot be taken in San Francisco Bay.
A few rock crabs show up occasionally but never enough to actually provide a fishery. Those seeking out rock crabs head over to the other side of the bay and piers closer to the Golden Gate.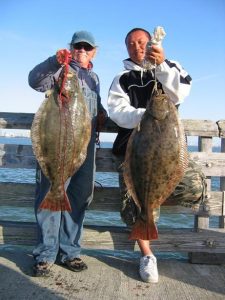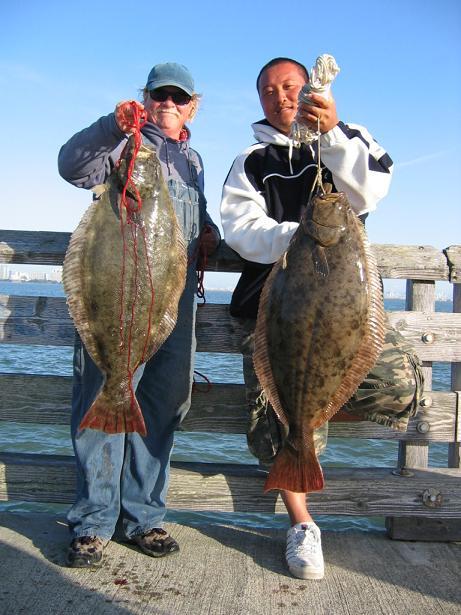 Songslinger (Glen) and a nice halibut — 2007
Fishing Tips. For the larger perch, mainly pileperch, blackperch, white seaperch and rubberlip seaperch, anglers fished as close around the pilings as possible and used pile worms, ghost shrimp, grass shrimp, or fresh mussels as bait. Fishing January through March, using a high/low leader, and using size 4-8 hooks  was the method (though small mini-jigs tipped with pile worms also proved effective for the locals). Although the perch might show up at almost any spot on the pier, one of the best areas  traditionally was inshore around the fish cleaning station (especially for blackperch). The pier also recorded some redtail surfperch, striped seaperch, and dwarf perch, but their numbers were much lower. Higher in number, although smaller in size, were the walleye and silver surfperch caught at the pier.