Date: September 1, 2002; To: PFIC Message Board; From: nigeria butler ; Subject: Too many Mackerel
Went to Port Hueneme today to see if the fish were there. Yes, but not the right kind of fish. The ocean was full of mackerel from the shoreline to deep water. So if you like mackerel go to Port Hueneme Pier while they are still there. Caught them on Lucky Joe jigs. Nigeria Butler
Posted by pierangler8787 on September 1, 2002
Actually mackerel fishing can be very exciting. Tossing out a Sabiki and getting a mack' on every hook on light tackle is WAY fun; you do not have to do it this way (or if your not interested in fishing with bait rigs). Small mackerel freshly caught can be deadly for the big macks. You can flyline it, just straight hook and bait, or use some small split shots. You can make a fillet, or simply cut off the head and they will hit it (carnivorous little guys, aren't they?). You can also use smelt, sardines, and 'chovies as live bait, but the best to use is what they are chasing. Chances are the macks are munching every baitfish around.
Artificials take many macks, including swimbaits, from Big Hammer (of course). Anchovy, brown bait, sardine, mackerel, green-back 'chovie, bleeding mackerel, blue 'chovie, pepper trout, and prizm rainbow trout will all work. Match the color with the water color. If they are still biting at mid-day, then prizm rainbow trout, bleeding mackerel and blue chovie will work. Later, in the evening, use a darker color swimbait. 2- and 3-inch have worked the best for me. Keep the leadhead light; you usually want to be near the surface or only a few feet below. I have caught some on 1-ounce Dart lures.       Another lures that will probably work but I have yet to try is the Krocodile spoon. Small spinners, and Rapala Magnums will probably work. I tried bucktail-type jigs, and they work, but are hard to fish. I have seen a few regulars use the thread or similar threads like a bucktail with small hooks on a snag line usually consisting of 8 or 10 hooks, but this falls into the bait rigs category. So for any of you that are bored of tossing out a bait rig and want something more challenging, try considering some of my experiences above. Now lets catch some Macks! BTW, mackerel is the best bait for threshers…. Happy fishin'! Chris
Date: June 1, 2007; To: PFIC Message Board; From: Santa; Subject: Hueneme Filipino Rig?
 Have any of you folks out there seen these or know where I can get some mini jigheads that look like these? Spent a couple of hrs surfing net with no luck. These are attached to a 6-gang Sabiki type rig that's called a Filipino Rig around the Port Hueneme area. I got this rig from one of the regulars at Hueneme Wed. while I was there, but he left B4 I could get info on it, and would like to make some more B4 my next trip. THIS THING WORKS! I had fished for 3 hrs for bait using various Sabiki rigs and methods, with no love. I think his name was Lou, turned me on to this rig and said "try it." On my very next drop, I get hit by a nice Shiner, as I turn to express further gratitude for the gift, I notice the fellow had already left. Tossed out the Shiner on big rod for live Hali bait, and went to other side of pier with Sabiki for more bait. WHAM! got a triple Mack attack. Just further support for the school of thought to rely on info and help from the locals when you visit a new pier/fishing area. I had to leave and pick up my wife B4 I could get any BIG game, but came away pleased with having fished a new pier, learned new ideas, and got some fresh Mack to cure for future bait.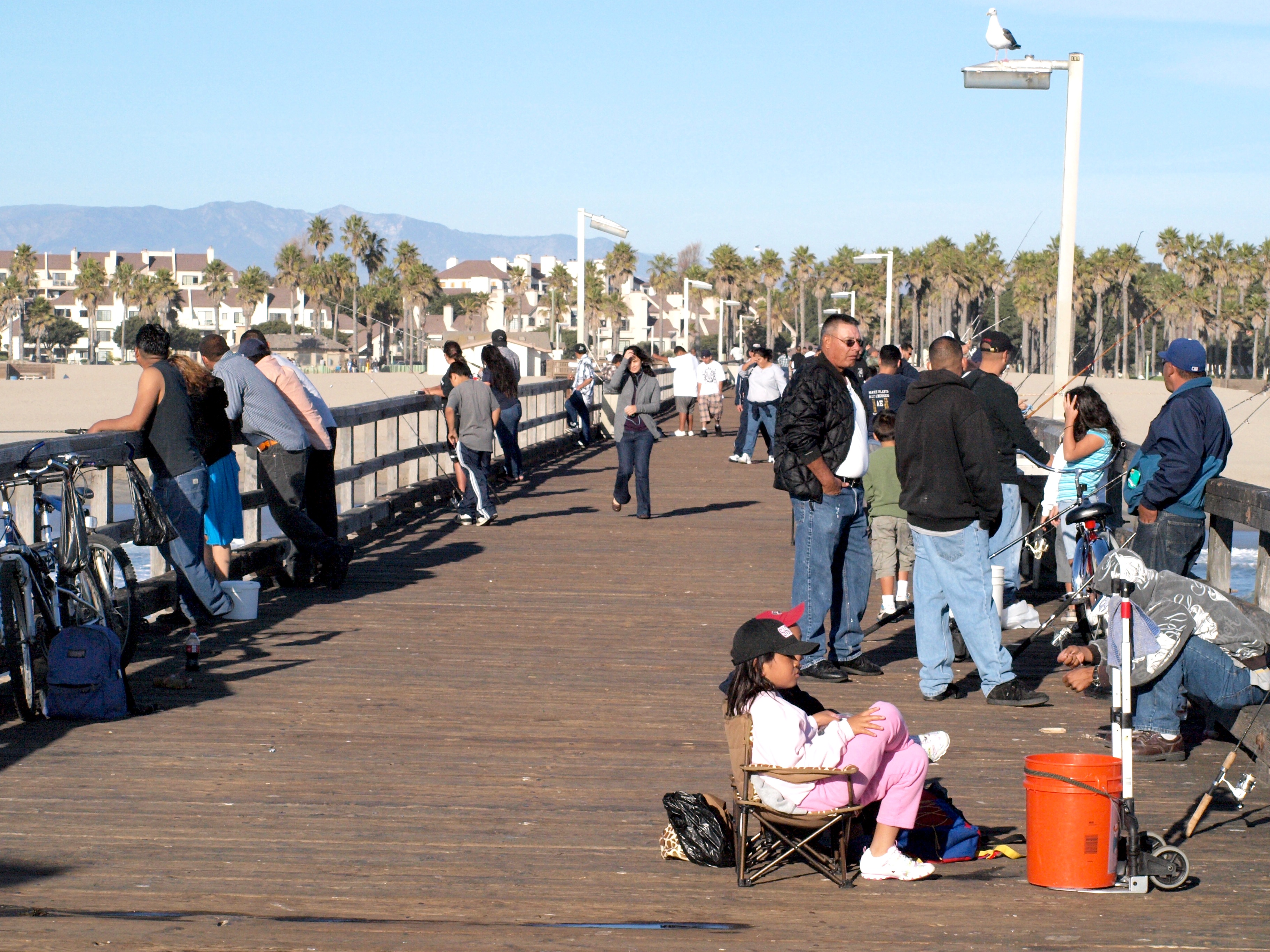 The "Good Old Days"
A Fish Story—The Daily Venturian tells a fish story which may encourage tenderfeet from the east to go fishing. A man who had never caught a fish before got nearly 100 pounds of fish in three hauls. The Venturian says: A jolly party consisting of Phares Myers, H. W. Conner and his brother-in-law, Charlie Chambers, were fishing at Hueneme yesterday. Mr. Chambers, who, with his wife, just arrived in Ventura from Chicago, had never caught a saltwater fish in his life, and Mr. Conner, who has long been the champion fisherman of Ventura, was very careful to show Mr. Chambers just how to cast his line. He had an apt pupil, and it was not many minutes before a big silver-tailed sea bass was pulling at the line and the two men after a hard struggle succeeded in landing the monster—a forty-pound fish. That was great luck, but the tenderfoot was not satisfied, and again casted his line in the most approved fashion, he soon had a thirty-two-pound fish safe on the wharf. His next catch was a twenty-pound halibut, making ninety-two pounds of fish in three hauls. In the meantime the experienced fishermen, Conner and Myers, were throwing away sharks as fast as they could get them off their hooks, nothing else being tempted by the bait they offered. The fish were brought to Ventura and are at Conner & Blackstock's store. Mr. Conner takes his defeat good naturedly, but there is a look in his eye which can be interpreted to mean that he will beat that catch yet. —Los Angeles Herald, October 27, 1895
Almost for the first time this season fishing off the Hueneme wharf Sunday was rewarded with some degree of success. Sea trout were landed in numbers for several hours. But frequenters of the wharf say that fishing is exceedingly backward this year, that it has been on a gradual decline since the sugar factory built its waste water ditch to empty in the sea a few miles below the wharf, and in every way fishing is not the satisfactory sport that it used to be. —Oxnard Courier, June 15, 1901
A favorite fish that seems inclined to take a chance at the bait at Hueneme is the halibut. This variety is the kind that no fisherman will sneeze at and one that many an amateur would like to take a chance at. Reports from the same resort say that sea trout have not been so plentiful this year, but smelt are seen now and then. —Los Angeles Herald, July 6, 1909
Fishing off the wharf is improving and there are large catches of small fish being made. The halibut are beginning to bite and twelve were caught yesterday. No yellowtail are running. Mr. Waterman, manager of the Farmers Warehouse Co., claims to have hooked a large sea bass. He says the monster, which he brought close to the top of the water, weighed close to 250 pounds. Friends of Mr. Waterman's, however, say the fish was about eighteen inches in length. Even Mr. Waterman will admit that the sea bass must have been extremely weighty for its size. —Oxnard Courier, June 23, 1911
Good Yellowtail Run Reported At Hueneme
Lovers of the rod and reel have an opportunity for some perfectly good sport, according to word from the Hueneme wharf. Officials of the Farmer's Warehouse Company state that yellowtail are now running in goodly numbers. Yesterday dozens of fishermen were out, according to the reports, and all made good catches. A halibut run is also on, though not as great as the yellowtail. Smaller fish have commenced to be less numerous than a few months ago. Within the past few days some handsome specimens of yellowtail have been brought to the wharf. —The Daily Oxnard Courier, December 14, 1911
Ocean trout were biting well at the Hueneme wharf yesterday. —Oxnard Courier, July 17, 1914
Hueneme—The fish are biting at the Hueneme wharf and the smelt are running; many fine catches of the latter being caught. —Oxnard Courier, September 12, 1919
Some Fish For Surf Fish—J. P. Couste recently caught a surf fish [corbina] from the Hueneme wharf that weighed four and a half pounds. He thinks that's going some for surf fish. —Oxnard Courier, November 14, 1919
There was a good run of surf fish [corbina] Wednesday, a number of large ones being taken from the pier. —Oxnard Daily Courier, May 12, 1921
Many fishermen were at Hueneme yesterday at the pier. Fishing was fine, with smelt and mackerel running all day. —Oxnard Press-Courier, September 5, 1925
Holy Mackerel! Martin Got It in the Eye and Couldn't Go to Work—It was only his excellent reputation for honesty, reliability and integrity that saved Martin Valentine this morning when he telephoned his employer A. J. Dingeman of the Ford agency and said he would be unable to come to work because a mackerel, one of those famous little fishes which have made Hueneme famous, had bitten him in the eye.
"What?" gasped Dingeman in surprise. If there had been any doubt in Dingeman's mind as he heard the story over the 'phone, the originality of the excuse took his breath away and all he could say was "Yes, yes, go on." Valentine continued the story. Further inquiry at the bedside of the patient, who resides on the Ditch road, revealed the fact that he had been fishing off Hueneme wharf yesterday evening when his line became entangled with that of another fisherman. Both had fish on their lines.
Valentine gave his line a jerk and up came the fish. But before he could get out of the water, Mr. Mackerel struck him right in the eye. Whether the fish bit him or whether the hook snagged him he does not know. At any rate something tore a nasty gash in his eyelid. He is today recovering. It is believed he will be well enough to resume fishing at the beach tomorrow. —Oxnard Press-Courier, September 12, 1925
Louis Leisman of Oxnard caught a record fish at Hueneme Sunday while fishing off Hueneme wharf. It was a white sea bass and weighed 26 pounds. Leisman does not use a line. He speared the fish. —Oxnard Daily Courier, September 29, 1925
Plenty of smelt, is the report of fishermen on the Hueneme wharf. There is also a run of small bonita from the pier which is unusual for so close in. —Oxnard Press-Courier, September 22, 1926
Kelp bass are biting now exceptionally well, according to Leo Doerner. The best hours for fishing are between 7 and 10 o'clock in the morning. Fishing is done from the Hueneme wharf for these fish. —Oxnard Press-Courier, May 5, 1927
100 Watch Landing of 400-Pound Jewfish Off Hueneme Wharf by Hollywood Fisherman
The biggest fish story of the weekend comes from Hueneme where the five weeks old patience of a Hollywood angler was rewarded with the capture of a 400 pound jewfish yesterday. A crowd of over 100 assembled on the Hueneme wharf to watch the landing of the monster fish, which took an hour and half of struggle.
The successful fisherman was Arthur Kovalovsky of 7300 Sunset Boulevard, Hollywood, who has camped at the Hueneme Beach resort for most of the past 5 weekends, spending most of the time trying to tempt the big fish to accept his offering of three pound mackerel used as bait. Mr. Kolvalovsky, according to Henry Horsewood of Hueneme, who reported the catch, has a special outfit which he values at about $200, designed for big fish. Until yesterday he was unsuccessful in landing any of the large fellows though some were caught at times.
The big jewfish, which onlookers estimated to be a six footer, put up a game fight and took almost the full length of line, which seemed "several miles long." He finally landed him after an hour and a half with the aid of four pound gaffs. The lucky fisherman was generous and distributed fine steaks to many of those present. Mr. Horsewood reported his share as excellent eating. Hueneme had a record day yesterday, the crowds fully equaling in number those of the Fourth of July. —Oxnard Daily Courier, July 25, 1927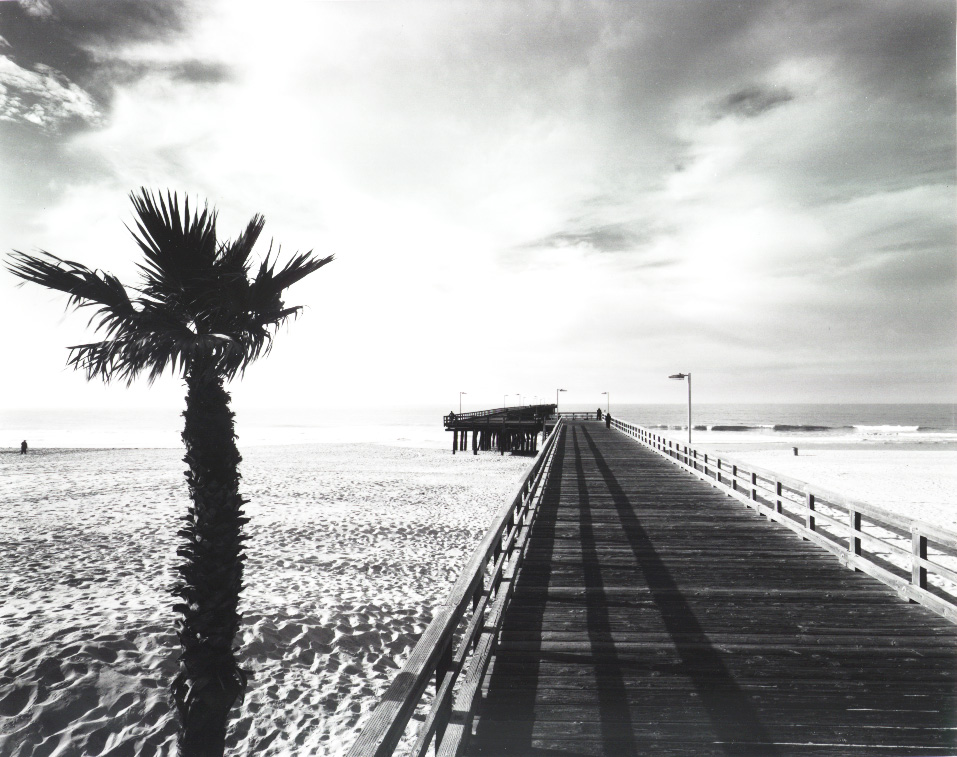 Potpourri — Perhaps more than you want to know about the Hueneme Pier
<*}}}}}}}}}>< — Fish surveys conducted by the California Department of Fish and Game from 2004-2009 showed 19 species of fish in the following numerical order — Pacific sardine, jacksmelt, Pacific mackerel, walleye surfperch, barred surfperch, jack mackerel, topsmelt, staghorn sculpin, queenfish, shiner perch, Pacific bonito, silver surfperch, California corbina, yellowfin croaker, white croaker, pileperch, speckled sanddab, grass rockfish and thornback ray.
<*}}}}}}}}}>< — Everyone seems to know that the prime time to catch halibut is the late spring to mid-summer months. But maybe someone forgot to tell the halibut. Super Bowl Sunday, January '00, saw several of the regulars out at the mostly deserted pier. Since it was a special day, they had brought buckets of live anchovies for bait. They caught some halibut, some more halibut, and then some more halibut. When they finished, they had 11 keeper-size halibut including an impressive 30-pounder (and had released many more under-sized flatties). It isn't supposed to be like that in January! Right?
<*}}}}}}}}}>< — The pier opened in 1968 and it didn't take much time to attract a regular following of anglers.
WHEN THE FOG hovers over the end of the Port Hueneme fishing pier, there is a strange, almost eerie feeling of aloneness for anyone who ventures out across the wet planking to the pier's west end. Summer activities on the beach are several hours away. The only sounds you hear are those of waves, the foghorn and the occasional clack clack of a fisherman's cart being pulled across the planking toward the end of the pier. As the fog closes in behind you and your vision is restricted to a few feet in any direction, you wonder how secure the. Platform is and just how far below are the waves you hear moving against the pilings.
Occasionally you pass a lone fisherman who appears out of the fog and turns from his fishing pole to say good morning. It's an eager greeting for both parties. Perhaps the fisherman was also feeling a bit alone. He disappears as quickly and the end of the pier becomes barely visible as a gray shadow a few yards ahead.
CLUSTERED at the end of the pier is a group of hearty fisherman who have come with the first morning light to try their luck in the waters: below. They are young and old, experienced and novice, tourists and old-timer. They have one thing in common, enthusiasm about fishing.
Many of the early morning pier fishermen come every day at dawn and leave when the fair weather fishermen start arriving before noon. Jon Freiberg, 84, from Ventura, is called "Grandpa" by many of the other regulars. When asked how long he has been fishing he says, with a strong accent, "I yus started", and then, as if it were a silly question, "Oh, I been fishing all my life." Mrs. Lynn Baldwin of Port Hueneme, says she likes the quiet of the early morning. "I'm on vacation," she says. "I work in a laundry and it's pretty noisy there. It feels good to relax and enjoy the quiet."