Chavarin said he used his usual bait, mackerel. But when he made the big strike, he used a large fishing spear to land the shark. "I don't know what we're going to do about cleaning it," he said, his excitement wavering a bit at the prospect.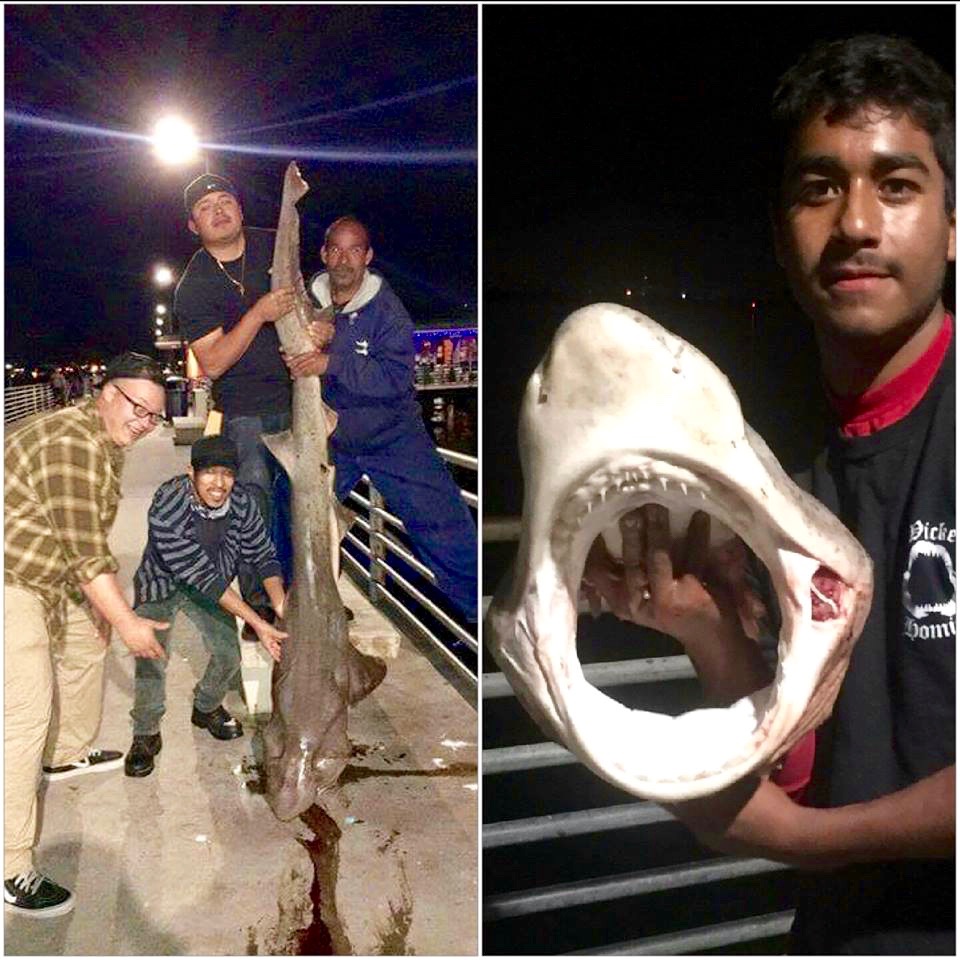 7-Gill taken in 2016 (Picture courtesy Wicked Homies Fishing Club)
Thresher sharks can grow up to 160 pounds and 20 feet long and are a common sight in San Diego waters. San Diego lifeguards say they aren't a threat to people.
"They're a beautiful animal, people can hook them, but it takes a lot of finesse to catch a big one off a pier," said lifeguard Bill Bender.
—Lisa Petrillo, San Diego Union-Tribune, September 18, 2006
<*}}}}}}}}}>< — I rarely recommend restaurants for the piers but sometimes one will deserve deserve a little publicity and such is the case with the OB Pier Café.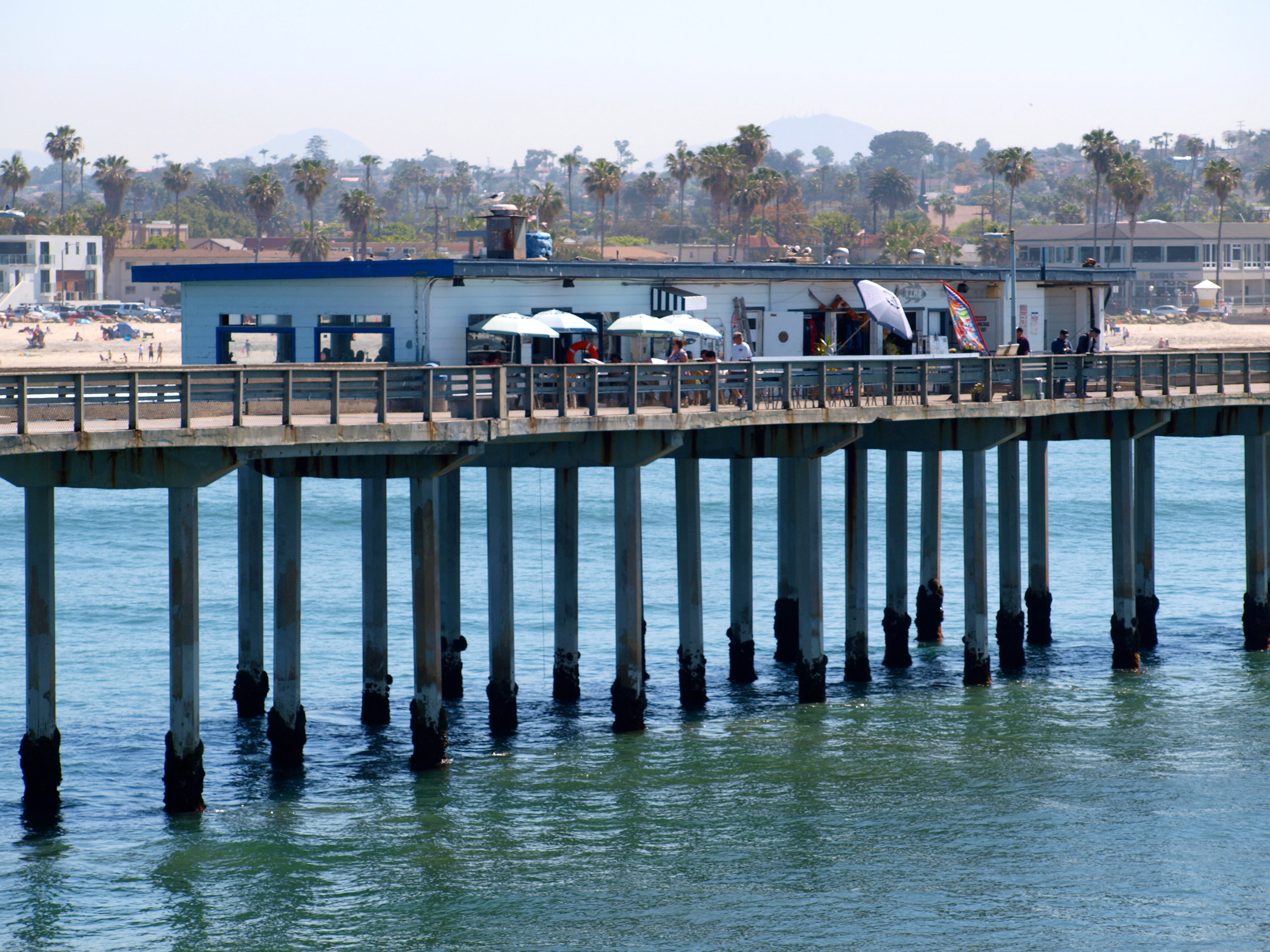 Restaurant Review: Ocean Beach Pier Café — San Diego Journals
Reviewed by El Gallo on 8/24/2000.
Halfway Out Ocean Beach Pier, San Diego — Type of Dining: Other — Type of Cuisine: Other — Member Recommendation: Highly Recommended — Price Range: Less than US $10 — Attire: Clothing recommended, but not always observed — Reservations: N/A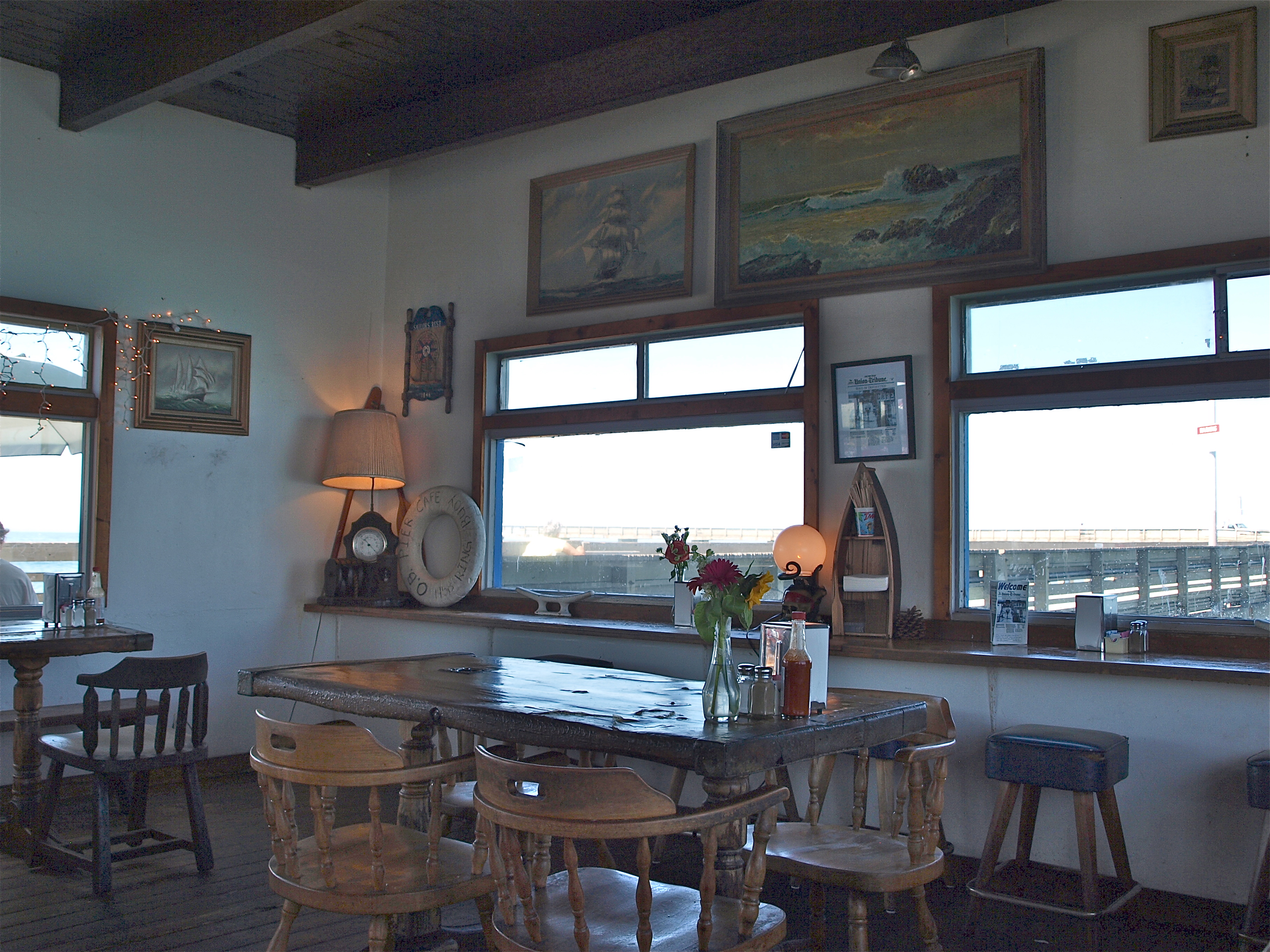 My favorite place to eat, sip tea, watch the surf, catch the rays and feel the motion of the pier. This is pretty unique—a restaurant out on a West Coast pier–and with the laws now, it's likely to stay pretty unusual. The decor inside is sort of Nautical Kitch, but nice. Fishnets, portholes, a big brass telegraph that kids just love to slam from Full Ahead to Full Astern like in the movies. Heavy wood hatch cover tables. And two sides are windows with the kind of view you don't get anywhere else. Nice shelter on blowy or stormy days. But in San Diego those days are rare–so take a seat at the tables outside—and out here on the pier you are REALLY outside.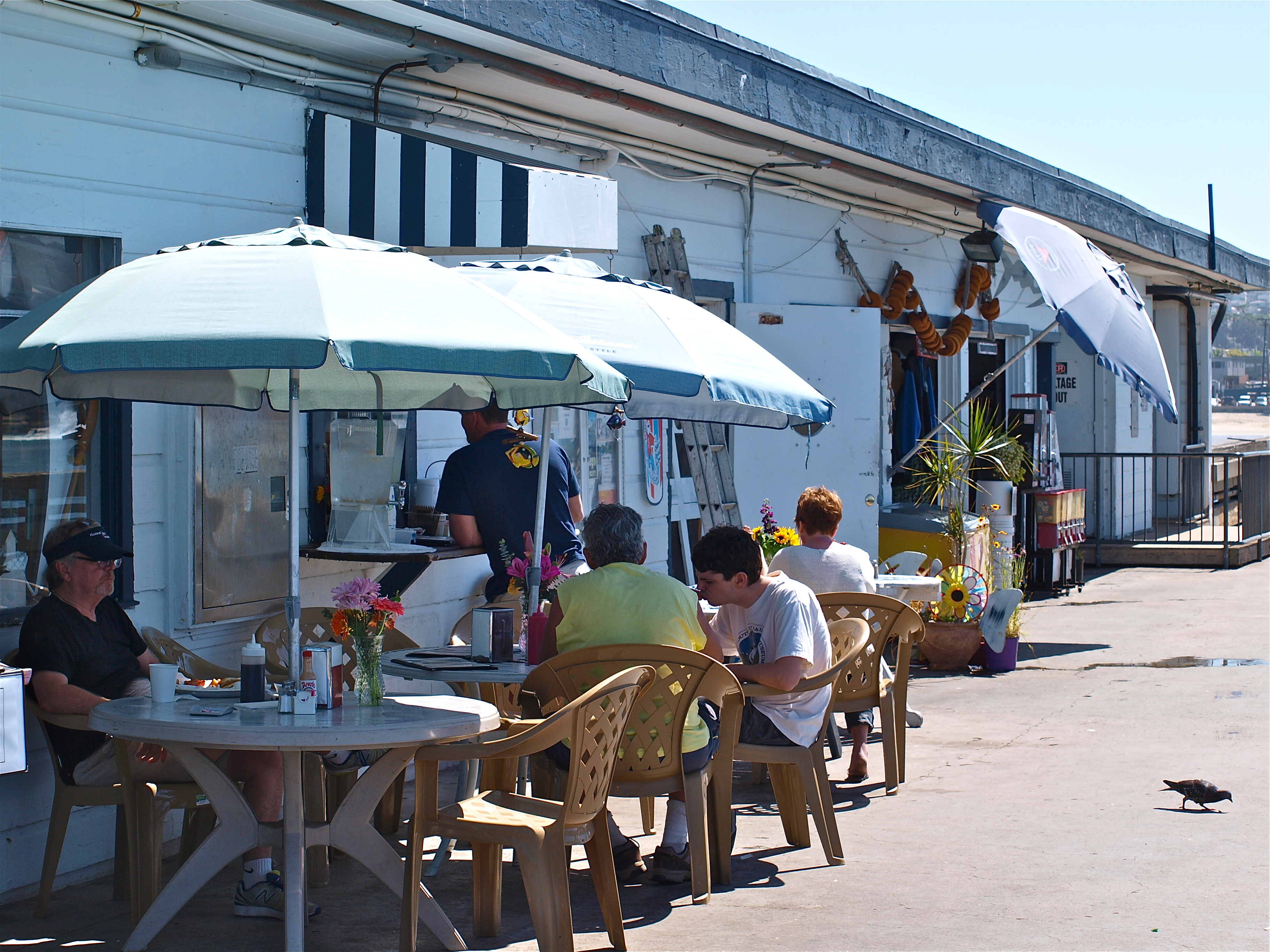 When big waves hit the bottom of the pier, you don't hear it; you feel it. You are out there poised between earth and sky, a beautiful environment. Look south at the tide pools and all the way to Mexico, or North at the river, Mission Beach, and the beginnings of La Jolla. Watch the surfers, pelicans and gulls. Have a latte. Now, what stupid stuff were you worried about? But this is not just a bait shop with a view—it's a real restaurant and a good one, with unique dishes you will remember and tell friends about. Okay, there are other places where you can get clam chowder in a bowl made of a scooped-out sourdough roll—the OBPC's idea of recycling dishes. But when was the last time you had a lobster taco, or lobster omelet? But there's no need to get exotic—just try the eggs and machaca. If it's busy, you can just order 'to-go' from the outside window and eat walking along the pier, sip coffee out at the deep end. See the gull? Be the gull.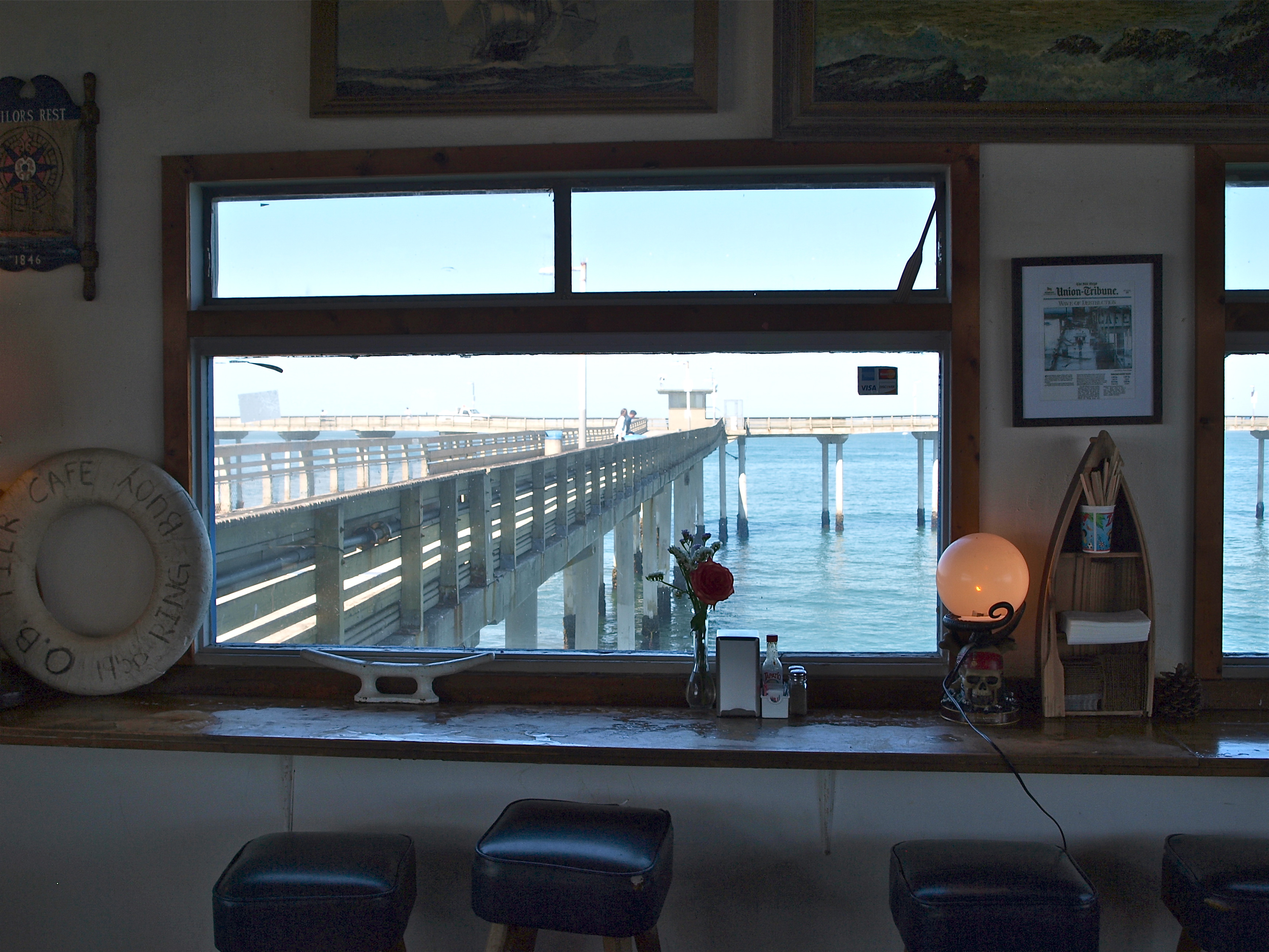 History Note. The town of Ocean Beach was laid out and named in 1887-88 by developers Billy Carlson and Frank Higgins. They built a resort hotel, the Cliff House, subdivided their land into lots, and used promotions such as band concerts and mussel roasts (one reason for the early name "Mussel Beach") to drum up business.  But the site was a long 2-1/2 hour carriage ride from downtown San Diego, too far for most. Eventually the partners rented a locomotive and began the Ocean Beach Railroad. Passengers could take a ferry from downtown San Diego to the Roseville Wharf on Point Loma where they connected by train to the Cliff House. However, an economic downturn stalled growth. Eventually the Cliff House burned down following a fallen chandelier in 1898 and Carlson sold the development to an Eastern financier.
On July 4, 1913 the Wonderland Amusement Park opened at the north end of Ocean Beach on the sand between Voltaire and Abbott Streets. The park had a large roller coaster, roller-skating rink, merry-go-round, dance pavilion and children's playground; 22,000 lights outlined the buildings. The park was a popular spot to take the family until 1916 when most of the park was washed away by high tides.
For many years' residents of the area clamored for a fishing pier. Their cries were answered when, in 1915, a bridge was built across the mouth of Mission Bay by the Bay Shore Railroad Company. It was 1,500 feet long and extended from the north end of Bacon Street in Ocean Beach to the tip of the sand dunes that we know today as Mission Beach. Its main purpose was transportation, and soon a "Toonerville Trolley" was installed to haul people from "Wonderland" across the sand dunes—via the bridge.
Anglers, however, also flocked to the bridge, a wooden structure with chest high railings and a sidewalk on each side. Over time, it became known as the "Old Fishing Bridge." There was a bait house at the end of the bridge that sold crawfish (ghost shrimp?), minnows, clams and mussels but fishing for the most part appeared to be only fair. Reports indicate that anglers caught numerous sharks and stingrays while spearfishermen concentrated their efforts on mullet and needlefish (although it would appear to be difficult to spear the skinny little needlefish). The largest catch was undoubtedly a 331-pound sea turtle that was speared one day. The enterprising anglers sold it for $9 or just 3 cents a pound.
When the bridge was removed in 1951, local anglers once again began to talk of the need for a pier. It would take more than a decade, but the Ocean Beach Pier (originally called the San Diego Fishing Pier) would be the result. The new pier opened on July 2, 1966 to the scene described above.
The City of San Diego, given more than $900,000 by the Wildlife Conservation Board for a new public fishing pier at Ocean Beach and which is 60% complete, decided that it should be extended 200 feet and approved a $30,000 additional appropriation, which the WCB matched at its meeting in Sacramento late Monday.
There was so much intense interest in the pier that private groups started a drive for an additional $30,000. Thousands of individuals, small businesses, community groups, school children, service clubs and others raised another $30,000.
WCB executive officer Ray Nesbit said that it was one of the greatest expressions of community spirit that he had ever witnessed.
With 400 feet of added rail space, it will make the Ocean Beach Pier one of the best along the Southern California coast. Up to 100,000 angler days of additional use will result., Nesbit said, forecasting a half million angler days of use when the pier is completed.
The new funds will enable the contractors to extend one wing of the pier southward into an area where presently boat anglers make good catches of bonito, halibut, barracuda, kelp and sand bass, and at times yellowtail and white sea bass.
—Donnell Culpepper, Long Beach Independent-Press Telegram, December 19, 1965
The opening day celebration, on July 2, 1966, saw a crowd of 7,000 people, various state and local poobahs, and an eclectic mix of activities. The highlight was a parade down Voltaire Street that included an eclectic mix of groups—the Marine and Navy marching bands, the House of Scotland Junior Pipe Band, the San Diego Unicycle Clowns, and the Junior Daughters of the Sphinx. As is usual at such parades there had to be beauty queens and here there were a dozen. The highlight for some was an "Anti-Litter Animated Pelican."
Of course there almost had to be a song and here it was the "The Ocean Beach Song," a song written specifically for the celebration. The song makes you wonder if it was commissioned by the Chamber of Commerce or local Realtors.
"The Ocean Beach Song" by Lee McCumber
"The wide world's finest fishing pier
Lures a host of anglers here
Sportsmen if you want some fun
Here's the best beneath the sun
Happiness within your reach
When you live in Ocean Beach"
Unfortunately the utilities for the pier café had not yet been turn on so Tom Ham (of Tom Ham's Lighthouse) turned some leftover wheelbarrows into barbeques and made hamburgers for the crowd (all 7,000 of them?).
Luckily, the pier has seemed to withstand the tides of time fairly well although, sooner or later, storms and/or age will do their damage. Several times the pier has been closed by storms and has needed repairs. In 1991 a $1.9 million dollar repair project was completed and then the pier was closed for several winter months in 1998 due to El Niño generated storms and high tides. After the storms subsided, and railing were repaired, the pier opened once again.  The pier was damaged again in March of 2003 and in 2008; both times it was opened within a few months.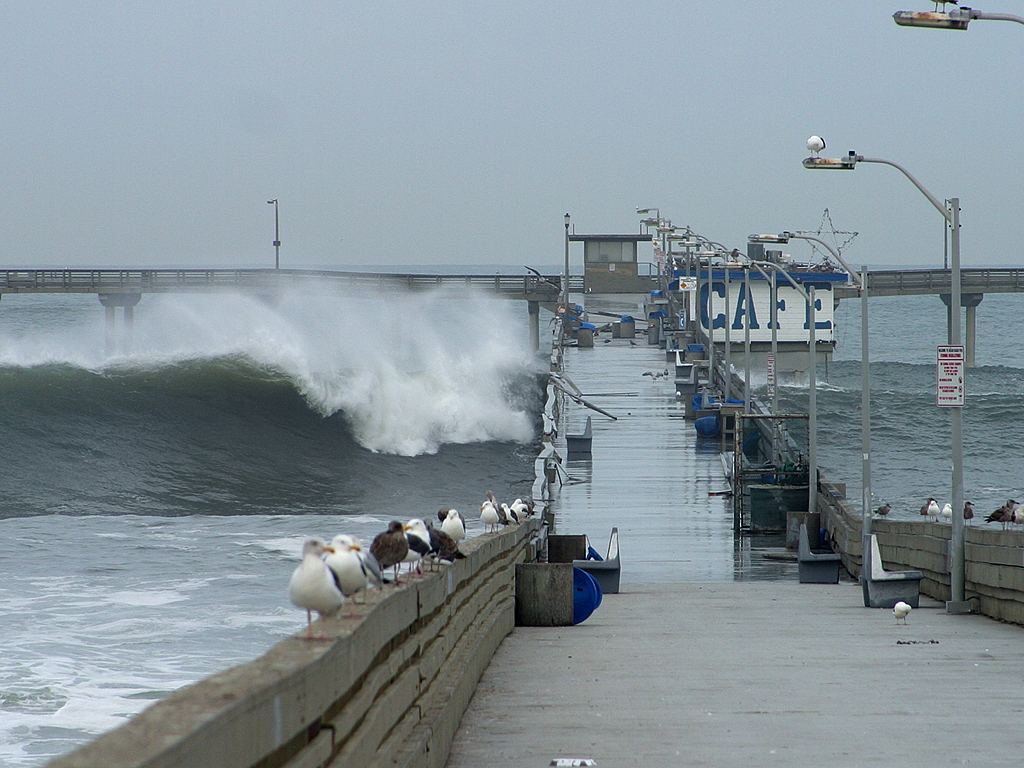 Winter storms seem to frequently force the pier to be  closed for a day or two — Picture courtesy John Sullivan
As for the rest of Ocean Beach (OB to locals)? By the '50s Ocean Beach was a typical SoCal beach town; by the '60s surfing became an important feature of the OB cultural life; by the '70s it had attracted its share of hippies and was called the "Haight-Ashbury" of San Diego; and by the '80s it seemed to start a slow decline. Today the beach area's an amalgamation of all those diverse influences and marches to a slightly different drummer than most of the other areas in San Diego. OB reflects, to a degree, a synthesis of NorCal hippie populism mixed with SoCal flip-flop casual and it's an interesting mix. 
Ocean Beach Pier Facts
Hours: Open 24 hours a day.
Facilities: Restrooms, bait and tackle shop, fish cleaning stations, benches and lights. There is free 24-hour parking in a small parking lot near the foot of the pier. The Ocean Beach Pier Café sits next to the bait shop and offers up good eats. You might want to try the mango pancakes or the lobster tacos.
Handicapped Facilities: Access to the pier is from the public parking lot and then up a number of stairs (which are steep) or by a block-long public ramp. There is posted handicapped parking and restrooms. The surface is concrete and the railing is 42 inches high.
Location:32.74861 N. Latitude, 117.25528 W. Longitude
How To Get There: From the north take I-5 to the Sea World Dr. exit and follow it until it turns off to Sunset Cliffs Blvd. From the south take I- 5 to the Nimitz Blvd. exit, then follow that road to Sunset Cliffs Blvd. Follow Sunset Cliffs Blvd. to Newport Ave., turn right and follow the road to the pier parking lot
Management: City of San Diego, Parks and Recreation Department.