<*}}}}}}}}}>< — Like many SoCal piers this one has also shown up in the world of film, in this case the television show Veronica Mars.
<*}}}}}}}}}>< — The pier has a reputation, sometimes deserved, sometimes not.
A Sense of Place: Hopes and Dreams on the Ocean Beach Pier — As the city fades away, nighttime comes to life on the pier, bringing a unique cast of characters with it
EIjah Taylor's jangling keyboard and rhythmic voice bounces over the sound of crashing waves below. Next to him, a beaten-up hymnal, spells out the melody to ""Tis So Sweet to Trust in Jesus." An upside-down green hat teems with crumpled dollar bills and change. Taylor, a 56-year-old former reggae performer, says his donations will buy meals—at least for a couple of days. Taylor sits on the Ocean Beach Pier, decked out in all green: his knotted scarf, fingerless gloves and too-short socks, his sweater, jacket and pants. A pith helmet adorned with a small cross rests atop his head. Beneath it, dreadlocks spill down his temples, graying hair sprouts from his beard. For three years now he's been out here on the Ocean Beach Pier, sitting, preaching, sharing God's word. "The only real hope," he is saying, "is to call people to Christ. So I sit here and sing."
Everyone who walks down the pier passes him. Parents stroll by, their giggling children spinning in circles. Lovers walk arm-in-arm. Fishermen move past with armfuls of tackle. Taylor's eyes follow them. They amble down the Ocean Beach Pier, a 1,971-foot structure that claims to be the West Coast's longest. Each passerby carries different hopes and dreams. Some want fish. Or to finish their shift. Some seek something bigger. A post-military education. A move away from San Diego. Or just a buck for a meal.
Taylor says the Lord led him to this place. The Pittsburgh native once led a sinful life. He's left that behind, he says, since he caught the Holy Spirit. He is talking about Anna Nicole Smith—"she's in hell"—and Teletubbies and Ellen DeGeneres. He rails against Islam, against homosexuality, against Mormons.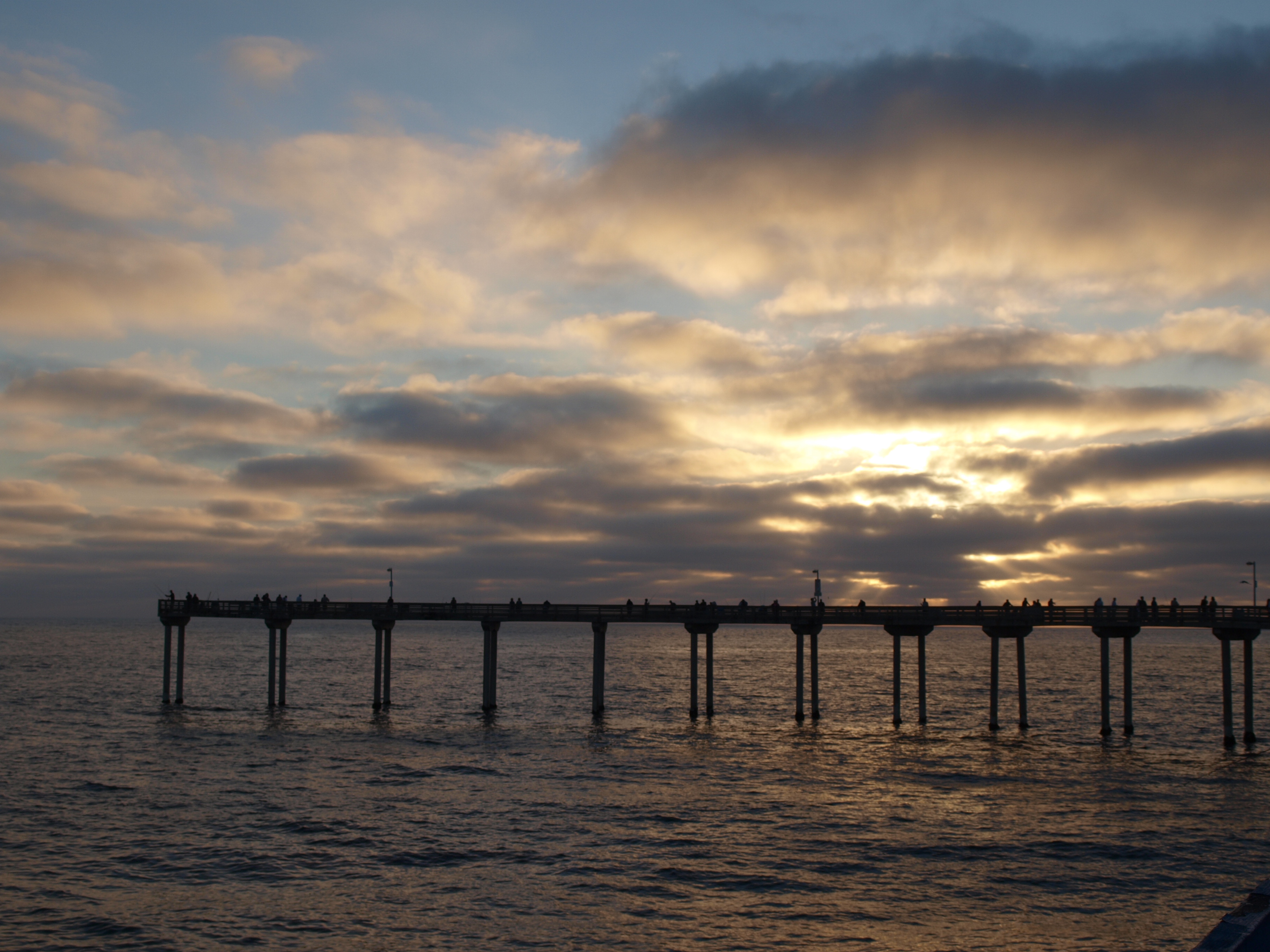 Down the pier, the evening lights begin to warm, and the gray sky slowly slips to black. Taylor says he hopes to travel north, spread the word in Oceanside, maybe farther. Until then, he sleeps in a vehicle in Ocean Beach. "This," he says, "is what the Lord has given me."
At the foot of the Ocean Beach Pier, the parking lot reeks of garbage, stale beer and rotting kelp. Flatulent motorcycles roar past. Cars swish and bass thumps. The sounds of a vibrant night melt into a cacophonous melody. But a few feet out on the pier, beyond the breakers and wave-starved surfers, lies a place uniquely San Diego. Out here, as evening settles in, the pier slowly awakens into its nocturnal life. Ten minutes' walk from shore, the city soundtrack is silenced. Seals bark, the ocean gently laps, fishing lines whistle as they fly off into the sea.
The sounds of tranquility blanket the pier. After a full day of administrative work Thursday, Victor Reyes headed for the pier to burn stress. Fish started jumping as soon as he dropped his first line. "It's just quiet," the 27-year-old says. "You don't have any street noise, any yelling. Just the wind, the waves, the seals."
Nearby, Roy Johnson perfects his cast. He knows sharks are lurking, a few hundred feet out. For now, they are his target. In daytime, the 28-year-old from Chula Vista is focused on school. Southwestern College. General education for now, "just to see where it takes me," he says. But after spending seven years in the Navy, he's not sure what he wants to do. Journalism? Nursing? When he got out of the Navy, "everybody said I should go to school," he says. "I said: School?"
Closing time hovers an hour away at the café midway down the pier, and Kay Zamora turns to a customer waiting for hot cocoa. You want whipped cream with that? She is slender as a rail, blonde hair fluffed up, the type of lady who won't reveal her age. Her first day here was five-and-a-half years ago. Six years in November. Her first two weeks left her feeling nauseous, the pier rocking beneath her feet. "I don't feel it anymore," she says. "But, it's good for business." She pushes through her duties, waiting for 9 p.m., closing time. She likes her job, even on those sunny days when the crowds are thick. "It's fun, on the water," she says. "You can't ask for more than that." …
The five friends loitering around a pier bench predict their catch. A shark is going to be caught too-night! They are impatient, yanking lines up at the slightest bob, chucking mackerel fish heads into the water for chum. Bites are rare. When they do feel a nibble, they pull up a line, nearly snapping the rod. A girl bounds past and halts at the promise of fish. "Ooh! I wanna seeeee!" she squeals. Eric Fraser holds a fish-free line. "It's seaweed." Eric is 22, five years out of high school and wondering what's next in life. His car was repossessed a few months ago, he's been bouncing between jobs and getting anxious to split. San Diego is tired. Post Falls, Idaho is calling. "I went up north a few weeks ago," he is saying. "It was heaven. Deer, bald eagle nests. People were nice up there. Pine trees. Snow. You don't get that down here. Just bad luck after bad luck after bad luck."
For now, Eric hops from couch to couch. No fixed address. He is talking about his experience as an extra on the TV show "Veronica Mars." He wore a tux for the first time. Visited a college campus for the first time. It was the most funniest thing he's ever done, he says, those three or four episodes. His four friends play fight a few feet away. They're covered in hoodies, trading jokes, passing around a two-liter of Mountain Dew and sharing drags of cigarettes. Eric stands alone, arms slumped over the railing, dreaming of something better. He just needs to scrape together a few bucks, enough for gas.
"Me," he says, "I just want to start over while I still have a chance." His younger brother walks close. "You guys gettin' any bites?" Eric asks. "I ain't gettin' sheeet," his brother replies. So they pack up, loping down the pier, laughing as they walk. No sharks, no fish, hardly even a bite. Off they go, back toward home, the beckoning city.
—Rob Davis, Voice of San Diego, May 21, 2007
<*}}}}}}}}}>< — Piers are one of the places that the realities of fishing, realities that may seem brutal to the uninformed, are easily observable by non-fisherman. It leads to stories like the following.
Shark of least concern caught off pier — "No oneshould gurgle up their own blood — no one!"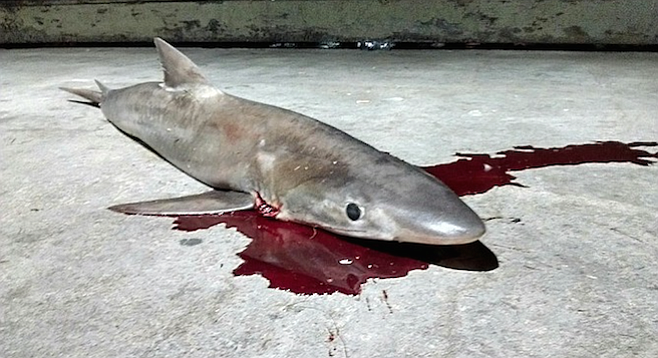 The sun was setting as Elsa Brum neared the left wing of the Ocean Beach Pier during her stroll on February 16. There she saw what looked like a baby shark gasping for air as it bled all over the pier.
"It was so wrong," said Brum. "I felt so helpless and sad." Brum thought about throwing the four-foot shark back into the water but it was cut through the gills.
"It was just really hard watching the animal suffer." She contemplated calling the police but wasn't sure what the laws were. She asked a young man fishing nearby if he had caught the shark. The man pointed toward another fisherman named José.
"José confirmed that the shark was his. I asked him what kind of shark it was and he said it was a 'soup shark'" Confused by his answer, Brum next asked how he had caught it. José held up his hook and line and explained that he had stabbed the shark to bleed it out.
"I asked how long the shark had been bleeding there and José said for an hour…. He said he was going to use the fins for soup and the rest for fillet and ceviche."
Even though Brum has generations of family from the fishing industry, she said, "Nothing should have to suffer like that, gasping through its own blood to survive. It was a cowardly act against a selfless being and I felt hopeless as I waited for its last breath. I was meditating in my place of peace. It was shocking. I'm about respect for all things — people, animals, and plants. No one should gurgle up their own blood — no one!"
Native San Diegan Victoria Elena Vásquez is always happy to talk about sharks. She even recently discovered a new species called a ninja lanternshark. Vásquez is a graduate student at the Pacific Shark Research Center in Moss Landing, California, and the deputy director of the Ocean Research Foundation.
"This is a soupfin shark, and though morally upsetting, there is nothing illegal going on," Vásquez said about Brum's photograph. "While shark fins are illegal in the state of California, catching whole sharks is not. There's only a handful of sharks that are illegal to catch, like great white and basking sharks. Therefore, if the person took the whole shark home and made dinner for themselves, it's not illegal. On the bright side, this species is very healthy in the Northeast Pacific."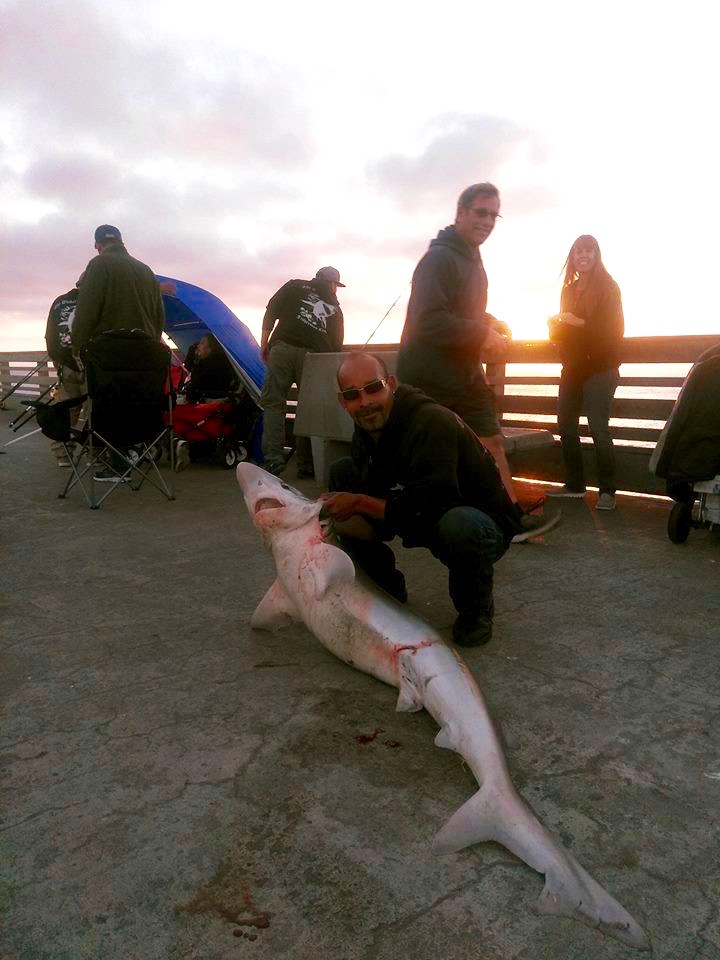 Soupfin shark — 2017 (Picture courtesy Wicked Homies Fishing Club)
Vásquez pointed out that while females of this species are common in San Diego, a male is a unique find. She collects data on soupfins and hammerheads and said that the public can help by reporting any they find.
While people are allowed to catch soupfin sharks of any size, Vásquez warns, "In general, sharks tend to have higher concentrations of mercury than other seafood options, so despite the legality, I would caution people about eating shark and ray on a regular basis."
"Soupfin sharks have had a long history of being overfished in California. Even though they have an unfortunate common name, soupfin sharks were mainly targeted in the 1940s for their oily livers, not their fins. Once that fishery ended, soupfin sharks in our area rebounded."
"In our waters [the Northeast Pacific], soupfin sharks are listed as 'Least Concern' by the International Union for Conservation of Nature Red List Assessment. However, being overfished is still an issue for them in other parts of the world, such as the waters off Argentina and Brazil, where they are Critically Endangered."
Joe Stewart used to fish once upon a time. Regarding the shark being bled out, Stewart said, "If you don't bleed them while their hearts are still pumping, waste products in the blood can taint the meat."
Say what you want about the ethics and humanity of it all, fishing has been a way of life and sustenance for thousands of years. And seafood is directly linked to the evolution of the advanced frontal cortex — that same part of the brain that has some people so sensitive about this in the first place."
—Julie Stalmer, February 18, 2016, San Diego Reader
<*}}}}}}}}}>< — It's not every day you catch a 100-pound shark.
Man fishing from pier lands 7-foot shark
A man fishing with his family last night off Ocean Beach Pier caught a 7-foot shark estimated at more than 100 pounds. Inez Chavarin, his wife, Maria, and their three daughters usually fish for bass off the pier. Around 8 p.m., he cast his 50-pound line into the Pacific, and a thresher shark hit. It was so big the 34-year-old Chavarin couldn't lift it without help from others who were also fishing on the pier. He had to call a relative to bring a truck big enough to carry it back to the family's home in City Heights
"We're going to eat it," he said of the biggest catch of his life, while his wife wondered about what they were going to do with all that meat. "Everyone's going crazy here, nobody's seen anything like it," said Miriam Schraer, who was taking a stroll on the pier when she saw the excited crowd gawking at the shark.