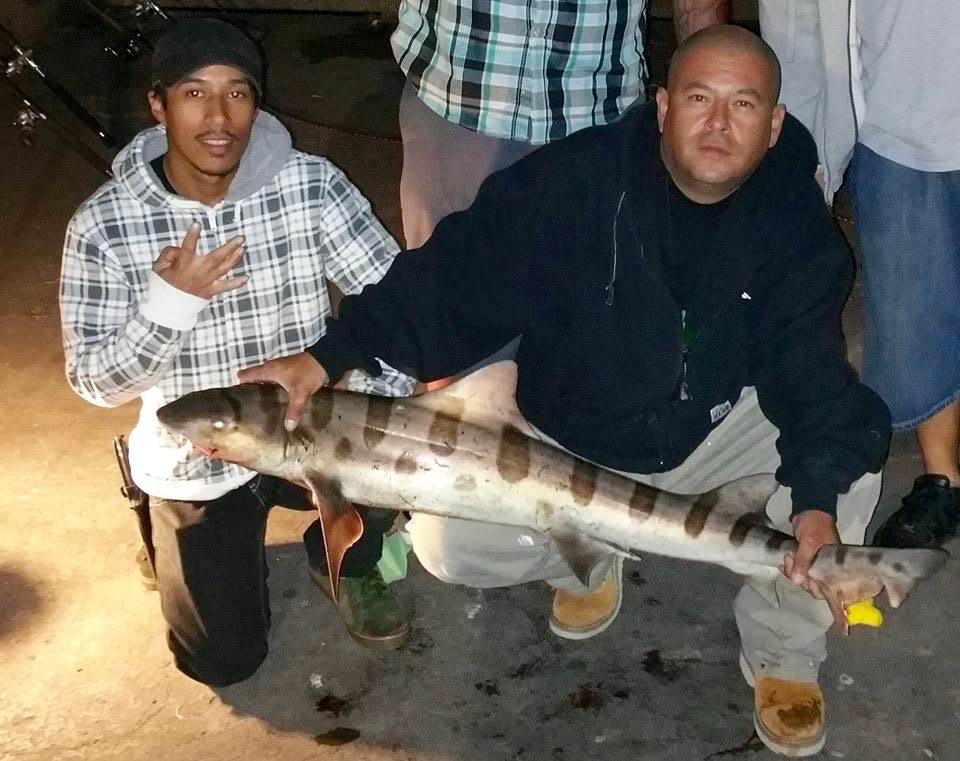 Leopard shark (Picture courtesy Wicked Homies Fishing Club)
Inshore, try using either fresh mussels or seaworms making sure to keep your hook small, usually size 6 or 8. If the tide is right, you may be able to hook some rubberlip seaperch, blackperch, halfmoon, opaleye, senorita or blacksmith in this shallow area near the rocks on the south side. For some nice-size opaleye, try using frozen peas that have been allowed to thaw; place just enough peas on the hook to cover the hook. Fishing on the north side of the pier may yield a few barred surfperch but generally action is slower than at piers built over strictly sandy bottoms.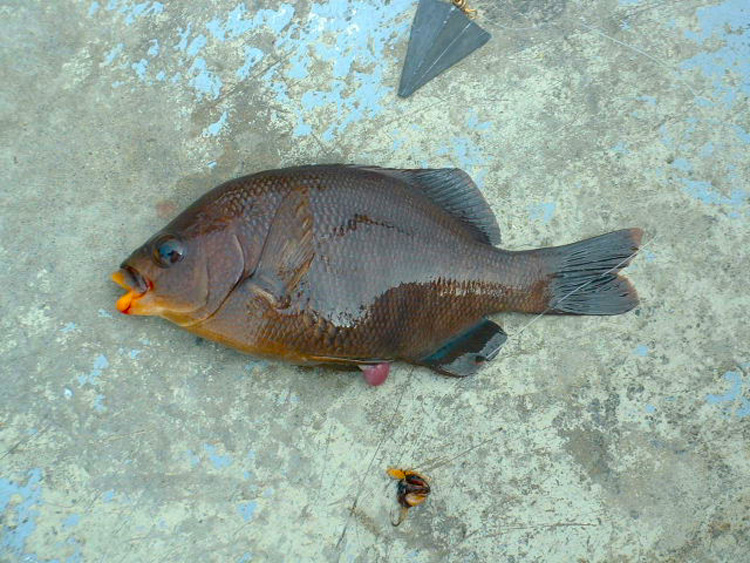 Blackperch aka Buttermouth
Sometimes the big 'uns are lost. In August of 1998 an angler lost a HUGE bat ray which most of the locals felt had to be in the 200-pound range. They said the wings appeared to be 8-foot across but even though it was hooked with two separate treble-hook-gaffs, the anglers couldn't get the mammoth fish up onto the pier and eventually it was lost. I've also heard reports, although they're unverified, of an angler catching a diamond stingray (Dasyatis dispterura) that was nearly 5-foot in length and 100 pounds in weight.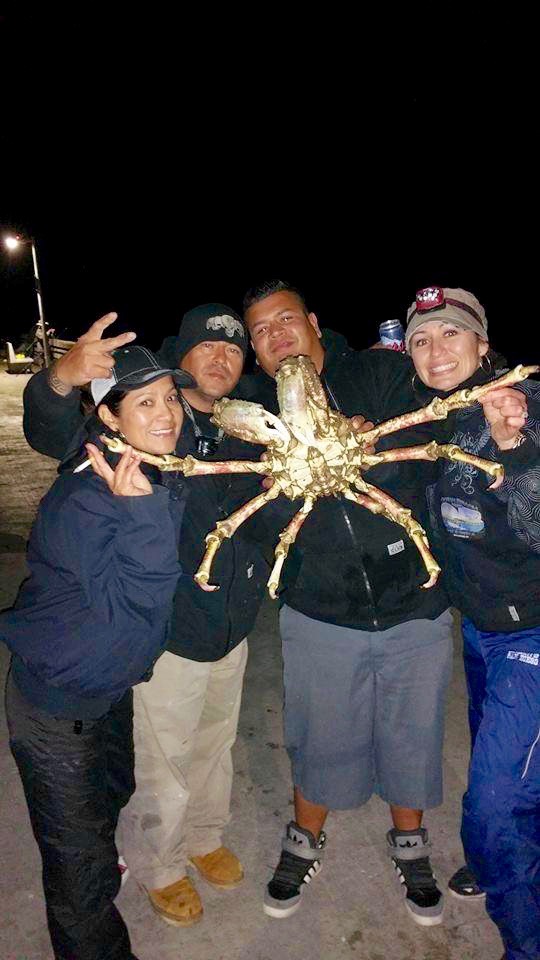 Spider (sheep) crab (Picture courtesy Wicked Homies Fishing Club)
Crustaceans. With the exception of some big, gnarly-looking spider (sheep) crabs, few crabs are caught at the pier. However, quite a few lobsters are caught at the pier — both legally and illegally. In fact, Ocean Beach is probably the best pier in the San Diego area for the bugs.  Legally you can take them during the lobster season (check the latest regulation booklet for dates), they must be a certain size, and they must be taken with a hoop net. Lobsters that grab hold of fishing line are illegal and it doesn't matter if they are big enough or if it's in season, they are still illegal. Any lobsters that grab hold of a bait and are brought up to the pier on a fishing line should be returned to the water.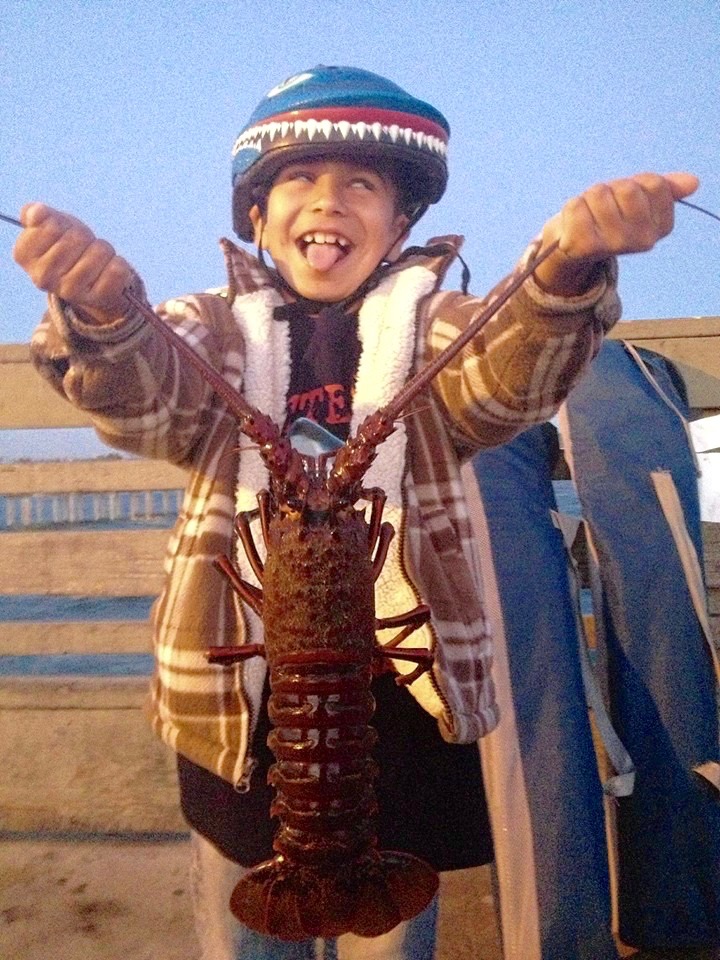 Lobsters are common — and make sure to follow the regulations
Special Recommendation. Since it is a long way out to the end of the pier, most regulars have pier carts — constructed carriers on wheels that can hold their rods and reels, tackle box, bait bucket (be sure to bring one here) and any other miscellaneous materials they need.
Special, Special Recommendation. Live bait, especially live anchovies are the best bait by far for most species. But increasingly, as the years go by, less and less live anchovies are available at bait shops. That luckily isn't the case here; most of the time anchovies and/or sardines are available for bait. However, sometimes that isn't the case. What should you do? Usually here, and often at Imperial Beach, Embarcadero Marina, and Shelter Island, anglers will be using drop nets to capture live anchovies and smelt. Most of the time these anglers will be glad to share their live bait, if you ask. Many anglers seem hesitant to ask and then watch enviously as others catch the fish, especially those using the live bait. Not only do I feel it is the best approach for fishing, but I feel it helps bridge the communications gap that sometimes seems to exist among our state's diverse mix of anglers.
Potpourri — Perhaps more than you want to know about the Ocean Beach Pier
<*}}}}}}}}}>< — I found the following description of the pier in the "Lonely Planet" Guide to Los Angeles & Southern California (2005): "The half-mile long Ocean Beach Pier has all the architectural allure of a freeway ramp." Well sure, it does sort of look like a freeway ramp if you're standing at the shoreline approach to the pier on Niagara Avenue. But listen, what other freeway ramp provides bass, bonito, barracuda, and an occasional 7-gill shark? I might prefer an old wooden pier but "ya gots to take what you can get."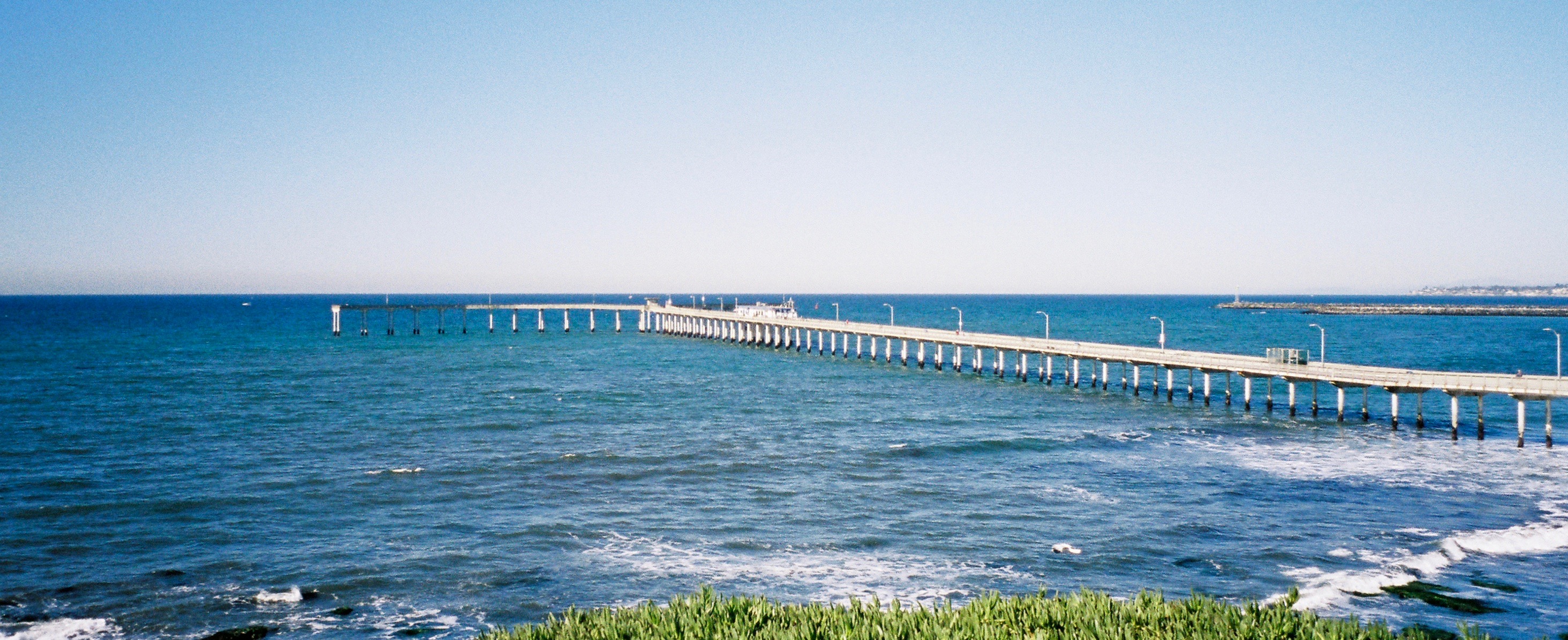 <*}}}}}}}}}>< — Fish surveys taken by the Department of Fish and Game from 2004 to 2009 show fairly typical results for a SoCal pier. The species (numerically) — northern anchovy, Pacific mackerel, queenfish, Pacific bonito, topsmelt, Pacific sardine, walleye surfperch, white croaker, yellowfin croaker, jacksmelt, salema, shiner perch, jack mackerel, kelp bass, silver surfperch, yellowtail, white seabass, thornback ray, striped seaperch, black perch, leopard shark, white seaperch, rubberlip seaperch, barred surfperch, California scorpionfish, brown rockfish, spotfin croaker and butterfish. If surveys had been conducted at night there is no doubt additional sharks and rays would be on the list.
<*}}}}}}}}}>< — Like many SoCal piers this one has also shown up in the world of film, in this case the television show Veronica Mars.
<*}}}}}}}}}>< — The pier has a reputation, sometimes deserved, sometimes not.
A Sense of Place: Hopes and Dreams on the Ocean Beach Pier — As the city fades away, nighttime comes to life on the pier, bringing a unique cast of characters with it
EIjah Taylor's jangling keyboard and rhythmic voice bounces over the sound of crashing waves below. Next to him, a beaten-up hymnal, spells out the melody to ""Tis So Sweet to Trust in Jesus." An upside-down green hat teems with crumpled dollar bills and change. Taylor, a 56-year-old former reggae performer, says his donations will buy meals—at least for a couple of days. Taylor sits on the Ocean Beach Pier, decked out in all green: his knotted scarf, fingerless gloves and too-short socks, his sweater, jacket and pants. A pith helmet adorned with a small cross rests atop his head. Beneath it, dreadlocks spill down his temples, graying hair sprouts from his beard. For three years now he's been out here on the Ocean Beach Pier, sitting, preaching, sharing God's word. "The only real hope," he is saying, "is to call people to Christ. So I sit here and sing."
Everyone who walks down the pier passes him. Parents stroll by, their giggling children spinning in circles. Lovers walk arm-in-arm. Fishermen move past with armfuls of tackle. Taylor's eyes follow them. They amble down the Ocean Beach Pier, a 1,971-foot structure that claims to be the West Coast's longest. Each passerby carries different hopes and dreams. Some want fish. Or to finish their shift. Some seek something bigger. A post-military education. A move away from San Diego. Or just a buck for a meal.
Taylor says the Lord led him to this place. The Pittsburgh native once led a sinful life. He's left that behind, he says, since he caught the Holy Spirit. He is talking about Anna Nicole Smith—"she's in hell"—and Teletubbies and Ellen DeGeneres. He rails against Islam, against homosexuality, against Mormons.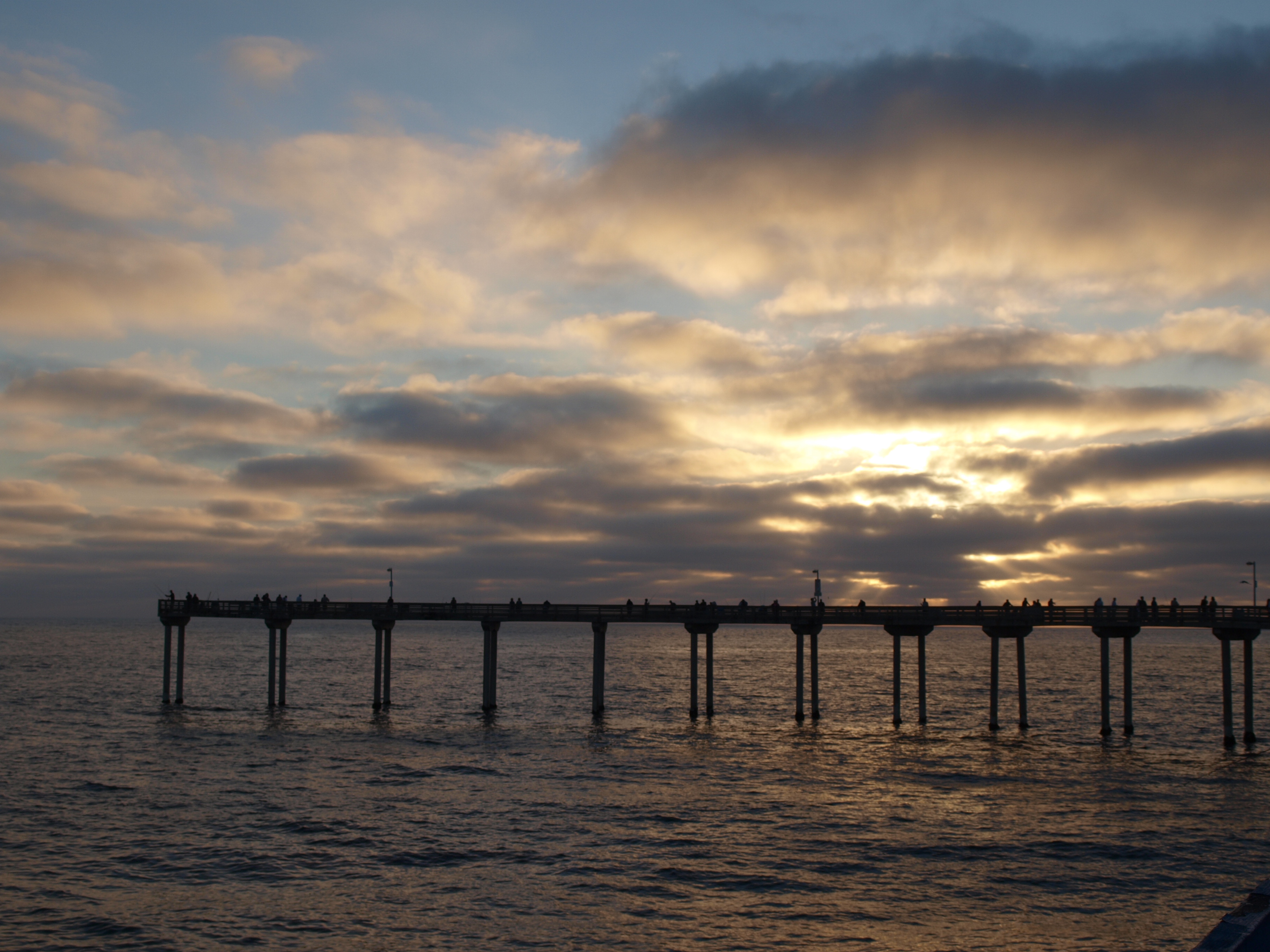 Down the pier, the evening lights begin to warm, and the gray sky slowly slips to black. Taylor says he hopes to travel north, spread the word in Oceanside, maybe farther. Until then, he sleeps in a vehicle in Ocean Beach. "This," he says, "is what the Lord has given me."
At the foot of the Ocean Beach Pier, the parking lot reeks of garbage, stale beer and rotting kelp. Flatulent motorcycles roar past. Cars swish and bass thumps. The sounds of a vibrant night melt into a cacophonous melody. But a few feet out on the pier, beyond the breakers and wave-starved surfers, lies a place uniquely San Diego. Out here, as evening settles in, the pier slowly awakens into its nocturnal life. Ten minutes' walk from shore, the city soundtrack is silenced. Seals bark, the ocean gently laps, fishing lines whistle as they fly off into the sea.
The sounds of tranquility blanket the pier. After a full day of administrative work Thursday, Victor Reyes headed for the pier to burn stress. Fish started jumping as soon as he dropped his first line. "It's just quiet," the 27-year-old says. "You don't have any street noise, any yelling. Just the wind, the waves, the seals."
Nearby, Roy Johnson perfects his cast. He knows sharks are lurking, a few hundred feet out. For now, they are his target. In daytime, the 28-year-old from Chula Vista is focused on school. Southwestern College. General education for now, "just to see where it takes me," he says. But after spending seven years in the Navy, he's not sure what he wants to do. Journalism? Nursing? When he got out of the Navy, "everybody said I should go to school," he says. "I said: School?"
Closing time hovers an hour away at the café midway down the pier, and Kay Zamora turns to a customer waiting for hot cocoa. You want whipped cream with that? She is slender as a rail, blonde hair fluffed up, the type of lady who won't reveal her age. Her first day here was five-and-a-half years ago. Six years in November. Her first two weeks left her feeling nauseous, the pier rocking beneath her feet. "I don't feel it anymore," she says. "But, it's good for business." She pushes through her duties, waiting for 9 p.m., closing time. She likes her job, even on those sunny days when the crowds are thick. "It's fun, on the water," she says. "You can't ask for more than that." …
The five friends loitering around a pier bench predict their catch. A shark is going to be caught too-night! They are impatient, yanking lines up at the slightest bob, chucking mackerel fish heads into the water for chum. Bites are rare. When they do feel a nibble, they pull up a line, nearly snapping the rod. A girl bounds past and halts at the promise of fish. "Ooh! I wanna seeeee!" she squeals. Eric Fraser holds a fish-free line. "It's seaweed." Eric is 22, five years out of high school and wondering what's next in life. His car was repossessed a few months ago, he's been bouncing between jobs and getting anxious to split. San Diego is tired. Post Falls, Idaho is calling. "I went up north a few weeks ago," he is saying. "It was heaven. Deer, bald eagle nests. People were nice up there. Pine trees. Snow. You don't get that down here. Just bad luck after bad luck after bad luck."