One observation I found interesting is the notation that life on the pilings has changed over the years. "When we first began diving here (early 1980's), most pilings were covered with anemones. Near the pile bottom, Metridium senile anemones abounded, and up higher, colorful congregating anemones held sway. Over the years life on the pilings has changed. Anemones have largely been replaced by red bryozoans, except in the shallow end of the pier, where large Metridium anemones still abound. We have no idea why red bryozoans have taken over most of the piling habitat or if this is just a normal cycle in the ocean. We often see nudibranchs on the red bryozoans, which makes an excellent backdrop for photography."
Nudibranch, also known as naked snails and sea slugs, are apparently very abundant in the area (one source calls Morro Bay the Nudibranch capital of the world) and apparently thousands of them are found under and around the pier. Given the number, it's not surprising that every so often an angler will hook one of the colorful slugs albeit they have no idea what they have caught. Generally, after getting the creature up to the pier, the surprised angler will simply exclaim, "What is this thing?"
<*}}}}}}}}}>< — Although I think the data rather sparse, incomplete and lacking (for a number of reasons), the data from surveys done by the Department of Fish and Game between 2004 and 2009 do give glimpse of some of the species and their number at the pier. Listed numerically the 14 species would be as follows: black perch, jacksmelt, walleye surfperch, rubberlip seaperch, striped seaperch, barred surfperch, grass rockfish, bat ray, silver surfperch, pileperch, rainbow seaperch, olive rockfish, brown rockfisha and Pacific mackerel.
<*}}}}}}}}}>< — My personal take of fish at the pier (from 1974 to 2018) reflects the following species (numerically) — Pacific sardine, jacksmelt, bocaccio, lizardfish, shinerperch, lingcod, blackperch, kelp rockfish, jack mackerel, onespot fringehead, kelp bass, Pacific mackerel, cabezon, brown rockfish, gopher rockfish, vermilion rockfish, striped seaperch, silver surfperch, walleye surfperch, coralline sculpin, staghorn sculpin and topsmelt. My stats are also flawed for I am sure if I had fished at night for sharks and rays several additional species would be on the list.
<*}}}}}}}}}>< — Although I knew that alien species were common in the larger California bays that harbor ocean going cargo liners, I didn't realize they had invaded the smaller bays until a visit here in 1999. I noticed a sign telling of the invasion of Morro Bay waters by two different but equally worrisome species. One is the Tortellini slug (Philine auriforamis), a 2-inch-long sea slug from New Zealand that feeds on small clams and barrel snails in the bay. The other intruder is the European green crab (Carcinus maenas), which is causing havoc along the coast all the way from California to Washington.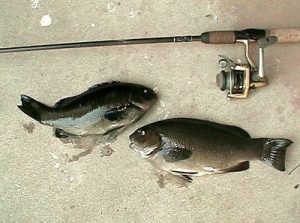 Opaleye are an infrequent catch
The Pier Rats Speak

Date: July 30, 2000; To: Ken Jones; From: George Campbell; Subject: Morro Bay, CA
Lots of 14-18" Jacksmelt from the Coast Guard Pier in Morro Bay. Best fishing times from 1 hour before to 1 hour after high tide. Best rig is a dropper rig, with a 1 oz. sinker with one short dropper 3-4′ above the sinker. Number 2-4 baitholder hook with clam or mussel as bait. During July and August, this is a sure-fire bet in Morro Bay. Feather jigs catch only 6" smelt, while those using the rig above are catching the big ones. Cast your rig out about 1-20 yards, then very slowly retrieve. Wait for a big hit before setting, then have fun. Light tackle recommended for best action. Another, non-pier method is to get on the rocks next to the pier, using freshwater ultralight tackle. No sinker. Just a #2-4 baitholder hook with clam or mussel. Cast into the deeper water, then let bait drift down. A fish every cast, and a real fight on 2 lb. test from 14-16" smelt. Dynamite! Best, George Campbell
Date: December 12, 2000; To: PFIC Message Board; From: sandollar; Subject: Age/experience thread
My fishing experiences are from fishing from the Morro Bay T piers. Boy was it a big deal when my parents allowed my brother and I to walk there alone from the Morro Dunes trailer park just north of the Rock (just a walk down the beach). My most favorite memory there was once when there happened to be tons of red snapper there. Our eyes were like saucers as we caught so many fish that day. (I was in second grade, my brother in 5th). Now I'm 33.
Date: November 26, 2002; To: PFIC Message Board; From: cayucosjack; Subject: Morro Bay North T-Pier Report 11/26
Stopped in at the North T pier in Morro Bay from about 1pm-2. Only caught 2 jacksmelt on pile worms/Sabiki. One guy had caught about a 2-pound calico perch and then reeled up about a 5lb+ rubberlip perch! This thing was huge! He was using mussels in the shell and wrapping a few hooks around them. Not my style but it sure did work.
Date: February 17, 2003; To: PFIC Message Board; From: cayucosjack; Subject: North T-Pier 2/16 Rpt
With a very busy weekend the only time I had a chance to get out was late last night after our "company" went to sleep. With a 5.6ft, 10:20 high tide and the "astro-tables" showing excellent fishing I had to get out to try for a bat ray …or anything for that matter.
Fished North T-pier 10-11pm.
The current was really ripping in the channel. I tossed out a hi/lo (size 4/0 hooks, 17 pound spider wire–I grabbed the wrong spool, wanted heavier test) with 6-ounce sinker. Within 3 minutes the rod bends big time and almost goes in the water. It was something huge! It almost spooled me, I could not budge this beast, not even an inch for at least ten minutes. Working against the current was nearly impossible. It finally started swimming towards me and I got about half the line back. Then it stopped I got nowhere with him (complete stalemate) for about another 5 minutes. With no way to land this beast other than a gaff, and my arms burning with pain I made the choice to tighten the drag and put my line to the test (I thought it was the 30-lb test, as I said I was wrong). He won…the line lost. I could have been there all night with this thing. Oh well.
There were schools of small smelt the seals and lions were pushing to the surface. I got a few on my Sabiki but size 6 was too large and I was lazy. The crabs were in thick, big ones too. There were literally dozens of otters around all feasting on huge crabs (kinda funny to watch them deal with those huge pincers). After about a half hour of crabs and octopus I called it quits. There was lots of activity and some decent fishing though, those "astro-tables" may just be on to something.
T-pier catch:
4 small smelt (4-6 inches, Sabikis with clams)
2 octopus (mackerel)
3 large red crabs (mackerel)
The huge ray (?) took fresh cut Spanish mackerel.
Date: March 19, 2004; To: PFIC Message Board; From: cayucosjack; Subject: Morro Bay Report 3-19-04
Headed to Morro Bay T-piers where everyone was limiting on big pogies. There was even a commercial guy there that must have had upwards of 20 fish… Mussels were the bait of choice today and my old frozen store bought container worked just fine (usually the fresh work much better). I kept the same rig tied on as I used for grubbing just replaced the grub with a gob of mussel.
Date: August 21, 2004; To: PFIC Message Board; From: cayucosjack; Subject: Morro Bay 8-20-04—North T-Pier?
 We fished last night again in Morro. There were 3 of us fishing (cayucosjack, EddieE, & morrobaytpierer). Things were slow until just before dark when the bait finally moved in (lots of small smelt, Spanish macks). I was casting a Kroc while I was waiting for the tide to turn to toss bait and hooked the little guy in the pic. Sarcastic Fringehead? I've read they have a nasty disposition and I can say it's true. The little guy lunged for my thumb and latched on pretty good when I was unhooking him. The lure was almost as big as he was.
We ended up getting decent action most of the night with a good variety. Thornbacks, shovelnose, bat rays and leopards all hit the deck. The rays all took squid while the shark took a whole walleye perch. I've got to thank Eddie for making a food run and leaving his rod under my watchful eye. I had the pleasure of battling the beast of a shark with his rod. He came back just in time to net it! I consider it his fish; he considers it mine. We decided to share the glory. The leopard was kept and split three ways. The shovelnose and all other fish (other than some bait) were released. The shark taped at about 5'3".
Date: September 16, 2004; To: PFIC Message Board; From: HookinFish; Subject: Tidelands and North T Pier Morro Bay (collage pic)
Arrived at Tidelands with Kaiakua and friend to throw the poles and crab nets in. Fishing was slow, some baitfish at best but we managed 25 rock crabs. Decided to move to the North T pier and there was a steady bite on small mackerel. They looked just like small akule cause of the two spikes right at the anus. Caught tons of those with some sardines and then sunrise hit with a slack tide and bam. Kaiakua gets a solid hit but snaps at the knot. Then moments later bam again Kaiakua gets hit this time we land it and it's a 42-inch bat ray. He managed to not get spooled on 20-lb test with just a few raps left on the spool after its initial run. Little while after I get a huge hit and it's a large ray; we get it to the net but we overshoot it and the ray decided to break the line in the pilions. No biggy still got the fight just missed the picture. Looked a little bigger than Kaiakuas. Then bam, I get another small ray 29-inches; then 20 minutes later I get a 46-inch leopard shark. We netted it and bled it after some pictures and again Kaiakua gets another bat ray on. We released all the rays. Kept all legal crabs and kept the shark. Was an exciting fishing evening… Oh and lots of Dungeness crabs out and about very small about 3 inches no more. But just a tip for when the season comes up. Well good luck to you all. Hanapa'a!
Date: July 23, 2007; To: PFIC Message Board; From: BaitDunkerBob; Subject: Morro Bay pier
Fished the North T pier for the first time. Landed several Spanish mackerel. Lots of fun and pretty solid action while I was there (hour or so of incoming tide and a bit after high tide). Many of the ones I was catching were a bit heftier than my neighbors, maybe due to the fact that I was using bigger hooks (1.0 and #4) or because I was using cut 'chovies and squid, while they were mostly using clams. I swear that two fish bit unbaited hooks. Quite a few people showed up to get in on the bite. I used a surf/high-low rig. I released the fish I caught. Would have liked to partake of the shark action described earlier, but didn't have the time; maybe next time. As Mr. Jones mentioned in his description of the pier, pretty ripping water movement.
Date: January 8, 2008; To: PFIC Message Board; From: Danthefisherman; Subject: Morro Bay Jan 7th
Since the storm has past, and the sun was out, I decided to hit the Bay. I met Polishfromthedeep and his friend for some Morro bay sharaying. When I got there a little after 2pm, the channel was unfishable. The tide was just rippin', so we decided to do a little perching on the North T-Pier until the current settled down.