There were schools of small smelt the seals and lions were pushing to the surface. I got a few on my Sabiki but size 6 was too large and I was lazy. The crabs were in thick, big ones too. There were literally dozens of otters around all feasting on huge crabs (kinda funny to watch them deal with those huge pincers). After about a half hour of crabs and octopus I called it quits. There was lots of activity and some decent fishing though, those "astro-tables" may just be on to something.
T-pier catch:
4 small smelt (4-6 inches, Sabikis with clams)
2 octopus (mackerel)
3 large red crabs (mackerel)
The huge ray (?) took fresh cut Spanish mackerel.
Date: March 19, 2004; To: PFIC Message Board; From: cayucosjack; Subject: Morro Bay Report 3-19-04
Headed to Morro Bay T-piers where everyone was limiting on big pogies. There was even a commercial guy there that must have had upwards of 20 fish… Mussels were the bait of choice today and my old frozen store bought container worked just fine (usually the fresh work much better). I kept the same rig tied on as I used for grubbing just replaced the grub with a gob of mussel.
Date: August 21, 2004; To: PFIC Message Board; From: cayucosjack; Subject: Morro Bay 8-20-04—North T-Pier?
 We fished last night again in Morro. There were 3 of us fishing (cayucosjack, EddieE, & morrobaytpierer). Things were slow until just before dark when the bait finally moved in (lots of small smelt, Spanish macks). I was casting a Kroc while I was waiting for the tide to turn to toss bait and hooked the little guy in the pic. Sarcastic Fringehead? I've read they have a nasty disposition and I can say it's true. The little guy lunged for my thumb and latched on pretty good when I was unhooking him. The lure was almost as big as he was.
We ended up getting decent action most of the night with a good variety. Thornbacks, shovelnose, bat rays and leopards all hit the deck. The rays all took squid while the shark took a whole walleye perch. I've got to thank Eddie for making a food run and leaving his rod under my watchful eye. I had the pleasure of battling the beast of a shark with his rod. He came back just in time to net it! I consider it his fish; he considers it mine. We decided to share the glory. The leopard was kept and split three ways. The shovelnose and all other fish (other than some bait) were released. The shark taped at about 5'3".
Date: September 16, 2004; To: PFIC Message Board; From: HookinFish; Subject: Tidelands and North T Pier Morro Bay (collage pic)
Arrived at Tidelands with Kaiakua and friend to throw the poles and crab nets in. Fishing was slow, some baitfish at best but we managed 25 rock crabs. Decided to move to the North T pier and there was a steady bite on small mackerel. They looked just like small akule cause of the two spikes right at the anus. Caught tons of those with some sardines and then sunrise hit with a slack tide and bam. Kaiakua gets a solid hit but snaps at the knot. Then moments later bam again Kaiakua gets hit this time we land it and it's a 42-inch bat ray. He managed to not get spooled on 20-lb test with just a few raps left on the spool after its initial run. Little while after I get a huge hit and it's a large ray; we get it to the net but we overshoot it and the ray decided to break the line in the pilions. No biggy still got the fight just missed the picture. Looked a little bigger than Kaiakuas. Then bam, I get another small ray 29-inches; then 20 minutes later I get a 46-inch leopard shark. We netted it and bled it after some pictures and again Kaiakua gets another bat ray on. We released all the rays. Kept all legal crabs and kept the shark. Was an exciting fishing evening… Oh and lots of Dungeness crabs out and about very small about 3 inches no more. But just a tip for when the season comes up. Well good luck to you all. Hanapa'a!
Date: July 23, 2007; To: PFIC Message Board; From: BaitDunkerBob; Subject: Morro Bay pier
Fished the North T pier for the first time. Landed several Spanish mackerel. Lots of fun and pretty solid action while I was there (hour or so of incoming tide and a bit after high tide). Many of the ones I was catching were a bit heftier than my neighbors, maybe due to the fact that I was using bigger hooks (1.0 and #4) or because I was using cut 'chovies and squid, while they were mostly using clams. I swear that two fish bit unbaited hooks. Quite a few people showed up to get in on the bite. I used a surf/high-low rig. I released the fish I caught. Would have liked to partake of the shark action described earlier, but didn't have the time; maybe next time. As Mr. Jones mentioned in his description of the pier, pretty ripping water movement.
Date: January 8, 2008; To: PFIC Message Board; From: Danthefisherman; Subject: Morro Bay Jan 7th
Since the storm has past, and the sun was out, I decided to hit the Bay. I met Polishfromthedeep and his friend for some Morro bay sharaying. When I got there a little after 2pm, the channel was unfishable. The tide was just rippin', so we decided to do a little perching on the North T-Pier until the current settled down.
CayucosJack also swung by to take a break from work and drop a line. I got a sweet deal on some live ghost shrimp a couple days ago, so we dropped our lines hoping for a nice Black Perch or two. We fished for half an hour or so, and just as we were ready to give up and move on, Ken's corner produced a nice surprise…Pile Perch! Five minutes later, CJ pulls up a Hog 15" Pile Perch, also from Ken's favorite corner (I think I know why now!). We ended up with 3 Pile Perch from that spot, 2 being hubcaps. The water had calmed down as the minus 0.8 tide came around, so we packed up.
History Note. The North T-Pier dates to World War II when an amphibious training base was built in Morro Bay (a training facility that came under the jurisdiction of the Coast Guard in 1943). The pier was built in 1942 as part of that training facility and later it was acquired by the town of Morro Bay. It would see repair in 1953.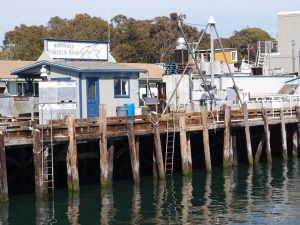 North T-Pier Facts
Hours: Open 24 hours a day.
Facilities: Free public parking is available adjacent to the pier. Restrooms, bait and tackle shop, and restaurants are nearby.
Handicapped Facilities: Handicapped restrooms and quite a bit of free public parking near the pier (but no marked handicapped parking spaces). The pier surface is wood railing with no rail although there is a 7.5-inch high curb. Posted for handicapped but wheelchairs would have a tough time on the rough wood surface.
Location: 1275 Embarcadero.
How To Get There: From Highway 1 turn south onto Main Street, follow it to Morro Bay Boulevard, turn left toward the bay and follow it to Embarcadero, turn right and follow Embarcadero to the end of the public parking which adjoins the pier.
Management: City of Morro Bay.