Dropping a small jig into the school produced a fish on every cast but soon I grew tired of that. So, I tried dropping a leader down to the bottom through the numbers of bocaccio. Now, every cast produced a small, under-sized lingcod (although a couple of small kelp bass and a gopher rockfish joined in the fun). The lingcod were evidently as thick as the bocaccio up above. It would seem like an angler's paradise except that the fish were too small, the lingcod were illegal, and there simply wasn't any challenge. I finally tied on a heavier sinker, put bigger hooks on the leader, and cast out from the pier to the less productive water away from the pier. The action slowed but it seemed the only thing to do.
The next such occurrence happened in July of 1994 during my annual summer trip along the coast. My initial stops, at San Simeon and Cayucos, were dismal. However, a young boy at Cayucos mentioned that anglers were catching sardines at the Morro Bay Wharf so I decided to head over and check out the action.
When I arrived, the North T-Pier was jammed with anglers, but they were having a hard time fishing. The current was extremely strong and the main catch on the angler's multi-hook riggings was eelgrass. I decided to have some fish and chips for lunch and then see if the conditions had improved.
Less than an hour later I was back at the pier. The current had slackened and adrenalized anglers were now hauling in fish. Looking down into the water revealed an amazing sight. A vast school of fish—Pacific sardines, jack mackerel, and Pacific mackerel, seemed to clog the narrow channel that sits between the pier and shore. Anglers would cast out, begin to retrieve their line, and watch their poles begin to jerk as the fish hit. Sometimes a single fish was hooked; sometimes it was two or three. Almost always a string of fish would follow the leader to the surface. Most exciting however were the fairly huge sea lions and the somewhat smaller harbor seals that also seemed to clog the waterway. They would emerge out of the depths and never fail to startle a few of the younger anglers. And, likely as not, a fish or two would be grasped in the seal's mouth. (A PFIC regular at Monterey's Wharf #2 called a similar scene "seals frolicking in sardine soup.")
The fish were as thickly packed in the water as (simile time) sardines in a can and the stem of the pier reminded one of the opening day at an urban trout pond; too many anglers and not enough space. It was a savage scene, as humans and seals contested for the fish). Nevertheless, I joined the mob and less than two hours of fishing produced 125 fish (although most were returned to the water). For some it was fantabulous fun; as to myself, I left somewhat embarrassed.
Three weeks later I was once again on Highway 101, this time heading north. I had just finished my most productive trip ever to the southern California piers, I was a little fished out (although that almost seems an oxymoron), and I was anxious to get home. But out of curiosity, I decided to swing over from San Luis Obispo to Morro Bay. People were still catching fish! I decided to fish for one hour to get some fresh bait to take home. That one-hour produced 81 fish and a new feeling of guilt as I repacked my rod and reel. I don't know how long the fish were present that summer, or how many fish were caught, but the numbers seem scary when discussing the normal decrease in fish along the coast.
I guess that guilt had passed by the time I noticed a post on the PFIC Message Board telling of similar fishing at the Bay in August of 2002. An angler reported that the sardines and jacksmelt were packing the water and that she had caught nearly 200 fish. The temperature being nearly a hundred degrees in the Valley, I headed down to Morro Bay for some cool weather and, hopefully, hot fishing, reminiscent of the 1994 trip. Turned out to be right on both counts. Arrived in town at fifteen to five, immediately enjoyed the chill from the fog, and was on the North T-Pier at five. Not as crowded as the previous trip but the fish were there—vast schools of jacksmelt and sardines. In the waters near the shore a huge school of jacksmelt (horse smelt size fish 12-16" in length) were tempting the anglers. In the open water near the edge of the pier the school of fish was mixed, both jacksmelt and sardines. Cast out a Sabiki bait rig, let it settle briefly, then pull it in—strong pull, slack, strong pull, slack, and sardines would generally hit. One, two or three fish at a time. Cast closer to the pier, let the line sink a little deeper, and then pull in slowly with a jiggle or two and the result was a jacksmelt, perhaps two, or even three at a time. Just over two hours fishing produced 152 fish—103 sardines, 48 jacksmelt and a confused little cabezon who bit a bottom hook.
Later that same night I returned after a visit to Cayucos. Arriving at the well-lit corner by the Coast Guard boat, I was immediately intrigued by the sight. Eelgrass had piled up near the pilings and the boat but in the middle of the grass was an open water circle of space approximately 30 feet in diameter. Near the top of the water were small baitfish (pinhead anchovies?) packed fairly tight and herded by what appeared to be 6-8 inch bocaccio. The bocaccio would dart up from the depth every so often and make sure the school of baitfish kept in a circular swimming pattern. Every few minutes, the school of jacksmelt, thousands of fish, would sweep through the area deeper down in the water, probably about ten feet or so under the surface. The school would turn as one and move on to reappear a few minutes later. I decided to cast my light line (rigged with two small hooks and pile worms) toward the weeds and let it drift under the weeds closer to the pilings. The result for an hour's fishing time: 3 kelp rockfish, 2 vermilion rockfish, a lone gopher rockfish, a single brown rockfish and several shinerperch and jacksmelt. Nature at its best! And though cool, it was warmer at 11 P.M. than at 5 P.M. (Unfortunately the water in that corner of the pier now sits under deck and dock.)
A final, short visit took place the next afternoon after fishing at Avila Beach and Pismo Beach. This time I used the two hooks and pile worm approach and pulled in 25 large jacksmelt in an hour's time (and all were released). This time there were less fish but all were big, tackle bustin' horse smelt (slight exaggeration there). Only bad note was that by the second day the temperature at Morro Bay was as hot as the fishing so I couldn't avoid the heat. Headed back to Lodi with a small chest of sardines and an even larger measure of guilt. What was I doing catching so many fish even if most were released back into the water? But it was fun.
<*}}}}}}}}}>< — Although I have never caught a sharpnose perch south of Monterey, apparently some do show up in Morro Bay. What is most interesting about the following excerpt of an article is the possible diurnal nature of the perch; this was a new hypothesis for me.
"Only one species seems important to single out as unusual, since it is more common than normally thought. Smith (1964), in a redescription and reanalysis of the life history of the sharpnose seaperch, described a single female specimen caught by hook-and-line from a pier in Morro Bay on July 11, 1963. This fish measured 181 mm SL and contained ten embryos. The 21 specimens collected in our survey agree with the reproductive activity and occurrence reported by Smith, however, our specimens were all caught on whole, live anchovies at a nightlight station. (Tremper, unpublished data) and might indicate nocturnal habits for this species."
—Fierstine, Kline and Garman, Fishes Collected in Morro Bay, California Between January 1968 and December 1970, Calif. Fish and Game 1973
<*}}}}}}}}}>< — I've often wished I were a diver so that I could study the pilings, piling creatures, and fish under the piers. Alas, it is not to be. However, with the Internet more and more people are sharing their stories—including some divers. One such site is www.belowmorrobay.com. (Field Notes, Journal of marine observations under the Morro Bay T-Pier). On it are some excellent pictures and descriptions of life under the Morro Bay T-Pier. One mission of the site is: "to increase community awareness of & help preserve the marine treasure that exists below the Morro Bay T-Pier among the decades of accumulated junk that has formed an unintentional reef teeming with a density and variety of marine life that exists nowhere else in Morro Bay."
One observation I found interesting is the notation that life on the pilings has changed over the years. "When we first began diving here (early 1980's), most pilings were covered with anemones. Near the pile bottom, Metridium senile anemones abounded, and up higher, colorful congregating anemones held sway. Over the years life on the pilings has changed. Anemones have largely been replaced by red bryozoans, except in the shallow end of the pier, where large Metridium anemones still abound. We have no idea why red bryozoans have taken over most of the piling habitat or if this is just a normal cycle in the ocean. We often see nudibranchs on the red bryozoans, which makes an excellent backdrop for photography."
Nudibranch, also known as naked snails and sea slugs, are apparently very abundant in the area (one source calls Morro Bay the Nudibranch capital of the world) and apparently thousands of them are found under and around the pier. Given the number, it's not surprising that every so often an angler will hook one of the colorful slugs albeit they have no idea what they have caught. Generally, after getting the creature up to the pier, the surprised angler will simply exclaim, "What is this thing?"
<*}}}}}}}}}>< — Although I think the data rather sparse, incomplete and lacking (for a number of reasons), the data from surveys done by the Department of Fish and Game between 2004 and 2009 do give glimpse of some of the species and their number at the pier. Listed numerically the 14 species would be as follows: black perch, jacksmelt, walleye surfperch, rubberlip seaperch, striped seaperch, barred surfperch, grass rockfish, bat ray, silver surfperch, pileperch, rainbow seaperch, olive rockfish, brown rockfisha and Pacific mackerel.
<*}}}}}}}}}>< — My personal take of fish at the pier (from 1974 to 2018) reflects the following species (numerically) — Pacific sardine, jacksmelt, bocaccio, lizardfish, shinerperch, lingcod, blackperch, kelp rockfish, jack mackerel, onespot fringehead, kelp bass, Pacific mackerel, cabezon, brown rockfish, gopher rockfish, vermilion rockfish, striped seaperch, silver surfperch, walleye surfperch, coralline sculpin, staghorn sculpin and topsmelt. My stats are also flawed for I am sure if I had fished at night for sharks and rays several additional species would be on the list.
<*}}}}}}}}}>< — Although I knew that alien species were common in the larger California bays that harbor ocean going cargo liners, I didn't realize they had invaded the smaller bays until a visit here in 1999. I noticed a sign telling of the invasion of Morro Bay waters by two different but equally worrisome species. One is the Tortellini slug (Philine auriforamis), a 2-inch-long sea slug from New Zealand that feeds on small clams and barrel snails in the bay. The other intruder is the European green crab (Carcinus maenas), which is causing havoc along the coast all the way from California to Washington.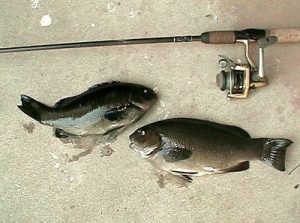 Opaleye are an infrequent catch
The Pier Rats Speak

Date: July 30, 2000; To: Ken Jones; From: George Campbell; Subject: Morro Bay, CA
Lots of 14-18" Jacksmelt from the Coast Guard Pier in Morro Bay. Best fishing times from 1 hour before to 1 hour after high tide. Best rig is a dropper rig, with a 1 oz. sinker with one short dropper 3-4′ above the sinker. Number 2-4 baitholder hook with clam or mussel as bait. During July and August, this is a sure-fire bet in Morro Bay. Feather jigs catch only 6" smelt, while those using the rig above are catching the big ones. Cast your rig out about 1-20 yards, then very slowly retrieve. Wait for a big hit before setting, then have fun. Light tackle recommended for best action. Another, non-pier method is to get on the rocks next to the pier, using freshwater ultralight tackle. No sinker. Just a #2-4 baitholder hook with clam or mussel. Cast into the deeper water, then let bait drift down. A fish every cast, and a real fight on 2 lb. test from 14-16" smelt. Dynamite! Best, George Campbell
Date: December 12, 2000; To: PFIC Message Board; From: sandollar; Subject: Age/experience thread
My fishing experiences are from fishing from the Morro Bay T piers. Boy was it a big deal when my parents allowed my brother and I to walk there alone from the Morro Dunes trailer park just north of the Rock (just a walk down the beach). My most favorite memory there was once when there happened to be tons of red snapper there. Our eyes were like saucers as we caught so many fish that day. (I was in second grade, my brother in 5th). Now I'm 33.
Date: November 26, 2002; To: PFIC Message Board; From: cayucosjack; Subject: Morro Bay North T-Pier Report 11/26
Stopped in at the North T pier in Morro Bay from about 1pm-2. Only caught 2 jacksmelt on pile worms/Sabiki. One guy had caught about a 2-pound calico perch and then reeled up about a 5lb+ rubberlip perch! This thing was huge! He was using mussels in the shell and wrapping a few hooks around them. Not my style but it sure did work.
Date: February 17, 2003; To: PFIC Message Board; From: cayucosjack; Subject: North T-Pier 2/16 Rpt
With a very busy weekend the only time I had a chance to get out was late last night after our "company" went to sleep. With a 5.6ft, 10:20 high tide and the "astro-tables" showing excellent fishing I had to get out to try for a bat ray …or anything for that matter.
Fished North T-pier 10-11pm.
The current was really ripping in the channel. I tossed out a hi/lo (size 4/0 hooks, 17 pound spider wire–I grabbed the wrong spool, wanted heavier test) with 6-ounce sinker. Within 3 minutes the rod bends big time and almost goes in the water. It was something huge! It almost spooled me, I could not budge this beast, not even an inch for at least ten minutes. Working against the current was nearly impossible. It finally started swimming towards me and I got about half the line back. Then it stopped I got nowhere with him (complete stalemate) for about another 5 minutes. With no way to land this beast other than a gaff, and my arms burning with pain I made the choice to tighten the drag and put my line to the test (I thought it was the 30-lb test, as I said I was wrong). He won…the line lost. I could have been there all night with this thing. Oh well.