Public Access Area — but Private Pier — Fishing License Required
In the mid-'60s an interesting paper was released by the Department of Fish and Game. Fish Bulletin #130 detailed the effort and success of anglers between Oregon and Point Arguello in central California (Miller and Gotshall, 1965). Most interesting to "pier rats" was the results from sixteen piers between Pismo Beach and Trinidad. The three piers along the Eureka waterfront—Lazio Pier, Paladini Pier, and TPL Pier—recorded the highest fish-per-angler-day figures with the Lazio Pier being nearly double any other pier. In other words more fish were caught per day by anglers at the Lazio Pier than any other pier in central or northern California.
Each of the three piers mentioned is now history but this pier/dock sits in the general vicinity of those piers, roughly three blocks from where the Lazio Pier was located (end of "C" Street). Since it's in the same area as those high-yield piers you could probably predict similar results and my personal, anecdotal records have tended to corroborate those earlier studies. In fact, I have averaged over ten fish per hour at the pier, the highest average of any of the Humboldt Bay piers. Of course what makes the yields so high are the very large catches of the smaller schooling species, especially walleye surfperch and jacksmelt. The study didn't show a great variety of fish at the pier but it did show vast numbers of these fish. However, small fish attract large fish and that's also the case here so there is a chance for both quantity and quality.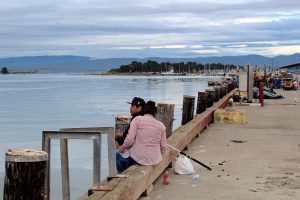 Environment. The small dock sits parallel and over the shoreline and thus is basically a near-shore facility although a good cast is able to reach fairly deep water. The bottom here is mud, and currents can be fairly strong. The water is shallow (although deeper than the Del Norte Street Pier) and best fishing occurs right around or under the pier. Casting out, away from the pier, produces fewer fish, but sometimes they are bigger. Because of their schooling nature, the majority of fish caught here are the aforementioned species: walleye surfperch, silver surfperch and jacksmelt. Shinerperch and staghorn sculpin always seem to be present and in fact are often a nuisance when fishing for other species. Small to medium sized brown and grass rockfish seem to hang around the pilings much of the year while summertime can see young of the year (YOY) juvenile rockfish, a variety of species, hanging around the dock. Nighttime is shark time although bat rays might not agree; the most common sharks are dogfish and leopard shark while bat rays and a few skate also enter the mix.
Fishing Tips. Even when you know what to do, you still don't always do it. I was reminded of that fact one sunny April morning at this pier—and the lesson was provided by a bird. I had started to fish at 7 a.m. and decided to try on the bottom. After a half hour my only fish were a decent sized brown rockfish and a small cabezon. Then, off to my left, I saw a cormorant emerge from the depths with a fish struggling in its beak. The fish was too large to be swallowed and was finally dropped by the bird. At first I thought it was a small salmon or a steelhead, but then I realized it was probably a large jacksmelt. I quickly tied on a float a short distance above two size 6 hooks and let the current carry the rigging into the area where the bird had been. I soon had a fourteen-inch jacksmelt on the end of the line. In the next half hour I caught over a dozen 13-14-inch jacksmelt. Although I already knew this was a great pier for these large smelt, I hadn't switched techniques until I saw the bird.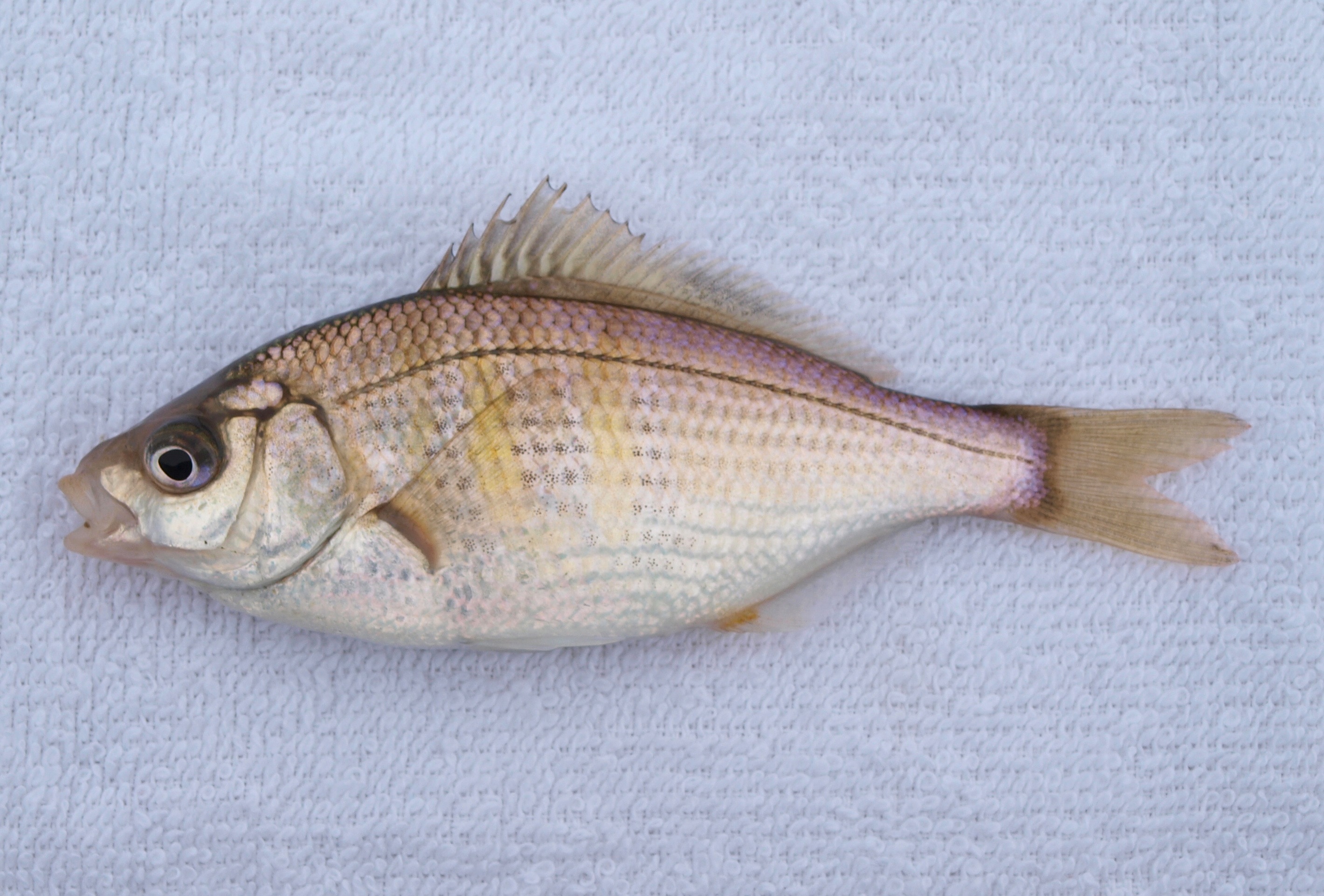 Shiner perch can be a nuisance
If schools of perch or jacksmelt are present, it shouldn't take you long to find it out. Two approaches can be used for the smaller fish. First is to try a bait rig—a Sabiki, Lucky Lura or similar rigging. Drop your line under the pier, let it settle to the bottom, and then slowly retrieve it giving a slight twitch to your rod every few seconds. Perch will often follow the rigging right to the surface and hit a hook just before you take it out of the water. If they are present, you should know it within a few drops of your line. If you don't get a hit under the pier, cast out a short distance and follow a similar retrieve, but reel in a little faster—jacksmelt seem to like a faster retrieve closer to the surface. A second approach is the technique mentioned above. Tie two to three small hooks, size 6 or 8, onto your line. Tie one about eighteen inches up from the sinker; tie the others at 9-inch intervals above the lowest hook. Use as small a sinker as will keep your line straight down into the current. Next, place a float or bobber 18-24 inches above your top hook. Bait with very small pieces of tubeworm and simply lower it into the water near the dock—or cast into the shallow waters that sit between the southern end of the dock and the marina. This technique can be very productive for jacksmelt and walleye surfperch. When schools are present, it is common to catch one or more fish on nearly every cast.
Straight down, alongside the pier, can also produce a lot of small rockfish. Most of these will be brown rockfish, but many will also be grass rockfish and occasionally a copper, black or blue rockfish will be mixed in for variety (as well as kelp greenlings, cabezon and a few lingcod). Most of these will be small but a few will be medium sized fish up to about two pounds in weight. A couple of small, size 6 hooks, baited with small pieces of shrimp, squid or tube worms will entice these rockfish. I also try to use a shiny new sinker; it seems to attract the persistent rockfish. A final note is to be patient. These rockfish, much like perch, will keep returning to your bait until they are hooked—if you just let it stay in the same area and don't get too excited over every little nibble.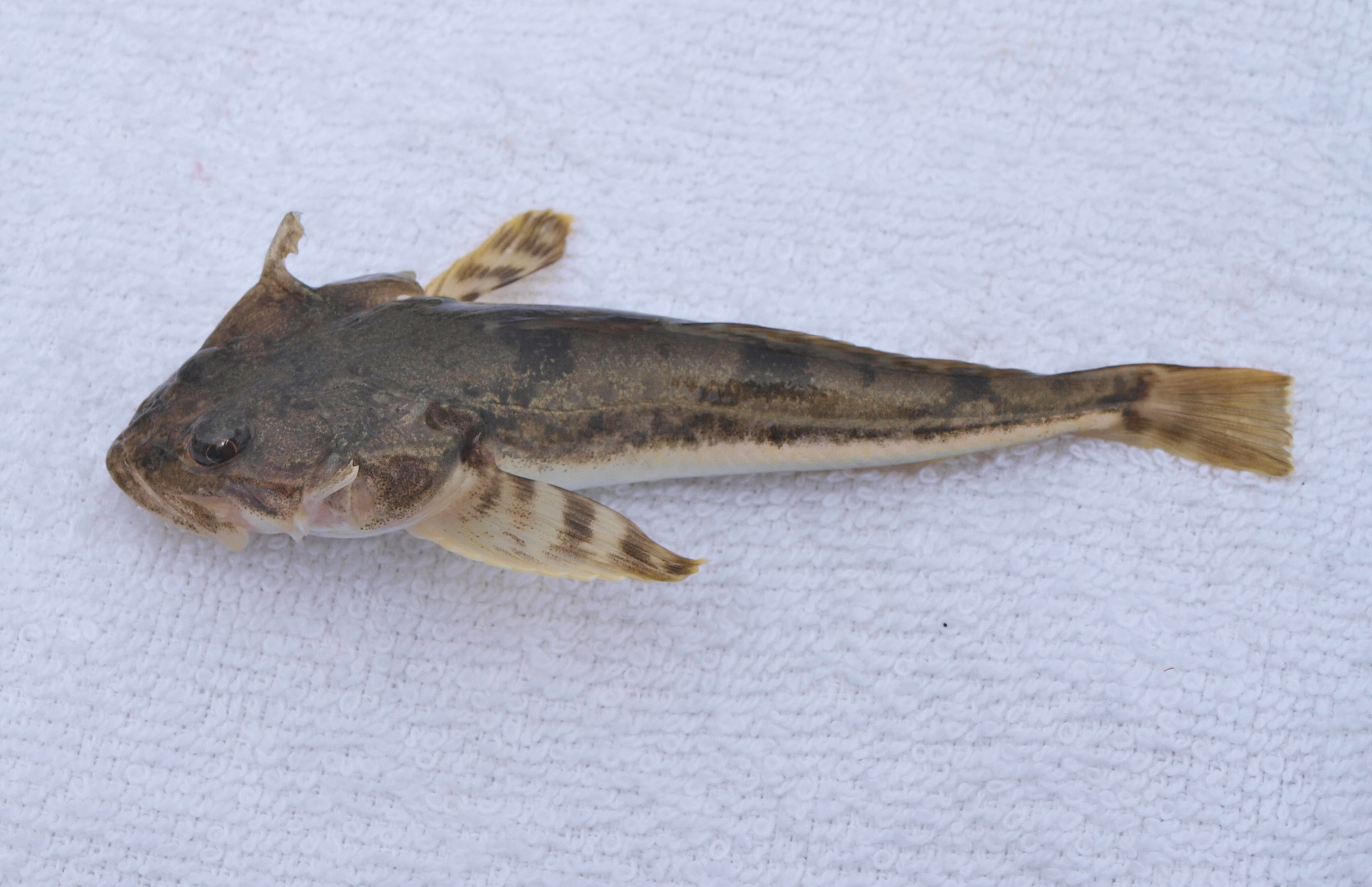 Bullheads (staghorn sculpin) like to grab bait intended for bigger fish
Casting out into the deeper water and fishing on the bottom can yield a flatfish or two if the crabs will cooperate. A high/low baited with tubeworms, strips of anchovy or strips of squid can take starry flounder, sand sole and sometimes an English sole. In the summertime try live bait for halibut. Use a fishfinder rigging coupled with a lively small perch—walleye, shiner or silver—and cast out into the main channel. Halibut are present most summer months but, as said, the key is for them finding your bait before the crabs.
The fishing for sharks and rays can be excellent. Leopard sharks and spiny dogfish are common much of the year with peak times being late summer and fall. Best bait is probably squid although fresh herring and anchovies also attract the sharks—and occasionally a bat ray or skate. Fish at night and keep your bait off the bottom. Dungeness crabs and rock crabs will attack almost any bait left on the bottom (and even some that aren't on the bottom) but usually a bait put a couple of feet up from the bottom will be safe—and still appealing to the sharks. Also, remember that dogfish are often found in schools (or packs) so if you catch one, more are likely to be around. A few brown smoothhounds are also around as are young 7-gill sharks but neither matches the numbers are numerous.
Last but not least are those bait stealin' crustaceans that are themselves good food for the pot. Both Dungeness and rock crabs can be taken from the dock although I've never seen as many crabbers here as at Del Norte. Just grab a hoop net and some fish scraps or chicken necks and you're ready to go. Do check the regulations for Dungeness since they differ slightly from those in more southerly areas.
Note. Why the high number of fish in this area? Although the area looks fishy enough, I imagine the secret of the numbers was scraps from the fish-processing going into the water. Today, with more strict regulations, most fish cannot be dumped into the water (for bacterial reasons). Thus the high numbers of fish has gone down.
Special Recommendations. Public fishing access is listed as being on the east end of the pier but unfortunately the best fishing is on the west end, the area under lease to private commercial fishing operations. Commercial boats unload their catch here and buy gas and supplies; at times space along the pier will be very limited. This is the area where 'no fishing' signs have been painted on the pier. Nevertheless you are allowed to fish on the right side of the dock. The good people at the Englund Marine store (on the dock) say that the "no fishing" signs were put up because so many nighttime shark fishermen had made a mess of the dock. Litter and vandalism were common so the signs went up.
Remember, sportsmen are, in a word, at the mercy of these private businesses. Stay out of their way and out of the way of any boats that come in to dock. Clean up after yourself and do not leave bait or litter lying around on the dock. And, if you want to fish from the west end of the dock, ask for permission. They may or may not give you permission, and sometimes they now lock the area to the left at night, but what does it hurt to ask?
Commercial Street Dock Facts
Hours: Basically open 24 hours a day (although parts are posted as 'no fishing' sections).
Facilities: There is free 10-hour parking adjacent to the front of the pier. The Vista Del Mar Restaurant is located on the opposite side of the parking lot.
Handicapped Facilities: None. There is no railing on the dock, only a small curb around the edge of the deck.
How To Get There: Take Hwy. 101 to Commercial Street; turn north toward the bay and follow the street to the pier parking lot.
Management: City of Eureka.