A few legal lingcod will make an appearance and most are caught on swim baits fished with a leadhead jig. The same swim baits will occasionally also attract Pacific halibut (generally small ones) as well as California halibut. Neither fish is all that common from the dock but enough are caught to keep it interesting. Most of the halibut though are caught on bait—sardines, herring, or anchovies. When these baitfish show up in the harbor, use them as live bait, when absent use frozen bait. Although I've never seen them used as live bait here, shinerperch are often common inshore and also make good live bait for halibut. Sand soles and sanddabs are other commonly encountered flatfish but for both of these use small size 6-4 hooks and strip bait, worms or shrimp.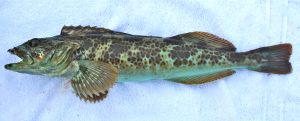 This is another pier that sees heavy "crabbing" action. In fact, sometimes more crabbers are doing their thing than anglers. Rock crabs are a goal throughout the year while Dungeness crabs are sought during the winter and spring. Generally they're taken on the old standbys, a hoop net baited with chicken necks or salmon scraps—take your pick.
The second environment is the small rocky shoreline near the front of the pier. One or two small size 6-2 hooks above a torpedo sinker will produce a variety of fish—kelp greenling, cabezon, grass rockfish, copper rockfish, striped seaperch, and sometimes way too many shinerperch. I've also caught a couple of coralline sculpin in this area as well as a blackeye goby, the only one I've taken north of San Francisco Bay. And, see if you can find the "special piling" that the locals fish.
Potpourri
<*}}}}}}}}}>< — Crescent City is one of the wettest places in California averaging 67 inches of rain per year. It's also cool (if not cold) averaging a high in the 50s from November until May and a high of 66 degrees in August and September.  Winters can be both wet and cold while summer days are often foggy and cool. Though it can be sunny, most afternoons seem to be windy. The recommendation therefor is to always have some warm-layered clothing with you.
As example of the unpredictable weather, consider March of 1985, a year I was coaching and shepherding a group of junior high school basketball players to Crescent City for its big 32-team basketball tournament. Games and festivities ended Saturday night and we planned to leave around 10 AM the next morning. I had brought some fishing tackle and, given that the weather had been nice, I thought I might be able to get in a couple of hours fishing down at Citizens Dock before we left.
But no, it wasn't to be! The wind that morning was so strong that it was almost impossible to walk across the parking lot to the car. Then, the driving rain began. Soon after, we got word that a huge redwood had been blown over and was blocking Hwy 101. We wouldn't be heading back until a road gang had a chance to do some cutting and hauling and even then it was a slow group of cars that exited the town. The unpredictable weather explains why sometimes there is little fishing going on at the dock from January through March (except during the herring runs). It also reaffirms why you should always bring warm clothing with you when you plan to fish this area. Enjoy and bask in the days that are sunny and warm but always be prepared for the worst.
<*}}}}}}}}}>< — I must admit that Crescent City is the only town that I have visited where the motel rooms come with a "Tsunami Evacuation Map." The map shows the evacuation zone, the evacuation route, and the assembly point where hopefully all who have survived a tsunami can meet up after the tidal wave. Given the number of tidal waves that have hit Crescent City (see below) it's good information to have.
History Note. The name Citizen's Dock is an appropriate name for this pier. Since the earliest settlements, wharves have been important for coastal towns, and it was no different for Crescent City. Settled in 1852, the city's first wharf was built just three years later, in 1855, out on the appropriately named Whaler Island. The north Pacific whaling fleet used the island and its wharf for many years. In 1860 a larger wharf was built across the bay that extended out from the shoreline; it would be destroyed the following year. A third wharf soon followed, one that would be used until the late 1930s.
By the mid '40s, that wharf (Hobbs Wall Wharf) was both unusable and unsafe. However, local citizens were unable to get government help (financing) to build a new wharf. Undeterred, the citizens got together, donated cash, labor and the needed materials (estimated value $250,000) and built themselves a new wharf. It officially opened on March 18, 1950 amidst some well deserved festivities—a parade, fish boat race, basketball games, crab feed, and dance. Additional improvements were made to the parking areas, boat launch and bulkheads in 1958-59 and 1962 with help from the Wildlife Conservation Board.
That the people in this small town are gritty, self-reliant, and willing to work together was never in doubt but there are limits; witness the rebuilding accomplished after what is considered the most destructive tsunami to ever hit the Pacific Coast. The tsunami struck on Good Friday, March 27, 1964. The harbor and town were pounded by a huge, nearly 21-foot tall tidal wave that was generated by an 8.4 earthquake near the Gulf of Alaska. That wave and several smaller waves, together with the accompanying surge and current, inundated roughly 60 city blocks and damaged twenty-nine (including 91 houses and 172 businesses). Most of the structures in the harbor were damaged or totally destroyed. Citizen's Dock was included in the latter
"The ocean's sudden draining and surging back numbers of times battered and twisted the dock out of shape, including damaging beyond repair or washing out over one-half of its support pilings. A huge lumber barge was tethered to the dock; it was 210 feet long with a fifty-five foot beam and drew fifteen feet of water… the Crescent City boat was not only fully loaded with over a million board feet of lumber, but also securely tied to its dock. The violent waters forced this heavy vessel up, over, down, and under the dock, and the barge smashed every part of the pier that it rammed into. The currents also swept over the barge, carrying lumber away and scattering it over the bay, city, and surrounding coastline. After the tsunamipassed, Citizen's Dock had buckled and the Coast Guard Station and Harbor Commission Building had washed out to sea, along with the boats, cars, and fishing boats. —Dennis M. Powers, The Raging Sea, 2005
That tsunami followed the Aleutian Island tsunami of 1957 (8.3 earthquake) that caused the evacuation of Crescent City, and the Chilean tsunami of 1960 (8.6 earthquake) that also flooded much of the town. The events followed the installation of 1,975 giant, concrete tetrapod's onto the outer breakwater during 1956-57. The 25-ton, four-pronged structures resembling children's jacks, interlace and were installed to protect the breakwater. They give some, but obviously not enough, protection to the harbor and the town.
But, as said, the people of Crescent City are resilient. Federal disaster funds were available in 1964 to repair and rebuild public facilities but not individual homes or business. The citizens went to work rebuilding their homes and businesses while the Army Corps of Engineers began rebuilding Citizen's Dock. Work began two days after the tidal wave. A newly reconstructed Citizen's Dock was finished in mid-June and while work continued to rebuild the city, there was at least some semblance of normality for the businesses that depended upon the dock. Citizen's Dock was partially rebuilt again in 1987 but it would not be the last time.
Unfortunately the topography of the sea floor off of Crescent City seems to focus or direct tsunamis straight into the harbor. Researchers say the city experienced tsunamis 31 times between 1933 and 2008 including a tsunami in 2006 that caused multi-million dollars in damage to harbor facilities (including destroying two docks and severely damaging a third). Some of the tidal waves were hardly perceptible but as chronicled, many were devastating.
However, March 11, 2011 may have been a watershed event as yet one more tsunami crippled the harbor. This tsunami, generated by a magnitude-9.0 earthquake in Japan, destroyed the docks and pilings in the harbor, sank 16 boats, and damaged the breakers around the banks of the basin. In response, it was decided to build the West Coast's first harbor truly able to withstand severe tsunamis (those expected to hit once every 50 years). A $38.2 million dollar reconstruction ensued. It's hoped that the changes and improvements will prevent or at least lessen damage from future tsunamis. As for Citizen's Dock, itremains the center of harbor activity and continues to serve the needs of commercial and sport fishermen, tourists, and locals.
Citizen's Dock Facts
Hours: Dawn to dusk.
Facilities: Restrooms, fish cleaning stations, and free parking are all available at the foot of the pier. A boat hoist is available part of the year. Bait and tackle can be purchased one block up the road at Englund Marine Supply. There are a number of restaurants available on the road leading to the dock.
Handicapped Facilities: None.
How To Get There: From Highway 101 turn west on Citizens Dock Road and follow it to the dock.
Management: Crescent City Harbor District.