Public Pier — No Fishing License Required
"Proceeding down the length of Goleta Pier is almost like walking along a rustic, folk version of a Parisian quay… The course along the pier is full of events and interest. There's much that's worth pausing over and relishing: The sound of the water, the creaking of the wood, the wheeling of the birds, the activities of the people fishing are all part of a tapestry of sensual events. The structure is textured and detailed in a satisfying, rough-hewn way. The Pier offers tons of smashing vistas and perspectives, while insisting on none of them… If the approach to the pier was striking in the way it completed and enhanced the setting, the view from it is even more eloquent, once again both setting off and completing the natural beauty of the beach and the bay… The interaction of structure and setting… The way nature and nurture harmonize… The way the Pier is both so utilitarian yet dare-we-say-it spiritual.
Part of what I love best about Goleta Pier is how modest it manages to be. Despite a genuinely spectacular length of over 1000 feet, it's anything but domineering. It's here to serve, and in almost any way you want it to: as setting, as diversion, as highlight or backdrop, or just as a place to dangle some bait from. This willingness to serve is to me far more beautiful than much of the self-conscious beauty that "great architecture" often traffics in. It's a human quality, not a purely aesthetic one—and where architecture goes (and certainly where I go), human virtues trump aesthetic ones. There are many different kinds of beauty to be enjoyed, after all. The strictly-aesthetic ones… Well, they can be nice too… There Goleta Pier stands, a mundane-yet-poetic, tremendous-yet-unpushy thing of more-than-merely-aesthetic beauty that's much loved by those who know it.
—Michael Blowhard, Architecture and Happiness: Goleta Pier, October 16, 2008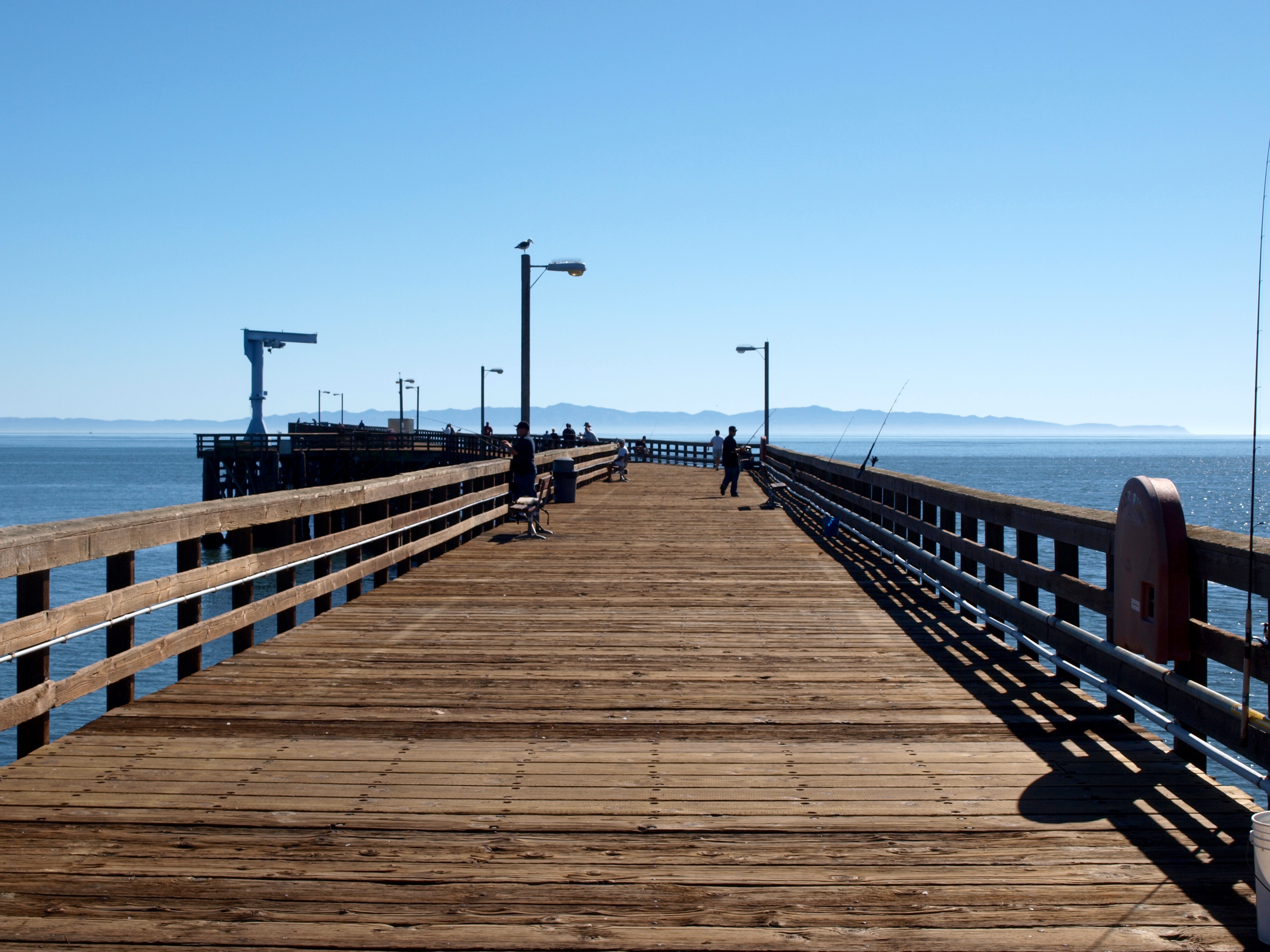 On one visit to this pier, I casually mentioned to a fellow angler that I considered this one of the best piers in California. He nodded in agreement, said he had recently moved from the Los Angeles area, and mentioned that he had never seen the consistent action he had gotten at Goleta. Usually something is biting at this pier and, more often than not, there is an opportunity to catch good quality fish such as halibut, corbina, bass and rockfish not to mention some large sharks and rays. When combined with easy access, good (and free) parking, and well-maintained facilities, there is every reason to include Goleta in a list of the state's best piers.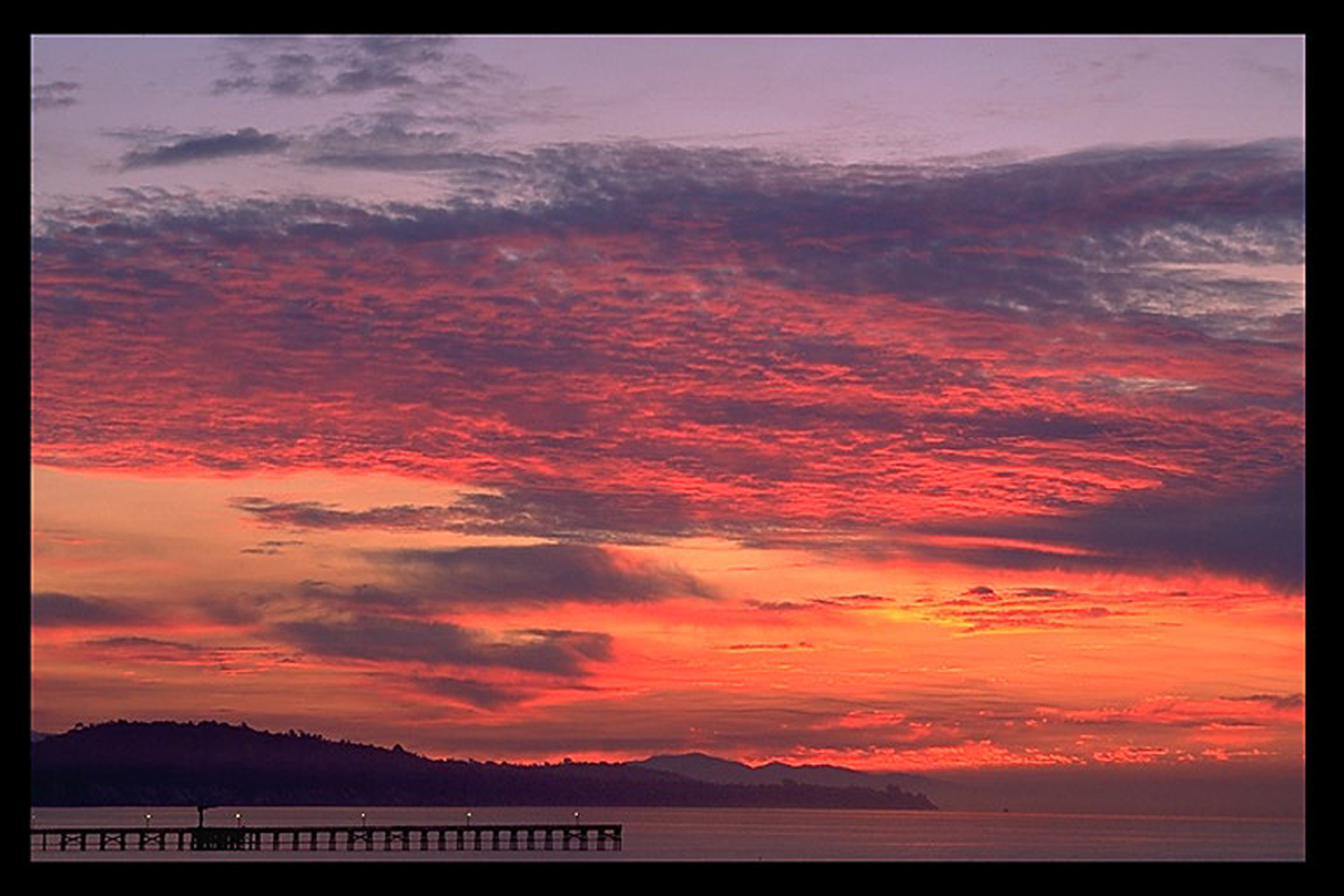 Environment and the Fish. This 1,450-foot-long pier extends out south from the sandy beach of the Goleta Beach County Park, a narrow half-mile-long sandbar that is capped with towering Mexican fan palms, beautiful picnic grounds, and an excellent restaurant. On one side sits the mighty Pacific and Goleta Bay, on the other is the Goleta Slough, one of the region's major estuary areas. It's the most popular and visited park in the county.
Just east of the pier is the outlet from Atascadero Creek and Goleta Slough, and many days you can see surf anglers wading out from the outlet in pursuit of surfperch, corbina and halibut. Look to the west, and you'll see the nearby buildings of the University of California-Santa Barbara as well as Goleta Point.
The bottom here is mostly sand but the pier's pilings are heavily encrusted with mussels and the sea stars that feed upon them—mainly ochre stars. The mussels also attract perch and a diverse assemblage of smaller species (which in turn attract larger species). The pilings act as an artificial reef—reef #1.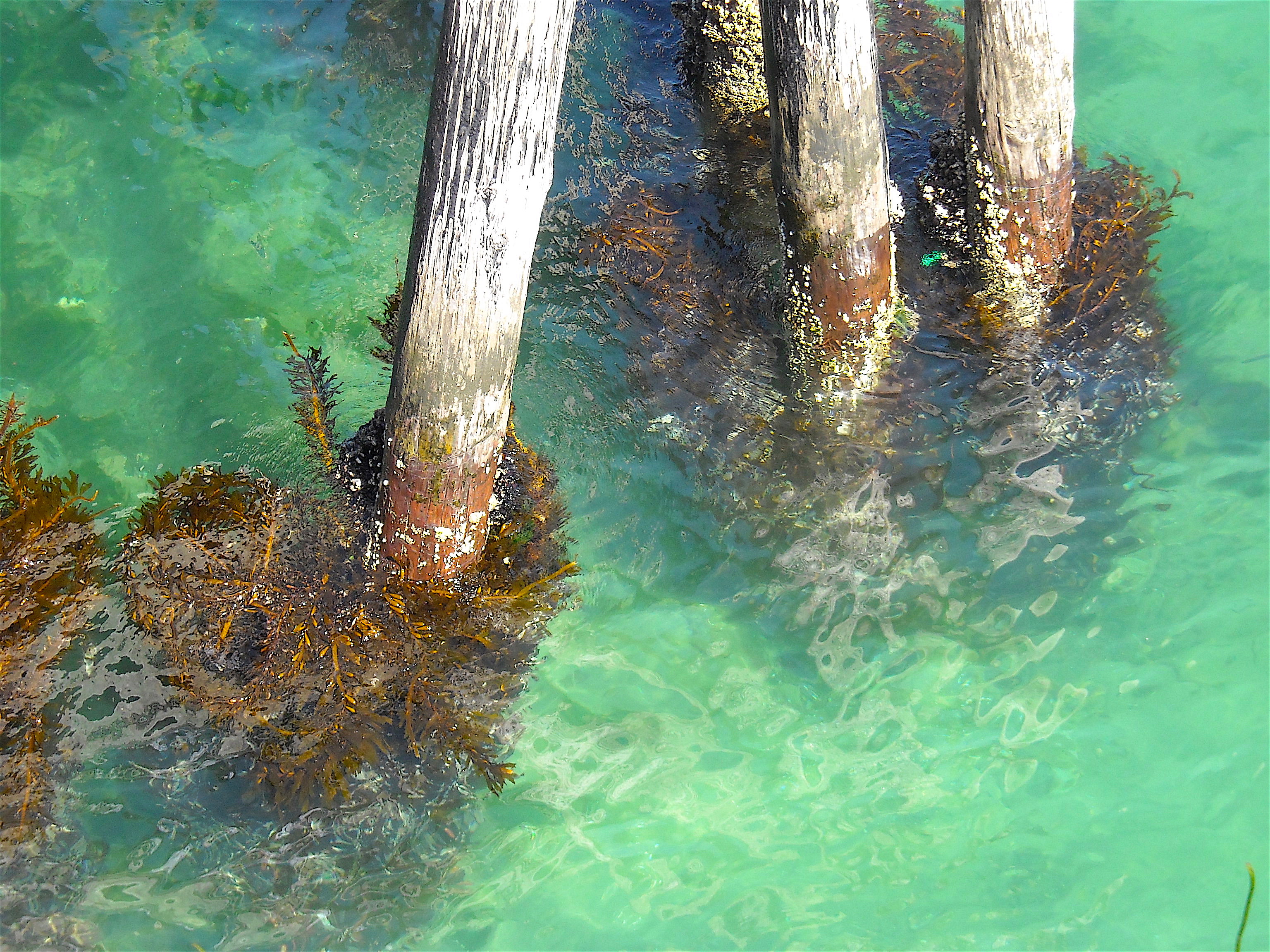 In addition, a pipeline runs parallel to the pier on the right, or west side, roughly 120 feet away from the pier before the bend in the pier, 90 feet out after the bend. This pipeline, and the ballast rocks that protect it, provide a strong base onto which kelp can attach and acts as an artificial reef—reef #2. The name it's been given by anglers is the "pipeline reef" and it's usually covered by several species of algae, as well as a variety of invertebrates (although the amount of kelp can vary year to year depending upon water temperature). The kelp provides an underwater forest that serves as a home and attractant for fish (including at least six types of rockfish) and other marine creatures—five types of sea stars, a trio of tube anemone, many different species of crab, and even an occasional lobster and octopus.
Although Goleta Bay itself was once home to a lush and large kelp forest, much of that disappeared in the early 1980's, primarily due to warm water and the El Niño storms of 1982-83. If it ever regains its former size it will only improve the fishing (and 2008-09 saw a tremendous increase in kelp around the pier).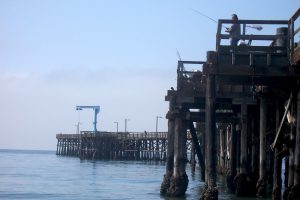 Inshore is the sandy beach, an intertidal area rich with filter-feeding sand crabs and polychaete worms, the favorite foods for the barred surfperch and corbina that make up most of the catch close to the beach. Close by though, and sometimes in surprisingly shallow water, will be found halibut, leopard sharks, guitarfish and thornback rays.
It's also the only pier where I've heard of a black (giant) sea bass being taken in the shallow surf area. The unusual catch, a small, 12-pound juvenile, was taken in June 2002; since then a steadily increasing number of the illegal, zero limit, giant sea bass have been showing up at the pier. In fact, one week alone in 2008 saw four 2-3-foot-long baby bass hooked by anglers. Unfortunately three were kept even though regulars tried to stop them.
Pierhead (Boyd Grant) with a sbr (small brown rockfish) and KelpAngler (with hat)

Further out on the pier, especially on the east or non-reef side of the pier (an area where sand is the predominant feature) is where halibut become the main quarry. Mid-pier can also see a steady catch of white croaker, jacksmelt, small perch and, depending on the season, pelagics. Mackerel are common and caught in large numbers, while bonito are mainly an El Niño, warm-water year fish. Barracuda sometimes make a showing in the fall while white seabass (usually the smaller ones called sea trout) are an occasional catch May-October. Years past saw a smattering of yellowtail and wayward salmon but both are uncommon and a catch of one will have anglers hooting and hollering and dancing a jig (actually that may be a slight exaggeration).
The reef area created by the pipeline is most heavily populated by sbr (the local term for small brown rockfish) and SBR (yes, the larger, small brown rockfish) but is also frequently home to hungry calico bass (kelp bass), grass rockfish and kelp rockfish. Unfortunately, a lot of the bigger fish are lost as they wrap the angler's lines around the kelp. As usual, the regulars are the ones who best know the proper techniques and baits, and they tend to catch most of the big fish. However, this is one pier where both expert and novice can usually catch some fish.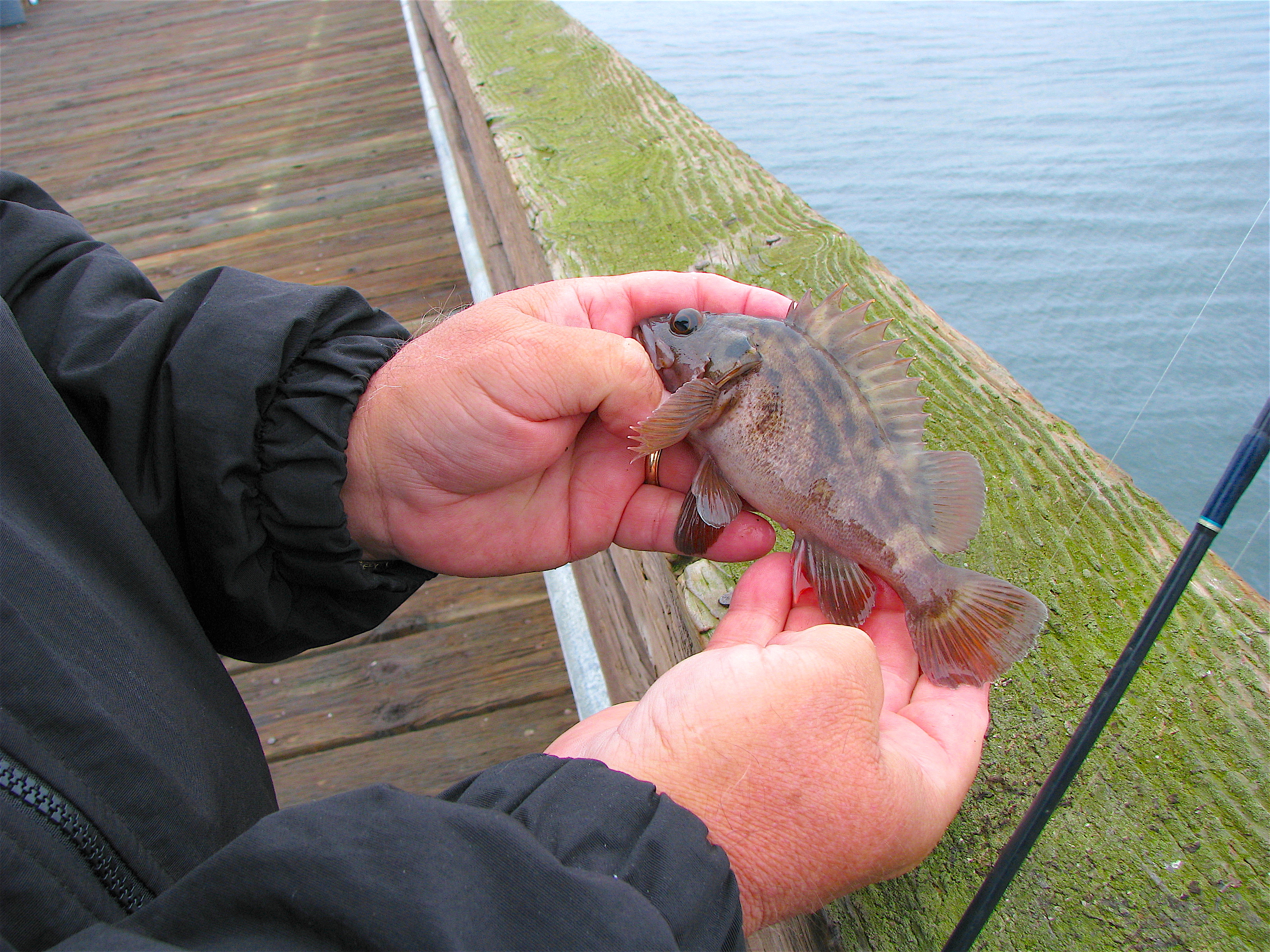 A sbr — small brown rockfish 
Unusual fish have included a banded guitarfish (Zapteryx exasperata) taken in April of 2003, a run of deep-sea Pacific saury that visited the pier at the end of August in 2003, an adult blue rockfish in 2002, and a deep-water starry rockfish taken in June of 2010.
In April 2008, a 38-pound striped bass was taken from the pier but it sounded like it was snagged by one of the guys who commonly snag fish in the surf area. The "snaggers" use a heavy rod and reel with heavy line and a leader rigged with six or more large treble hooks. A piece of cloth (usually red) is attached to the leader followed by the sinker. When they spot a fish in the shallow surf area they cast out and snag the fish. There is nothing sporting or ethical about it but technically it's legal as long as they don't snag certain sport fish. But they do snag the sport fish and do sell their fish which is illegal. To date, no one's been able to stop it.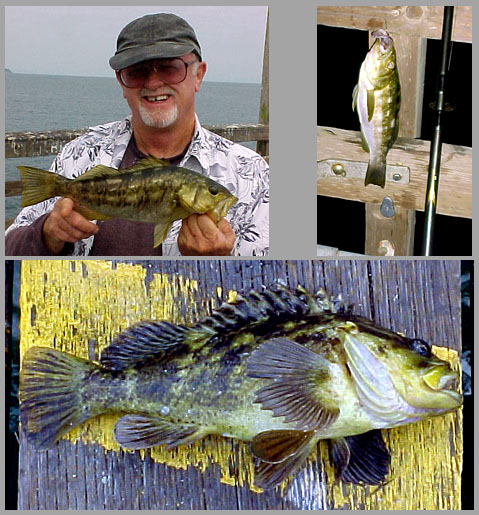 A bass and a rockfish caught by Pierhead
A small run of diamond turbot took place in July '09 with most of the blue speckled flatfish coming in around 9-10 inches in length. And though smallish-sized speckled sanddabs are sometimes way too common at the pier, a run of 10-12"-long Pacific sanddab were taken in the summer of 2010, fish that are normally found in deeper water in SoCal. Only problem with both species was the same thing that often happens with small flatfish, some people thought they were illegal halibut and began to throw them back (which at least shows a good intention on the angler's part). Once again it shows that you need to know what you are catching!
In addition, a baby great white shark was taken in September of 2000. The young shark, only 5-foot-long, was hauled up onto the pier by way of two crab nets and four strong anglers, and then returned to the water after the hook was removed. Since it is now illegal to capture a great white, it was a wise move.
An interesting catch, but not a fish, was a beautiful, yellow-colored, spiny king crab (AKA California king crab) taken in May of 2009. What the normally deep-water crab was doing at the pier is not known.