Smoothhounds: Family Triakididae
Species: Mustelus henlei (Gill, 1863); from the Latin word mustelus (weasel colored) and henlei (referring to Professor J. Henle, a 19th Century biologist). Class Chondrichthyes, Subclass Elasmobranchii, Superorder Galea, Order Carcharhiniformes, Family Triakidae—Hound sharks.
Alternate Names: Sand shark, mud shark, paloma, dogfish or Henle's shark. Called cazón pardo or cazón hilacho in Mexico.
Identification: Similar to the leopard shark and gray smoothhound except that the first dorsal is further ahead on top of body, equidistant between origin of pelvic and pectoral fins. Their coloring is red-brown or bronze above, silvery below.
Size: Length to 3.1 feet; most caught from piers are under two feet.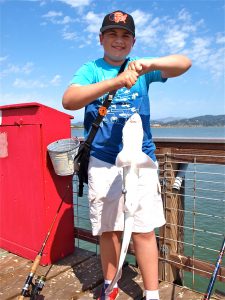 Brown smoothhound from the Marin Rod & Gun Club Pier
Range: From the Gulf of California to northern Washington. Most smoothhounds found north of Point Conception are brown smoothhounds; uncommon north of Eureka.
Habitat: Found in bays and sandy-beach areas. May move out of San Francisco Bay in the winter months depending upon the rain and the degree of salinity in the bay waters. Likes to eat crabs, shrimp and small fish.
Piers: Extremely common at San Francisco Bay piers; one of the most numerous fish at some piers. Best bets: Fort Baker Pier, Angel Island Pier, Port View Park Pier, and all piers along the San Francisco waterfront.
Shoreline: A frequent catch by anglers in San Francisco and San Pablo Bay.
Boats: A frequent catch of boaters and kayakers in Morro Bay, San Francisco Bay, and Tomales Bay.
Bait and Tackle: Will hit almost any bait although squid is the best! Fish with medium tackle and size 4 to 2/0 hooks. If possible, fish at night.
Food Value: A mild flavored flesh suited to several methods of cooking. The best method is probably grilled. It does need to be cleaned properly and kept cool before cooking.
Comments: Although most smoothhound sharks are thrown back, they are a fine meal when cleaned and prepared properly.