Scorpionfishes and Rockfishes: Family Scorpaenidae
Species: Sebastes auriculatus (Girard, 1854); from the Greek word sebastes (magnificent) and the Latin word auriculatus (eared, referring to the large spot on the gill cover).
Alternate Names: Chocolate bass is a common name as is bolina (from Bolinas Bay where they were first caught in large numbers). Sand bass, sugar bass, brown bass, cinnamon bass, brown bomber, brown rock cod, ground owl, and garrupa (grouper) are other colloquial names. Called cha menuke and chairo menuke by the Japanese; rocote moreno in Mexico.
On PFIC these fish are simply designated SBRF or sbrf in deference to the appellation first applied by "pierhead" (actual name Boyd Grant, the Yoda-like Pier Master and patient teacher of youthful, local padawans on the path to "Pier Rat" enlightenment). He recorded the daily catch at Goleta Pier from 2002-2003 and found that nearly 30% of the fish caught from the pier's pipe-reef were small brown rockfish. If it was a "larger" small brown rockfish it became SBRF, if it was a "smaller" small brown rockfish it became sbrf. To this day most regulars on the site know what the acronyms mean and use them in their reports.
Identification: Typical rockfish shape. Their coloring is light brown with darker brown mottling. A very prominent dark brown spot on the opercle (gill cover) most easily identifies brown rockfish. Sometimes confused with copper rockfish but the coppers do not have the dark spot on the opercle and are lighter colored. Up in the northern waters of Puget Sound hybridization between brownies, quillbacks and coppers can really confuse identification. A survey back in the '70s showed only 3% of partyboat anglers could correctly identify the fish.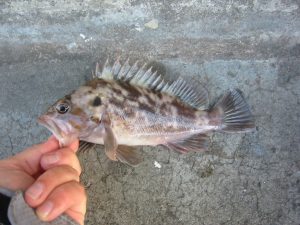 Size: To 22.4 inches; most caught from piers are less than 12 inches long. The California record fish weighed 6 lb 15 oz and was caught at the Colorado Reef, north of Princeton Harbor, San Mateo Co. in 2008. The IGFA World Record fish was 6 Lbs 11 oz and taken at Summerland, CA in 2018.
Range: Bahia Magdalena, southern Baja California, and Bahia San Hipolito, central Baja California, to Prince William Sound, northern Gulf of Alaska. Reported as common from Bahia Tortugas, southern Baja California to Bodega Bay, northern California, and from Puget Sound to southeastern Alaska. A wide-ranging rockfish that I have caught as far south as the Ocean Beach Pier in San Diego and as far north as Pier 57 on the Seattle waterfront. In California, I have caught them at seven SoCal piers, eight CenCal piers, twenty San Francisco Bay Area piers, and five NorCal piers.
Habitat:  Shallow subtidal areas and in bays. In shallow waters they prefer rocky areas and kelp beds; in bays they are often found around structure (especially the younger fish) although some are also found in beds of eelgrass. Adults in deeper waters tend to hang down near the rocky bottoms. San Francisco Bay is considered an important habitat for juvenile brown rockfish. Apparently all of the brownies in S.F. Bay are five years of age or younger, after that age they move offshore into deeper waters. Adults can range down to 964 feet but are only common to about 400 feet. Most are caught in waters shallower than 175 feet. Apparently they are residential, rarely moving more than a couple of miles from home (although sometimes into deeper water during the winter). Their diet includes a variety of invertebrates, especially crabs and shrimp, and they will rarely pass up the opportunity to gulp down an available, smaller fish.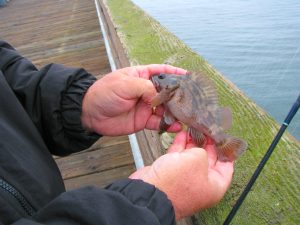 A SBR (Small Brown Rockfish) from the Goleta Pier
Piers: Most commonly caught from piers north of Monterey Bay although the pipe-reef at the Goleta Pier yields a steady number of fish throughout the year. Small brown rockfish are one of the most common fish caught at Bay Area piers. Best bets: Goleta Pier, Port San Luis Pier, Morro Bay T-Piers, Piller Point Harbor Pier, San Francisco Municipal Pier, Port View Park Pier, Berkeley Pier, Paradise Beach Pier, Angel Island Pier, Elephant Rock Pier and the Fort Baker Pier. Many brownies are also caught from the piers and docks that line the Eureka waterfront, especially the Commercial Street Dock.
Shoreline: Sometimes taken by anglers fishing rocky areas in central California.
Boats: Taken by boaters, especially kayakers fishing in kelp beds and shallow water.
Bait and Tackle: Small brown rockfish are commonly caught under and around the pilings of Bay Area Piers. Small hooks, size 6 or 8, baited with a small piece of pile worm is by far the best bait although strips of squid and even cut bait will take some fish.
Food Value: An excellent eating, mild-flavored fish that is general fried or, depending upon size, cooked whole.
Comments: Brownies can live to 34 years in age although few reach 25 years, a relatively short life for members of the rockfish family. A few fish mature and reproduce at 7.4 inches and 3 years of age, most mature between 9.4-12.1 inches and 4-5 years, all are mature by 14.8 inches and 10 years of age. These fish can be a lot of fun for youngsters to catch but most caught from piers are really too small to keep. According to the California Fish and Game "the brown rockfish has been identified as a species vulnerable to severe localized depletions in other areas; in Washington state, the Puget Sound stock of brown rockfish was recommended for listing as a threatened species in 1999."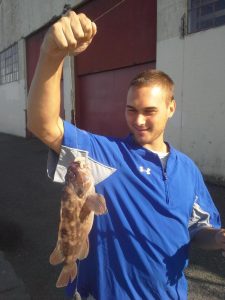 A brown rockfish from Fort Mason in San Francisco