Righteye Flounders: Family Pleuronectidae
Species: Psettichthys melanostictus (Girard, 1854); from the Greek words psetta (flounder), ichthys (fish), melas (black) and stictos (specks).
Alternate Names: Halibut, sand flounder, spotted flounder, fringe sole or fringe flounder.
Identification: Sand sole are in the right-eye flounder family. Most easily identified by the fact that the first four to five dorsal rays are long and free (seemingly disconnected). Their coloring is generally gray to tan above with light speckling.
Size: To 25 inches although 20-21 inches was felt to be maximum size until recently. Most caught from piers are under 16 inches in length. The largest I've caught were a nice 19 ¾-inch fish taken one early September morning at the Pacifica Pier and a 17 ¾-inch fish at the San Francisco Municipal Pier on another September morning. The IGFA World Record fish weighed 1 Lb 8 oz and was taken in Santa Cruz in 2013.
Range: La Jolla (San Diego), southern California, to the southeastern Bering Sea and the Aleutian Islands (from Unalaska Island) to Port Heiden and Gulf of Alaska. Common from Morro Bay, central California, to the Alaska Peninsula.
The southern range has changed considerably over the years. Marine Fishes of Southern California by Percy, Spencer and Barnhart (1936) does not list the fish. The California Department of Fish and Game Fish Bulletin No. 68 by Roedel (1948) simply says Southern California but uncommon south of Point Conception. Fish Bulletin No. 157, The Marine Fishes of California by Miller and Lea (1972) list Port Hueneme as the southern limit, the same range as Coastal Fishes of the Pacific Northwest by Lamb and Edgell (1986). The Peterson Guide to Pacific Coast Fishes by Eschmeyer, Herald and Hammann (1983) lists Redondo Beach as the southern limit. Those ranges changed on February 3, 2005 when our PFIC Reporter, Snookie, caught a 15-inch-long sand sole at the Balboa Pier (which was followed by a report on the PFIC message board that night). The current range (to La Jolla) is given in Certainly More Than You Want To Know About The Fishes of The Pacific Coast by Love (2011). A Field Guide to Coastal Fishes by Kells, Rocha and Allen (2016) gives the Balboa Pier as the southern limit. Miller and Lea's Guide To The Marine Fishes of California, Second Edition by Love and Passarelli (2020) once again uses La Jolla as the southern limit.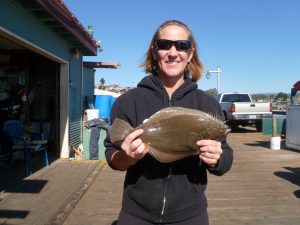 Habitat: Generally shallow-water areas, both sandy shore and rocky shore, but recorded to a depth of 1,066 feet.
Piers: Primarily landed at piers from Monterey Bay north. Best bets: Seacliff State Beach Pier, Capitola Wharf, Santa Cruz Wharf, Pacifica Pier, Candlestick State Park Pier, Berkeley Pier, Point Pinole Pier, Fort Baker Pier, Del Norte Street Pier in Eureka and the "B" Street Pier in Crescent City.
Shoreline: An occasional catch in sandy shore areas in central California
Boats: Only occasionally taken from boats.
Bait and Tackle: Generally taken on cut bait such as anchovy, sardine or squid. Live grass shrimp and pile worms also make good bait. Most often landed on high/low leaders fished on the bottom but many are also taken in the Bay Area by fishermen using the live bait sliding rigging common for flounder. Hooks should be size 6 to 4.
Food Value: Excellent! The flesh is white colored, mild flavored, soft in texture, and low in fat content. It is suitable for any method of cooking but often best simply pan-fried.
Comments: Sand sole are an excellent sportfish and are good eating. However, many of these sole are mistaken for California halibut and unnecessarily returned to the water because they do not meet the minimum size requirements for halibut. Learn to differentiate between the different flatfish species. Sandies live to about ten years of age.