Public Access Area but Private Pier— Fishing License Required
Although undoubtedly seen by many among the thousands of commuters who pass along this stretch of shoreline daily, two small piers exist in Emeryville that are virtually unused (if not unknown) by local anglers. Both are small and more commonly used by joggers and tourists seeking out a good place for a picture of the bay than by anglers. In fact, they are rarely ever used by anglers although I have stopped several times. I've never been joined by other anglers although many people have stopped and asked what I was catching (or asked if the locally-caught fish are safe to eat). But I'm here to tell you that you can catch fish at these piers (but perhaps not as many as at other nearby piers—hence their lack of use). However, there are times when the tide is high and the stripers are showing when these can be fair piers and deserve at least a look before heading over to Berkeley or out to the Marina Pier. The first pier sits just off the Frontage Road in Shorebird Park. It's small and juts out a short way over the mud flats that call this area their home. The second sticks out near the corner of the nearby Chevy's Restaurant and is probably the better of the two for an actual fishing platform.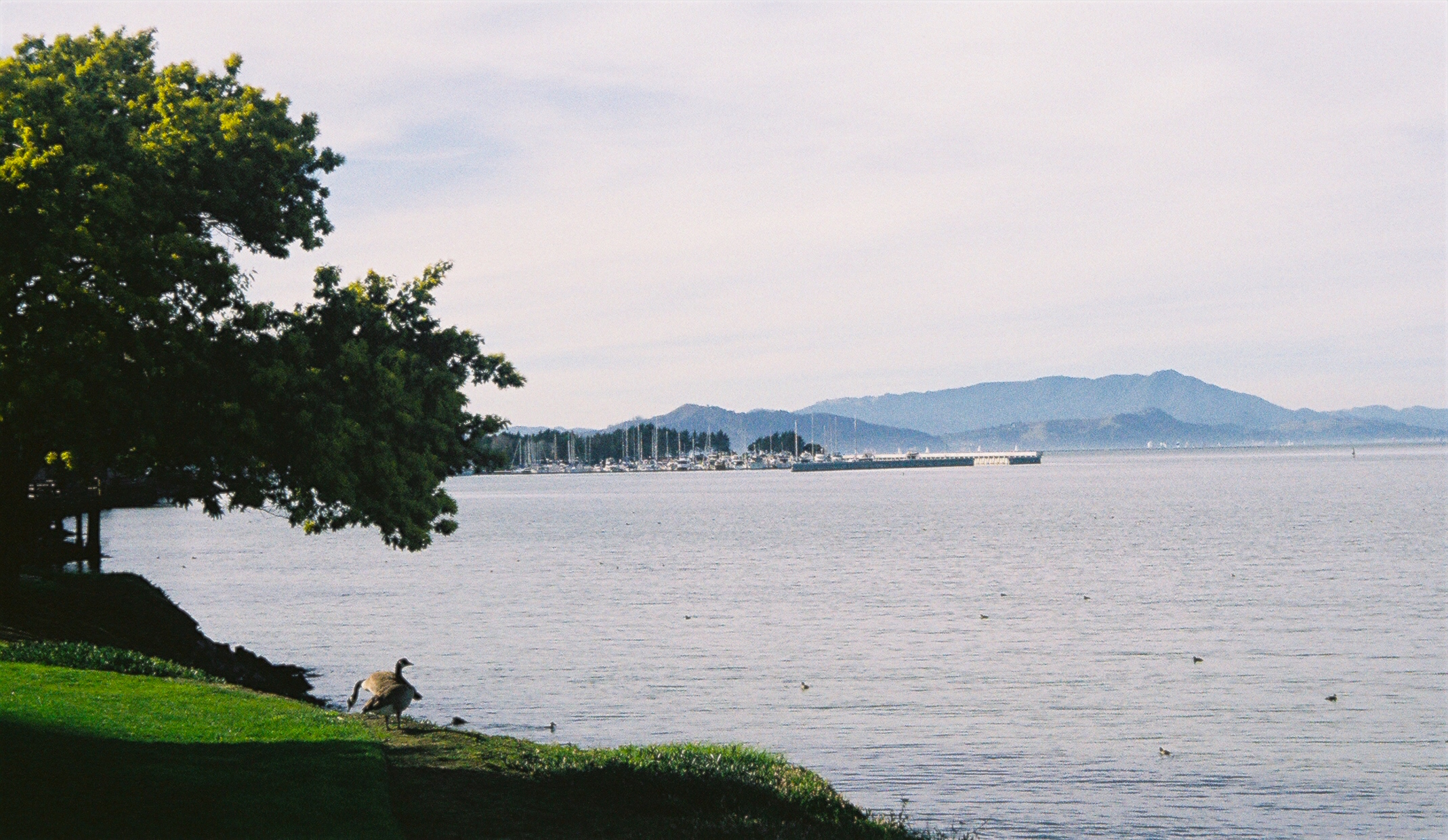 Environment. Both piers are short so mainly fishable during high tide periods. The Chevy's Pier however is in a little deeper water and sees some mussel growth on its pilings. Bottom here is mud with few rocks so primarily you will find flatfish, white croakers, sharks, bat rays and striped bass. There are many old broken pilings from former piers to provide some habitat for perch so they are a possibility but generally their numbers are less than at other nearby piers.
Fishing Tips. A live bait leader baited with pile worms, grass shrimp or ghost shrimp is the choice of equipment here for the flatfish. Use a small size 4-2 hook and fish on the bottom. The result may be a starry flounder or sanddab (winter and spring), a sand sole, small halibut (spring and summer), or even a diamond turbot. If you're seeking halibut, try to use a live shinerperch, small smelt or live anchovies. Most common are brown smoothhound sharks, less common are leopard sharks. For these, use medium equipment and a large chunk of squid for bait. Daytime will yield some fish but the prime time for the sharks, bat rays and skates, is at night. Since there are no lights on the pier you will need to bring your own.
During the spring and summer, schoolie striped bass (and a few older fellows) will check out the food (and perhaps your bait) on these flats. They will strike a good piece of sardine or anchovy fished on the bottom, or even better will hit a live shinerperch or bullhead (staghorn sculpin) which you are fishing with a live bait leader.  At times artificial lures will also work here on the stripers; try plugs, spoons, plastic lures like Scroungers, or bucktails with plastic tails. For the stripers, a late afternoon or early evening incoming tide is best but be warned that wind can be a problem.
Finally, try the Chevy's Pier in the winter by fishing with high/low leaders, size 4-6 hooks, and grass shrimp or pile worms for bait. Pileperch, white seaperch, blackperch and possibly a rubberlip seaperch can result. For the perch, fish directly under the pier around the pilings. For the other fish, try out toward the end and, if there are no other anglers, start at one corner and work the bait around to the other corner. Each time you cast, cast a few degrees more toward the other corner. Eventually you will have completed a half circle and hopefully discovered a school of fish.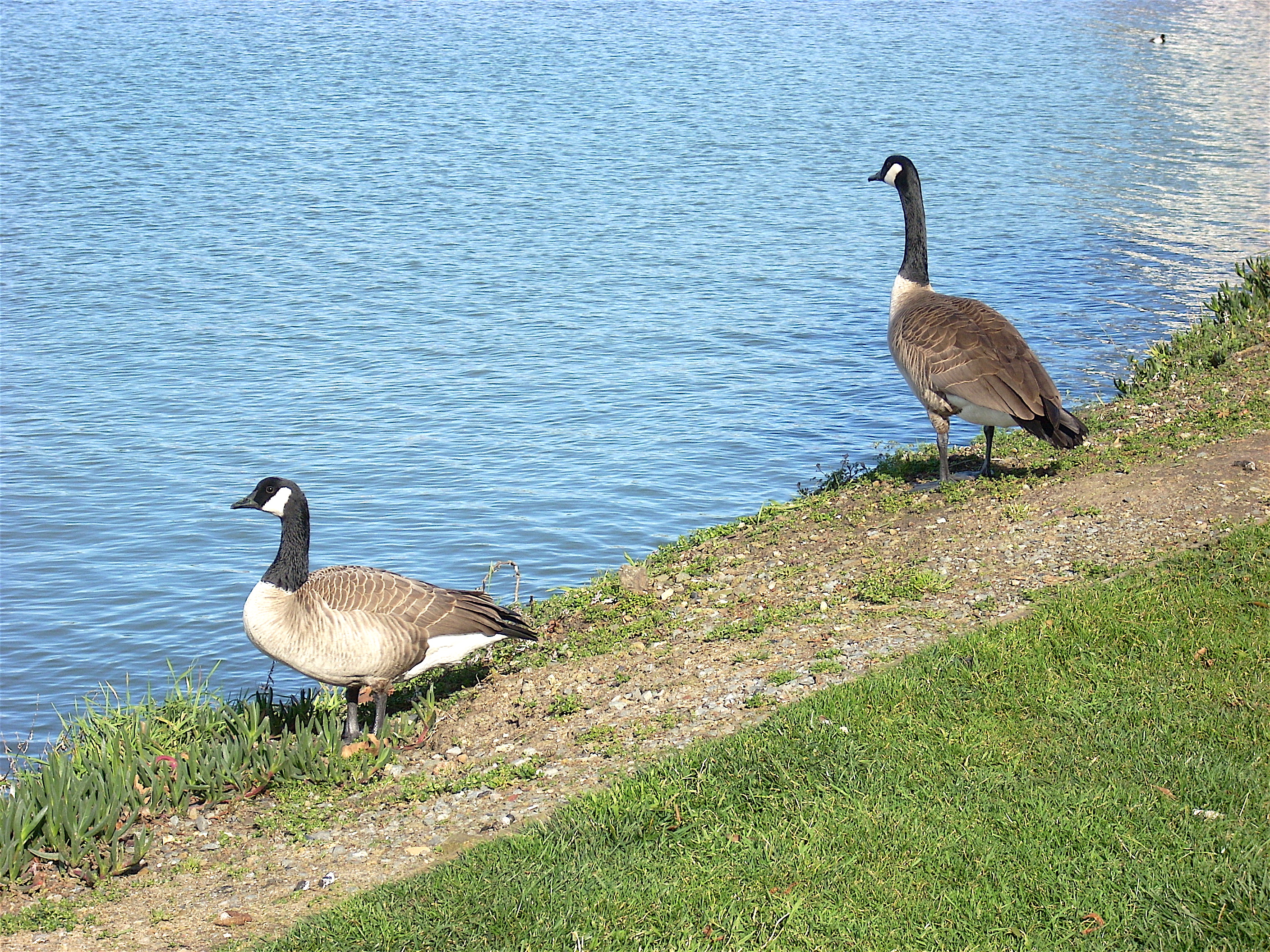 You expect to see some birds but probably are expecting sea gulls instead of geese. 
<*}}}}}}}}}>< — Special Bay Area Regulations:
A perch closure exits in San Francisco and San Pablo Bay from April 1 to July 31. No perch may be kept other than shinerperch (20).
In San Francisco and San Pablo Bay a fishing line may not contain more than three hooks.
Sturgeon Regulations:
A sturgeon report card and tags are required for anyone fishing for or taking sturgeon. (a) The card must be in the angler's possession; (b) a tag must be used for any sturgeon retained by the angler; (c) the angler must record information on the Sturgeon Report Card immediately after catching and   keeping or releasing the sturgeon.
White sturgeon can only be kept from 40-60 inches; larger and smaller sturgeon must be released.
Green sturgeon may not be taken or possessed.
Emeryville Pier Facts
Hours: Open 24 hours.
Facilities: Basically none since the piers were not really designed for fishing (although designated for Public Shore Access). There is some free parking on the Frontage Road.
Handicapped Facilities: Basically none. The railings are approximately 40 inches high.
How To Get There: Take Interstate 80 to the Ashby Avenue exit, then go south on the Frontage Road till you see Chevy's and the Shorebird Park area. Park on the Frontage Road.
Management: City of Emeryville.