Public Pier — No Fishing License Required
My daughter Kim called one day. "Guess what, you missed a pier!" And, as usual, she was right. She also went on to tell me about the 14-inch baby sturgeon she had caught and released. Although small, it was an interesting catch; some anglers have fished on piers for years and never hooked a sturgeon—of any size.
This small pier sits secluded, down among the hotels just south of San Francisco Airport. The pier is very small and juts out just a short distance into these waters but it offers fair to decent fishing seasonally for several different species. Also, expect to have a few tourists walk up to check out the fishing action. It is a great place to watch the jets land onto the airport runway and a great little park to bring the kids if you have a family.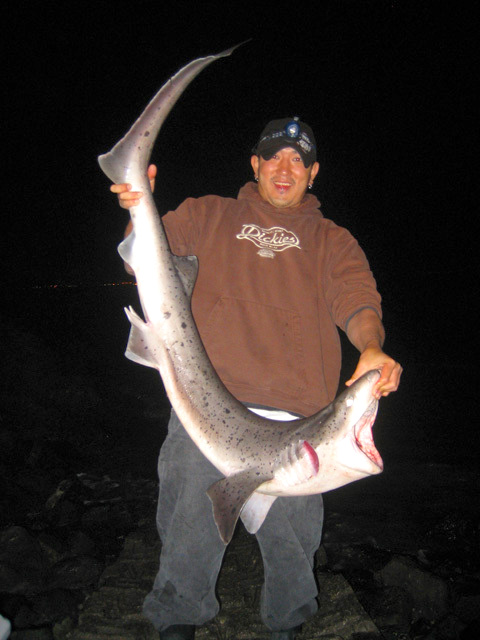 Matty and a seven-gill shark
Environment. The pier sits for the most part parallel to a rocky, moss-covered shoreline. Pilings are heavily covered with barnacles but only a few mussels are present (which means it isn't a great pier for perch). Water here is fairly shallow and the bottom is typical bay mud with few obstructions. Wind however can be a problem, as can wind surfers who find this a good spot from which to practice their sport. Unfortunately, this can at times lead to crossed lines and heated words but this is fairly rare. The park and pier are relatively new (January 1987) and in excellent condition. Because of its south bay location, the pier sees the normal mix of perch, kingfish (white croaker), striped bass, flatfish, sharks, rays and a few sturgeon. It also sees a lot of jacksmelt; a common occurrence in bay areas that have a rocky shoreline similar to that found here.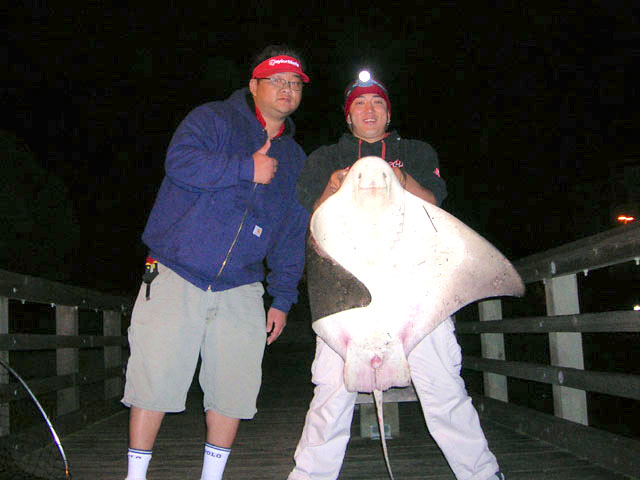 A LOT of bat ray are caught at the pier including some that exceed 100 pounds in weight
Fishing Tips. Most of the anglers here cast straight out for striped bass, bat rays, or sharks, and many are landed. Then again, large schools of jacksmelt will often be found in the waters around the pier. Choose which type of fish to seek and remember to take note of the seasons.
Winter and spring are the prime times for pileperch (splittails), blackperch (pogies), rubberlip perch and starry flounder, and these are landed on the bottom with worms, shrimp or cut anchovy (for the flounder). This is also the time for sturgeon but the shallow water really isn't the best environment for the elusive diamondbacks. However, a few anglers will seek out the large fish and the best baits are grass shrimp, ghost shrimp or blue mud shrimp fished on the bottom. During the herring spawns also try herring or their eggs.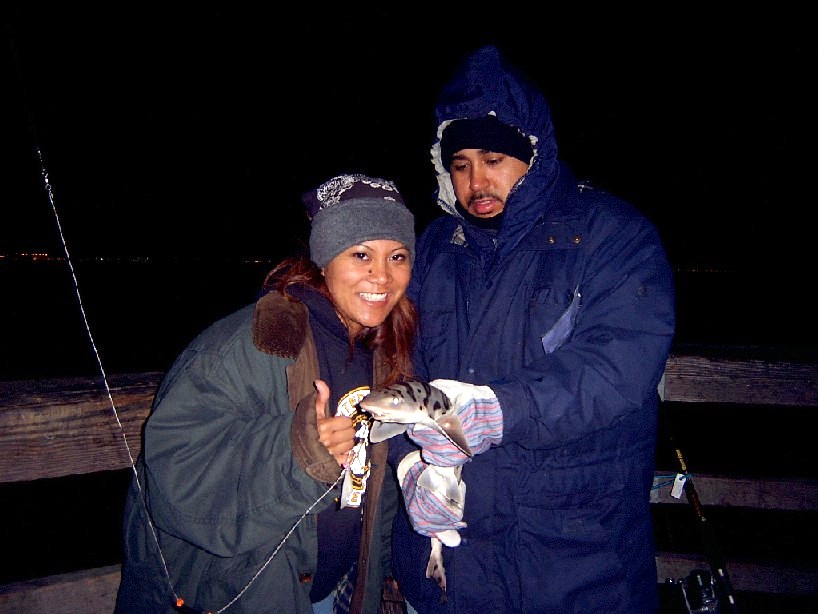 Leopard sharks, both babies like this one and larger adults, are common
Jacksmelt may be encountered almost any time of the year but springtime through the fall is the prime time for these scrappy fighters. When the schools are present, whole families will flock to local piers to fish for the large smelt. Jacksmelt will generally be landed on pile worms (small pieces) fished just under the surface with a float. However, I've had days when the jacksmelt preferred small pieces of shrimp or even small strips of anchovy (especially as it is getting dark), so don't be afraid to experiment with different baits, just remember to keep them small due to the jacksmelt's small mouth.
Flatfish such as sole and sand dabs (and some halibut) will be taken throughout the summer as will several additional types of perch, especially white seaperch (splittail perch), walleye and silver surfperch (after the perch closure is over).  During the summer months anglers can also expect to take a few kingfish (white croaker) if they use cut anchovies and fish on the bottom.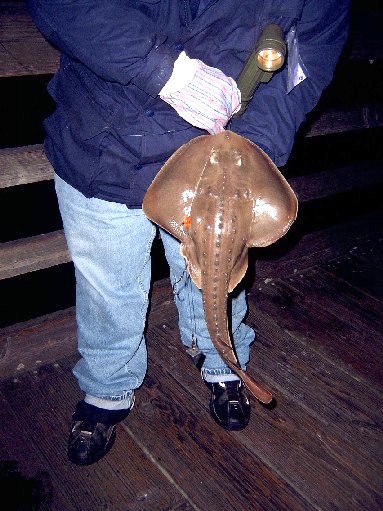 A few thornback rays have have begun to show up in the past decade
Stripers are generally present from March until October and most that are landed are caught on grass shrimp, ghost shrimp, sardines, or live baits such as bullheads (staghorn sculpin) or mudsuckers (longjaw goby). Many anglers use artificial lures and a wide variety have proven to be successful. I have seen pictures of 30+pound stripers from this pier so be prepared.
Sharks and bat rays are most active during the summer and fall, most are caught on squid, and both are especially active at night. One of the nice things about this pier is its small size and closeness to the water. One night I witnessed an angler hook, fight, and then land a bat ray that I estimated at 75 pounds. Instead of a gaff, he simply brought it to the nearby shoreline where a buddy was able to lift (carefully) the bat ray onto shore, the hook was removed from its mouth, and the creature was returned unharmed to the bay. This pier yields a lot of bat rays, especially considering its size. I've had trips to the pier where virtually every angler on the pier caught a bat ray and some caught several.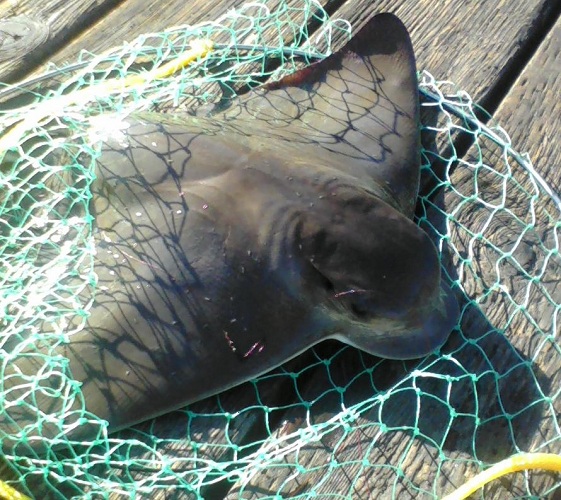 Bat Ray
Special Tip. This is another of the small bay piers that are located close to the water. As such, it offers a good platform from which to cast artificial lures for striped bass. In addition, when the winds cooperate, try artificials in the spring for jacksmelt. Light tackle used with small spoons and Rooster Tails will often yield jacksmelt that will, pound for pound, outfight most trout. I have also heard of a few anglers fly fishing for jacksmelt from the pier with white Wooly Buggers. Apparently, when conditions are right, the flies are deadly on the fighting smelt.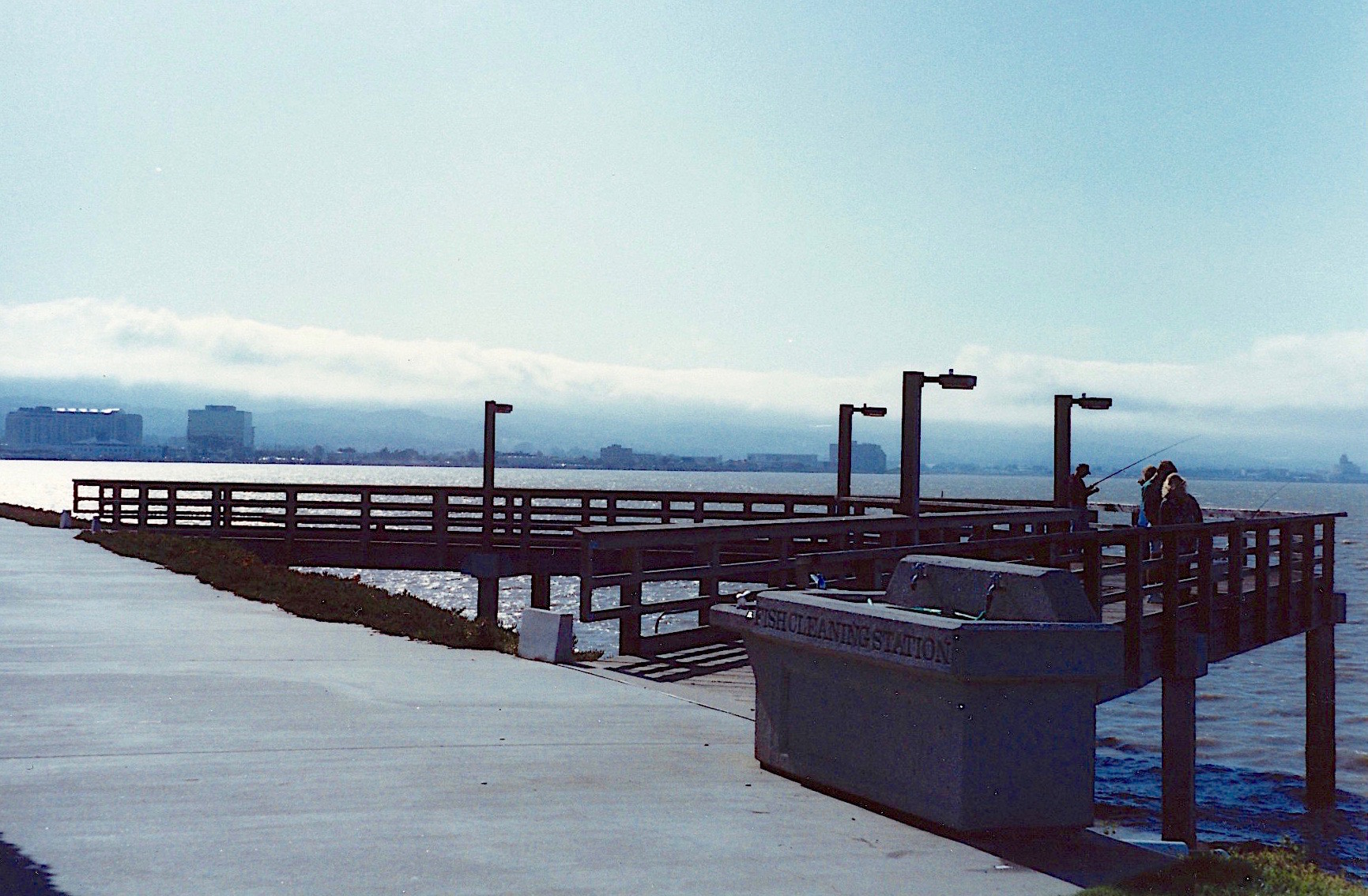 <*}}}}}}}}}>< — One hot, sweaty and shirtsleevy November day saw the benches of the pier covered with sunbathers basking in the winter rays (and it was quite a contrast to the arctic-like summer days seen so often in this area). The bay was like a lake, still waters with nary a breeze, but unfortunately the fish also seemed to be taking a siesta. Time to do some cognitatin' and as plane after plane began descent into SFO it reminded me once again that this pier is a window of sorts into the world of aviation.
<*}}}}}}}}}>< — Special Bay Area Regulations:
A perch closure exits in San Francisco and San Pablo Bay from April 1 to July 31. No perch may be kept other than shinerperch (20).
In San Francisco and San Pablo Bay a fishing line may not contain more than three hooks.
Sturgeon Regulations:
A sturgeon report card and tags are required for anyone fishing for or taking sturgeon. (a) The card must be in the angler's possession; (b) a tag must be used for any sturgeon retained by the angler; (c) the angler must record information on the Sturgeon Report Card immediately after catching and   keeping or releasing the sturgeon.
White sturgeon can only be kept from 40-60 inches; larger and smaller sturgeon must be released.
Green sturgeon may not be taken or possessed.
History Note. The town of Burlingame was named for Anson Burlingame, a diplomat who served as U.S. Minister to China from 1861 to 1867.
Robert E. Woolley Peninsula Park Pier Facts
 Hours: Open 24 hours a day.
Facilities: Lights are located on the pier, a fish cleaning station is found at the foot of the pier, and attractive restrooms are located adjacent to the pier.
Handicapped Facilities: None
How To Get There: From the south, take Highway 101 to the Broadway Exit and go east to Airport Boulevard to Anza Boulevard, and follow it to the end, where the park is located. From the north, take Highway 101 to the Airport Boulevard exit, go east to Airport Boulevard, then go south to Anza Boulevard where you turn left and follow Anza to the park (it is just past Bobby McGees and the Embassy Suites Hotel).
How To Get There: From the south, take Highway 101 to the Anza Boulevard exit and continue through the intersection, and follow it to the end, where the park is located. From the north, take Highway 101 to the Airport Boulevard exit, go east to Airport Boulevard, then go south to Anza Boulevard where you turn left and follow Anza to the park (it is just past Rings Restaurant and the Embassy Suites Hotel)
 Management: San Mateo County.