Public Access Area — Fishing License Required
Talk about a hidden park and pier! This is one of those areas that is mostly utilized by locals because it is basically surrounded and hidden by the Port of Oakland. Unless you are a local you may feel somewhat lost as you traverse the local streets and concrete, share the road with a steady stream of big trucks, and head into an industrial area with huge cranes poking their heads into the sky. You may expect to see Luke Skywalker fighting those cranes at any minute.
Then you reach the park and are confronted with a peaceful park and a beautiful, panoramic view that stretches across the bay into San Francisco. It has the feel of a refuge against the busy, helter-skelter, and sometimes-crazy world just a short distance away.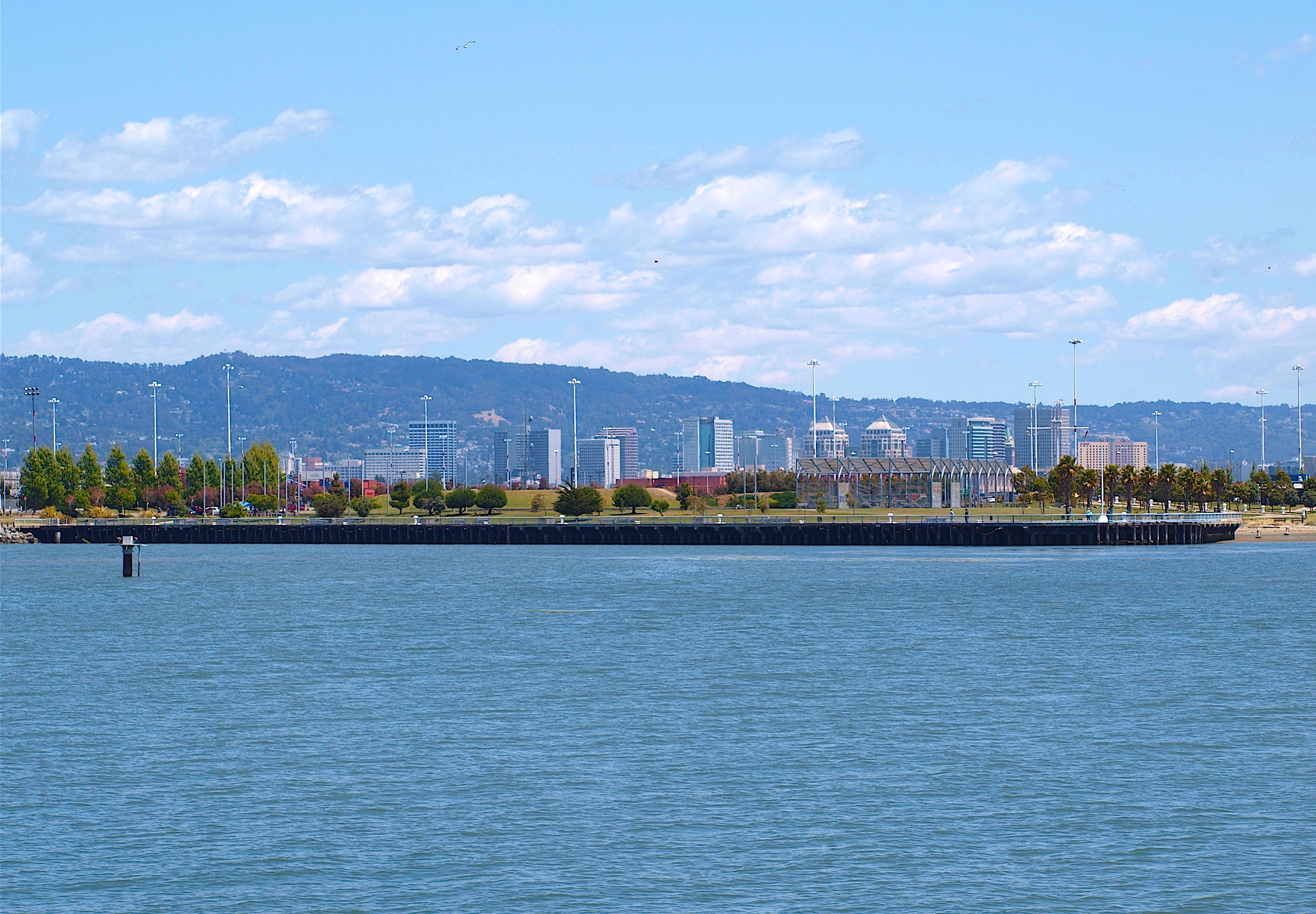 This park replaced Oakland's earlier Middle Harbor Park and Pier, a pier that I fished in the '90s. Eventually that tiny park and pier were cordoned off behind metal fencing and both are now history. The new park is a stupendous improvement although some anglers may disagree. The tiny pier at the old park seemed to present deeper water and better fishing. The new park presents long walkways adjacent to the bay and much more access to the water. The access is not technically a pier and thus requires a license, but it does present much of the same opportunities as a pier. However, the shallow water seems to produce less fish.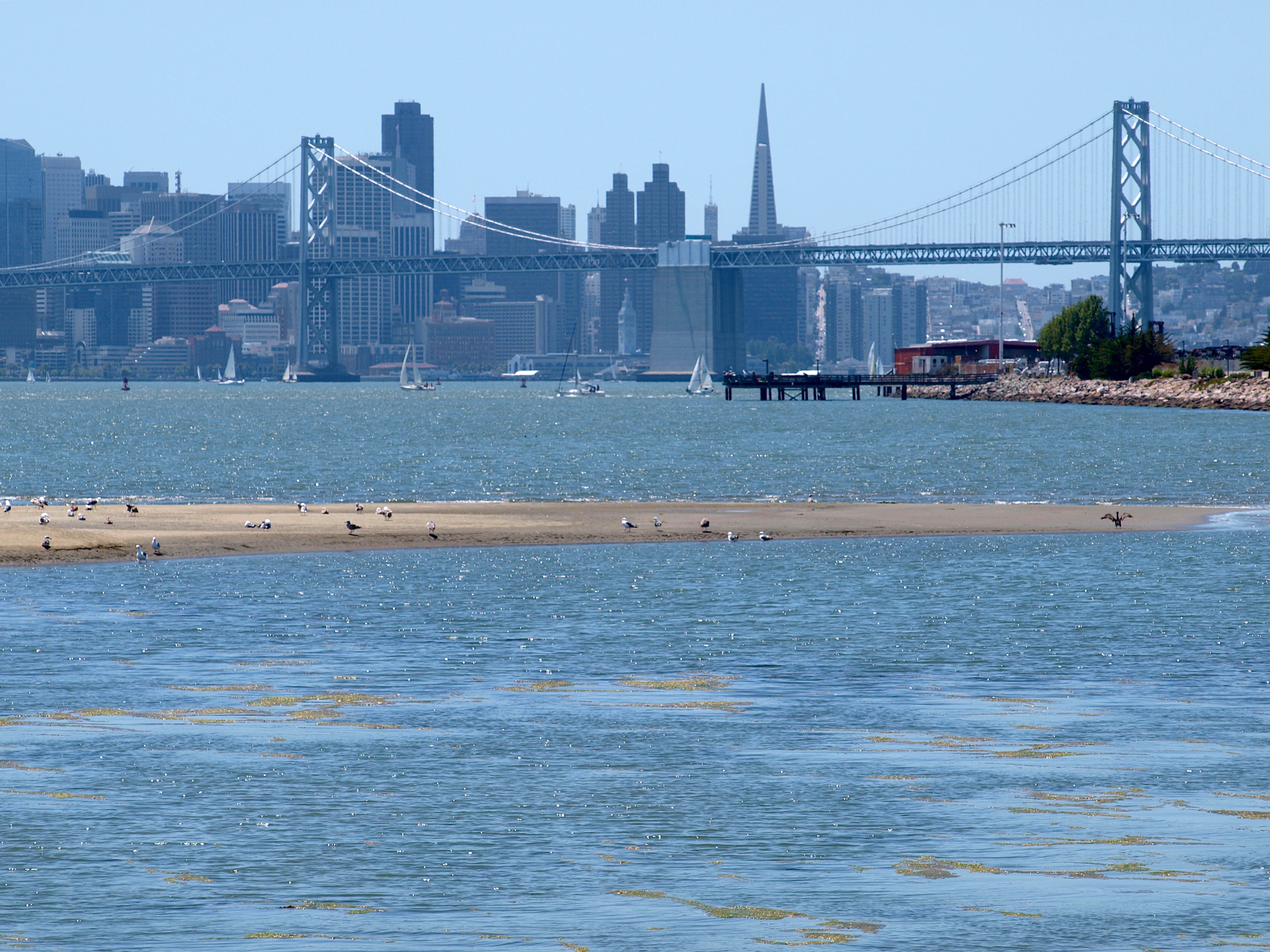 San Francisco, the Bay Bridge and the Port View Park Pier 
Environment. The park runs along much of the east and north end of Oakland's Middle Harbor, a harbor formed in 1940 when the bay was dredged to create a 50-foot-deep-berthing area for Naval ships.  West of the Middle Harbor is the Outer Harbor Entrance to San Francisco Bay, and at the south end of the park is the channel leading to Oakland's Inner Harbor.
The bottom of the harbor is both mud and sand while water depth along most of the park itself is fairly shallow.
Point Arnold at the far end of the park is considered the best spot for fishing.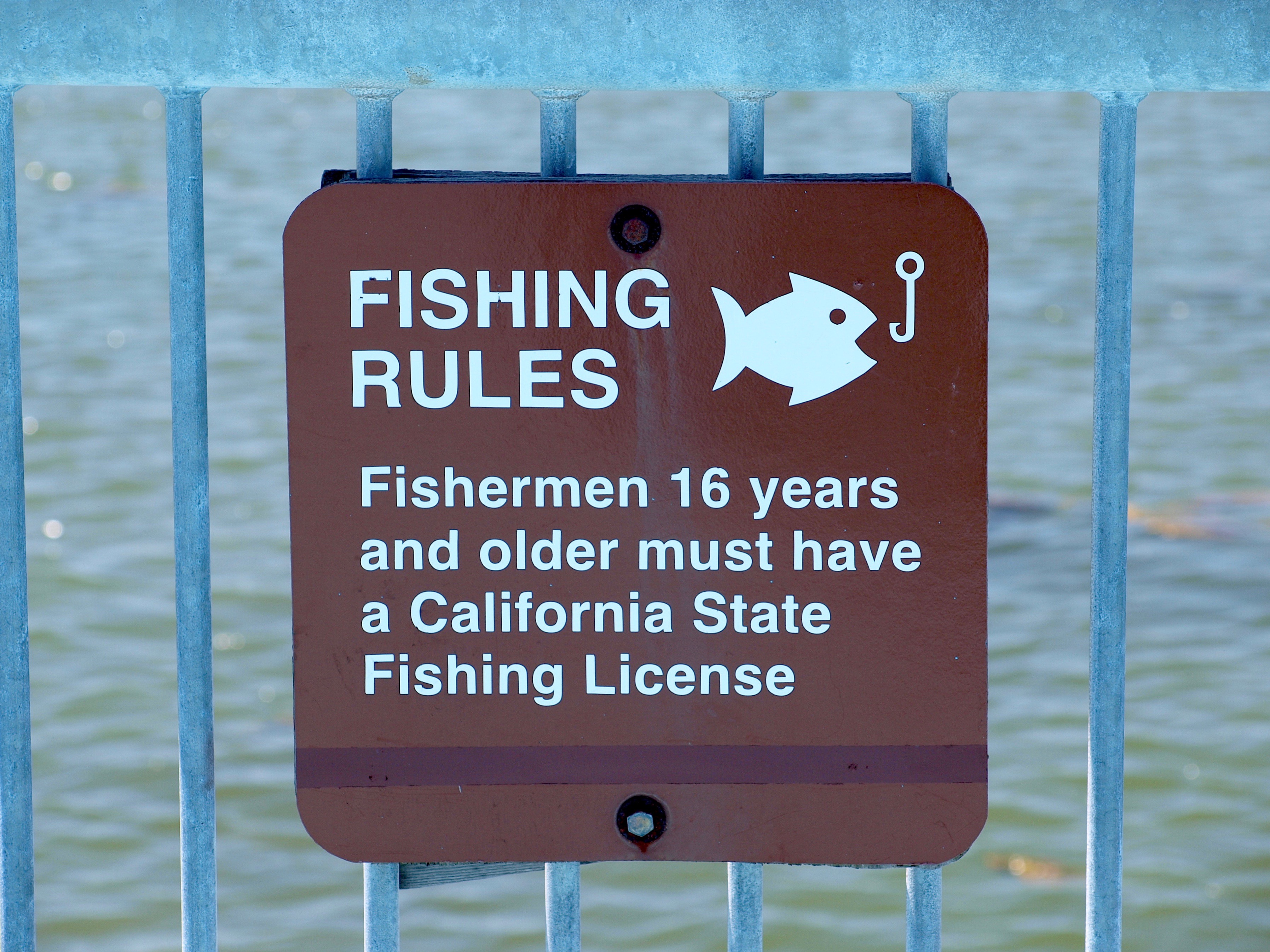 Fish. For the most part the normal species found along Oakland's waterfront areas are still present—perch, jacksmelt, small rockfish, a few flatfish and striped bass. What seems less in number are the sharks and rays although both will still be caught.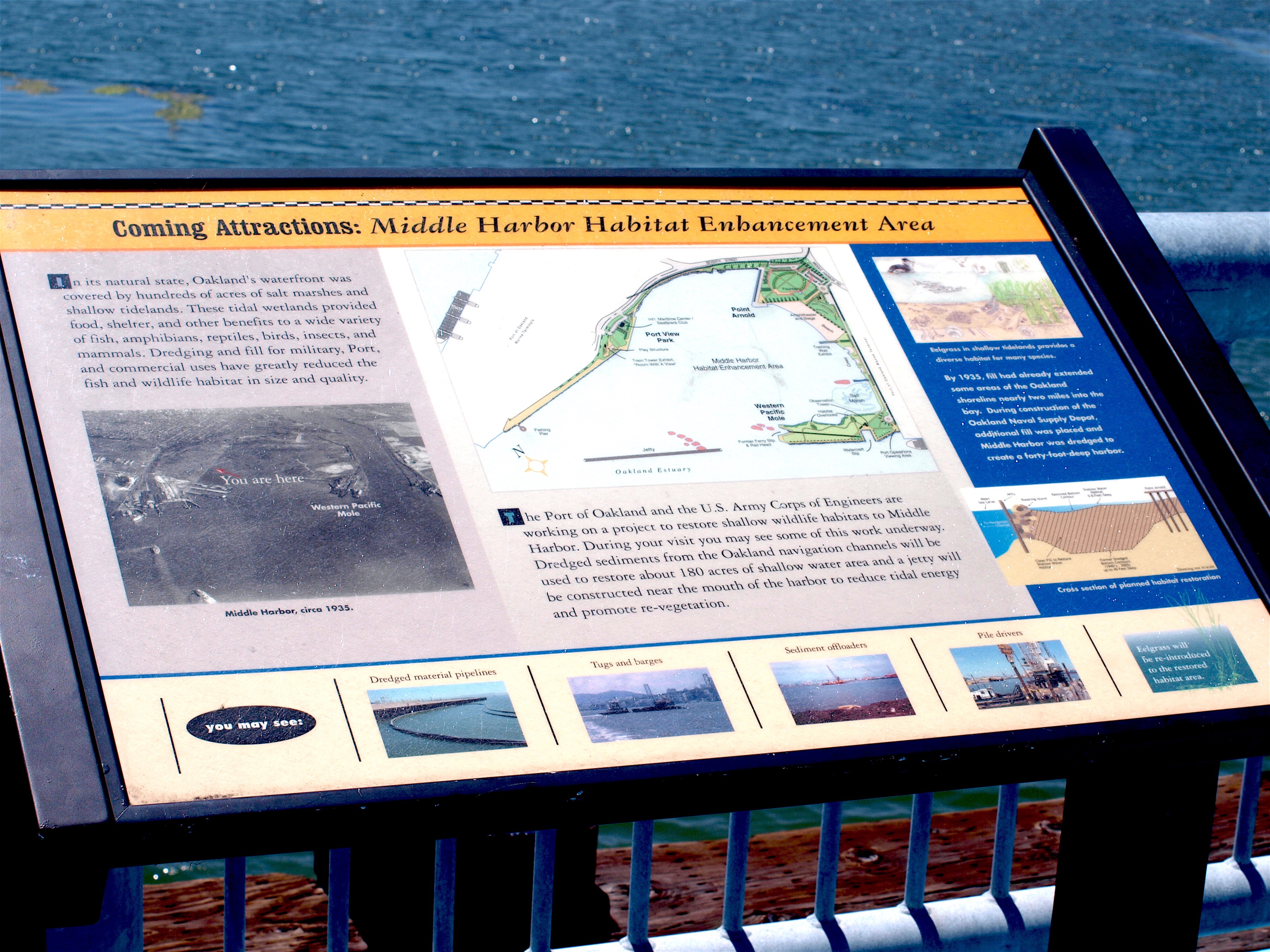 Fishing Tips. Perch are one of the most sought after fish and dropping a hook down alongside the pilings will, as always, present the best chance for a fish. Winter and early spring months should see pileperch and white seaperch congregate in these waters while a variety of species, in lesser numbers, may join in the fun—blackperch, rubberlip seaperch, striped seaperch, rainbow seaperch and several of the surfperch species such as redtail surfperch, walleye surfperch and silver surfperch. Shinerperch may be found year round.
The basic rigs and bait are the same for all of the larger perch—a high/low rig using size 6 or 4 hooks and pile worms, ghost shrimp, or pieces of market shrimp as bait. A small sinker at the bottom, six inches or so below the lower hook finishes the rigging. For the smaller walleyes and silvers drop the hook size down to 8 and use smaller pieces of bait. The smaller perch will often be found in mid-water levels while the larger perch are almost always on the bottom.
The small shinerperch and dwarf perch are on the bottom and once again a drop in hook size, down to a size 10 or even 12 will yield those small perch that are useful live bait for striped bass and, to some extent, sharks and rays.
Jacksmelt will be the second most sought after fish with schools frequently swinging by the point areas. Typical rigging for the smelt is three small hooks (size 10-6) fished under a float of some type. Bait varies: pile worms, pieces of shrimp, and strips of squid—whatever seems to be working. Some anglers prefer to use the pre-tied Sabiki rigs but bay regulations only allow a maximum of three hooks so three would need to be cut off the six hook bait rigs.
Small rockfish, specifically small brown rockfish are always a possibility but few are large enough to keep for food. A high/low rigging using size 8-6 hooks and baited with small pieces of pile worm or shrimp seems to always produce when the fish are present.
Flatfish numbers seem to have dropped. At one time starry flounder were a regular catch but their numbers have dropped. Some sand sole will show up but they too are not an every day catch. And, sanddab may make a showing some year's dependent upon winter rain but these too are unreliable. All of the smaller flatfish can be caught on high/low riggings using size 6 or 4 hooks with pile worms the best bait followed by ghost shrimp, pieces of shrimp or cut bait, i.e., anchovy. Starry flounder and sanddab are most common in the winter months with sand sole predominating spring to fall.
California halibut are also a possibility although they are rarely seen in the numbers that occur by the Berkeley flats. As always, live bait is a key for the halibut and shinerperch or small smelt are almost always the most available bait. Use a sliding sinker rig or a Carolina-type rigging for the halibut.
For most anglers the prize fish will be striped bass and fish should be present from around May until October. Anglers are divided into those preferring bait and those preferring artificial lures—and both methods will work.
A high/low leader with size 2-2/0 hooks is one approach. Pile worms, ghost shrimp, grass shrimp, or cut bait—sardine or anchovy, will often attract a striper.
Some people prefer Carolina-type live bait rigging (with live or frozen bait). Use a sinker just heavy enough to hold bottom and a two-foot-long or so leader with a size 2 bait holder hook. Good live (fish) bait includes shinerperch, dwarfperch, small smelt, bullheads (staghorn sculpin), or one of the bottom-hugging gobies found in abundance in the estuary— primarily yellowfin and longjaw goby (mudsucker). Non-fish bait includes pile worms, ghost shrimp, and grass shrimp and all are excellent. Cut anchovies and cut sardines can also be used with the live bait leader.  Dead bullheads can also be used with the live bait leader, just make sure the bullhead is still covered with some slime (sounds like Ghost Busters).
Artificial lures come in a variety of shapes and colors and new favorites seem to emerge each year but the old standby Hair Raisers, soft plastics such as Big Hammer lures, spoons such as Krocodile and Kastmaster, and lures such as Rat-L-Traps, Yo-Zuri, Bomber and Rebel all seem to produce fish.
Early morning and early evening hours are often the top times for the stripers but you're limited by the park's hours.
Sharays—sharks and rays are often the most common fish found in the harbor's waters but as said the shallow waters around the park tend to limit the number.
Small brown smoothhound sharks and leopard sharks will predominate in the catch. Most will be less than three feet in length but  leopards approaching five feetare always a possibility.
Most of the sharks prefer cut bait—an oily sardine or anchovy, or a bloody piece of mackerel. Nevertheless, a few will also be taken on the traditional local baits—pile worms, ghost shrimp, grass shrimp and squid. One last tip given by locals is to use a chunk of a large jacksmelt, a common fish in the estuary. Fish on the bottom using a fairly heavy line and a size 2 to 4/0 hook.
Leopard sharks in particular like live bait with a live midshipman being the primo bait. However, small perch (almost any species) and even smallish-sized jacksmelt can attract a leopard.
Bat ray are one of the most commonly caught fish. Most will be under 20 pounds in weight but fish approaching a hundred pounds in weight are always a possibility so have a sufficiently sized rod, reel and line to handle such a fish. Also be sure to have a hoop net to bring the bat ray up to the land.
The afore mentioned baits can produce a fish at times but the bat ray always seem to prefer squid (and the squid will last longer than other bait when crabs are a problem).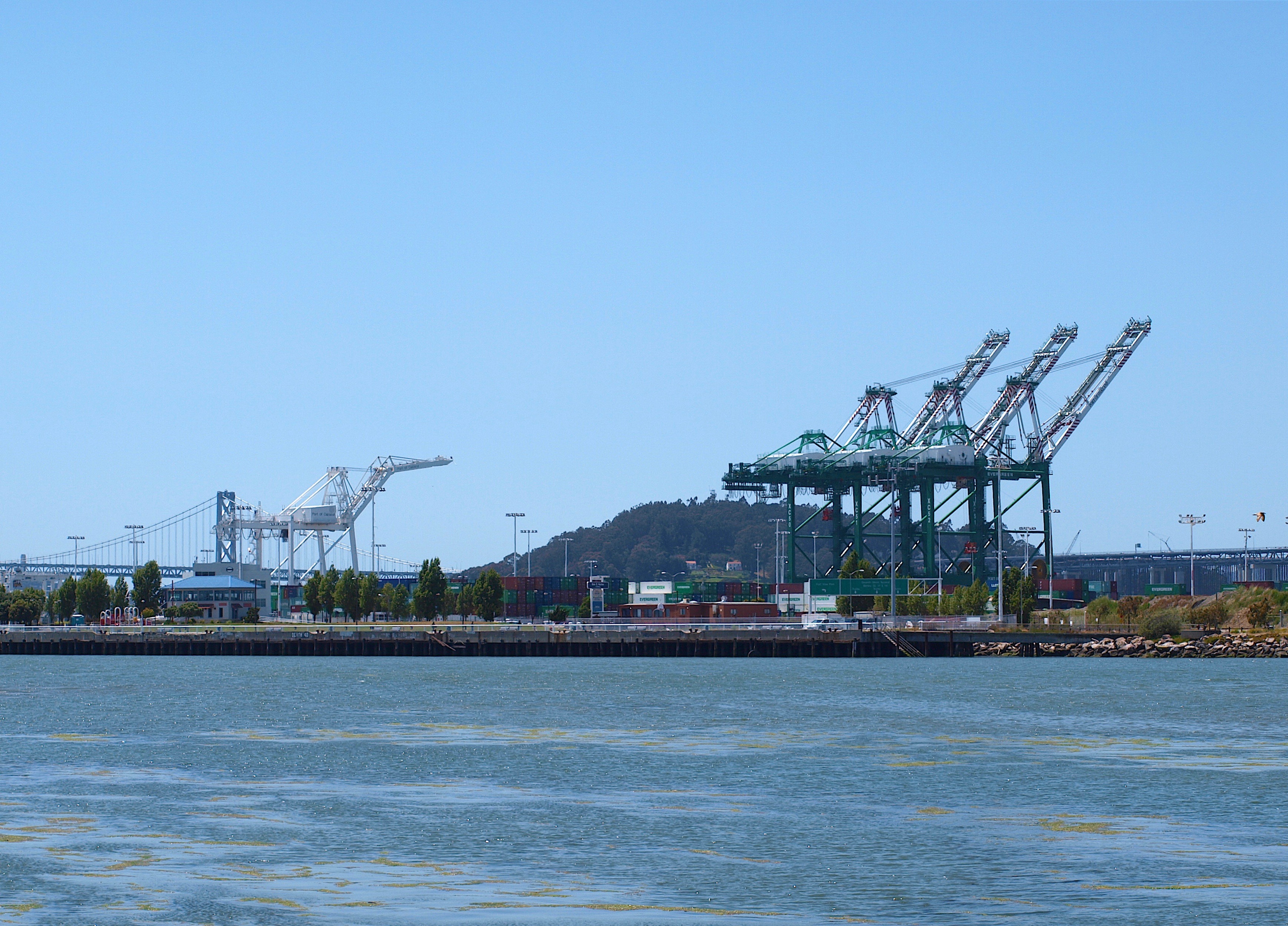 <*}}}}}}}}}>< — The park itself is large, 38 acres in size, and connects at the northwest end of the park with Port View Park. At the south end of the park sits the Chappell Hayes Observation Tower.
The park has more than two miles of pathway encircling the Middle Harbor Basin along with children's playgrounds and an amphitheater for special events.
<*}}}}}}}}}>< — Given its location in an active container seaport (third busiest on the West Coast and fifth busiest in the U.S.), visitors can see how the 36 large cranes (including 15 super post-Panamax size cranes) move the containers on and off the ships.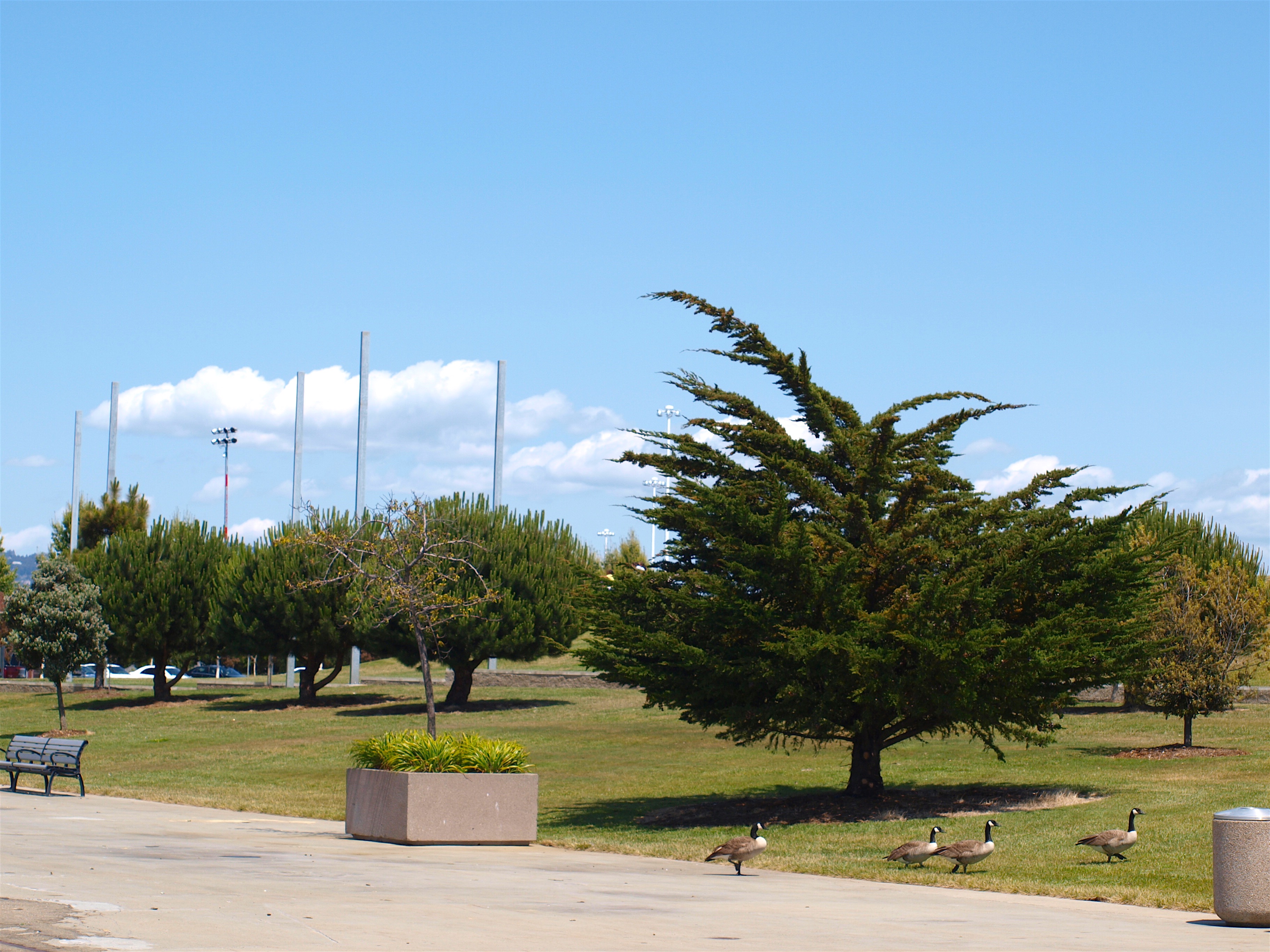 <*}}}}}}}}}>< — Restoration—Oakland's waterfront was once covered by hundreds of acres of salt marshes and shallow tidelands. These tidal wetlands provided food, shelter, and other benefits to a wide variety of life—fish, amphibians, reptiles, birds, and mammals.
Then mankind, civilization, business, and perhaps a little greed entered the picture and changed that landscape.
Dredging for military use, Port expansion, and commercial use reduced much of the bay. By 1935, fill had extended some areas of the Oakland shoreline nearly two miles into the bay.           Middle Harbor is located on some of these tidal wetlands, most of which were formerly underwater at high tide. The Port of Oakland and the U.S. Army Corps of Engineers are working on a project to restore shallow wildlife habitats to Middle Harbor.
<*}}}}}}}}}>< — There are a lot of pluses for the park but also a few negatives.
Although I have heard of little crime at the park, the remoteness of the park, lack of people, and lack of a police presence, means there is always the potential for crime. Cars have been broken into frequently at the nearby Port View Park and there is little reason to assume the same would not happen here. It's a chance you take in urban areas.
There are also a lot of Canadian geese at the park and they produce a lot of Canadian goose poop (in what one reviewer called "Hitchcockian proportions").  So be sure to watch your step (and you might want to check your shoes before getting into your car)!
Signs warn not to swim or wade because the mud is soft and deep and often no one is around to lend a helping hand.
Lastly, there can be a lot of wind, a naturally occurring event anywhere around the bay. Bring a jacket just in case.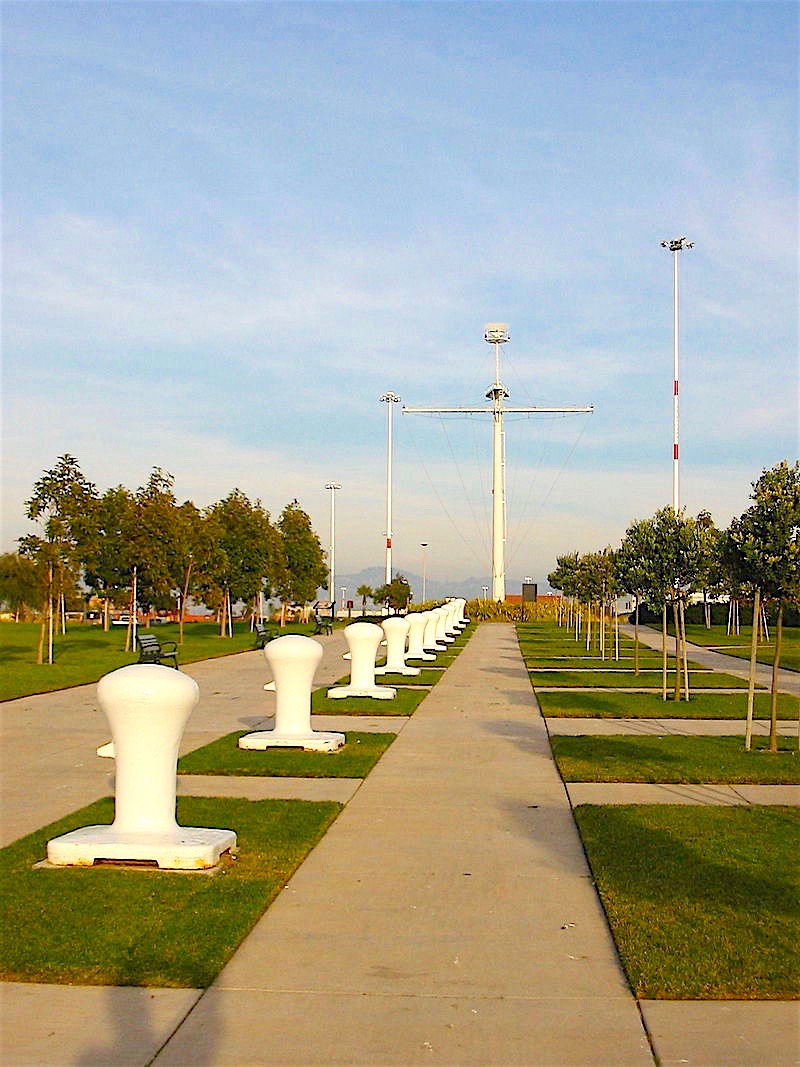 Mast of USS Oakland
<*}}}}}}}}}>< — Special Bay Area Regulations:
A perch closure exits in San Francisco and San Pablo Bay from April 1 to July 31. No perch may be kept other than shinerperch (20).
In San Francisco and San Pablo Bay a fishing line may not contain more than three hooks.
Sturgeon Regulations:
A sturgeon report card and tags are required for anyone fishing for or taking sturgeon. (a) The card must be in the angler's possession; (b) a tag must be used for any sturgeon retained by the angler; (c) the angler must record information on the Sturgeon Report Card immediately after catching and   keeping or releasing the sturgeon.
White sturgeon can only be kept from 40-60 inches; larger and smaller sturgeon must be released.
Green sturgeon may not be taken or possessed.
History. The park is built on land that was the site of the former Oakland Naval Supply Depot a critical supply base for the Navy during World War II. The depot land itself was largely fill from the dredging used to form Middle Harbor itself.
At one time the Depot was considered a self-contained city. It had its own Naval and Marine barracks, housing for officers and their families, its own fire and police stations, library, post office, bank, cafeteria, chapel, bowling alley, movie theater, coffee roasting plant (which at its peak supplied all of the armed forces in the Pacific), and many, many warehouses. Facilities were connected by 42 miles of train tracks (complete with their own roundhouse and rail car repair shop) and 26 miles of paved road. The Depot, built in 1940, was considered expendable and closed in 1998. The  541 acres of the Depot were then transferred to the Port of Oakland.
Middle Harbor Shoreline Park and Pier Facts
 Hours: Open daily from 8 a.m. to dusk.