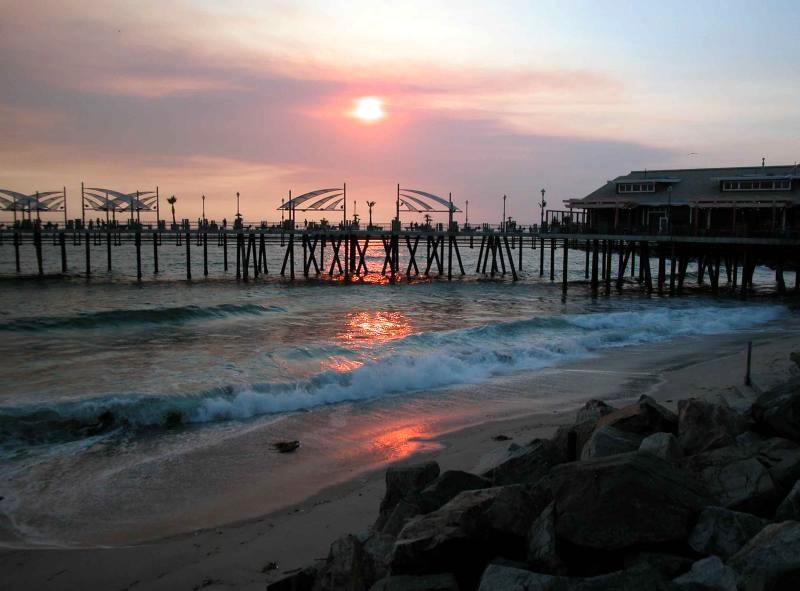 Fishing Tips. Ninety percent of the time when I call the Redondo Café & Bait Shop for my monthly fishing report I am told, "it's the same old thing—mainly mackerel." And night after night, the pier will be loaded with people seeking out the mackerel. Given the proclivity for the macs it might seem natural to simply target them when visiting the pier.
However, I always suggest bringing two set-ups, one for the top water fish, i.e., mackerel and bonito, and one for the bottom fish, i.e., halibut and croaker.The Redondo Pier is a large pier and its horseshoe shape and adjoined Monstad Pier area present a variety of environments from which to fish. Newcomers seem to head straight to the end, a trait common at most piers, but the regulars know better. Different fish are located at different depths and like different bottom conditions. Knowledgeable anglers always study the pier and, depending upon the species they are seeking, fish the environment known for their fish.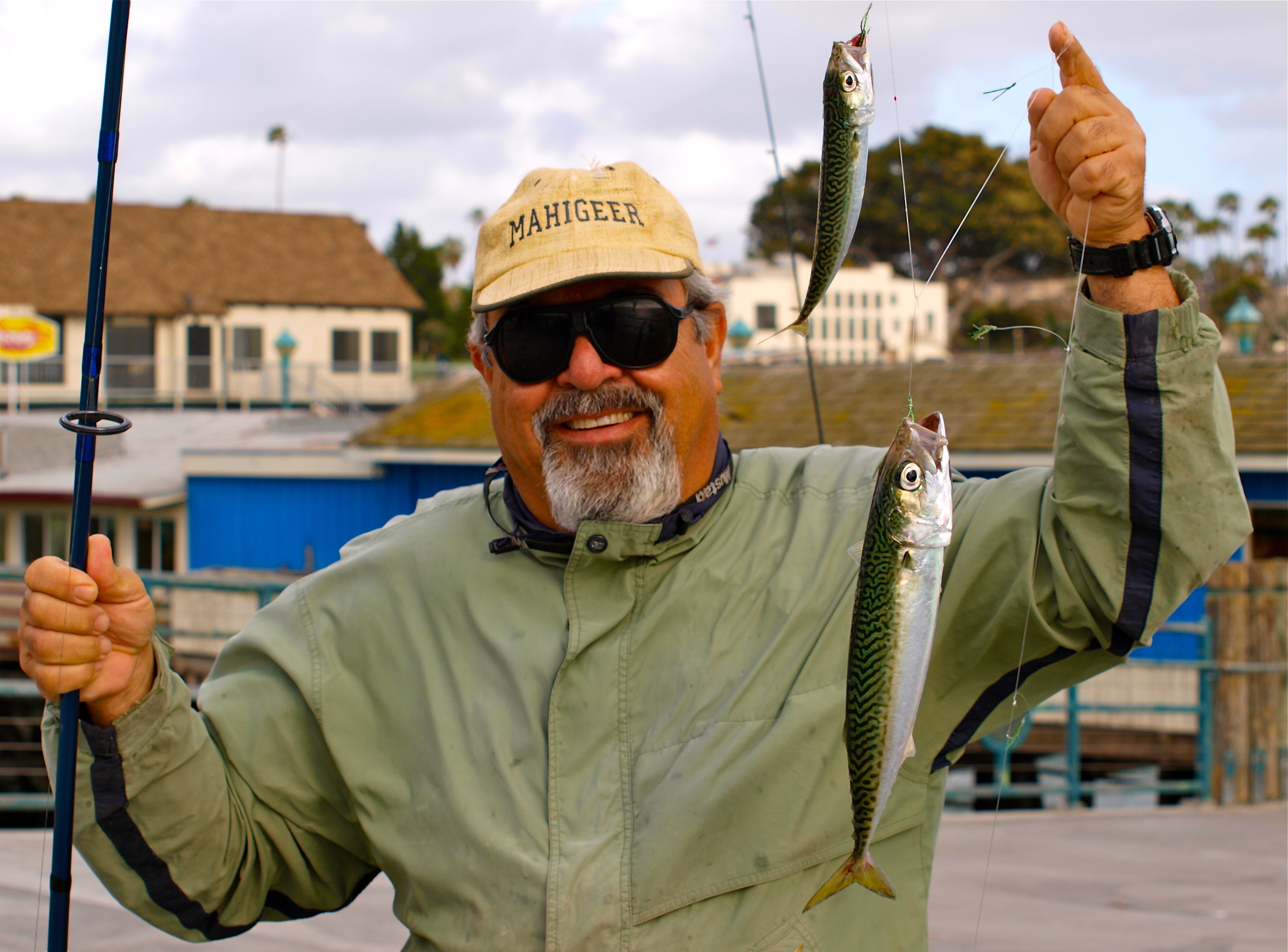 Mahigeer (Hashem Nahid) and the mainstay fish of the pier — Pacific mackerel
Most SoCal piers show a sandy, shallow-water surf area with surf species predominating in that area. They have a mid-pier, mid-depth area that presents some of the inshore species and an overlap with the deeper water fish. Next is the end area where most of the pelagic species and larger sharks and rays (sharays) are caught. Lastly is the piling areas themselves, which attract their own mix of fish. Each area calls for its own type of baits and riggings. Here, because of the shape of the pier and structures (like restaurants) built on the pier it's a little harder to know where to fish.
One day I asked Mahigeer (Hashem Nahid), an excellent angler and a regular at the pier, what he considered the best spots. He said there were three "primo" areas. His first choice was "the area across from where the bathrooms and seafood restaurant sits." This is the Monstad area of halibut fame and when the tides are right it can be elbow-to-elbow fishing. And, with lights available, the regulars will be found fishing the area day and night.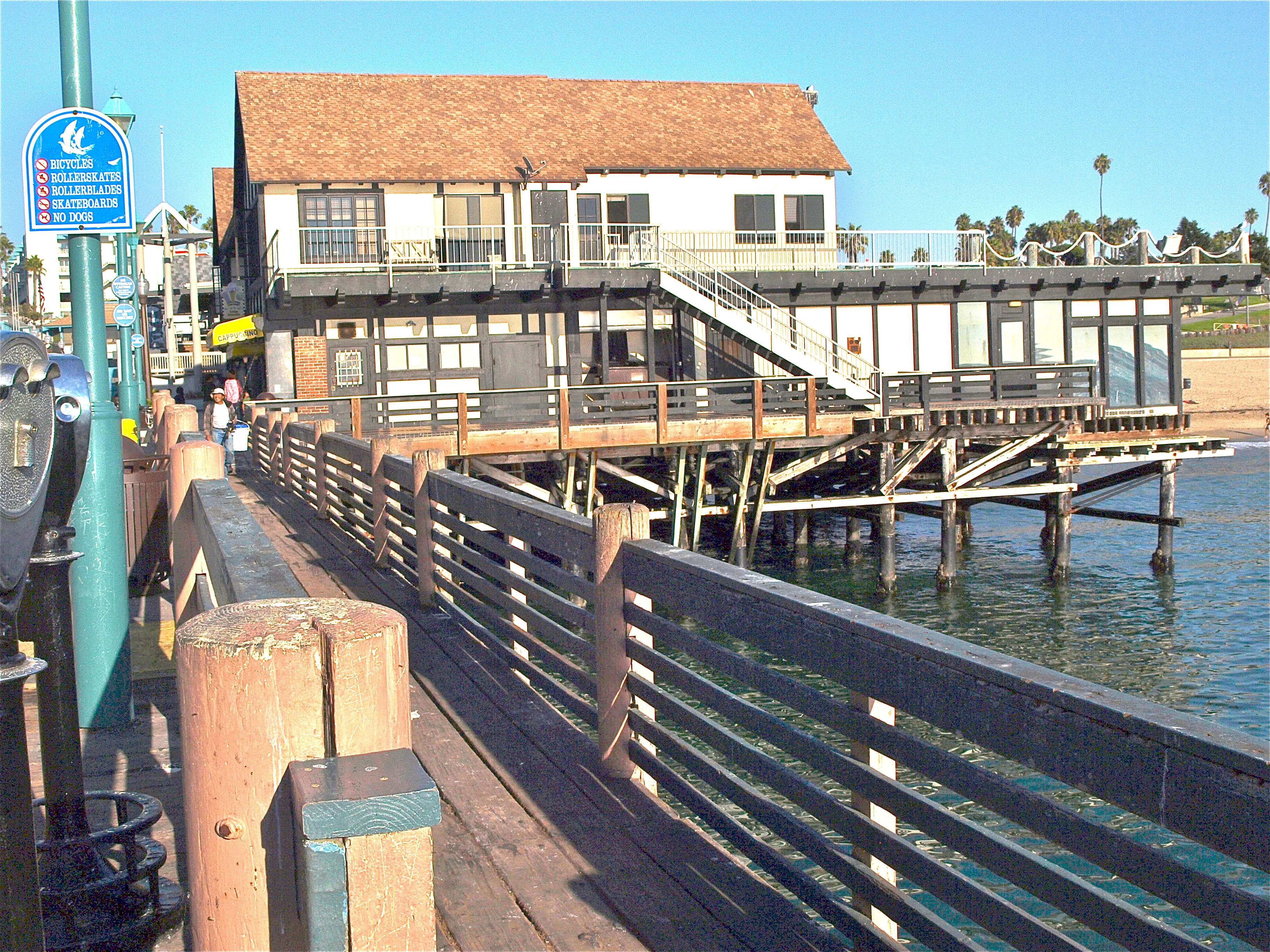 The Monstad section
But there's more than just the Monstad area—or the end railings. According to Hashem, "a second area is the surf area located between Kincaid's Restaurant and the north walkway to the pier." The area can't be fished from the beach but is accessible to anglers casting from the pier toward the beach."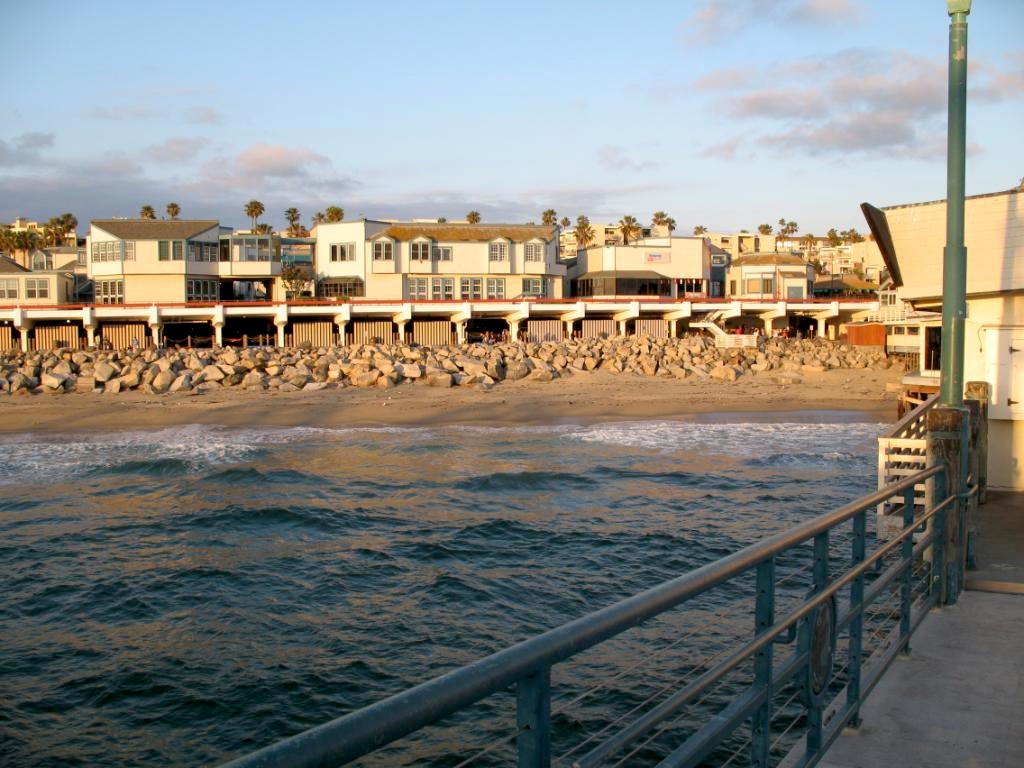 The walkway section
"The third and least fished area is between the north walkway and the south walkway. From personal experience, I know that the latter areas can yield up some decent croakers as well as halibut (but few people seem to fish in those areas)."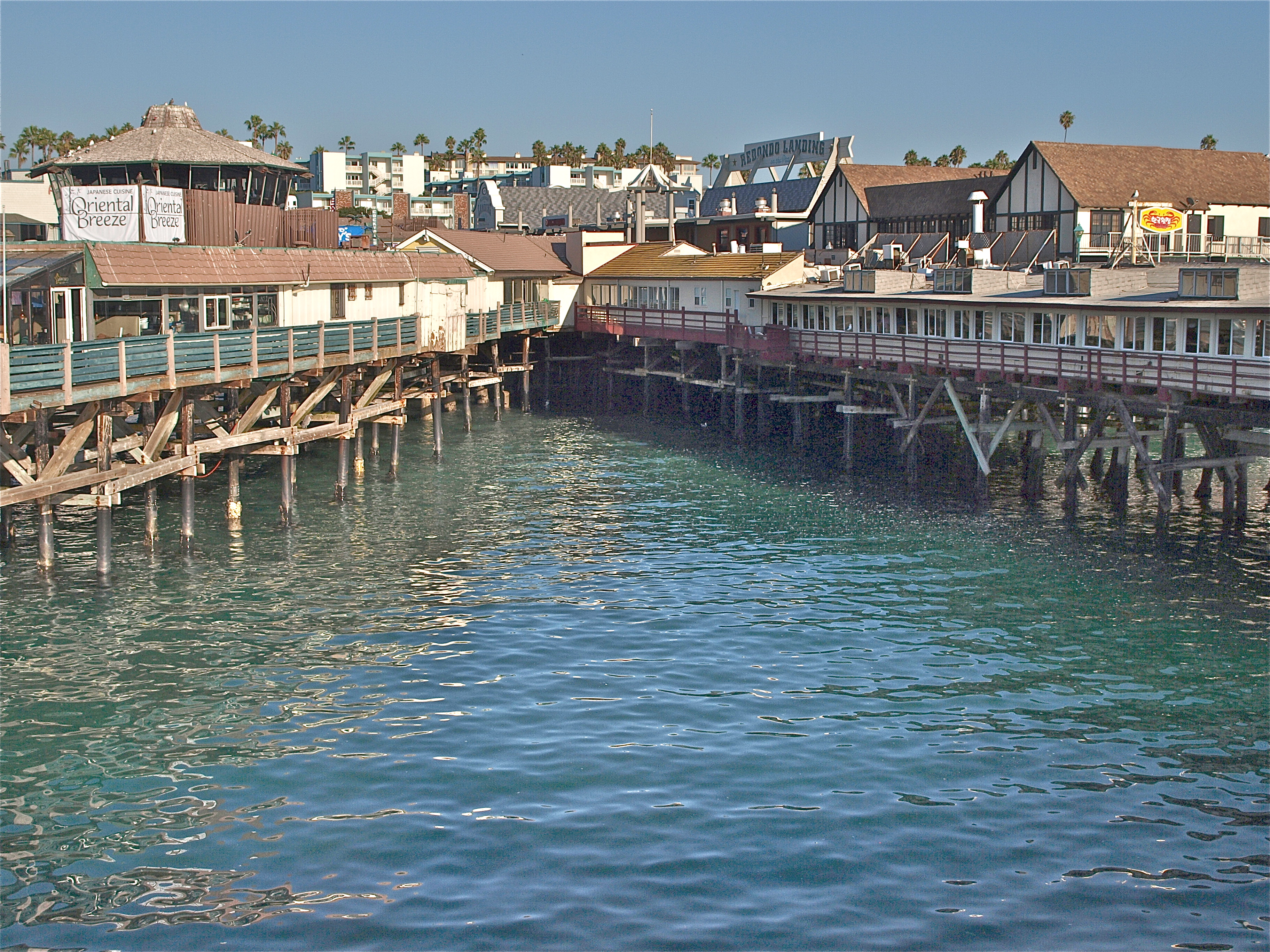 Inner section
I might add that I too have caught several nice yellowfin croakers while fishing the early evening hours in the inner section of the horseshoe pier, and surprisingly these were caught on cut anchovy. Although most anglers seem to want to automatically fish the deepest water and cast out from the outer railings, don't be afraid to try the inner waters.
Pelagic species—mackerel, jack mackerel, jacksmelt, sardine, bonito, barracuda and yellowtail. For the mackerel, fish the Monstad section or the end railings. Use a Sabiki or similar-type bait rig or use bait—pieces of mackerel (or strips of squid) and fish the mid-depth area. Typically the mackerel hit best early morning or in the evening (till sometimes late at night) and when the macs are running the railing is lined with anglers and the sea is aglow with different colored glow lights. During a "mac attack," it's common for people using bait rigs to catch 4-5 mackerel at a time and anglers will be keeping bucket after bucket of mackerel.
By the way, Fishing for mackerel at night on the wharf isn't exactly a new idea as seen in the following:
Moonlight mackerel fishing is all the craze in Redondo now. Scores of anglers, with rod and line, may be found upon the wharf from twilight till midnight landing the beautiful shiny fish.
—Los Angeles Times, June 30, 1893
One trip saw a lady standing next to me with two Sabiki rigs tied end to end on her line. The eight foot long or so rig was almost impossible for her to cast (especially since you are supposed to use underhand casts) and she nearly hooked several people. Luckily, she finally snagged her rig on the piling (which made her boyfriend very unhappy) and things became a little less chaotic. I'm still not sure why she would have needed a dozen or so mackerel at a time? The question is are all those fish really going to be used for food? Fertilizer? Who knows?
Anglers using bait rigs may also encounter schools of jacksmelt, sardines or jack mackerel. They're usually in the same mid-depth or upper-water levels and again big numbers can easily be caught. The only difference is that usually smaller size hooks should be used. As with the mackerel, there are no limits but how many do you really need to keep?
When the hard fighting bonito make a showing the pier will again be jammed with anglers! The bonito, mostly in the 1-3 pound class but occasionally including some large 4-6+ pound fish, generally hit during the day (especially at dawn and dusk) and two main techniques are used for the hard fighting boneheads—live bait or artificial lures.
Live bait (anchovies or sardines) can be great if you can get them. If not too crowded, try live bait under a split-shot sinker. However, here it is often way too crowded for that approach. A second live bait option is to slide a live bait leader down your line using a snap-swivel and about a 2-3 foot leader with a live bait hook.
Most bonito though are caught on lures and historically most have been caught on splasher-type rigs—a Cast-a-Bubble, a wooden "bonito egg," or a golf ball, with a feather trailing behind a 3-4 foot leader. Feathers come in several colors but green and white or green and yellow seem to be the favored colors.
Spoons like Kastmasters, Krocodiles, and Megabaits have also become increasingly popular for the boneheads. A few friends who have fished up north have also had luck using Crippled Herring and Buzz Bombs. I think the main idea is to make commotion at the top and the lure looks like a fish fleeing the commotion.
At times, the bonito will be micro-sized young 'uns and they're perhaps not quite as sharp as their elders. They will hit Sabiki and similar-type bait rigs, often several at a time. But why, since you are limited to five small bonito (in the overall limit), use a bait rig? One cast might yield your limit. It's clear though that when the bonito are running too many people will be keeping too many fish. Poaching is alive and well at Redondo!
When barracuda show up be ready with some gold or silver-colored Krocodile or Kastmaster spoons (although MegaBaits and Rebel Fast Tracks are increasingly popular).
Yellowtail are the trophy fish. Their appearance can quickly galvanize the pier rats into a state of apoplexy. Pier rats are soon tossing out whatever metal creations happen to be found in their tackle boxes, hoping to lure the 'tails into their coveted section of water. The yellows for their part usually show just enough 'tail to entice and tease the excited anglers. Then they disappear. Still it is fun while it lasts and adequate numbers are caught most years to keep the hope alive.
Several methods are time proven for yellowtail: (1) Live bait, a still lively Spanish mackerel (jack mackerel) or Pacific mackerel (small) that you've caught with a bait rig. Use a sliding leader or a leader with a float. (2) A leadhead jig that has a strip of mackerel 1 1/2 inches long by 1/2 inch wide attached to the hook. (3) Artificial lures such as Crippled Anchovies, MegaBaits, Rebel Fast Tracks and Buzz Bombs.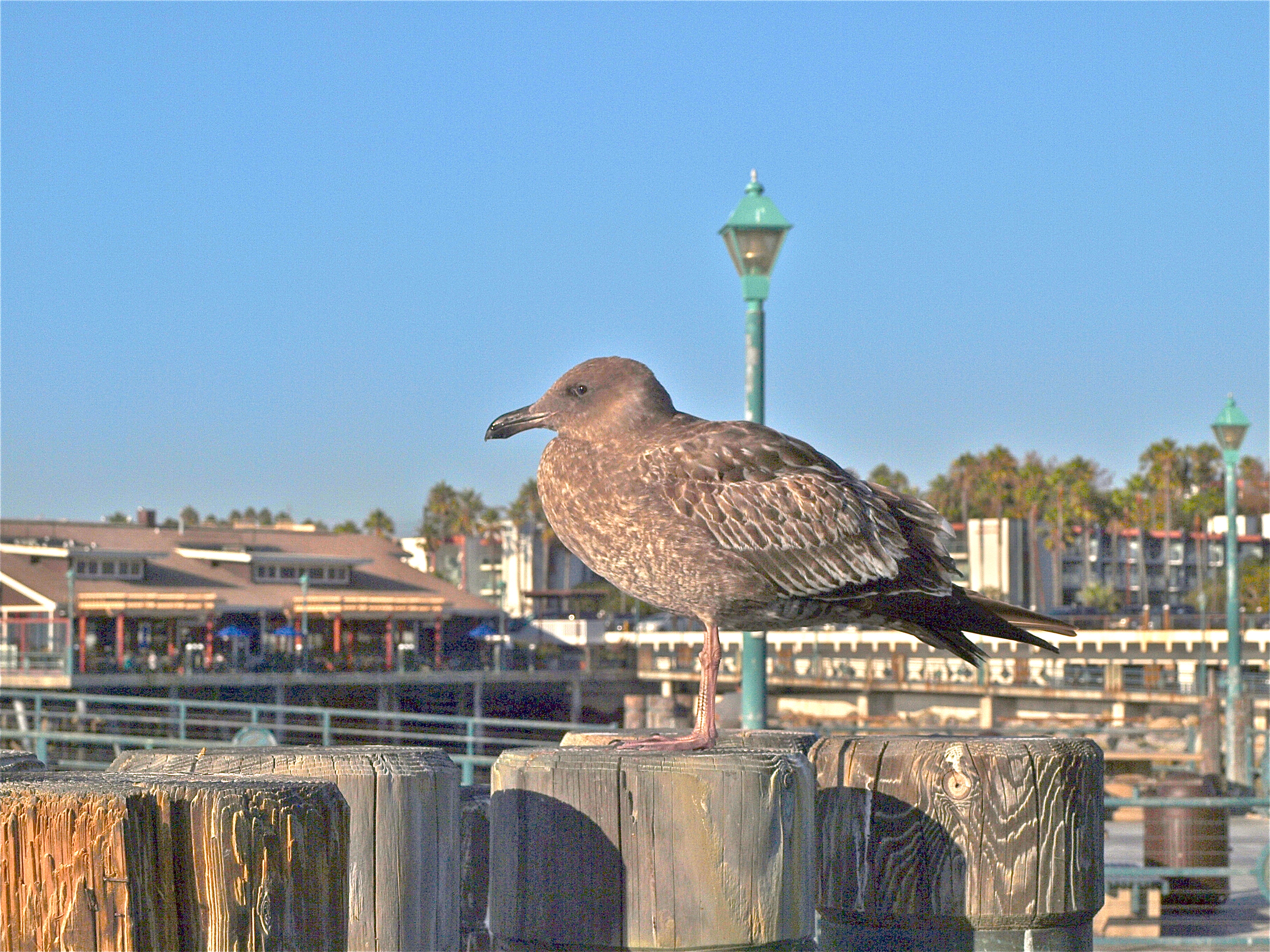 Sharays. Nighttime is often the best time for mackerel and is almost always the best time for a variety of sharks and rays. The sharay fraternity typically includes several medium-sized sharks and rays—leopard sharks, gray smoothounds, spiny dogfish, thornback rays, shovelnose sharks (guitarfish), and bat rays. Less commonly caught, but still a possibility, are horn sharks and swell sharks.
Of course there are also the big sharks and rays. Thresher sharks and 7-gill sharks can top a hundred pounds and are fairly common as well as the really big bat rays (always an old mama bat ray). Blue sharks wander in from deeper waters about once in a blue moon and I've have been told, but can't verify, that both hammerhead sharks and mako (bonito) sharks have been landed at the pier.
Best bait for most sharks is a bloody fillet of mackerel or a similar oily fish; if you're seeking the big 'uns, a whole live mackerel is hard to beat. The best bait for bay rays is almost always squid.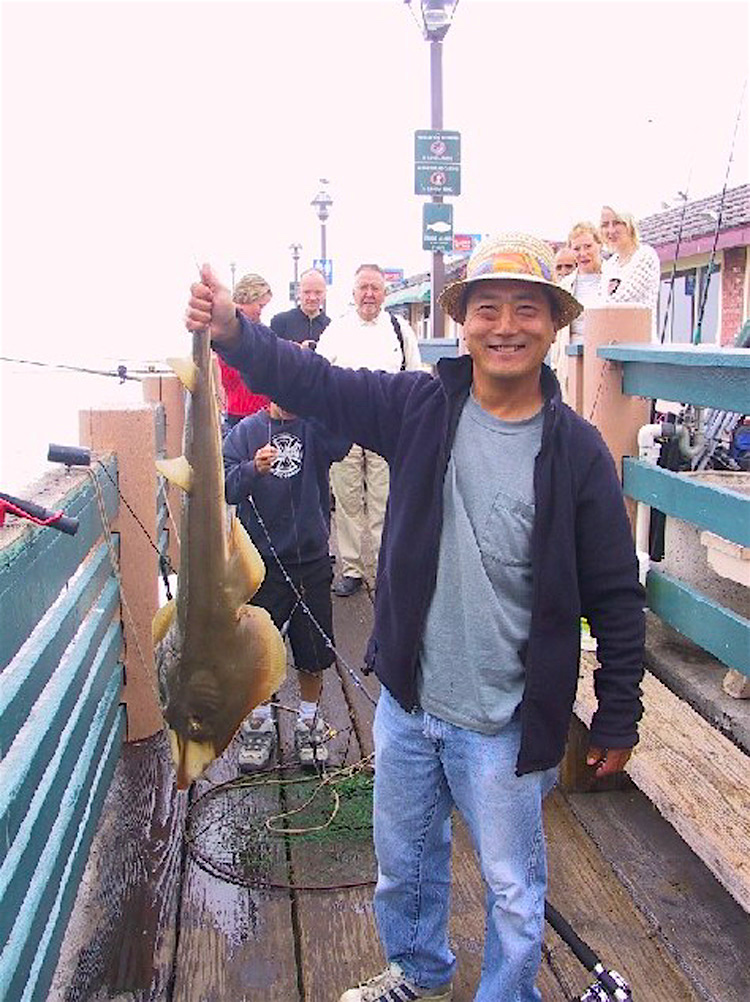 Shovelnose guitarfish
An interesting technique that I first heard about at this pier concerns squid and bat rays. On a Message Board discussion concerning the best techniques for large bat rays, one communicant, YTail Stud, said he used squid and live bait. He said you first catch a small sardine or smelt and then place it in a bucket. Next, using a whole thawed squid, cut an opening in the squid and place the live bait inside the squid body. Hook the live bait through the squid body. The result is a squid that appears to be life-like as it moves about because of the enclosed fish. He recommended using this with a heavy rigging near the breakline on an incoming tide.
Remember to bring a net or a treble hook gaff and strong rope to heft the prize up to the pier. Only use a gaff if you intend to keep the fish!
A shark still fairly rare, but becoming more and more common in the area, are great white sharks. Remember that the great whites are protected and illegal to take. If one is hooked the line should be cut before bringing it up to the pier.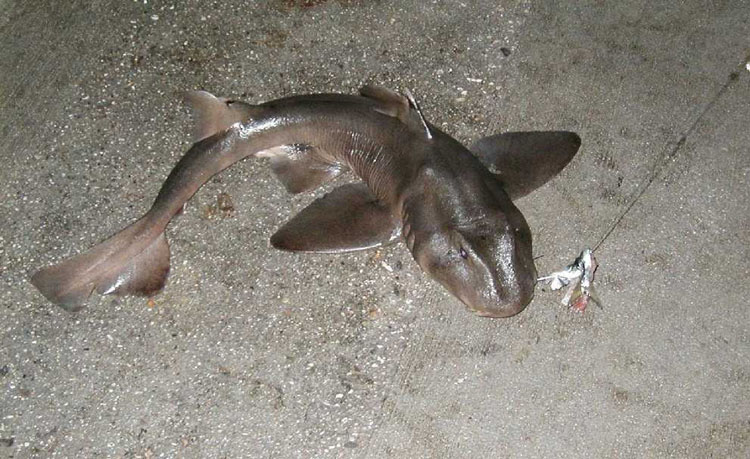 Horn shark
Halibut. Although mackerel are the main fish caught at the pier, the prize catch for most anglers is California halibut. One of the arguments I used to have with a few of my southland pals concerned halibut and the best piers for catching the prize flatties. We tended to agree that Crystal Pier was best in the San Diego area and Goleta Pier was the best in the Santa Barbara area. The argument arose over the Los Angeles-area piers. Some preferred Redondo Beach, some claimed Hermosa was better, and a few gave votes to Seal Beach and Malibu. I voted for Redondo.
At the time my vote was simply a hunch based on a few visits to the pier; I had no data to back up my claims. Then, in 1982, I spent some time interviewing one of the men who worked at the bait shop on the pier. One statistic that he mentioned stood out: a recorded halibut count of 1,266 fish the prior year at the pier. This was not the number caught, but the number of good-sized fish brought to the bait shop. The actual number of halibut would have needed to be several thousand. That figure clinched my vote.
I believe those numbers will never be repeated since live bait is no longer available. The halibut numbers, especially legal-size fish, have plummeted over the years. Nevertheless, there is still tremendous pressure on the species. Most summer days see anglers lining the rail at the Monstad section of the pier (the preferred, mid-water depth spot for halibut) and most of them are fishing for halibut.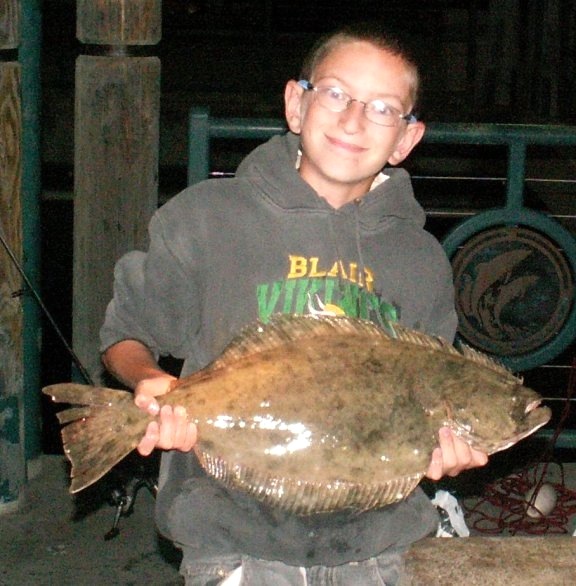 Daniel's first keeper halibut
Fishin' is easy but catchin' is sometimes a little more difficult. Most of the regulars, and they are the ones who typically know what they are doing, use live bait for halibut. At Redondo that usually means small smelt, shinerperch, sardines or baby macs that you've caught yourself. A small-hook bait rig, i.e., Sabiki rig, will catch all of these. A drop net is better since it will not harm the "live bait" but it will primarily only yield smelt or perhaps a small perch.