CayucosJack also swung by to take a break from work and drop a line. I got a sweet deal on some live ghost shrimp a couple days ago, so we dropped our lines hoping for a nice Black Perch or two. We fished for half an hour or so, and just as we were ready to give up and move on, Ken's corner produced a nice surprise…Pile Perch! Five minutes later, CJ pulls up a Hog 15" Pile Perch, also from Ken's favorite corner (I think I know why now!). We ended up with 3 Pile Perch from that spot, 2 being hubcaps. The water had calmed down as the minus 0.8 tide came around, so we packed up.
History Note. The North T-Pier dates to World War II when an amphibious training base was built in Morro Bay (a training facility that came under the jurisdiction of the Coast Guard in 1943). The pier was built in 1942 as part of that training facility and later it was acquired by the town of Morro Bay. It would see repair in 1953.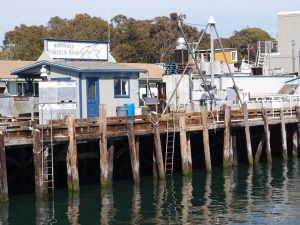 North T-Pier Facts
Hours: Open 24 hours a day.
Facilities: Free public parking is available adjacent to the pier. Restrooms, bait and tackle shop, and restaurants are nearby.
Handicapped Facilities: Handicapped restrooms and quite a bit of free public parking near the pier (but no marked handicapped parking spaces). The pier surface is wood railing with no rail although there is a 7.5-inch high curb. Posted for handicapped but wheelchairs would have a tough time on the rough wood surface.
Location: 1275 Embarcadero.
How To Get There: From Highway 1 turn south onto Main Street, follow it to Morro Bay Boulevard, turn left toward the bay and follow it to Embarcadero, turn right and follow Embarcadero to the end of the public parking which adjoins the pier.
Management: City of Morro Bay.