Ainley said he believes El Nino, the warm-water current that upsets the ecological balance of local waters once every seven or eight years, may be responsible for the recent spate of shark captures off Manhattan Beach Pier. "El Nino disrupts the food web and forces predators—birds, seals and sharks—to find localized food sources," Ainley said. "One of the characteristics of El Nino is that a lot of predators are forced close to shore to look for food." —Kim Kowsky, Los Angeles Times, September 11, 1992
Both of those articles show that great whites have been visiting the area for many years. Further research showed that they seem to be becoming even more common (although there is no way to know how many sighting are of the same fish). Checks on the Pacific Coast Shark News websites revealed the following Manhattan Beach reports for 2012 and 2013.
2012: July 9, September 9, and November 8
http://www.sharkresearchcommittee.com/pacific_coast_shark_news_2012.htm
2013: July 9, July 10, August 18, August 24, August 27, August 28, September 5, September 23, September 25, October 3 (2), October 10, October 14, October 15, October 16, October 25, October 26, November 2, November 7, November 8, November 9, November 16 (2), November 20, November 21, November 24, November 30
http://www.sharkresearchcommittee.com/pacific_coast_shark_news.htm
Great White shark rescued off Manhattan Beach Pier
Eric Martin and Valerie Hill, co-directors of Manhattan Beach's Roundhouse Aquarium, left work on Monday at around 8:30 p.m. after a long day—summer camp in the morning and a board meeting in the evening. Walking down the pier, they noticed a fisherman with a heavily bent fishing pole. He must have caught an extremely large fish, they thought. "Someone got a bat ray," Martin told Hill, as they walked up the pier. While he disliked seeing them get caught, it wasn't illegal. He didn't plan on interfering. That's until he faintly heard someone say "great white." His ears perked. "Let me see what this guy has," Martin told Hill, as he strolled toward the fisherman. Martin leaned over to get a glimpse at the catch. Holy crap, he thought, that's a great white shark.
In fact, what the man had on his line was the fifth great white shark caught on the Manhattan Beach pier since 1980, Martin said. The shark—about five to seven-feet long and more than 100 pounds—was a baby, probably not more than a year-and-a-half old, Martin said. Martin determined the shark was female. "If it had been killed it would've been a tragedy anyways because there're not a lot of fully mature great white sharks up and down the Pacific Coast," he said. Plus, he said, it was beautiful. "They aren't as dangerous as people think."
The fisherman needed to cut the line. Instead, the fisherman was dropping a large, round net into the ocean. The line, Martin noticed, was assembled for shark fishing—a steel leader connected to a circle hook. "You have to cut the line," Martin told him. "You cannot kill a great white shark. That's the law." The man allegedly refused. Martin explained that great white sharks were federally protected, and threatened to call the police. "If you don't let me cut this line right away, you will go to jail and you will get a fine," Martin recalled saying. The fisherman didn't budge, Martin said. "I don't think he understood the urgency," Hill said.
Martin squeezed his way closer to the line, but was pushed out by three of the fisherman's friends, he said. When Martin realized the fisherman didn't speak English, he recruited a husband and wife couple fishing on the pier to translate. Martin explained that great white sharks must be swimming to breathe. If the shark's head got caught in the net, it wouldn't be able to pump water through its gills, and would end up dying and sinking to the bottom of the ocean.
Hill, watching the drama unfold, had to react. It was her first time ever seeing a great white shark—she wanted to document the moment. But the two parties remained arguing. She pulled out her iPhone. "Do I hit camera? Or police? Camera or police?" Hill recalled thinking. She called the police. "If it turns into a physical fight, and he gets punched, there's nothing I can do about it," Hill said, explaining her decision.
The man translating for Martin had a knife in his tackle box, which he handed to Martin. Within five minutes, Martin managed to cut the line, against the fisherman's will. "He's going to be mad at me, but I just saved his butt," Martin said. "If you hook onto something big, the person's adrenaline rolls. You want to catch it," Martin said, adding that fishermen like taking pictures to prove and share their catches. "It could be an ego thing." While Martin managed to cut the line, the hook remained in the shark's mouth. Without the line, however, the shark could easily free herself from the hook. "She can cut that line like a piece of cake," Martin said.
What followed the rescue was a learning experience for bystanders, Martin said. "We had other people coming up to us and asking us questions," Martin said. "Is it common for this (to happen)? Is it safe? Why does a shark have to stay swimming? How long does it take for shark to actually start being mature to have babies?" Hill was happy to turn the sighting and rescue into a teaching experience. "Our goal is to educate as many people as possible about the ocean, the animals, and human interactions, both good and bad," she said. —Alan Tchekmedyian, easyreadernews.com, July 11, 2012
Great White Shark In Manhattan Beach Caught, Then Swam Right Under Swimmer
It's perhaps the scariest thing that can happen in the water. A great white shark swam right under a swimmer at a Southern California beach Tuesday.
The shark, estimated to be about 8 to 9 feet, was initially caught by an angler who was fishing for bat rays on the Manhattan Beach Pier, Patch reports. The area is very popular as a swimming and surfing spot.
When the fisherman realized he had accidentally hooked the state-protected species, he called over Eric Martin, director of the Roundhouse Marine Studies Lab and Aquarium. Unlike the Manhattan Beach fisherman in July who reportedly wanted to keep the great white that he caught (prompting calls to the police), this angler willingly cut the big guy loose.
But before he did, Martin was able to snap the above photo of the shark with his mouth wide above. Then, in an amazing close call, the shark swam right under an unaware swimmer. The swimmer—who was not harmed—was about 6 feet tall, which is how Martin gauged the size of the shark.
Martin told CBS that now that great whites are federally protected, there have been more sightings in Southern California.
And even though some people get really scared, others "feel really blessed" when they see one, Martin told local online news site, Easy Reader. "This is a special thing," he commented.
Just last month, a great white was also spotted at Venice Beach and another was spotted at Leadbetter Point, a popular surfing spot in Santa Barbara.
Despite the reported uptick in sightings, a recent estimate found that there are less than 350 adult great white sharks left off the west coast, partly due to sharks dying in fishermen's nets. In an effort to save these sharks, nonprofits Oceana, Center for Biological Diversity and Shark Stewards sent a letter last month requesting that west coast great whites be listed as endangered species. —Kathleen Miles, The Huffington Post, September 6, 2012
Great whites spotted at Manhattan Beach
Lifeguards today are keeping a close watch on Manhattan Beach after several sharks, believed to be great whites, appeared near the shoreline on Tuesday, prompting rescuers to briefly clear the water of some young swimmers.
Authorities say the sightings of what appeared to be baby whites measuring between four and seven feet in length is reportedly a series of events. On July 9, El Porto Beach, located near the beaches of Dockweiler and Manhattan Beach, was closed after a young great white was spotted near its coastline.
The Monterey Bay Aquarium quickly dispatched researchers to Manhattan Beach in an effort to learn more about the behavioral patterns of the juvenile sharks. "Their goal is to actually get them on the boat or pull them into a net and then tag them so they can do research," lifeguard captain Kyle Daniels told CBS Los Angeles. "August is a great time to try to research them because they often come into closer waters to eat shoreline fish."
With Labor Day expected to draw a huge crowd to Manhattan Beach to celebrate the traditional end of summer, officials stress the importance of exercising safety precautions while swimming, wading, snorkeling and surfing in the area.
"We have fully staffed lifeguard towers through Labor Day weekend and we're encouraging everybody to swim near lifeguards," Daniels told the local news reporting station. "We will continue to advise if we see more sharks and let people know that there are sharks in the area, but not to be too afraid." —Sharon Bush, Examiner.com, August 28, 2013
Three juvenile great whites sighted 'extremley close to shoreline' off Manhattan
Three juvenile great white sharks, ranging from 4 to 7 feet, were spotted off the coast in Manhattan Beach late Tuesday morning.
"There have been consistent shark sightings through the middle of July to now in the Manhattan Beach area," said Kyle Daniels, captain lifeguard for the Los Angeles County Fire Department. "Nothing actually really happened."
According to Ken Peterson, a researcher at Monterey Bay Aquarium, the sharks were "extremely close to the shoreline"—about 20 yards offshore—which he says shouldn't pose any harm to beachgoers under lifeguard supervision as "they're just out there with the other fish."
However, the proximity was too close for the team of marine biologists and researchers, who had intended to tag the sharks as part of Monterey Bay Aquarium's Project White Shark, a study started in 2002 to research and exhibit great whites caught off the California coast.
The collaborating team from Cal State Long Beach's Sharklab, led by Dr. Chris Lowe, took to the coast on a fishing boat from 9 a.m. to 2 p.m. Tuesday to capture, tag and release juvenile whites. They commissioned a helicopter to assist in spotting the sharks, Peterson said.
According to Dr. Lowe, the team spotted the three juveniles between 10 and 11:30 a.m. but was unable to wrap a net around them. "The net has to drop to a certain depth," Peterson explained. In a process called "pursing," the sharks should be scooped out of the water using the net and put on a holding place until they are tagged and released, he said.
The team has tagged 100 animals since 2002, Peterson said, and has obtained "great data" about the animal's migration habits and its use of the habitat. "There's a lot of brand new information that's coming out of this research," he said. Daniels said he has noticed a trend of sharks sighted closer to the shoreline, but it's not necessarily a cause for concern.
"We've been monitoring and they've been getting to the swimmers," he said. "No one's been hurt. We're keeping a closer eye on it, and most people have been seeing them all summer." —EasyReaderNews, August 28, 2013
Great white shark sightings thrilling, but also a good sign for species — Recent increase in shark sightings near Manhattan Beach is exciting for spectators and for researchers

When Jay Dohner heard there were several great white sharks off Manhattan Beach last Sunday, he did what few surfers would do. He grabbed a camera, mounted his paddleboard and set off in search of the apex predators.
It wasn't long before his helmet-mounted camera was recording three great whites—each between 8 and 10 feet long—circling underneath his paddleboard and just a few yards from a group of oblivious surfers.
"The sharks didn't seem to be paying me any attention. They looked like they were looking for fish, so I felt I could stand there safely and watch them," Dohner, 38, said of the roughly five-minute encounter when it began last weekend.
That feeling didn't last for long.           "There are two different things in your head," he said. ""Wow, that's beautiful,' and 'We should get out of here.'"
He isn't the only thrill-seeker to actively seek out and film the sharks, which have recently been spotted more frequently near the El Porto waters off Manhattan Beach, an area popular with surfers and paddleboarders. Others have posted their close encounters on YouTube, but researchers and wildlife officials are calling for restraint, warning that the sharks will attack if they feel threatened.
Many of the great whites appear to be juveniles learning to feed and fend for themselves, said Chris Lowe, a marine biology professor and leader of the research Shark Lab at Cal State Long Beach.
Researchers are still trying to determine why the young sharks have been drawn to the El Porto area—perhaps warmer temperatures or a larger feeding pool. Through tagging and other monitoring methods, researchers hope to have more of an answer by next year.
But one thing is clear: Experts have noticed an increase in shark sightings off beaches in Manhattan, Redondo and Ventura over the last few years. That may be alarming for some, but it's a welcome development for wildlife researchers who say it's a sign of a healthy rebound for marine life after California legislators prohibited the use of gill nets for fishing in 1990.
On March 1, white sharks earned some protection while state officials decide whether to list them under the California Endangered Species Act as threatened or endangered. During that review period, the sharks cannot be legally hunted, captured or killed, according to the California Department of Fish and Wildlife.
No violations have been reported so far this year, according to Dan Sforza, assistant chief of the southern district offices for the Department of Fish and Wildlife. —Alicia Banks, Los Angeles Times, December 3, 2013
It seems to me little doubt that great whites, at least juvenile great whites, are common to these waters during the summer months (and later). What's not clear is the location of the adults (that are dangerous). The biologists seem to suggest that there is limited risk from the juvenile sharks but it seems logical to me that there must be some adults around if the juveniles are in the area. Given the seemingly minimal fear by many of the local swimmers and surfers, I imagine it's just a matter of time before someone is attacked and suffers injuries—or worse.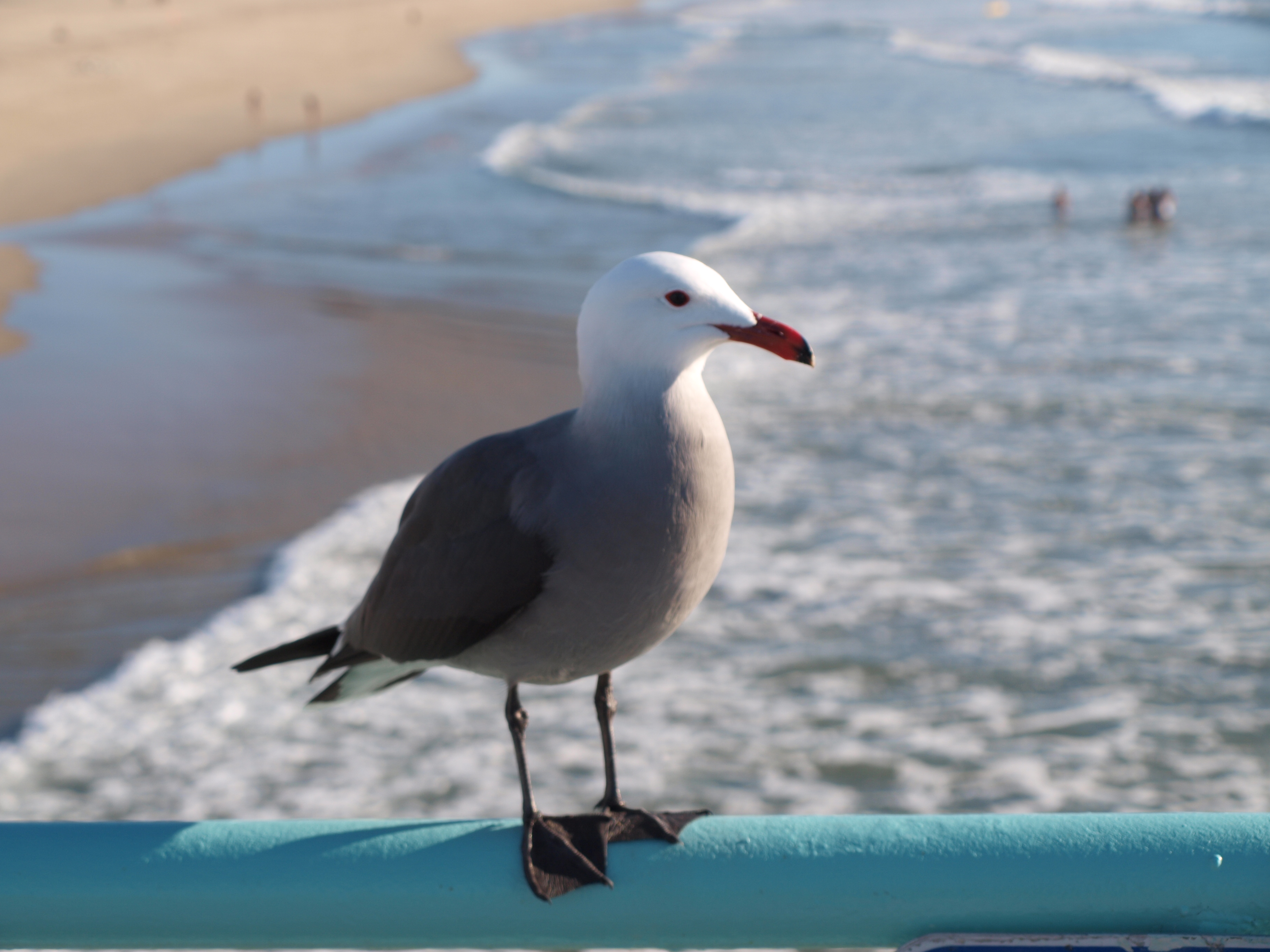 The Pier Rats Speak

Date: July 18, 2003; To: PFIC Message Board; From: cfrost; Subject: Manhattan Beach Pier—The Old Days
I can't help but being a little nostalgic. I ran across this message board searching for fishing at the Manhattan Beach pier. I grew up in Hermosa Beach on the strand, and as a kid I spent many hours fishing the Manhattan Beach Pier. In those days, early 60's, the Hermosa Beach Pier was closed. I have some great memories. I remember fishing for bonito and mackerel many times. We used to use live anchovies, on a runner line we would attach with a swivel, and let it free fall out toward our already cast line. The Round House on the end was open in those days, and boy did they have great french fries. One good memory I have is watching the "old" guys fishing for thresher sharks off the end of the pier. In those days you couldn't overhand cast, and these guys were experts at swinging their lines under the pier and back out until they let it go, and it would sail out a long ways. One day there was this guy training for the paddleboard race to Catalina Island of the end of the pier, the threshers were having fun with him. They would jump next to his board real high out of the water, over and over again. These old guys caught many threshers; in those days there was no such thing as releasing your fish. During the summers I saw sunfish, they were huge. I thought I would share some old memories with you.