Public Pier — No Fishing License Required
The visit which sticks out in my mind when I think of the Manhattan Beach Pier was neither my first, nor my most productive visit. It was simply a typical August morning about a year after the pier had been rebuilt. For once the traffic was minimal, there were no problems finding a parking space, and there wasn't a problem finding a good spot on the pier.
It was 6:45 A.M. and the town was beginning to wake. The sky was calm, a few earlybirds were out for a morning jog, and a couple of members of the "caffeine nation" were enjoying their morning Joe—or cappuccino. A typical day in Paradise.
After gathering together my tackle, I headed out to the end of the pier. Four anglers were at the end and three seemed to be catching fish. I quickly baited up and soon I had my first fish, a nice-sized mackerel. And, as is usually the case with mackerel, this fish was soon followed by several of his brethren. It looked like it might be a good day.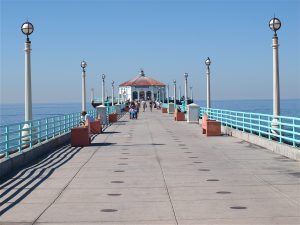 About that time the solitary angler who wasn't catching fish ambled over. Somewhat of a sad sack, he said it was his first time fishing and wondered if I might take a look at his bait and tackle since he hadn't had a single bite. Although his tackle was o.k., his bait wasn't. Out there at the end of this classy pier, in this classy town, was an angler using cheese and salami for bait. I will admit it was a classy cheese, Gouda I believe, but it wasn't going to catch him any fish. I gave him a couple of mackerel, showed him how to cut the small pieces that their cannibalistic kin were biting on, and watched him start to catch fish.
Visions of myself as an amateur Confucian, teaching someone a skill that would feed him for a lifetime, crossed my mind. About the same time I noticed the three hundred dollar shoes, gold chains, and obviously well tailored and expensive clothing. It was just a little too chichi for a fishing expedition and my Walter Mitty-like visions came to an end. I think it's more likely that he will pay someone else to catch his meals.
Although I've seen some strange baits, and I've got some strange looking lures (including one that supposedly has a scrambled eggs and bacon coloring), this was the first time I've seen cheese and salami used as bait. What really would have been interesting would have been for him to catch a big fish using that cheesy bait—maybe a white seabass, or a small firecracker yellowtail. Imagine the run on local delis by starry-eyed anglers seeking out this hot new bait.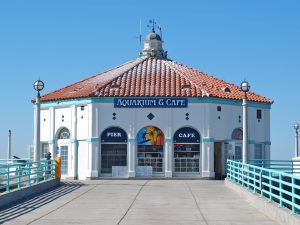 Environment. That visit and the unique aspects of this pier itself made it one of my favorites for a long time. Visualize driving down Manhattan Beach Drive, the San Francisco-style (it's steep) street that serves as the approach to this pier. There it sits, an old looking pier with an odd, octagonal, Mediterranean-style building out at the end, a building which houses the Round-House Marine Studies Lab. As you draw near you notice its stylish aqua-marine colored railings and strange astrolabe-like light fixtures.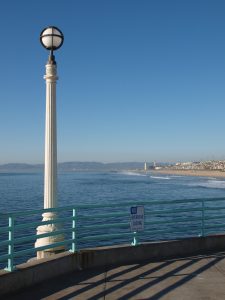 Once on the pier you'll also notice the obvious efforts to keep the pier clean. I've used the word too much, but it has a classy feeling to it, which reflects the character of the town itself (although recent events may lead one to judge it an elitist town instead of a classy town). It also has the feel of an old time pier but it is actually new. Restoration efforts which took place in the early '90s kept as one goal a retention of the old time appearance, much like Pier 7 in San Francisco.
The original pier, dating back to 1920, simply had to be fixed. Old age and decay required extensive repair and in fact made it unsafe by the late 1980s (when a jogger was injured by falling concrete). Citizens banded together and with the help of the Coastal Conservancy made sure it was replaced with a nearly identical copy.
Today, the pier still sits on its wide sandy beach, still has its mussel-covered pilings, and still has its artificial reef made up of 2,000 tons of quarry rock out near the end of the pier. Although the short 928-foot-long pier has the look of an old time pier, you know it has the safety of a more modern pier.  And though facilities are somewhat limited, it remains one of the most popular spots in town. Fisherman continue to toss out a line, and lovers (or perhaps wannabe lovers) continue to stroll, hand in hand, out to the end of the pier.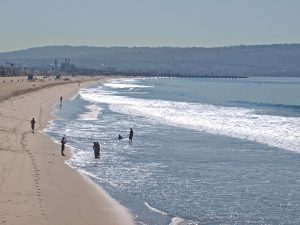 The beach looking toward Hermosa Beach and its pier
Fish. Given that the pier is a typical sandy-beach SoCal pier, the species reflect that environment. Studies done by the California Department of Fish and Game between 2004-2009 recorded 16 species  In numerical order they were: Pacific mackerel, yellowfin croaker, walleye surfperch, barred surfperch, topsmelt, shinerperch, jacksmelt, queenfish, salema, silver surrfperch. leopard shark, Pacific sardine, California corbina, California halibut, bat ray and sharpnose seaperch. Unfortunately the study gives only a very small glimpse of the fish at the pier (in my opinion).

The sandy beach area yields the normal surf species: barred surfperch, several variety of croaker, corbina, small rays and guitarfish (shovelnose shark).
The area around the pilings yield pileperch, walleye surfperch, silver surfperch, and other common pier species.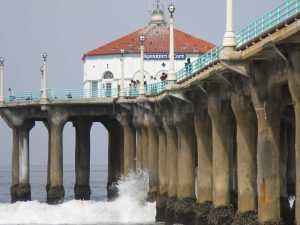 Mid-pier, casting away from the pier, yields small tom cod (white croaker) and herring (queenfish), jacksmelt, yellowfin croaker and an occasional halibut.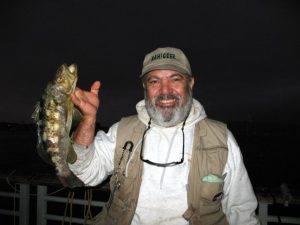 Kelp bass taken by Mahigeer (Hashem Nahid)
Action at the end of the pier is improved by the surrounding artificial reef, which is located about 65 feet from the end. Fish at end include bonito, Pacific mackerel, jack mackerel, barracuda, an occasional white seabass or even yellowtail, and reef residents like kelp bass, sand bass and sculpin (scorpionfish). The reef may also account for the infrequent visits from giant (black) sea bass. A 43-pound BSB was taken in September of 2007 (and released).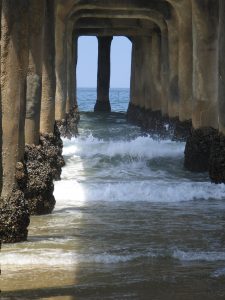 Fishing Tips. Given that live bait is unavailable at the pier, anglers should come equipped with both bait and a variety of lures in case the pelagics are around. In the surf area, sand crabs, bloodworms, mussels, clams, or shrimp, all fished on the bottom, will produce fish. Winter to early spring is the best time for barred surfperch, while summer and fall months will provide the majority of yellowfin croaker, spotfin croaker and corbina. A few thornback rays and stingrays will also enter the catch, together with some shovelnose sharks (guitarfish) but I've never really seen too many sharks at this pier.
Midway out, halibut get absolutely giddy if you offer them a lively brown bait (tom cod or queenfish), small sardine, or baby mac, although smelt are often the most common live bait used, and one of the longest lasting. If you can't catch some live bait try a whole or cut anchovy fished on the bottom. Yellowfin croaker will hit fresh mussels or clams and white croaker and queenfish will hit small pieces of anchovy fished at mid-depth. Around the pilings, fish with mussels or bloodworms for pileperch, sargo or salema; use small strips of anchovy for walleye surfperch and silver surfperch.
At the end, fish on the bottom with a whole or cut anchovy for kelp bass and sand bass, try pieces of squid for the sculpin (scorpionfish). Fish with a slider and a small, self-caught fish, for larger species like barracuda or white seabass. For bonito use a splasher and a feather. The white seabass will often show up for a short period in April; the barracuda August-September. The bonito typically show up in the warmer water months in the years they are around but some years will see the boneheads (especially the mico-sized youngsters) making an appearance throughout the year. During warm-water years you may see a yellowtail or two but they are rarely a common species at the pier.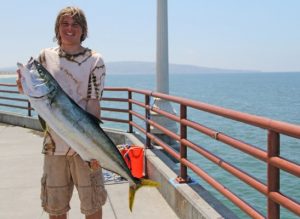 Yellowtail
As for the mackerel, it doesn't take a lot of skill to catch "a mess" of fish when they're running. Personally, I prefer a couple of size 4 hooks rigged up in a high/low fashion with a torpedo sinker at the bottom. Two at a time is enough. However, many anglers like to throw out Lucky Lura-type bait rigs. If the macs are in their attack mode you don't even need bait. If they're a little more skittish, attach a small piece of bait (and mackerel is often the best bait) on each hook. Cast out away from the pier and be prepared for a strike as the line settles, or as soon as you begin a retrieve.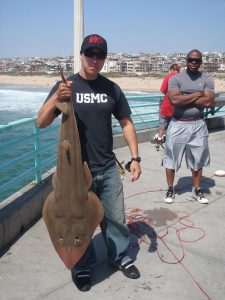 Shovelnose shark (guitarfish)
Although the shallow waters of the pier are not great for sharks, late evening angling can produce both sharks and rays. Most common are gray smoothhounds, leopard sharks, mid to large-sized bat rays, and the already mentioned shovelnose sharks. Less common, but still a possibility, are the large threshers that sometimes swim by, decide to swat a hapless fish with their large tails, and perhaps, if the angler has prayed to the right gods, even digest said angler's bait for dinner.
Once in a blue moon, a hundred pound bat ray (or heck, maybe a two-hundred pounder) will latch onto an angler's line but the majority of the large fish will be lost on the pilings before they can be brought to the surface of the pier.
However, the city has imposed new fishing regulations in regard to permissible tackle, much of it aimed at preventing anglers from fishing for sharks. The rules are listed on the pier — and enforced.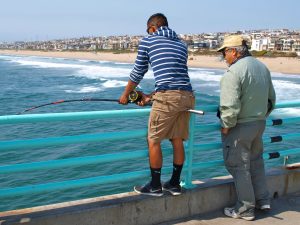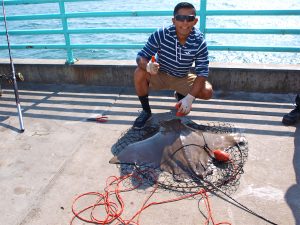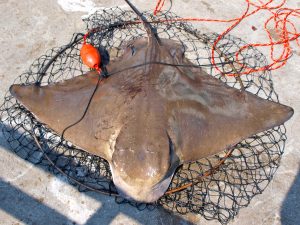 A nice-sized bat ray caught by Oscar Amaro in 2015
And, then there are the great whites of which an increasing number have been seen and caught from the pier during the past decade (see below). Scientists now say local waters are a nursery ground for the beasts, something that I would think would be less than good news for the surfers and swimmers who flock to these waters (as in WHERE'S THE MAMA?).
Nor would the news that a tiger shark, even if just a baby three-feet long, was taken by an angler at the end of the pier in in 1994 (caught on a chunk of bonito). A baby tiger shark is probably not too dangerous even if it has some wicked teeth. What could be dangerous is an old "mama-grizzly" tiger shark lurking in local waters (WHERE'S THE MAMA?). Although rare, tiger sharks occasionally move north during El Niño years and this was supposed to be the farthest north that tiger sharks have been authenticated in California. Tiger sharks are second, only to mighty whitey, in people chomping ability—and recorded attacks on homo sapiens.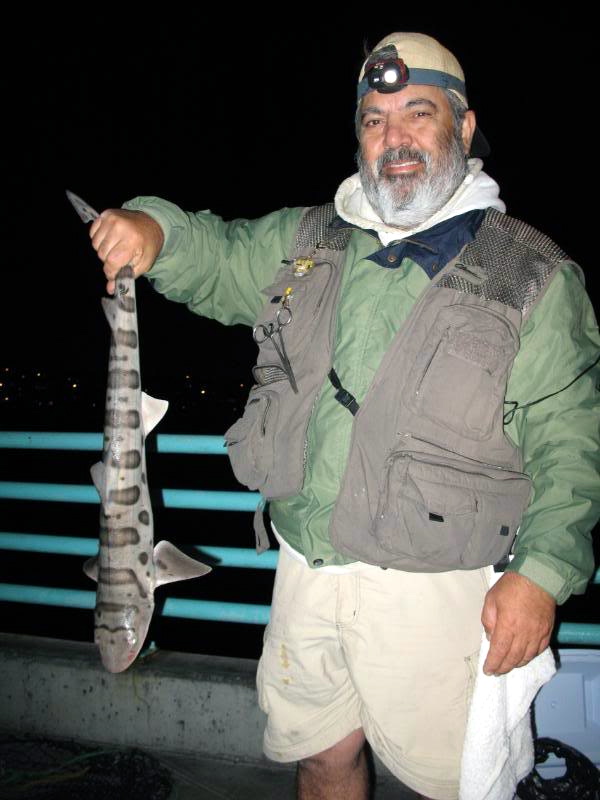 Small leopard shark caught by Mahigeer (Hashem Nahid)
The Pier Rats Speak

Date: February 2, 1999; To: Ken Jones; From: Steve R; Subject: Manhattan Beach Pier Striper
I took my seven-year-old daughter pier fishing the surf area at Manhattan Beach for an hour last Saturday morning (January 30). Surf fishing has been slow lately and I was expecting to catch either nothing or maybe a surfperch or undersized halibut, so I didn't bother to bring my pier gaff. We were using six-pound line on a freshwater/saltwater rod with spinning reel, and live ghost shrimp.
After re-baiting the hook for my daughter and dropping the line, I immediately felt a tug to I set the hook and started to reel. Almost immediately (the water was shallow) I had a striped bass lying sideways on the surface. It was probably about 20 inches long.
I decided to walk the fish to the shore, but the pier has large cement pillars every 10 yards and there were about 6-7 of them between me and the shore end of the pier. I tried to hand my rod around them from one hand to the other, going over the pier rail to do so, but I couldn't reach far enough. So I told my daughter I would just try to hand line the fish up and hope for the best. As soon as I had the fish out of the water, it broke off.
The next day I went back with my pier gaff and more ghost shrimp, but (of course) got no striper bites. I did get one nice barred surfperch.
Date: September 22, 2000; To: PFIC Message Board; From: Mola Joe; Subject: Re: Hammerhead sharks off piers?
The biggest one that I know of was caught by Dennis Austin off Manhattan Beach Pier back in the early '70s. I didn't see the shark caught, but I did see a picture of it and if I remember right it was around 200 pounds. What made this fish even more unique was he caught it with an Alvey reel, which is a large single action reel that looks like a big fly reel. Back then they were popular with the surf fishing crowd because you can cast them a mile. As far as hammerheads that I have actually seen caught, I saw two taken off Hermosa Pier (I think it was the Summer of '75 or '76) with one of then I helped gaff. I hooked one that same summer, but on 30-lb test I never even slowed it down. Even when one does show up, most people on a pier are not equipped to catch them with their smaller tackle, and if they are hooked, they're lost shortly after.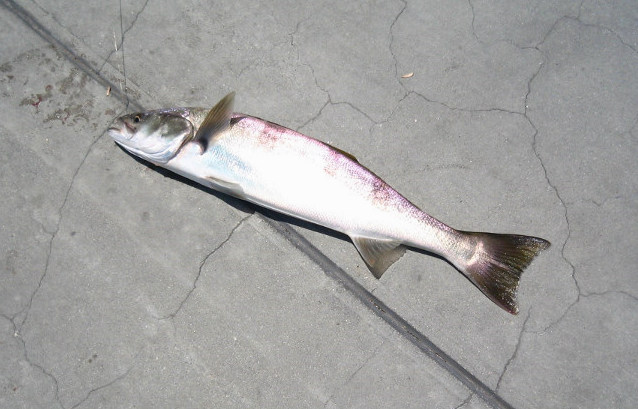 Small white seabass aka sea trout caught at the pier
Date: June 29, 2001; To: PFIC Message Board; From: zen; Subject: Manhattan Beach pier, 6/28/01
Arrived at Manhattan around 7pm. A few anglers at the mid-pier are catching corbina using fresh mussels and sand crabs. I saw a local pier rat, who people call "Mike," wrestling a very nice size corbina when I arrived. By the looks of it, it must have been over 15″ long and fat, very fat. At the end of the pier, a few guys have been fishing and one group has a medium size shovelnose shark on a stringer. I didn't bring any bait since there are usually bait fish around but NADA. No bites whatsoever. Used the Sabiki till my arms were hurting and all I could reel in was a tiny herring and one salema, both released. Saw a couple of thornbacks caught and a baby blue shark (from what I was told). I begged a couple of squid from a fellow angler and tossed it afar to no avail. Left the pier around 9:30 cause the wind started to pick up and it was a little chilly to watch dead poles. Oh well, maybe next time.
Date: July 3, 2003; To: PFIC Message Board; From: halibut hunter; Subject: Manhattan Beach Pier
A couple of friends and myself went out yesterday from 5:15pm to 1:00am. When we got there about ten minutes in a guy's rod goes BENDO and he quickly gets it and sets the hook. The fish didn't stop taking line and I got closer to investigate. I asked a fisherman what it was and he said it jumped out of the water, "didn't you see it?" I told him "no," and I asked him once again if he recognized it and he said it was a thresher. I was like "WHAT." Back to the guy who was fighting the fish. The fish didn't stop taking line and unfortunately he got spooled. The guy was stunned in what had happened and he checked his reel for any damages. Later that night the mackerel were in but periodically. My friend got three good bites but he failed to connect twice but on the third he was on but one of his swivels broke and he lost the fish. As for me I did manage to get some mackerel but that was it for the pier. Around 12:30 am we moved to the surf to see if we could get some grunion but we had no luck. We did fish the surf and I caught a shovelnose guitarfish, about a 3-footer. All fish were caught on mackerel and I believe the thresher was caught on a whole mackerel.
Date: October 8, 2004; To: PFIC Message Board; From: halibut hunter; Subject: Manhattan Beach Pier
Went yesterday and saw the huge bait balls of dines, macks and smelt all over the pier. Everyone who knew how to catch bonito was able to catch all they wanted. Ended up catching too many bonito to count and I had caught them on live bait, 3.5 oz jig and on a bubble feather rig. Later that day fished for shark and I was skunked but had two good bites but my buddy caught two undersized sharks. Oh also on Sunday some guy caught a shark about 70 pounds which was said to be a soupfin. The shark took a massive chunk of bone.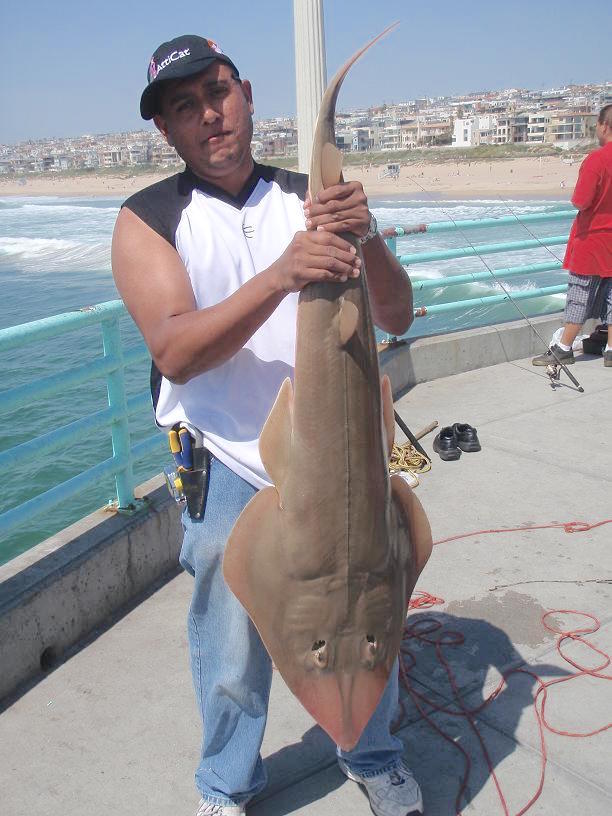 Shovelnose guitarfish aka shovelnose shark
Date: September 15, 2006; To: PFIC Message Board; From: sushiman; Subject: Manhattan Beach Pier 9/15
So, one of the regulars at the pier yells at me, and a number of other regulars, to come quick to the mid-area of the pier. He frantically yells out, "WHITE SEA BASS! WHITE SEA BASS! Get your dines ready!" As we took a closer look as to what he was yelling about, we find out that the white sea bass that he was talking about was…. a grip load of BONEFISH!!! Unfortunately, I only brought lures and a Sabiki so I couldn't catch any. All were around a foot. Some actually looked a tad bigger. Tomorrow, I plan on venturing out there with mussels in hand… I do not, however, have access to any ghost shrimp… As for the action today, I caught a couple of bonito in the morning at around 7-8AM. Thereafter nothing much to report. [We never found out if these were actually bonefish; often mullet milling around under piers are confused with bonefish and sometimes with yellowtail]
Date: September 17, 2013; To: PFIC Message Board; From: halibut hunter; Subject: Thresher Shark and other large sharks in Manhattan Beach
I am surprised to see large sharks back at Manhattan Beach since all we've been catching are 4-5 footers this summer but I had an approx. 10-ft Thresher on my line for about 10 minutes this past Saturday Morning (7am) and just seeing this beautiful beast jump out of the water was a treat. Does anyone know any humane way to bring up a Shark that size without using a gaff and killing it. I tried to beach it but it absolutely went where it wanted and darted under the pier using a piling to snap my line. I've been using a jumbo lobster net all summer but now what to do that some big guys are coming along. Also a few hours earlier some fisherman had a (7-8 foot) what looked like a dogfish shark on his line (1am) but once again with no way to bring it up the line snapped as it thrashed. Any advice? I'd love to bring some of these guys up so I can snap a picture of them and quickly release them. Ton's of Macro and Sardines at Manhattan Beach this whole past month (6am-8pm).
Posted by capt.raysharking
With some practice you should be able to get it into a big crab/lobster net. I've seen pros get monster sturgeon into 'em. The big dog shark was probably a soupfin shark.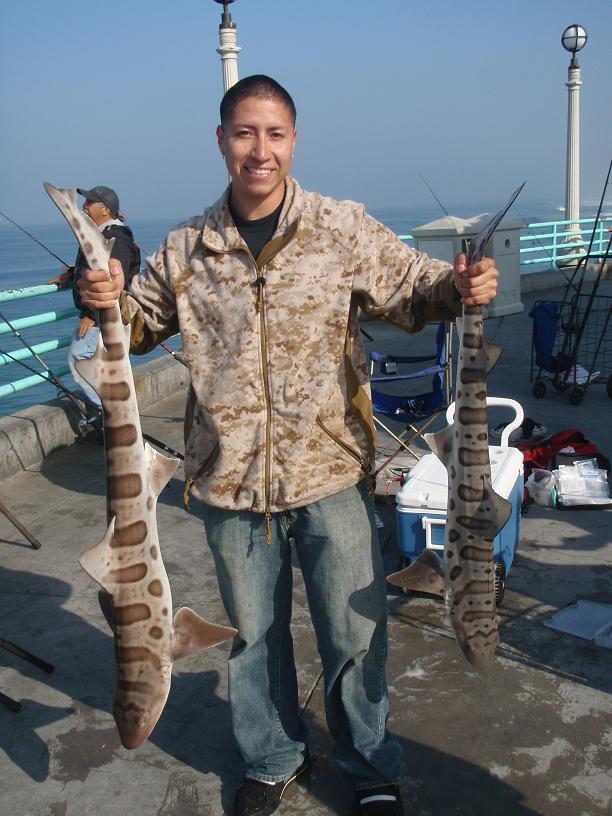 Leopard sharks caught in 2005
Potpourri —  Perhaps More Than You Want To Know About The Manhattan Beach Pier

<*}}}}}}}}}>< —  I doubt if any city council in the state has ever shown more of an anti-fishing bias, especially anti-pier fishing bias, and less respect for both the Coastal Commission and the California Department of Fish & Wildlife, than the city council of Manhattan Beach. Nor has any city council seemed to flout state rules and regulations with such impunity. It happened after a white shark bit a swimmer at the pier in early 2015. The white shark was attached to a fishing line from an angler at the pier. The council seemed to have a collective fit of apoplexy and in their minds the blame for the incident was obvious' the fault must be due to the angler, an angler who must have been fishing for great white sharks.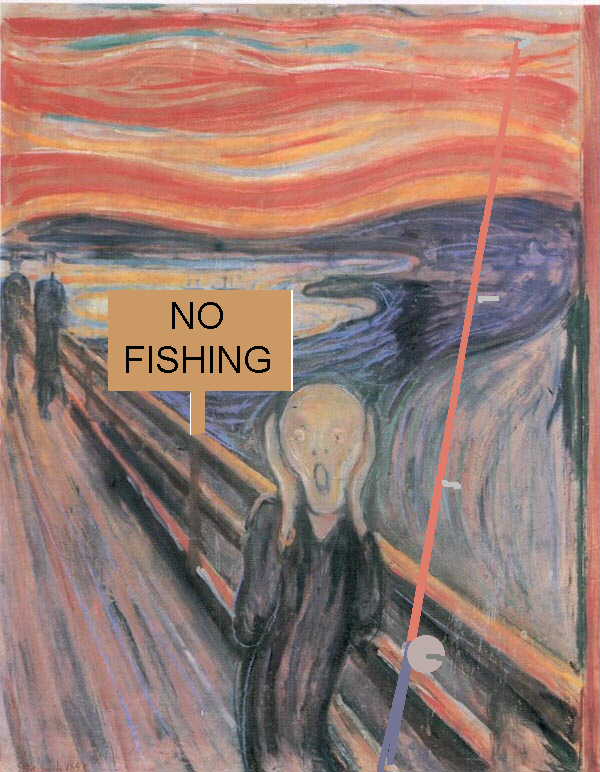 Soon after, the council closed the pier even though told not to do so by the state. Soon after that they issued new fishing regulations that were not allowed by the state. Soon after that they removed the fish cleaning sink (their right) and instructed the police to enforce their illegal rules. The state said they would correct the problem but, to date, have done virtually nothing and the illegal regulations still persist. I've often thought pier anglers should just boycott Manhattan Beach but that would do nothing but please the rich elite who live in that town and who don't particularly like the poor, minority  "pier rats" who like to use "their" pier. The elite prefer the pier to be simply a place to stroll or jog over the ocean in their designer "sweats." Most seem to love the surfers who already feel they own the pier and most seem to detest the fishermen who dirty up the pier and kill the innocent fish.
I got involved in the battle as the leader of PFIC and UPSAC, both via the phone and in letters, while UPSAC Board Member Hashem Nahid attended the council meetings and gave testimony. We both even attended a summit that was supposed to iron out the differences and give room for improvement. My conclusion at the end of the summit, and following the lack of progress since that day, is that the  state's answer to any problem — hold a meeting — was about as useful as most of such meetings: delay and very little solution. I could go on and on but this article would be far too long. However, a couple of posts to my kenjonesfishing.com blog do give additional information.
http://kenjonesfishing.com/2015/05/manhattan-beach-sharks-swimmers-—-redux/
http://kenjonesfishing.com/2015/05/santa-monica-bay-pier-summit/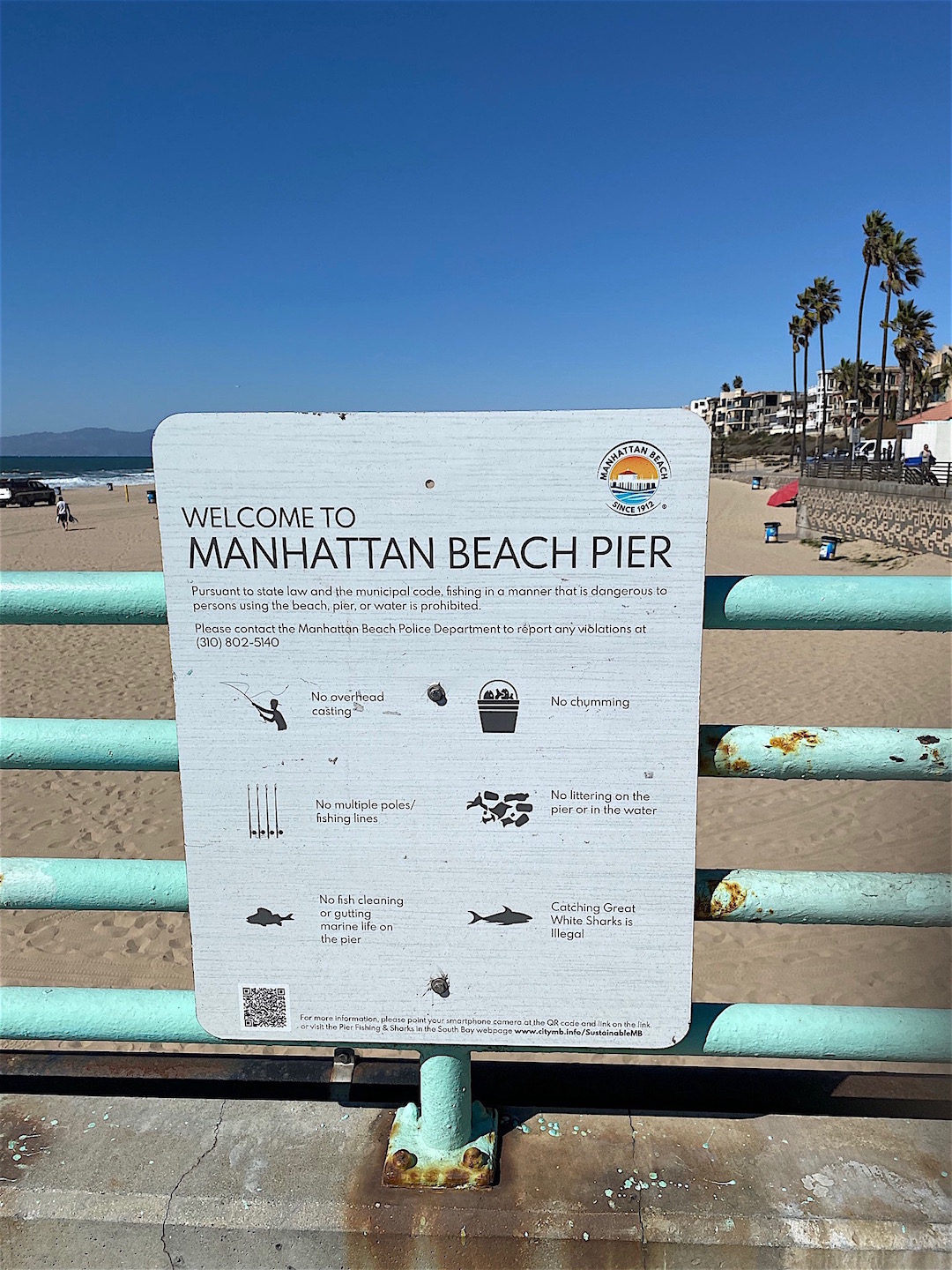 Today, the city continues to show its anti-fishing bias in its rules.
<*}}}}}}}}}>< — I shouldn't have been surprised with the city's attitudes, given that the human environment at the pier is frequently wrong when it comes to fish and fishing. Or should I just say misinformed? A visit one year took place on a hot Sunday afternoon in July, a day when a parking space was almost impossible to find, and sunbathers and onlookers seemed to cover most of the beach and pier. There I was, calmly reeling in fish out at the end of the pier, when I was approached by a bronzed young beauty (naturally a blond) in a spandex jogging outfit, one who definitely deserved to be in the movies (and yes, I guess I can be sexist at times). She watched for a few moments and then leaned over and asked what I was catching. "Mainly mackerel," I replied. "Why do you fish?" she asked in her sweet valley voice. "Aren't all of the fish out here polluted, don't they cause cancer?" I then began to patiently explain about the types of fish and the differences between the resident species in Santa Monica Bay (which might contain toxins and be dangerous to eat), and those that migrate in and out of the bay (and are safe to eat). She seemed somewhat appeased until she was joined by a bronzed young man, apparently an escapee from one of the local muscle salons. She relayed to him some of what I had said, but he, in a dumb, bellicose manner, replied that there was no way he was going to eat any fish from these waters. Sticky wicket, end of debate and end of education.
About that time a deafening noise was heard, noise which I initially mistook for someone on the pier playing obnoxiously loud music. But no, it was a boat passing by (several hundred feet away) which had a huge "Save Our Bay" banner and a disc-jockey who, I am sure, was soon to lose his hearing. Between songs, he would ask the people on the beach for help in cleaning up the bay, an act which should be supported by all. What did upset me a little was the attitude of these young people who had bought the pollution headlines but failed to read the fine print. The only way we will save any bay or the ocean is to learn about the problems and work together to correct the causes. Facts and education are needed, not half-truths backed by the aerious science and scare tactics of some groups. But, that is probably asking too much.
In fact, if the recent anti-pier fishing actions of the city are any indication it probably is too late (see Potpourri section).
<*}}}}}}}}}>< — I have never been able to verify the catch of a marlin from a California pier. However, at least one was hooked… for a few brief seconds.
Wicker Veen of Manhattan Beach got the thrill of a lifetime Thursday when he tied into a big marlin while fishing on the Manhattan Beach Pier. Veen was fishing for bonito with a live anchovy when the marlin grabbed his bait while chasing a school of mackerel. The marlin, feeling the hook, jumped into the air, snapped the line and the battle was over. —Salt Water Fishing, Los Angeles Times, October 29, 1965
<*}}}}}}}}}>< — Giant fish of another type were the giant (black) sea bass caught from the pier at one time. During the Roaring '20s (1920s) several of the BIG bass were taken from the pier. May 15, 1922 saw the capture of a 351-pound black (giant) sea bass at the pier by C.C. Campus. That pier-record fish was eclipsed the next year when an angler caught a 428-pound bass. It's also reported that a 600-pound bass was caught from the pier in 1929 but I haven't been able to get any more specifics.
<*}}}}}}}}}>< — 1959 has long been noted as one of the best years for pier fishing in Santa Monica Bay. Most piers saw some great action and the number of barracuda and big white sea bass that were caught was amazing. A few exotics also entered the picture as seen in the following.
 Pier Fishing Clan Gets In On Action
The Southland pier fishing clan is getting in on some of the hot action that has been enjoyed by the offshore fishermen the last several months. Santa Monica Bay piers report large takes of bonito and mackerel, with log barracuda beginning to get active. There has also been a few large white sea bass and several small yellowtail landed by lucky anglers.
But the real eye opening catch for the year was made by 14-year-old Bill Lapes of Manhattan Beach. Fishing his hometown pier, he caught a 6 Lb. 2 oz. skipjack. It's believed to be the first of the species taken in that area in more than 20 years. —Art Rogers, Los Angeles Times, May 15, 1959
<*}}}}}}}}}>< — Although not taken on the pier, a fish captured in the surf shows the strange species that occasionally show up in local waters. From the F&G—"A bigscale pomfret (Taractes longipinnis) was picked up in the surf at Manhattan Beach on October 25, 1958. Length was 25 ½ inches and weight was 24 pounds."
<*}}}}}}}}}>< — Sending sand to Hawaii? Manhattan Beach is built on sand and in the early day that meant troublesome sand dunes. To alleviate the problem much of the sand was loaded onto railroad cars and sent away. Some was used in the construction of the Los Angeles Memorial Coliseum but much more was sent to Waikiki Beach in Hawaii to replenish its beach. The sand would be transported to San Pedro by the Santa Fe trains and then loaded on barges before beginning their Pacific journey to that famous beach.
<*}}}}}}}}}>< — Home to the Beach Boys, surfing competitions, and year-round beach volleyball (courts line the sand), the beach area is almost always crowded, especially during summer days and any warm-weather weekend. Summer weekends, especially those seeing warm weather, are more than crowded. It's wall-to-wall cars and the parking for the pier goers disappears early in the day. Come early or late. When the world's oldest and most prestigious volleyball tournament—the Manhattan Beach Open—aka "The Wimbledon of Beach Volleyball" is in town in August, don't even bother with the early or late rule; just don't go.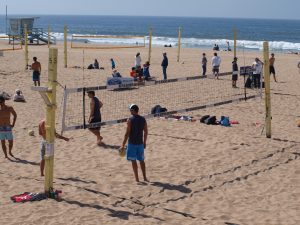 BTW, it should be noted that the pier itself apparently was a favorite fishing venue for Dennis Wilson and Mike Love of the Beach Boys when they were mere mortals living in nearby Hawthorne. It's just too bad that the surfing institutions today seem to be anti-fishing when it comes to piers.
<*}}}}}}}}}>< — The pier has often been seen on screen including the movie version of Starsky and Hutch (2204) and the TV series Veronica Mars and O.C. In the film Tequila Sunrise (1988), Mel Gibson's character lives on the beach near the pier. It's ironic that a film named after a drink would be filmed at the home of another famous drink—the "Harvey Wallbanger"—that was invented in Manhattan Beach in 1952.
<*}}}}}}}}}>< — In October of 2013 on one of my trips to Los Angeles I visited and fished the Manhattan Beach Pier. Soon after, I reported my visit on PFIC and was surprised that another PFIC angler had been at the pier and seen me that day. Amidst the post and reply (see below) it turned out that he had hooked a great white shark shortly before my arrival. It stimulated an interesting discussion and brought back memories of an earlier thread and articles about the great whites at Manhattan Beach.
Manhattan Beach and Great Whites.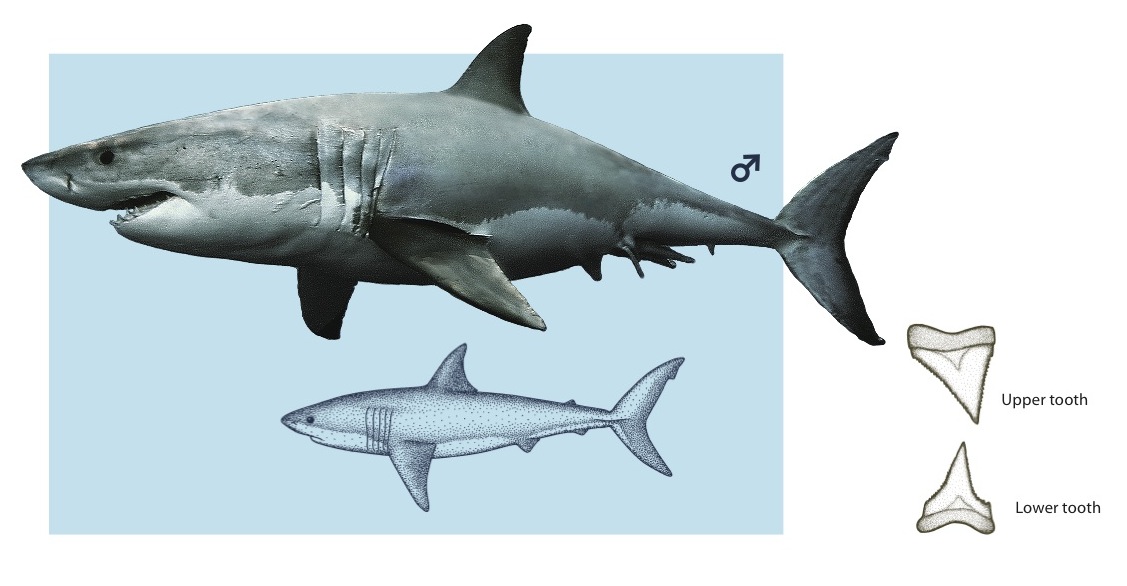 Date: October 21, 2013; To: Pier Fishing in California Message Board; From: Ken Jones; Subject: Manhattan Beach Pier Report — 10/16/2013
Manhattan Beach Pier — 11:30-12:30 — A few fish were being caught here, some mackerel and lizardfish. The snack shop worker said there had been an afternoon mackerel bite recently. Dumb divers were too close to the pier and I got into a long discussion with a local about why the city did not regulate the rules. Fish: two Pacific Mackerel, one Lizardfish, one Topsmelt, and one Speckled Sanddab
Posted by vmarquez
Were you to the right next to the sink wearing a Catalina shirt? That day we had a great white hit our bait at 11 a.m. and I fought it for 14 minutes.
Posted by csmerril
I wouldn't have posted that, if you knew it was a GW. It is the law to cut the line right away…
Posted by vmarquez
Its OK, it took 14 minutes to realize it was a great white plus we were with the biologist that works at Manhattan Beach and he wanted to make sure it was tagged before we released it. It wasn't but he cut the line anyways… plus by the way it's illegal to remove them from the water, not hook them. How are we supposed to stop them from eating our bait plus they fight like bat rays so you really can't tell till you get them close enough.
Posted by Ken Jones
I was by the sink and I think I did have the Catalina shirt on that day. I wound up arguing Manhattan Beach regulations with a regular for about 15 minutes. We began arguing about regulations to keep people away from the pier (based upon a diver who was diving by the pilings) and it evolved into an argument about surfers being by the pier and lifeguards asking anglers not to fish inshore when surfers were in that area. I'm going to try to find out if (1) there are regulations telling people to stay a certain distance from the pier and (2) if there are those regulations why the lifeguards do not enforce the rules. I was told by the guy that surfers rule, most lifeguards are also surfers, and the rules would never be enforced.
Posted by vmarquez
Yea, I heard you guys arguing; he's the biologist [from the Roundhouse Laboratory]. Manhattan is always full of swimmers. We been having good luck w/mackerel and thresher sharks and we get to see great whites swim by; they don't usually take the bait though.
Posted by Ken Jones
I don't think you did anything wrong. It often takes a while to figure out what you have on your line and in this case you did cut the line.
Posted by makairaa
There is a reef just off the end of the pier that used to hold bass, halibut, and occasionally yellowtail and [white] seabass. I just wouldn't dive there because of the number of great whites hooked there in the last two years.
Posted by Ken Jones
The divers and surfers don't seem too worried about the great whites.
Posted by makairaa
Most small white sharks are fish eaters, so the surfers don't have much to worry about, besides the fact we could spend hours debating the IQ of many surfers. Surfing next to a pier where you can see people fishing right where they are surfing does not sound too smart to me. The spearfisherman on the other hand are in the water with a bleeding fish where there are 6 to 8 foot dangerous sharks. It's their choice, but to me it looks like Darwin in action.
Posted by polishfromthedeep
I bring a gun occasionally when I dive for lobster, shoot fish all the time, and bleed them on my hip. I'm still here and enjoy a much more intimate experience with mother ocean than anybody ON the pier. You can call it Darwinism or whatever you want, but I call it totally worth it. Worth every bit of "danger."
Posted by makairaa
It's not the shooting of fish while diving that I have a problem with. Its doing it while diving at Manhattan Beach Pier where at least 8 great whites that I am aware of have been caught in the last two years. On a side note, be careful about taking lobsters while possessing a spear. Some wardens consider that a hooked object because of the barb and cite people for it.
This early PFIC thread, dating back to 2001, was started by one of the sites strongest members—Mola Joe.
Date: June 5, 2001; To: Pier Fishing in California Message Board; From: Mola Joe; Subject: White sharks from a pier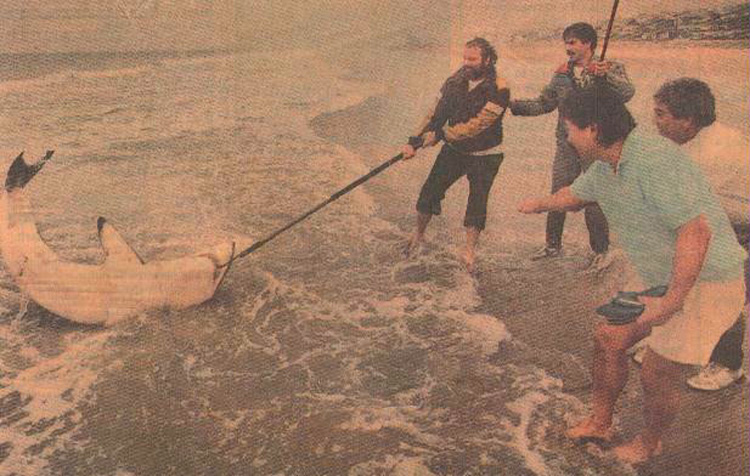 I ran across this photo from a few years back that ran on the front page of our local newspaper. If I remember right, two whites were landed out of several hookups over a two or three week period. The sharks were hooked off Manhattan Pier and then the angler moved to the beach to fight and land them. I believe both sharks were released alive. No official weight, but just babies by white shark standards, maybe 200 to 250 pounds. The following year I also remember seeing something about another landed from this pier also. I heard that after the first two, these guys started chumming for them but were told to stop by the local lifeguards. I kind of see their point. It would really hurt the local economy to have some yahoo from Kansas wading in the water and come out with only one leg. Anyway, things have now changed as white sharks are off limits to fishermen.
Posted by gotem
Our buddy the Great White Shark is still on the protected species list, and rightfully so, but don't let the status of them fool you, they ARE making a comeback. We will only see and hear of more 'accidental catches' and 'mistaken identity' attacks within this next generation. Count on it.
Posted by shorepounder
Hey MJ, I was there for one of the catches. I was riding my bike on the strand and decided to walk the Manhattan Pier. Well as I get close to the end there's this guy hooked up to something big. After I watched him for a while I thought he just had a big ray on and left the pier to continue my bike ride. As I was coming back around an hour or so later here's that guy still fighting his fish. So I decided to watch him fight it some more. After a while the fish starts heading towards the beach and goes to just behind the breakers. Then it surfaces and yikes it's a great white around 8 feet. The lifeguard started yelling at everyone to get out of the water and then everyone around started going nuts. Soon there were news crews, crowds, etc. The guy who caught it was a long time regular if I remember right and he looked familiar to me. Two total were landed and I heard the same thing about him being told not to chum anymore. The other thing is that I thought the second shark that was landed was tossed off the end of the pier… if so I doubt it lived after fighting that long, being beached, put into a lifeguard truck, and then dropped off a pier. I hope I'm wrong about it being dropped off the pier.

—Los Angeles Times, October 29, 1987
Posted by Snookie
I happened to save the article about the two great whites off Manhattan Beach Pier. It was Thursday, October 29, 1987. The names of the fishermen that caught them were: David Bird, who assembles telescopes part time and Mike Walker, an unemployed construction worker. One of the sharks was 6 feet, 10 inches and the other was 7 feet, 10 inches. The smaller one weighed about 150 pounds and the other weighed about 250 pounds. The fishermen were fishing for bonito and mackerel from the end of the pier to a point 350 yards offshore. The smaller shark took 90 minutes to land. The bigger shark took more than two hours and ended up a quarter mile down the beach. No, they did not release these two sharks. They sold them for $150 to a wholesale fish market in San Pedro after they cleaned both fish and found the stomachs empty. These two sharks were still just babies. Manhattan Beach seems to be an area of birthing for the great white as well as the tiger shark. Later there was a baby tiger shark caught in the surf by a surf fisherman. No, not a leopard shark—a TIGER Shark.
Posted by shorepounder
Hi Snookie, I guess this has happened a couple of times, because the one I saw caught and the other that I only heard about being caught later the same week occurred in the early 90's. I've always been told that whites use the Santa Monica Bay as a nursery… seems true. Snookie, do you have the dates of the article by any chance?
Posted by Snookie
Dear Shorepounder, The article was in the L.A. Times, October 29, 1987, part II, Page 12, titled, JAWS AND JAWS II PROVE BIG CATCH OF THE DAY AT MANHATTAN BEACH PIER by James Rainey, Times Staff Writer. I have collected shark info since the late 50's, but apparently I missed anything about the ones you know about. Ones the size of the ones mentioned are babies and still on a small fish diet. Their mamas are a different matter though.
Well, that meant I needed to search out the articles and found two from the Los Angeles Times, one from 1987 and one from 1992:
Hooking of 3 Great White Sharks Off Pier Stirs Debate — Some swimmers and lifeguards in Manhattan Beach are concerned that sportfishermen are luring creatures that might pose a threat to humans
The recent catch of three great white sharks off the Manhattan Beach Pier has hooked anglers and lifeguards in a debate about whether sportfishermen should be allowed to bait waters near popular swimming spots to attract the creatures.
Swimmers were unharmed in all three instances, and marine biologists say the sharks were probably too small to be considered a threat to humans. But some lifeguards and local swimmers believe that by dropping "chum," or cut-up fish, into the water to lure sharks to their hooks, fishermen may be endangering swimmers and surfers.
"We have never had a conflict between swimmers and sharks, but we don't want to create one," Los Angeles County Lifeguard Capt. Steve Saylors said Thursday.
The controversy was sparked on Aug. 31 when sportfisherman Mike Walker, a 39-year-old Manhattan Beach resident, hooked his first of two great white sharks in a week. Walker, who says he fishes shark for fun rather than for food, landed the shark on the sand just long enough to take its measurements—6 feet, 11 inches—before releasing the animal into the waves. "The lifeguard was fit to be tied," one of his fishing buddies, Richard Bird, 65, of Torrance, said Thursday. "He couldn't believe (Walker) turned him loose in the surf."
On Sept. 3, Walker landed his second great white shark—this one slightly more than seven feet long. This time, the lifeguard on duty prevented him from releasing it. Instead, he asked Walker to reel it onto the sand and load it onto the back of a lifeguard truck. The shark was then driven to the end of the pier and dumped into the ocean. It landed on its back and sank, prompting Walker and others to speculate that it had died.
Three days later, another fisherman caught a great white shark measuring 6 feet, 6 inches. The angler, whose identity was not known, killed the shark and cut it into filets, Manhattan Beach police said.
Los Angeles County lifeguards and some swimmers say they are particularly concerned because the fishermen use chum deliberately to attract sharks into the area.
"I think that's crazy in a public swimming area," said Catherine Yates, a 21-year-old swimmer. "It's just asking for trouble." Saylors said many lifeguards agree: "A lot of lifeguards would like to see it prevented for safety reasons, but we don't have any demonstrated problem we can deal with at this point."
After the first shark was captured, lifeguards asked Manhattan Beach police to check whether the city has any ordinances preventing fishermen from throwing chum near swimming areas. As it turns out, there is nothing in city or state law preventing the practice, according to law enforcement officials. "There's no law on the books saying you can't catch sharks," said Manhattan Beach Police Lt. John Hensley. "We can't do anything about it. It's not illegal."
Lifeguards have also sent police a memo asserting that they have some discretionary authority to regulate the activities of fishermen when it may endanger beach-goers. "On heavily crowded beach days, it is possible that a fish hooked off the pier will have to be landed on the pier or released (a safe distance from shore)," the memo said. "We feel this is in the best interest of marine life and the bathing public." Hensley said police plan to meet with lifeguards to discuss the matter.
Walker, meanwhile, remains puzzled by the controversy. The 39-year-old Manhattan Beach man said he's been fishing for shark off the pier for years, and that he doesn't understand why lifeguards are suddenly worried about it being a hazard. He insisted the sharks never go near the swimmers and denied throwing large amounts of bait into the water.
When he fishes for shark, he said, he usually cuts up one mackerel every hour, throwing the head and tail into the water and using a chunk of its meat as bait. "The sharks will be out here, but they're not going to go onshore," Walker said. Bird's 29-year-old son, David, agreed: "It's sportfishing and I don't think they should prevent us from fishing for them. What would solve this whole thing is if the lifeguards would study (sharks) and understand the ones we fish for are really harmless."
Marine biologists, who point out they know of no humans attacked by a great white shark in Santa Monica Bay, are more cautious in their assessment. Great whites under 10 feet in length eat bottom-feeding animals like small fish and crabs, they say. Only the adults, which can reach 21-feet in length and weigh 4,000 pounds, have been known to attack humans, they say. Most of the attacks have occurred in Northern California where seals and sea lions—the staple of adult great whites—breed.
"Small great whites) won't rush up to somebody and bite them and kill them," said Jeffrey Landesman, a marine biologist for Cabrillo Marine Museum in San Pedro. "But there is a chance that the small white shark might mistake a foot or something for a small fish. Although it has never happened before, you can't say it wouldn't happen."
Agreeing is David Ainley, a marine biologist at Point Reyes Bird Observatory in San Francisco who is organizing an international symposium on the animals to be held next March: "Baby white sharks don't pose a threat in that they feed on fish. Probably the people fishing are endangering white sharks more than they are (endangering) humans."
Ainley said he believes El Nino, the warm-water current that upsets the ecological balance of local waters once every seven or eight years, may be responsible for the recent spate of shark captures off Manhattan Beach Pier. "El Nino disrupts the food web and forces predators—birds, seals and sharks—to find localized food sources," Ainley said. "One of the characteristics of El Nino is that a lot of predators are forced close to shore to look for food." —Kim Kowsky, Los Angeles Times, September 11, 1992
Both of those articles show that great whites have been visiting the area for many years. Further research showed that they seem to be becoming even more common (although there is no way to know how many sighting are of the same fish). Checks on the Pacific Coast Shark News websites revealed the following Manhattan Beach reports for 2012 and 2013.
2012: July 9, September 9, and November 8
http://www.sharkresearchcommittee.com/pacific_coast_shark_news_2012.htm
2013: July 9, July 10, August 18, August 24, August 27, August 28, September 5, September 23, September 25, October 3 (2), October 10, October 14, October 15, October 16, October 25, October 26, November 2, November 7, November 8, November 9, November 16 (2), November 20, November 21, November 24, November 30
http://www.sharkresearchcommittee.com/pacific_coast_shark_news.htm
Great White shark rescued off Manhattan Beach Pier
Eric Martin and Valerie Hill, co-directors of Manhattan Beach's Roundhouse Aquarium, left work on Monday at around 8:30 p.m. after a long day—summer camp in the morning and a board meeting in the evening. Walking down the pier, they noticed a fisherman with a heavily bent fishing pole. He must have caught an extremely large fish, they thought. "Someone got a bat ray," Martin told Hill, as they walked up the pier. While he disliked seeing them get caught, it wasn't illegal. He didn't plan on interfering. That's until he faintly heard someone say "great white." His ears perked. "Let me see what this guy has," Martin told Hill, as he strolled toward the fisherman. Martin leaned over to get a glimpse at the catch. Holy crap, he thought, that's a great white shark.
In fact, what the man had on his line was the fifth great white shark caught on the Manhattan Beach pier since 1980, Martin said. The shark—about five to seven-feet long and more than 100 pounds—was a baby, probably not more than a year-and-a-half old, Martin said. Martin determined the shark was female. "If it had been killed it would've been a tragedy anyways because there're not a lot of fully mature great white sharks up and down the Pacific Coast," he said. Plus, he said, it was beautiful. "They aren't as dangerous as people think."
The fisherman needed to cut the line. Instead, the fisherman was dropping a large, round net into the ocean. The line, Martin noticed, was assembled for shark fishing—a steel leader connected to a circle hook. "You have to cut the line," Martin told him. "You cannot kill a great white shark. That's the law." The man allegedly refused. Martin explained that great white sharks were federally protected, and threatened to call the police. "If you don't let me cut this line right away, you will go to jail and you will get a fine," Martin recalled saying. The fisherman didn't budge, Martin said. "I don't think he understood the urgency," Hill said.
Martin squeezed his way closer to the line, but was pushed out by three of the fisherman's friends, he said. When Martin realized the fisherman didn't speak English, he recruited a husband and wife couple fishing on the pier to translate. Martin explained that great white sharks must be swimming to breathe. If the shark's head got caught in the net, it wouldn't be able to pump water through its gills, and would end up dying and sinking to the bottom of the ocean.
Hill, watching the drama unfold, had to react. It was her first time ever seeing a great white shark—she wanted to document the moment. But the two parties remained arguing. She pulled out her iPhone. "Do I hit camera? Or police? Camera or police?" Hill recalled thinking. She called the police. "If it turns into a physical fight, and he gets punched, there's nothing I can do about it," Hill said, explaining her decision.
The man translating for Martin had a knife in his tackle box, which he handed to Martin. Within five minutes, Martin managed to cut the line, against the fisherman's will. "He's going to be mad at me, but I just saved his butt," Martin said. "If you hook onto something big, the person's adrenaline rolls. You want to catch it," Martin said, adding that fishermen like taking pictures to prove and share their catches. "It could be an ego thing." While Martin managed to cut the line, the hook remained in the shark's mouth. Without the line, however, the shark could easily free herself from the hook. "She can cut that line like a piece of cake," Martin said.
What followed the rescue was a learning experience for bystanders, Martin said. "We had other people coming up to us and asking us questions," Martin said. "Is it common for this (to happen)? Is it safe? Why does a shark have to stay swimming? How long does it take for shark to actually start being mature to have babies?" Hill was happy to turn the sighting and rescue into a teaching experience. "Our goal is to educate as many people as possible about the ocean, the animals, and human interactions, both good and bad," she said. —Alan Tchekmedyian, easyreadernews.com, July 11, 2012
Great White Shark In Manhattan Beach Caught, Then Swam Right Under Swimmer
It's perhaps the scariest thing that can happen in the water. A great white shark swam right under a swimmer at a Southern California beach Tuesday.
The shark, estimated to be about 8 to 9 feet, was initially caught by an angler who was fishing for bat rays on the Manhattan Beach Pier, Patch reports. The area is very popular as a swimming and surfing spot.
When the fisherman realized he had accidentally hooked the state-protected species, he called over Eric Martin, director of the Roundhouse Marine Studies Lab and Aquarium. Unlike the Manhattan Beach fisherman in July who reportedly wanted to keep the great white that he caught (prompting calls to the police), this angler willingly cut the big guy loose.
But before he did, Martin was able to snap the above photo of the shark with his mouth wide above. Then, in an amazing close call, the shark swam right under an unaware swimmer. The swimmer—who was not harmed—was about 6 feet tall, which is how Martin gauged the size of the shark.
Martin told CBS that now that great whites are federally protected, there have been more sightings in Southern California.
And even though some people get really scared, others "feel really blessed" when they see one, Martin told local online news site, Easy Reader. "This is a special thing," he commented.
Just last month, a great white was also spotted at Venice Beach and another was spotted at Leadbetter Point, a popular surfing spot in Santa Barbara.
Despite the reported uptick in sightings, a recent estimate found that there are less than 350 adult great white sharks left off the west coast, partly due to sharks dying in fishermen's nets. In an effort to save these sharks, nonprofits Oceana, Center for Biological Diversity and Shark Stewards sent a letter last month requesting that west coast great whites be listed as endangered species. —Kathleen Miles, The Huffington Post, September 6, 2012
Great whites spotted at Manhattan Beach
Lifeguards today are keeping a close watch on Manhattan Beach after several sharks, believed to be great whites, appeared near the shoreline on Tuesday, prompting rescuers to briefly clear the water of some young swimmers.
Authorities say the sightings of what appeared to be baby whites measuring between four and seven feet in length is reportedly a series of events. On July 9, El Porto Beach, located near the beaches of Dockweiler and Manhattan Beach, was closed after a young great white was spotted near its coastline.
The Monterey Bay Aquarium quickly dispatched researchers to Manhattan Beach in an effort to learn more about the behavioral patterns of the juvenile sharks. "Their goal is to actually get them on the boat or pull them into a net and then tag them so they can do research," lifeguard captain Kyle Daniels told CBS Los Angeles. "August is a great time to try to research them because they often come into closer waters to eat shoreline fish."
With Labor Day expected to draw a huge crowd to Manhattan Beach to celebrate the traditional end of summer, officials stress the importance of exercising safety precautions while swimming, wading, snorkeling and surfing in the area.
"We have fully staffed lifeguard towers through Labor Day weekend and we're encouraging everybody to swim near lifeguards," Daniels told the local news reporting station. "We will continue to advise if we see more sharks and let people know that there are sharks in the area, but not to be too afraid." —Sharon Bush, Examiner.com, August 28, 2013
Three juvenile great whites sighted 'extremley close to shoreline' off Manhattan
Three juvenile great white sharks, ranging from 4 to 7 feet, were spotted off the coast in Manhattan Beach late Tuesday morning.
"There have been consistent shark sightings through the middle of July to now in the Manhattan Beach area," said Kyle Daniels, captain lifeguard for the Los Angeles County Fire Department. "Nothing actually really happened."
According to Ken Peterson, a researcher at Monterey Bay Aquarium, the sharks were "extremely close to the shoreline"—about 20 yards offshore—which he says shouldn't pose any harm to beachgoers under lifeguard supervision as "they're just out there with the other fish."
However, the proximity was too close for the team of marine biologists and researchers, who had intended to tag the sharks as part of Monterey Bay Aquarium's Project White Shark, a study started in 2002 to research and exhibit great whites caught off the California coast.
The collaborating team from Cal State Long Beach's Sharklab, led by Dr. Chris Lowe, took to the coast on a fishing boat from 9 a.m. to 2 p.m. Tuesday to capture, tag and release juvenile whites. They commissioned a helicopter to assist in spotting the sharks, Peterson said.
According to Dr. Lowe, the team spotted the three juveniles between 10 and 11:30 a.m. but was unable to wrap a net around them. "The net has to drop to a certain depth," Peterson explained. In a process called "pursing," the sharks should be scooped out of the water using the net and put on a holding place until they are tagged and released, he said.
The team has tagged 100 animals since 2002, Peterson said, and has obtained "great data" about the animal's migration habits and its use of the habitat. "There's a lot of brand new information that's coming out of this research," he said. Daniels said he has noticed a trend of sharks sighted closer to the shoreline, but it's not necessarily a cause for concern.
"We've been monitoring and they've been getting to the swimmers," he said. "No one's been hurt. We're keeping a closer eye on it, and most people have been seeing them all summer." —EasyReaderNews, August 28, 2013
Great white shark sightings thrilling, but also a good sign for species — Recent increase in shark sightings near Manhattan Beach is exciting for spectators and for researchers

When Jay Dohner heard there were several great white sharks off Manhattan Beach last Sunday, he did what few surfers would do. He grabbed a camera, mounted his paddleboard and set off in search of the apex predators.
It wasn't long before his helmet-mounted camera was recording three great whites—each between 8 and 10 feet long—circling underneath his paddleboard and just a few yards from a group of oblivious surfers.
"The sharks didn't seem to be paying me any attention. They looked like they were looking for fish, so I felt I could stand there safely and watch them," Dohner, 38, said of the roughly five-minute encounter when it began last weekend.
That feeling didn't last for long.           "There are two different things in your head," he said. ""Wow, that's beautiful,' and 'We should get out of here.'"
He isn't the only thrill-seeker to actively seek out and film the sharks, which have recently been spotted more frequently near the El Porto waters off Manhattan Beach, an area popular with surfers and paddleboarders. Others have posted their close encounters on YouTube, but researchers and wildlife officials are calling for restraint, warning that the sharks will attack if they feel threatened.
Many of the great whites appear to be juveniles learning to feed and fend for themselves, said Chris Lowe, a marine biology professor and leader of the research Shark Lab at Cal State Long Beach.
Researchers are still trying to determine why the young sharks have been drawn to the El Porto area—perhaps warmer temperatures or a larger feeding pool. Through tagging and other monitoring methods, researchers hope to have more of an answer by next year.
But one thing is clear: Experts have noticed an increase in shark sightings off beaches in Manhattan, Redondo and Ventura over the last few years. That may be alarming for some, but it's a welcome development for wildlife researchers who say it's a sign of a healthy rebound for marine life after California legislators prohibited the use of gill nets for fishing in 1990.
On March 1, white sharks earned some protection while state officials decide whether to list them under the California Endangered Species Act as threatened or endangered. During that review period, the sharks cannot be legally hunted, captured or killed, according to the California Department of Fish and Wildlife.
No violations have been reported so far this year, according to Dan Sforza, assistant chief of the southern district offices for the Department of Fish and Wildlife. —Alicia Banks, Los Angeles Times, December 3, 2013
It seems to me little doubt that great whites, at least juvenile great whites, are common to these waters during the summer months (and later). What's not clear is the location of the adults (that are dangerous). The biologists seem to suggest that there is limited risk from the juvenile sharks but it seems logical to me that there must be some adults around if the juveniles are in the area. Given the seemingly minimal fear by many of the local swimmers and surfers, I imagine it's just a matter of time before someone is attacked and suffers injuries—or worse.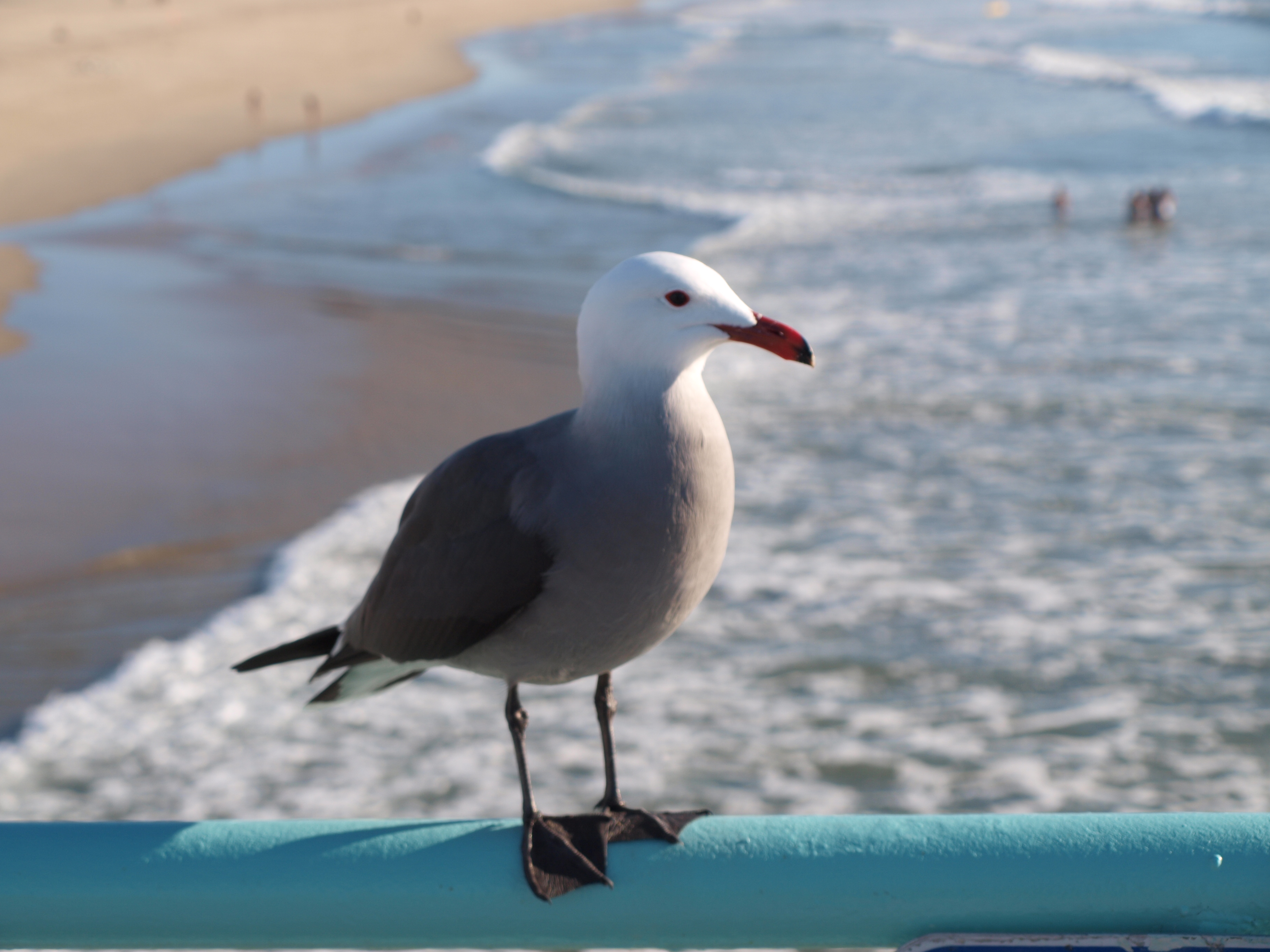 The Pier Rats Speak

Date: July 18, 2003; To: PFIC Message Board; From: cfrost; Subject: Manhattan Beach Pier—The Old Days
I can't help but being a little nostalgic. I ran across this message board searching for fishing at the Manhattan Beach pier. I grew up in Hermosa Beach on the strand, and as a kid I spent many hours fishing the Manhattan Beach Pier. In those days, early 60's, the Hermosa Beach Pier was closed. I have some great memories. I remember fishing for bonito and mackerel many times. We used to use live anchovies, on a runner line we would attach with a swivel, and let it free fall out toward our already cast line. The Round House on the end was open in those days, and boy did they have great french fries. One good memory I have is watching the "old" guys fishing for thresher sharks off the end of the pier. In those days you couldn't overhand cast, and these guys were experts at swinging their lines under the pier and back out until they let it go, and it would sail out a long ways. One day there was this guy training for the paddleboard race to Catalina Island of the end of the pier, the threshers were having fun with him. They would jump next to his board real high out of the water, over and over again. These old guys caught many threshers; in those days there was no such thing as releasing your fish. During the summers I saw sunfish, they were huge. I thought I would share some old memories with you.
<*}}}}}}}}}>< —I always enjoy articles about piers and old guys talking about old times.
Sports Editor's Corner — The Piscatorial Mystique
Fishing is a mystery. When we were little, my friend, Gonzalez and I used to spend hours on the Manhattan Beach Pier with our fishing poles leaning over the rail and gazing into the deep water.
I guess most of the mystery was being unable to see what was going on beneath the surface of the dark water. For all you know, just at that moment when you were standing sleepily in the afternoon sun, sun huge unknown species of fish that had strayed in from the South Seas might be sniffing at your bait, about to bite.
Mostly, all we caught then were little perch, tiny sand dabs, herring and an occasional tom cod, but the feeling was always there that perhaps the next cast would bring some surprising catch.
A lot of people must have shared that feeling because on the pier they had a large round net which for a quarter (perhaps a dime) you were allowed to drop into the water and then pull up. You could keep whatever you caught in the net, be it a small fish, a crab, or only a clump of seaweed and tar.
Sometimes there were surprises on the pier… I recalled the time that a fisherman astounded everyone by catching a silver salmon right off the end of the pier… We were always waiting for someone to hook some bizarre sea monster, and sometimes they did. I'll never forget the huge angel shark that I saw one afternoon gasping on the hot concrete, its jaws, with teeth as big as a man's, working spasmodically.
There were always a lot of characters on the pier like the determined old men who devoted themselves to catching halibut. They all knew each other and they'd sit and talk for hours about old times. — The Santa Clarita Signal, February 10, 1971
History Note. In 1888 the Redondo Land Company, in agreement with the Redondo Beach Railroad Company, agreed upon a right of way for a railroad through this area. Soon after the tracks were laid that would connect Redondo Beach and its wharf with Los Angeles. (The Redondo Beach Railroad Company ran narrow gauge passenger trains; the Santa Fe ran wider gauge freight trains).
In 1897 the Potencia Company was incorporated to develop land in the area and that name appeared on the Santa Fe schedule of stops. They proposed a seaside resort with wharves and piers. They originally called the land Potencia (in reference to potential in Spanish), but by 1902 it had become Shore Acres (with a new sign by the tracks).
Just one year later it became Manhattan after a coin flip between two of the town's biggest developers. George Peck, who was calling his development Shore Acres after the Santa Fe junction sign, and John (Stewart) Merrill who was calling his area Manhattan after his hometown, agreed that a single name would be less confusing in attracting buyers to the area. They flipped a half dollar coin, Merrill won, and the area became Manhattan. Soon after the railroad changed the junction name once again, this time to Manhattan.
Most thereafter referred to the area as Manhattan Beach and that was the official name on the incorporation papers in 1912. However, papers sent to the postal authorities in Washington D.C. apparently only listed the name Manhattan and it wasn't corrected until 1927.
The city's first pleasure pier was built at the foot of Center Street in 1900. It was 900-foot-long and called the "Old Iron Pier" because it was built from used railroad ties; three rails would be criss-crossed and connected together before being pounded into the sand. Up above was a narrow wooden deck. A feature of the pier, for a time, was a wave machine designed to generate electricity from the action of the waves—the Wright Wave Motor—and it seemed to work. Unfortunately, the narrow pier was destroyed by the winter storms of 1913 and the wave machine lies buried under the sand at the foot of the current pier.
From the earliest days, but especially after the arrival of the Pacific Electric Railway's "Big Red Cars" in 1903, tourism was an important industry to the city. Daily the Pacific Electric offered up the "Balloon Trip" from Los Angels. Cars (hopefully) filled with beach goers would head down to the beach at Santa Monica before visiting the new towns of Venice, Manhattan Beach and Hermosa Beach. The cars ended their littoral route at Redondo Beach before turning inland and returning to LA via Culver City.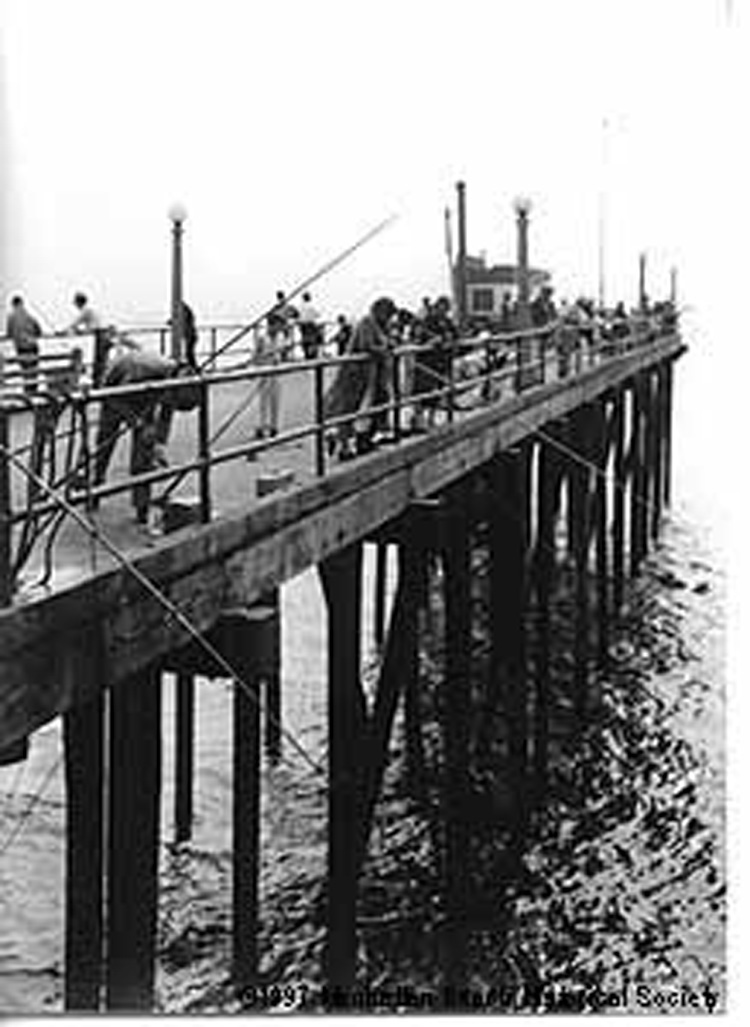 The early days! — Picture courtesy of the Manhattan Beach Historical Society
Of course every beach city needed a pier to keep the visitors happy but after the 1913 storm there was only sand, waves and broken pilings. So, in 1914 the Manhattan Beach Pier and Beach Association was formed and by 1916 voters had approved $70,000 for a new pier at Center Street and a $20,000 pavilion to be built at Marine Avenue. Two years later, Engineer A.L. Harris proposed a round end to the pier. He felt the round end would lessen damage from the waves. He said, somewhat awkwardly, "it is a feature that hasn't been seen or yet brought out on any other pier along the coast…and it is much stronger against the action of waves…the fewer piles it has the better to get hold of them."           The contract for a 922-foot-long pier with four sun parlors at the lands end was awarded in 1917 but, for a variety of reasons (including WWI, the rising cost of lumber, and damaging winter storms), the pier wasn't finished until 1920. The grand opening was on July 5, 1920, amid festivities that included a band concert and a parade. Large banners proclaimed "Welcome, Frolic, Happiness and Hail."
In 1921 a pavilion (roundhouse) at the ocean end of the pier was completed. Architecture included a Spanish tile roof and large gooseneck reflectors to light up the building. The goal was to present a shining symbol of the city whether seen from the shore or from miles out at sea. Its grand opening was July 4, 1922. The pavilion contained a restaurant and a bait and tackle shop.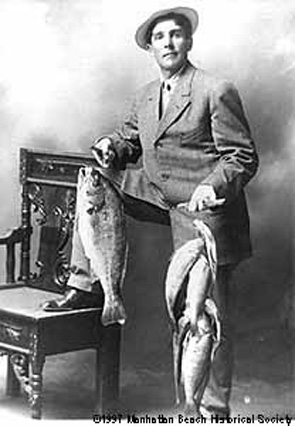 Well dressed angler and Croakers — Picture courtesy of Manhattan Beach Historical Society
The Roaring '20s seem to have been the time for the capture of big fish from the pier. May 15, 1922 saw the capture of a 351-pound black (giant) sea bass at the pier by C.C. Campus. That pier-record fish was eclipsed the next year when an angler caught a 428-pound bass. It's also reported that a 600-pound bass was caught from the pier in 1929 but I haven't been able to get any more specifics.
In 1928 the pier was extended out 200 feet (at no cost to the city) when a Captain Larsen of Redondo Beach offered to pay for an extension in exchange for the rights to run a shoreboat between the pier and his barge Georgina (which was joined by the Irene in the '30s). On January 9, 1940, the pier suffered major damage during a winter storm; 90 feet of the extension was ripped away. The extension was never repaired and the remaining section was swept away in February of 1941.
In 1946 the pier and adjoining beach were deeded over from the city of Manhattan Beach to the state. During the next four decades the pier would remain a focus of beachfront activity. But the ravages of Mother Nature and old age cannot be denied. In 1956 the pier underwent one reconstruction and then, in 1980 followed storm damage, further work was needed. By the late '80s, the pier was in sad shape and the renovation, already detailed above, would begin. As mentioned, local citizens worked to recreate the feel and look of the 1920 pier including the roundhouse at the end and the unique lights.
Today the pier is perhaps the town's most important icon, it's considered to be the oldest standing cement pier on the coast, and it's been declared a state historic landmark (Monument No. 1018, Manhattan Beach State Pier).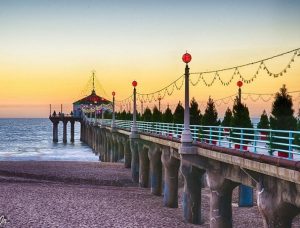 Manhattan Beach Pier Facts
 Hours: Open 6 A.M. to midnight.
Facilities: Some lights, fish-cleaning stations, benches and restrooms on the pier. Some years there is a bait and tackle shop on the pier and some years there isn't. Currently there is a snack bar out toward the end which also carries a little frozen bait. Metered parking is available on adjacent streets at a cost of $.25 an hour. There is also a beachfront parking lot that costs $.75 an hour and which has a 5-hour maximum time; it is closed from 9:30 P.M. to 4 A.M. As mentioned, parking can be hard to find during the summer, especially on weekends or during hot spells of weather.
Handicapped Facilities: Handicapped parking near the pier but non-handicapped restrooms. The pier surface is cement and the rail height is 36 inches. Posted for handicapped.
Location: 33.8835095333168 N. Latitude, 118.41419577598572 W. Longitude.
How To Get There: From Sepulveda Boulevard turn west on Manhattan Beach Drive and follow it to the pier.
Management: County of Los Angeles, Department of Beaches and Harbors.