Public Pier — No Fishing License Required
The visit which sticks out in my mind when I think of the Manhattan Beach Pier was neither my first, nor my most productive visit. It was simply a typical August morning about a year after the pier had been rebuilt. For once the traffic was minimal, there were no problems finding a parking space, and there wasn't a problem finding a good spot on the pier.
It was 6:45 A.M. and the town was beginning to wake. The sky was calm, a few earlybirds were out for a morning jog, and a couple of members of the "caffeine nation" were enjoying their morning Joe—or cappuccino. A typical day in Paradise.
After gathering together my tackle, I headed out to the end of the pier. Four anglers were at the end and three seemed to be catching fish. I quickly baited up and soon I had my first fish, a nice-sized mackerel. And, as is usually the case with mackerel, this fish was soon followed by several of his brethren. It looked like it might be a good day.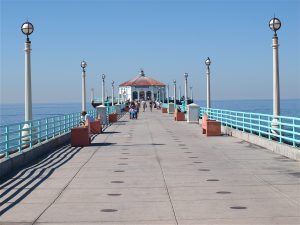 About that time the solitary angler who wasn't catching fish ambled over. Somewhat of a sad sack, he said it was his first time fishing and wondered if I might take a look at his bait and tackle since he hadn't had a single bite. Although his tackle was o.k., his bait wasn't. Out there at the end of this classy pier, in this classy town, was an angler using cheese and salami for bait. I will admit it was a classy cheese, Gouda I believe, but it wasn't going to catch him any fish. I gave him a couple of mackerel, showed him how to cut the small pieces that their cannibalistic kin were biting on, and watched him start to catch fish.
Visions of myself as an amateur Confucian, teaching someone a skill that would feed him for a lifetime, crossed my mind. About the same time I noticed the three hundred dollar shoes, gold chains, and obviously well tailored and expensive clothing. It was just a little too chichi for a fishing expedition and my Walter Mitty-like visions came to an end. I think it's more likely that he will pay someone else to catch his meals.
Although I've seen some strange baits, and I've got some strange looking lures (including one that supposedly has a scrambled eggs and bacon coloring), this was the first time I've seen cheese and salami used as bait. What really would have been interesting would have been for him to catch a big fish using that cheesy bait—maybe a white seabass, or a small firecracker yellowtail. Imagine the run on local delis by starry-eyed anglers seeking out this hot new bait.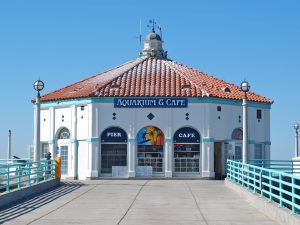 Environment. That visit and the unique aspects of this pier itself made it one of my favorites for a long time. Visualize driving down Manhattan Beach Drive, the San Francisco-style (it's steep) street that serves as the approach to this pier. There it sits, an old looking pier with an odd, octagonal, Mediterranean-style building out at the end, a building which houses the Round-House Marine Studies Lab. As you draw near you notice its stylish aqua-marine colored railings and strange astrolabe-like light fixtures.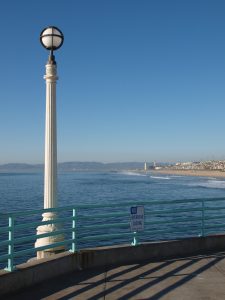 Once on the pier you'll also notice the obvious efforts to keep the pier clean. I've used the word too much, but it has a classy feeling to it, which reflects the character of the town itself (although recent events may lead one to judge it an elitist town instead of a classy town). It also has the feel of an old time pier but it is actually new. Restoration efforts which took place in the early '90s kept as one goal a retention of the old time appearance, much like Pier 7 in San Francisco.
The original pier, dating back to 1920, simply had to be fixed. Old age and decay required extensive repair and in fact made it unsafe by the late 1980s (when a jogger was injured by falling concrete). Citizens banded together and with the help of the Coastal Conservancy made sure it was replaced with a nearly identical copy.
Today, the pier still sits on its wide sandy beach, still has its mussel-covered pilings, and still has its artificial reef made up of 2,000 tons of quarry rock out near the end of the pier. Although the short 928-foot-long pier has the look of an old time pier, you know it has the safety of a more modern pier.  And though facilities are somewhat limited, it remains one of the most popular spots in town. Fisherman continue to toss out a line, and lovers (or perhaps wannabe lovers) continue to stroll, hand in hand, out to the end of the pier.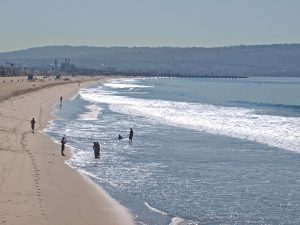 The beach looking toward Hermosa Beach and its pier
Fish. Given that the pier is a typical sandy-beach SoCal pier, the species reflect that environment. Studies done by the California Department of Fish and Game between 2004-2009 recorded 16 species  In numerical order they were: Pacific mackerel, yellowfin croaker, walleye surfperch, barred surfperch, topsmelt, shinerperch, jacksmelt, queenfish, salema, silver surrfperch. leopard shark, Pacific sardine, California corbina, California halibut, bat ray and sharpnose seaperch. Unfortunately the study gives only a very small glimpse of the fish at the pier (in my opinion).

The sandy beach area yields the normal surf species: barred surfperch, several variety of croaker, corbina, small rays and guitarfish (shovelnose shark).
The area around the pilings yield pileperch, walleye surfperch, silver surfperch, and other common pier species.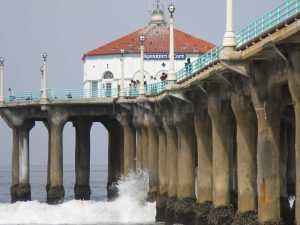 Mid-pier, casting away from the pier, yields small tom cod (white croaker) and herring (queenfish), jacksmelt, yellowfin croaker and an occasional halibut.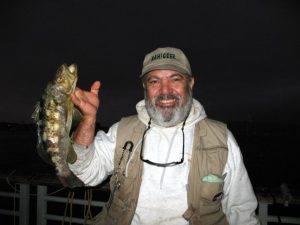 Kelp bass taken by Mahigeer (Hashem Nahid)
Action at the end of the pier is improved by the surrounding artificial reef, which is located about 65 feet from the end. Fish at end include bonito, Pacific mackerel, jack mackerel, barracuda, an occasional white seabass or even yellowtail, and reef residents like kelp bass, sand bass and sculpin (scorpionfish). The reef may also account for the infrequent visits from giant (black) sea bass. A 43-pound BSB was taken in September of 2007 (and released).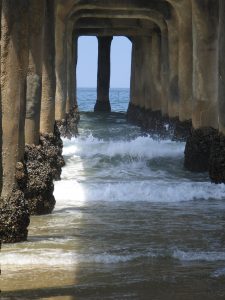 Fishing Tips. Given that live bait is unavailable at the pier, anglers should come equipped with both bait and a variety of lures in case the pelagics are around. In the surf area, sand crabs, bloodworms, mussels, clams, or shrimp, all fished on the bottom, will produce fish. Winter to early spring is the best time for barred surfperch, while summer and fall months will provide the majority of yellowfin croaker, spotfin croaker and corbina. A few thornback rays and stingrays will also enter the catch, together with some shovelnose sharks (guitarfish) but I've never really seen too many sharks at this pier.
Midway out, halibut get absolutely giddy if you offer them a lively brown bait (tom cod or queenfish), small sardine, or baby mac, although smelt are often the most common live bait used, and one of the longest lasting. If you can't catch some live bait try a whole or cut anchovy fished on the bottom. Yellowfin croaker will hit fresh mussels or clams and white croaker and queenfish will hit small pieces of anchovy fished at mid-depth. Around the pilings, fish with mussels or bloodworms for pileperch, sargo or salema; use small strips of anchovy for walleye surfperch and silver surfperch.
At the end, fish on the bottom with a whole or cut anchovy for kelp bass and sand bass, try pieces of squid for the sculpin (scorpionfish). Fish with a slider and a small, self-caught fish, for larger species like barracuda or white seabass. For bonito use a splasher and a feather. The white seabass will often show up for a short period in April; the barracuda August-September. The bonito typically show up in the warmer water months in the years they are around but some years will see the boneheads (especially the mico-sized youngsters) making an appearance throughout the year. During warm-water years you may see a yellowtail or two but they are rarely a common species at the pier.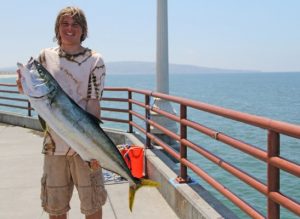 Yellowtail
As for the mackerel, it doesn't take a lot of skill to catch "a mess" of fish when they're running. Personally, I prefer a couple of size 4 hooks rigged up in a high/low fashion with a torpedo sinker at the bottom. Two at a time is enough. However, many anglers like to throw out Lucky Lura-type bait rigs. If the macs are in their attack mode you don't even need bait. If they're a little more skittish, attach a small piece of bait (and mackerel is often the best bait) on each hook. Cast out away from the pier and be prepared for a strike as the line settles, or as soon as you begin a retrieve.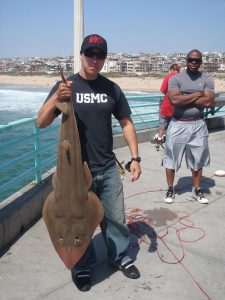 Shovelnose shark (guitarfish)
Although the shallow waters of the pier are not great for sharks, late evening angling can produce both sharks and rays. Most common are gray smoothhounds, leopard sharks, mid to large-sized bat rays, and the already mentioned shovelnose sharks. Less common, but still a possibility, are the large threshers that sometimes swim by, decide to swat a hapless fish with their large tails, and perhaps, if the angler has prayed to the right gods, even digest said angler's bait for dinner.
Once in a blue moon, a hundred pound bat ray (or heck, maybe a two-hundred pounder) will latch onto an angler's line but the majority of the large fish will be lost on the pilings before they can be brought to the surface of the pier.
However, the city has imposed new fishing regulations in regard to permissible tackle, much of it aimed at preventing anglers from fishing for sharks. The rules are listed on the pier — and enforced.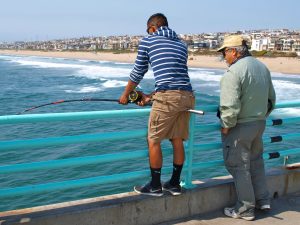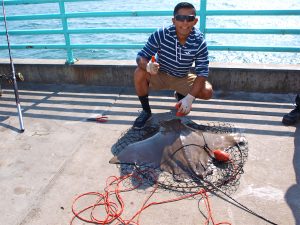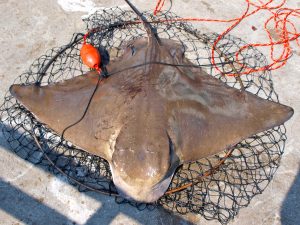 A nice-sized bat ray caught by Oscar Amaro in 2015
And, then there are the great whites of which an increasing number have been seen and caught from the pier during the past decade (see below). Scientists now say local waters are a nursery ground for the beasts, something that I would think would be less than good news for the surfers and swimmers who flock to these waters (as in WHERE'S THE MAMA?).
Nor would the news that a tiger shark, even if just a baby three-feet long, was taken by an angler at the end of the pier in in 1994 (caught on a chunk of bonito). A baby tiger shark is probably not too dangerous even if it has some wicked teeth. What could be dangerous is an old "mama-grizzly" tiger shark lurking in local waters (WHERE'S THE MAMA?). Although rare, tiger sharks occasionally move north during El Niño years and this was supposed to be the farthest north that tiger sharks have been authenticated in California. Tiger sharks are second, only to mighty whitey, in people chomping ability—and recorded attacks on homo sapiens.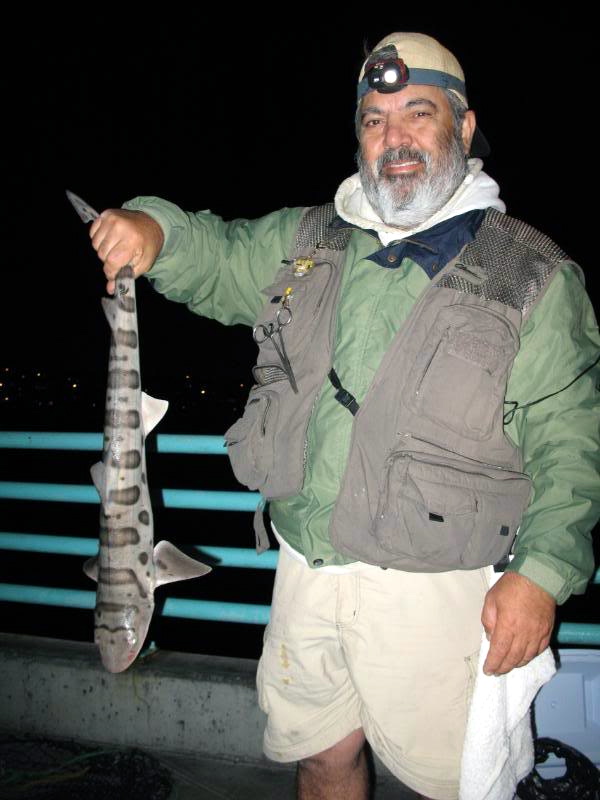 Small leopard shark caught by Mahigeer (Hashem Nahid)
The Pier Rats Speak

Date: February 2, 1999; To: Ken Jones; From: Steve R; Subject: Manhattan Beach Pier Striper
I took my seven-year-old daughter pier fishing the surf area at Manhattan Beach for an hour last Saturday morning (January 30). Surf fishing has been slow lately and I was expecting to catch either nothing or maybe a surfperch or undersized halibut, so I didn't bother to bring my pier gaff. We were using six-pound line on a freshwater/saltwater rod with spinning reel, and live ghost shrimp.
After re-baiting the hook for my daughter and dropping the line, I immediately felt a tug to I set the hook and started to reel. Almost immediately (the water was shallow) I had a striped bass lying sideways on the surface. It was probably about 20 inches long.
I decided to walk the fish to the shore, but the pier has large cement pillars every 10 yards and there were about 6-7 of them between me and the shore end of the pier. I tried to hand my rod around them from one hand to the other, going over the pier rail to do so, but I couldn't reach far enough. So I told my daughter I would just try to hand line the fish up and hope for the best. As soon as I had the fish out of the water, it broke off.
The next day I went back with my pier gaff and more ghost shrimp, but (of course) got no striper bites. I did get one nice barred surfperch.
Date: September 22, 2000; To: PFIC Message Board; From: Mola Joe; Subject: Re: Hammerhead sharks off piers?
The biggest one that I know of was caught by Dennis Austin off Manhattan Beach Pier back in the early '70s. I didn't see the shark caught, but I did see a picture of it and if I remember right it was around 200 pounds. What made this fish even more unique was he caught it with an Alvey reel, which is a large single action reel that looks like a big fly reel. Back then they were popular with the surf fishing crowd because you can cast them a mile. As far as hammerheads that I have actually seen caught, I saw two taken off Hermosa Pier (I think it was the Summer of '75 or '76) with one of then I helped gaff. I hooked one that same summer, but on 30-lb test I never even slowed it down. Even when one does show up, most people on a pier are not equipped to catch them with their smaller tackle, and if they are hooked, they're lost shortly after.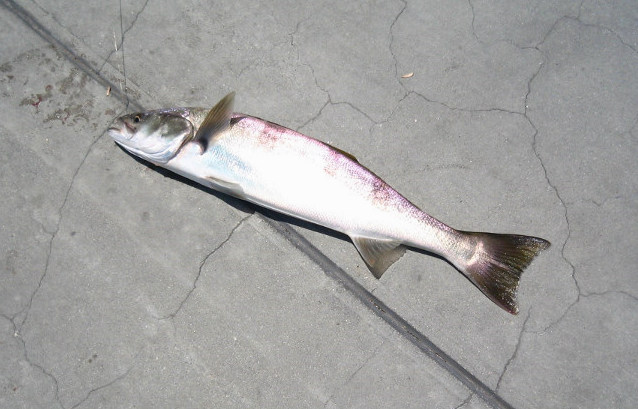 Small white seabass aka sea trout caught at the pier
Date: June 29, 2001; To: PFIC Message Board; From: zen; Subject: Manhattan Beach pier, 6/28/01
Arrived at Manhattan around 7pm. A few anglers at the mid-pier are catching corbina using fresh mussels and sand crabs. I saw a local pier rat, who people call "Mike," wrestling a very nice size corbina when I arrived. By the looks of it, it must have been over 15″ long and fat, very fat. At the end of the pier, a few guys have been fishing and one group has a medium size shovelnose shark on a stringer. I didn't bring any bait since there are usually bait fish around but NADA. No bites whatsoever. Used the Sabiki till my arms were hurting and all I could reel in was a tiny herring and one salema, both released. Saw a couple of thornbacks caught and a baby blue shark (from what I was told). I begged a couple of squid from a fellow angler and tossed it afar to no avail. Left the pier around 9:30 cause the wind started to pick up and it was a little chilly to watch dead poles. Oh well, maybe next time.