"Well it's better than meat, hamburgers," says Edith, a Filipina RN and Rita's friend. "This food is so much healthier. I tell my patients, it's good for high blood pressure, for cardiovascular health." "And the bones of the smaller fishes, like perch," says Rita, her arm still moving slowly up and down like an oil rig. "They're so good for you. And you can fry them and eat them whole." "Or you can put them with what we call deninding," says Laura.
Deninding: Fry fish; Boil water; Add onions, eggplant, bitter melon; Add jute leaves, horseradish leaves (buy from Filipino stores in National City or Chula Vista); Mix in two tablespoons of fish sauce (bago-ong); Simmer till water evaporates; Flop fish on top; Eat with rice.
A boy and his dad come up with a brown paper bag. Dad tips an angry, brown-red fish onto the deck. "What is it?" he asks. "Don't touch it!" says Rita. "It's a sculpin. It has poison quills." "I've been stuck by these ten times," says David. "My whole hand swelled to twice the size. I got headaches. My stomach hurt. It lasted hours. Last time they had to bring the ambulance." "You've got to be real careful," says Rita. "But if you cut the two spines off behind its eyes, you can eat it. But they take a long time to die."
The father pushes the bag back around the fish and takes it away. On the other side of the pier, an Anglo man has a crossbow with a fishing line attached. He's trying to unravel the line so it doesn't take him with it when he shoots it out. Nearby, fishing on her own, lifting and lowering her line by hand with hypnotic regularity, Serafía Castillo, who says she's 66, is catching anchovies for drying and sending to her relatives in Arizona. "Best time for the bigger ones," she says, "is when the tide is coming in, when the moon is full."
She rubs her tummy. "I can't eat mackerel or barracuda any more. My body's no good. My stomach gets tight when I eat mackerel. I found it harder and harder to move. So I have stopped eating oily fish. Now I eat other fish that swim at the top, like perch. I think I feel a little better."
"Knowing where to catch what, that's the thing," says David. "You've got top-swimmers, bottom-swimmers, and scavengers. It depends on the time of year — and June, July, August are the best months because the waters are warmest. What you have to decide before you put your hook in is which you're going for — top, bottom, or scavenger."
IB's top-water fish are anchovies, sardine, perch, queenfish, Spanish mackerel, and bonita. The bottom-fish that come around the pier are croaker, sculpin, sand bass, a few small catfish, flounder, halibut, the occasional lobster, and crabs.
"Then there are the scavengers. Best time for the scavengers is nighttime," says David. "Ten p.m. to six in the morning. The tiger shark, sand shark, stingray — they're all fighters. You've got to have 100-pound heavy line. You've got to be prepared to have large reels and poles. And you've got to be prepared to be out all night. They can reach 40 to 50 pounds." I immediately think back to that predawn morning last summer…It might have been a tiger shark.
Serafía is telling me that one of the great delicacies is the head of a tiger shark, baked and stuffed with vegetables and spices. "Not many are caught," she says. "They fight so hard." She jerks her hand at last and hauls up a shimmering pearl-string of anchovies.
I ask Serafía if she isn't worried about the sewer pollution around here. Maybe that's what's bothering her stomach. "I've seen the insides of fish here and at other piers," she says. "They are whiter and taste better here. I think this water is the cleanest. Better than Shelter Island. Better than Ocean Beach."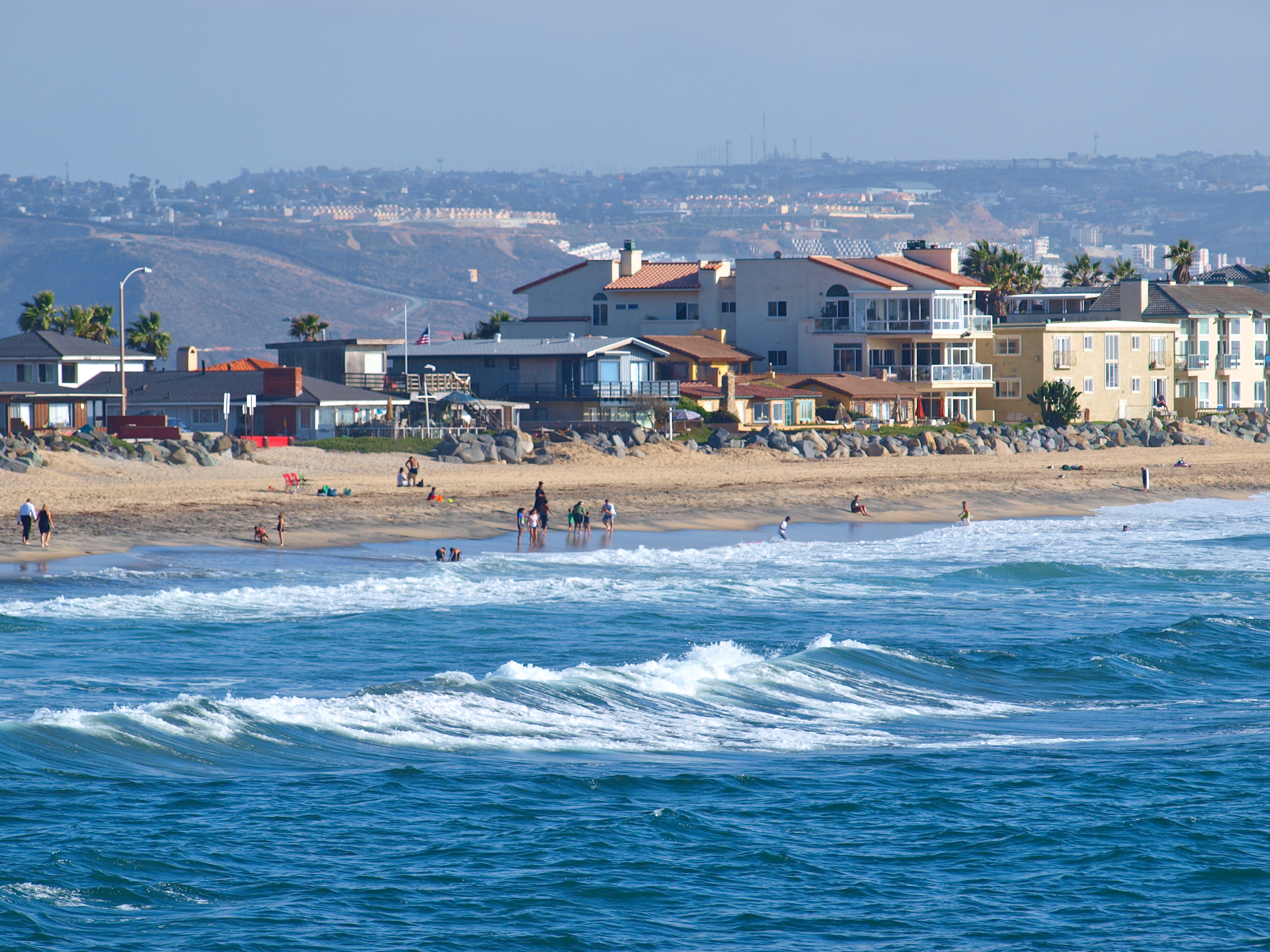 Imperial Beach shoreline with the hills of Tijuana, Mexico in the distance
A couple of days later I happen to be in Ocean Beach. I can't resist moseying out on its concrete pier to see if the story is the same here.
"Peas. I use peas for bait," says Al Gil, a middle-aged Filipino I find halfway out on the pier. The atmosphere's different here than in IB The ocean is more…roistering. There's more arching surf, smashing in front of cliffs near the beach, and the place is crisscrossed with pelicans making low cruises right over your head in dignified, determined lines of 12. In the water, ranks of surfers, of course, and regular clumps of sea lions bouncing out of the water, looking around, then confidently rolling back under.
On this pier there seem to be more Koreans and Vietnamese fishermen than Filipinos. And more nonfishermen with hard liquor bottles lounging in the postfog sunshine giggling at the "Crime Watch" column from the Union-Tribune.
I came across Al next to where a Filipino family of three was fishing, the son dropping a large parachute net in between his parents, catching bait, hauling up maybe a dozen anchovies in each lift. His bucket was already half full.
The peas must be working: Al has three or four perch in a plastic shopping bag. "I give them to the neighbors," he says. "They love it, and I feel good. We Filipinos, we don't like processed food. We like it fresh. Vegetables, fish…" He's hauling up a fish, a queenfish, about six inches long. But it slips as he takes it off the hook. It bounces once on the rail and dives down to smack into the water.
"Have a great life!" Al yells after it. "Those ones are kind of strong-tasting anyway," he says. "Fishy aftertaste. Not that that's a problem. What we do is, first we cut them right down here." He draws a line down my backbone. "I put in garlic and ginger and salt and pepper. Then I put the fish in some vinegar and the whole thing goes into the fridge for 30 minutes, and that fishy aftertaste and smell is gone."
We stand leaning on the rail, watching the sea lions cavort. I can't help feeling it's not just the fish that bring so many Filipinos down to the ocean. "I think a lot do find it a kind of bridge with the old life," Al says. "Me, I fish because it's better than dying in front of a TV set."
He says he's grateful for the health system in the US; he looks like a man who might need it. "It's good, great for medicine and doctors here," he says. Then he stands up straight. "But for happiness — there! The Philippines. At night sometimes I think of the smell of the mangoes, of the fresh pandec in the morning. The pandec man comes around the streets at 4:00 a.m. on his bicycle with a big, shiny, covered can at the back. He hoots his hooter and calls out, 'Pandec!' and the pandec — round bread — is still hot. Fresh! It's great with eggs. And then there's salavat. A great breakfast drink."
Salavat: Heat water; Cut up and squeeze ginger root into the boiling water;
Add brown sugar Great for soothing throat, smoothing out voice in morning "And then we have a cigarette!" Al says, laughing. "If I went home tomorrow, my children would all be there. They would take their papa straight home. We'd sit down to a big round table, and they'd serve up my favorite dish: baked bass."
Baked Bass: Clean a sea bass; Steam in clay pot; Splash on mayonnaise, tomatoes, onions, garlic; Steam a little more to absorb flavors; Serve with rice.
"And of course we'd have pancit — noodles. On any occasion — like Christmas, birthdays, homecomings — we must have noodles because they symbolize long life. Every home must have nice, long noodles ready.
We'd pray together and thank the Lord for the food — and I'd know I could stay there till I died. They wouldn't send me anywhere. That's our way. And the fiestas, when each house on a street cooks something different and you go from house to house eating chicken, fish, fruits. Yes, I think of these things. This country is very advanced, but some things it lacks. I miss them."
"I would go back, too," says Laura, a few days later in IB "If we have enough money, we'll go, to stay over there. It's a nice living over there. Very nice life, as long as you have enough money. That's what I told David. My family has a cottage near the sea. The only problem is, David would want to fish."
Problem? "I won't let him go fishing if we go over there. It's embarrassing! There's no American people doing things like that back home. My brother won't let him. He's putting me down if he does something like that. Fishing? There are no Americans go fishing over there! Only Filipino people."
—Bill Manson, San Diego Reader, November 30, 1995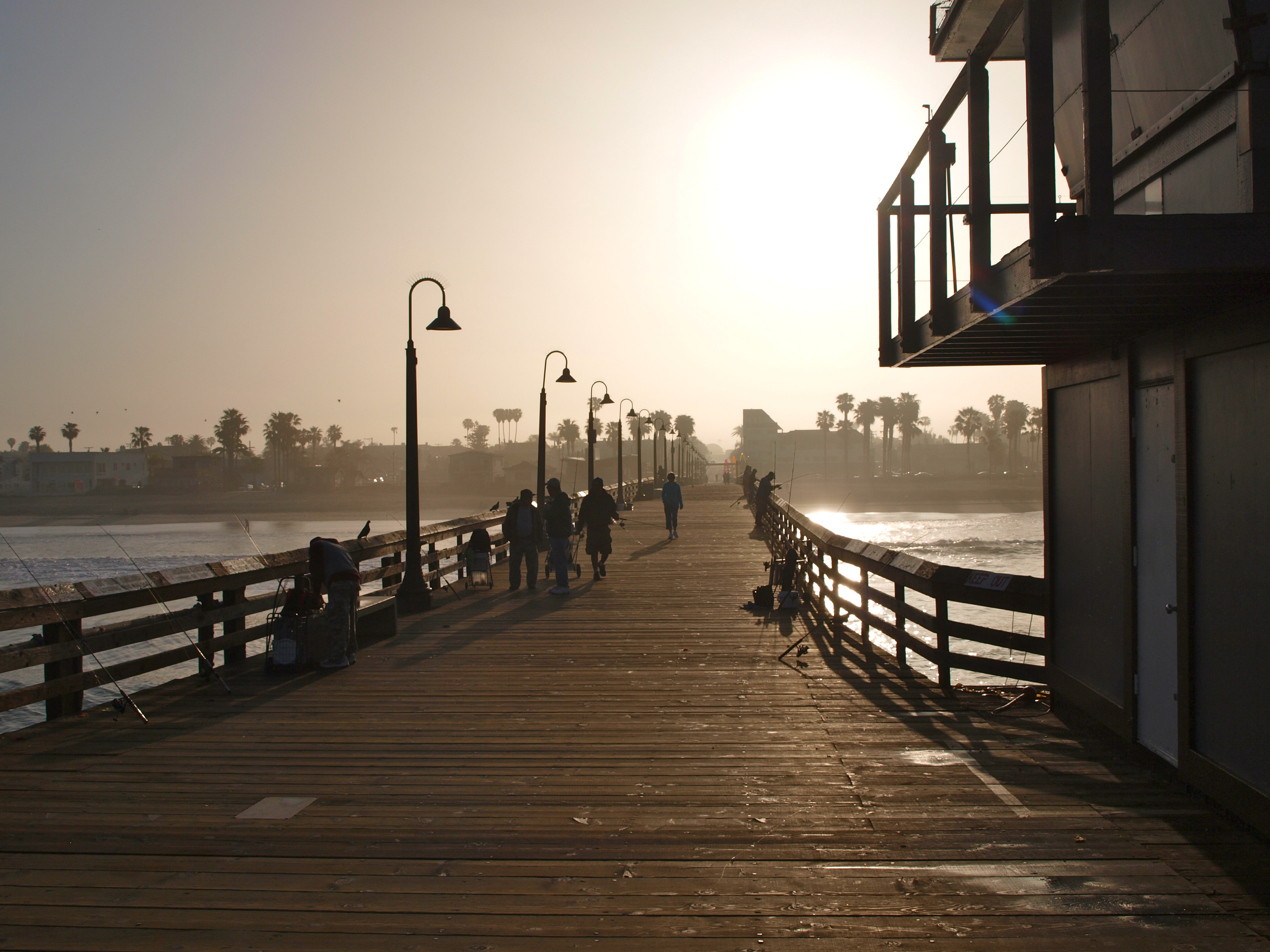 <*}}}}}}}}}>< — Here's an article about California piers, not just Imperial Beach but all the piers along the coast—starting with Imperial Beach. And, it even includes a few kind words about yours truly.
California's piers: Enjoy their primal allure
 These romantic shoreline structures scattered up and down the state, some dating well into the 19th century, have sights and sounds all their own.
How was that little vacation you took? You remember. It cost you almost nothing, it burned some calories (or, after that ice cream cone, added a few) and briefly immersed you in quintessential California.
It was that walk on a pier, those structures that stretch out like a gateway into the Pacific. Perhaps we don't think about them much, but they're part of what has made California California: Piers (or wharfs as they were called in the mid-19th century) once were the primary way of moving food, cargo and travelers on and off sailing vessels. After having walked 75 of California's finest piers in the last year and a half, I also found they were the best way to move…me.
During my jaunts up and down the coast, I skipped some of them. I didn't do military piers (not open to the public); I eschewed commercial business piers (too dull). I ignored the un-touristed reaches of the San Francisco Bay, particularly leading back into the freshwater Sacramento Delta. And I blew off the state's thousands of private and public boat docks (a pier has pilings, a dock has none), leaving those for some other pilgrim.
That still put me on long piers (some more than half a mile long), short piers (one only 75 feet), rickety old piers, new but sometimes boring concrete piers, solitary piers and piers jammed with fun seekers. From the end of the trim structure over Imperial Beach—from which you can see Mexico—to the charming harbor in Crescent City, which is almost to Oregon, piers increasingly seemed to me less utilitarian and more like inviting portals into the past and present.
Monterey had the first pier, which went in 1847. Then railroads began became the hot new mode of transportation, and soon train tracks were being installed near the piers to ferry goods up and down the coast. Next came the car, but most piers weren't built to accommodate the auto. But real estate impresarios figured a way to bring newly mobile Californians to the shore by building "pleasure piers"— places bustling with dance pavilions, restaurants and arcade games. Sometimes that bait worked; sometimes it didn't. You can see the ghosts of those failures even today.
Like the people who dreamed them, piers are perishable. Their decline can be slow, as wind and water chip away at them, or fast, brought to their knees by coastal storms, especially in the El Nino years of the '80s and '90s. Even steel and cement sometimes are no match for Mother Nature. For instance, the Aliso Creek Pier in South Laguna Beach, built in 1971, lasted barely 25 years before El Nino tore it apart in the late '90s.