The presence of these weapons on the public pier makes some people uncomfortable in this rather threadbare beach town. The waters on both sides of the pier are popular with swimmers, surfers and boogie-boarders, except when an inconvenient current brings sewage and runoff from the mouth of the Tijuana River down the coast.
The bow fishermen are not supposed to aim more than 20 feet from the pier, but they consider their target zone to extend about 30 yards from it because, they say, they need the extra room to get a clean angle. Surfers occasionally find themselves staring up at a hunting arrow.
"Last week I had to yell at a guy who had his bow pointed right at me," said Serge Dedina, a surfer and former lifeguard here. Mr. Dedina said the bow fishermen were a belligerent lot, with little concern for public safety. He has complained to lifeguards and police, but little has been done, he said. "People in this town are terrified of these guys," said Mr. Dedina, who asked. "Would you let a guy with a gun hunt on a Little League field?" he asked. "Someone's going to get shot."
Bow fishing is popular in the upper Midwest and the South. Most states limit the take to rough fish like carp, gar, suckers and other bottom-feeders. Bow fishing has encountered opposition in many places, particularly among other recreational users of the waters in which it is practiced, said Mark Ellenberg, president of the Bowfishing Association of America, which has about 500 members. "People go kind of crazy when they see us pointing arrows," Mr. Ellenberg said. "I call it the tree-hugger factor." He said some accidents had occurred, most involving bow fishermen shooting other bow fishermen. "For the most part," he said, "it's pretty safe."
Imperial Beach tried to ban bow fishing five years ago, but the fishermen—a boisterous group of about 20 devotees—persuaded officials to let them continue under a licensing system. The city now requires bow fishermen to take a two-hour safety course for a permit. Bow fishing is not allowed during prime beach hours in the summer, but there are no limits the rest of the year.
"There was a group that was going around trying to get rid of it, like business owners and surfers who said that at nighttime there's some dangerous people out there," said Jeff Cox, a plumber who is considered the unofficial leader of the bowmen. "I've seen no injuries in my 21 years. And, listen, this town needs every bit of help it can get, especially because of the sewage spills from Mexico."
Imperial Beach's status as the only place in California permitting bow fishing from a pier is a peculiar distinction for an unusual town. It advertises itself as "the southwesternmost city in the continental United States," and it has been the end of the line for drifters and small dreamers. In the Depression, thousands of refugees from the Dust Bowl settled here because land was cheaper than elsewhere on the California coast and work was available on the nearby farms and citrus groves. Only five miles from Tijuana and Baja California, Imperial Beach retains some frontier flavor.
"It's kind of a blue-collar town with a hard-core element of people who really don't like surfers," said Mr. Dedina, who grew up in Imperial Beach and who runs a small environmental organization called Wildcoast. "A lot of people identify with the bowhunters." Despite sporadic efforts to spruce up the place, Imperial Beach, population 27,500, remains a poor cousin of more gentrified Southern California beach communities like Newport Beach, Huntington Beach and Santa Monica. None of those places allow bow fishing from their piers.
Lifeguards have had run-ins with the bow fishermen, but no one has been arrested, said David Ott, who is in charge of public safety and is deputy city manager for Imperial Beach. Mr. Ott acknowledged some "inherent incompatibilities" between the recreational use of the waters and people with lethal weapons shooting into the surf. But he said he was supporting and enforcing the compromise with the bow fishermen.
Mr. Jacobson, about to give up the hunt after two fruitless hours peering into the empty ocean, said he had heard about problems between surfers and bow fishermen, but that things had been better lately.  "Everybody has really stuck to the safety rules this summer," he said. "There have been no accidents, no close calls, even. It's very clear that you're looking for fish, not a surfer." Doesn't really sound like my kind of thing, since impaling a fish with an arrow kind of obviates the option to practice catch and release. More like "shoot 'n haul."
—John M. Broder, New York Times, November 19, 2002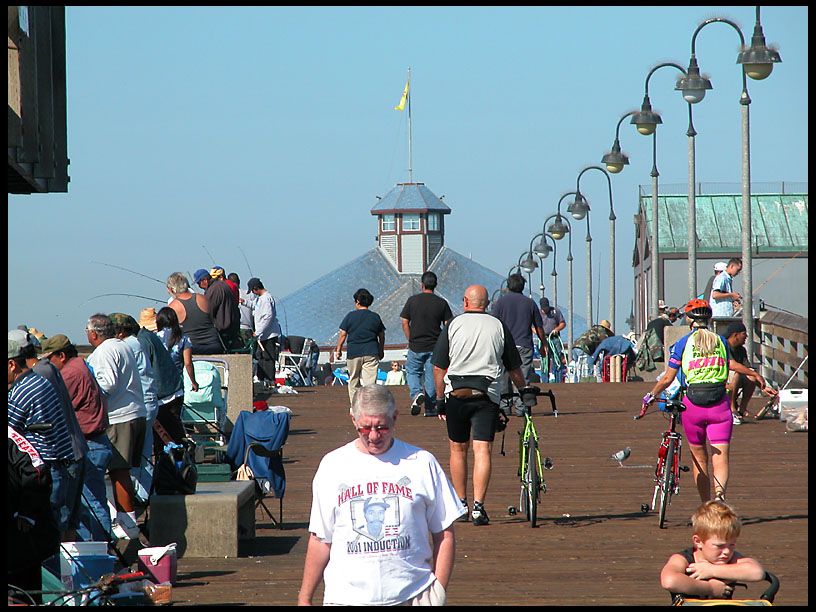 Bow fishing banned from city's pier, shore
Imperial Beach—For decades Imperial Beach has been home to a subculture of sportsmen who like to hunt fish with bows and arrows. But within a month they will become another part of the city's colorful history. The City Council passed an ordinance last week banning bow fishing from the pier or shore. It will take effect in 30 days. It was the fourth time in 15 years that the city tackled the issue of whether those who used steel-tipped arrows and those in the water could coexist at the municipal pier.
Each time the bow fishermen prevailed by convincing the council their pastime was safe. But now, with tourism and beach crowds increasing, council members unanimously felt bow fishing had to stop.  Two bow fishermen came to the council to plead their case one last time. Bobby Hart, who was armed with petitions, complained that it seemed the wishes of the surfers took precedence over those of the fishermen. Mayor Diane Rose disagreed. "It isn't all about the surfers," she said. "For me, it's all about the tourists who are coming to our beach and the safety of so many people. Hart said the council misunderstood the technical side of the sport, and said the fish are hunted at close range with arrows fired no more than 10 feet off the side of the pier. Surfers and swimmers are supposed to stay clear of the pier for 20 feet on either side but don't always follow the guidelines.
Tom Wallace, a former lifeguard and avid bow fisherman, said there have been no documented accidents statewide related to bow fishing dating to 1994. He said many other recreational activities, including swimming, are much more hazardous and are not banned. Serge Dedina, also a former lifeguard and the director of an environmental organization in town, applauded the council's action. "Basically, my kids can go out in the water and not worry about being shot by a bow-and-arrow fisherman," he said.  The city last tried to ban bow fishing from the pier in the summer of 1998. Under organized pressure from the bow-fishing community, council members relented and allowed the practice to continue, with restrictions. Bow fishermen were required to pass a safety course and obtain a certificate, and were prohibited from fishing during the daytime in the summer.
But, the council members said, the beach crowds have increased too much to let bow fishing continue. A city staff report concluded there were approximately 1.5 million visitors to the Imperial Beach shore in 1998. This year the city anticipates 2.5 million beach-goers.  "Six years ago we did try really hard to find a compromise to allow the sport to continue," Councilwoman Mayda Winter said. "But I just don't see how you can mix a lethal weapon and large groups of tourists. That was then, this is now. Things have changed."
—Leslie Wolf Branscomb, San Diego Union-Tribune, June 29, 2003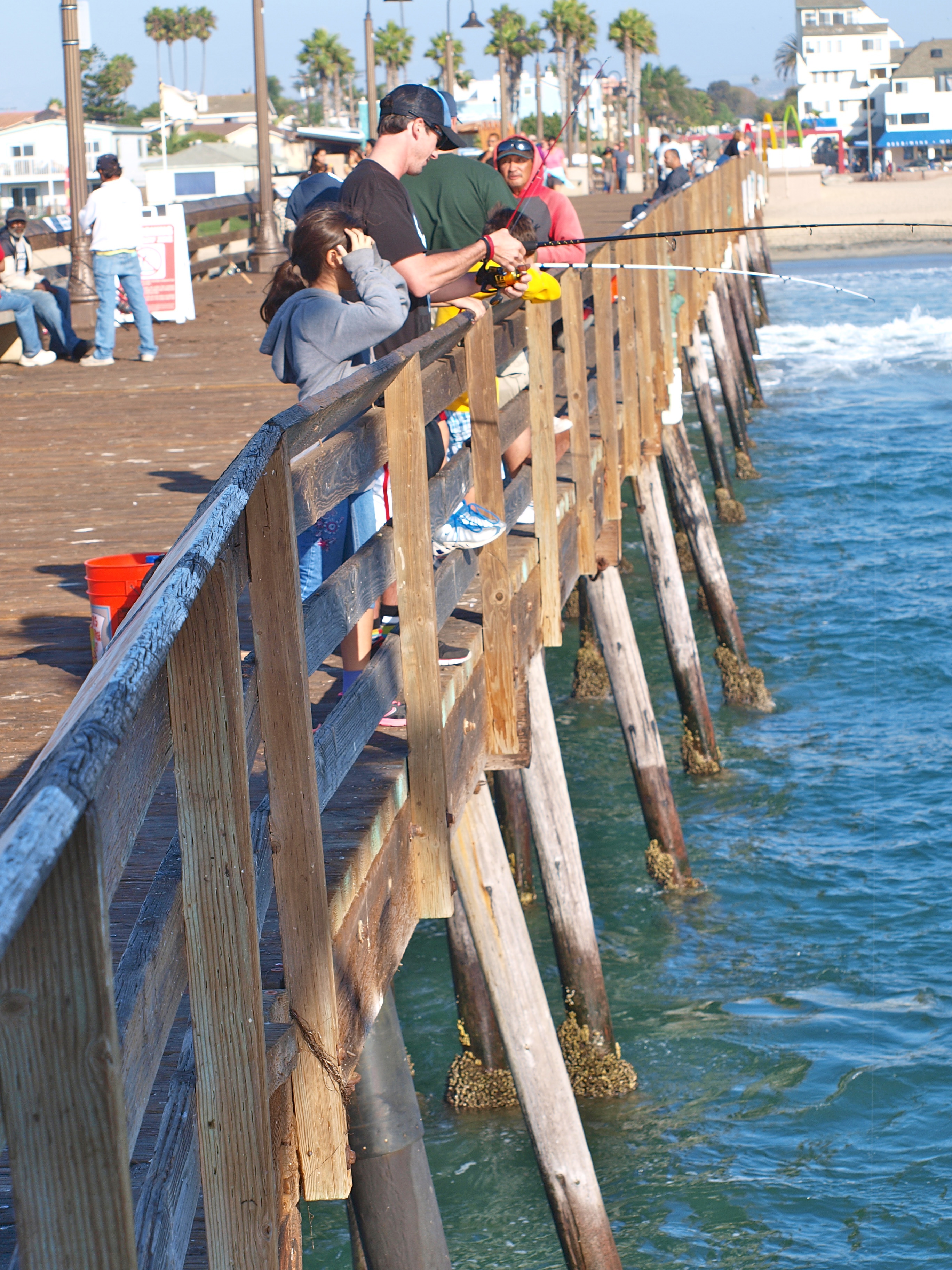 <*}}}}}}}}}>< — Some information that you may want to heed.
SDSU Study Detects Harmful Viruses in Local Coastal Waters
As a potentially wet El Nino winter looms on the horizon, new research from San Diego State University shows the health dangers from contaminated coastal waters after rain go beyond bacterial infections.
A new study by SDSU public health professor Rick Gersberg shows that after rainfall, coastal waters near the U.S.-Mexico border almost always harbor harmful viruses, in addition to the bacteria that are usually measured to detect health threats. The study is published in this month's issue of Applied and Environmental Microbiology.
"t's important to recognize the presence of the viruses, because it's the viruses that actually pose the most significant public health risk, and viruses can be present long after the bacteria levels have subsided," said Gersberg, head of the Division of Occupational and Environmental Health in SDSU's Graduate School of Public Health.
Study Information: The study examined a total of 20 water samples taken between 2003 and 2005 at two sites: the surf zone at the mouth of the Tijuana River, and the surf zone near the Imperial Beach pier. Samples were taken in both wet and dry weather conditions. The goal was to quantify the levels of hepatitis A viral (HAV) particles and other indicators of fecal pollution in the vicinity of the U.S.-Mexico border.
"These locations were chosen because the mouth of the Tijuana River is the single largest source of pathogens to this area of ocean, and Imperial Beach is where the greatest amount of swimming and surfing is done in this area," Gersberg said. "Until now, relatively little was known regarding the levels of human enteric viruses in this region." Fourteen samples were taken immediately after a rain event of more than 0.5 centimeters or more in a 72-hour period during the wet season of late October through April. At Imperial Beach, HAV and enteroviruses were detected 79 and 93 percent of the time, respectively. At the Tijuana River mouth, HAV was detected 86 percent of the time, and enteroviruses were found in 100 percent of the samples.
Swimmers, Surfers Beware: Gersberg's study is the first quantitative assessment of the statistical relationship between levels of HAV, enterovirus, E. coli and enterococci in marine waters. Gersberg said the high levels of HAV viruses measured during wet weather in San Diego can be attributed to the inadequate sewage collection infrastructure in that region. During the wet season, swimming in these locations is highly unadvisable within 72 hours after a rain event, Gersberg said. "Swimmers and surfers could experience anything from stomach cramping to a serious viral infection if they come in direct contact to this level of pollution," Gersberg said. "It is also possible to contract the hepatitis A virus if the polluted water is ingested."
Periods of Less Risk: The good news, Gersberg said, is that there appears to be little risk from viruses during dry periods. During the dry season of May through early October, six samples were collected at the Imperial Beach location. In all samples, the concentrations of the viruses were below the limit of detection. (Samples were not taken from the mouth of the Tijuana River during the dry period, because the flow of the Tijuana River at this time is negligible or even zero.)
"What this shows us is that the levels of bacteria and viruses during the rainy season don't persist during the dry season," Gersberg said. "So health-wise, it's perfectly safe for swimmers and surfers to be in the water in these locations when we do not have any rain."
—Gina Speciale, San Diego State University NewsCenter, December 11, 2006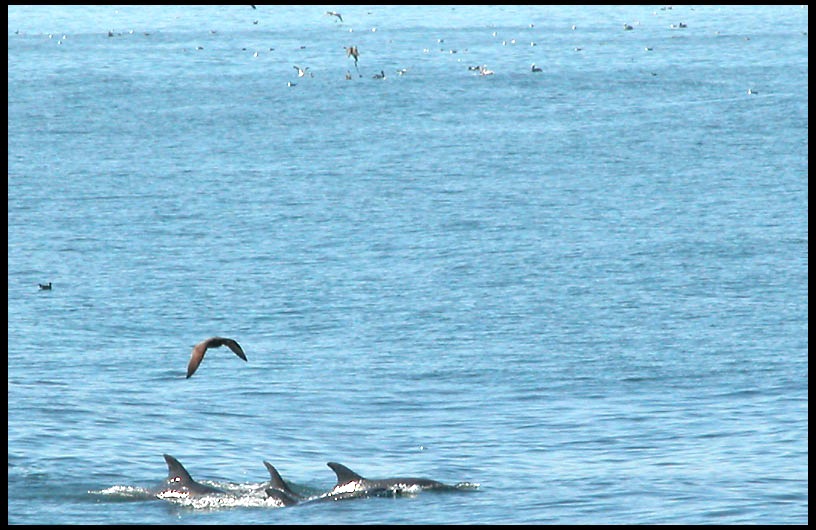 STOP! Unless you're a real "pier rat" the following articles may be too long for you.  Given that I am a "pier rat" they're just right.

<*}}}}}}}}}>< — A long but very interesting article that does a great job giving the flavor of the pier as well as giving some insight into the thoughts and life of some Filipino pier rats. Filipinos make up a majority of anglers on several piers but all to often non-Filipinos hesitate to mix in and get to know their fellow anglers. It's a real loss because the Filipino culture is a fascinating and colorful one and it helps explain their love of fishing and their love of eating fish (although in ways that may seem just a tad bit different). Get to know your fellow pier rats!
Pier group
There's something about the hour before dawn at the pier. Out there in the dark, all you can feel is the ocean rollers hitting the long pylons beneath your feet, coming in to land after rolling their way across — who knows? — maybe the entire Pacific. Looking west, black nothing. No sea, no sky, and in the predawn fog, no stars. Just one great black spooky void. For all you know the great mythical sea monster from Baja might be opening his jaws in front of you at this instant, ready to chomp.