Shortly thereafter I ran out of the mussel I was using for bait, switched to the night crawlers, and the shiners went crazy. The problem now became one of keeping them off the hook but I was unsuccessful. We continued to fish and watched a beautiful family of dolphins, as well as a playful sea lion, but soon the wind returned to its normal Gaviota intensity and we both decided to call it a day. Glen headed home while I headed north to Pismo for some more fishing. Net result at the pier: 17 assorted small perch—walleyes and shiners, one bocaccio, one cabezon, one thornback ray, and one good rubberlip perch. As said, not a great day fish wise, but still a wonderful day.
By the way, when I developed the pictures of Songslinger and his halibut I noticed a face on the Gaviota cliff behind him. Asking the message board for their thoughts on the face elicited the following: (1) Songslinger himself—"it's a Sphinx Eel?" (2) pescare—"Looks like a Dr. Seuss character that's about to eat Slinger's head!… "But in California, it's a state law that any form that resembles a face must be deemed the Virgin Mary. I'm headed down to set up a hot dog cart to feed the masses that come to worship. It's never a dull moment." Every time I visit the pier I now take a look up at the face on the cliff but it's slowly changing as the years go on.
<*}}}}}}}}}>< — Given that I once was a teacher, I absolutely love it when I hear that a fellow teacher has taken students fishing. You know my reaction when I read the following.
Date: October 7, 2005; To: PFIC Message Board; From: marsfan; Subject: Gaviota: First post Jr. Pier Rats
 Arrived at Gaviota Pier at 1 P.M., and after taking the Pier Rat oath from Ken's book, eight young new anglers from my middle school took to the pier. We fished until 4 P.M. An amazingly progressive-thinking director actually OK'd my request to teach a pier-fishing elective! These kids meet in the classroom Mon.-Thurs. for 50 mins. Learning to tie knots, rig for certain fish, casting, rod and reel maintenance, fishing regulations and etiquette, etc. Then on Friday afternoon, they put their knowledge to work. Here is their first post (combined numbers from two Fridays):
Short report: 31 mackerel, 33 smelt, 16 sand bass, 6 sand dabbers, 3 sculpin, 2 SBRF, 2 walleyed surfperch, 1 lingcod, 1 cabezon, 1 thornback ray. All fish were C&R except for 1 perch and 6 mackerel that were promptly cleaned, then taken home for dinner. The favorite quote from each angler is something that I overheard him or her say, and I added it to his or her report. — Donna
Long report: Angler — Fluffy (age 11): 3 Pacific mackerel, on Sabiki, using shrimp. Favorite quote: "cursed decisions!" (When trying to decide whether to use shrimp or squid as bait) — Angler: OneAfterAnother (age 12): 11 Pacific mackerel, 17 jacksmelt all on Sabiki with and without shrimp. Favorite quote: "I just saw the fish following the other guy's Sabiki, so I cast mine out right behind his." —  Angler: KillerShark (age 11): 16 Sand bass, 2 mackerels, and 10 jacksmelt. Favorite quote: "I think I caught this fish before." — Angler: Hobbit (age 13): 2 Walleyed perch, shrimp on #6 hook, Carolina rigged, 2 mackerel, 1 smelt and 1 baby lingcod, all on unbaited Sabiki. Favorite quote: "And that old guy thought I couldn't fish." — Angler: Bubbles (age 12): 5 Mackerel, 2 small brown rockfish on #8 hooks baited with squid, Carolina rigged, 1 sand dabber on Sabiki. Favorite quote: "Are we going to use our bikini's to catch fish?" — Angler: LureGuy (age 12): 3 Mackerel on Sabiki with squid, 2 Pacific mackerel on #6 hooks with squid, high low leader. Favorite quote: "Look at them following my lure… bite it! Bite it!" — Angler: Swordfish7 (age 12): 2 sculpin, 1 sand dabber on #6 hook with squid, Carolina rigged, 1 cabezon (8 1/2 in) on high low leader with squid. Favorite quote: "Fishing is just the best, period." — Angler: Redneck (age 13): 3 Pacific mackerel, 5 smelt on Sabiki, 1 sculpin and 4 sand dabbers on #8 hooks with squid, Carolina rigged, 1 thornback ray on high low leader with squid on #2 circle hook. Favorite quote: "this sure beats bein' at school!"
Posted by HoodCanal
Wish there were teachers like you at my school when I was their age. Great work. Are you the "old man" that thought Hobbit couldn't fish? Haha
Posted by Corki
I think that's awesome. I wish we had something like that down in Sc. Keep it up; p
Posted by Ken Jones
I love it! Great work! We need more teachers out there taking their kids fishing. It helps establish a bond that will last a long, long time.
Posted by pierhead
16 sand bass? Wow—haven't seen any at Gaviota for some time … where were they caught and what bait(s)?
Posted by pierhead
Got the answer already… met up with Marsfan (Donna) and her student KillerShark (Ryne) at Santa's Guadalupe Perch Derby (more later) … those were sand bass he was catching. Said they were on the small side (8″-10″) though. Caught them straight down off the pilings at the end I think using a Sabiki rig. Makes me wonder if I shouldn't be casting back under the pier… I mean it is the most obvious structure around.
<*}}}}}}}}}>< — Several times over the years gray whales have become stuck between the pilings of the pier. The latest was in the winter of '99 when a 40-foot-long adult apparently became wedged between the pilings as it was feeding on the bottom. Seems the whale could go forward but couldn't go in reverse. Local reports said "mothers and their calves often pass close to the park to feed on the sandy bottom, sucking up sand crabs and other shellfish."
The tale of the whale really isn't a funny story but it reminds me of a clipping which I cut out of a newspaper one day. The article's headline said, "Fisherman catches Norwegian submarine." Oslo, Norway—Skipper Ketil Tetlie thought he'd made the catch of a lifetime when something big—really big—started pulling his trawler backward off Norway's northwestern coast.
"At first we thought it was a whale, but no whale could have pulled up backwards that fast," Tetlie, said from his boat, the Ke-To, off northwestern Norway's Lofoten Islands. Then his prize—a Royal Norwegian navy submarine—broke water. The 35-foot, 20-ton Ke-To was pulled backwards for about 1,000 yards by the 148-foot sub, the Svenner, which weighs about 500 tons. Neither vessel was damaged during Wednesday's mis-hook, which occurred about 125 miles north of the Arctic Circle. "We threw it back," joked Tetlie. "The price of steel just isn't good enough to make it worth keeping."—Contra Costa Times, May 15, 1998.
<*}}}}}}}}}>< — Source books give the geographic range of the lavender sculpin (Leiocottus hirundo) as being from Gaviota Pier in the north to northern Baja in the south (which is a pretty short range if I'm interpreting the information correctly). I assume this means that one (or more) of Gaviota's pier anglers have caught one of the sculpins, a small fish that reaches about 10 inches in length.
Another unusual catch at the pier was a steelhead taken in the summer of '99. It's hard to say what the iron headed trout was doing at the pier although a small creek does run through the campground.
<*}}}}}}}}}>< — California Fish Bulletin #96 from 1953 says, "One mile west of Gaviota, at the mouth of Nojoqui Creek, is the Gaviota Beach County Park. Here a new sport fishing pier, with light hoist, has been erected. Access to the pier is through the park. Four miles east of Gaviota there is a railway siding called Linto. There is no town, but one fisherman lives nearby and records his landings as Linto. He lands a few pounds of lobster, smelt and rockfish.
There is an oil company pier at this point [Gaviota] at which moderate quantities of fish have been landed for many years past but most of the poundage was credited to Santa Barbara… Before World War II, two boats made this point headquarters and delivered lobsters and some white seabass that was caught by trammel nets. At present two fishing boats land their catches at the pier, chiefly lobster… Sport fishing at the pier is minor."
<*}}}}}}}}}>< — Like many piers, Gaviota has made it into the movies!

"In John Milius' Big Wednesday, Gaviota State Park's pier is home to the fabled Malibu Workshop of surfboard maker "Bear" (Sam Melville). In Sideways, Paul Giamatti and Thomas Haden Church reflect on life's failures under Gaviota's railroad trestle."
—Harry Medved with Bruce Akiyama, Hollywood Escapes, 2006
<*}}}}}}}}}>< — The 811-foot wooden railroad trestle that sits 80-foot-high above the park is considered a landmark by Amtrak and is one of the most photographed railroad trestles in America. It was built in 1900 by the Southern Pacific Railroad to span Cañada de la Gaviota and Gaviota Creek's outlet into the Pacific. It was one of the last trestles built between Los Angeles and San Francisco.
History Note.  In 1874 a 1,000-foot-long wharf was built on this site for Colonel William Hollister and the Dibblee brothers (who had also loaned money and influence for the construction of Stearns Wharf in Santa Barbara). Their wharf, the Gaviota Wharf, reached water that was 25 feet deep at the end of the wharf and it was considered one of the safest local shipping ports. The area around the wharf also became an important area with early records recording a considerable business, primarily in livestock, wool, farm produce and lumber. Because of its safety record, the "Gaviota Landing" became a weekly destination for the coastal San Francisco steamers.
A report in the March 14, 1905 Los Angeles Herald said — "Special to the Herald, Gaviota, March 13.— The wharf, including a valuable warehouse has been carried away by the heavy sea and much freight has been lost." Apparently the wharf was rebuilt because later reports said it was destroyed by a storm in 1912.
Of interest are early records (1883) that report, "a peculiarity of this wharf, or rather this location, is a strong off-shore wind, a cold blast always coming down the pass; consequently no vessel is thrown against the shore." Yes, it was windy even then.
Apparently a second name for the original pier was Port Orford and it's still listed on the populated place index for Santa Barbara County. According to Durham's Place Names of California's Central Coast: "Port Orford [Santa Barbara]: locality 0.5 mile west of Gaviota along the coast at the mouth of Cañada de la Gaviota 9lat.34-28-15 N. Long. 120-12-40 W). Site named on Gaviota (1953) 7.5' quadrangle. Farmers shipped their products from Gaviota Wharf, a 1,000-foot-long pier at the place, from 1875 through the 1890's (Rife, p.104)."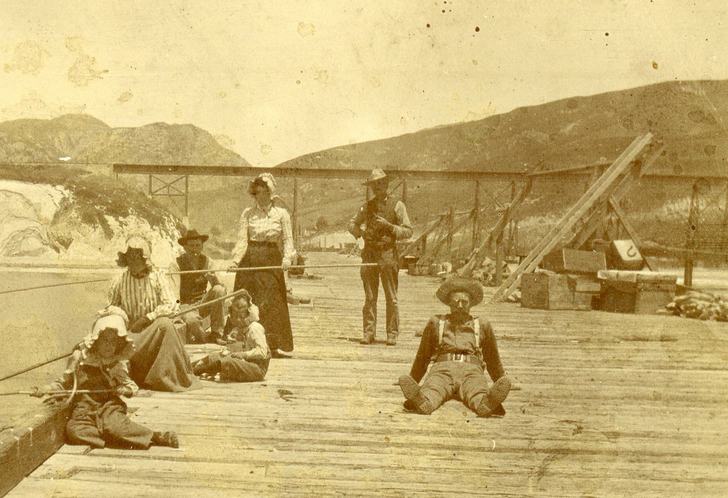 The current Gaviota Pier was originally built as a crash boat pier by the Navy in 1943. Records show that it was 420-foot-long but newspaper accounts, dated 1953, reported a proposal to lengthen it by 210 feet so that it would reach out into deeper water. It was evidently remodeled in 1953 and repaired again in 1987.
Damage to the pier and parking lot from the El Niño storms in the winter of 1998 necessitated closing the park for a period of time. When it finally was reopened, only the front half of the pier was available to anglers. The pier did not open to its full length until May of 2000. Today the pier is owned and operated by the state and the listed length is 529 feet (although some sources say 570 feet).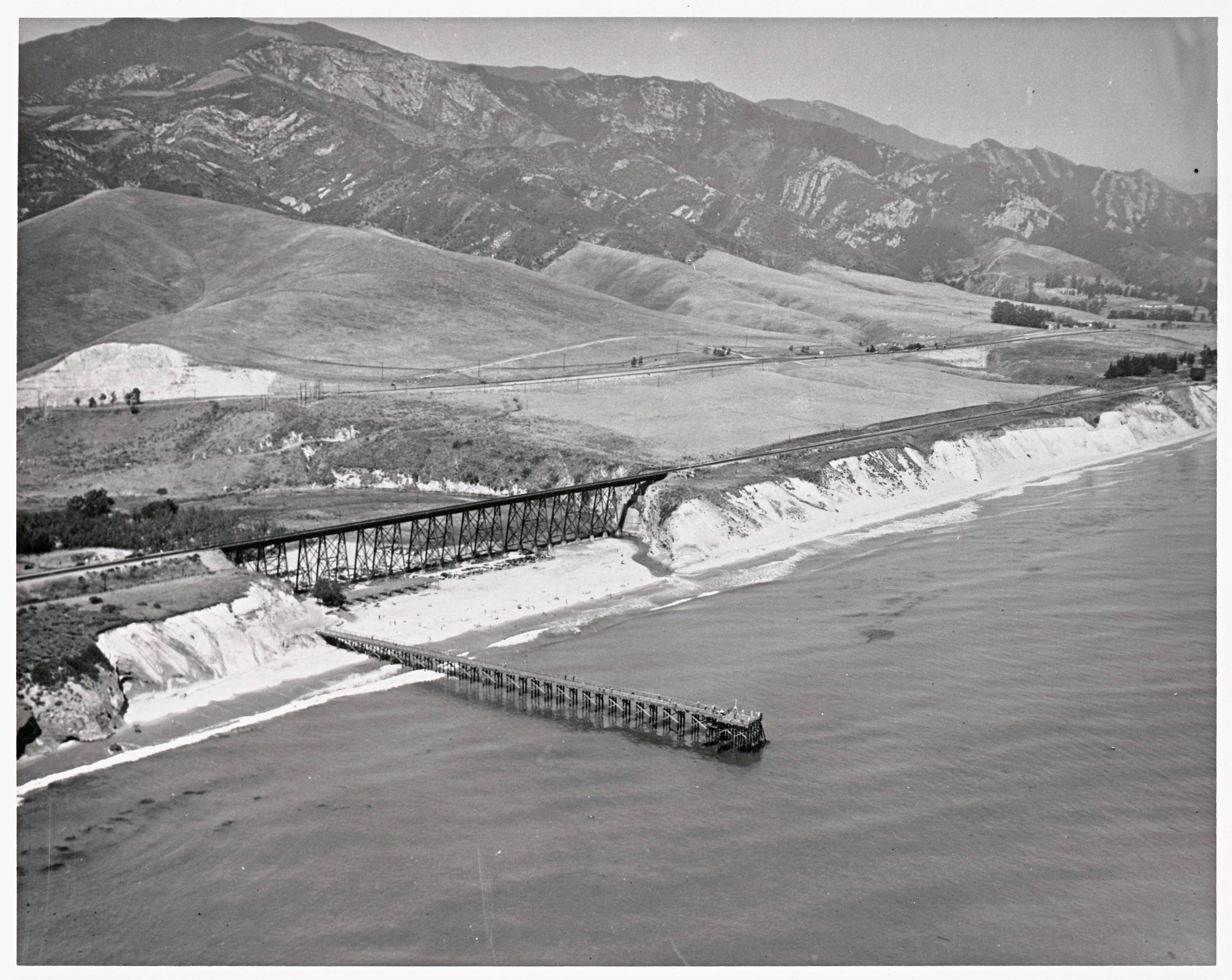 Gaviota Pier Facts
Hours: Day use is 6 a.m. to 10 p.m. Campers can fish all night.
Facilities: The pier has a few lights, fish-cleaning facilities, and a boat launch. Just down the hill from the pier are restrooms, parking, a general store which has both snacks and bait and tackle, and the campground. The pier is in Gaviota State Park; the day-use fee is $5.
Handicapped Facilities: Handicapped parking and restrooms. The pier surface is wood and the rail height is 42 inches. Posted for handicapped.
How To Get There: From Highway 101 simply take the Gaviota State Park turnoff.
Management: California Department of Parks and Recreation.