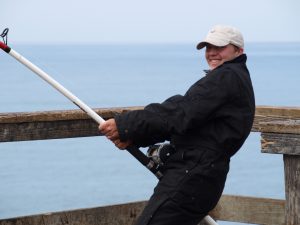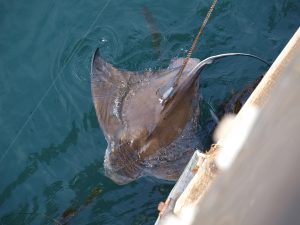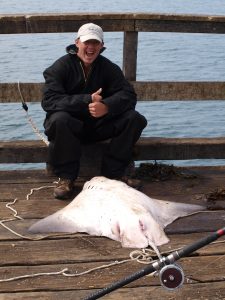 A young man fighting and landing a bat ray in 2009
One of the most unusual reports to the Pier Fishing in California Message Board, at least in regard to sharks, concerned a trip to this pier in August of 2000. Zorro, a long time reporter, reported that anglers using Lucky Lura bait rigs had taken two nearly-5-foot-long angel sharks. Both anglers were using chrome sinkers with hooks to weight the leaders and both sharks apparently hit the chrome sinkers. Angel sharks hitting chrome sinkers on the bottom of bait rigs? Two on the same day? Very, very rare indeed.
Gaviota Creek, just down the shoreline from the pier, does see steelhead trout some years and sometimes they will be in the inshore waters by the pier prior to winter rains opening the mouth of the creek. When conditions are right a fish will occasionally be caught from the pier. So, be sure to check current regulation if you land what appears to be a steelhead trout.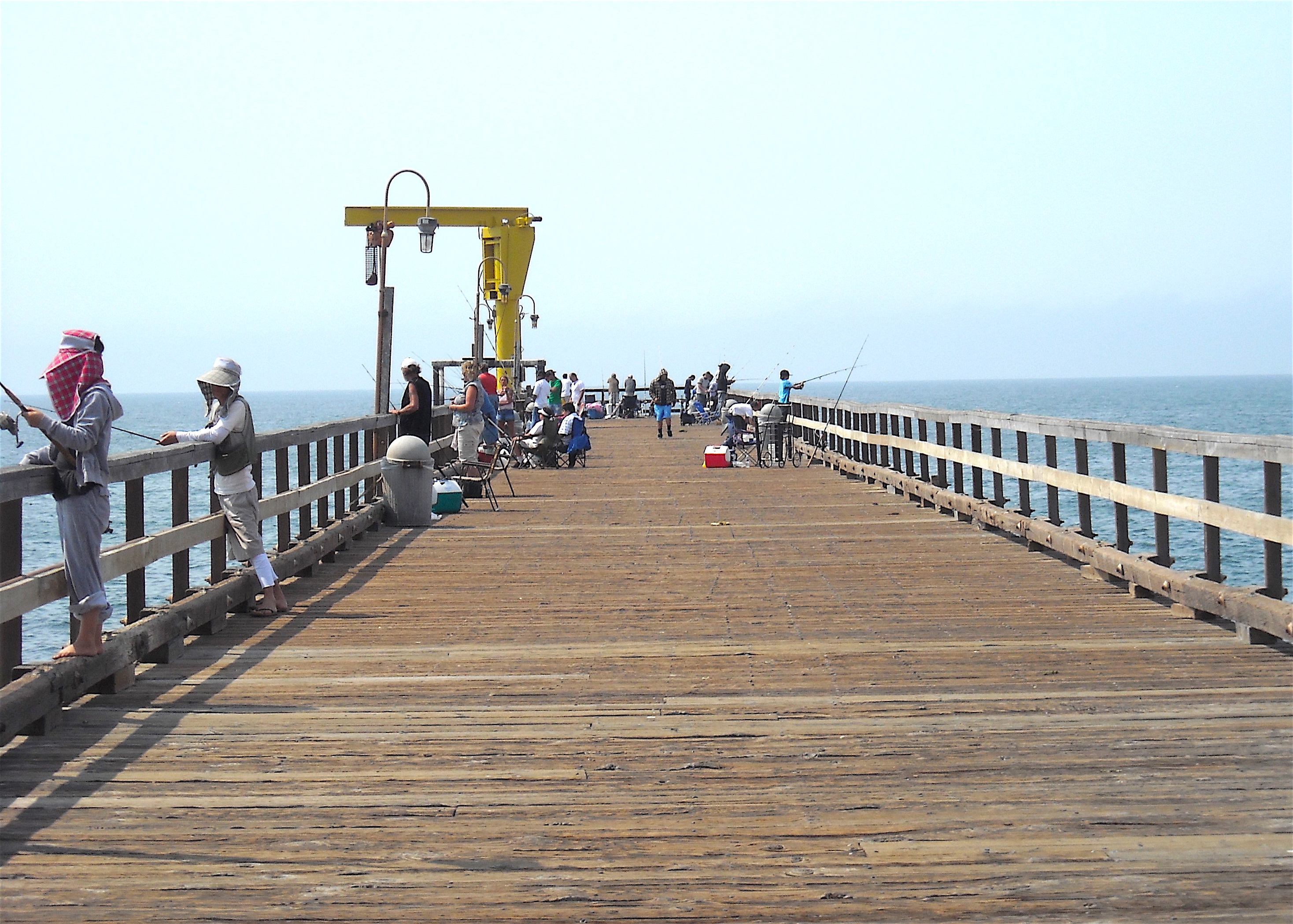 Anglers on the pier — 2009
Potpourri — Perhaps more than you want top know about the Gaviota Pier
<*}}}}}}}}}>< — An epiphany is defined as a manifestation or revelation and it has become a too-often-used New Age term. Nevertheless, it sort of describes the feeling that I had one mid-90s day while driving my trusty pickup to the pier (in Japan they would say this was a moment of satori—when all things became clear). The Octopus, a local radio station, was playing the Eagles' "Hotel California" on my radio, and I had just passed Rufugio State Beach. I noticed my mileage gauge read 101 miles on HY 101 and then I saw a beautiful hawk sitting on the electrical lines that paralleled the highway. It was a perfect California morning and as I looked out toward the Pacific, and headed down "El Camino Real—The Kings Highway," I reflected on the tranquility and beauty provided by my pier fishing trips along the coast. In many ways the coast and the piers had become my own personal Xanadu. What better way to see and understand the changes taking place in California, and to experience the joy while it still exists! I've often said pier fishing is more than just the fishing and that morning's thoughts confirmed those feelings.
[Addendum — those thoughts have been tempered and deflated somewhat in the two decades since that day. The traffic, which once was fairly light along many parts of HY 101, now seems to stretch continuously from Santa Cruz south most of the day. In hopping from pier to pier, I have to plan "around" the traffic so that I do not spend a good portion of the day simply staring at the car in front of me.]
<*}}}}}}}}}>< — Fish surveys done by the Department of Fish and Game showed the following species (listed numerically from top to bottom): Pacific sardine,  shiner perch, jack mackerel, barred surfperch, walleye surfperch, jacksmelt, black perch, Pacific mackerel, topsmelt, calico surfperch, rubberlip seaperch, rainbow seaperch, white perch, bat ray, pileperch, senoriya, silver surfperch and dwarf perch. (However, Pacific Sardine were only recorded for one year). The only species listed every year were barred surfperch and walleye surfperch.) I'm convinced that the "fish counters" were not visiting the pier at night. If they had there would assuredly be several additional shark species recorded.
<*}}}}}}}}}>< — My personal records show very high  totals for the pier (from 1978 to 2013), a 12.9 fish per hour total and a 23.0 points per hour total (a figure based on quantity and quality). The latter figure, which is how I usually rate piers, would rate third in the state. Included were 28 species which numerically would be as follows: Pacific mackerel (almost double any other fish), shinerperch, jacksmelt, walleye surfperch, Pacific sardine, speckled sanddab, cabezon, bocaccio, jack mackerel, topsmelt, black perch, rainbow seaperch,  kelp perch, California lizardfish, barred surfperch, thornback ray, staghorn sculpin, rubberlip seaperch, onespot fringehead, pileperch, reef surfperch, white perch, blue rockfish, kelp rockfish, rock wrasse, giant kelpfish, senorita, and fantail sole. Since I have never stayed at the park overnight my totals also do not show sharks as a catch.
<*}}}}}}}}}>< — The pier has been closed since 2014 — why? The following articles describe the reason for the closure. They do not describe why it has taken the state years and years to come up with repairs.
Gaviota Pier collapsed into ocean, State Parks official confirms
Part of the pier at Gaviota State Beach, a popular and unique spot where people can launch boats themselves, collapsed into the ocean at about 8 a.m. today.
State Parks Sector Superintendent Eric Hjelstrom said a boat hoist on the pier remains intact, but he fears that more damage could be done. He said no boats were docked at the structure and nobody was hurt in the collapse. The beach and pier are currently closed for safety reasons. Buellton resident Michael Rodrigues posted video on Facebook showing a chunk of the pier floating in the ocean. "There goes the pier. There goes the pier," someone says on the video. —Lompoc Record, March 1, 2014
Solvang man describes Gaviota Pier collapse
Watching the Gaviota Pier collapse into the furious Pacific Ocean on Saturday is something Solvang resident Jack Crouch won't forget anytime soon, and he has cell phone video of it to relive the experience. "It was pretty awesome," he said Monday. The 28-year-old said he'd gotten a surf report on his cell phone Saturday morning about the high surf advisory and wanted to check it out. He picked up his 6-year-old daughter, Morgan, from a friend's house and they headed down the coast to Gaviota State Beach.
When they arrived, the beach was closed and no one else was around. Crouch parked close to Hollister Ranch and they walked down carefully toward the pier — Morgan on her dad's shoulders. The parking lot was filled with ocean water, Crouch said. "It was really muddy," he said.
The waves appeared normal and the tide was high, he said. They walked toward the end of the pier and Crouch began shooting video on his cell phone as the waves got higher. The pier began shaking, which got Morgan excited, Crouch said. "She thought it was like a ride at Disneyland," he said. When water began splashing up through the wooden pier, Crouch said he was not concerned about the pier washing away.
Crouch continued to shoot video as they walked away from the end of the pier, which was swaying back and forth. About 10 minutes later while standing on the side of the railroad tracks, Crouch and his daughter began to see pieces of the pier disappearing into the ocean. "'Morgan, we got to watch this,'" Crouch recalled saying. The large yellow boat hoist was spared from the damage, he said.
Crouch said he sent the video to his brother-in-law who sent it to a friend, Buellton resident Michael Rodrigues, who planned to launch a boat from the pier in a few weeks. Rodrigues posted the video on Facebook where it has been shared more than 1,000 times and the video was featured on local TV news. —Julian J. Ramos, Lompoc Record, March 6, 2014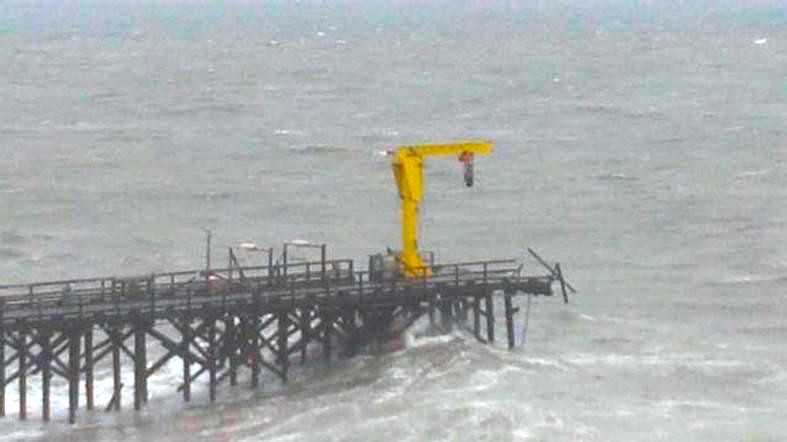 Santa Barbara's only real storm of 2014 destroyed the last 100 feet of the pier at Gaviota State Park on March 1, and the structure — beloved by both those who fish from the wharf and the boat owners who use its hoist to access the remote reefs and surf breaks of the adjacent Hollister Ranch — has been closed ever since. And while State Parks is taking the diligent steps toward reopening the popular recreational resource, which is the only launching spot between the harbors of Santa Barbara and Port San Luis, don't expect it to open anytime soon: The project could cost as much as $20 million, and even if that money was already in the bank, the project would take more than a year to complete.
"It's a very important facility, not only for Gaviota State Park, but for the region," said State Parks' Rich Rozzelle, who supervises this stretch of coastline. "It provides access to a stretch of coast that's very rich in history and marine life. There are a lot of people, including State Parks, who want to see it reopened."
Rozzelle commissioned a study on possible repair options, and his staff is analyzing that now while also identifying funding possibilities. The range of fixes goes from basic repairs that only cost a couple of million but wouldn't add the remaining 100 feet or include a hoist to a full concrete pier build-out, which is where the $20 million figure comes in.
Though many Hollister Ranch property owners — who enjoy a private, behind-guarded-gates, idyllic California coast experience — are notorious for opposing easy access to their beaches and breaks, Rozzelle has not heard of any actual opposition to fixing the pier. He also doesn't foresee trouble in permitting or environmental review, as State Parks employees process pier rebuilds often, but there will be a struggle in finding funding in the competitive state budget environment. There will likely be access improvements for the disabled when the repairs do happen, but the biggest expense will be the basic structural improvements.
"Without funding, it's premature to give specific dates," said Rozzelle, who believes it will take about a year to develop the plans to put out to bid. "If we had the money sitting in the bank today, we'd probably be 12 months out and more like 16 months." —Santa Barbara Independent, Matt Kettmann, August 22, 2014
<*}}}}}}}}}>< — One of my favorite visits to the pier took place in July of 2003 following a PFIC/UPSAC Get Together at Goleta. It would not prove to be a particularly productive visit; in fact it was one of my worst. However, the surroundings, the chance to fish with a fellow pier rat, and the capture of at least one decent-sized fish guaranteed a blissful experience and the following PFIC Message Board report.
Gaviota Pier: July 13, 7-10 A.M. It was picture-postcard conditions when I arrived at the pier with a clear sky, just a hint of wind, and a flat sea. Then, as I began to walk the pier, I noticed a duo of dolphins swimming gracefully along the mild line of the surf—a beautiful sight. But only one other angler was present on the pier, which generally isn't a good sign, and as I stopped to talk to him I found out why: fishing had been slow. He himself had not had a nibble all morning.
Nevertheless I headed out on the left side (looking seaward) to where there was a couple of old pilings covered with kelp (near a spot where, I believe, some repairs had been made a few years previous). The spot looked really fishy even if a little risky. Risky? Thick kelp surrounded the pilings and as the ocean surged, thick tendrils of kelp would envelop those same pilings. Could I drop a rig down into that spot without losing the rig? Could I land a fish if one decided to grab a bait? But, I was convinced fish were there, the spot was a natural. And it demanded attention even with the risk (and the chance for fish is always worth the risk). If a fish decided to hit I would need some luck, and perhaps need to say a silent prayer or two, but perch and rockfish are two of my favorite fish and this spot seemed perfect for both.
I dropped a high/low rig, size 6 hooks, and one-ounce torpedo sinker straight down into the maelstrom of activity betwixt and between those pilings. Almost immediately I began to get bites on my fresh mussel bait but it was the wrong kind of fish. Shiners and walleyes were thick and although most were at a mid-depth position, they seemed to like nothing better than to follow my mussel bait all the way to the bottom where the big perch would be lurking. I could have switched to larger baits and bigger hooks but was hoping for some of those bigger perch and they like small hooks.
Soon after, a few anglers did begin to show up. A couple tromped out to the end where they begin to use Sabiki-bait rigs to land an occasional sardine and jacksmelt; most set up shop along the sides of the pier in pursuit of whatever.
About that time Glen (Songslinger) showed up (see the picture of the halibut above) from the previous day's gathering at Goleta and I thought perhaps a new Get Together might be in the works; but no, we would be the lone duo from the PFIC board. He was nearly out of bait and wanted some fresh bait so he headed down to the beach to catch some sand crabs. I continued to search out that big perch—and I found HER.
Out in that "spot," right where I knew the fish would be, I had a hard hit, reared back and felt both a fish and the kelp on my line. At first I thought I might have lost her but I could feel the fish tugging and sure 'nuff she worked herself free. I got her to the top and it was a good-sized rubberlip that I soon hand-lined up to the top (since I didn't have a net with me). She was long and thick, oh so thick, but as soon as she got on the pier she started squirting out her young. Yes, she was a gravid female ready to birth and I knew I would need to release her. So, as quickly as I could, I took a fast picture, and dropped her and her offspring back into the water. I hated to drop her down from the pier but had no other choice since I lacked the net. Happily, she seemed to take right off and swim away. I didn't measure or weigh her but I'm sure she weighed at least three pounds; she looked bigger than that but looks can be deceiving. Songslinger, by the way, saw the fight from the beach and saw she was a good fish.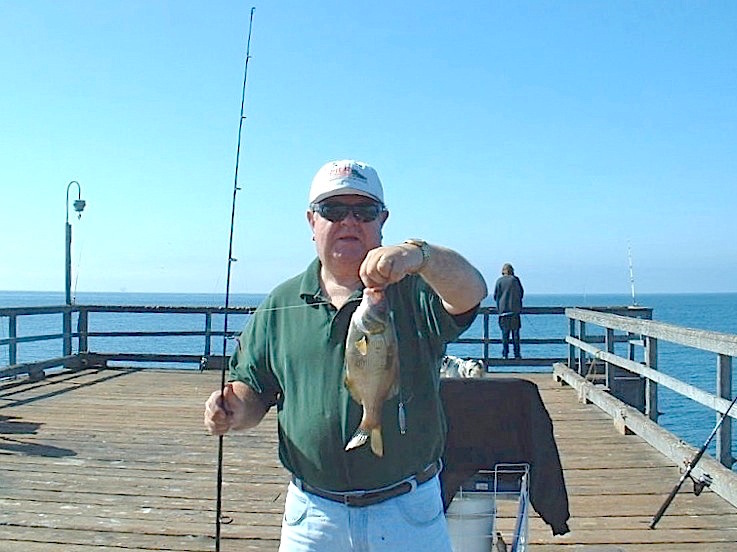 Rubberlip Seaperch
Everything after that was anti-climatic until Glen himself returned and managed a nice, legal-size halibut using a lively shiner perch and his new leader technique. I provided the bait, he provided the brains, and soon I heard (in a low voice)—"Ken you want to come here?" He didn't want to awaken the entire pier but did want to show me that hallie he was bringing to the top—and show me a hallie yawn. He was going to break it off but before we had the chance a newly arrived angler rushed over with a net. Soon a 22-inch fish joined us on the pier and after a quick measurement and picture she too was returned to the water. Not too shabby for these old pier rats, a long way from home—a nice sized rubberlip and a legal hallie.