Bonefish caught at the Balboa Pier
Bonefishes: Family Albulidae
Species: Albula gilberti (Pfeiler & Van der Heiden, 2011). Previously referred to as Albula vulpes and "Albula sp. A." From the Latin Albula (meaning fox).
Alternate Names: Bonefish, ladyfish, mullet, silver ghost, silver shuttle, sanducha and macabi. There are hundreds of local names for the fish worldwide. My favorites: banana or bananafish (many countries), sorte de mullet (New Caladonia; and it does sort of look like a mullet), salmon peel (Barbados) and Zorro (Spain and Peru). Called macabi in Mexico.
Identification: Snout conical and cartilaginous with a small mouth. One dorsal fin located at the middle of the back. Generally gray, bluish or greenish above, silvery below; base of fins yellowish. Sometimes bars at side, usually in younger fish; bars fade at death. Sometimes mistaken for mullet by pier anglers who more commonly   see mullet milling down around the inshore pilings of piers.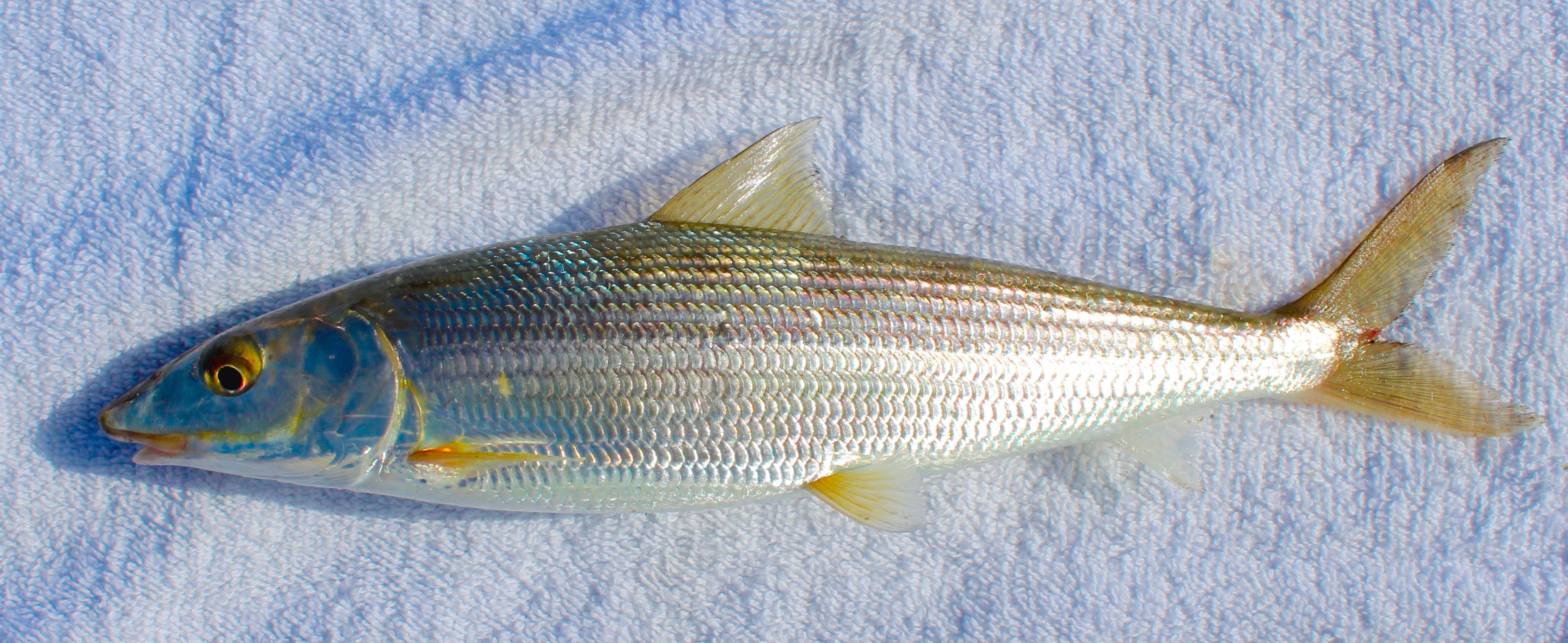 Cortez Bonefish caught at the Dana Harbor Pier
Size:  Historically listed as reaching 14.2 inches in length. However, Love and Passarelli, Miller and Lea's Guide To The Coastal Marine Fishes of California, Second Edition, 2020, use a 16.2-inch length. Rocha & Allen, A Field Guide to Coastal Fishes, 2016, give a maximum length of 18 inches. Whatever the maximum size, these eastern Pacific bonefish are diminutive when compared to Albula vulpes, the famed bonefish of the Florida Keys and the Caribbean. Those larger cousins can reach 41 inches in length and a weight of 19 pound. The typical size from California piers is a modest 10-12 inches.
Range: Gulf of California (Sea of Cortez) south to Acapulco, along the west coast of Baja California, and north to California. Although reported over the years from bays as far north as San Francisco Bay, they are rare north of Point Conception and uncommon north of Los Angeles. Commonly caught in San Diego Bay and reported from piers along the San Diego coastline north to piers in the Los Angeles area.
Habitat: Shallow waters, in bays, lagoons, and estuaries, and along sandy-beach shores. Typically found in schools so if you catch one you may catch more. Although the peak times seem to be the warmer March through October months, they are in the bays year round and can surprise an angler with a bite any month of the year.
Piers: In California, most often encountered at piers inside of bays but occasionally caught from oceanfront piers.  Best bets are the Ferry Landing Pier (Coronado), Bayshore Park Pier (Chula Vista), L.M. "Pep" Pepper Park Pier  (National City), and the Embarcadero Marina Park Pier, all located in San Diego Bay. Reported from the Imperial Beach Pier, Ocean Beach Pier, Crystal Pier, Oceanside Pier, San Clemente Pier, Dana Harbor Pier, Balboa Pier, Newport Pier, Seal Beach Pier and Belmont Veterans Pier (Long Beach).
Shoreline: An occasional catch by anglers at SoCal bays and harbors—San Diego Bay, Mission Bay, Newport Bay, Huntington Harbor, Alamitos Bay and Marina Del Rey Harbor.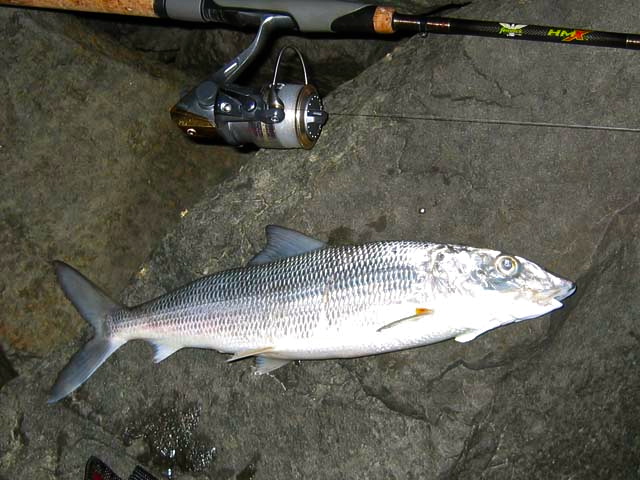 Shore-caught bonefish from Spanish Landing in San Diego
Boats: An inshore species rarely taken from boats unless fishing in bays. South San Diego Bay is considered the premium west coast area for bonefish.
Bait and Tackle: The best bait for the "silver ghosts" is ghost shrimp but they will also hit on bloodworms, lugworms, fresh mussel, clams and shrimp. Given their size, light to medium tackle is all you'll typically need although oceanfront piers may require, depending upon wind and current, a little heavier gear. Generally a 6-8 foot light to medium rod with matching size reel, 6-10 pound test fluorocarbon line, ½ to one-ounce sinker, and size 6 or 4 hooks will meet your needs. Kahle hooks are recommended when using ghost shrimp. All that I've caught were caught on high/low riggings but many anglers, especially those fishing in bays, will use Carolina-type rigs for the bottom hugging fish. Like most fish, they seem to bite best during moving water with a medium, 2-4 foot tidal movement about the best.
Given their excellent eyesight, they can also be caught on artificial lures. Bill Schaefer, one of the pre-eminent bonefish experts on bonefish in San Diego Bay says, "small grubs, 3 to 5 inches in length or small swimbaits in the 3 to 4-inch range work well. Yamamoto, Reebs Lures, Big Hammer, and Western Plastics all make some great lures for this. Spawning Ghost Shrimp
Food Value: Reported to be fairly good eating with a firm textured, mild-flavored flesh that is low in fat content. However, the flesh also contains many small bones—Y-bones and pin bones, that give them their name and make eating difficult. Best broiled or baked.
Comments: Bonefish are a highly sought out fish in many parts of the world, especially in the Florida Keys and the Caribbean, but with the exception of San Diego Bay they are generally an incidental catch for most California anglers. I've only caught three, two on a visit to the Embarcadero Marina Park Pier in San Diego Bay (on ghost shrimp) in 1999 and one at the Dana Harbor Pier in 2017 (on bloodworms). While the first two put up a good fight, they were caught in deeper water off the end of the pier and their fight little resembled the stories I had heard over the years regarding the "silver ghost." However, the fish in Dana Harbor was caught in shallow water and the fish made a long, long semi-circle run on the light tackle I was using and I could see how a larger version of the fish would be very exciting (especially on a fly rod). Unfortunately none of these three fish was over a foot in length.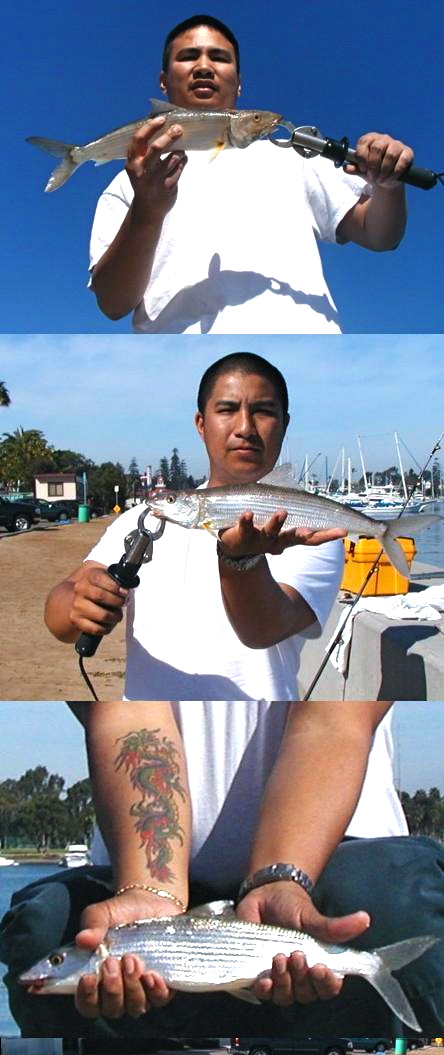 Bonefish caught at Coronado mini–piers by Anadromous