Bonefish caught at the Balboa Pier
Bonefishes: Family Albulidae
Species: Albula gilberti (Pfeiler & Van der Heiden, 2011). Previously referred to as Albula vulpes and "Albula sp. A." From the Latin Albula (meaning fox).
Alternate Names: Bonefish, ladyfish, mullet, silver ghost, silver shuttle, sanducha and macabi. There are hundreds of local names for the fish worldwide. My favorites: banana or bananafish (many countries), sorte de mullet (New Caladonia; and it does sort of look like a mullet), salmon peel (Barbados) and Zorro (Spain and Peru). Called macabi in Mexico.
Identification: Snout conical and cartilaginous with a small mouth. One dorsal fin located at the middle of the back. Generally gray, bluish or greenish above, silvery below; base of fins yellowish. Sometimes bars at side, usually in younger fish; bars fade at death. Often confused with mullet by anglers  who see mullet milling down around the pilings of piers.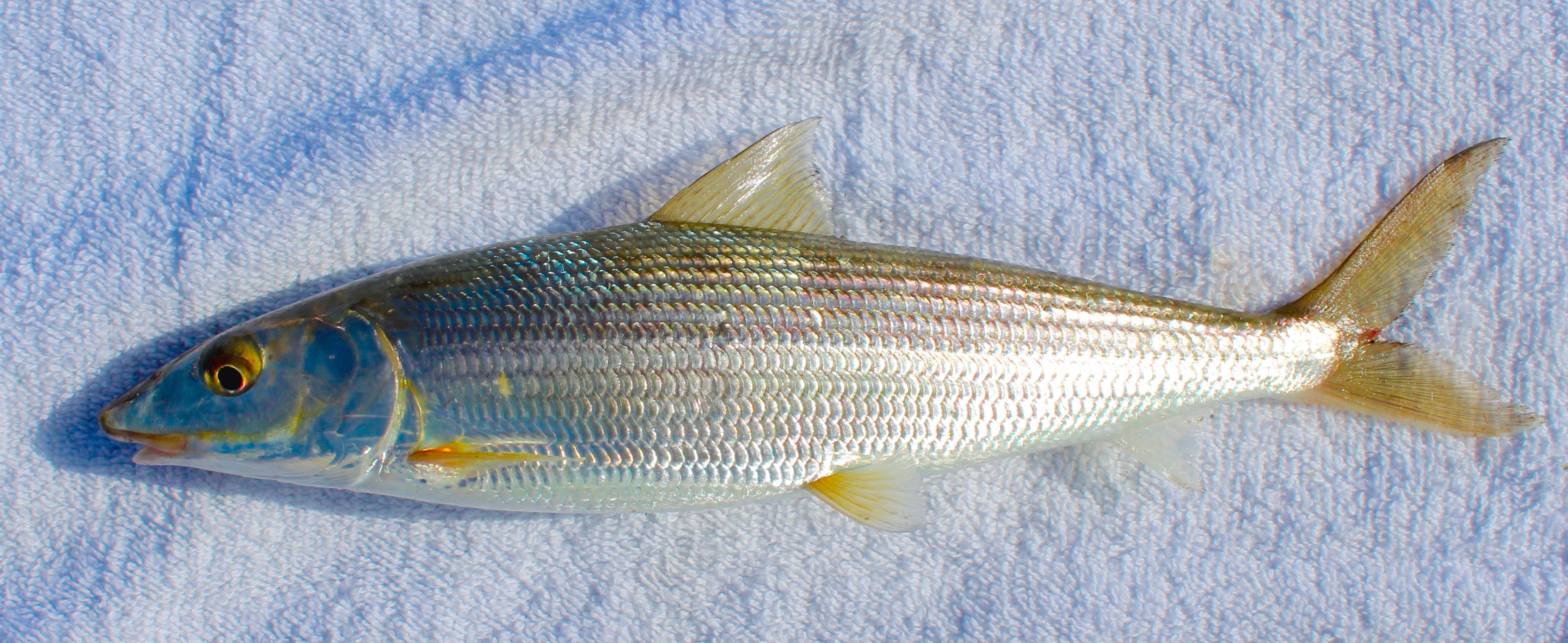 Cortez Bonefish caught at the Dana Harbor Pier
Size: Length in the eastern Pacific to 14.2 inches (Pfeiler and Van der Heiden 2011). Typical size from California piers is 10-12 inches.
Range: San Francisco, northern California, along west coast of Baja California, and into the Gulf of California (Pfeiler and Van der Heiden 2011) to Acapulco, Mexico (Palacios-Salgado et al. 2014). Increasing number have been seen in southern California in the past twenty years with a regular fishery developing in San Diego Bay.
Habitat: Shallow waters, in bays, lagoons, estuaries and along sandy-beach shores.
Piers: In California, most often encountered at piers inside of bays but occasionally found at oceanfront piers.  Best bets are the Ferry Landing Pier (Coronado), Bayshore Park Pier (Chula Vista), L.M. "Pep" Pepper Park Pier  (National City), and the Embarcadero Marina Park Pier—all located in San Diego Bay. Also reported from the Oceanside Pier, Dana Harbor Pier, Balboa Pier, Newport Pier and Seal Beach Pier. Unconfirmed reports from the Imperial Beach Pier, Belmont Veterans Pier (Long Beach) and San Francisco Bay.
Shoreline: An occasional catch by anglers at SoCal bays and harbors—San Diego Bay, Mission Bay, Newport Bay, Huntington Harbor, Alamitos Bay and Marina Del Rey Harbor.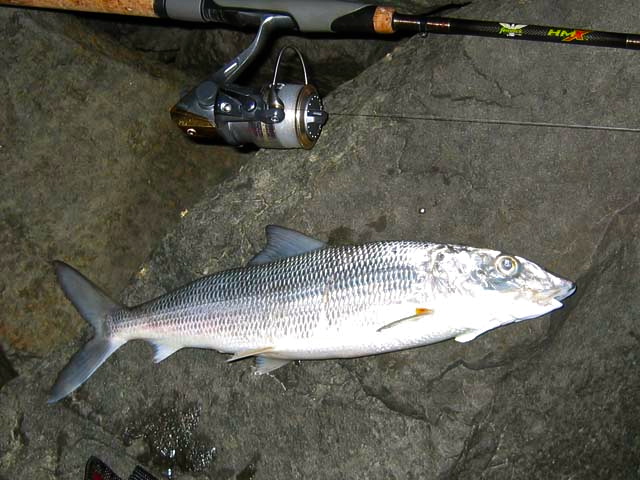 Shore-caught bonefish from Spanish Landing in San Diego
Boats: An inshore species rarely taken from boats unless fishing in bays. South San Diego Bay is considered an excellent area for bonefish.
Bait and Tackle: Light to medium tackle, size 6 or 4 hooks, and ghost shrimp, bloodworms, clams, fresh mussels, or cut shrimp as bait.
Food Value: Reported to be good eating but they also contain many small bones. Perhaps that's why they are called bonefish.
Comments: Bonefish are a highly sought out fish in many parts of the world, especially in the Caribbean. However, the more prized fish are a different sub-species reaching a much larger size. The Cortez bonefish found in California is a smaller-sized bonefish and an incidental catch for most California anglers. I've only caught three, two on a visit to the Embarcadero Marina Park Pier in San Diego Bay (on ghost shrimp) in 1999 and one at the Dana Harbor Pier in 2017 (on bloodworms). While the first two put up a good fight, they were caught in deeper water off the end of the pier and their fight little resembled the stories I had heard over the years regarding the "silver ghost." However, the fish in Dana Harbor was caught in shallow water and the fish made a long semi-circle run on the light tackle I was using and I could see how a larger version of the fish would be very exciting (especially on a fly rod) . Unfortunately none of these three fish was over a foot in length.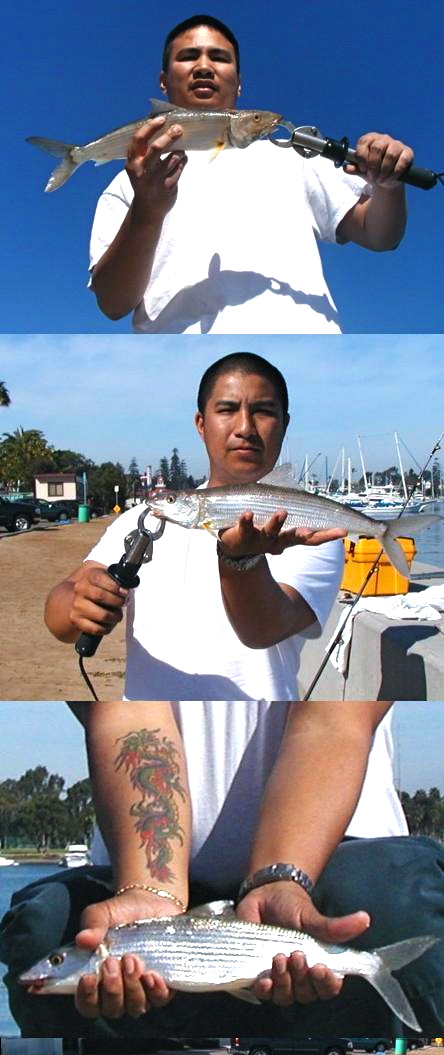 Bonefish caught at Coronado mini–piers by Anadromous