Public Pier — No Fishing License required

What'cha see? That grammatically incorrect greeting was directed at three gentlemen who were intently staring into the water from a small bridge that almost adjoins the Arrowhead Marsh Pier, one of the two piers located in the Martin Luther King Jr. Regional Shoreline area, this pier and the Doolittle Pier (see separate article).
What had grabbed their attention were three small bat rays that were swimming slowly around the shallow, probably less than two-foot-deep water.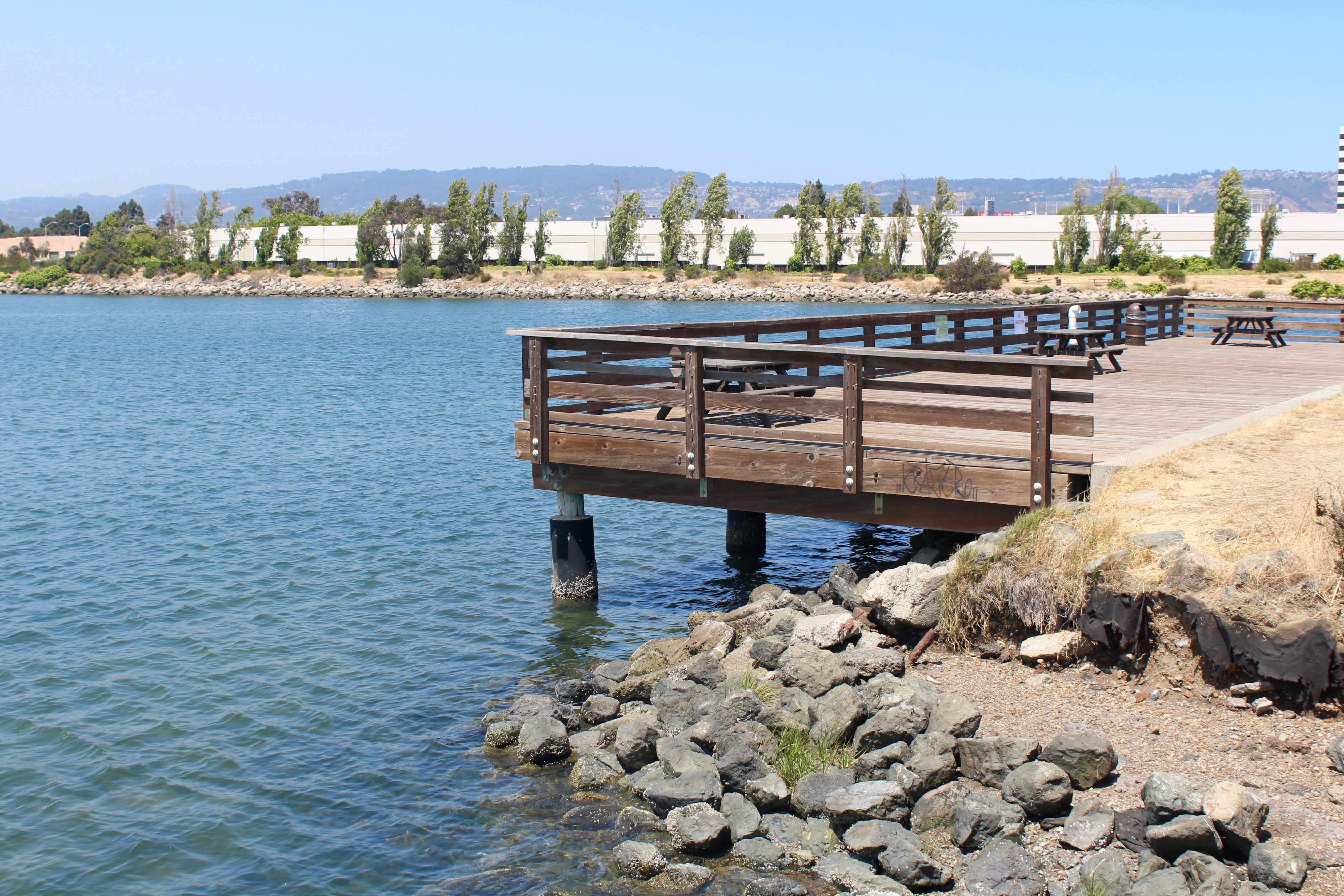 I joined in the ray watching! They were small bat rays, less than (I guess) ten pounds each and they were in no big hurry; sometimes they were gliding along, sometimes just resting on the bottom. I suppose they were searching out food but maybe they were in a group swim fest? Eventually the humans moved on while the ray remained in their watery wonderland.
The sight reminded me of two things: water in this area is often fairly shallow and bat ray are one of the most commonly encountered fish.
Environment. The Arrowhead March Pier, called by some the San Leandro Creek Pier, is located in the northeastern section of the area, adjacent to both Arrowhead Marsh itself and to most of the park facilities.
To the right of the pier, San Leandro Creek and Elmhurst Creek meet and flow into San Leandro Bay. The small creek containing the bat ray sits almost behind and to the left of the pier and that's where its waters flow into the marsh. Straight out and to the right sits a channel of the bay and to the left is the marshy area.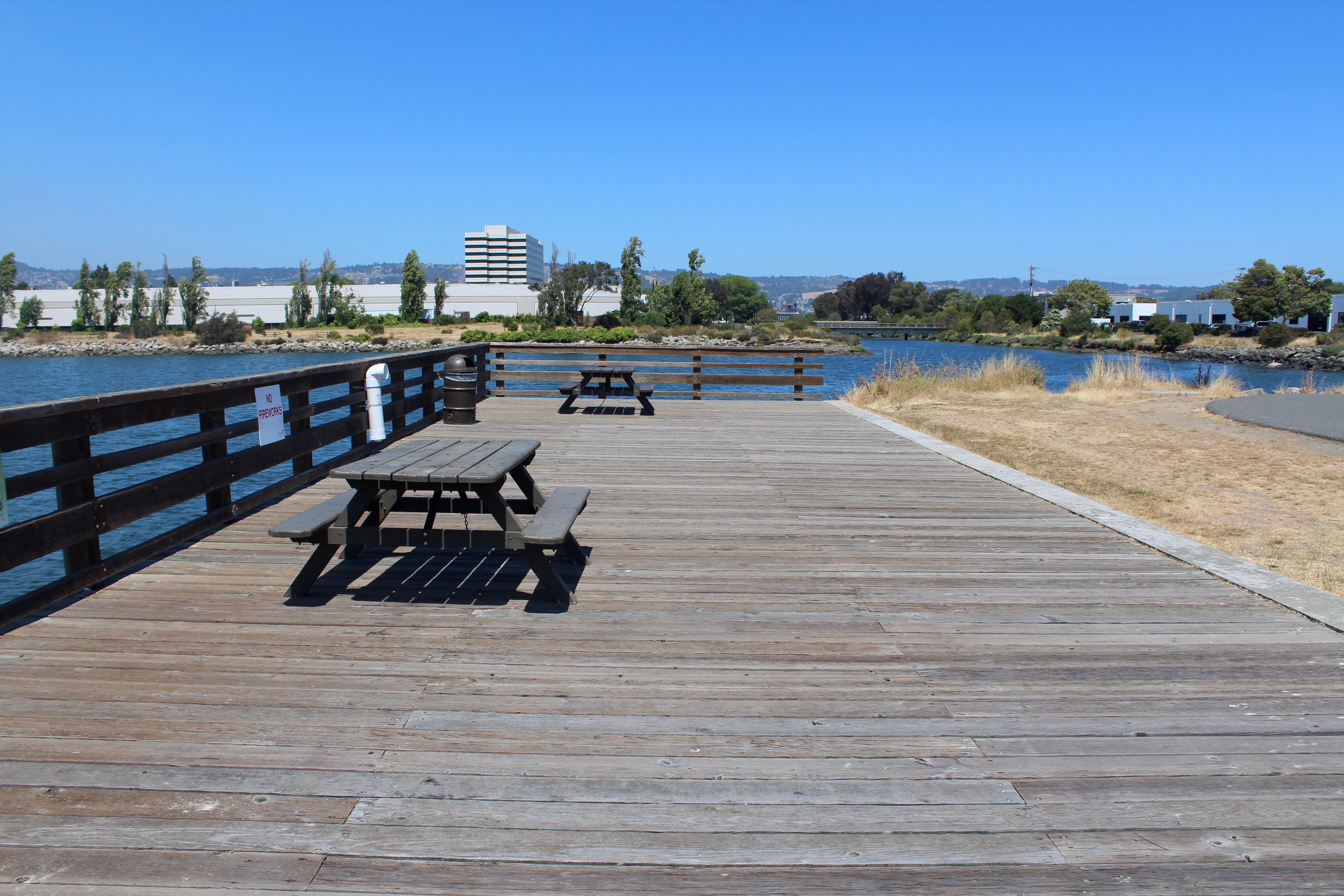 The pier was constructed in 1983 and is supposedly 175 feet long but I think that is actually the width, not the length. In fact, the pier hardly sticks out over the water. Because of its size and location, anglers are presented an environment that has a mud bottom and somewhat shallow water.
Many piers see their pilings covered with barnacles, mussels and a mélange of small critters living amongst those mussels. Here, given that the pier's pilings are mainly submerged only during high tides, there's little growth on the pilings except barnacles. Thus the pier does not really attract inshore fish like perch and striped bass and it's hit or miss fishery.
Most anglers simply cast out into the deepest water they can reach and hope for the best.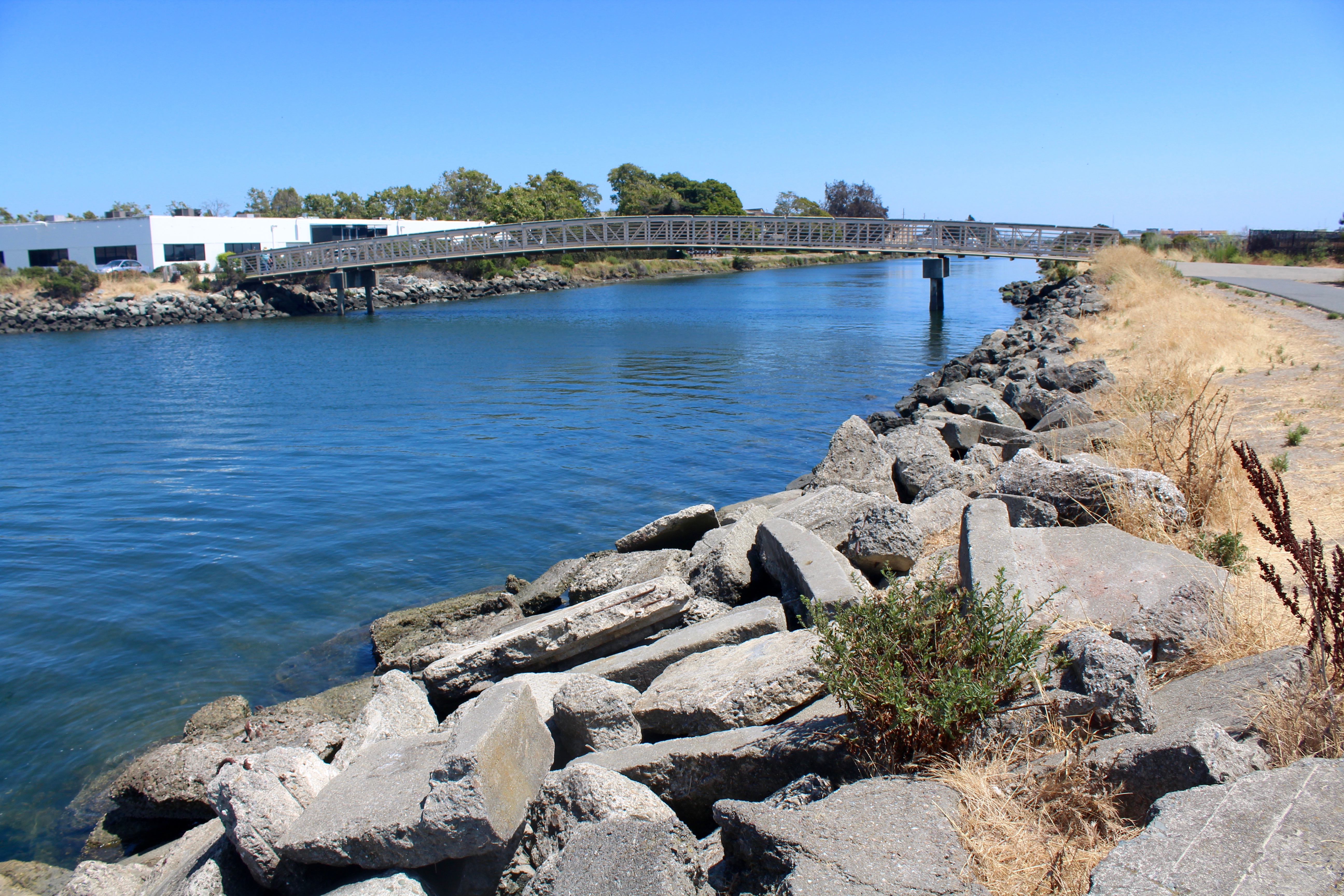 The most commonly caught bottom fish are staghorn sculpin (bullheads), kingfish (white croaker), and a variety of perch. Year round can see hoards of small shinerperch that are too small to eat but are good bait for stripers and halibut. Winter to spring months can see the larger pileperch, white seaperch and a mix of whichever perch have entered the bay. The most common perch year round is blackperch (sometimes called buttermouth) while occasionally the larger rubberlip seaperch will make a showing.
Sharays, sharks and rays, are numerically among the most common bottom fish. Bat rays, small babies under 10 pounds in weight up to the big mama bat rays approaching or even exceeding 100 pounds in weight, make these waters home. Personally I release all bat rays, they are neat creatures that are commonly seen in "petting pools" at zoos and aquariums. Both leopard sharks, to nearly five-feet in length, and the smaller brown smoothhound sharks, are also common. Once in a great while another shark species might be encountered but they are more common to piers fronting deeper water.
Two flatfish show up at times. Starry flounder occasionally make an appearance in winter months while California halibut may show up during the May to September months (but don't hold your breath).
Local anglers tell me they have seen a few white sturgeon landed but I personally haven't seen any of the diamondbacks at the pier. Nevertheless, you just never know.
Jacksmelt and topsmelt are also common and they are usually caught mid-depth by anglers using a float.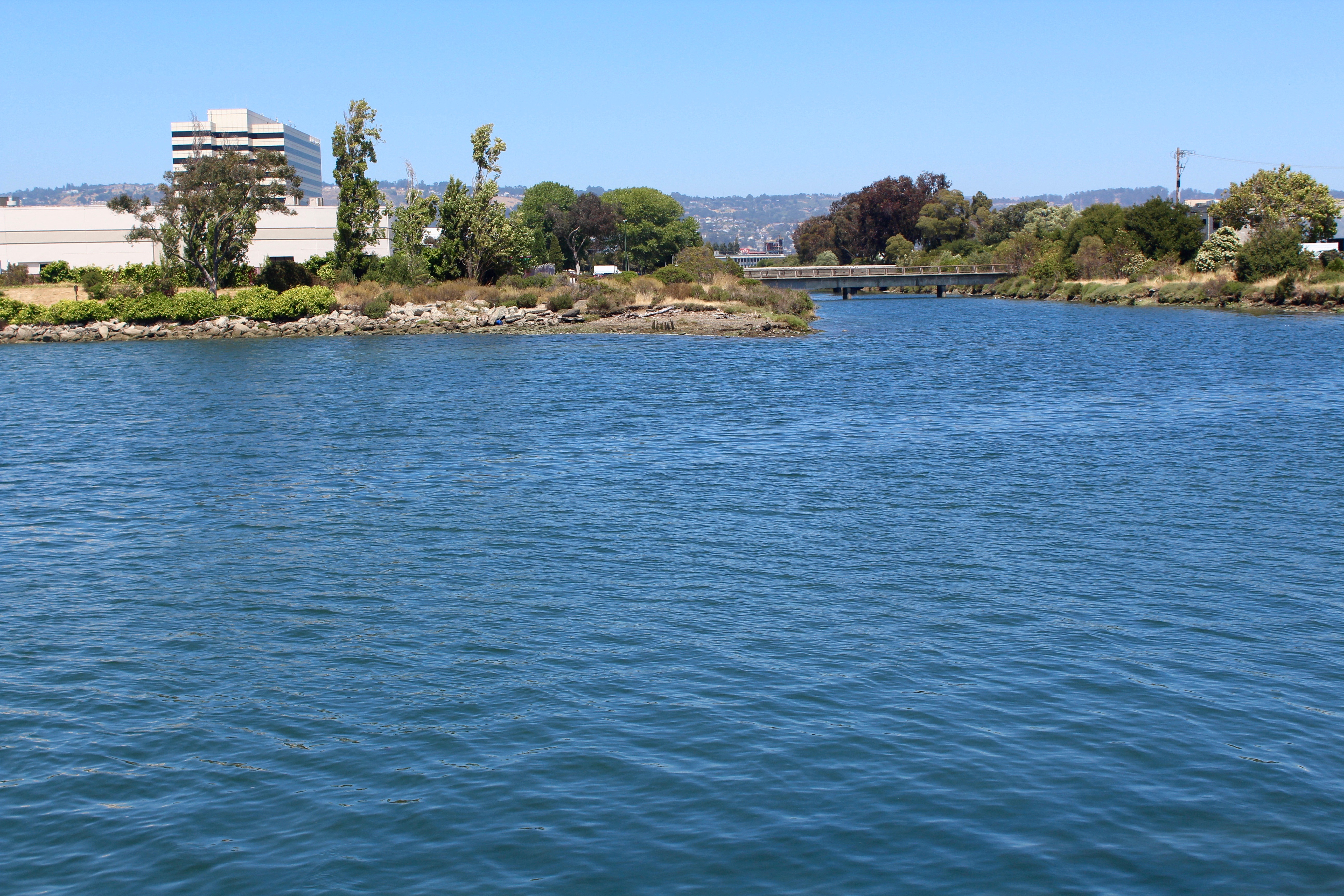 The 50-acre Arrowhead Marsh section of the shoreline park is not only home to this pier but is also a great place to have a picnic, a place to do some bird watching, and a place to explore a marsh, the nursery areas for many of our fish. It is also a great place to simply rest and relax. It's somewhat of an outdoor oasis in this heavily industrialized section of the East Bay.
A quick glance through the trees to the east reveals the nearby Oakland Coliseum (officially the Oakland-Alameda County Coliseum, a place given a number of name changes over the years including the dumb (to me) name O.co Coliseum for a period of time).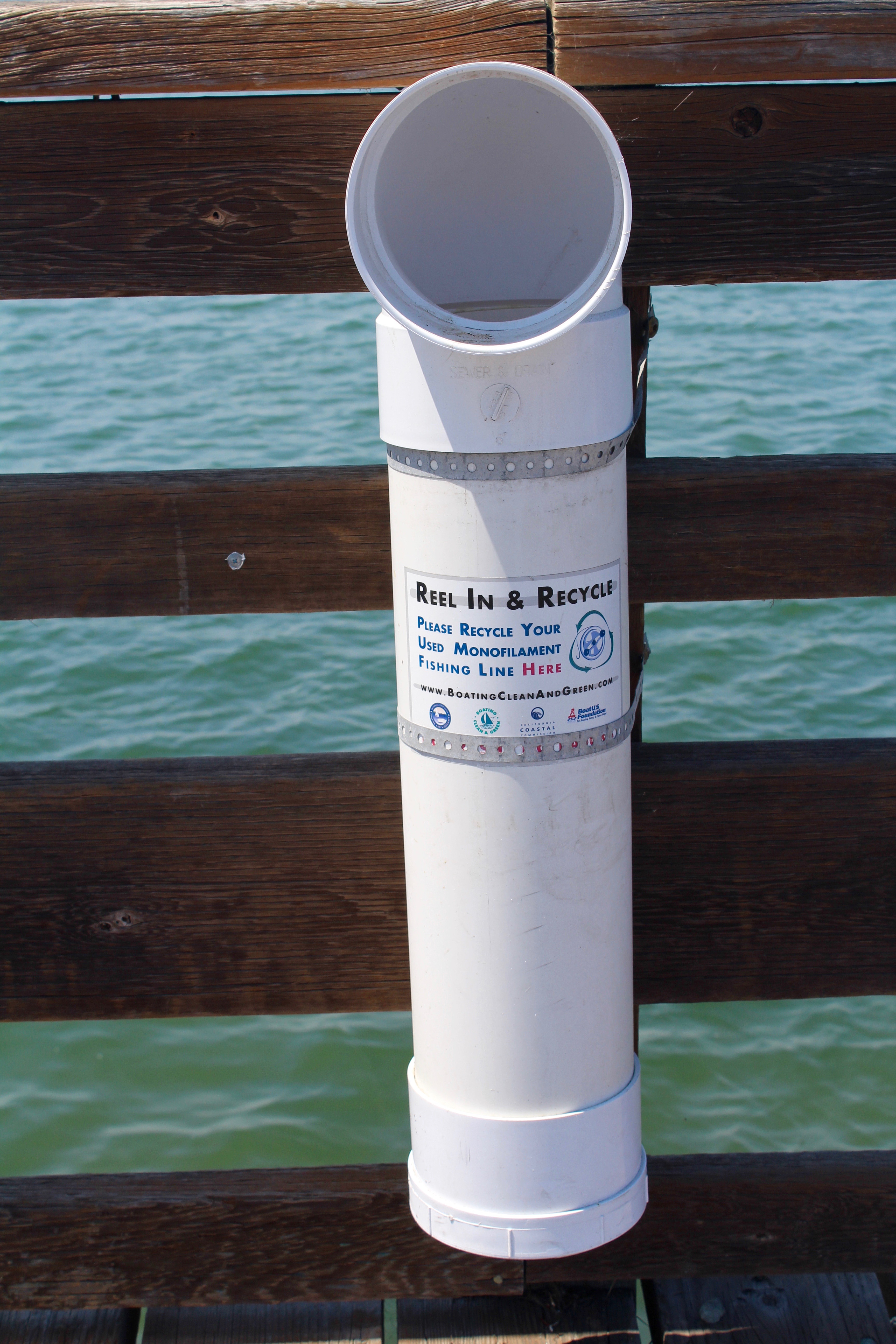 Fishing Tips. Remember the seasons when you are fishing Bay Area piers! In the winter and spring fish for flounder and/or perch; use pile worms, grass shrimp, ghost shrimp, clams or market shrimp, and fish on the bottom using fairly small hooks (size 6 or 4).
The winter and spring will see some large pileperch (as well as white, black and rubberlip seaperch) while shinerperch are a year long resident. Do remember the April 1 to end of July perch closure (although it's OK to keep up to 20 shinerperch).
Fish during the summer and fall for most of the other species. White croaker will be one of the most commonly caught fish but jacksmelt numbers may also be high when a school moves through the area.
The white croaker (kingfish) are normally caught on small pieces of anchovy or squid while jacksmelt can be caught on a multi-hook leader (no more than three hooks) fished with a float and small pieces of pile worms.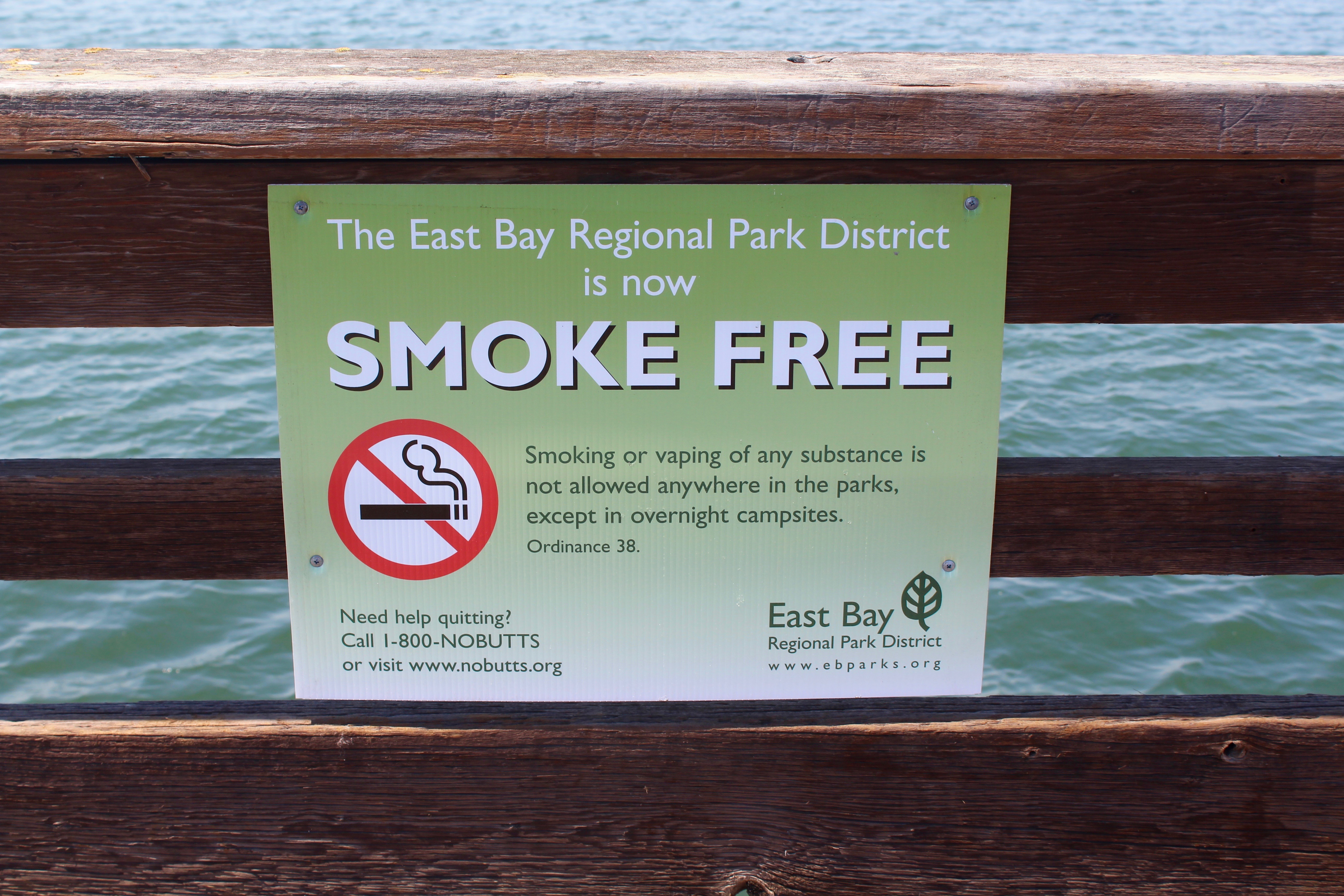 For many anglers, summertime represents the prime time for sharays—sharks and rays. The sharks like an oily/bloody-fish dinner such as sardine, anchovy or mackerel, while the bat ray prefer squid.
Summertime is also the time for the pier's favorite fish—striped bass. The bass generally prefer a live bullhead or mudsucker but small shinerperch will also work and some locals swear there is nothing like a dead bullhead all covered with slime.
But, given the small size of the pier and proximity to the water, many anglers will be out plugging away for the stripers. A plethora of lures are used, everything from the old fashioned but still effective Hair Raisers to spoons and soft baits.
Halibut, if they make an appearance, prefer lively bait such as a small shiner.
The Pier Rats Speak

Date: September 13, 1998; To: Ken Jones; From: Tony G; Subject: New East Bay Striper Hotspot?
Ken, Let me start by thanking you for your fantastic California pier fishing report!  It's great to be able to log on to the net and be able to plan each fishing trip with the click of a mouse button.
Hopefully, I can repay you by filling you in on some inf. that you may  or may not already know.  I read in your book about the piers located in San Leandro Bay (Martin Luther King Jr. Regional Shoreline).  In it you mentioned that the fishing there was slow and inconsistent, at best. Well, I think that may rapidly change.
I was there last evening and witnessed something that I have not seen there before (the last time I visited the area was almost a year ago). The East Bay Regional Park District has finally completed the restoration of the wetlands at Arrowhead Marsh.  At high tides the newly restored marsh floods with water from the bay. Just after the turn of the tide, all that water drains out again through a tiny (15-20 ft) channel next to one of the piers there.
Along with the rushing water, hundreds of tiny bait fish schools are flushed into the Oakland Estuary. Waiting for those bait fish are marauding schools of hungry striped bass.
Too bad I didn't bring my rod with me last night as the water just EXPLODED with hundred of tiny fish skipping across the surface and dozens of stripers jumping after them. It was enough to nearly send me into the water after them.
An elderly gentleman I met there said that since the new channel into the marsh was opened, scenes like that were becoming more and more common.  I hope he's right!  If the stripers keep making that kind of a showing each season, that tiny little wooden deck next to the channel  could become a top-notch California pier!
Well, Ken, thanks again for your excellent fishing site. I hope to  see you soon at the MLK pier!  (Actually, I hope to see the stripers at  the end of my line!!!)
Tony, Thanks for the great information. I've always liked that area and those piers but I never did very good on the fishing there. Perhaps my luck will change. I will be down there next weekend so maybe I'll have a chance to try them out. Best wishes, Ken Jones
Ken, If you do go, I have two quick tips for you. First of all, the stripers showed-up after the turn of the tide. I was there Saturday night  (9/12).  I don't know what the time for high tide was that night, but the water started to rush out of the marsh at about 7:00 PM.  By 8:00 PM  the water was gushing out at full force, and the stripers were in a  frenzy.
Secondly, though I haven't tried it there yet, there's a little trick that I use at the Brisbane tubes that may work here.  What I have found to be a productive technique for rushing channels where you have a bridge is using small diving lures (small Rapalas & Rebels work well as do Rat-L-Traps). The trick is to get out onto the bridge and cast or drop your lure into the middle of the current. Let the water carry the lure out. Slowly feed out line until the tension eases-up to the point  were you can just feel the action of the lure vibrating the line. Then, well, that's it! You don't retrieve the lure, you just put your rod against the rail of the bridge and let the current work the lure!  It's almost like trolling from shore combine will the relaxation & ease of bait fishing!  I've used this technique at the Brisbane Tubes and several other similar channel-fed marsh areas in the bay and have had great success with it. Good Luck and Good Fishing! Tony
<*}}}}}}}}}>< — In early August 2018 we received word that an angler had been given a $200 fine by the park police for "fishing without a license." He was also told that he was lucky that he didn't receive a second ticket for having two rods (even though the second rod was in the rodholder and not set up). Lastly, he was informed that he was lucky that  a Dept. of Fish and Wildlife warden hadn't given him the ticket because it would have been ten times a much (which is an absolute lie). I contacted the "fishery" man for the East Bay Regional Park District and subsequently he informed me that the pier is indeed a "public pier" that should not require a license. He also said the angler could contest the fine and would probably win.  But, it was already too late, the fine had been paid. As for the park ranger, it sounds like the guy was totally off base both in his understanding of the rules and his demeanor. Time for some retraining.

<*}}}}}}}}}>< — Special Bay Area Regulations: 
A perch closure exits in San Francisco and San Pablo Bay from April 1 to July 31. No perch may be kept other than shinerperch (20).
In San Francisco and San Pablo Bay a fishing line may not contain more than three hooks.
Sturgeon Regulations:
A sturgeon report card and tags are required for anyone fishing for or taking sturgeon. (a) The card must be in the angler's possession; (b) a tag must be used for any sturgeon retained by the angler; (c) the angler must record information on the Sturgeon Report Card immediately after catching and   keeping or releasing the sturgeon.
White sturgeon can only be kept from 40-60 inches; larger and smaller sturgeon must be released.
Green sturgeon may not be taken or possessed.