Subphylum Crustacea (Crustaceans) — Order Decapoda (Crabs, Lobster, Shrimp) — Family Cancridae (Cancer Crabs) — Genus Cancer
Species: Cancer anthonyi, (Rathbun, 1897). (Alternate Metacarcinus anthonyi). The name honors Alfred Webster Anthony, a naturalist working in San Diego.
Alternate Names: Yellow crab and yellow rock crab
Identification: Yellow crabs have an oval-shaped, fairly broad and hard shell. Yellow crabs are noted for large black-tipped pincers on the claws with the claws large and smooth resembling those of rock crabs. However, they can be distinguished from rock crabs by their lack of red spotting on the underside. Coloring is yellow or yellowish-brown above with a purple wash anteriorly and on the legs (some specimens). The underneath is plain yellow or yellowish-white. The juvenile crabs tend to be darker than the adults.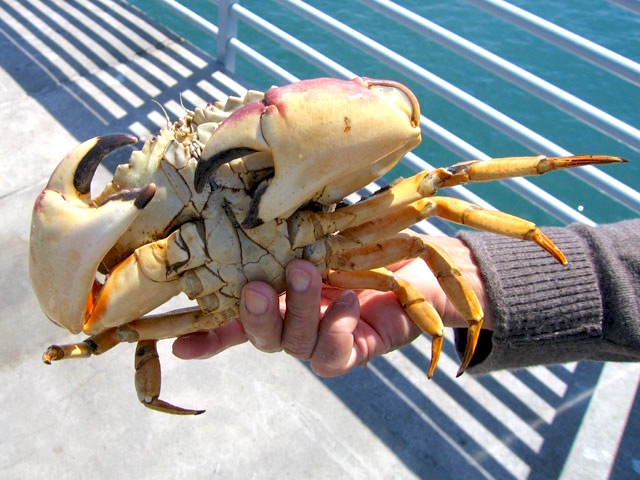 Big Yellow Crab from the Hermosa Beach Pier
Size: Males to 6.9 inches across the back, females to 5.6 inches.
Range: Bahia Magdelana, Baja California, to Humboldt Bay in Northern California, but uncommon north of Point Conception.
Habitat: Recorded from intertidal depths down to 430 feet but primarily found on sandy habitat between 60 to 180 feet. In the north, where many of the benthic areas are rocky, they are more commonly found in bays, sloughs and estuaries.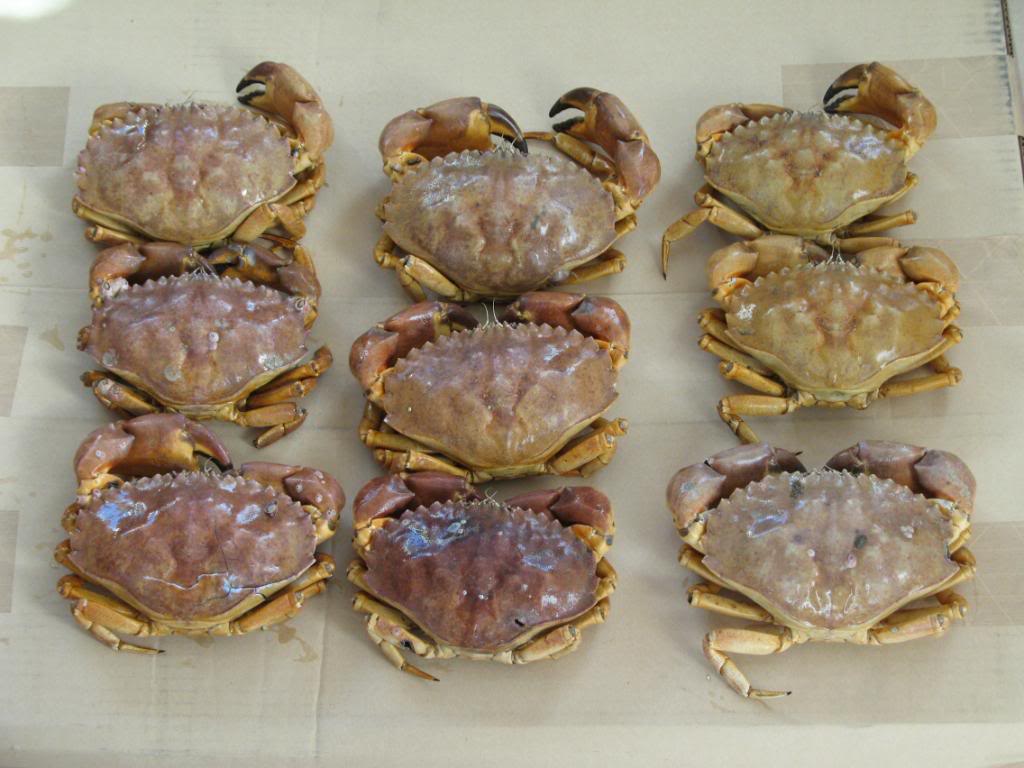 Yellow Crabs taken from the Hermosa Beach Pier by Mahigeer (Hashim Nahid)
Piers: Not really a common species from piers since they tend to be caught in deeper waters. Nevertheless, they are the main "rock crabs" taken from SoCal piers. Best bets: Santa Monica Pier and Stearns Wharf in Santa Barbara.
Shoreline: Few adult yellow crabs are caught in shallow, inshore waters.
Boats: A moderate goal of southern California boaters.
Bait and Tackle: Hoop nets and crab snares.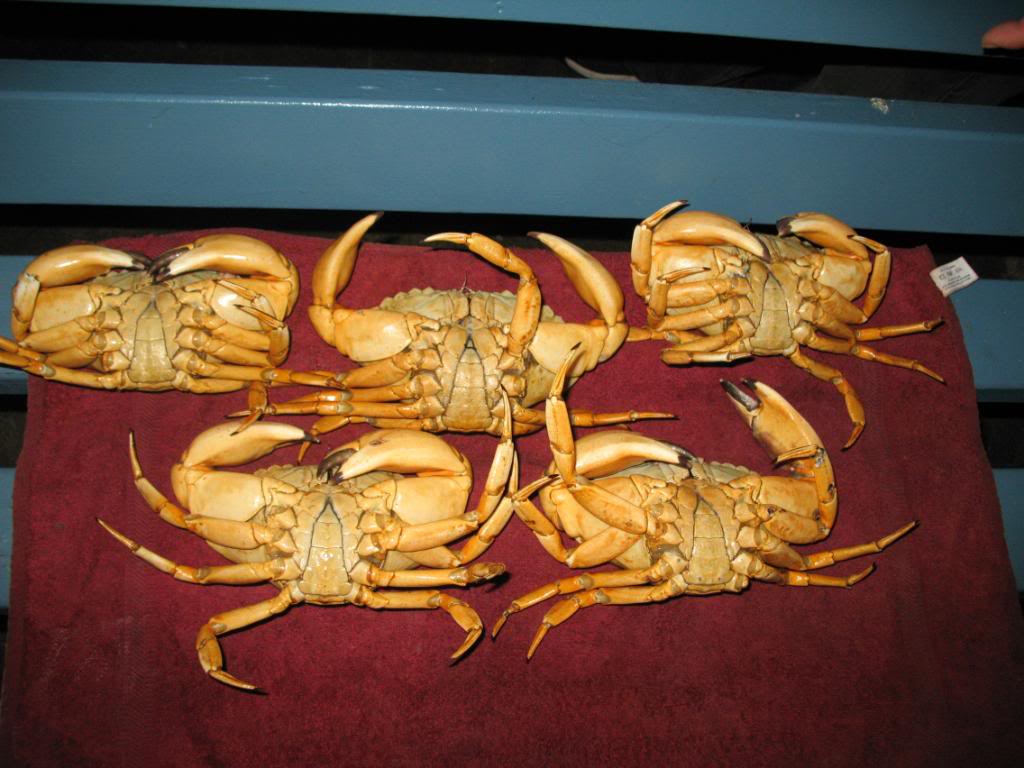 Yellow Crabs caught at  the Paradise Cove Pier by Mahigeer (Hashem Nahid)
Food Value: Excellent. Most food is found in the claws and legs but its delicate and sweet.
See the following for additional information and recipes for cooking crabs: https://www.pierfishing.com/msgboard/index.php?threads/recipes-for-crabs-%E2%80%94-dungeness-red-crabs-rock-crabs-and-spider-crabs.275/
Comments: Yellow crabs are the most abundant crab landed in southern California, 70-95% of the total commercial crab catch.