Public Pier — No Fishing License Required
If you want a unique pier, this is it. It's a small, all- metal pier built as much for public art as for fishing. A plaque near the pier reflects the artist's intent—"Ned Kahn, Wave Oculus, 2005. 2400 stainless steel minois angled to reflect a pixelated impression of the ever-changing surface of the estuary."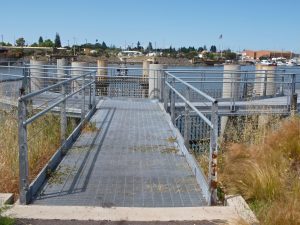 Alameda sits just across the channel from the pier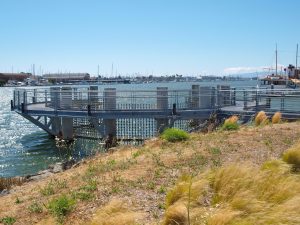 Environment. The small pier is part of the larger Union Point Park, a narrow park that hugs the shoreline between Embarcadero and the waters of the Oakland Estuary.
The park was opened in 2005 and seen as a pleasant place to bring a family; an oasis of types where the views and breeze from the estuary offered a nice respite from what is basically a light industrial neighborhood.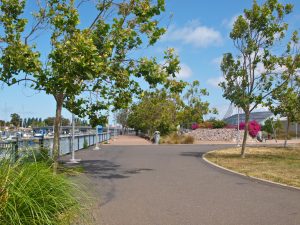 The attractive nine-acre park offers waterfront access, walking and bike paths, playground equipment (with a waterfront theme) for the kids, picnic and barbeque facilities, lawns and gardens, parking and restrooms, and great views of both the marina and the estuary.
The park also contains several pieces of "public" art. One is a large 13-foot statue, "Sigame/Follow Me," that is supposed to represent 20 Bay Area women.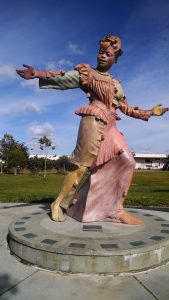 Another is the fisherman's friend—Wave Oculus.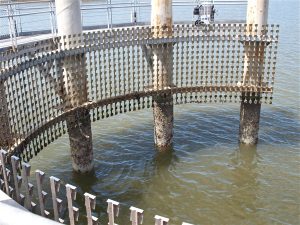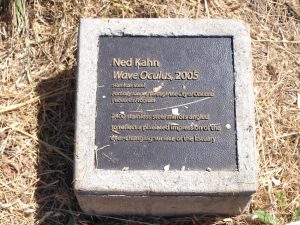 At the north end of the park sits the adjoining Union Point Marina while the pier itself sits toward the sound end of the park.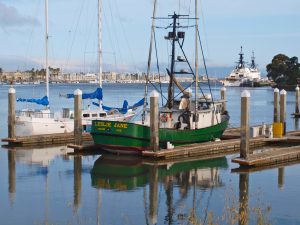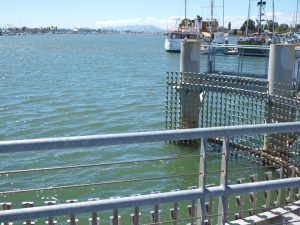 Fish and Fishing Tips. The fish species to be encountered are the same as those seen at the other piers located along the Embarcadero—the Fruitvale Bridge Pier (roughly a half mile south), the San Antonio Pier (roughly a half mile north), the Estuary Park Pier and Alice Street Pier.
The most sought after fish are striped bass but the fish more commonly caught are several sharays—leopard sharks, brown smoothhound sharks, and bat rays. Schools of small but good fighting jacksmelt may show up mid-water while on the bottom several perch species may make a visit. An occasional kingfish (white croaker) and starry flounder finish out the list along with a variety of small sculpins and gobies.
Stripers are primarily caught from the spring to fall months as they enter and exit the bay and anglers use a variety of rigs, baits and lures to catch them. A high/low leader with size 2-2/0 hooks is one approach. Pile worms, ghost shrimp, grass shrimp, or cut bait—sardine or anchovy, will often attract a striper.
Some people prefer a Carolina-type live bait rigging (with live or frozen bait). Use a sinker just heavy enough to hold bottom and a two-foot-long or so leader with a size 2 bait holder hook. Good live (fish) bait includes shinerperch, small smelt or one of the bottom-hugging gobies found in abundance in the estuary— primarily yellowfin and longjaw goby (mudsucker). Non-fish bait includes pile worms, ghost shrimp, and grass shrimp and all are excellent. Cut anchovies and cut sardines can also be used with the live bait leader.
Many anglers like to use artificial lures (plugging) for the stripers and a plethora of lures are used. For many years the standby lure was a bucktail lure, usually a white or yellow bucktail, and they still will work. However, anglers today use everything from Kastmaster and Krocodile spoons to soft plastic lures. Included are many traditional well known and reliable lures and companies—Rapala, Yo-Zuri, Rat-L-Trap, Bomber and Rebel. Am told Zara Spooks and Rebel Jumping Minnows are a couple of the current favorites but don't be afraid to experiment.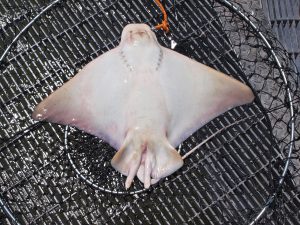 Bat Ray
The sharks also bite best from spring to late fall (when they tend to move into the deeper sections of the bay). Ditto the story on bat rats although they are more likely to show up in winter months than the sharks. Although most of the sharays will be small or medium in size, some good-sized leopards and bat rays have been taken at the pier.
Thus a heavier line is desired than for the stripers. Most of the shark anglers use at least 30-pound test; many will use braid and use up to 80-pound test line. Given that an 84-pound bat ray was reported from the pier, it makes sense.
Both high/low leaders and live bait leaders are utilized. Generally a high/low leader with size 2 to 4/0 hooks will attract sharks if baited with an oily piece of sardine or a whole anchovy. Some anglers also like to use cut jacksmelt since they are common in the estuary. The bat rays prefer squid (and the squid will last longer when crabs are a problem). If using a live bait leader the same aforementioned oily fish—sardines and anchovies, continue to lead the list of baits.

Brown Smoothhound Shark
Jacksmelt roam the local waters and when they show up the fishing can be fast and furious. They appear in schools and if you catch one you'll catch more. Although many anglers like to fish a Sabiki-leader under a float, I see no reason to cut u the somewhat expensive leaders. The maximum number of hooks in the bay is three while the Sabiki's have six hooks so you must remove three. Instead, I simply use a high/low set-up with size 6 or 8 hooks fished under a float. Pile worms, bloodworms, small pieces of shrimp or even small pieces of fish will attract the siversides (they're not actually smelt).
The kingfish (white croaker) show mainly in the summer and will hit a variety of baits fished on a high/low leader with cut anchovy generally producing the most kingfish (if they are around.
The starry flounder prefer a Carolina-rig rigged with pile worm or shrimp.
The Pier Rats Speak

Date: September 20, 2009; To: Pier Fishing In California Message Board; From: mud sucker; Subject: Macs in Oakland
Macs are currently being caught at the Union Point Pier and the Arrowhead Marsh Pier in Oakland.
Posted by shorechaser
 That's awesome; I live right next to Union Point. I usually hook into 10-pound rays and tons of sharks. I caught a 19-inch striper on a square-tailed swimbait.
Date: September 25, 2009; To: Pier Fishing In California Message Board; From: Bat-Ray-Dave; Subject: Stainless Steel Pier???
On the way back home [from the Mud Marlin Derby] and leaving the Motel 6 on Embarcadero we saw this thing. I guess it is a Stainless steel pier. Has anybody tried this place for rays? (Pictures of the Union Point Pier and the Wave Oculus Plaque)
Posted by Minnow Magnet
That's the Union Point Pier
Posted by shorechaser
 I actually live right over the bridge next to the freeway. There are some rays there; an 84-pounder was the biggest I've caught.
Posted by Salty Dog
I wouldn't want to fish on a metal pier during thunderstorm season… but interesting artwork.
Potpourri — Perhaps more than you want to know about the pier

<*}}}}}}}}}>< — The first fish that I caught at this pier was a chameleon goby (tridentiger trigonocephalus), a small fish native to Asia but a fish that has hitchhiked its way to the West Coast. It, together with yellowfin goby, are alien species that today are common in the Oakland Estuary, a fact that has worried biologists.  In some areas the yellowfin goby appears to be replacing the longjaw goby (mudsucker) that have provided bait for striped bass for over a century.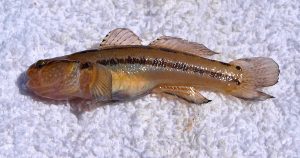 Chameleon Goby
<*}}}}}}}}}>< — A lot of hope, goodwill, and hard work went into developing the park. More open space and a place for families to enjoy the outdoors were needed and the park was seen as a welcoming place for that. However, it increasingly seems to have become far too welcoming for the homeless. People sit up tents, park their bikes, and seem to feel it's "Camp Union Point." The result is often some scary looking people and what at times seems to be garbage everywhere.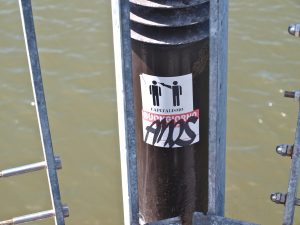 History. The Union Point Park opened in 2005.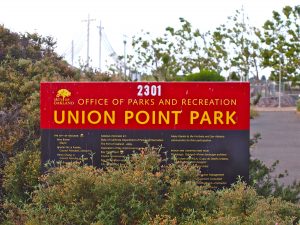 <*}}}}}}}}}>< — Special Bay Area Regulations:
A perch closure exits in San Francisco and San Pablo Bay from April 1 to July 31. No perch may be kept other than shinerperch (20).
In San Francisco and San Pablo Bay a fishing line may not contain more than three hooks.
Sturgeon Regulations:
A sturgeon report card and tags are required for anyone fishing for or taking sturgeon. (a) The card must be in the angler's possession; (b) a tag must be used for any sturgeon retained by the angler; (c) the angler must record information on the Sturgeon Report Card immediately after catching and   keeping or releasing the sturgeon.
White sturgeon can only be kept from 40-60 inches; larger and smaller sturgeon must be released.
Green sturgeon may not be taken or possessed.
Union Point Pier Facts
Location: 2311 Embarcadero. Union Point Park and its small pier sit roughly a half-mile down the Embarcadero from the San Antonio Pier. Driving south on Embarcadero, you pass one of my favorite restaurants in the area, Quinn's Lighthouse (the original Oakland Harbor Light), before reaching Dennison St. and the Coast Guard Island Bridge (that gives access to Coast Guard Island Alameda). Just a short distance past the bridge is the long and narrow park. Continuing south, the park ends just before Embarcadero begins to curve east and changes into E. 7th. St.
 Hours: Sunrise to 7 p.m.
 Management: City of Oakland