Kelpfishes and Fringeheads: Family Clinidae
Species: Gibbonsai metzi (Hubbs, 1927); from Gibbonsai (William P. Gibbons, an early naturalist from Alameda), and metzi (Charles W. Metz, a student of ichthyology once interested in kelpfish).
Alternate Names: Striped kelp-fish, seaweed kelpfish, weed klipfish. Called sargacero or sargacero rayado in Mexico.
Identification: Reddish to light brown, usually with darker stripes or darker mottling on sides (color often matches nearby seaweed). Tail rounded (distinguishes them from a giant kelpfish); pectoral fin is short, not reaching the front of the anal fin.
Size: To 9 1/2 inches long; most caught off piers are 5-8 inches.
Range: Punta Rompiente, central Baja California to Maquinna Point, Nootka Sound, Vancouver Island, British Columbia.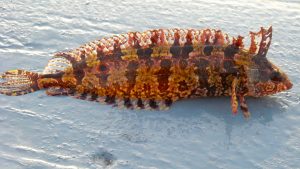 Habitat: Shallow-water areas near rocks or kelp.
Piers: Found at piers that have a heavy growth of kelp or seaweed. Best bets: I've taken them at the Cabrillo Mole (Avalon), the Paradise Cove Pier (Malibu), Coast Guard Pier (Monterey) and the Princeton Harbor Pier. I've also taken them at several Bay Area piers including Agua Vista (in San Francisco), Berkeley Pier (East Bay), and Elephant Rock (North Bay). At the first two they were inshore by the rocks, at the latter the pier sits on a rock.
Shoreline: Occasionally taken by anglers fishing in rock or kelp areas if using small hooks.
Boats: An inshore species rarely take from boats.
Bait and Tackle: Light to medium tackle and small, size 8 to 6 hooks. Preferred baits appear to be pieces of worm, blood or pile, while small pieces of shrimp and mussels will also entice them.
Food Value: Too small, let 'em go.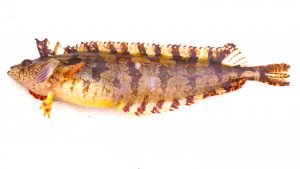 Comments: A pretty little fish that likes to hang by the rocks, dart out to grab the bait, and then head back to the rocks.