[The following was from one of our youngest (at the time) members of the Pier Fishing In California family. And yes, the weight looks a little bit high.]
Date: May 8, 2011: To: PFIC Message Board; From: HalibutSnatcher; Subject: Seacliff Skate
I went fishing yesterday at Seacliff for some stripers. I tossed a lure for nada. Then one of my friends shows up and catches some live shiners for us. So, I put one on and right at the top of the tide my friend's pole gets bit. He sets it and the rod doubles with weight and somehow he was able to pull it up with his light striper pole and it was a huge skate! But then his line snaps and like 20 seconds later I get bit and I feed it line then I set the hook and it's huge. In two min. I pull it up and it was the same skate. I fight for 15 min. So tiring, I almost lost it to a piling and we tried to net it but it was to difficult so we were gonna beach it. I gave my rod to my friend and ran down to the beach to help my other friend pull it in and so I could get a pic. We got it in and it was 120 pounds or more! Biggest fish I ever caught my and friend couldn't even pick it up! I took a couple pics and my friend also had his nice camera and took some pics from the pier. Man that thing was so much fun. At the end we released back into the water. I caught it with my Ugly Stik Lite on a sliding setup with 20# p P-line cxx. Best day on the pier so far this year! Here are the pics.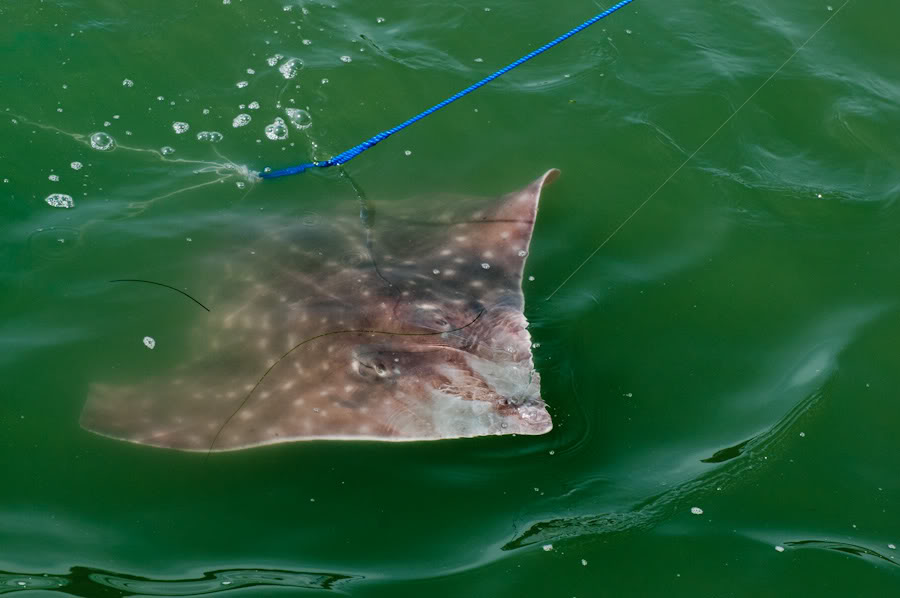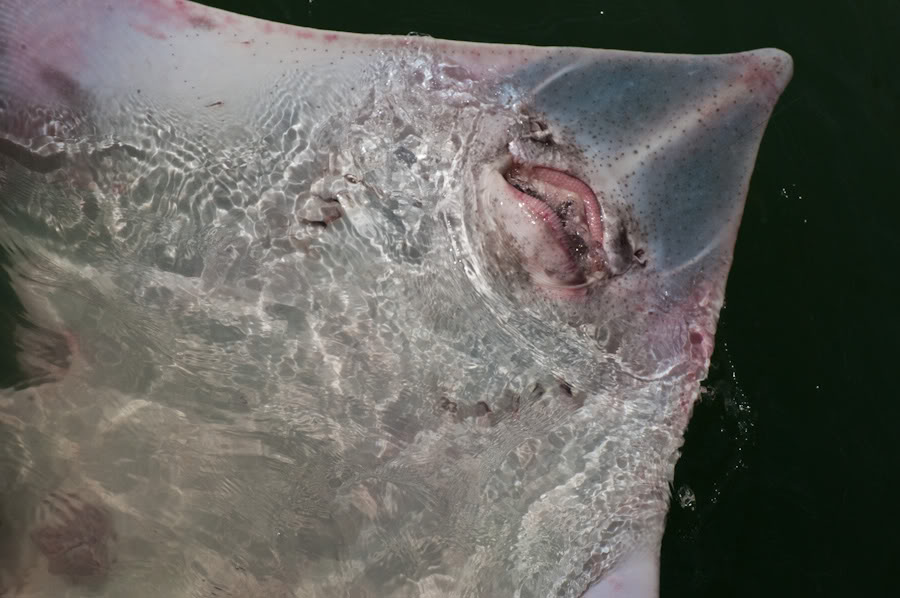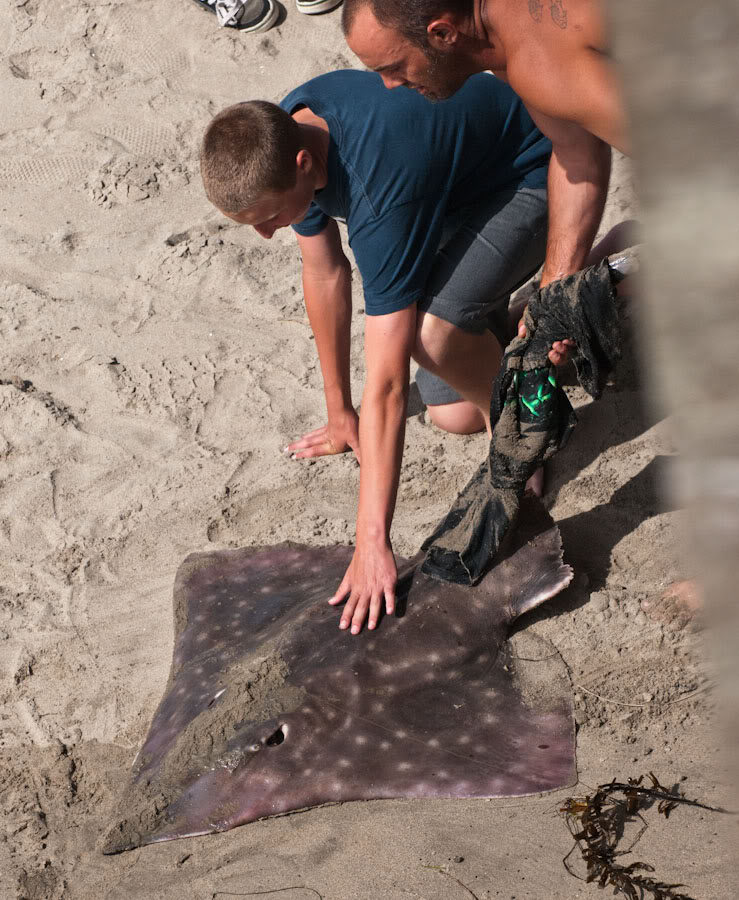 Potpourri — Perhaps more than you want to know about the Seacliff Pier

<*}}}}}}}}}>< — Fish surveys done by the Department of Fish and Game (2004-2009) showed 17  species at the pier (by number of fish) —  Northern anchovy, walleye surfperch, barred surfperch, Pacific sardine, shinerperch, calico surfperch, white seaperch, jacksmelt, silver surfperch, pileperch, striped seaperch, white croaker, blackperch, cabezon, topsmelt, California halibut and redtail surfperch. Most amazing was the low number of white croaker which traditionally have been near the top as far as numbers at the pier. Also somewhat strange is the lack of any striped bass, sharks and rays. Unfortunately these surveys are very limited and dependent upon the time of the year and time of the day being surveyed, they can give figures that are somewhat misleading.
<*}}}}}}}}}>< — Although it may look much the same as in years past, looks can be deceiving. The punishing storms and "hands of time" that made the ship dangerous to visitors changed the entire nature of the pier for anglers. Prior to its closure, and a sturdy fence blocking access to the ship, anglers could fish in and from the ship itself. By in, I mean several wells on the deck of the ship that allowed an angler to drop a line into the bowels of the ship itself (and I would have loved to be able to dive down inside that old ship). Who knows what growths and strange species inhabit the interior rooms of that ship? Maybe gigantic wolf eels; perhaps a pair that has mated for life? Maybe large octopi, even though the only ones I've seen in the area are palm-size little creatures. What I do know is that there were rockfish, cabezon, lingcod and perch—a plethora of species—available while fishing on the ship. Anglers were presented two options. They could fish the shallow-water, sandy-shore area of the main pier itself, or fish from the ship that over time had metamorphosed into an artificial reef of sorts and now replicated a rocky-shore milieu. Two distinct environments connected in a unique manner. My last visit to that ship and its wells was in 1994, a visit that resulted in several rockfish and perch. Ah, those were the days! But they're over.
<*}}}}}}}}}>< — This is the only pier in the state where I have witnessed a wedding taking place, an event that certainly gives a little variety and added excitement to the typical pier fisherman's day. The wedding I observed included a small band, flowers, a Navy captain acting as minister, and of course Prince Charming and his bride. Since the wedding took place on the cement ship I guess it was legal. By the way, conversations with anglers afterward indicated such weddings had occurred several times on the old ship (and it certainly provided some unusual wedding pictures).
<*}}}}}}}}}>< — In 2004 Pier Fishing In California  held a Get Together at the pier, which turned out GREAT! Good food, fair fishing, and great company. A few pictures: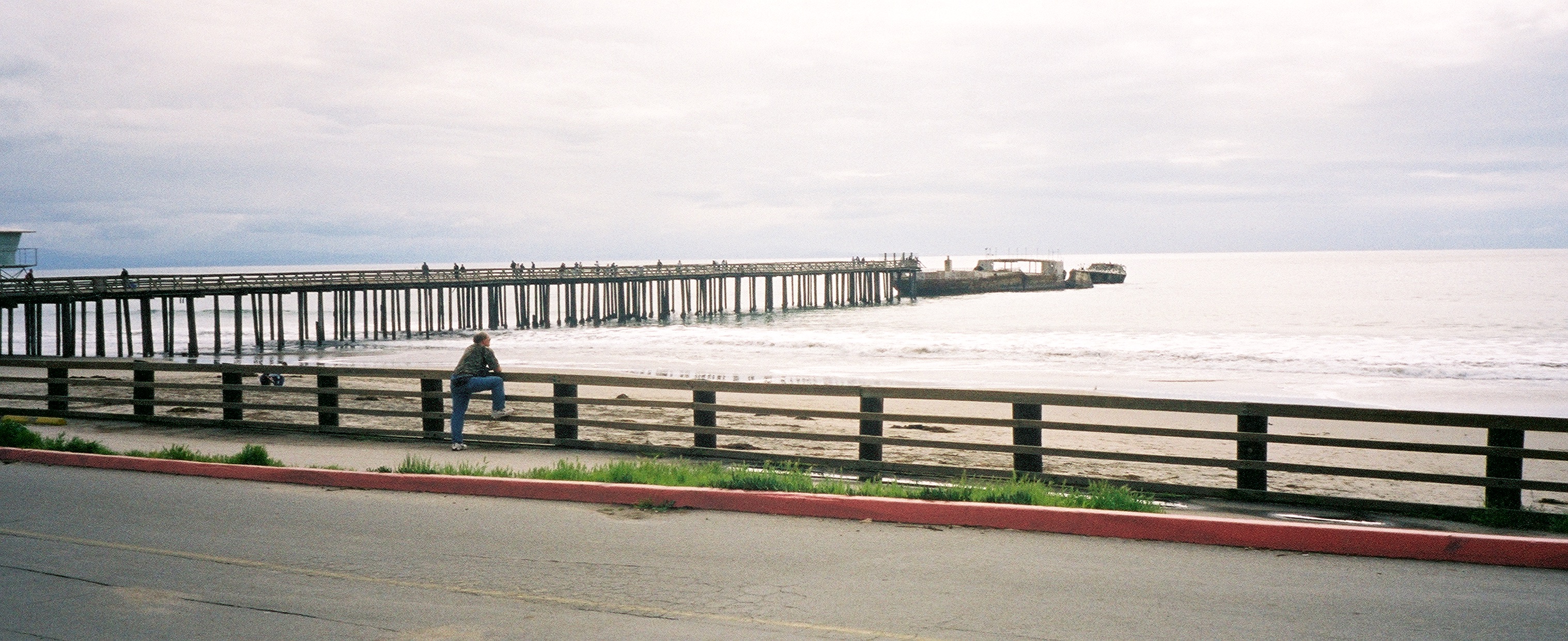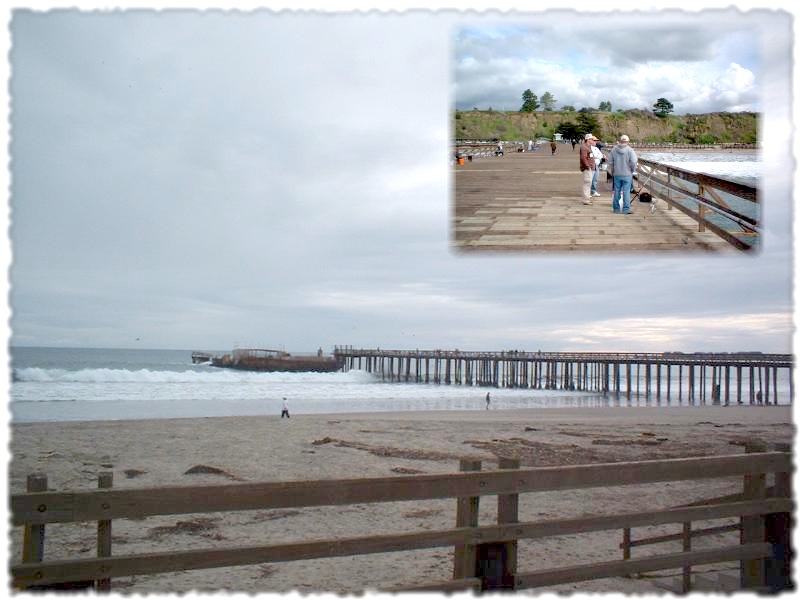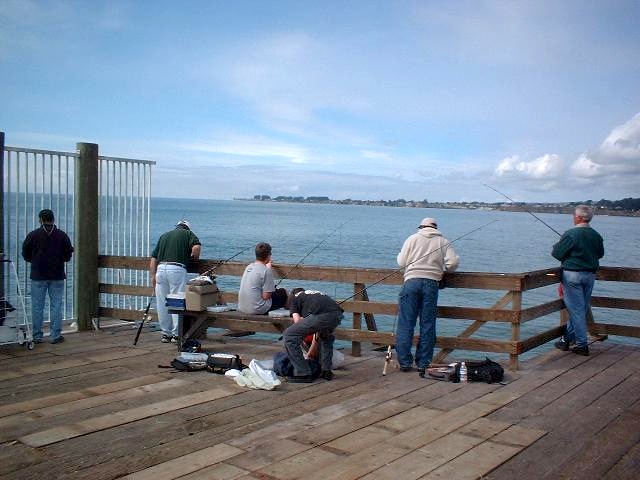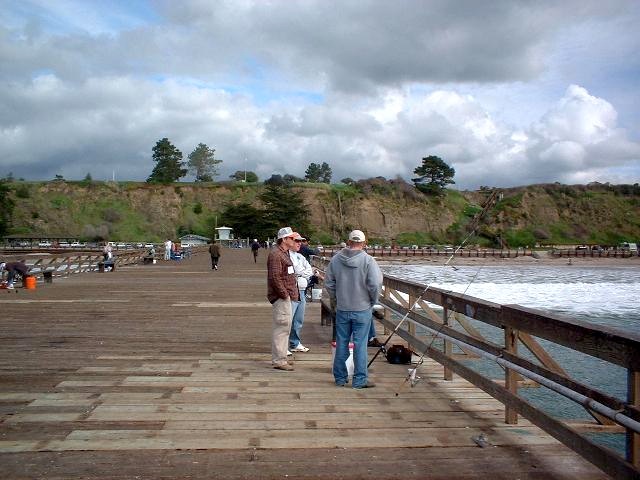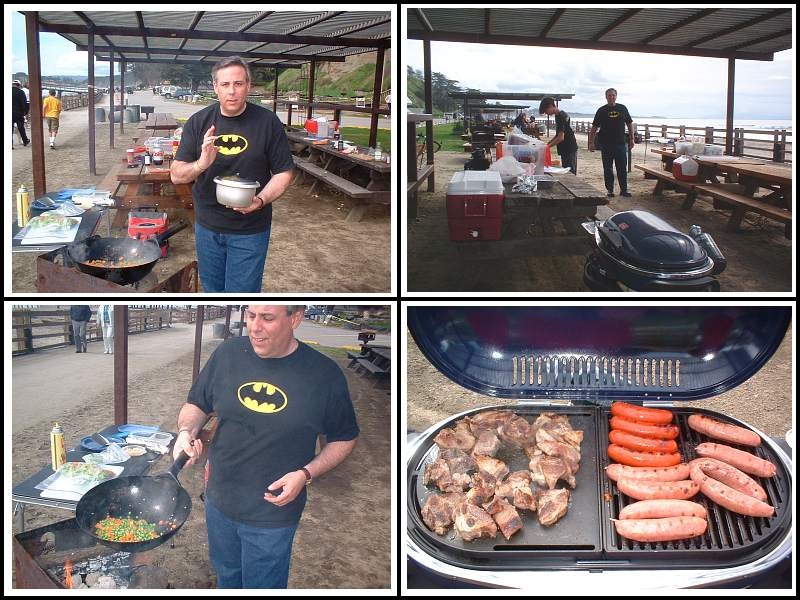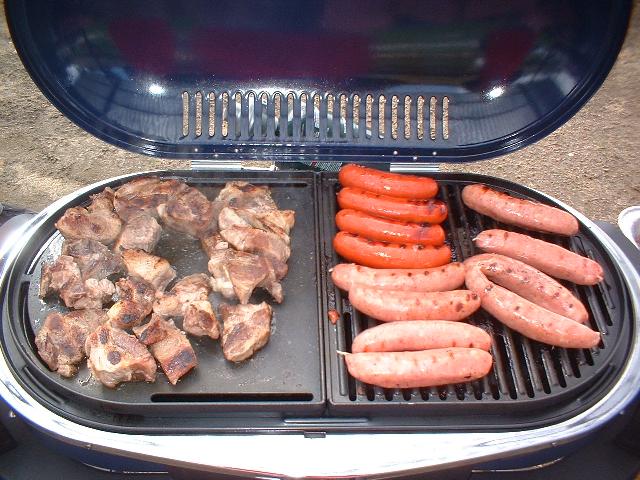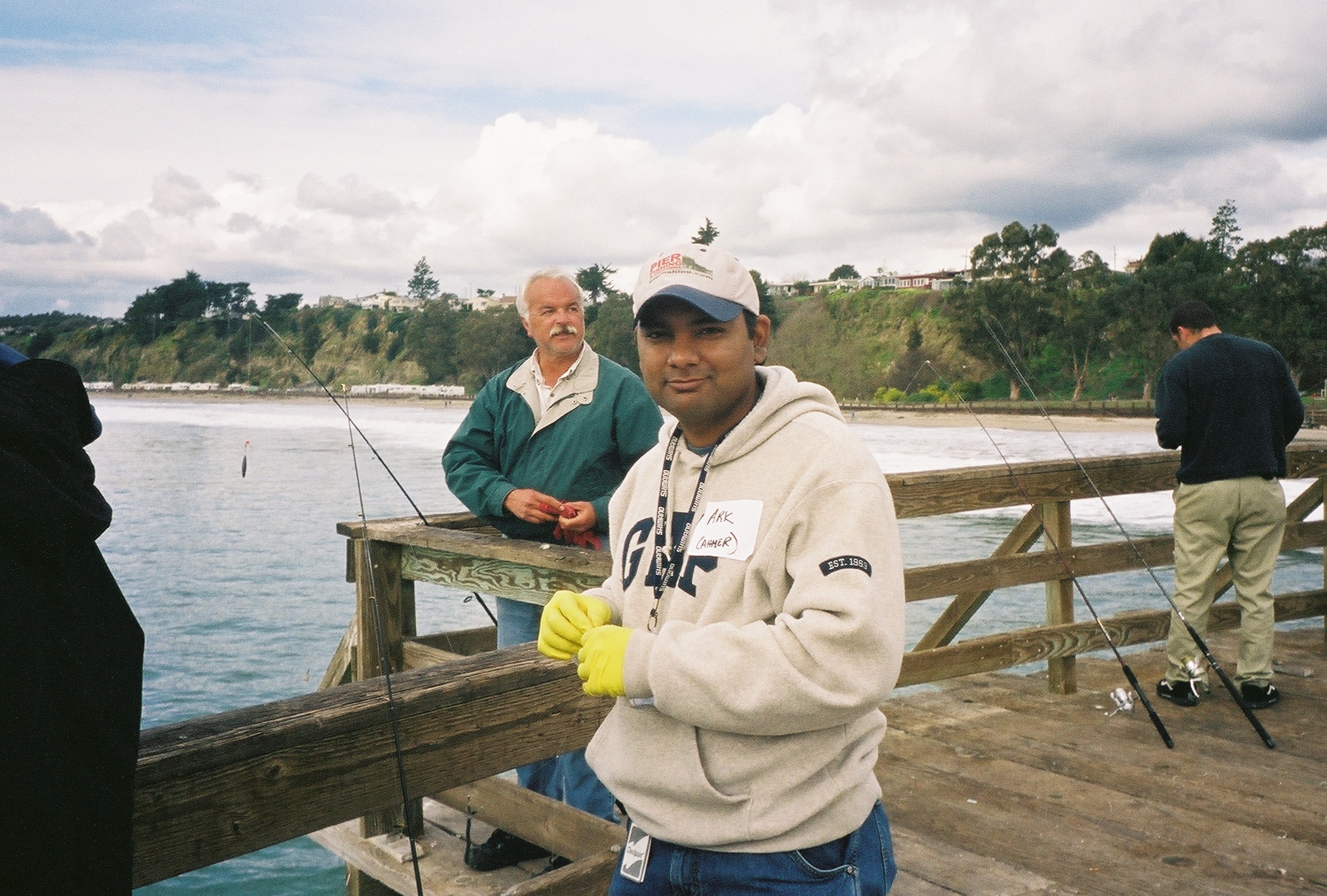 Ark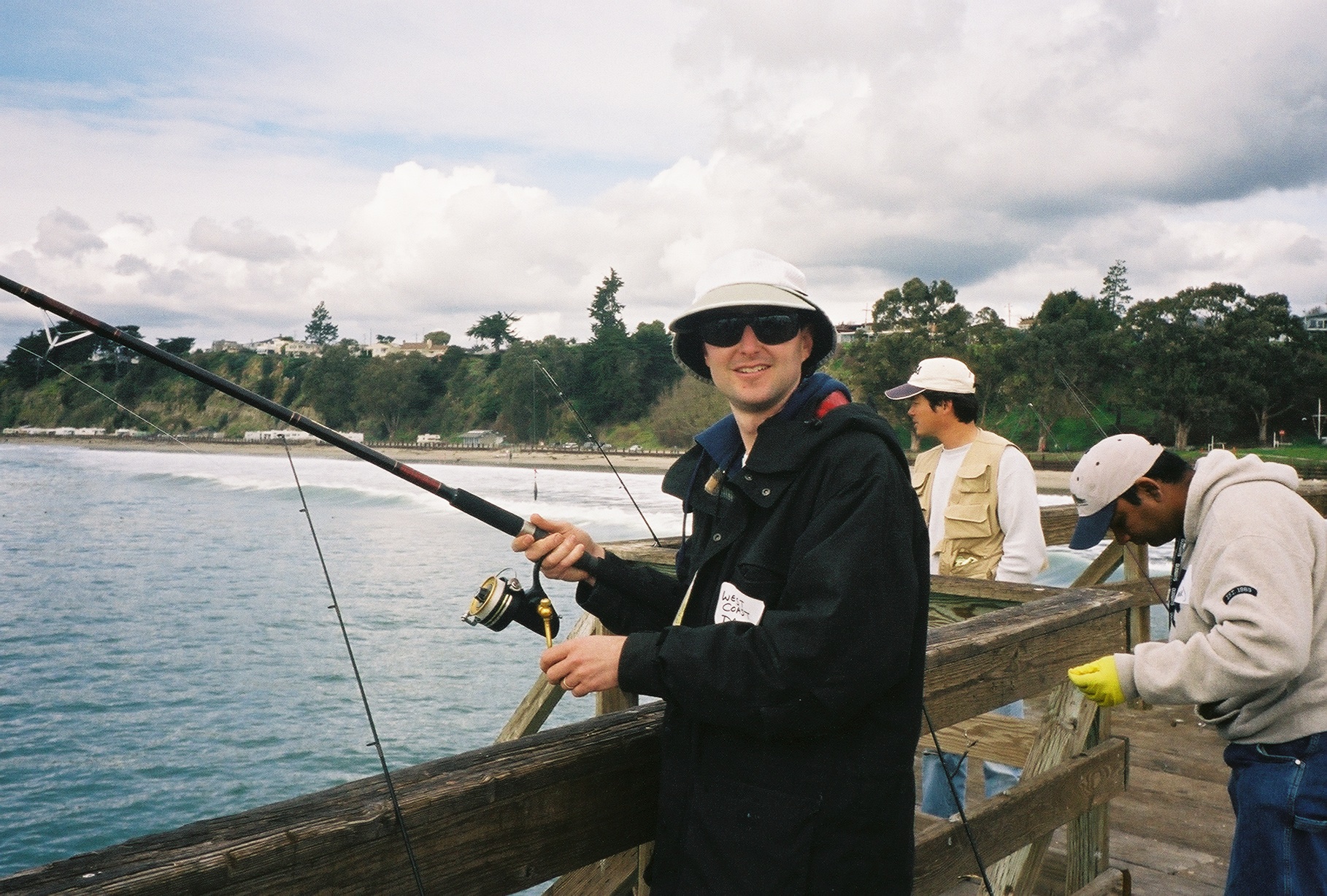 Westcoastdave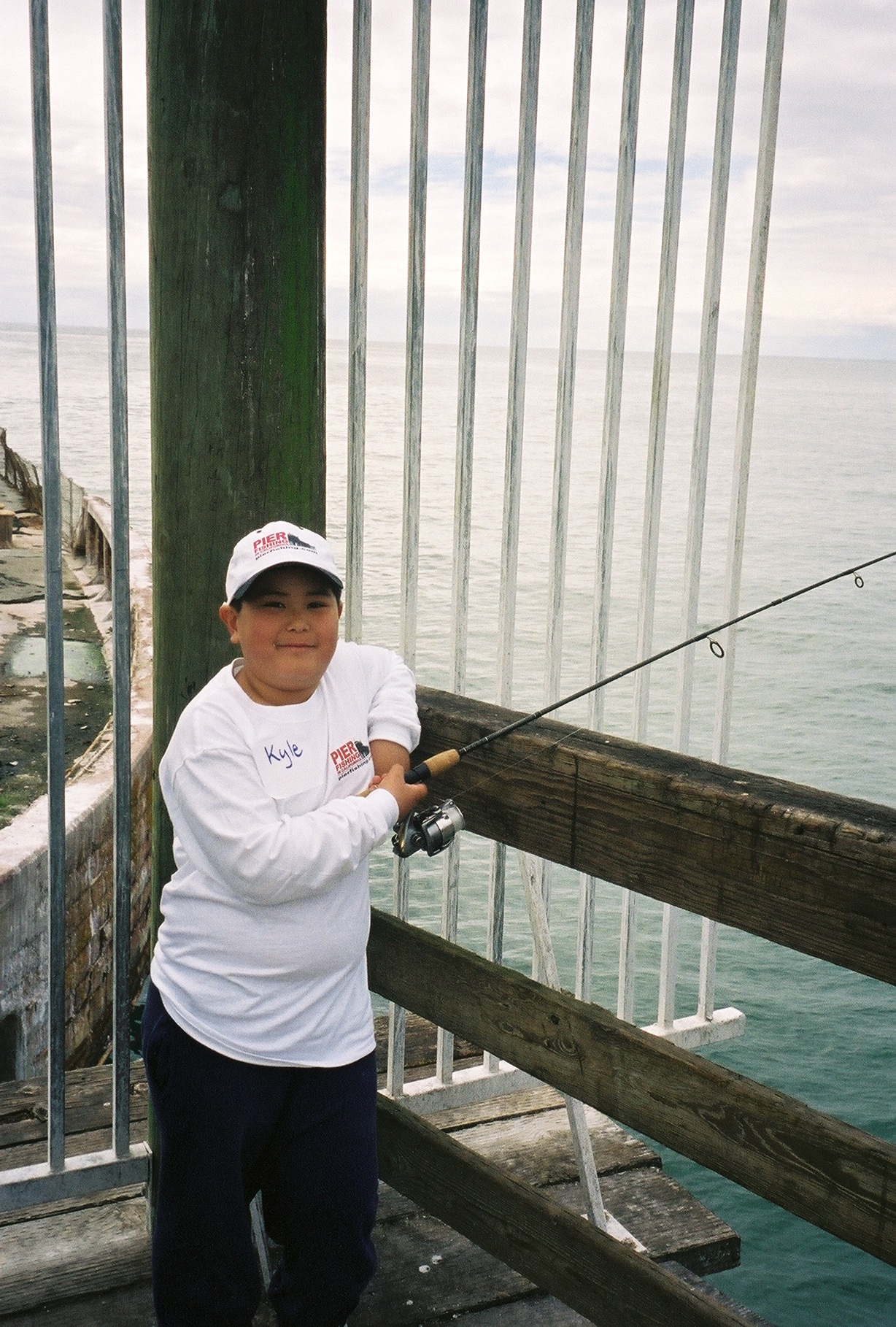 A very young Kyle Pease. It's hard to believe he's now a senior at Berkeley
<*}}}}}}}}}>< — Never give up the fight to educate the public. On one of my trips to the pier I pulled up a bullhead (staghorn sculpin) and as I was unhooking it a teenager walked over and asked what I was going to do with it. When I said I was going to throw it back he asked me if he could have it. I said maybe. What was he going to do with it? He replied that he always squashed bullheads—he flattened them with his shoes. "Why," I asked? His answer was curt—"because they were no good." I then asked him if he had ever seen a striper or other large fish at the pier and if he knew why they would be around the little pier. He said he'd seen some stripers but didn't know what I was getting at. I then explained that bullheads were one of the bait species that attracted striped bass and without bait species there wouldn't be any of the bigger species. He said he hadn't really considered that and as we talked I think my short homily may actually have convinced him not to squash bullheads—or other small fish. Maybe it was just opening the eyes of one angler but you have to start somewhere.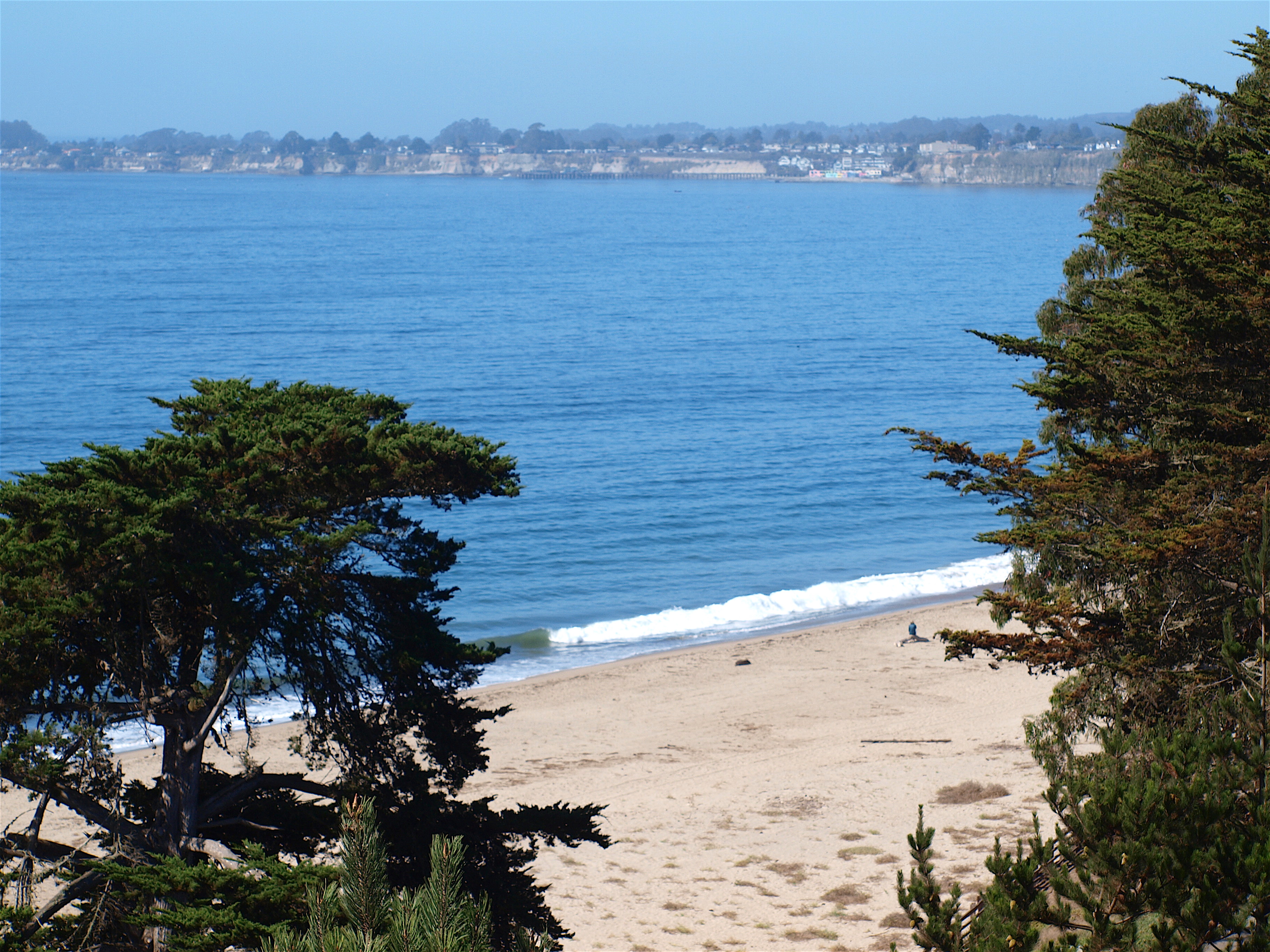 Looking north toward Capitola and Santa Cruz; you can just barely see the Capitola Wharf
<*}}}}}}}}}>< — California Fish and Game Bulletin #96, issued in 1953, says the following for Aptos—Located on Monterey Bay nine miles east of Santa Cruz. The town is inland a mile or two from the waterfront. This is a resort region with much interest in sport fishing on the bay. The beach area was established as a state park in 1933. The novel feature is the concrete hull of a ship that was grounded in 1927 on the rocks off the beach. A wooden pier was built out to the ship so that the deck serves as a sport fishing wharf. The park is so well patronized that parking space for a car is at a premium. There has been no record of landings of commercial fish in the last two or three decades but 60 years ago (late 1880's) after the coming of the railroad, Aptos ranked third of the fishing ports of the county. Rail shipments of fish went to San Francisco from this port. Still later, local Pismo clams were peddled to nearby towns and from stands along the highway."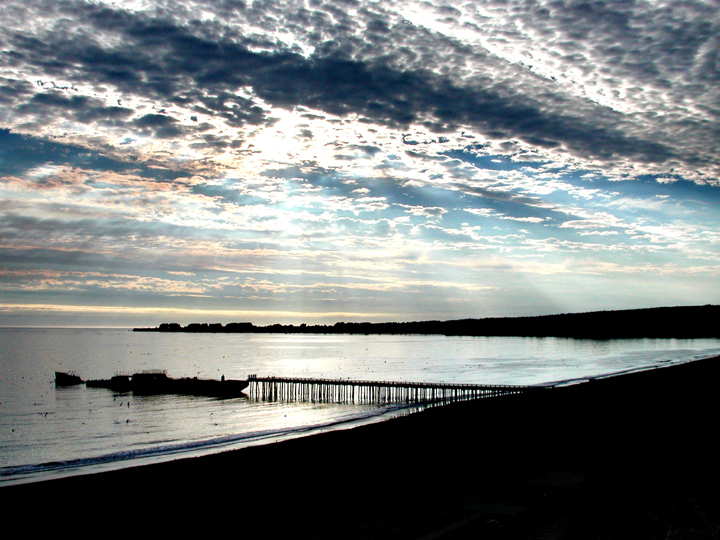 Nice pic!
<*}}}}}}}}}>< — The scenes described below startled me the first time I saw them and though I've now seen them several times, it's still an amazing sight and a reminder of the power of Mother Nature.
Migrants Converge On Waters of Bay
It looks like a scene out of Alfred Hitchcock's movie `"The Birds.'"
In the late afternoon, thousands of little black birds come in off the ocean and descend on the surf zone at a Santa Cruz County beach. They swarm like a cloud of locusts. They spiral and squawk and churn the water white in their delirious diving for anchovies. Then they quit the hunt in formation, patrolling the shore in an endless superhighway of beating wings.
To those who frequent Santa Cruz County beaches, the feeding frenzies of the sooty shearwaters are a familiar and freaky summertime spectacle. `"It's pretty weird,'" said Eric Martin, 16, who surfs at Seacliff State Beach. `"I've been out there surfing when they're just like right out there. There's hundreds of them circling."
The sooty shearwaters are visitors from down under. When it's winter here, they breed in Australia and New Zealand and other distant parts of the Southern Hemisphere. Each year, these birds—which are slightly smaller than mallard ducks—fly thousands of miles across the open ocean to summer along our Pacific Coast—and to gorge on anchovies and krill.
`"They fly 7,000 miles or more,'" said Baldo Marinovic, a marine scientist at University of California at Santa Cruz. `"It's a staggering distance."
In Monterey Bay, their summertime population is estimated at potentially 2 million, Marinovic said.
This comes as no surprise to Russell Berry, 77, who lives three blocks from the beach at Rio Del Mar and strolls down to the sea wall every evening. "Sometimes they're so thick on the surface, you can't see the water," Berry said.
During the day, the shearwaters disperse across Monterey Bay to hunt for fish. But in the late afternoon they head for protected beaches, where they roost on the water at night. The two beaches they seem to prefer are Seacliff State Beach and Twin Lakes State Beach on either side of the Santa Cruz harbor.