<*}}}}}}}}}>< — This is the only pier in the state where I have witnessed a wedding taking place, an event that certainly gives a little variety and added excitement to the typical pier fisherman's day. The wedding I observed included a small band, flowers, a Navy captain acting as minister, and of course Prince Charming and his bride. Since the wedding took place on the cement ship I guess it was legal. By the way, conversations with anglers afterward indicated such weddings had occurred several times on the old ship (and it certainly provided some unusual wedding pictures).
<*}}}}}}}}}>< — In 2004 Pier Fishing In California  held a Get Together at the pier, which turned out GREAT! Good food, fair fishing, and great company. A few pictures: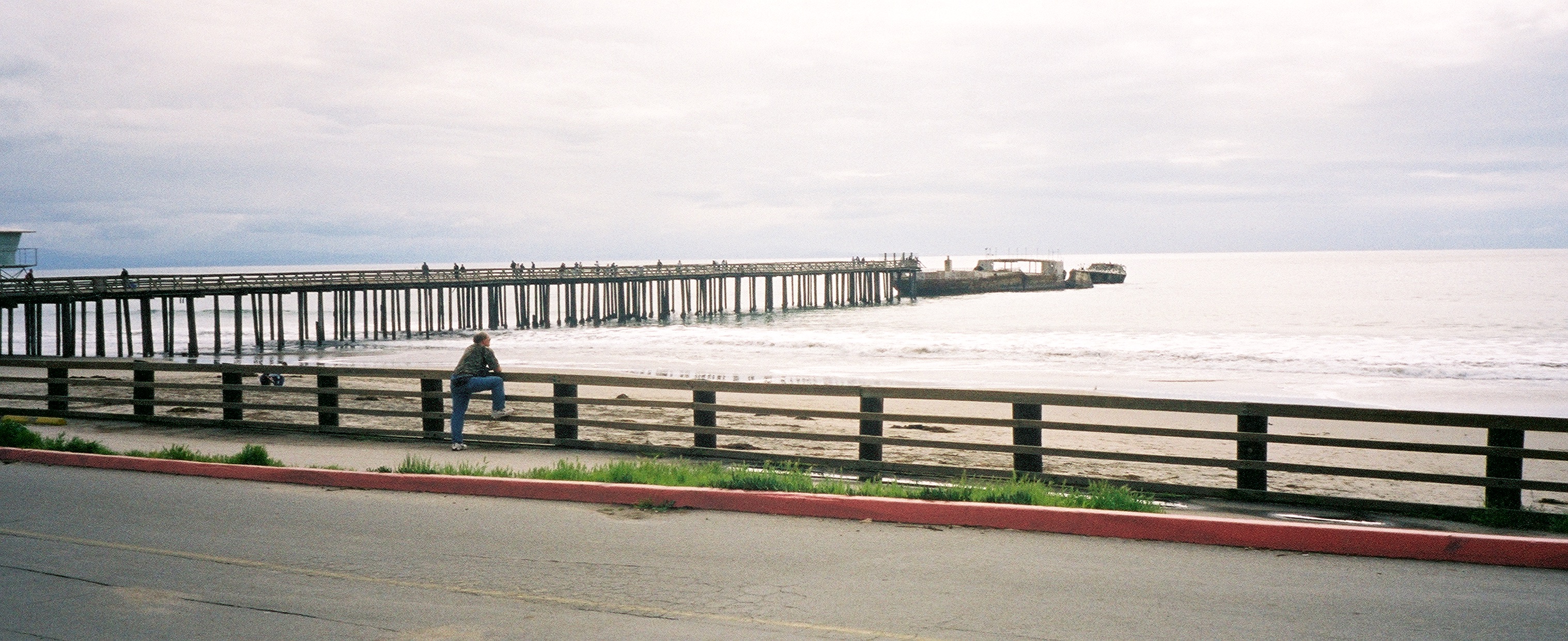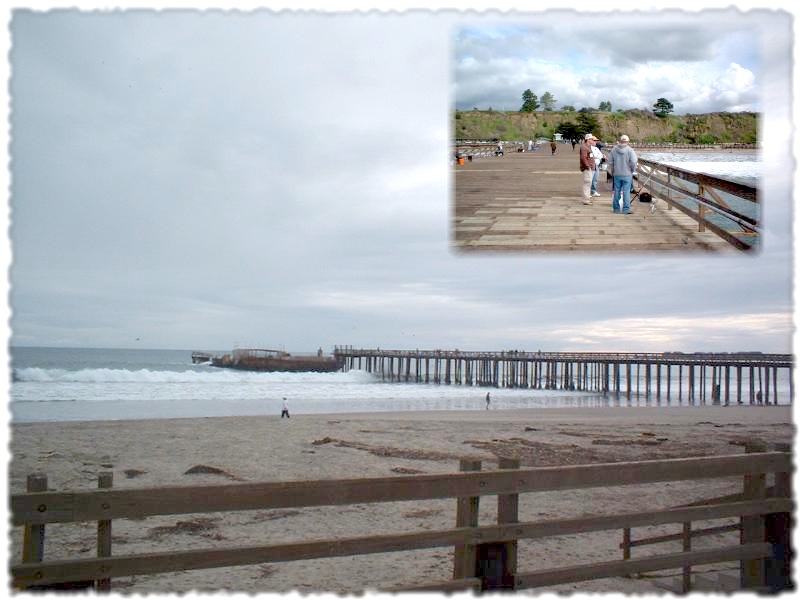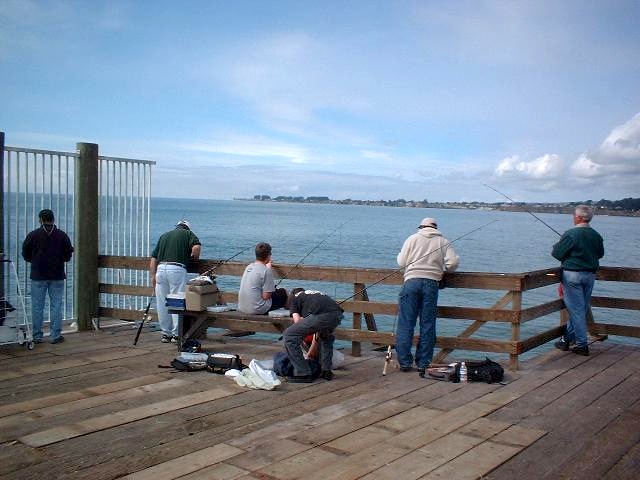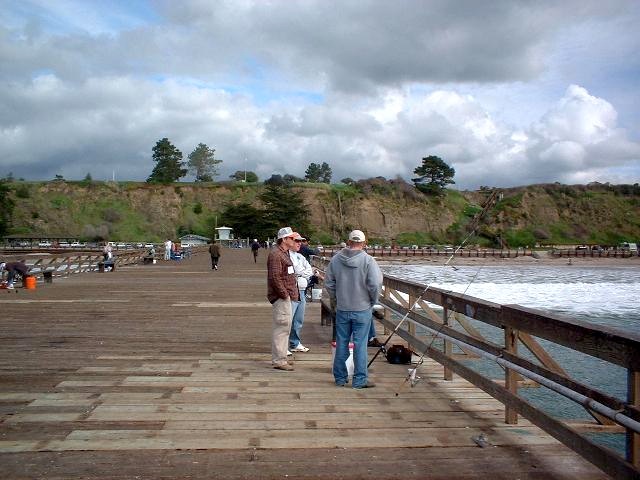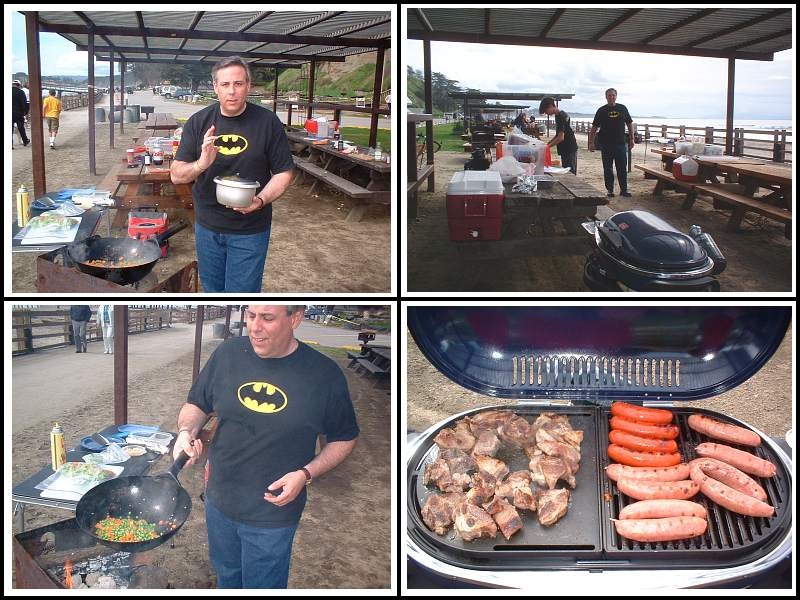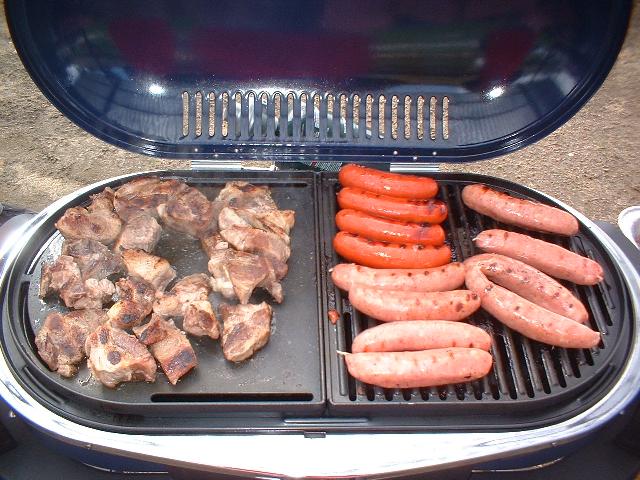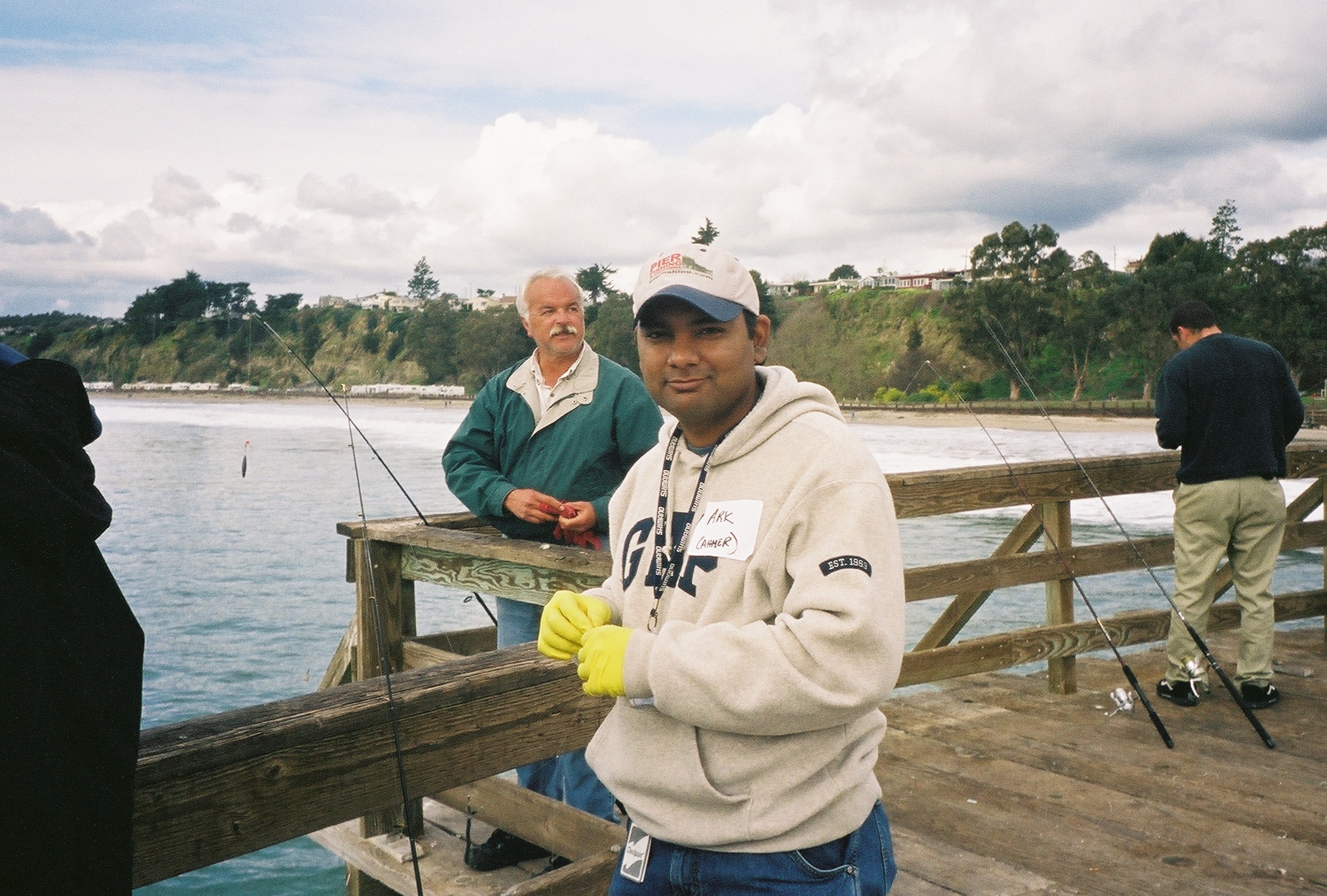 Ark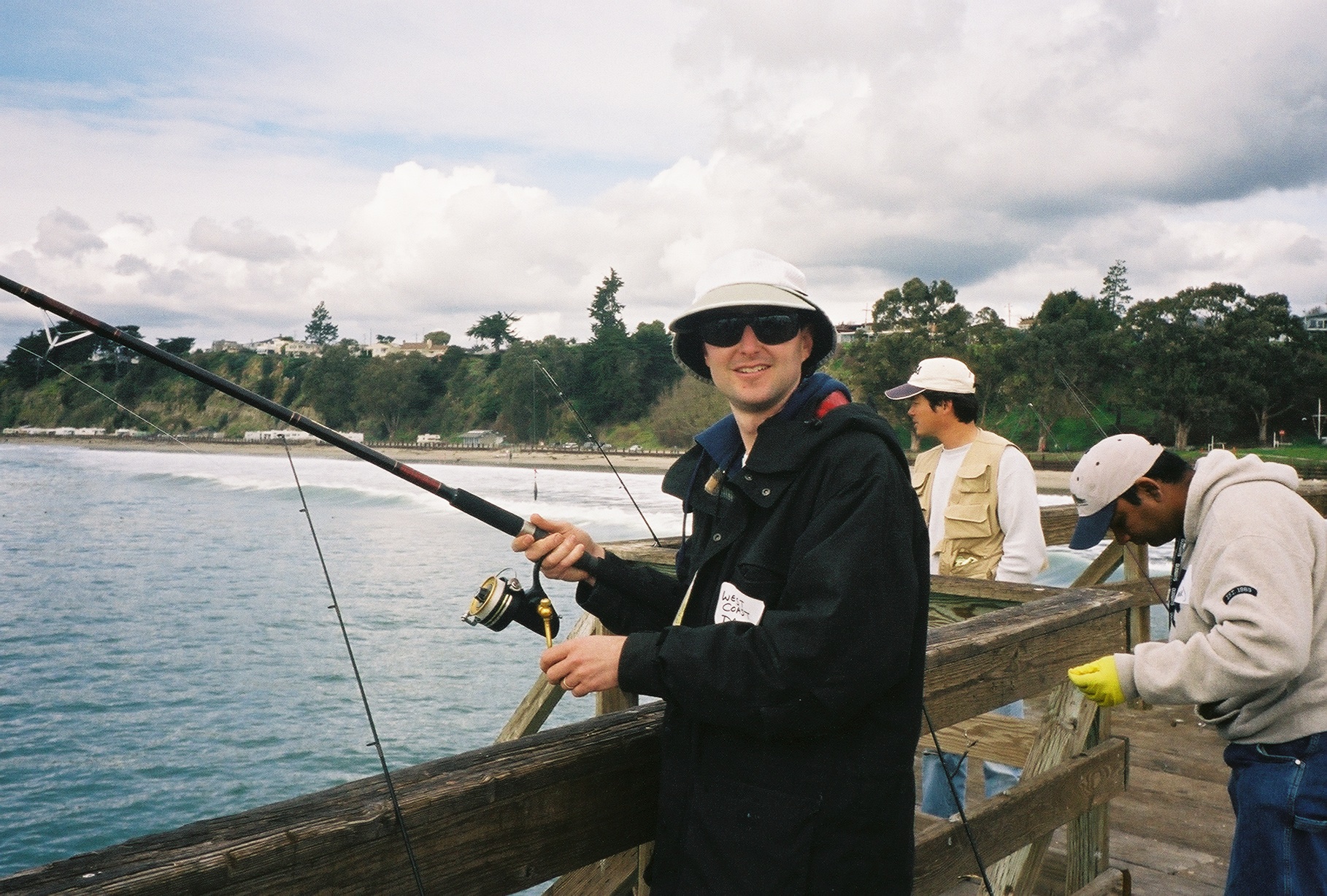 Westcoastdave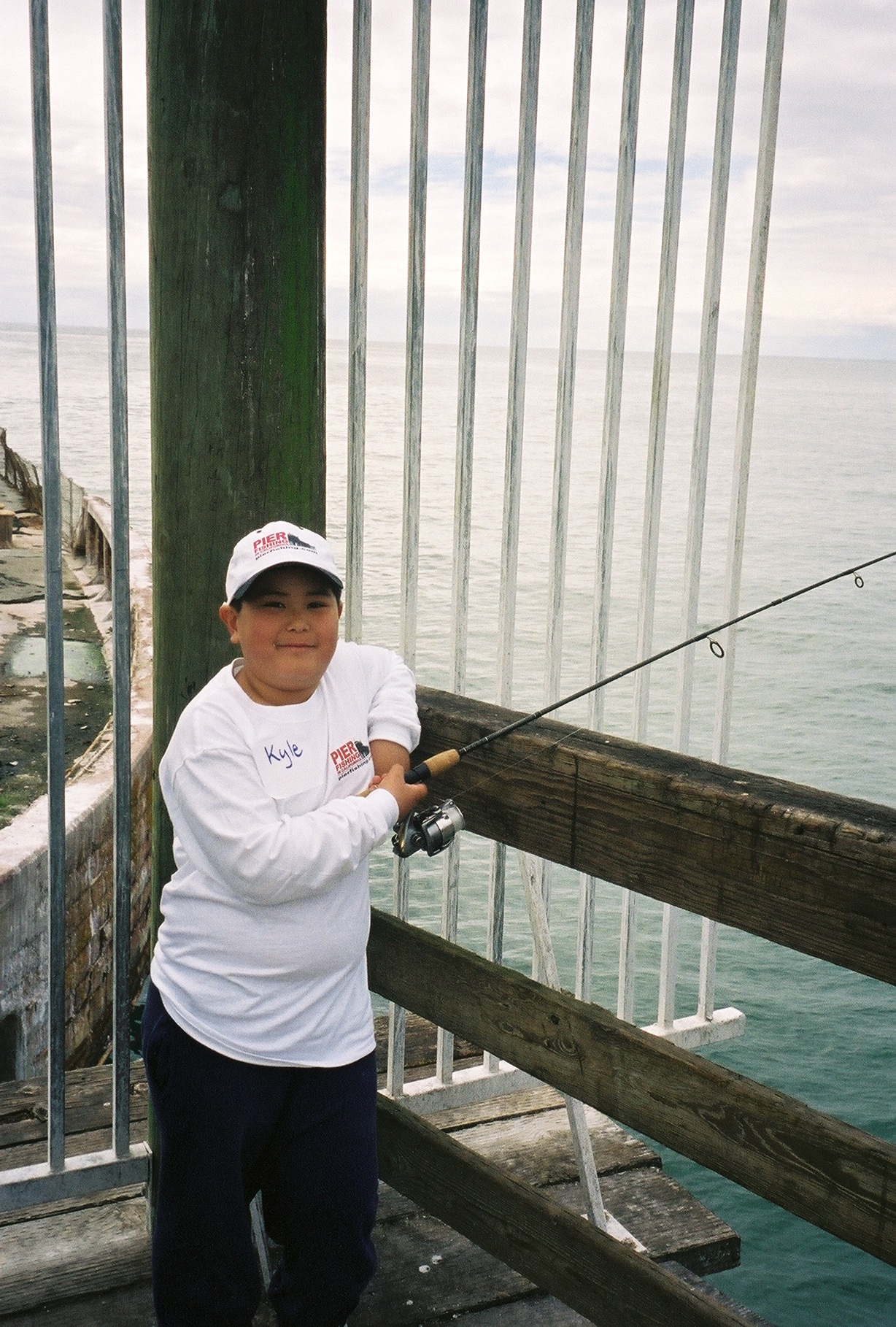 A very young Kyle Pease. It's hard to believe he's now a senior at Berkeley
<*}}}}}}}}}>< — Never give up the fight to educate the public. On one of my trips to the pier I pulled up a bullhead (staghorn sculpin) and as I was unhooking it a teenager walked over and asked what I was going to do with it. When I said I was going to throw it back he asked me if he could have it. I said maybe. What was he going to do with it? He replied that he always squashed bullheads—he flattened them with his shoes. "Why," I asked? His answer was curt—"because they were no good." I then asked him if he had ever seen a striper or other large fish at the pier and if he knew why they would be around the little pier. He said he'd seen some stripers but didn't know what I was getting at. I then explained that bullheads were one of the bait species that attracted striped bass and without bait species there wouldn't be any of the bigger species. He said he hadn't really considered that and as we talked I think my short homily may actually have convinced him not to squash bullheads—or other small fish. Maybe it was just opening the eyes of one angler but you have to start somewhere.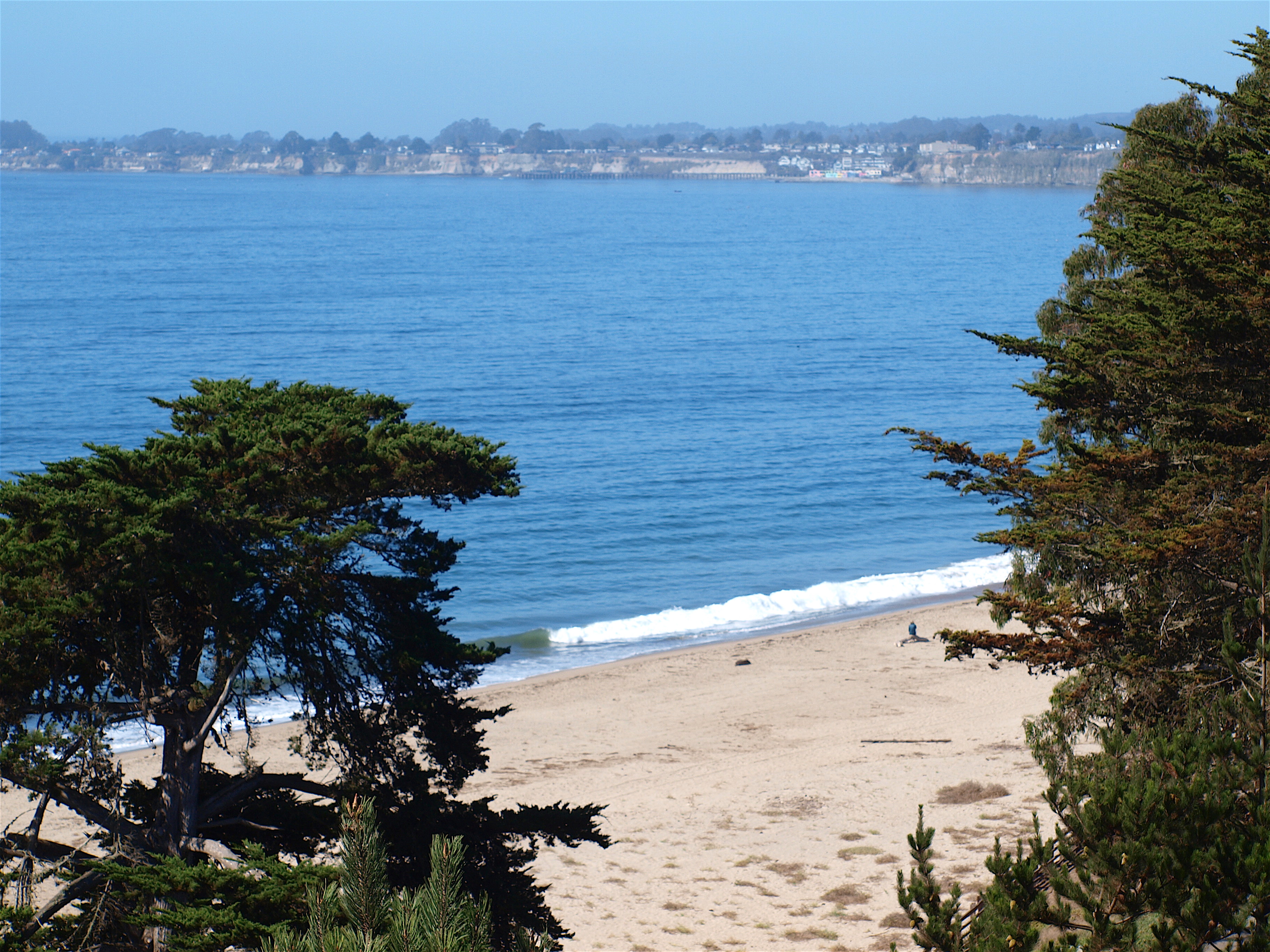 Looking north toward Capitola and Santa Cruz; you can just barely see the Capitola Wharf
<*}}}}}}}}}>< — California Fish and Game Bulletin #96, issued in 1953, says the following for Aptos—Located on Monterey Bay nine miles east of Santa Cruz. The town is inland a mile or two from the waterfront. This is a resort region with much interest in sport fishing on the bay. The beach area was established as a state park in 1933. The novel feature is the concrete hull of a ship that was grounded in 1927 on the rocks off the beach. A wooden pier was built out to the ship so that the deck serves as a sport fishing wharf. The park is so well patronized that parking space for a car is at a premium. There has been no record of landings of commercial fish in the last two or three decades but 60 years ago (late 1880's) after the coming of the railroad, Aptos ranked third of the fishing ports of the county. Rail shipments of fish went to San Francisco from this port. Still later, local Pismo clams were peddled to nearby towns and from stands along the highway."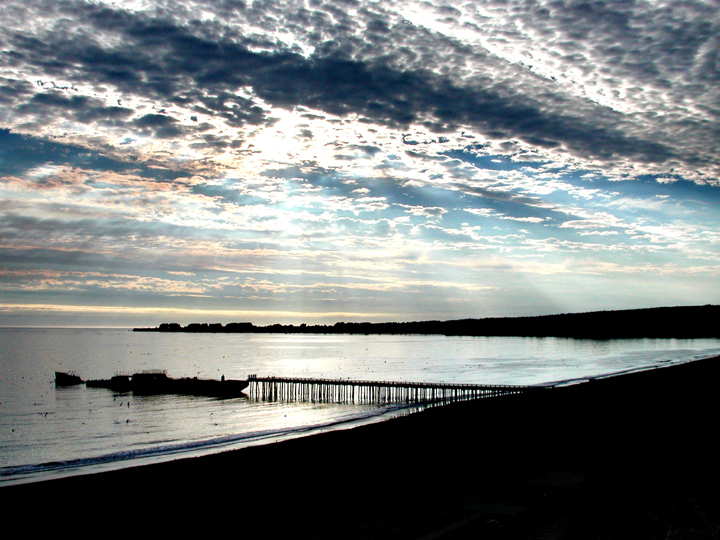 Nice pic!
<*}}}}}}}}}>< — The scenes described below startled me the first time I saw them and though I've now seen them several times, it's still an amazing sight and a reminder of the power of Mother Nature.
Migrants Converge On Waters of Bay
It looks like a scene out of Alfred Hitchcock's movie `"The Birds.'"
In the late afternoon, thousands of little black birds come in off the ocean and descend on the surf zone at a Santa Cruz County beach. They swarm like a cloud of locusts. They spiral and squawk and churn the water white in their delirious diving for anchovies. Then they quit the hunt in formation, patrolling the shore in an endless superhighway of beating wings.
To those who frequent Santa Cruz County beaches, the feeding frenzies of the sooty shearwaters are a familiar and freaky summertime spectacle. `"It's pretty weird,'" said Eric Martin, 16, who surfs at Seacliff State Beach. `"I've been out there surfing when they're just like right out there. There's hundreds of them circling."
The sooty shearwaters are visitors from down under. When it's winter here, they breed in Australia and New Zealand and other distant parts of the Southern Hemisphere. Each year, these birds—which are slightly smaller than mallard ducks—fly thousands of miles across the open ocean to summer along our Pacific Coast—and to gorge on anchovies and krill.
`"They fly 7,000 miles or more,'" said Baldo Marinovic, a marine scientist at University of California at Santa Cruz. `"It's a staggering distance."
In Monterey Bay, their summertime population is estimated at potentially 2 million, Marinovic said.
This comes as no surprise to Russell Berry, 77, who lives three blocks from the beach at Rio Del Mar and strolls down to the sea wall every evening. "Sometimes they're so thick on the surface, you can't see the water," Berry said.
During the day, the shearwaters disperse across Monterey Bay to hunt for fish. But in the late afternoon they head for protected beaches, where they roost on the water at night. The two beaches they seem to prefer are Seacliff State Beach and Twin Lakes State Beach on either side of the Santa Cruz harbor.
Settling down for the evening is preceded by several hours of plying the coast in formation in a long, black trail. And if the anchovies are running, there are spectacular feeding frenzies joined by pelicans and sea gulls.
To some, these orgies win hands-down over other California wildlife displays. "They work in spirals like tornadoes. When they're diving into the water, it sounds like a waterfall," said George Gray, an ecologist for the Santa Cruz district of the California State Parks. "I see people standing on the edge of the beach in awe. I've stood there in awe myself."
—Maya Suryaraman, San Jose Mercury News, August 6, 2001
Note No. 7. If you happen to visit the Aquarium of the Bay, at Pier 39 in San Francisco, you may see a fish transported from Seacliff State Beach. It's "Charlie the Swell Shark." It seems that in 2006 when Charlie's egg case (aka mermaid's purse) was found on the beach it was moved to the Visitor Center's aquarium. As happens, Charlie soon emerged from the case as a healthy 6-inch boy fish and started to do what all young 'uns do, he started to grow. Eventually he grew to be a strapping 18-inch specimen and that fact, together with the disappearance of another fish in his fairly small, 150-gallon tank, convinced the staff that he needed a new home. Perhaps they could have released Charlie back into the ocean but instead they sold or donated (not sure) Charlie to the San Francisco aquarium in 2008. In September of 2008 the staff had a public "farewell party" for the popular shark before he headed north to his new home. There he was able to join seven other brethren swell sharks. See you in "Frisco" Charlie.
Charlie's story nearly duplicated that of another swell shark whose egg case was discovered on the same beach in 2005. That shark, named "Riley," also outgrew the confines of his tank; he was eventually moved to the Long Marine Lab at the UC Santa Cruz Marine Science Campus. Interestingly, both sharks had the same birthday, July 17, the day they emerged from their egg cases.
Note No. 8. The Festival of the Cement Ship is held annually on the first Saturday in June (usually from 11 AM-4 PM). All of the normal activities of such events are present: music, food, games, and crafts, but here you can also do a little kite flying on the beach. It's a good event but also crowded.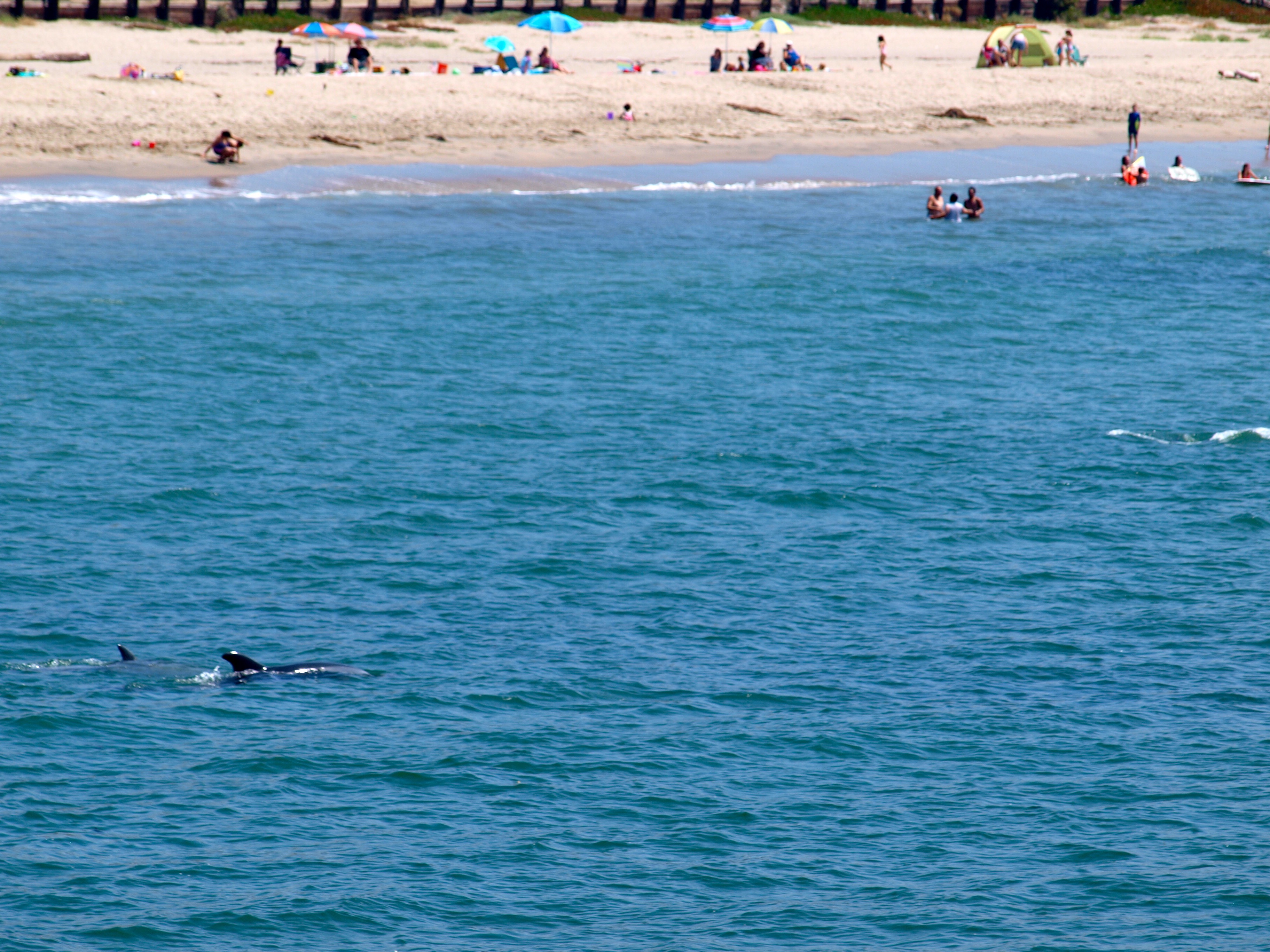 Dolphins, not sharks!
<*}}}}}}}}}>< — Great white sharks are becoming almost common to the region but few are actually hooked, especially from piers. But here's one that was.
Two men report great white shark sightings off Santa Cruz area coast
APTOS — A day after a Capitola man shot video of a great white shark off the Seacliff pier, shark researcher Sean Van Sommeran reported sighting a great white off of Manresa State Beach around noon Friday.
Van Sommeran, who heads the Pelagic Shark Research Foundation in Santa Cruz, said he spotted the 16-foot great white off near the railroad trestle on Manresa in South County. Van Sommeran, working with Specialized Helicopters out of Watsonville, said "It's a big one." He believes the shark is a female, which they've previously tagged. "It's pretty routine for this time of year," Van Sommeran said and definitely not the great white caught on film off Seacliff on Thursday.
Ryan Dunlap was fishing for striped bass on the Seacliff State Beach pier Wednesday, when he noticed something a little larger tugging on his line. Ryan Dunlap, 30, said he managed to lure a 10-foot great white close to the pier with nothing but a foot-long sardine for bait. "I noticed him cruising along in about 4 feet of water and watched him loop around the pier," Dunlap said. "We saw about 50 to 60 stripers along the surf line before they bailed. About five minutes later the great white showed up." Dunlap said the shark brushed up against his main line before it began chomping on the sardine, pulling him all the way down the pier. "I didn't know what to do so I just followed it and kept holding onto my pole," Dunlap said. "He just kept chomping on my bait and then let go. The bait was all shredded." Dunlap was unable to capture any video of the shark on Wednesday, but found it again on Thursday. Armed with his digital camera, he took some footage. Dunlap said, he and about 10 others, watched the shark.
Having fished since he was a little kid, Dunlap said he has seen numerous fish and sharks, both common and rare. Last year, at Seacliff, he caught an 8-foot sevengill shark, a predator known to prowl in deep water. Dunlap, an experienced fisherman, said great whites are known to return to the Monterey Bay to feed on the elephant seals at Año Nuevo in the summer, but the last time he saw one was two years ago, when a great white pinned a baby grey whale up against the surf line at Seacliff. Dunlap said he was unable to report the sighting because no rangers were around at the time.
Van Sommeran reported his sighting to State Parks lifeguards Friday, but said he doubted it would result in beach closures. "If they were to close the beach every time they got a report or not, they'd be closed all the time," he said. State Parks was not immediately available to comment. When asked if it was safe to go in the water, Van Sommeran said given the large number of dolphins and marine mammal traffic, the chances of them stopping and tangling a surfer are "slim." Van Sommeran, who also viewed Dunlap's video of the great white at Seacliff, said he believed the shark was part of the white shark family, possibly a salmon shark, but likely a juvenile great white shark of about 6 feet.
"With the Marc Monte fireworks thing coming up there will be a lot of people on the beach," Dunlap said. "Rangers should at least warn people that the shark was seen." State Parks officials said Thursday night that they have not received any official notifications about a shark sighting recently. If rangers are not present on site, citizens may call 911 or California Highway Patrol and they will be directed to State Parks.