Totals: 12 Barred Surf Perch, Biggest was 12" kept 4 of them for dinner — 5 Walleye Surf Perch — 3 Speckled Sand Dabs — 22' of Seaweed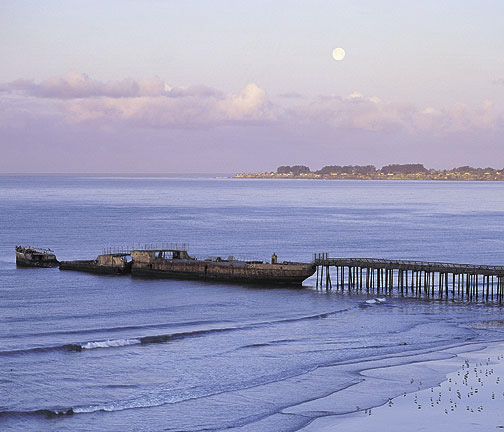 A pretty shot!
Date: May 20, 2005; To: PFIC Message Board; From: pescare; Subject: Disturbing news regarding Seacliff Pier – Again
The large swells and high surf of two weeks ago were not kind to the pier, and it is again damaged and is now closed. Several pilings were broken out as you can see in the picture, and there is a noticeable sag in the deck. There is a temporary fence up now blocking the damaged area and I was told by the guy at the gate that the rest of the pier would be opened within days. Of course, that leaves very little fishable water under the accessible part of the pier.
I was not able to find anyone at the park who had information on the pier's immediate and long-term future, and in fact, had to invite two docents to look out the window of the visitor center to see for themselves when they argued that the pier was open. I'll report back here with whatever I can find about this. Lets cross our fingers.
Date: June 24, 2005; To: PFIC Message Board; From: climberb9 ; Subject: Seacliff Pier, June 23rd
Its time for the Seacliff go-ers to get out their Sabiki's, tie on a live bait rig on a bigger pole, and catch some stripers! Went yesterday and caught my first from a pier ~26" and 5-lb's with nice straight stripes on a live anchovy pinned through the neck twenty feet out Great day; also saw two others caught.
Date: May 1, 2006; To: PFIC Message Board; From: kaleo; Subject: A very good sign
I hit Seacliff yesterday a.m. hunting halipers with swimbait, spoon, and grub. Got into a decent walleye bite, but that was it. The morning low tide was blanketed with a heavy marine overcast, which broke into gloriously sunny and warm beach-going weather by about noon. Strode the pier for a look-see about 1pm, nothing bigger than perch coming over the railing. Stripers and 'buts don't seem to be showing yet. But there was a decent school of baitfish (smelt?) just outside of the surf on the south side of the pier, and a large school of anchovies moved in on the north side at the end of the pier. Mostly pinheads, but a few bigger models were in there too. Regrettably, nothing seemed to be hassling them at the time.
On an August evening several years ago, I was at Seacliff when a similar school of anchovies came by the pier. It was dusk and here too, nothing seemed to be hassling them. Then suddenly they went into panic mode: a large fin and tail broke the surface. And not once, but three times a magnificent thresher jumped clear of the surface, less than 15 yards from the pier. There is nothing like watching a large predator show you how it's done.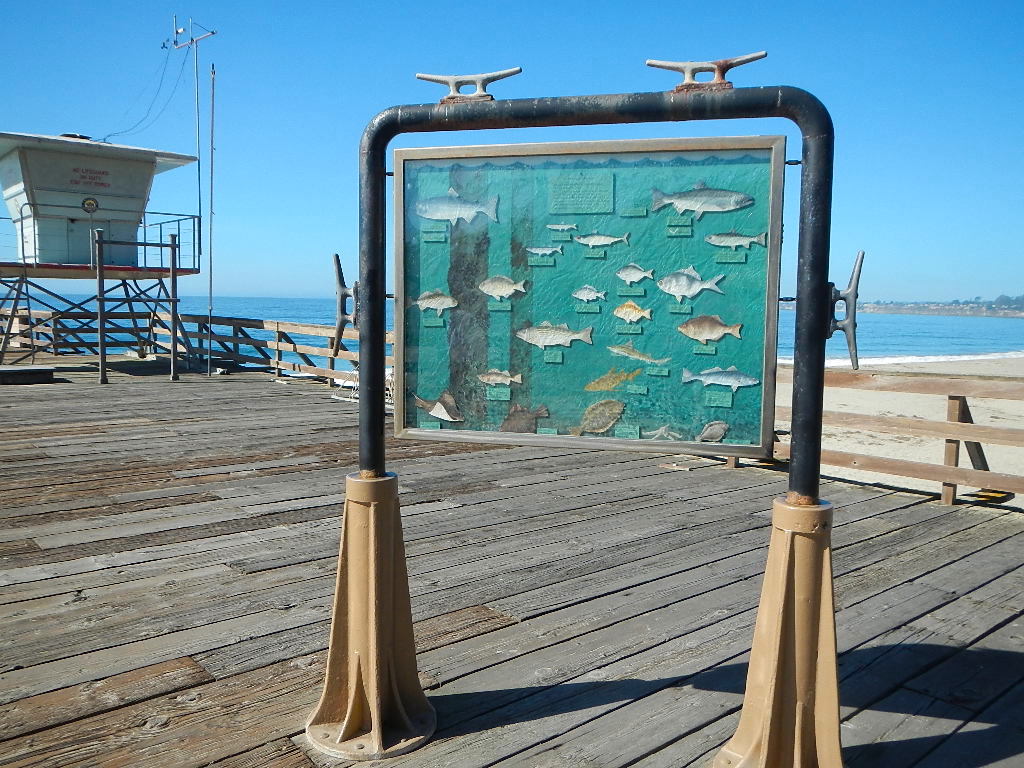 So that's what I caught?
Date: August 15, 2006; To: PFIC Message Board; From: Sin_Coast; Subject: Seacliff Pier, 8/13
Although it is closed now, I remember fishing off that cement ship. There are holes in the middle of the hull that held various RF and you could just drop your line straight down to them…and casting off the end of the ship was the best way to catch halibut. However, I think it was a good idea to close it off to the public, considering how dangerously unstable it is now. Last couple times out I've only caught small BSP and walleye/shiner surfperch.
Date: April 9, 2008; To: PFIC Message Board; From: pierrat80; Subject: Seacliff pier 4/9/08
 I got to the pier around 2:00, armed with every type of bait you could think of, frozen squid and 'chovies, live ghost shrimp and pile worms, and some raw market shrimp. I had a first timer with me and I really needed her to catch a fish. I threw out just about every combo of bait I had on a couple of rods rigged with surf leaders and #2 bait holders, for one average sized perch on a whole ghost. Here's the kicker, it's now about 6:00 and I am about ready to leave, start giving away unused bait. I had totally forgot about my pile worms, maybe used one all day, so I go over to this dude ask him if he wants them, this guy got super excited over them, showing them off to his buddies. He rigged up a hi/lo with half a worm on each hook, and bam not more than 3 mins in the water and he got a nice walleye perch, rig up again, same thing. In the span of 10 mins he had a total of six perch. So I steal a couple worms back rig the missus, let her cast it out, and before I could finish setting up my rod, she had fish on. To see the excitement in her face, priceless. Get her back in the water; get myself in the water, bam, she doubles up. Never been fishing before and she was setting the hook like a champ. Well to make a short story long, we released a total of 13 walleyes between the two of us, 7 were hers. Perch bite was red hot on pile worms. Must be like perch crack or something.
We were fishing right before the breaks, and it didn't seem to matter how far away from the pier you put the bait. The bite was wide open. I tried throwing some grubs in the surf for nada, the only thing that worked were pile worms. Heading back out there with pile worms. Might bring a bunch and sell them off to pay for gas, locals said you can't find 'em out there.
Date: April 10, 2008; To: PFIC Message Board; From: pierrat80; Subject: Seacliff pier
Perch bite is smoking hot right now, well… for the girlfriend it is anyway. I can't believe it, only her second time out fishing ever, and she was just destroying the walleye perch, same set up as the day before, hi/lo with pile worms. She had at least 20 fish in the first two hours, with multiple doubles through out the day. Got out there around 2:00 again, fished just before the breakers on the side with the lifeguard tower. There was a time she was pulling them in as fast as I could put worms on the hooks for her (yes I bait her hooks for her, she's afraid of the worms bite). My rods went neglected for at least an hour, but even when I did get them baited and in the water, they often went untouched. Anyways I think the final score went: 30-35 for her/ 4-5 for me. She definitely outfished anybody on the pier this day, even the regulars were in awe, and wanted to know what her secret was. This girl was born to fish, she can cast a pole like she has been fishing her whole life and sets the hook at the slightest nibble. We kept 7 pigs for some lunch tomorrow. Now that I got her hooked, I hope I can spend more time out on the water than I used to. Hope to meet some PFIC'ers out there sometime, I tell you watch her fish and you will never believe she had never touched a fishing pole before yesterday. OH yea, the girlfriend pulled in the only striper this day. It was super small, only about 6" but still exciting for both of us. I'm telling you, them pile worms are like crack for perch. They don't stand a chance.
[The following was from one of our youngest (at the time) members of the Pier Fishing In California family. And yes, the weight looks a little bit high.]
Date: May 8, 2011: To: PFIC Message Board; From: HalibutSnatcher; Subject: Seacliff Skate
I went fishing yesterday at Seacliff for some stripers. I tossed a lure for nada. Then one of my friends shows up and catches some live shiners for us. So, I put one on and right at the top of the tide my friend's pole gets bit. He sets it and the rod doubles with weight and somehow he was able to pull it up with his light striper pole and it was a huge skate! But then his line snaps and like 20 seconds later I get bit and I feed it line then I set the hook and it's huge. In two min. I pull it up and it was the same skate. I fight for 15 min. So tiring, I almost lost it to a piling and we tried to net it but it was to difficult so we were gonna beach it. I gave my rod to my friend and ran down to the beach to help my other friend pull it in and so I could get a pic. We got it in and it was 120 pounds or more! Biggest fish I ever caught my and friend couldn't even pick it up! I took a couple pics and my friend also had his nice camera and took some pics from the pier. Man that thing was so much fun. At the end we released back into the water. I caught it with my Ugly Stik Lite on a sliding setup with 20# p P-line cxx. Best day on the pier so far this year! Here are the pics.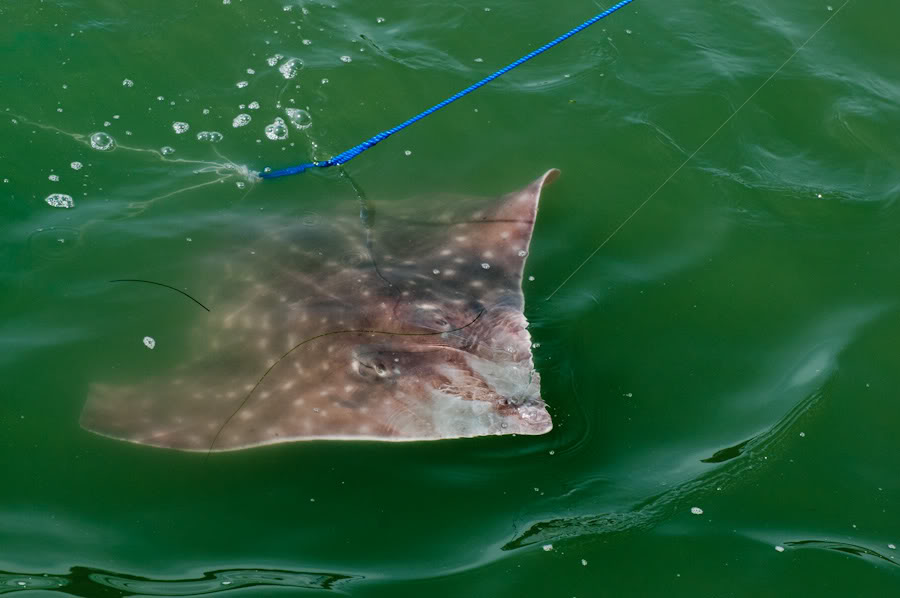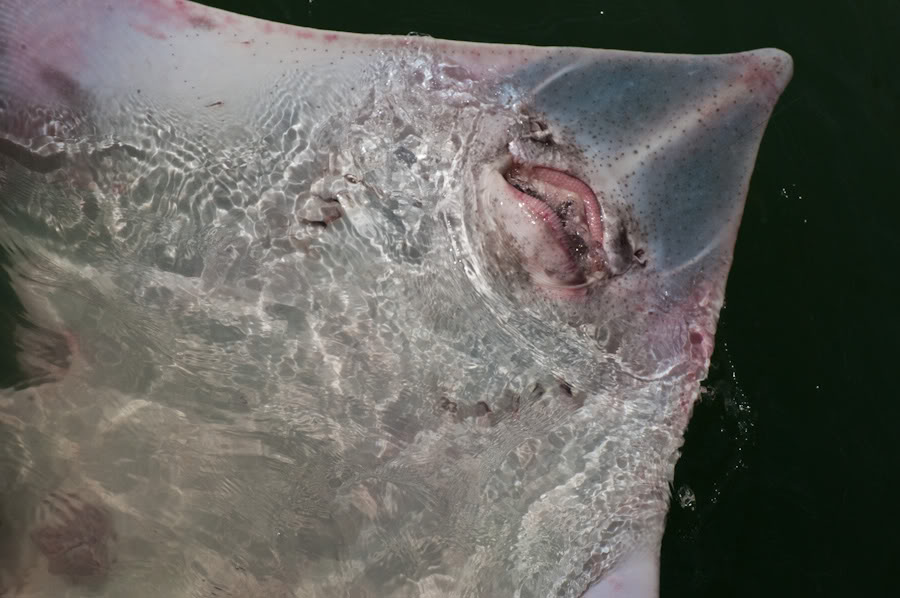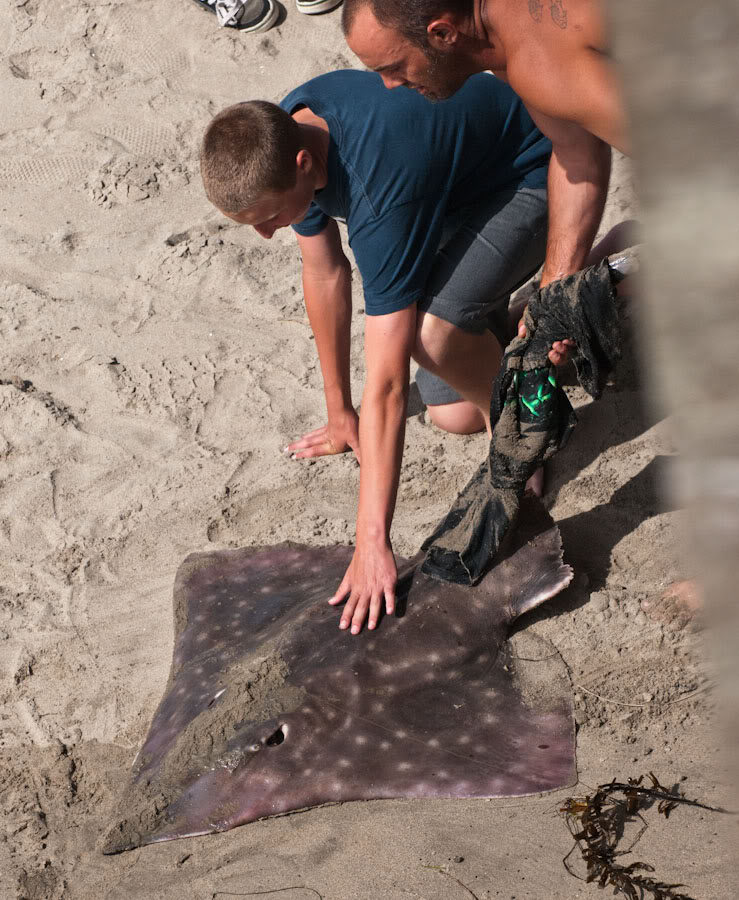 Potpourri — Perhaps more than you want to know about the Seacliff Pier

<*}}}}}}}}}>< — Fish surveys done by the Department of Fish and Game (2004-2009) showed 17  species at the pier (by number of fish) —  Northern anchovy, walleye surfperch, barred surfperch, Pacific sardine, shinerperch, calico surfperch, white seaperch, jacksmelt, silver surfperch, pileperch, striped seaperch, white croaker, blackperch, cabezon, topsmelt, California halibut and redtail surfperch. Most amazing was the low number of white croaker which traditionally have been near the top as far as numbers at the pier. Also somewhat strange is the lack of any striped bass, sharks and rays. Unfortunately these surveys are very limited and dependent upon the time of the year and time of the day being surveyed, they can give figures that are somewhat misleading.
<*}}}}}}}}}>< — Although it may look much the same as in years past, looks can be deceiving. The punishing storms and "hands of time" that made the ship dangerous to visitors changed the entire nature of the pier for anglers. Prior to its closure, and a sturdy fence blocking access to the ship, anglers could fish in and from the ship itself. By in, I mean several wells on the deck of the ship that allowed an angler to drop a line into the bowels of the ship itself (and I would have loved to be able to dive down inside that old ship). Who knows what growths and strange species inhabit the interior rooms of that ship? Maybe gigantic wolf eels; perhaps a pair that has mated for life? Maybe large octopi, even though the only ones I've seen in the area are palm-size little creatures. What I do know is that there were rockfish, cabezon, lingcod and perch—a plethora of species—available while fishing on the ship. Anglers were presented two options. They could fish the shallow-water, sandy-shore area of the main pier itself, or fish from the ship that over time had metamorphosed into an artificial reef of sorts and now replicated a rocky-shore milieu. Two distinct environments connected in a unique manner. My last visit to that ship and its wells was in 1994, a visit that resulted in several rockfish and perch. Ah, those were the days! But they're over.