—Santa Ana Register, August 20, 1976
Some strange looking crabs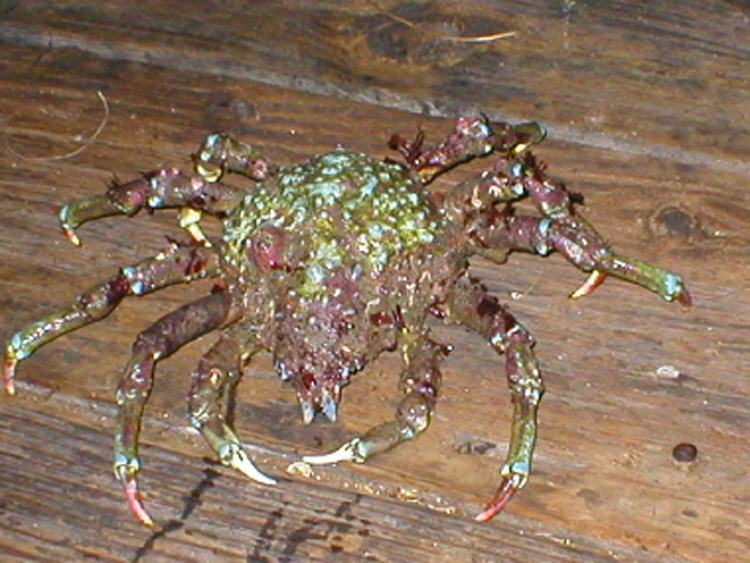 Spider (sheep) crab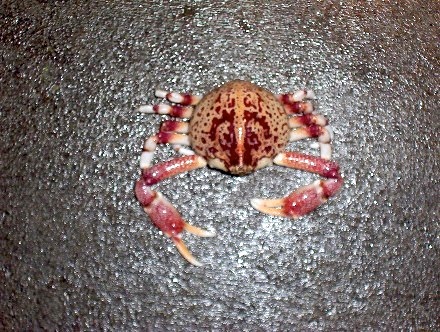 Globe crab?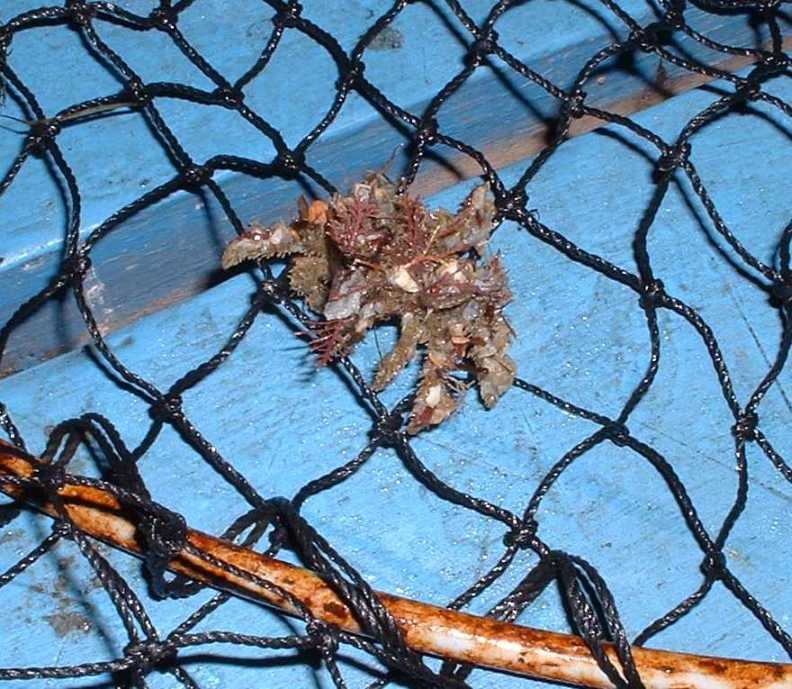 Unknown crab (baby sheep crab?)
Potpourri — Perhaps more than you may want to know about the San Clemente Pier
<*}}}}}}}}}><  — Fish surveys conducted by the Department of Fish and Game between 2004 and 2009 showed a typical mix of SoCal. sandy-shore species, 27  in all. Listed numerically they show the following: Pacific bonito (all in one year), spotfin croaker, northern anchovy (all in one year), yellowfin croaker, Pacific mackerel, walleye surfperch, queenfish, jacksmelt, topsmelt, white croaker, salema, Pacific sardine, black perch, California halibut, barred surfperch, California sheephead, white seabass, California corbina, sargo, leopard shark, barred sand bass, halfmoon, California scorpionfish, jack mackerel, shovelnose guitarfish, giant kelpfish and California lizardfish. It's safe to assume that few if any surveys were conducted at night. If they had been, there would undoubtedly have been additional sharks and rays.
<*}}}}}}}}}><  —  San Clemente is home base for the Pizza Port Brewery and apparently they make a brew called Pizza Port Pier Rat Porter that has received generally good reviews. One person said, "Flavor is coffee, chocolate, some alcohol. Hops actually peeked around the corner of the malty sweetness. Body is silky smooth and very pleasant. An excellent porter." Another said "dark brown, nice malty/roasty nose. Flavor is roasted chocolate. Smooth & easy drinking." The brewery itself says: A smooth dark porter with a nice full body. Lots of roasted chocolate flavors with a smooth creamy finish.
Pretty impressive but I'm somewhat confused. No essence of anchovy, no extract of squid juice, no perfume of mussel, no distillation of fish guts and herring gull droppings poking around the corner? Just think what a true "pier rat" brew might taste and smell like. On second thought, perhaps we don't want to know.
But wait, I then ran across the following. "A bit of fishing pier funk on the nose"… all right!
McDuff's Food & Wine Trail, Saturday, January 19, 2008 — Some Recent Tastes—Petit Chablis, Domaine Vincent Dauvissat 2004
Oyster shells and a bit of fishing pier funk on the nose. Very mineral, medium in scale, and just starting to develop a not unattractive oxidative note, followed by plenty of bitter lemon fruit. Drinking very well at the moment, it should continue to deliver immense pleasure (in spite of the pier funk) in the short term.
$20. 12.5% alcohol. Natural cork closure. Importer: Vineyard Brands, Birmingham, AL.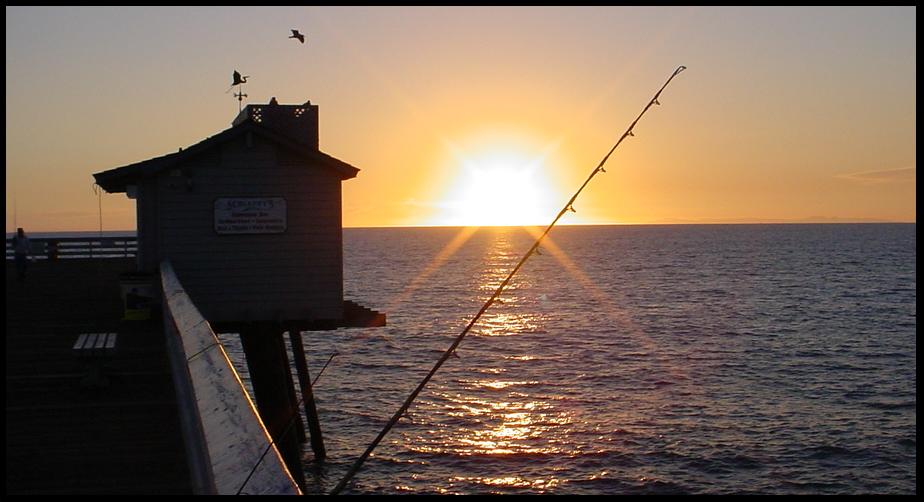 Sunset at the pier — 2004
<*}}}}}}}}}><  —  Sometimes it is hard to transform feelings into words. Not so for über angler/writer/educator Ben Acker, aka dompfa ben, who not only is able to spin a yarn or two but it quite often able to include some wisdom and advice to think about after the story is done. Herein is one of my favorite posts on the PFIC Message Board, a message he sent on his first wedding anniversary.
Date: May 23, 2005; To: PFIC Message Board; From: dompfa ben; Subject: Anniversary fishing, San Clemente Pier style
The support of a loving family. Without question, this is the solution to a variety of issues that might face a newlywed couple. Having found ourselves in the midst of "instant family…just add nephews," and with the financial doldrums of teacher-summer, that support came in very handy this weekend.
To celebrate our first anniversary in relative quietude, Brandy and I dropped the boys off at Grandma's early Saturday morning, and, for the briefest of days, remembered what it was like when it was just us. The frozen wedding cake had a rather pleasant seafood bisque quality, no doubt the result of its frozen burial beneath bags of frozen anchovy and squid in our chest freezer. Like her brother ketchup, Cool-Whip fixes everything. We basked in our couple-hood, relishing the quiet that escaped us with the arrival of our loving nephews, remembering simpler times with a heady mix of longing, duty, and the road-not-taken. A bit greedy of us, perhaps, but with life moving at the speed of light of late, I'll take my moments where I find them, precious and rare though they are. And in the words of Luke Skywalker: "If there's a bright center to the universe, you're on the planet that its farthest from."
I empathize. Anyway, let me get to the fishing part of the story. With our anniversary "celebrated" on Saturday, I somehow convinced Mrs. DOMPFA that the beach would be the ideal place to continue our celebration. We decided on San Clemente…she would be able to get a little sun, and I would be able to get a little fishing in. The art of compromise lies within, and she heartily agreed.
The fishing was about as good as the tanning—a fog bank gripped the coastline, revealing the sun only occasionally, and even then only with haze and softened shadows. I don't know if the fish felt as lazy, but I only made two baits—a perfect smelt that rolled on the first cast, and a small queenfish that didn't get picked up at all. A giant squid steak, cut into small strips, yielded some mystery bites that quickly got rocked in the reef, resulting in several snap-offs.
Around 3:30, I hooked up a whole 'chovy Boyd-style (hooked through the nose, pulled through, wrapped a few times with the leader, and then re-hooked near the tail), and lobbed a cast. I immediately hooked and landed a China croaker, around 13 inches. The fish seemed to have given up on life long before she ever ate my bait, and I released her to her own watery devices. The next cast yielded a chunky sand bass, also on the Boyd-rigged 'chovy. I released him also. Third cast… a male stingray inhaled the bait and swallowed the hook, so I released him with some bronze baitholder throat jewelry in a size 6.
About that time, the wind picked up and my grumbling stomach signaled dinnertime. Brandy had joined me on the pier, as the sun had made its final appearance of the afternoon sometime earlier. My fishing addiction sated for the time being, I reflected on the beauty of the ocean as a backdrop and a frame for the beauty before me, not when I fish, but even when I fish…not if I fish, but even if I fish…not because, but even because I fish… And it brought me full circle, and made me understand a little more about what I need to self-actualize during this lifetime in a Maslowian sense: The support of a loving family.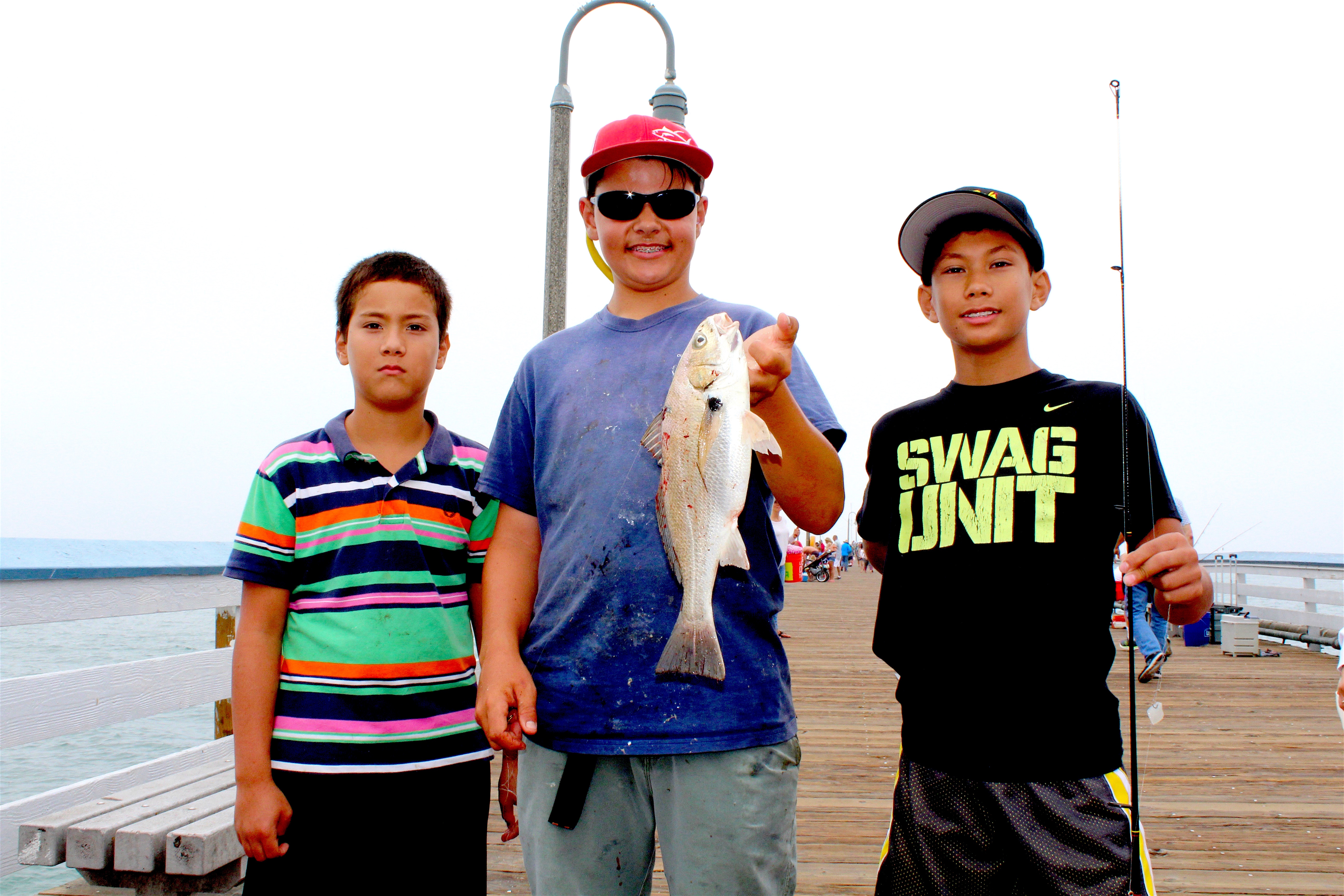 A spotfin croaker taken during a fishing class at the pier in August 2017
<*}}}}}}}}}>< —   People don't pitch in and do civic contributions unless they believe in what they are doing. I guess that means the following shows the love locals in San Clemente have for their pier.
Volunteers repaint the pier for the fourth year
SAN CLEMENTE – By mid-spring each year, the municipal pier turns a faded blue speckled with white. And for the fourth year in a row, local volunteers came down April 14 to touch up the pier's color and undo the natural veneer left by pigeons.
Starting at 7:30 a.m., close to 30 volunteers turned out for the project, said Beaches & Parks senior contract inspector Mark Chavez. He estimated that 10 gallons of paint was applied to pier railings, costing the city about $300. The entire job took just over an hour. Additionally, a few volunteers walked the beach doing trash cleanup, he added.
If not for the repainting, the weather, sun, birds, and constant usage by anglers would cause the wood to rot, Chavez said.
"It's a great opportunity for people to give back to San Clemente and save the city money," said Marie Toland, executive director of Family Assistance Ministries. FAM, Pacific Coast Church, and San Clemente's first ward for the Church of Jesus Christ of Latter Day Saints all participated in the repainting.
There were fewer volunteers than last year, Toland said, but it kept the project more manageable. Last year, enough volunteers came out to finish the pier in 20 minutes, said Church of Jesus Christ of Latter Day Saints first ward public affairs representative Rick Gammell. "I'm glad for this project," he said. "I hope it can bring more awareness about keeping our beaches and oceans clean."
Even some of the local fishing aficionados joined in. Staff Sergeant Rick Cullen decided to drop his fishing pole for a paintbrush while out with Dylan Carey, the son of a friend now serving in Iraq. He frequently comes out to fish on the pier, and gets annoyed by kids carving graffiti into the railings. "I might as well do something to help the community while I'm here," Cullen said. "I think we should do this twice a year. Every six months, it needs it."
—Andrew Good, Orange Count Register, April 16, 2007
<*}}}}}}}}}>< —  In contrast to the benevolent actions described above, was the court case that took place one day on TV's Judge Joe Brown. What? Yes indeed, one day the case involved a husband and wife angling duo (the defendants) and another fisherman they had met out at the San Clemente Pier (the plaintiff). Seems amidst the fish they struck up a friendship and soon the couple found out that their newly acquired friend was looking for a place to live, even though he was unemployed. Assured he was close to a job, they let him move in and even helped him buy a car. He proceeded to get the car towed and put into storage ($$) and managed just $200 in rent money over seven months instead of the promised $2,800. But, he sued them because they refused to give him back his fishing equipment until he paid his bills. They countersued. His evidence—snapshots of him holding a large halibut and shark at the pier. He claimed they let him move in so that they could learn his angling skills—and maybe his luck would wear off. Judge Joe Brown was unimpressed but issued a Solomon-like judgment. The fishing equipment would be returned to the plaintiff but he was ordered to pay them $4,000 for his accrued bills. No mention was made as to how the fishing was (or if their skills had improved) when they returned to the pier.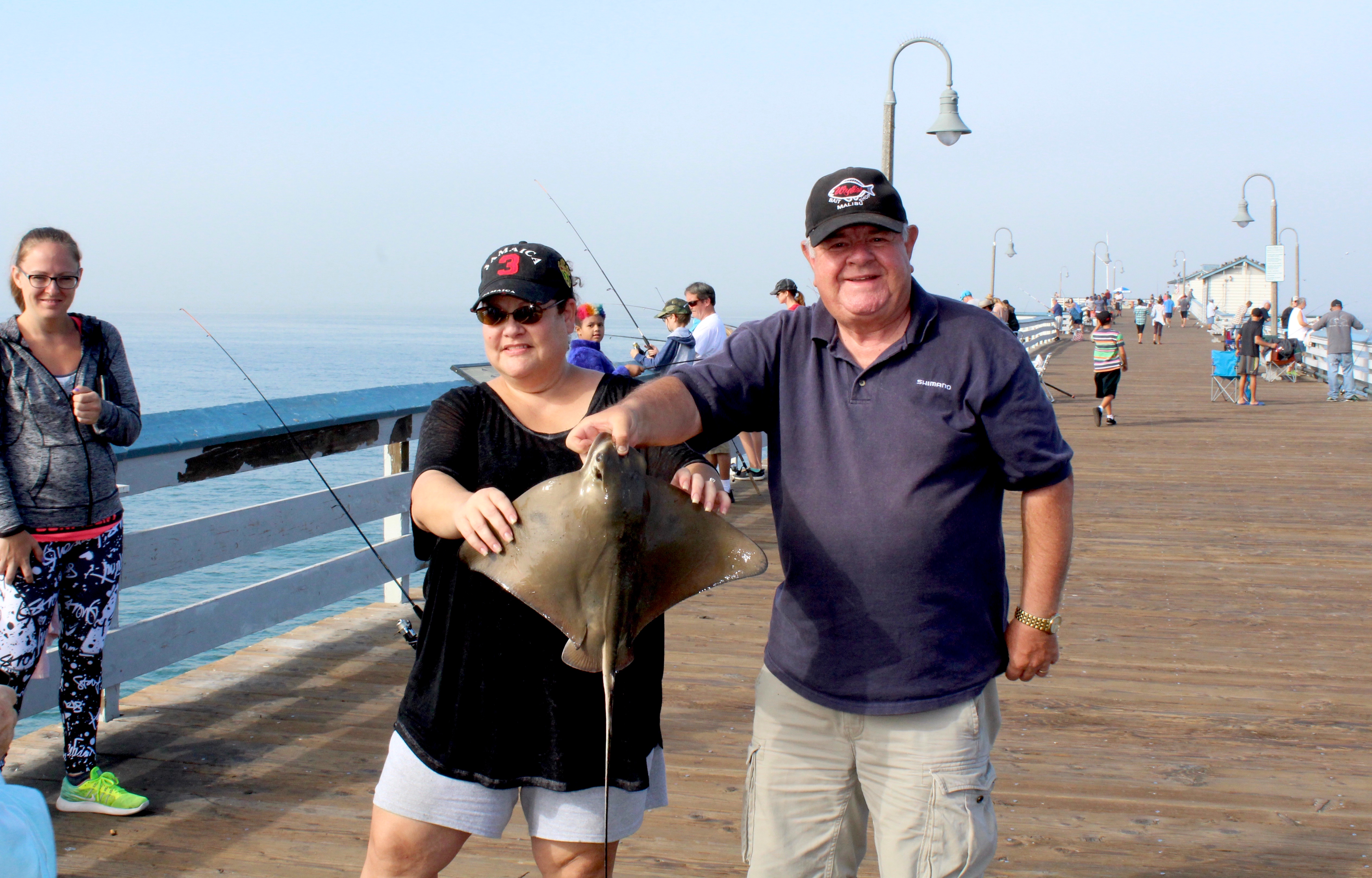 A bat ray taken during a fishing class at the pier in August 2017
<*}}}}}}}}}>< — A manta ray in San Clemente? Really?  Are you sure? Yep!
San Clemente had a bit of trouble of a new kind last week. A giant Manta Ray, weighing something over a ton, got all messed up in the cable of the "watch buoy" for the hydrophone there. The man on shore started out in a skiff, with a rifle, to put a stop to such nonsense. He got a good look at the Manta—and rowed home. A fishing boat was appealed to, and they killed and removed the monster, which turned out to be ten feet long and like a huge stingray. They are extremely rare so far north.
—Oakland Tribune, September 16, 1935
<*}}}}}}}}}>< —  When is a shark "attack" not a shark attack? What, is this a trick question? No, just a lead in to the following story that comes from the website "Remember When" which tells stories of the south Orange County area.
Shark Attack at San Clemente Pier
By Berry Berg — San Clemente Pier was a magical place. There was always a lot of activity with the charter fishing boats coming and going, the restaurant at the end of the pier and the town square feel. My parents had been living in San Clemente since the 30's and it was exciting each and every day as a kid.
I was surfing near the pier in the mid 60's and the fishing boats were in full swing. The Dana Point Harbor had not been built yet, so all the fishing boats would load and unload on the lower dock attached to the pier on the southside. I remember it was always interesting, if not downright entertaining trying to board the boats under the pier. You would wait on the creaky old stairs for the big swells to pass and time your boarding perfectly. Otherwise you were going head first into the boat.