Public Pier — No Fishing License Required
While some piers along the coast (such as Seacliff) have characteristics that help define and give identity to the pier, here it is the area itself that makes the pier special. Supposedly the oldest seaside resort along the Pacific coast, Capitola has, since 1869, been a destination for inlanders headed to the coast. The area today is one of restaurants, stylish tourist shops and art galleries.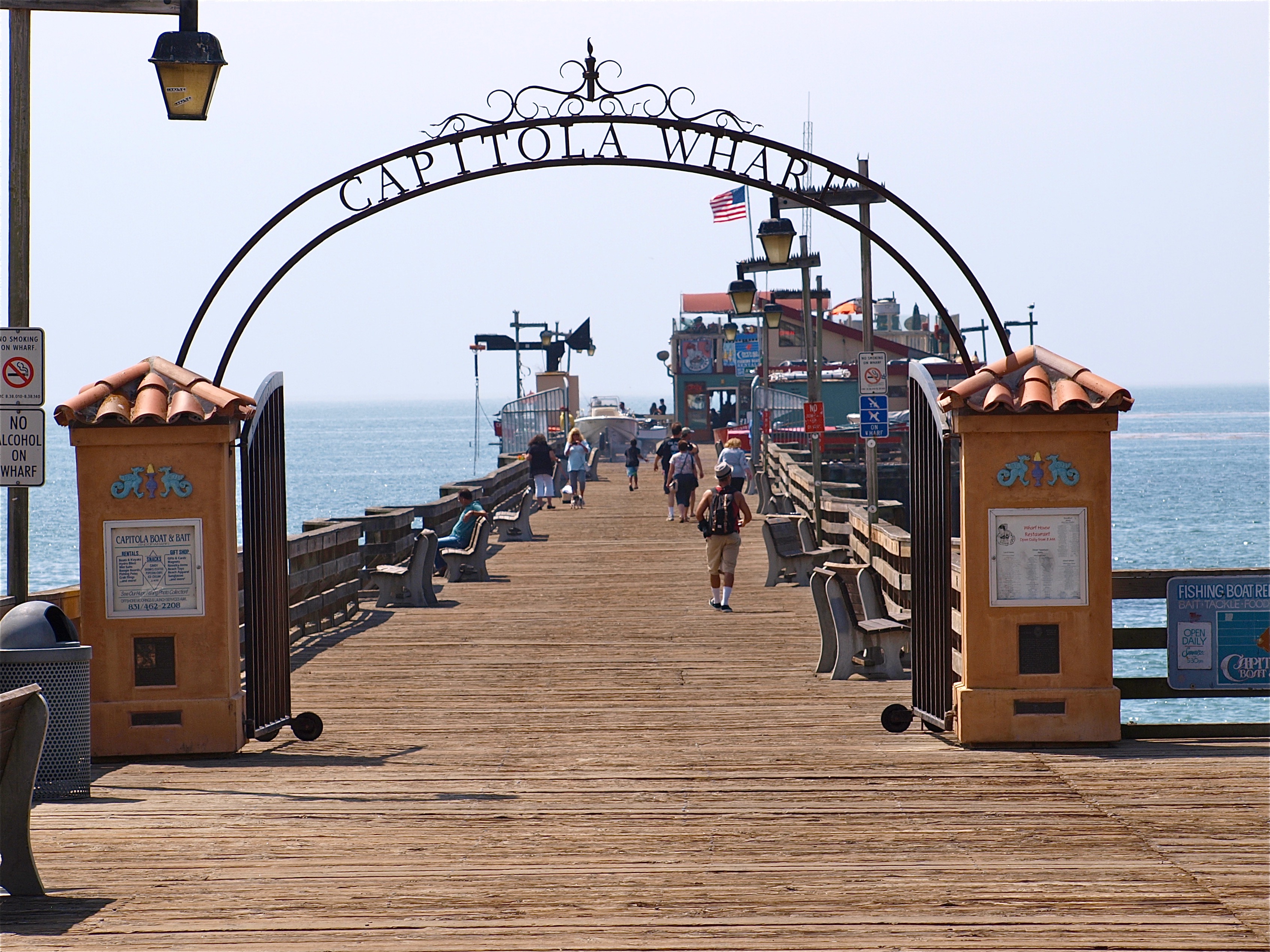 The entrance to the wharf
The main area near the beach is really only a few square blocks, but it is made up of commercial buildings, old Victorian houses, a restored railroad depot and, at the front of the pier, a 1920s condominium-type area known as the Venetian Court, complete with pastel colors and ornate architecture. People in Capitola seem to regard their "village" as an up class, perhaps more dignified, version of a beach town, in contrast to Santa Cruz and its weekend hordes.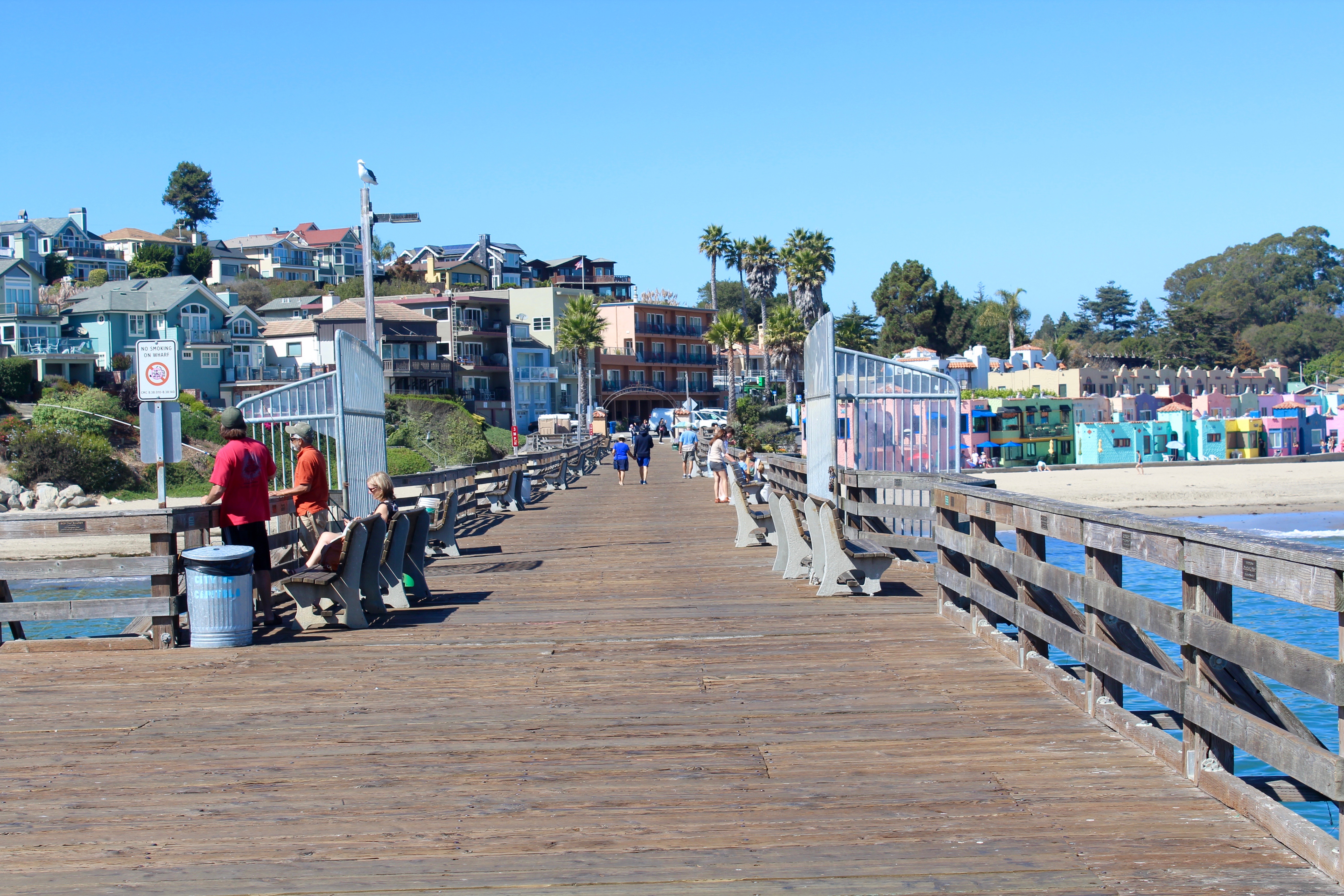 Looking toward shore
Environment. The pier itself is relatively new, having been rebuilt in the mid-1980s following storm damage which nearly destroyed the old pier. Luckily, the new pier is wood (which I always prefer) and although the pier is only 855-foot-long, it is rarely crowded with pier anglers unless there is a "run" of fish present. At such times, railing space can be at a premium. The majority of people on the wharf are visitors out for a stroll or people heading out to the restaurant. Even the majority of fishermen here are, and I'm guessing, boat anglers heading out to fish the nearby reefs. Some come to launch their own boats, some come to rent the boats that are available on the pier. Excellent fishing is found fairly close to the pier for several species.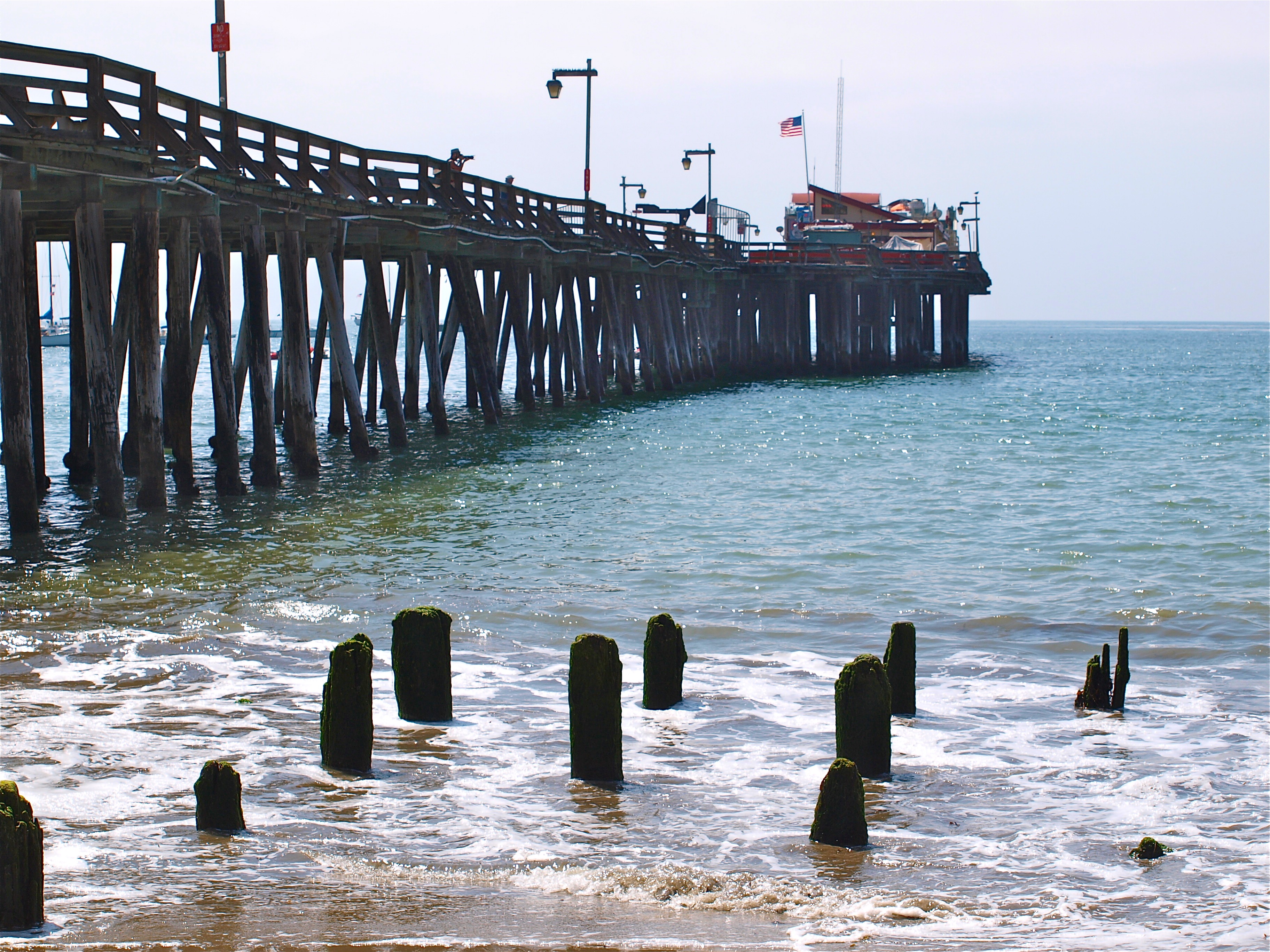 The shore end of the pier fronts two beaches, Hooper Beach on the north side of the wharf, and Capitola City Beach to the south. Inshore, it's a typical sandy beach environment with surfperch predominate in the catch. Spring to fall can see striped bass in these inshore waters, especially if the anchovies surround the pier, but it doesn't happen every year. The inshore area extending out to mid-pier will see halibut (spring to fall) and other smaller flatfish much of the year.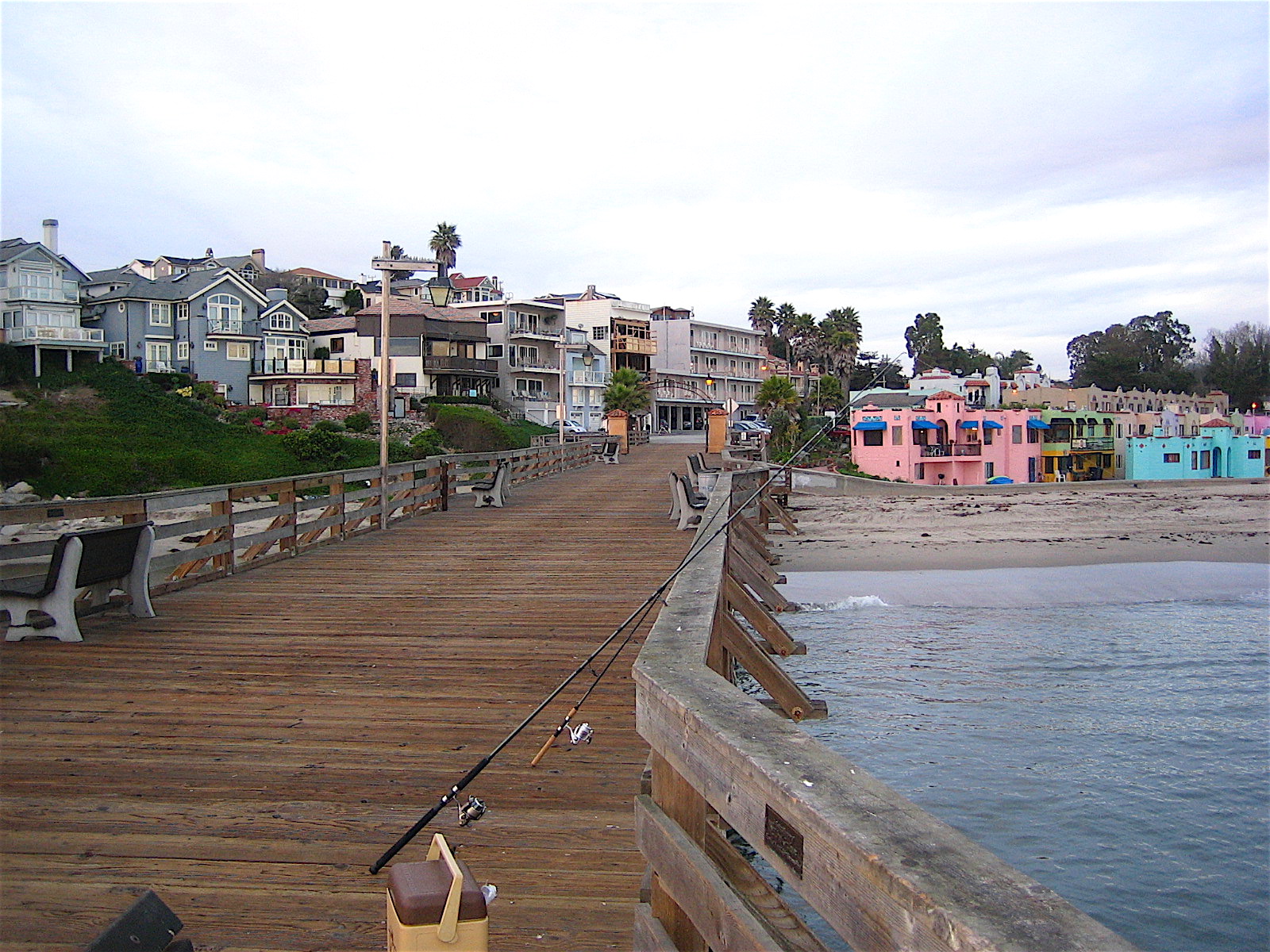 Picture courtesy Aquamonk
Further out on the pier sees a bottom that is a mixture of sand and mud. Pilings have a fair buildup of mussels and there is often a fairly thick buildup of kelp around the pier from the midsummer months to the fall. Fish are attracted to the mussel-encrusted pilings under the pier and the kelp covering that can provide protection.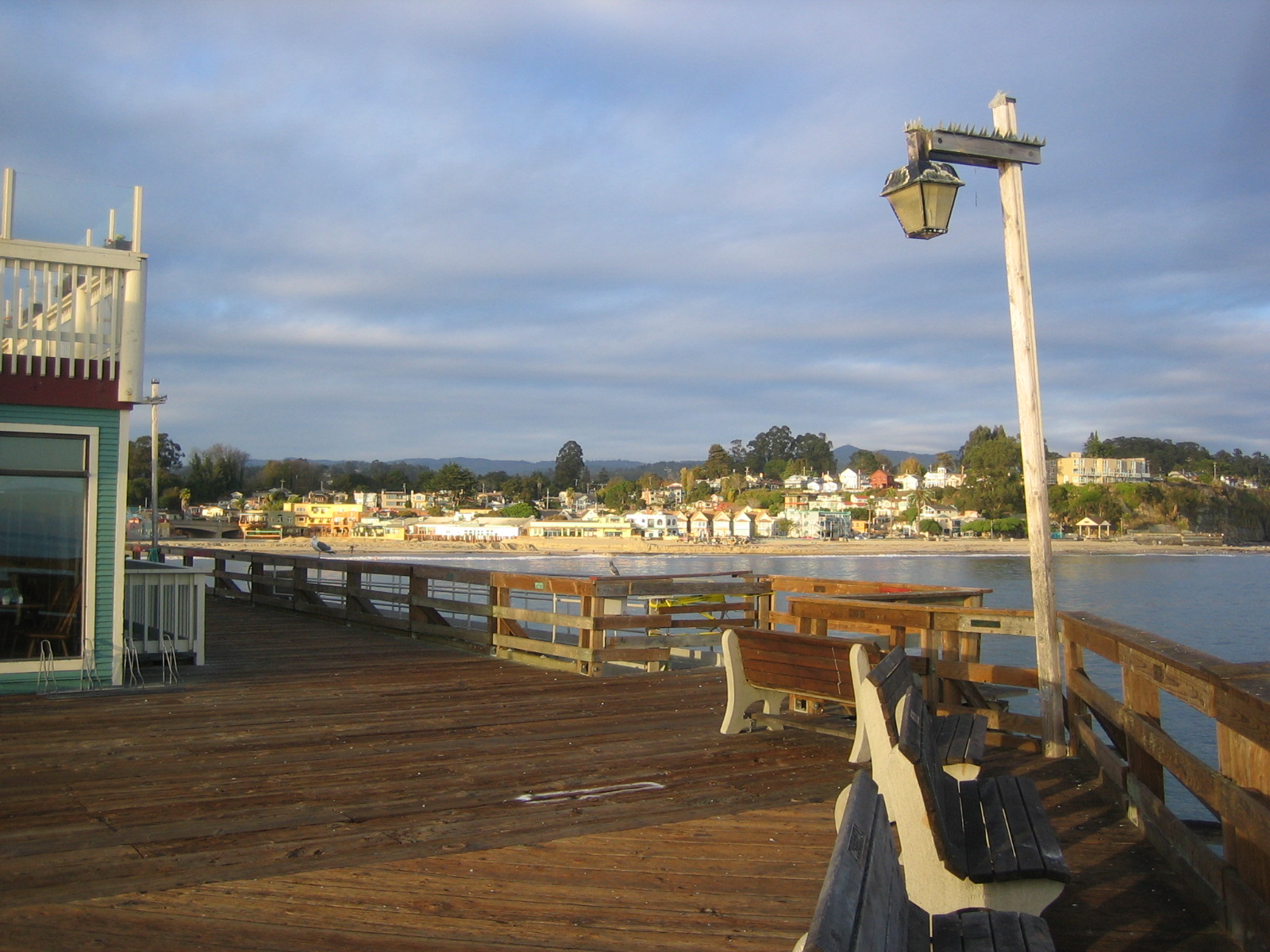 Picture courtesy Aquamonk
In addition, Soquel Creek runs into the ocean just down the beach from the pier. During the winter, the mouth of the creek stays open, during the summer, it usually closes and a small lagoon, mostly used for swimming, forms just inside the city beach. Because of the creek, most years will see some steelhead caught during the fall and winter months as they wait for the mouth of the river to open.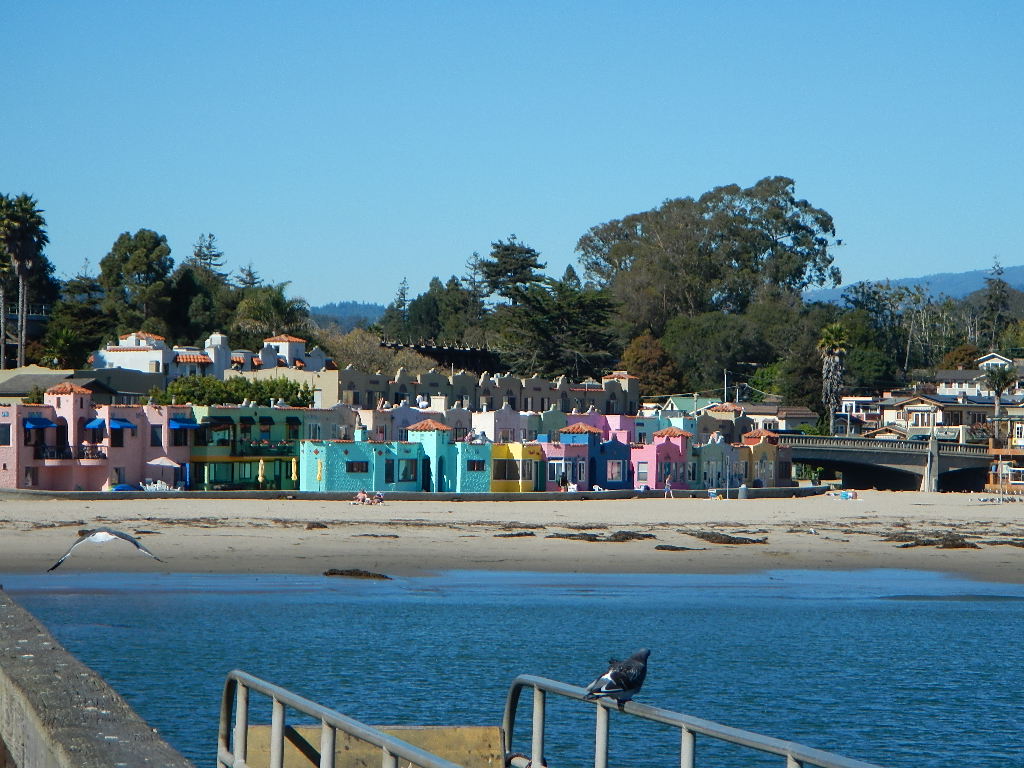 What all of this means is that an angler is presented several different areas and environments to fish and each can yield different varieties of fish. At the same time, each environment can call for a different approach on the part of the angler.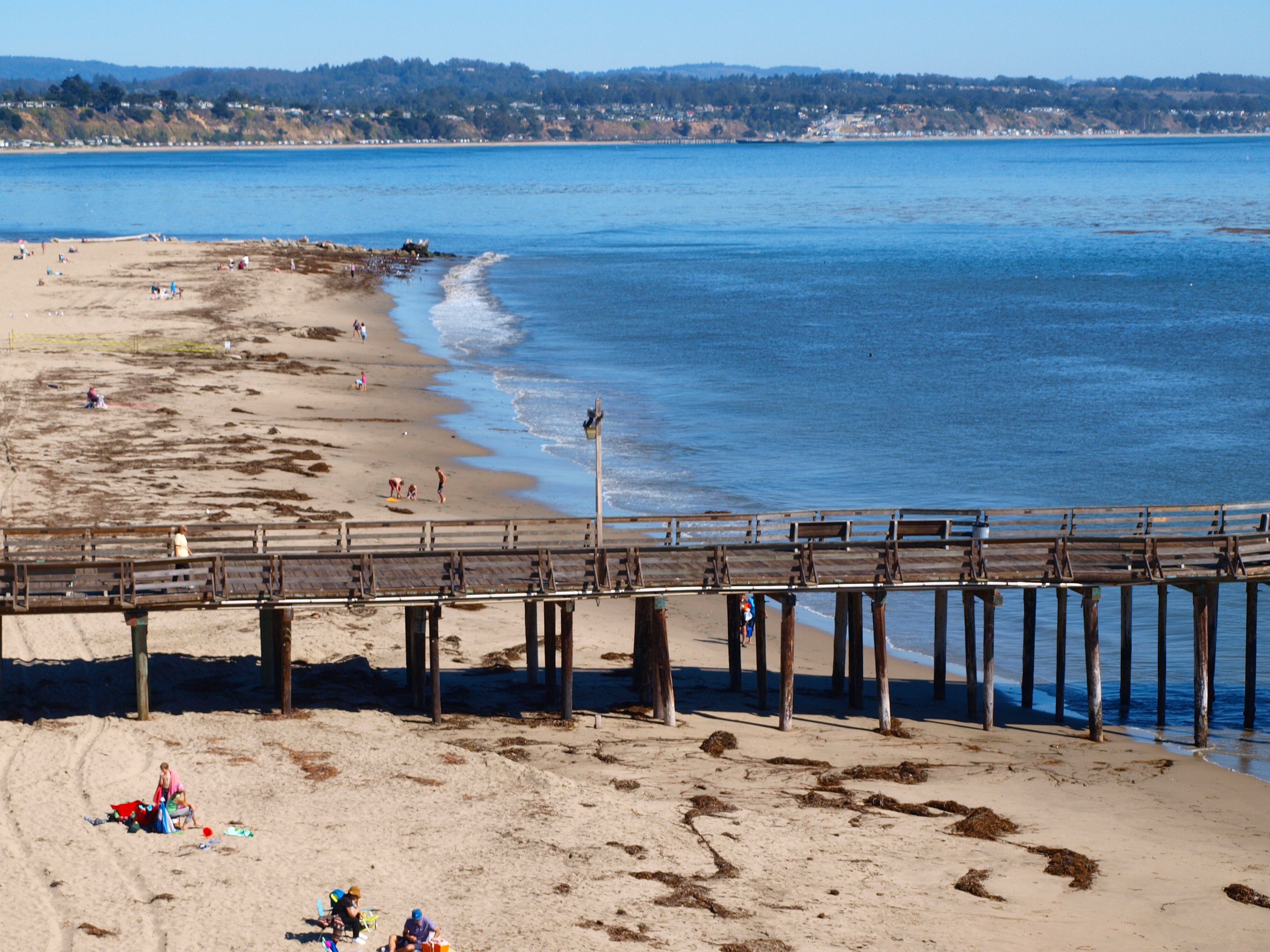 Rarely seen fish that have been caught in these waters include barracuda, triggerfish, black sea bass (see below) and sturgeon; but your chances of landing one of these are about the same as hitting a Lotto Jackpot. Occasionally though an unusual fish is landed from the pier; one such fish was an American shad that was caught on a Sabiki rig in July 2009.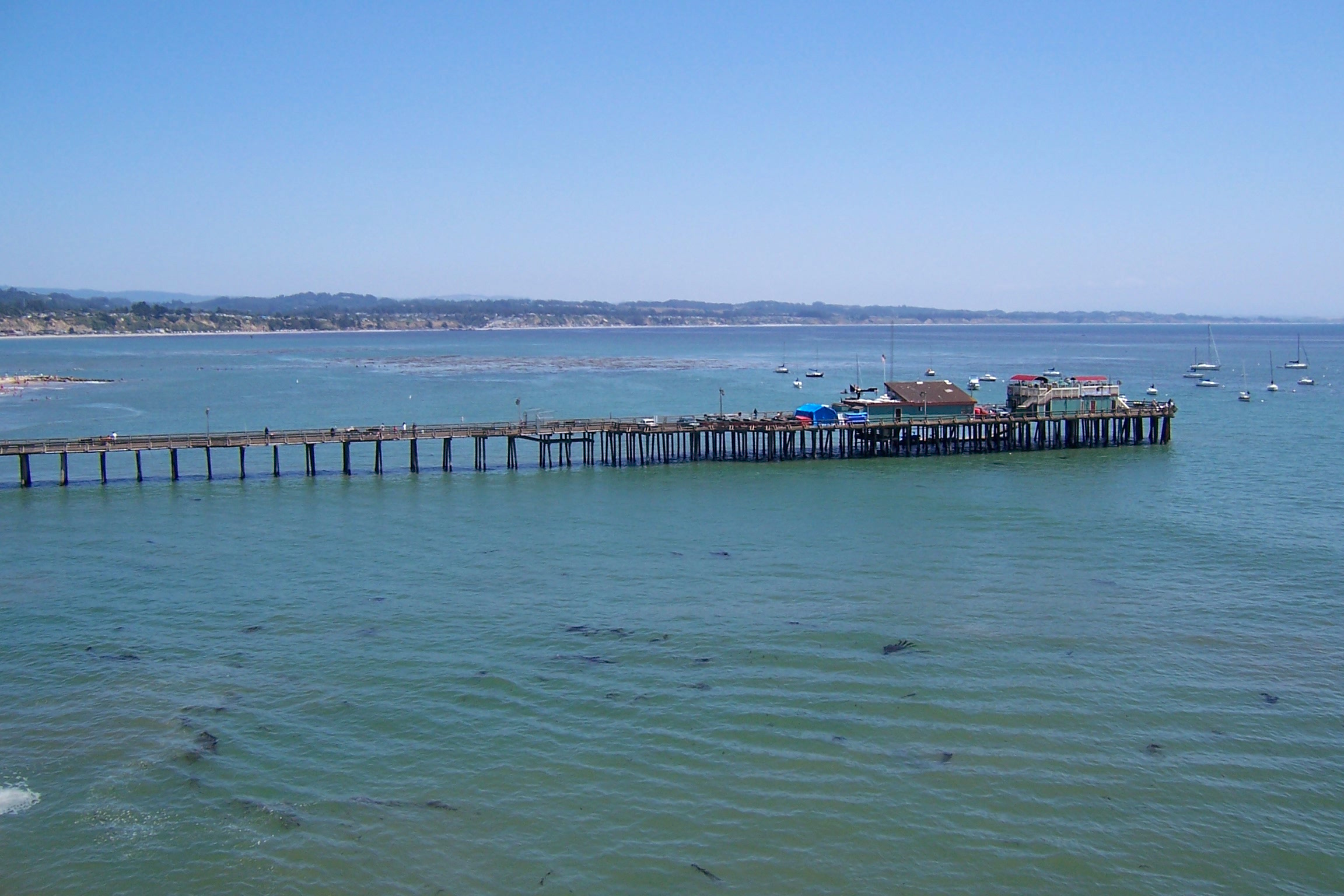 Looking down at the pier from the public parking area up the hill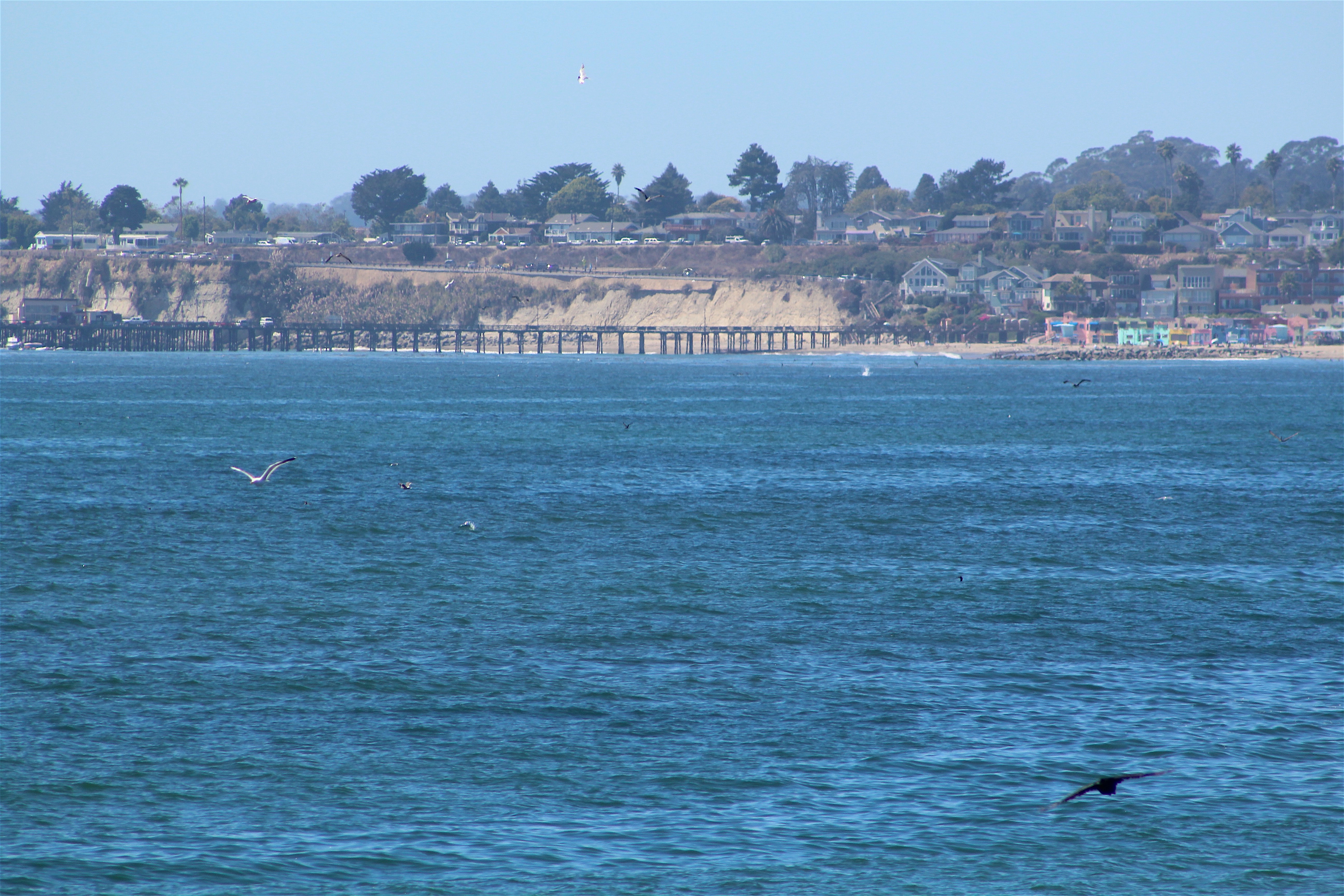 A view of Capitola and the Capitola Wharf from the Seacliff Pier
Fish and Fishing Tips. Anglers tend to target four areas for effort—the inshore surf area for surfperch, the area just past the breakers for stripers and halibut, under the pier for perch and other kelp/rock species, and the waters out from the end for a variety of species.
One of the most reliable areas is the surf area, especially on an incoming tide. The result is the larger barred surfperch (reported to three-pounds) and calico surfperch. For these, use sand crabs, pile worms, fresh mussels or small pieces of market shrimp. If you like artificials, try a 1-1/2 to 3-inch plastic grub with root beer, motor oil/red flake, and pumpkin seed patterns often producing the most fish. Two-inch Berkley Gulp! Sand Worms and Minnow Grubs (in pumpkinseed color) can also be productive. By far, the winter and spring months are the best for these perch but some will be caught throughout the year.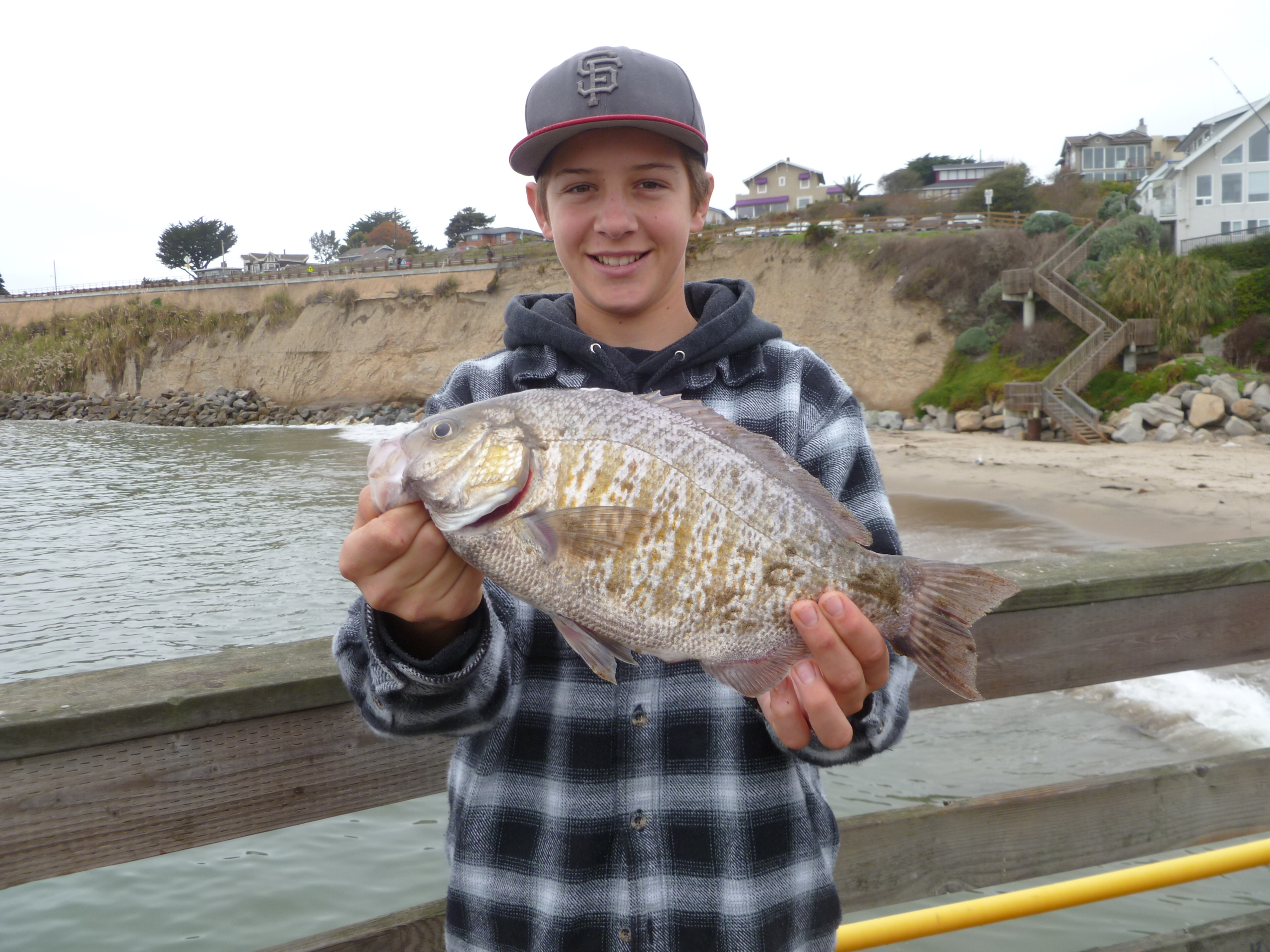 Barred Surfperch — Picture courtesy of Capitola Pier Bait and Tackle
According to Ed Burrell who has worked at the pier's bait shop, and is "the expert" as far as I'm concerned, "the best perch conditions occur when the water is clear and the wind creates a nice chop on the ocean surface." Thus in the wintertime the runoff from the nearby Soquel Creek can affect the fishing for the perch, especially if the runoff muddies the water. When it starts to flow south, away from the pier, the bite picks up.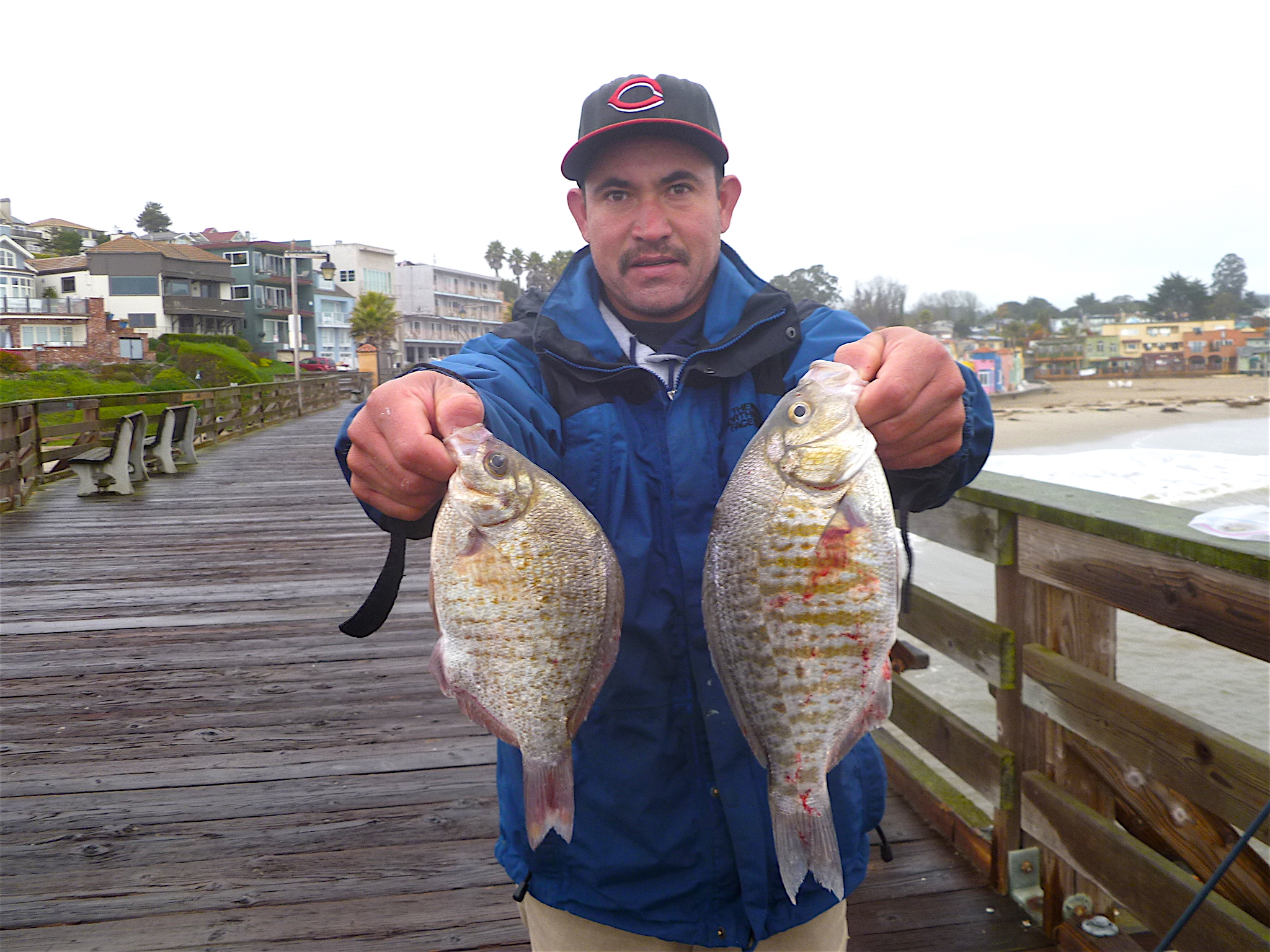 Barred (R) and Calico (L) Surfperch — Picture courtesy of Capitola Pier Bait and Tackle
Outside the surf area to about mid-pier seems to be the best area for both California halibut and striped bass. May through July is usually the prime time for the flatties and most years will see some fairly impressive sized flatfish landed (20+pound size). Most will be caught on live bait such as anchovies, shinerperch, small kingfish, sardines, or small mackerel (some years), and all should be fished on the bottom with live bait rigging (although in the shallows you can also fish them under a float). If you're not into using bait, a few flatties will also be taken each year on artificials such as Hair Raisers, Big Hammers and Scampis.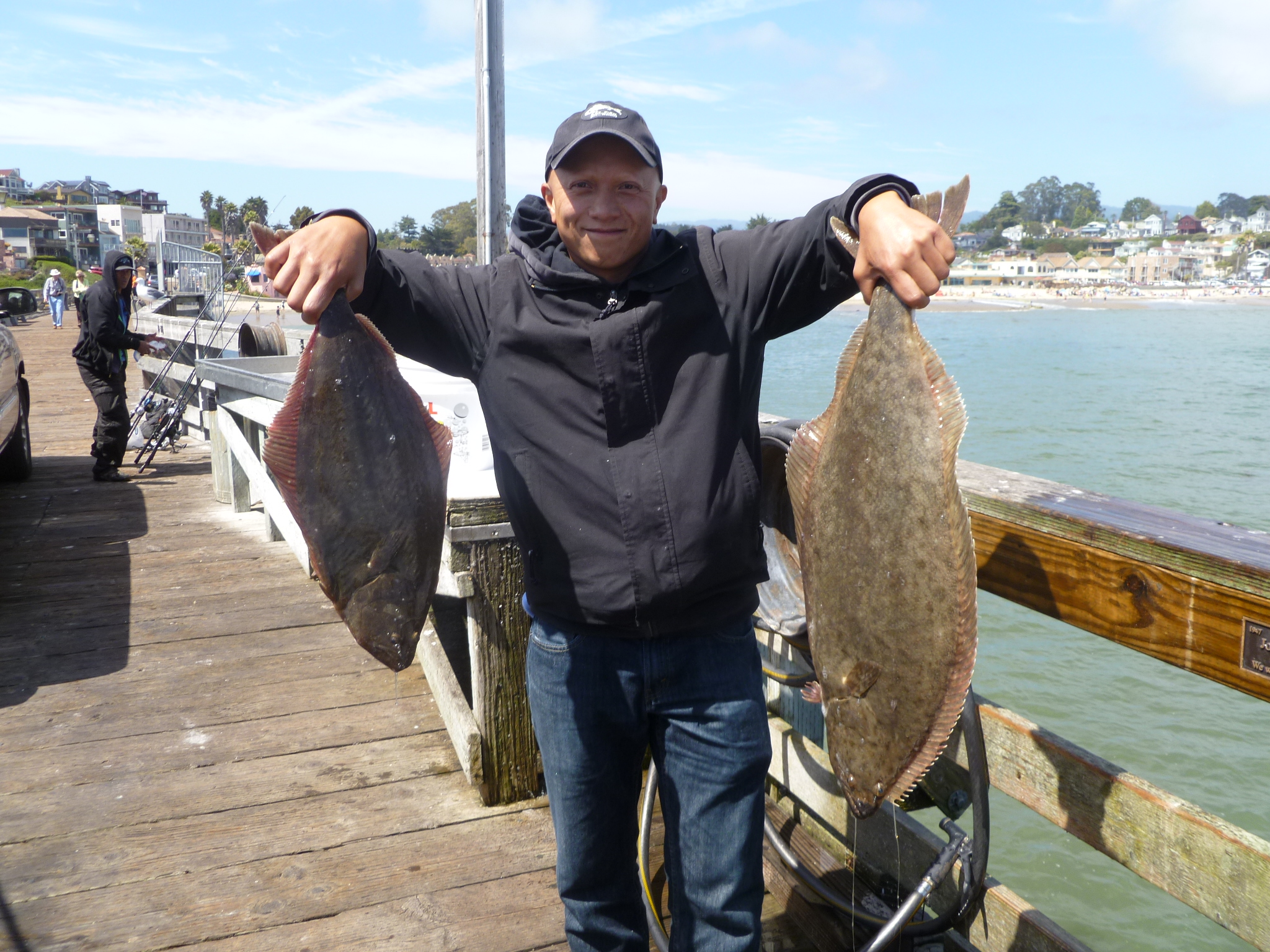 California Halibut — Picture courtesy of Capitola Pier Bait and Tackle
Smaller flatfish—sand sole, starry flounder, Pacific sanddab and diamond turbot—are sometimes also seen in these areas with pile worms fished on a Carolina rig or high/low rigging seeming to produce the most fish. The starries and sanddabs are generally seen winter and spring while sand sole (to four pounds) and the occasional turbot may show up any month.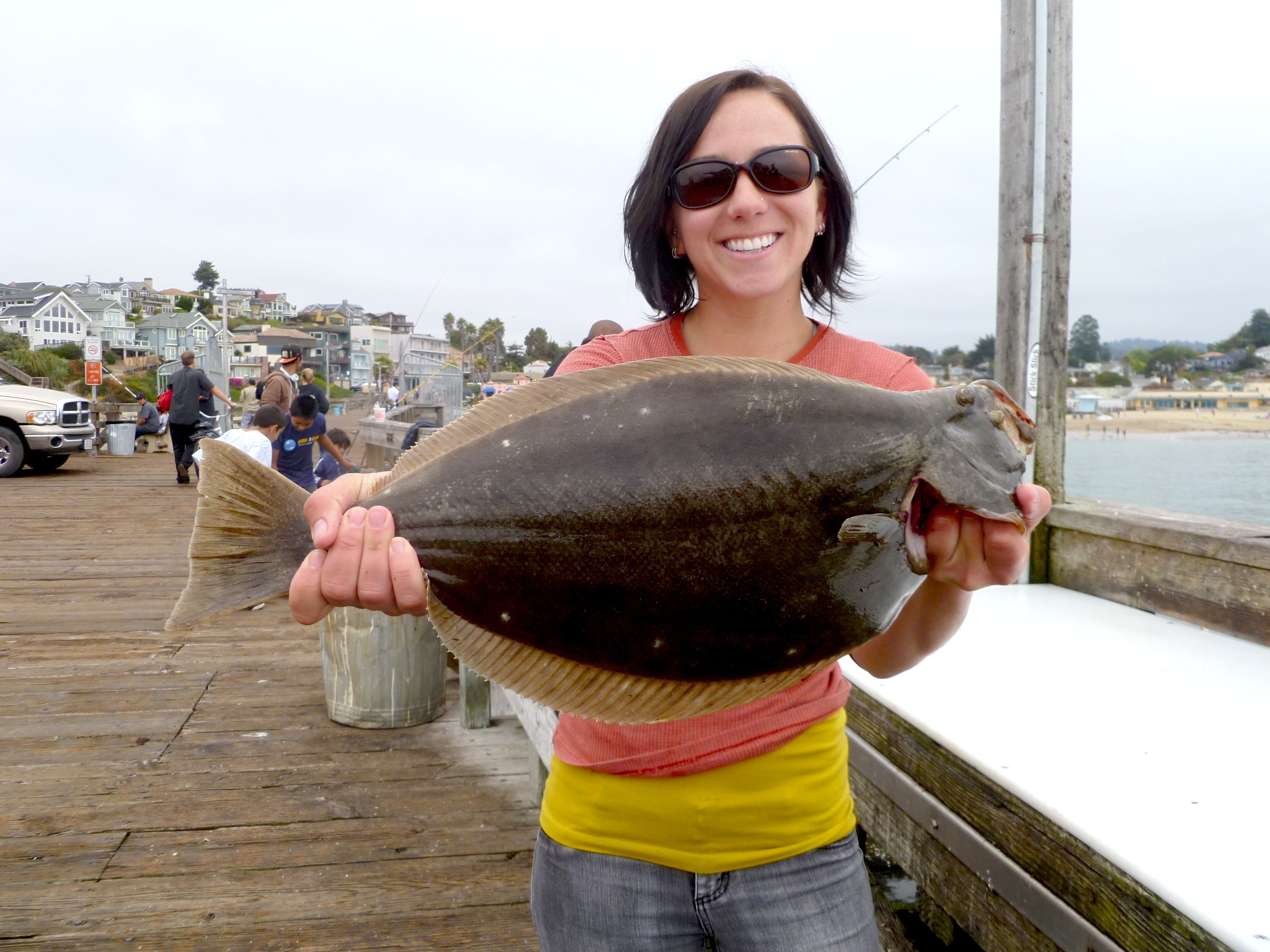 California Halibut — Picture courtesy of Capitola Pier Bait and Tackle
Similar riggings may also attract a striped bass but they are less particular and will often hit a piece of mackerel or sardine, shrimp, or a pile worm that is graciously offering up its life so that our noble anglers can experience the thrill of a striper. Most of the stripers range from 8-15 pounds but bigger ones are caught (including a 31-pound fish in September of 1995. November of 1997 proved especially interesting when a school of about 70 stripers came into the shallow water by the pier and teased the anglers on the pier; only a couple were caught. 2004 saw a huge run of fish that lasted for several weeks. Keeper fish were caught daily with a 27-pound fish apparently leading the way (although a 28-pound striper was caught on a Pencil Popper adjacent to the wharf).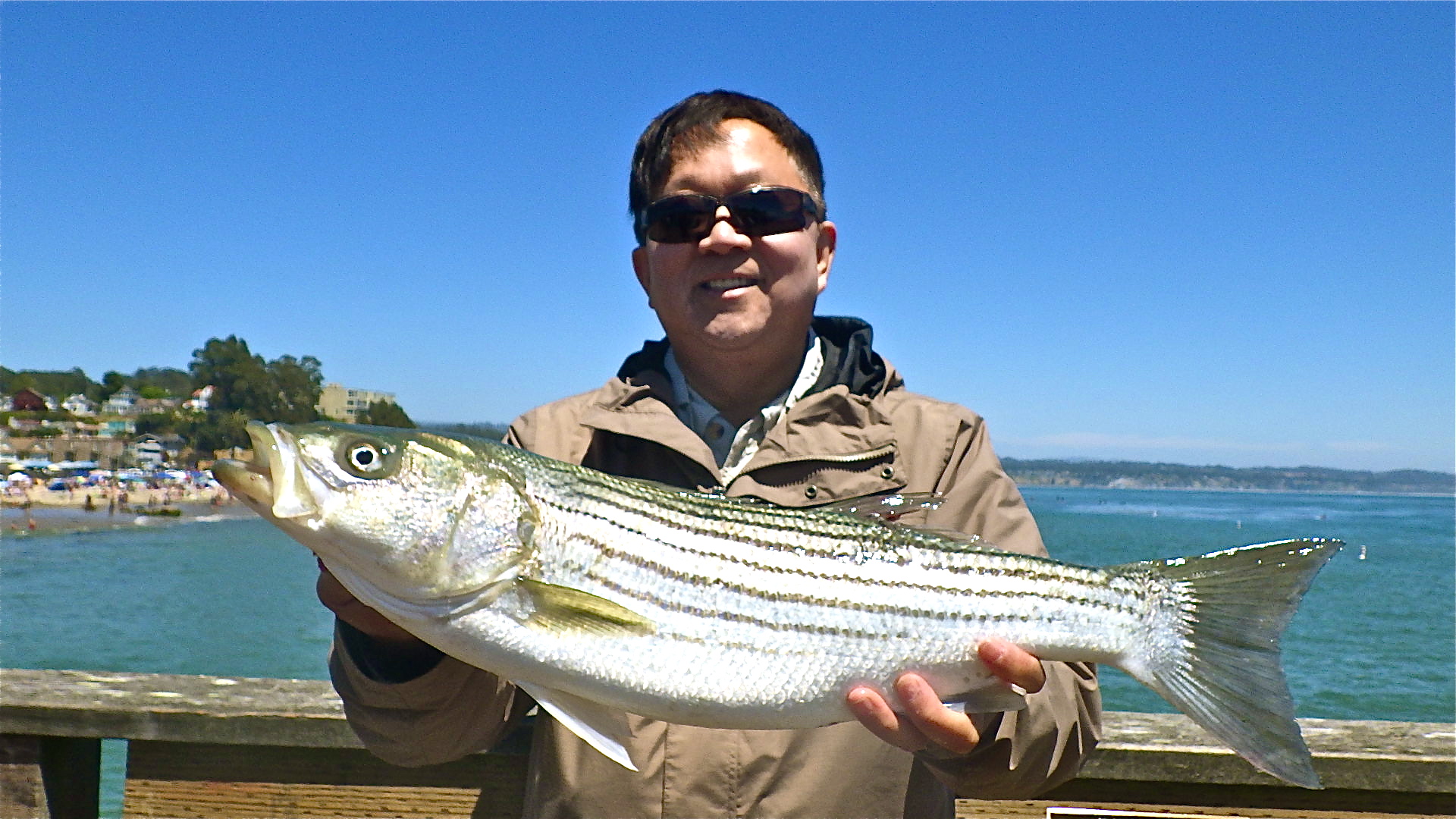 Striped Bass — Picture courtesy of Capitola Pier Bait and Tackle
Ditto 2005 when the stripers pushed anchovies up against the beach and feasted on the bait. Anglers used bait rigs to catch anchovies and then fished them under bobbers for the stripers. In fact, stripers have shown up every summer since 2004 and every year has seen 20+pound fish landed, and some that approached 30 pounds. The summer of 2009 saw stripers become regular visitors to the pier. Regulars on the pier used bait rigs to catch live sardines that were used for bait; the result was daily landing of stripers topped by a 29-pound fish in late July.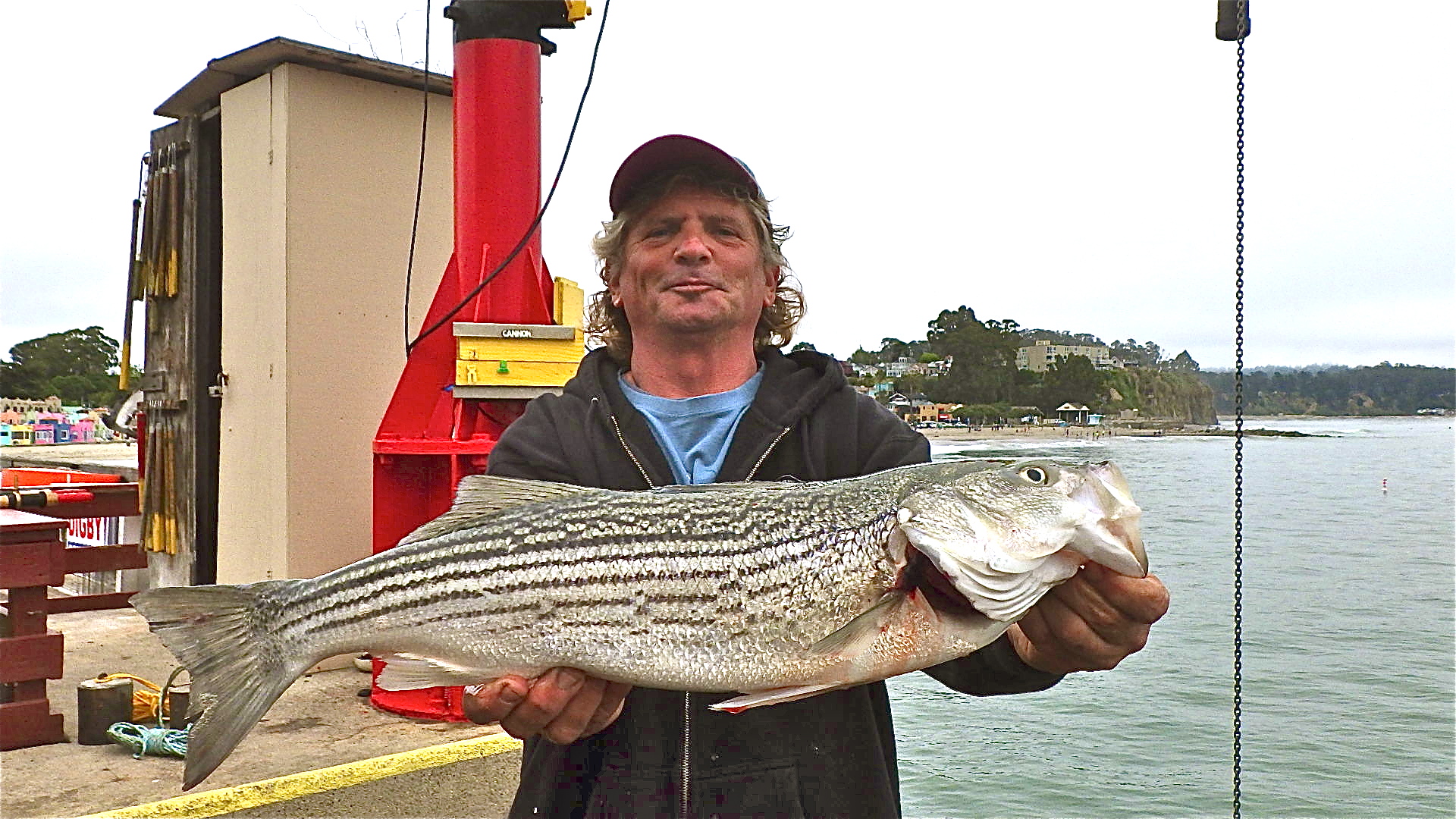 Striped Bass — Picture courtesy of Capitola Pier Bait and Tackle
Fishing under the pier, by the pilings, is a time honored pier tradition and here it is usually practiced from the mid-pier area to the end. Many anglers like to use a bait rig— Sabiki or Lucky Lura—although I prefer simple high/low riggings with a size 6 hook and a one-ounce torpedo sinker.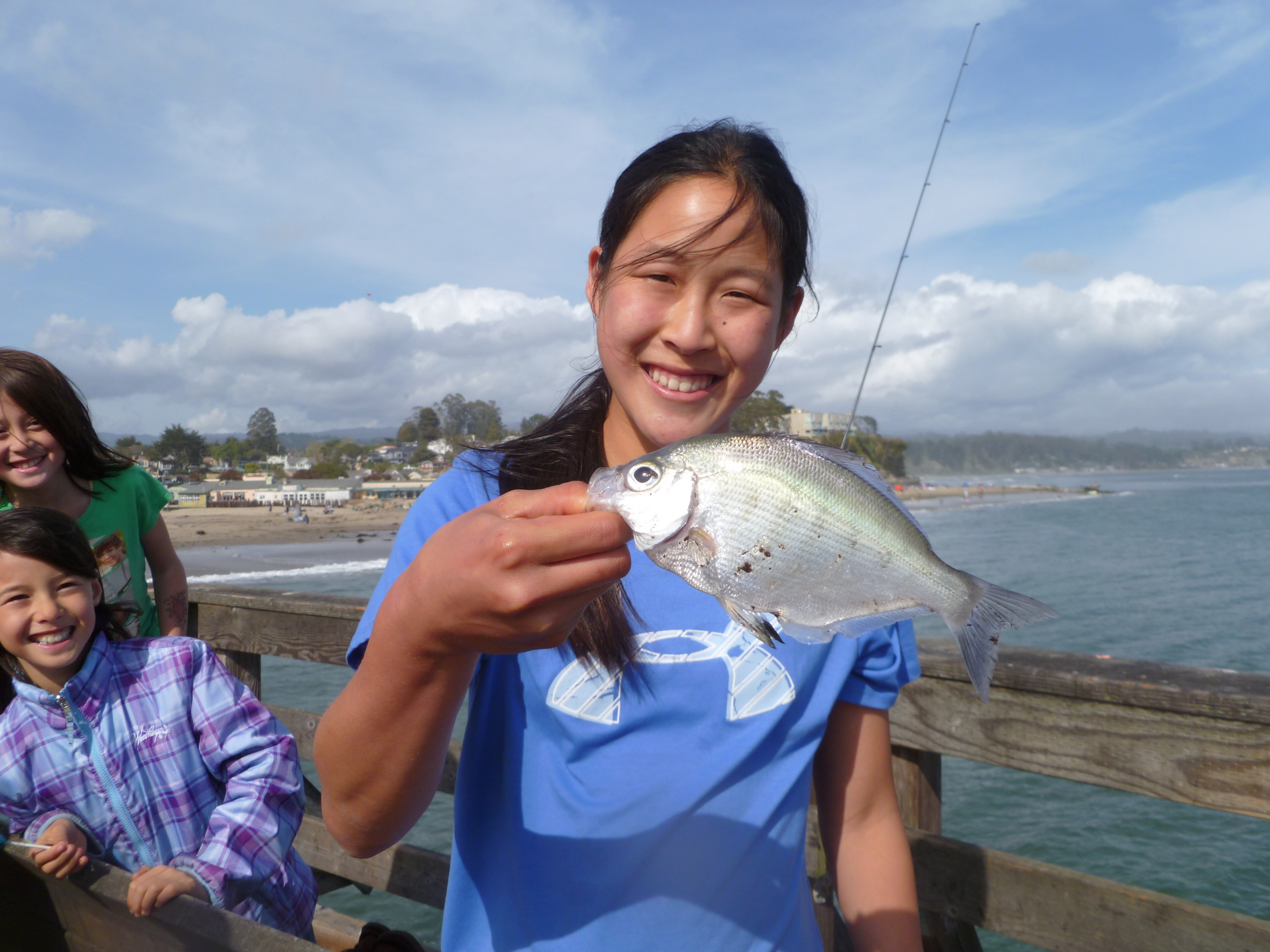 Walleye Surfperch  — Picture courtesy of Capitola Pier Bait and Tackle
Small pieces of anchovy fished mid-depth to the bottom, will often yield walleye and silver surfperch, sometimes in non-stop fashion, but generally do not attract the other seaperch.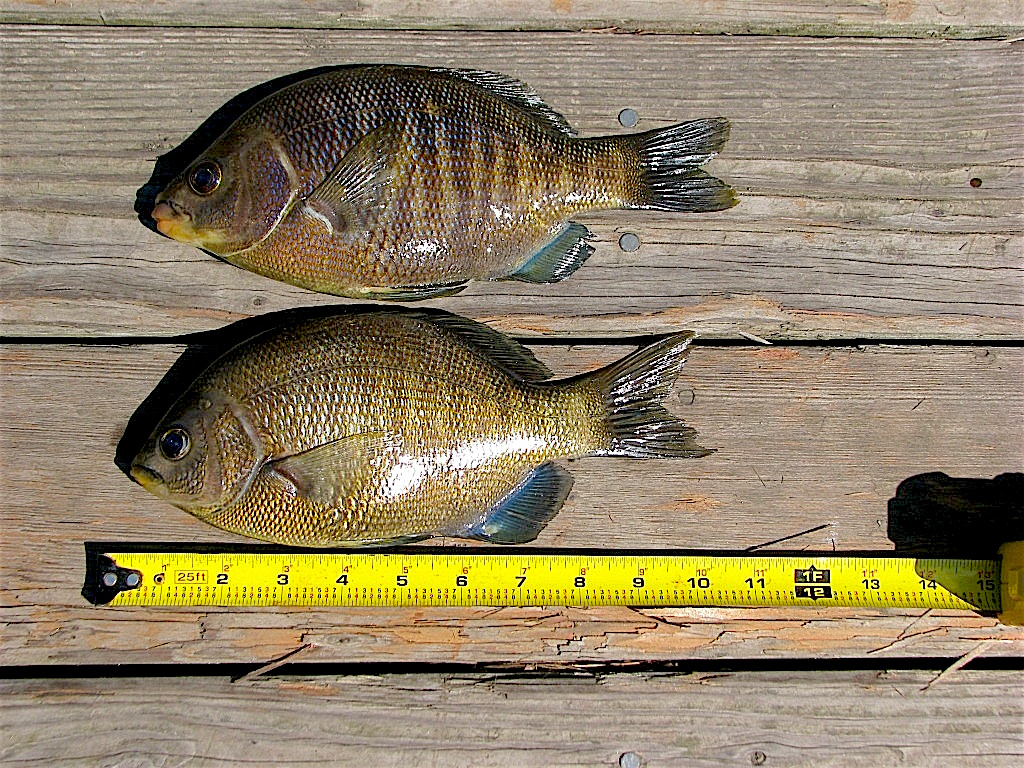 Blackperch caught by Halibutsnatcher
Pile worms, small strips of fresh mussels, or small pieces of market shrimp, fished down around the pilings at the end, will often attract blackperch (aka buttermouth) as well as pileperch, white seaperch (aka splittail perch), rainbow seaperch, and an occasional rubberlip seaperch (reported to three-pounds).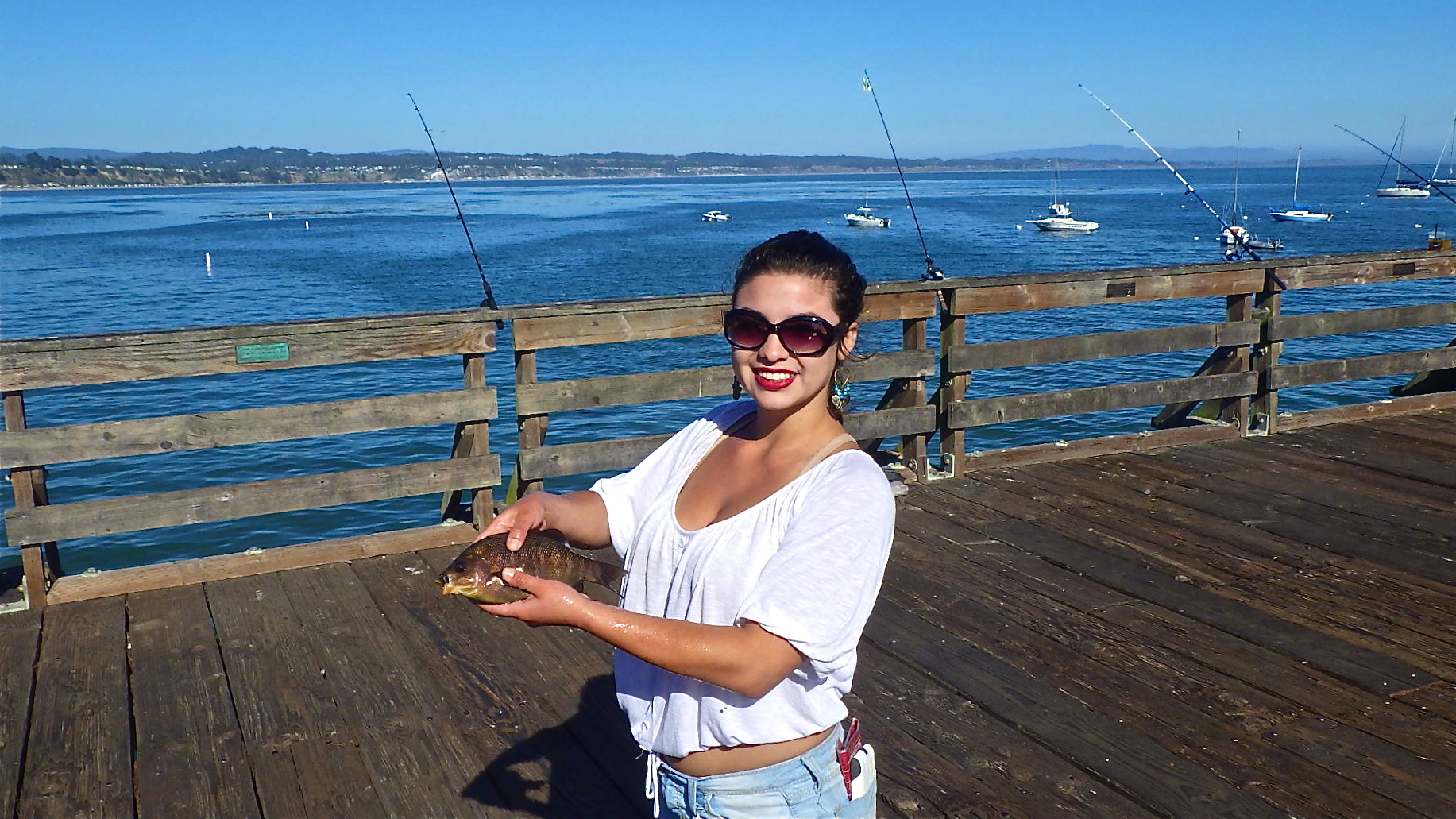 Blackperch caught by Cassandra — Picture courtesy of Capitola Pier Bait and Tackle
Although winter and spring seem the best times, you may catch a large seaperch at almost any time of the year. If bait isn't producing, try lures—plastic grubs or small spoons—and simply jig them up and down in the water near the bottom. Root beer or oil colored grubs can be deadly as can small 1/12 or 1/8 oz. chrome, chrome with blue, or chrome with green Kastmaster spoons.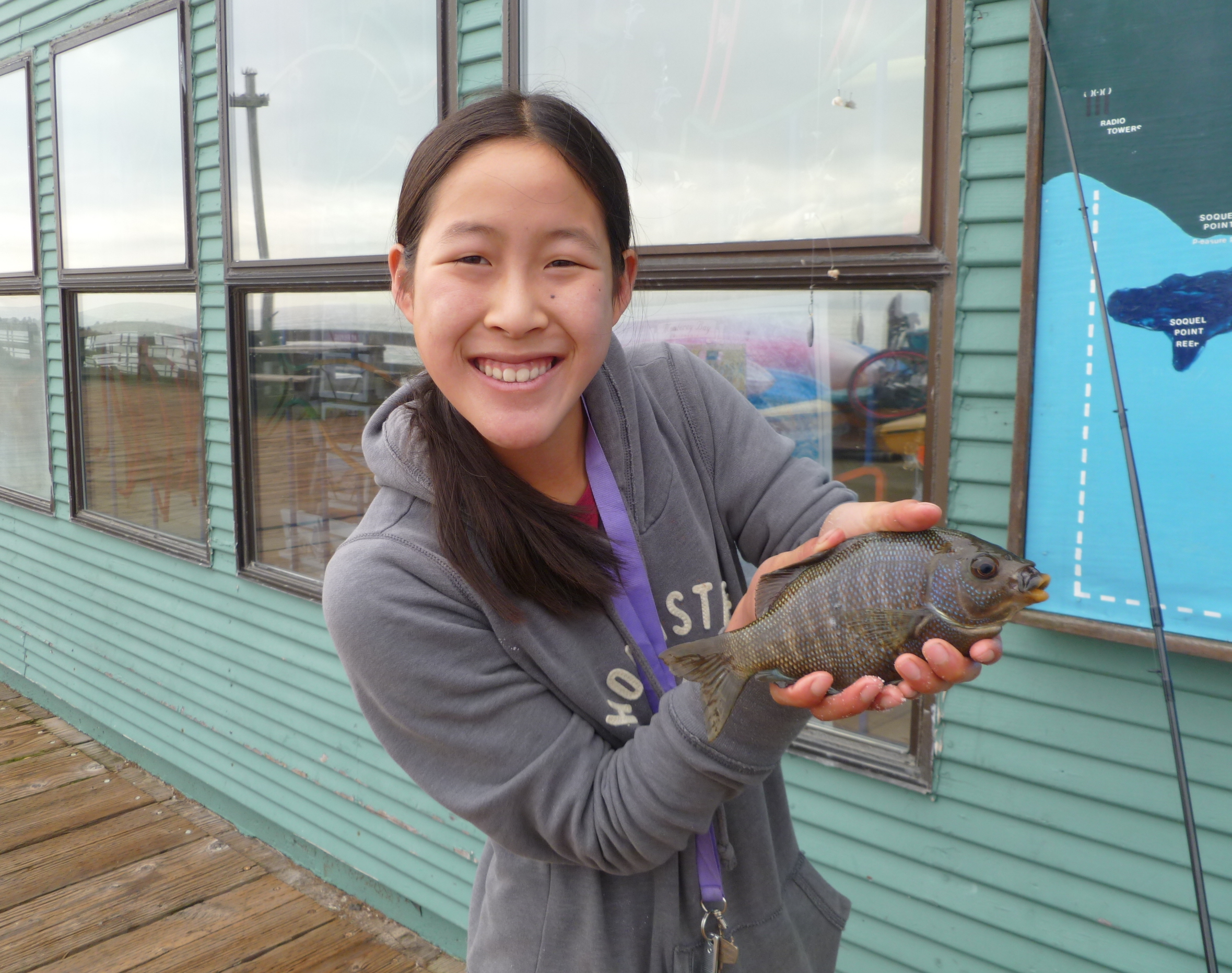 Blackperch — Picture courtesy of Capitola Pier Bait and Tackle
A few additional fish will also be landed under the pier by the pilings. These include cabezon, an occasional lingcod (to ten pounds), and a variety of rockfish including brown, grass, kelp, gopher and blue rockfish. Although some juvenile bocaccio may also show up be sure to release them. I did see a giant kelpfish landed one day on a multi-hook bait rig but it was sort of a contradiction in terms as the "giant" was only about five inches long. Remember to fish as close to the pilings as possible, especially pilings that show some kelp by them. If you prefer artificials, try using grubs (especially white or lime colored); they sometimes out produce the bait.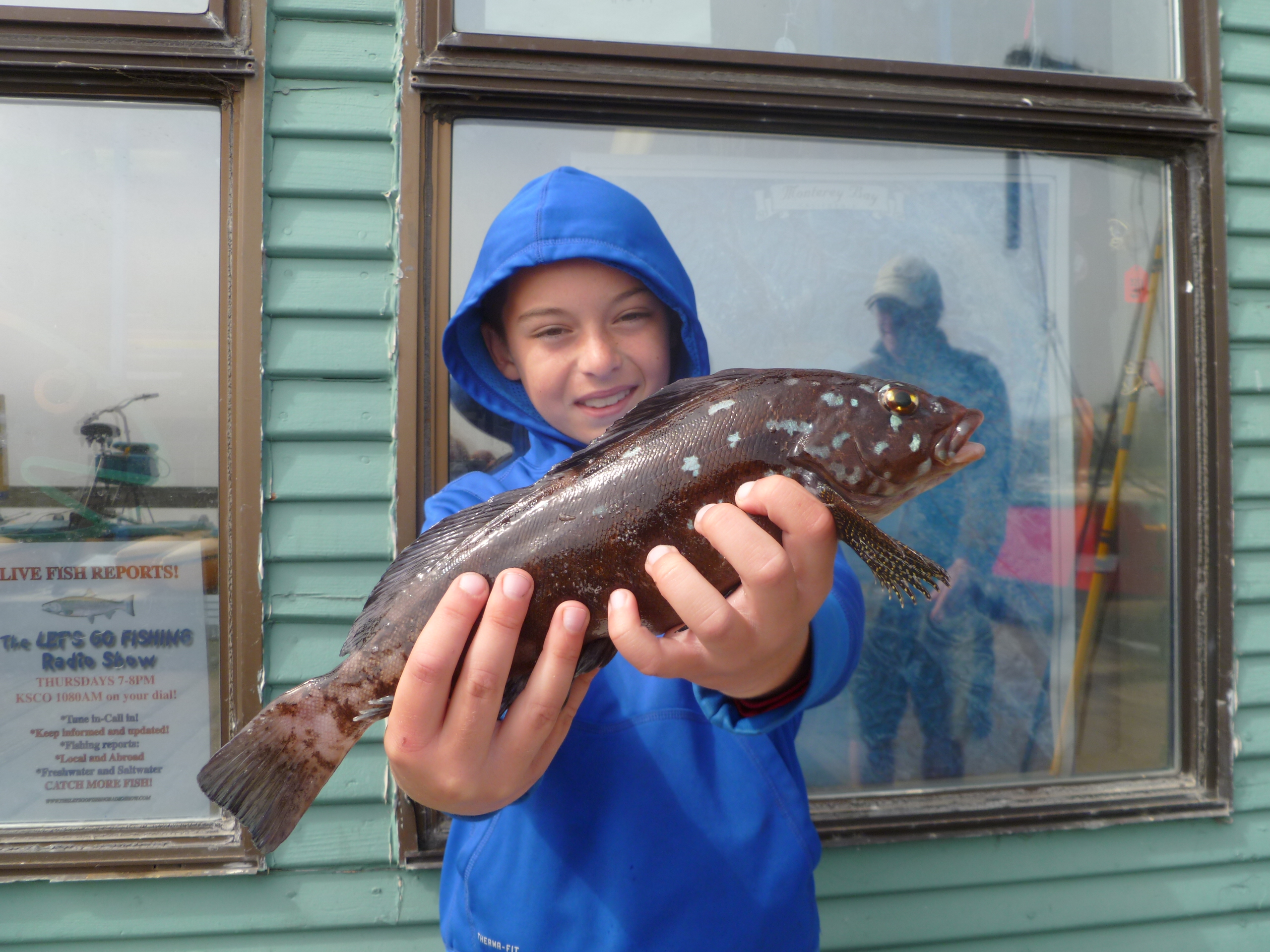 Kelp Greenling — Picture courtesy of Capitola Pier Bait and Tackle
Many anglers, especially those uninitiated to pier fishing, automatically head out to the end and cast out into the deeper waters. Here that is usually OK since there is usually a plethora of smaller species available most of the year—kingfish (actually white croaker and numerically the number one fish at the pier), bullheads (actually staghorn sculpin), small speckled sanddabs, and baitfish—sardines, herring, mackerel, jack mackerel and jacksmelt.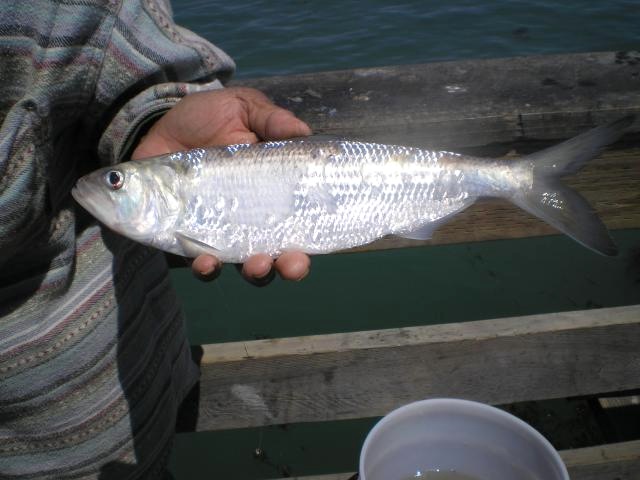 American Shad — Picture courtesy of Capitola Pier Bait and Tackle
For the kingfish, use cut anchovy, or small strips of squid on size 4 hooks, fish on the bottom, and cast out from almost any area of the pier. This has always been one of the top piers in the state for white croaker; in fact, I've only experienced one trip to the pier when I failed to catch a kingfish. It should be noted however that the size of the kingfish has seemed to decrease over the past decade. Some anglers now routinely keep small kingfish that never would have been kept in the past. Come on, let them grow up!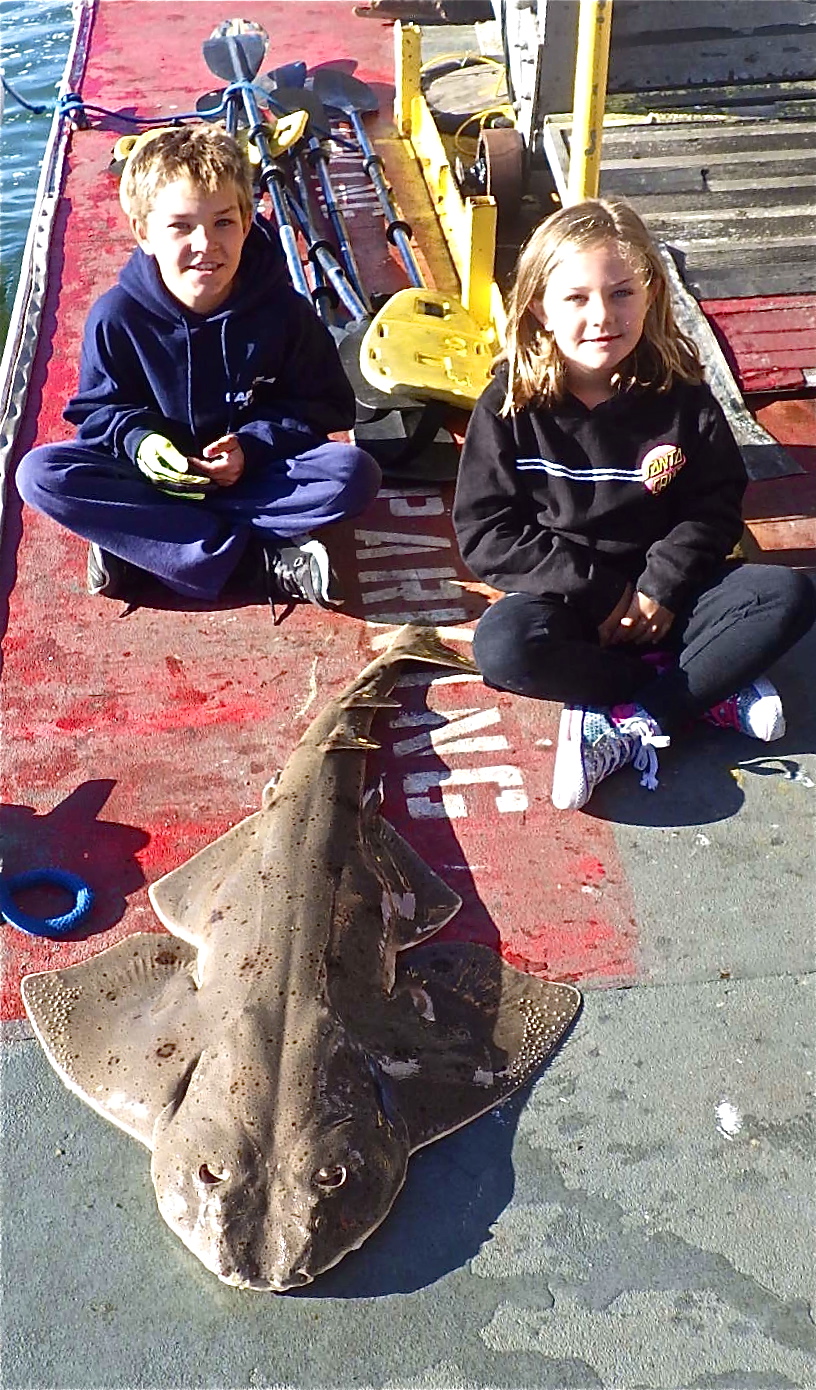 Angel Shark — Picture courtesy of Capitola Pier Bait and Tackle
The end area is also usually the area for sharks or rays; use squid and a fairly heavy saltwater outfit. Summer and fall seem the best times for sand sharks (brown smoothhound sharks), leopard sharks, bat rays, and skates. A 50-pound angel shark was caught and released in July of '99, a 90-pound bat ray was caught in April of '98, and a big skate weighing 130 pounds was caught a few years ago. Wintertime sometimes seems to be good for dog sharks (spiny dogfish), hornback sharks (horn sharks), and the smaller baby bat rays. Be sure if you are fishing for the larger game to come prepared with either a net (preferred) or a treble-hook gaff to bring the fish up onto the pier. Also, more and more anglers are practicing catch and release. One day I witnessed a young angler land a small Pacific angel shark. After a quick picture, the toothsome creature was gently lowered back down to the water to the applause of interested onlookers.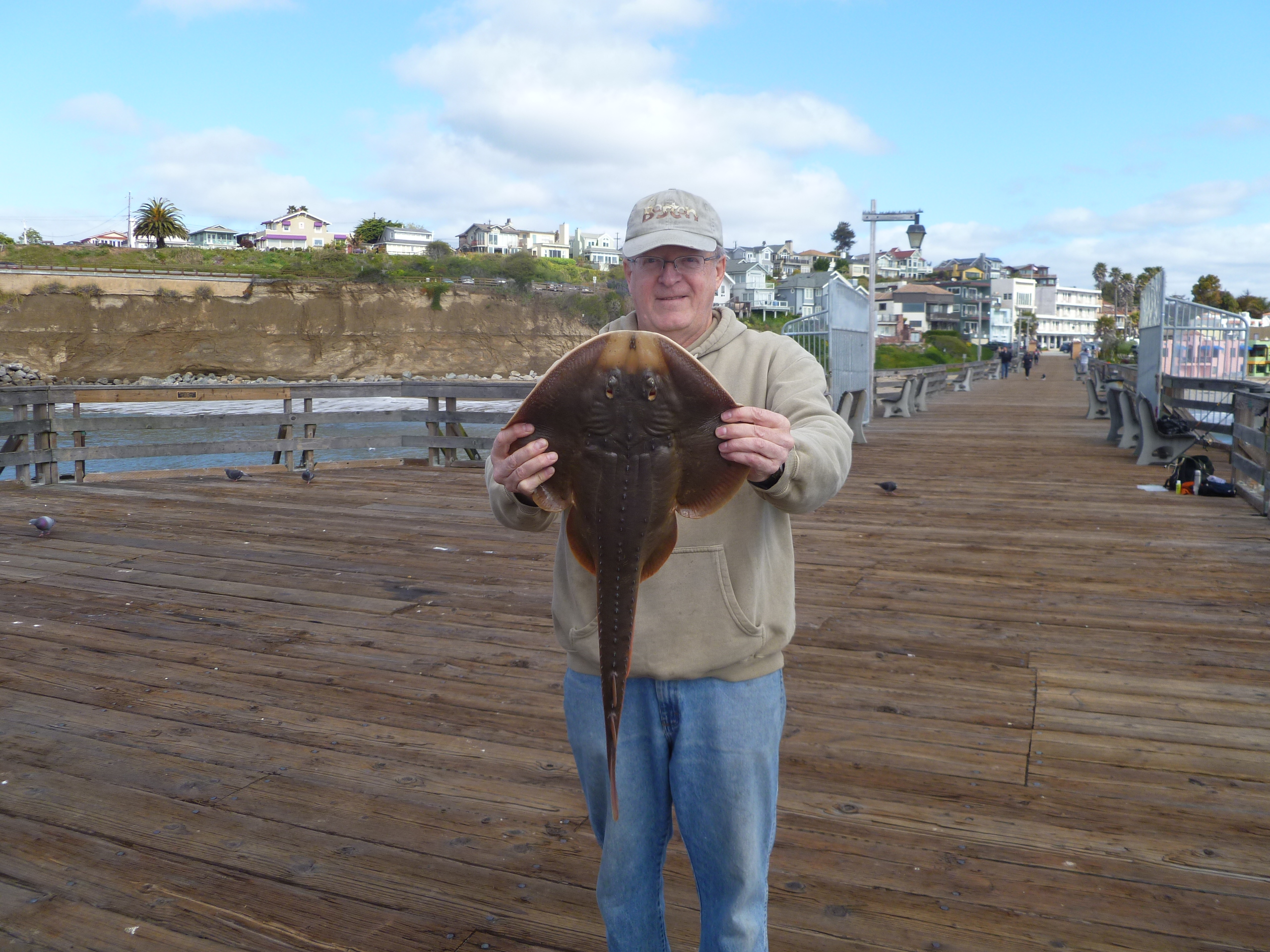 Thornback Ray — Picture courtesy of Capitola Pier Bait and Tackle
Additional species of sharays reported from the pier include thornback rays, shovelnose guitarfish, blue sharks and thresher sharks but they're not a common species.  In July of 2004 a longnose skate was reported from the wharf that may have been a California skate; who knows for sure?
Late spring through the fall are also times when Pacific mackerel, jack mackerel, sardines and a few white seabass may be in local waters. Most mackerel, jack mackerel and sardines will be caught on multi-hook bait riggings fished at mid-depth or fished near the top with the assistance of a large bobber or Styrofoam float. Jacksmelt can also be caught on these multi-hook riggings but often a few size 8 hooks on a line, baited with small pieces of pile worms, or small strips of squid, will be just as productive. Pacific herring tend to show up in the spring and most will be taken on bait rigs retrieved through the water.
Jacksmelt — Picture courtesy of Capitola Pier Bait and Tackle
Although I've yet to see a white seabass taken during my visits to the pier, the fish are reported from the pier each year. The largest was a monster 45-pound white seabass taken in September of 2000. Local expert Ed Burrell caught a 28-pound white seabass from the wharf in September of 2004. If you want to give the large fish a try, use live bait and fish the early morning or twilight hours. Do remember to return any small, illegal white seabass (called seatrout) to the water. Of course there have been few days like the following:
Saltwater Report — Despite the big salmon news, the Capitola area may actually be the hot spot for this week. Ed Burrell from Capitola Boat and Bait calls it "wide open" As of Wednesday, a huge school of bait was pushed up to the shoreline, followed by a good variety of predators. "I've seen 25 white sea bass caught from the wharf today, caught with live anchovies or swim baits," Burrell said. "Most were undersized, but at least four were legal." If that's not enough, Burrell helped net a legal halibut off the wharf and a 25-pound striped bass caught by Larry Roland.
—Allen Bushnell, Fish Rap, Santa Cruz Sentinel, June 14, 2007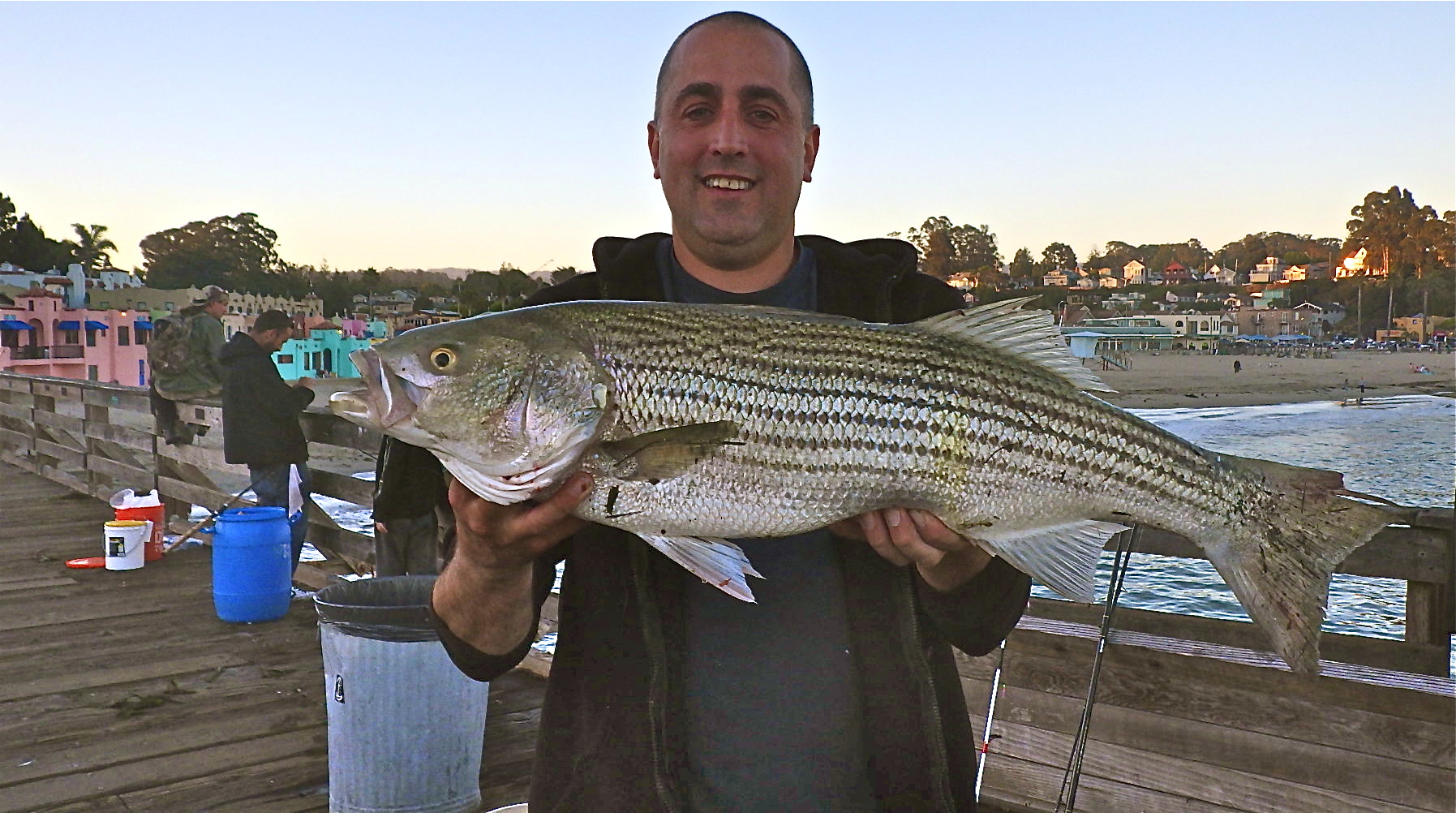 Striped Bass — Picture courtesy of Capitola Pier Bait and Tackle
Salmon are an occasional catch most years while steelhead show up almost every year. Most salmon will be landed April through July on anchovies (fished under a float) or lures out in the deeper waters of the pier. Most of the salmon are king salmon that range up to about 20 pounds in size, most but not all. A 16-pound silver was taken in June of 2003, one day after the same angler had caught a 13 1/4-pound king salmon from the wharf. A 6-pound silver salmon was caught (and released) in December of 2007; it was caught on a Little Cleo lure. (Remember that silver salmon are now illegal to keep.)