Around that time, Ed and Eric (epremiel) stopped to say hello as they called it a day. Always nice to see good people at the pier. As for the fishing, there was a slow pick on croakers (yellowfin, queenfish, and the beloved white croaker.)
The highlight of the evening occurred when Dan's heavy rod/reel started singing as something took off with his "cookie" (an Ackerism meaning "several anchovies on a hook, wrapped with thread until it resembles something like an uncooked fish ball.") He set the hook and valiantly fought a 38-inch shovelnose all the way to the rail.
The wind died with the bite, and we headed for the barn around 11. We happened to be leaving the pier at the same time as a nice couple who drove all the way down to SCP from Alhambra. I'd think them nuts to drive that far in the middle of the week… but Alhambra is right next to Pasadena, and "my hypocrisy goes only so far." All fish (and crustaceans) released healthy to fight another day.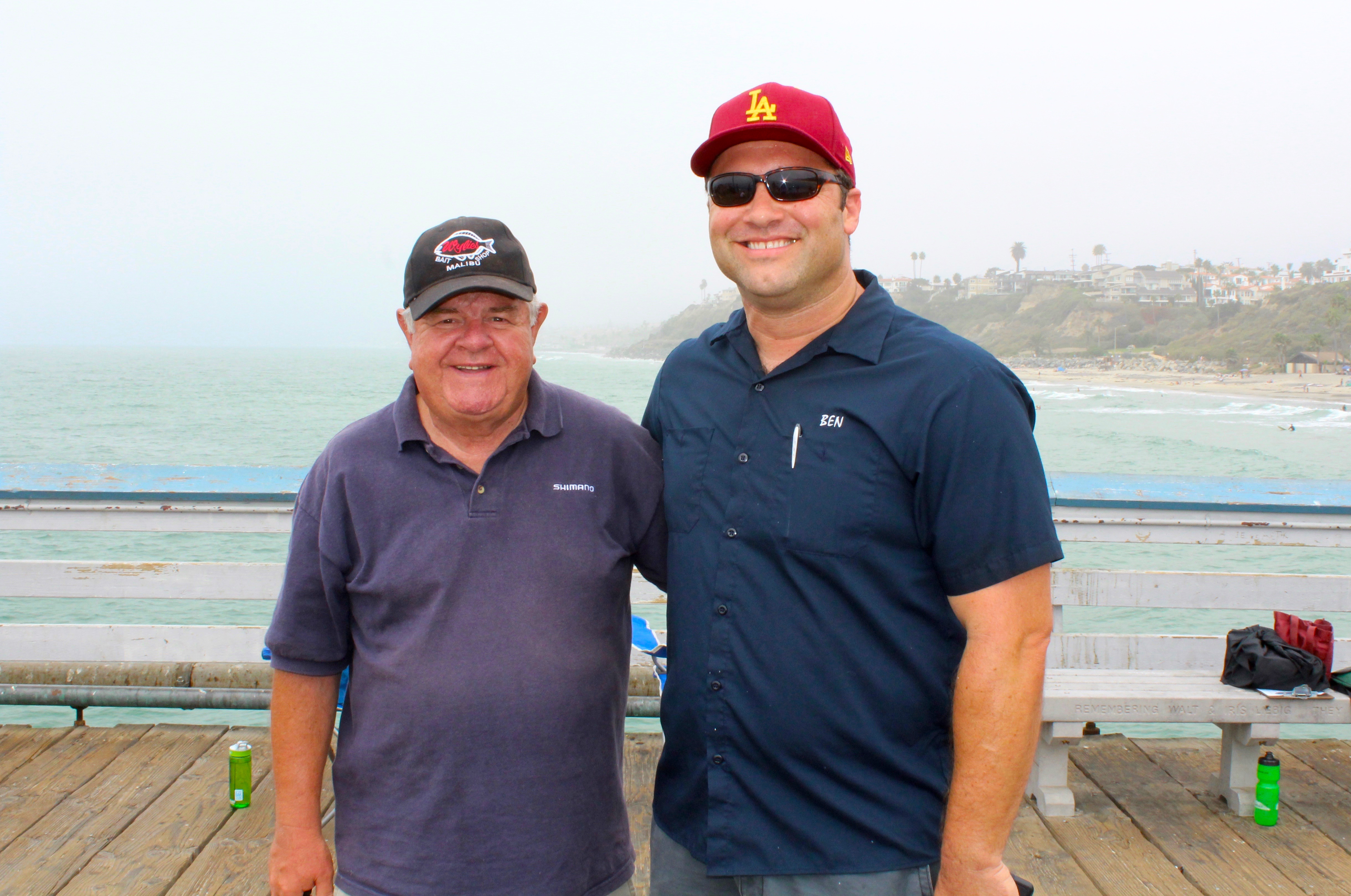 Ben and myself at the pier in 2017
  Fish Reports Through the Years

 50-Pound Shark Caught
San Clemente, May 15.— Shark fishing when you are prepared only for surf fishing offers plenty of excitement, but it may be slightly disappointing as to results. At least this is the experience of R. M. Piety and Carl Hansen.
With Mrs. Hansen, the pair went to San Clemente to fish off the pier. Suddenly Piety's sturdy line was snapped in two by some denizen of the deep which didn't even hesitate when it reached the end of the line. Refitting it, the fisherman dropped his hook and it was taken instantly. After a long fight the fish again escaped.
Once more the experience was repeated, and this time, with the aid of Hansen the "fish" was landed. It proved to be a gray shark weighing 50 pounds and having a length of more than five feet. Hansen caught a smaller one. Professional fishermen were surprised.
—Santa Ana Register, May 15, 1930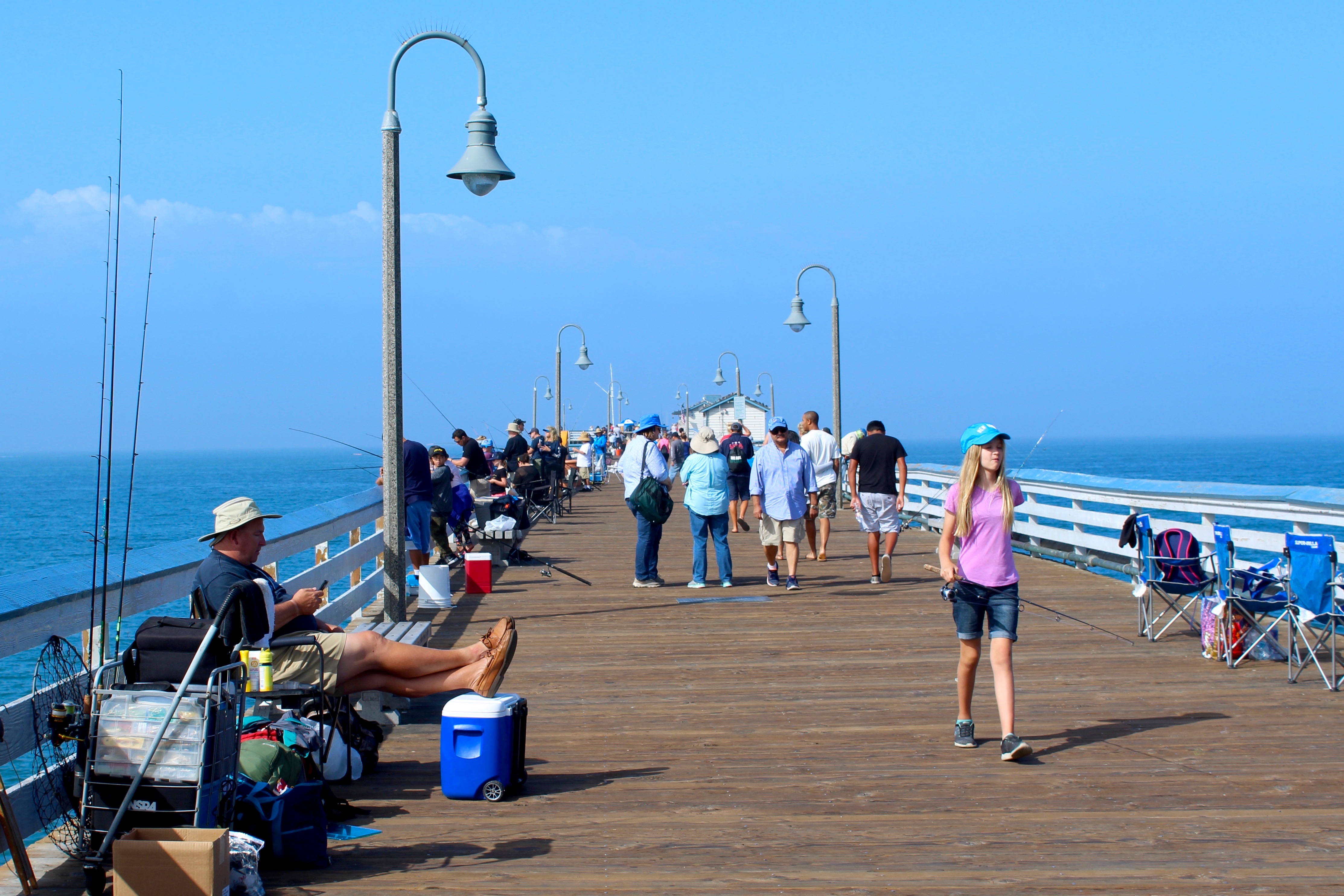 The crowd during a fishing class at the pier in August 2017
Thousands Of Grayfish In School Run Wild Off Pier At San Clemente
 San Clemente, Aug. 10.—"Grayfish are running wild off the pier. There are thousands of them." When the word swept the Spanish village the other day every fisherman and those who could not fish but had angling ambitions rushed to the pier. O. W. Stearns, proprietor of the tackle and bait store soon ran out of poles. Nearly a hundred anglers were soon fishing for grayfish, a species of shark, which are good eating.
Within a few hours nearly a hundred grayfish were on the pier. Stearns reports that only one in 10 that was hooked was landed. The large sharks, those of a hundred pounds or more simply ran away with bait, hook and line. Everybody that wanted fish had them. Many were sold at two cents a pound.
When the run was over, the fish caught, Stearns and his assistants were tired from gaffing fish, helping inexperienced anglers. Bait thrown into the water brought the grayfish in a giant school to the head of the pier. More large catches are expected before the end of the season.
—Santa Ana Register, August 10, 1932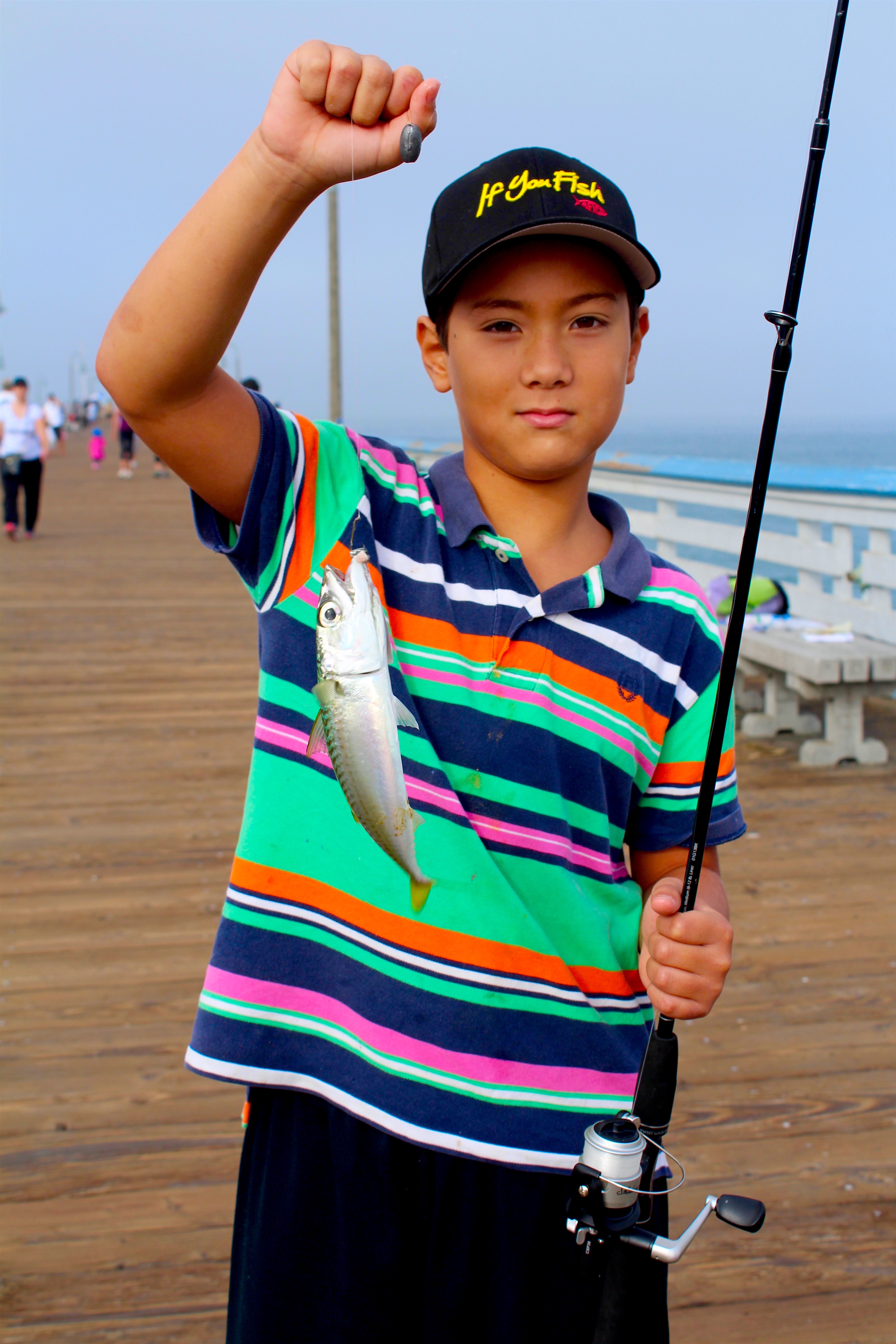 A Pacific mackerel taken during a fishing class at the pier in August 2017
Wet Lines, Dry Powder
…Late to bed Sunday night with the alarm set for 4 o'clock so that we would have plenty of time to get to San Clemente for the 7 o'clock boat. The alarm went off and we decided to take just twenty more winks. Result… not getting started until almost 5:30, and then of all things, not thinking and half asleep, take the wrong road and go almost 50 miles out of our way! So the last boat had gone when we got there and nothing to do but wait for the half day boat to come in and go out on it at 12:30.
However we had a lot of fun, as we fished on the pier and talked to several of those who fish from the pier regularly. They told us that they had been getting barries, yellowfin, spotfin, a few small white sea bass and lots of bonito. While we were there we caught a few mackerel, a couple of small bonito, some perch, and believe it or not, an angel shark and an octopus…
—Ed Rhoden, Wet Lines, Dry Powder, Redlands Daily Facts, September 12, 1957
A seven-pound salmon, rare in Southern California waters, made news at San Clemente where it was caught off the pier Thursday.
—Bob Walton, With The Sportsman, San Bernardino County Sun, June 7, 1958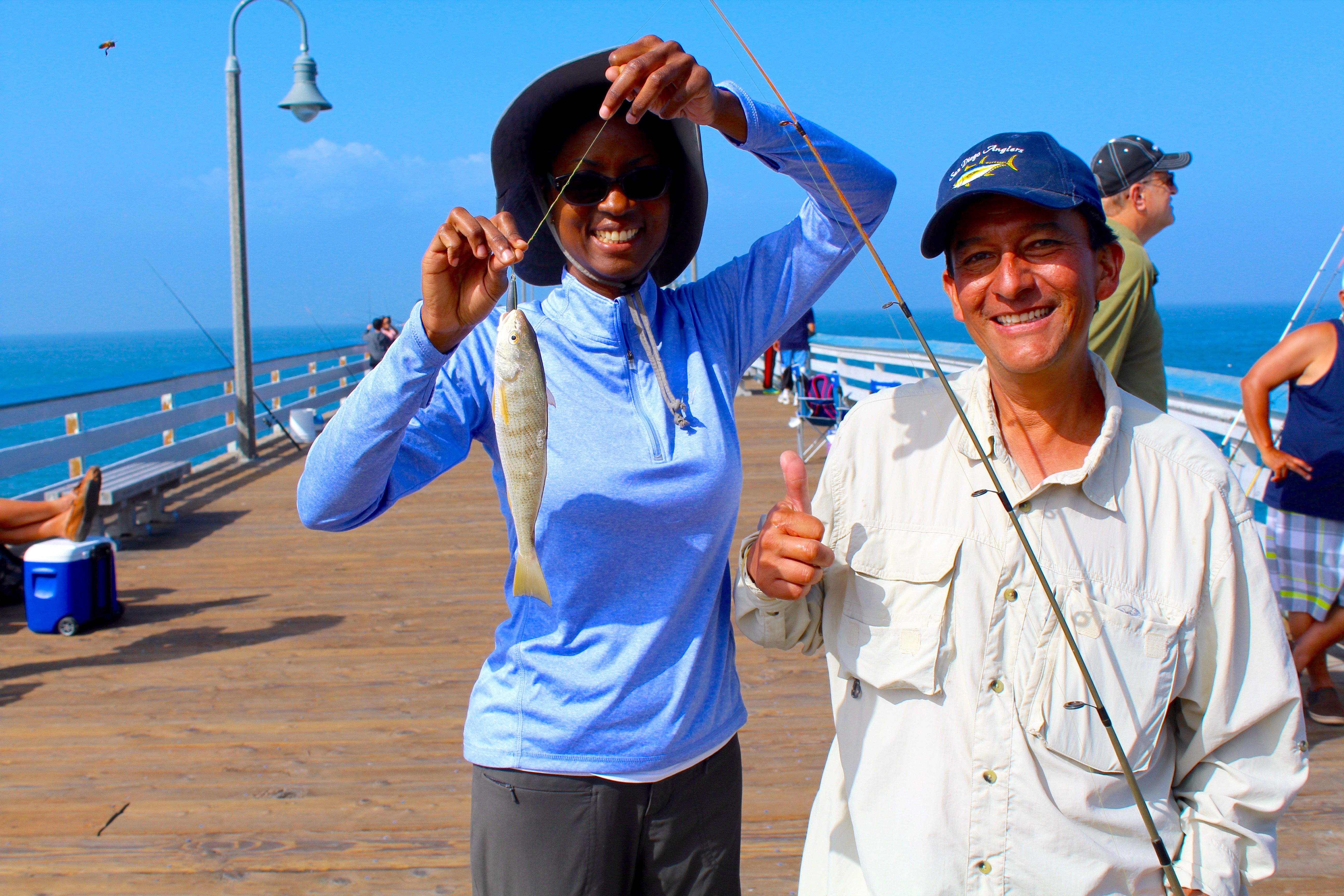 A yellowfin croaker taken during a fishing class at the pier in August 2017 
Warm Waters Bring Coast Tropical Fish
Exceptionally warm ocean water has brought some strange tropical fish into the Southland this season, but none more rare than a bonefish caught by an unidentified fisherman at the San Clemente Pier. The bonefish, which goes under the Latin moniker of albula vulpes, is a game speedster much sought after in Florida, Mexico and other tropical waters. O. C. Robertson of San Clemente said the fish was positively identified by Bud Young of the State Department of Fish and Game research laboratory. Young said only two bonefish previously have been reported in local waters.
—Bob Gettemy, The Bait Box, Los Angeles Times, July 23, 1959
Even pier fishing at San Clemente furnished excitement Sunday. A Pico Rivera angler, David Nelson by name, hooked and brought in, with the help of a net, a whopping 20-pound skipjack. The skipjack is a tropical-type fish that is not unusual to Southland ocean waters, but it generally arrives much later in the year when the ocean warms a bit. On the other hand, Robertson says he has never seen or heard of a skipjack that size being caught in Southern California at any time of the year. "No doubt he was a stray and probably had been hiding out in the weeds for a couple of years," said Robertson. "Maybe he just came around the pier to see what civilization looked like." Robertson also reported that a bluefin tuna was spotted just off the San Clemente pier Saturday. That's unusual too.
—Bob Walton, Sportsmen, San Bernardino County Sun, April 19, 1960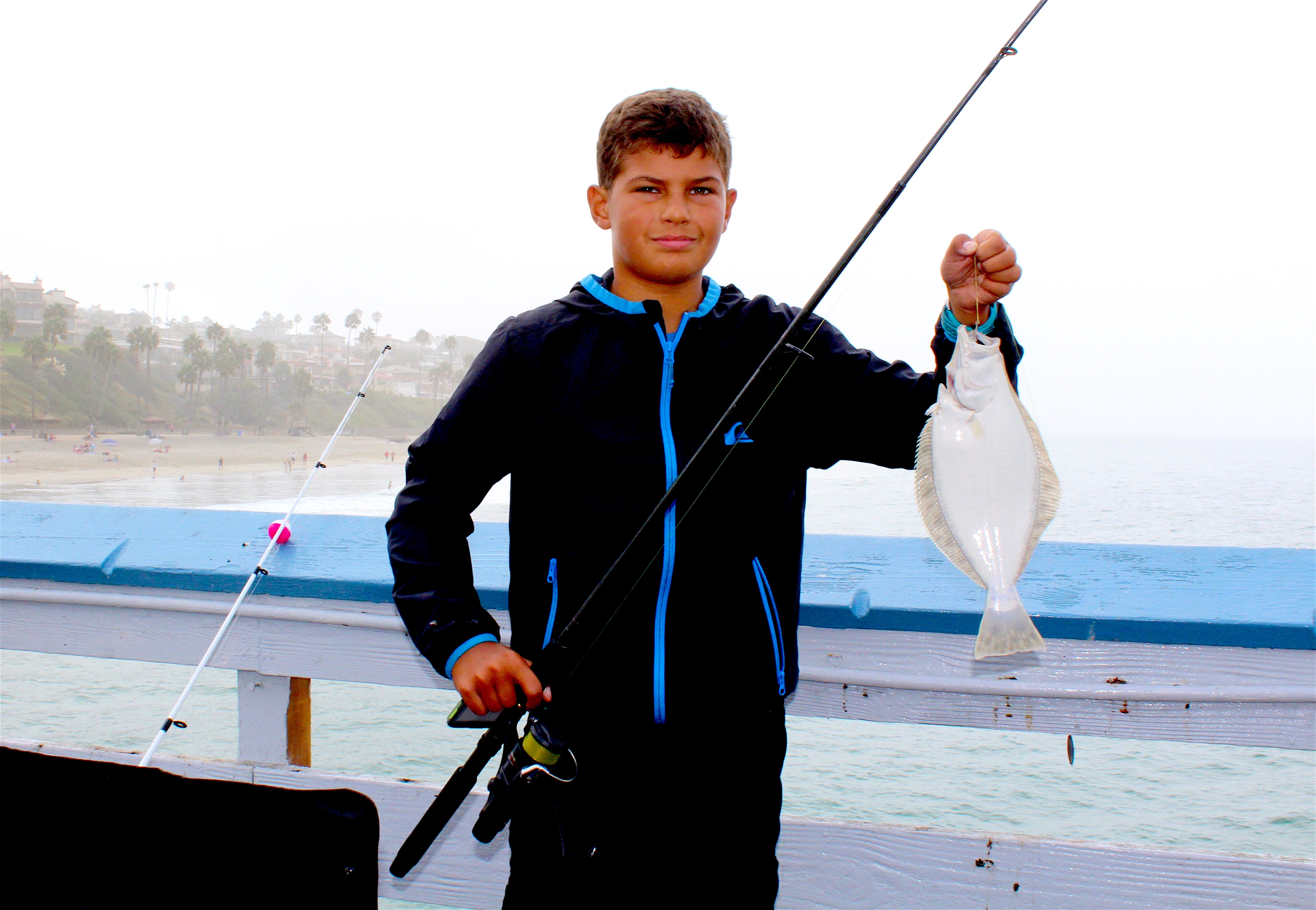 A halibut taken during a fishing class at the pier in August 2017
Big-Eye Thresher Shark Caught Off San Clemente
The first big-eyed thresher shark ever found in the Pacific Ocean was taken last Wednesday about a mile south of the San Clemente Pier, the Department of Fish and Game reported today. A male about 300 pounds in weight and 12 feet 4 inches in length, the big shark was captured by gill net in 85 fathoms of water by Gene Hachez, a commercial shark fisherman from Costa Mesa… Although most large sharks are found in both the major oceans, the big-eye thresher heretofore has been seen only in the Atlantic. The first one described was caught in 1840 near Madeira, an island off Portugal. After an interval of a century four others were taken between 1941 and 1950 off the coast of Cuba. Until last week there was no knowledge that this species of shark inhabited the Pacific Ocean. The big-eye thresher differs from the common thresher in the unusually large size of the eyes, indicative of the depth at which it lives, and considerably fewer teeth. Its tail is long, amounting to half the total length of the body. The largest big-eyed thresher on record was an 18 foot giant taken off Cuba.
—Redlands Daily Facts, July 31, 1963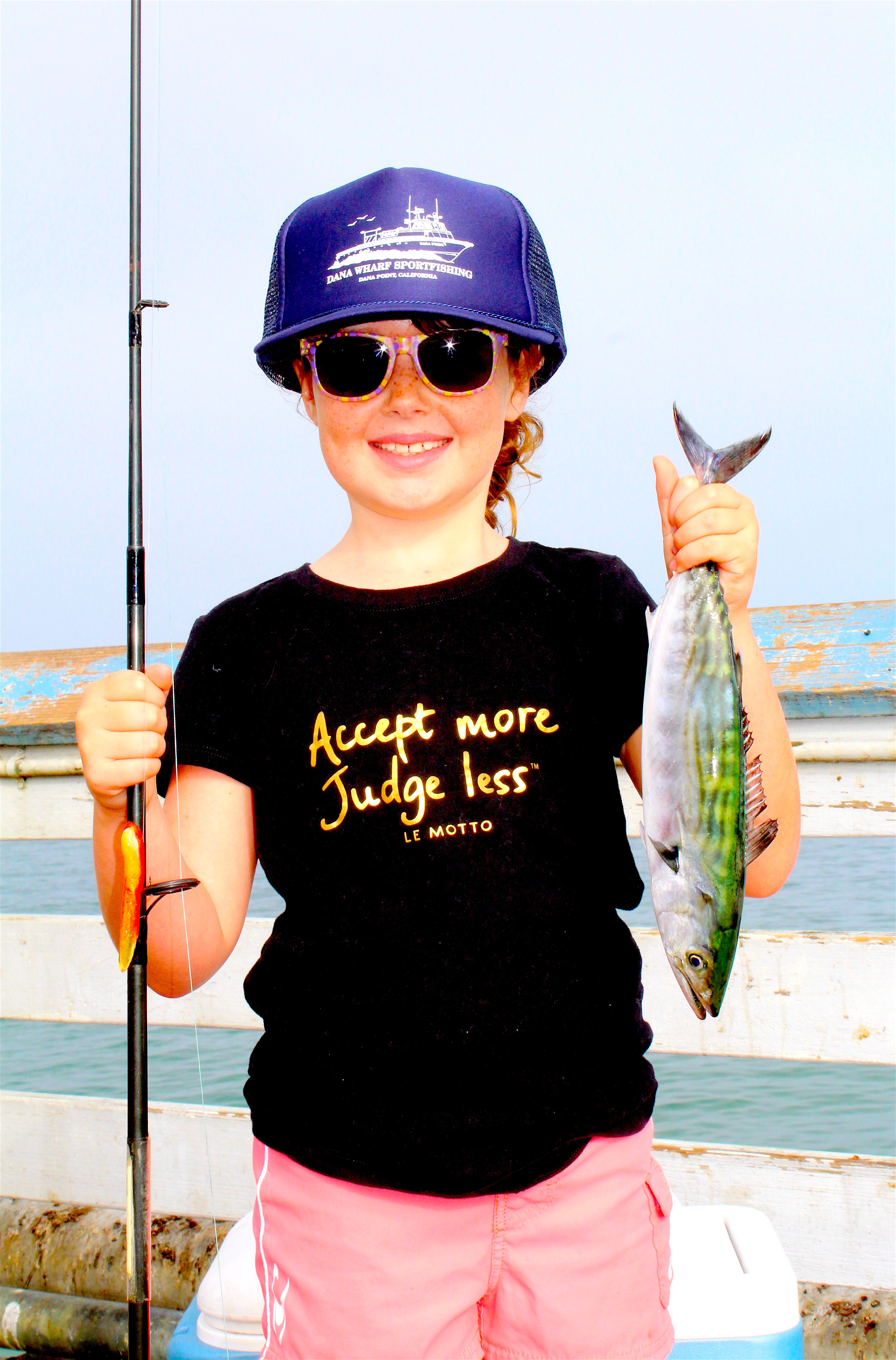 A bonito taken during a fishing class at the pier in August 2017
San Clemente tops pier fishing
San Clemente is a good bet if you plan to go pier fishing along the Southern California coast.
"It's a matter of quality," says Therese Hoban, marine biologist of the state Department of Fish and Game. "You are more likely to catch spotfin and yellowfin croakers at San Clemente than at any other pier in Orange and San Diego counties. And these are two highly desirable species.
Ms. Hoban is compiling results of last year's survey in which she interviewed nearly 15,000 anglers along the Southland coast and inspected and measured some 17,169 fish. Fishing piers at San Clemente, Huntington Beach, Newport Beach and South Laguna, and boat launching ramps at Dana Point and Newport Beach were among the fishing sites included in this continuing survey.
Fishing success was found to vary widely, she said. "If it's quantity you want, then Huntington Beach pier is the place to go. The trouble there, however, is more than 74 percent of the catch is made up of white croaker and queenfish, two of the least desirable species."
The 2, 268 anglers interviewed at San Clemente had 3,105 fish for an average of 1.4 per person. On the other hand, fishing success was the poorest at Newport Beach, with only 1,995 fish possessed by 3,987 anglers, an average of a half a fish per person.
In terms of total fish produced, Aliso Pier in South Laguna had the poorest record with 1,589 fish taken by 1,611 anglers, an average of .9 of a fish per person. "Aliso Pier has its compensation however," Ms. Hoban said. "It is very neat, uncrowded and has plenty of parking space. It's a fun place to go if you just like to fish and are not overly interested in the amount of fish you catch or their size."
Another survey shows that the taking of undersize fish is a common practice among sport fishermen, according to state biologists. From a sample of 17,169 fish of all species taken by 14,531 anglers last year, the biologists found that 64 percent of all California halibut and 63 percent of all barracuda were of less than legal size when taken. Minimum legal size of halibut is 22 inches and for barracuda 28 inches.
Ms. Hoban noted that these limits were established to make sure the species is able to reproduce and perpetuate itself. For example, the 28-inch limit on barracuda allows 100 percent of those fish to spawn at least once, and the 22-inch limit on halibut allows at least 50 percent to spawn. She says there has been a significant decline in the catch of both species during the past few years. And she said the catching of illegal-size fish could have been a significant factor in this decline.
The survey also disclosed that 42 percent of the spotted sand bass, 31 percent kelp bass and 20 percent of the barred sand bass were less than the 12-inch limit. These surveys were taken along the San Diego and Orange county coasts and will be continued and expanded into Los Angeles and Ventura counties this year.
"Now that we have pinpointed the problem areas, we will be on special lookout for illegal-size fish this year," said Capt. Gordon Cribbs of the state Marine Patrol. He also said that an increased effort in the area of conservation education should help ease the problem. Cribbs noted that over 76 citations a year have been issued for undersize halibut and 32 citations a year for barracuda.
—Gordon Coy, Outdoors, San Bernardino County Sun, January 10, 1975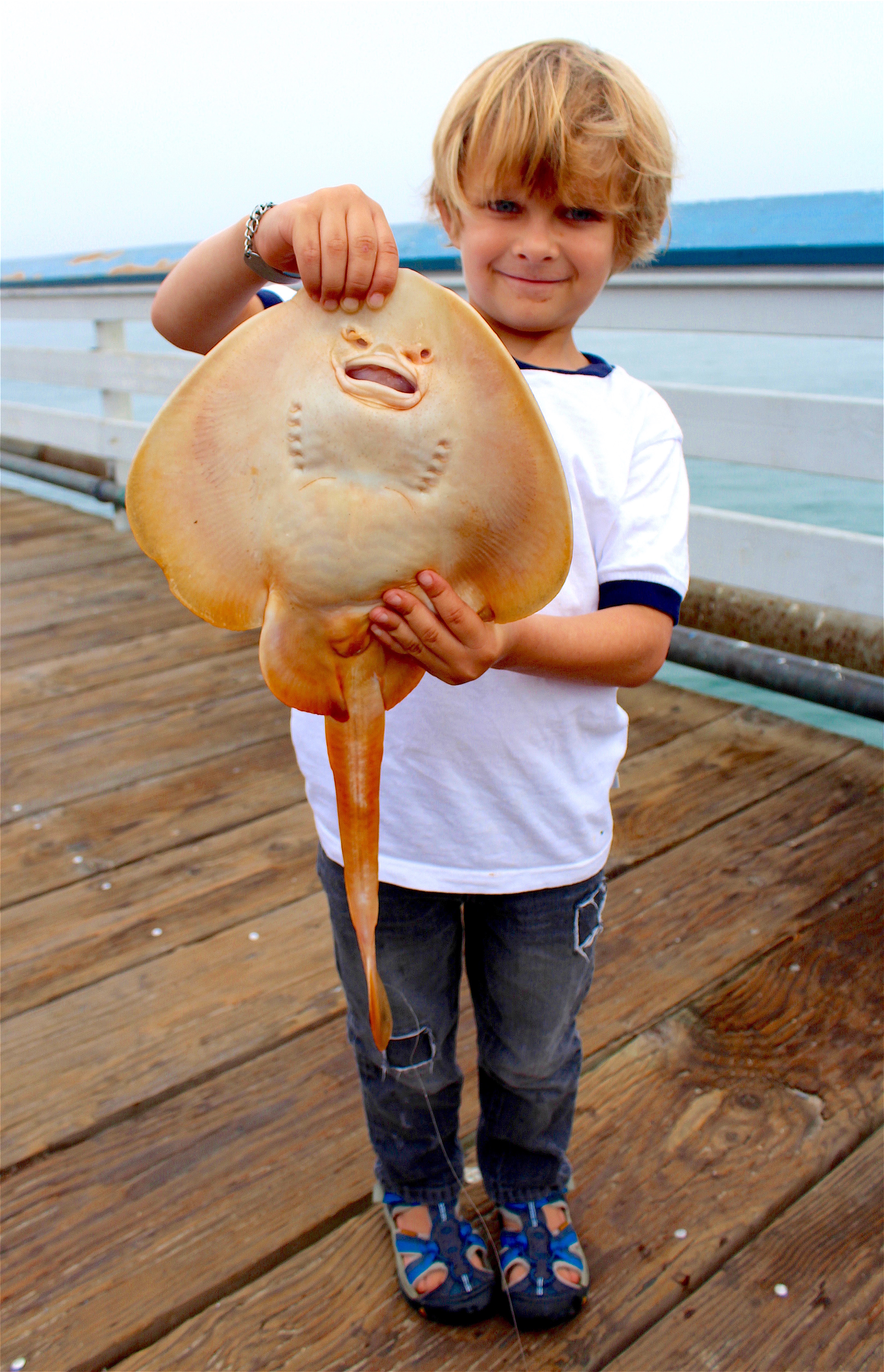 A thornback ray taken during a fishing class at the pier in August 2017
Man Recovering From Fish Sting
 San Clemente—Stung by the toxic spines of a Sculpin fish, Julius Cohen, 62, was treated for a strong allergic reaction to the venom at San Clemente General Hospital and released Thursday. Lifeguard Captain Sheridan Byerly said that the victim, who lives at 112 E. Avenida San Antonio, was trying to free the fish from his hook on the municipal pier Tuesday when he was stung in the hand. Cohen went into shock, said Byerly, and was rushed to the hospital.