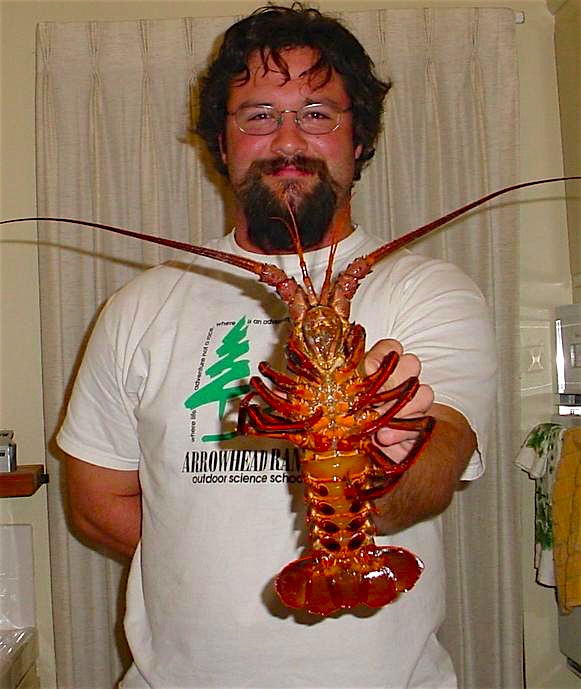 Date: May 8, 2005; To: PFIC Message Board; From: dompfa ben; Subject: Friday night, San Clemente — bass and upgrades
I absolutely had to get out for a few hours, so I called cousin Bryan and my dad Bill to head down to the pier with me. We arrived late–around 10:00 P.M., but just seeing the nearly vacant pier and hearing the crashing 2 to 4 foot surf immediately calmed me—it's the only therapy that works for me.
I jerked a Sabiki around Schleppy's for one white croaker, one big smelt, and one walleye perch about 5 inches. I pinned the perch onto my heavier live bait rig, and tossed it out.
In the meantime, I took the Sabiki off, tied on an anchovy pattern 5 inch Big Hammer with a yellow 3/4 oz. head, and made a good cast. I got whammo'd on the sink, and a nice just-legal sand bass came over the rail. Just then, my live perch gets picked up and pulled…missed the hook.
I rebaited with a whole frozen anchovy fished "pierhead style" (through the nose, wrapped a few times, and into the tail), and immediately caught another chunky sand bass, this time about 13.5 inches.
By quitting time, we had caught 6 sand bass (5 legal, one 8-incher), two sculpin (released), and a few other assorted fish. No sign of mackerel or sardines yet, but the sand bass bite on the backside of the tide was a nice surprise. I kept the one caught on the frozen anchovy, as it was gill hooked and bleeding like a stuck pig.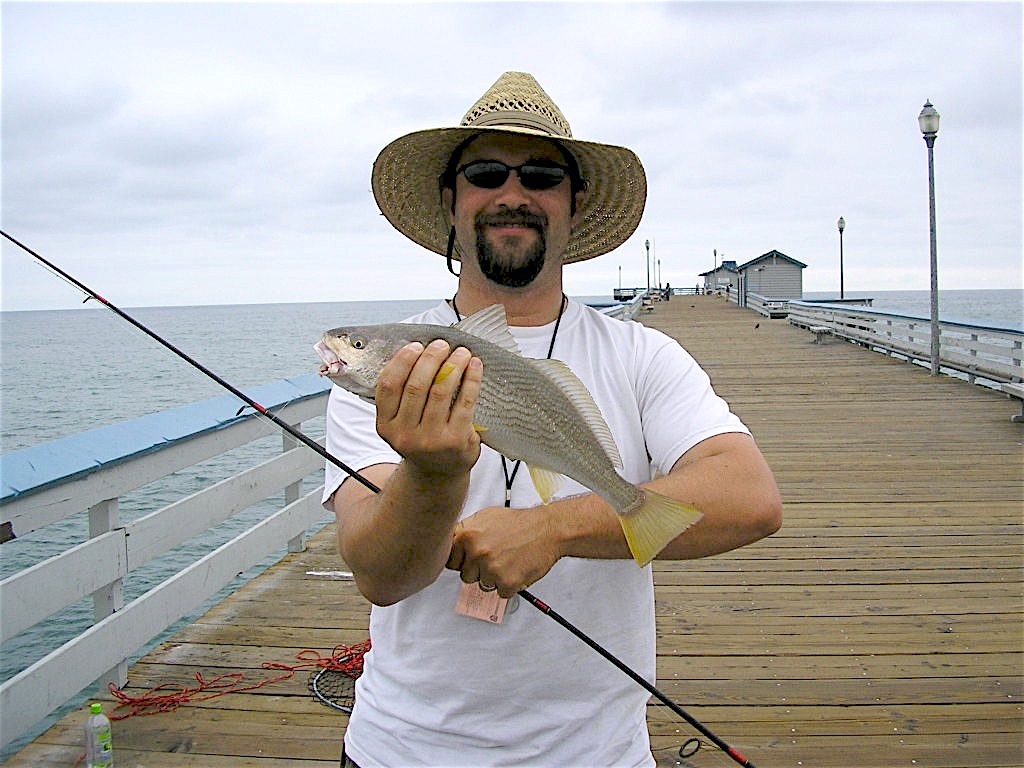 Dompfa Ben and a yellowfin croaker
Incidentally, the pier upgrade project still seems to be underway—there are ladders lashed to the sides of the pier near the lifeguard station, and there is some construction equipment on the pier in the same general location. It's nothing like that giant crane they had out there last year, but it's still nice to see them working on it. There are new pier boards all the way out to about the first tee, making a nice smooth ride for even the hardest pier cartwheels.
Oh, and heading back to the parking lot, some knucklehead lit an entire brick of firecrackers on the railroad tracks. It reported with the expected cracks and bangs for the better part of 5 minutes. The OC Sheriffs got the call as we were standing with them in line at 7-Eleven a few minutes later. Bryan laughed that the deputies said one of the funniest things he had heard in a while: "Well, let's hit it, boys…someone's going to jail tonight."
Priceless…and wonderful that riff-raff and reindeer games are not tolerated at this pier. It's one of the things that keep it nice, even if the fishing isn't always as good as other piers.
Date: July 14, 2005; To: PFIC Message Board; From: dompha ben; Subject: San Clemente Pier, 7/13 2200 to 0000
 My throat burning and brow beaded with perspiration, I coughed for probably the hundredth time. Somehow, I had managed to get a head cold in the middle of July. The words my mother told me when I was ten echoed in my brain—If you're sick enough to stay in bed, then stay in bed. If you can sit at home sick, you might as well sit at school sick.
Applying that advice to modern times and interests, coupled with the need for a specimen for my oceanography class, last night I found myself on San Clemente Pier with my brother Dan. We arrived at 10:30, and found tropical, surreal conditions—a muggy, humid atmosphere, a 75 degree breeze coming off the ocean, explosions of cobalt in the water as the algae churned in the waves, and a blood-red first quarter moon heading towards the horizon. The entire scene was draped in moisture, as if the pier had just endured a cloudburst.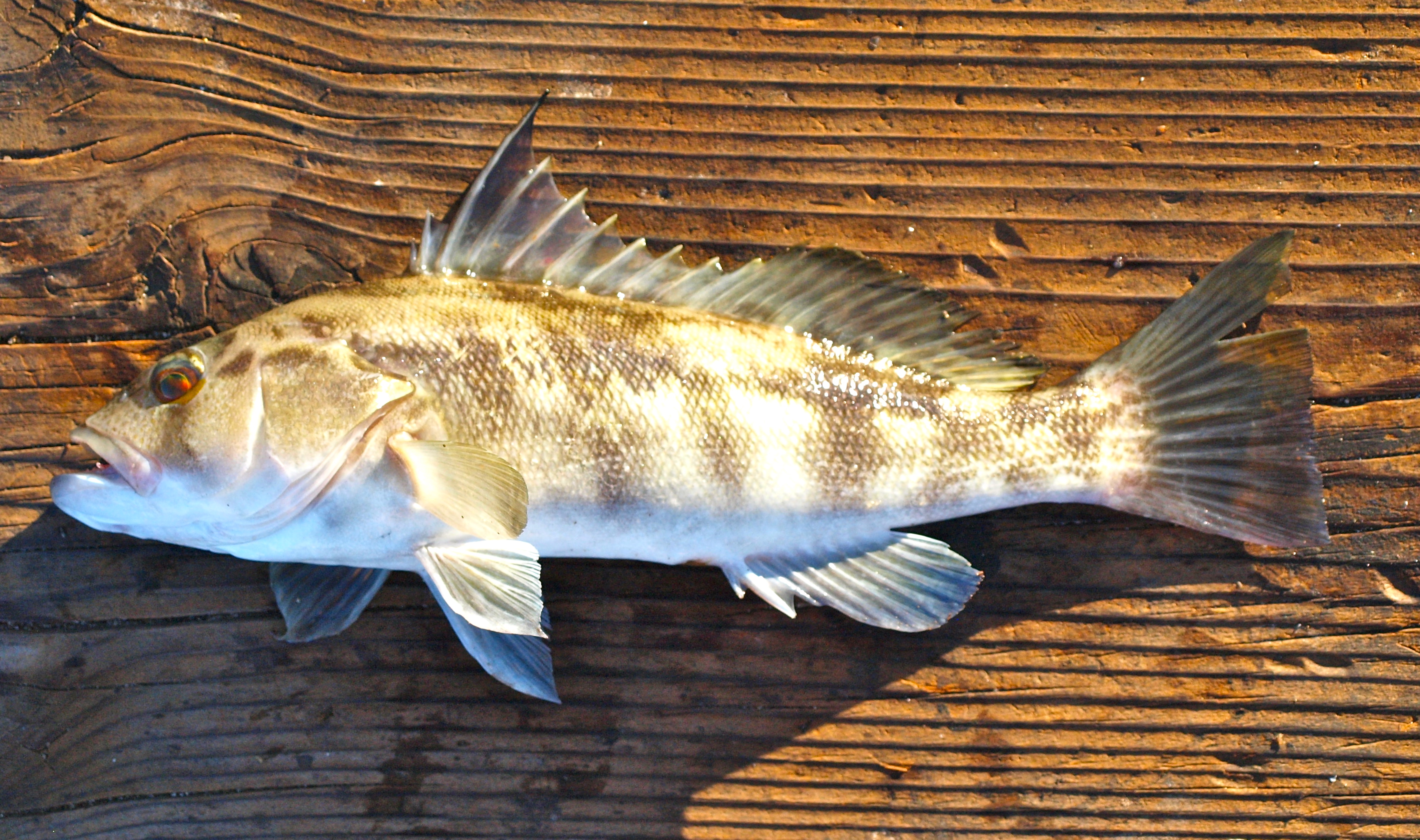 Sand bass
Dan and I set up near the double-bench with sliding rigs, baiting our hooks with squid and leftover grunion halves from our last trip. I immediately hooked a sand bass on grunion that put up a spirited fight on a 25 lb. test shark rig. I released the just-legal fish for her efforts, and to see the light show when she splashed-down. Besides, we were after larger quarry… that never showed. Towards the end of the night, we each hooked large, female thornbacks. I kept one for my class, and the other, which appeared to be pregnant, went back into the drink. We packed up around midnight, partly due to the strange conditions, and partly due to the rattle in my chest. Yikes.
My classes enjoyed examining Platyrhinoidis triseriata. One of my students admitted that his dad, a fisherman, said the spines were poisonous. Another searched in vain for the stinger. All of them were intrigued by the spiracles, the electroreceptors on the rays "face," and of course, the three rows of spines (the triseriata part of its name) running the length of the body.
When you really stop and look at a thornback guitarfish, they are a beautiful creature, a wonder of evolution that hasn't really changed all that much for more than 300 million years. It sort of makes you wonder where we'll be in that amount of time. I'm going to freeze up the thornback for hoopnet bait, so she won't be wasted. For what it's worth, 37 middle school students came to a better understanding of sharks and rays today, and have a better appreciation of the natural world because of her. That's an honorable death for anything.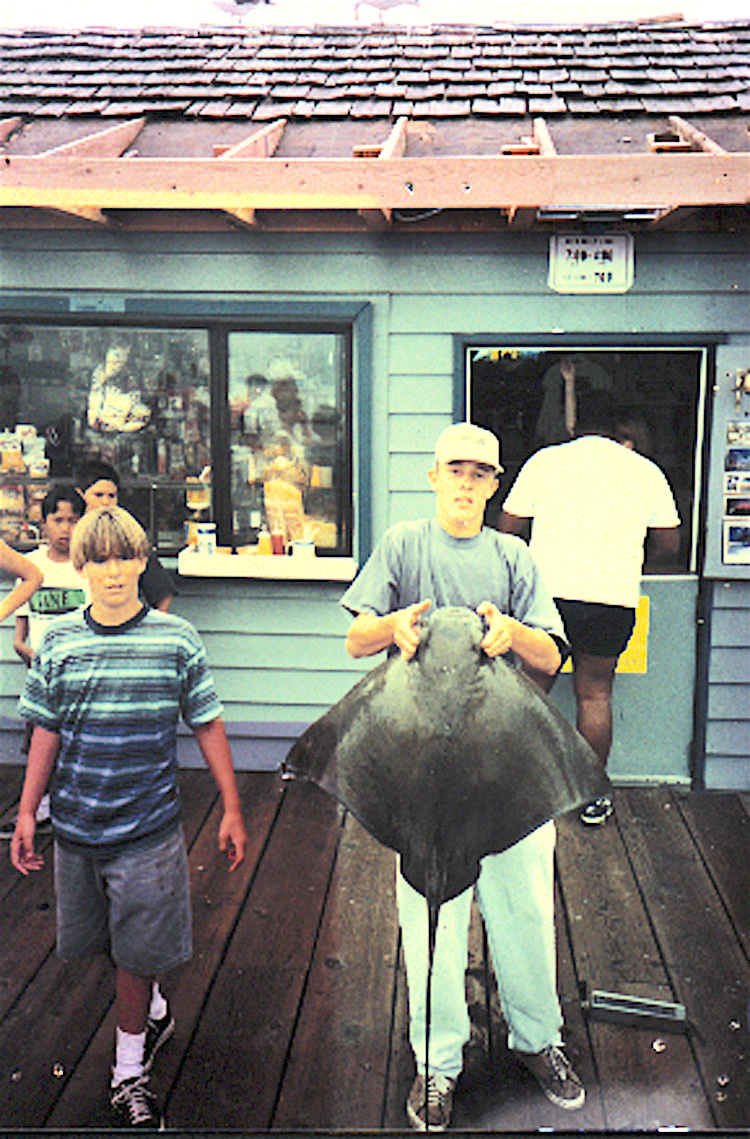 An old picture — How NOT to hold a bat ray — grip them by your big thumb and hold them up by their mouth
Date: August 15, 2006; To: PFIC Message Board; From: dompha ben; Subject: San Clemente Pier, noon to five
What a lovely day at San Clemente pier. The pier was alive with tourists, visitors, walkers, and anglers. While the fishing was so-so, brother Dan and I had a delightful afternoon on the pier.
Cut mackerel begot live mackerel today, and that, all too easily. Bonito were a bit skittish, but a few came over the rail on shiny things and splashers. Dan and I used Sabikis to catch live smelt, and managed a couple of sand bass, a nice sculpin, and two mystery-runs that were neither of the aforementioned species.
Highlights of the day, however, involved meeting some new pier rats. I met one gentleman at the end, Victor, whose nephew is doing a hitch at Pendleton. I gave him an extra golf ball and rubber band fly, and he gave me an afternoon of delightful conversation. Victor hails from North Carolina, and he shared many tips and strategies that he has used on the other coast. Notably, he explained how to make a great lure out of a leadhead, a Bic pen casing, and a treble hook. Really a great guy… and he caught a bonito on my golf ball, so that was rewarding.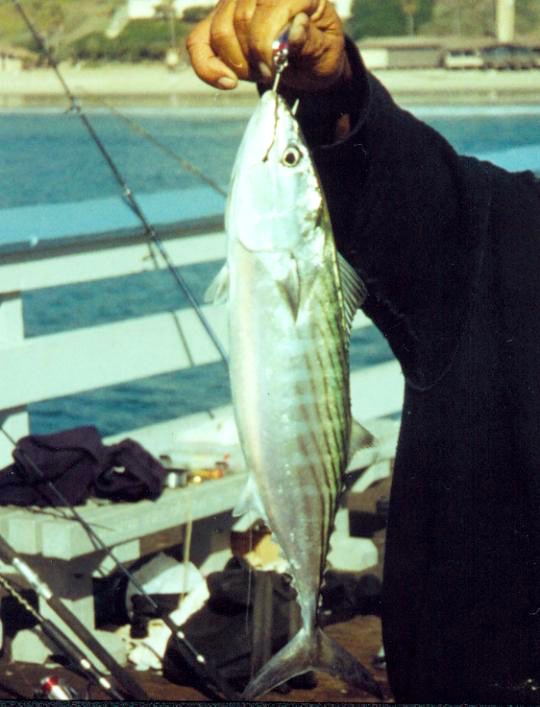 Bonito
Dan and I also "adopted" a family on the pier for the afternoon. A lovely couple and their 4-year-old son have been visiting from England, and Dan took them under his angler wing. Dan loaned his rod to the fellow, and showed him the finer points of catching bait. The man's son also got in on the action, and giggled with delight as the wiggly smelt made their way into our bait bucket.
The proudest moment was when the English fellow dropped down a hi-lo that Dan tied, baited with mussel, and pulled up a lovely spotfin croaker. Some passing fishermen practically begged him for it, and he gladly passed it to them for dinner.
As the days grow shorter, I know that San Clemente will return to its winter plumage (as will the scantily clad she-denizens of said pier.) In the meantime, I will continue to enjoy San Clemente's unique interpretation of summer.
But with change comes opportunity–revisiting species from seasons-passed, friends who only appear around certain crustacean seasons, only to disappear when the season closes, and perhaps my favorite, seeing the winter sky with her constellations from the cold, dark deck of my deserted home-pier. Bring on Fall.
Date: November 8, 2006; To: PFIC Message Board; From: dompha ben; Subject: OK, I'll go out on a limb, here… (In reply to: Snaggers seen in San Clemente posted by epriemel on Nov-8-06
San Clemente is a really nice pier, off the beaten path, not generally crowded. In the 20 some-odd years I've been fishing there, I've RARELY seen snaggers. If I had to guess why not, I'd say it is due to a couple of things. If they offend you, might I suggest you're being overly sensitive, or I'm being overly general?
San Clemente is not as close (convenient) as other piers are to the homes of those who are generally snagging for socio-economic reasons. Less travel = less gasoline = less expenditure.
San Clemente's surf is not conducive to snagging. The surf is usually medium to large, and kicks up a lot of silt. Sight snagging is not going to be easy at SCP.
The locals don't put up with any crap at that pier. They are a tight-knit group that has gone so far as to clean and sweep their pier nightly. They repaint over graffiti in the bathrooms. They don't tolerate people misusing the pier. They have no problem calling the cops on taggers, snaggers, or brown baggers.
The Orange County Sheriff loves to make surprise visits on occasion, and cites people for overhand casting, or being on the pier past curfew. They might suggest it's because of ORANGE ALERT. They might also say they're making a RANDOM CHECK. I happen to think that if you aren't local or look like you're making a positive (or at least neutral contribution) to the view, they're going to run you off. Probably not fair all the time, but when it works in your favor, it's a good thing.
The adjacent bluffs and overlooks are prime areas for DFG to sit with a spotting scope and a camera, and pick-off poachers and people doing illegal things. Just ask Don… he can see the pier from his window. DFG CAN and DOES visit the pier, often after watching and "collecting evidence" on people engaged in illegal activity for a while. Try beating a video of you in court.
All that said, once the snaggers realize it's not a good place to snag, they'll hopefully move on. Nothing much to fish for down there anyway.
Interesting thing: A few reports come in about San Clemente being great, with croaker, mackerel, and BSB being caught… and within a few days, we're hearing about snaggers at the pier. …must be a coincidence.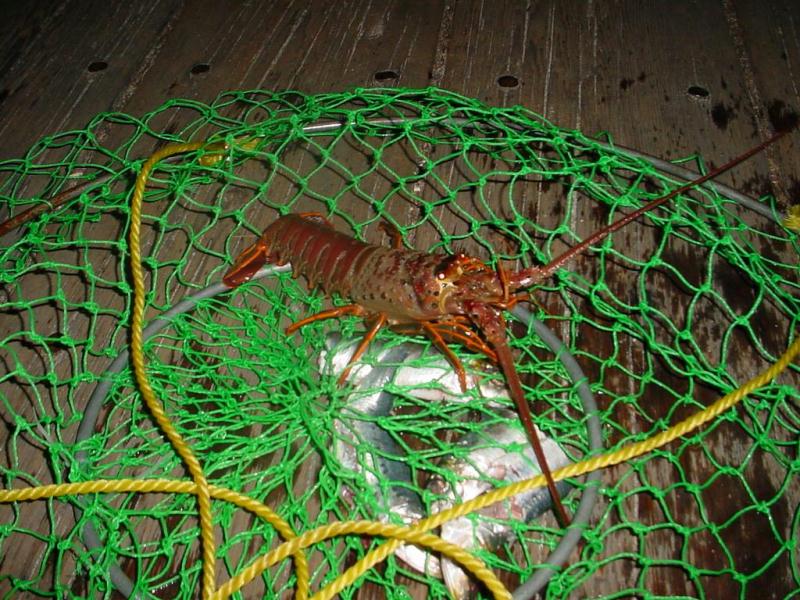 Date: March 24, 2007; To: PFIC Message Board; From: dompha ben; Subject: San Clemente Pier (late report) 3/22/07
After a longer-than-usual day at work, I was joined by two of my brothers, Dan and Jonny, and my cousin Andy-G for the carpool lane ride to SCP. We arrived around sundown to cool, breezy conditions. Most of the surfers had left for the day; from the looks of the larger swell rolling in with the tide, there must have been quite a few in the lineup.
We set up our rods outside the surf break, and threw offerings of squid, shrimp, and anchovy on hi-lo's and dropper loop setups. As is his custom, Dan immediately set out to out-fish all of us; within minutes, he had caught three yellowfin croaker on thin strips of squid…plenty of trailer hanging off the hook to seductively sway with the water movement.
Jonny felt the tap-tap-tap of something alive at the other end of his line, and brought up a bug…too little (undersized), too late (1 day after the season closed), and no hoop net… three strikes, to be sure, so back the bug went to grow up.