I made a point of talking to every angler I passed on the way down the pier. There was not a lot going on mid-pier, but the small smelt were thick. In the surf line, I spoke with several anglers. One caught two corbina and a pan-sized spotfin croaker using mussel on a Carolina rig. Another angler was fishing mussel on a two-hook surf rig, and had a couple of smallish barred perch. He also told me he hooked a small leopard and a round stingray.
Good variety at San Clemente pier this morning. The bonito are there, but they didn't seem to be stacked up like they were a few weeks ago.
Other notes: I threw a squid jig in the morning twilight for nothing but arm exercise. One of the regulars, Tomas aka "Tom" aka "Gramps" told me that he has been out a lot lately, and hasn't seen any squid caught. He did give me the "you shoulda' been here yesterday!" speech, but only after walking around the end of the pier, helping strangers get rigged up and picking up any trash he saw. I'd never met him before, but he seems like a very knowledgeable and admirable fellow.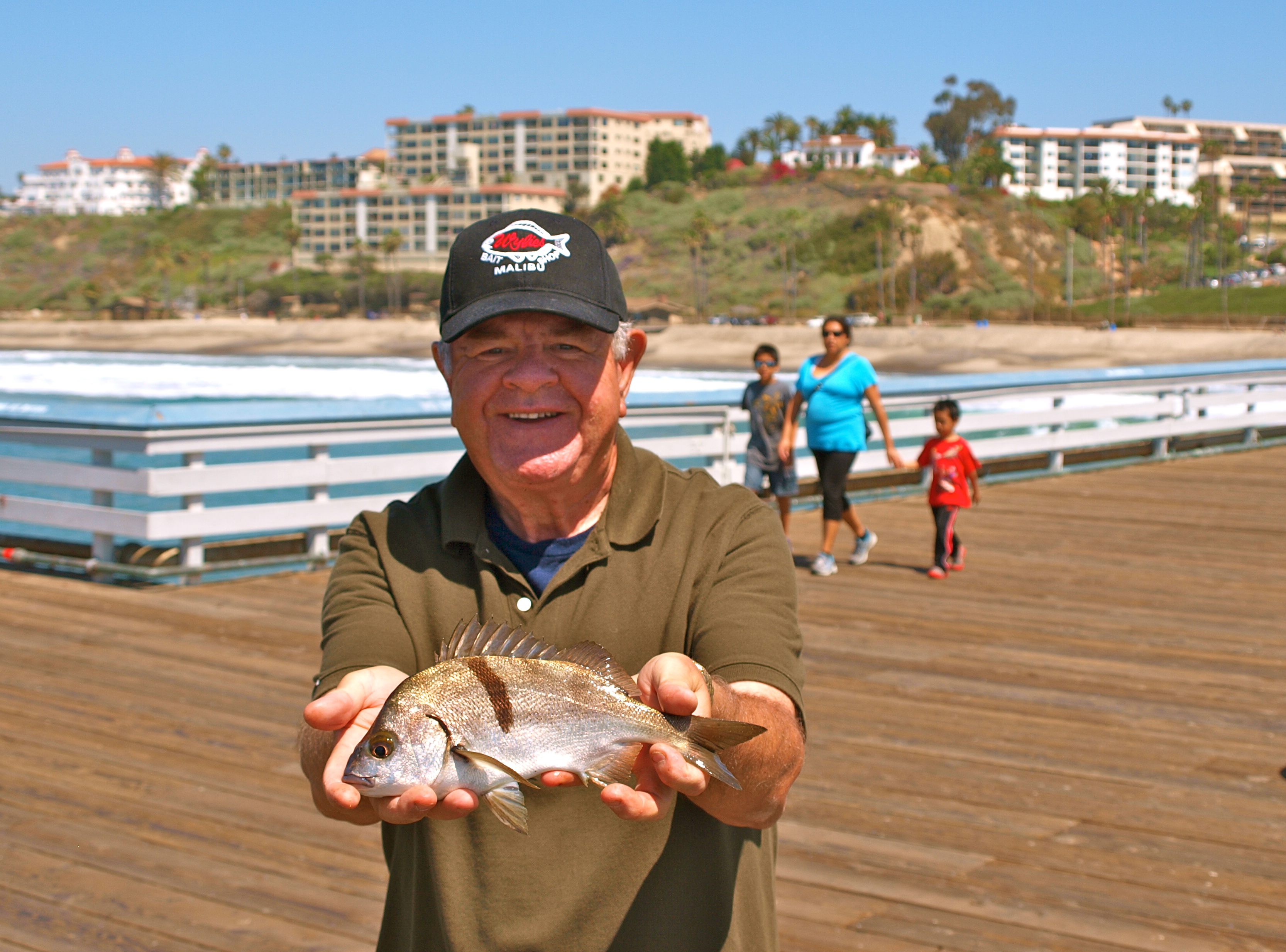 Some gnarly old "pier rat" and a small sargo
Date: October 3, 2004; To: PFIC Message Board; From: dompha ben; Subject: San Clemente Pier, 10/2/04, 5:00 P.M. – 12:00 A.M.
With only one tasty bug in the freezer, a favorable tide swing, and the Dodgers down by three runs in the seventh inning, my dad and I decided to head to San Clemente Pier for some hooping and fishing.
After nearly crashing my truck listening to Vin Scully, we arrived at the pier with grins on our faces, and a hopeful (hoopful?) feeling. The pier was in its usual state of grace during the lobster season opener. Hoop nets lined the pier railing on both sides from the surf zone to the end like Harleys at a Sturgis rally. Families and groups of all sizes were out in force. We found a small stretch of open railing, and started getting set. Considering the numbers, someone was going home with lobster.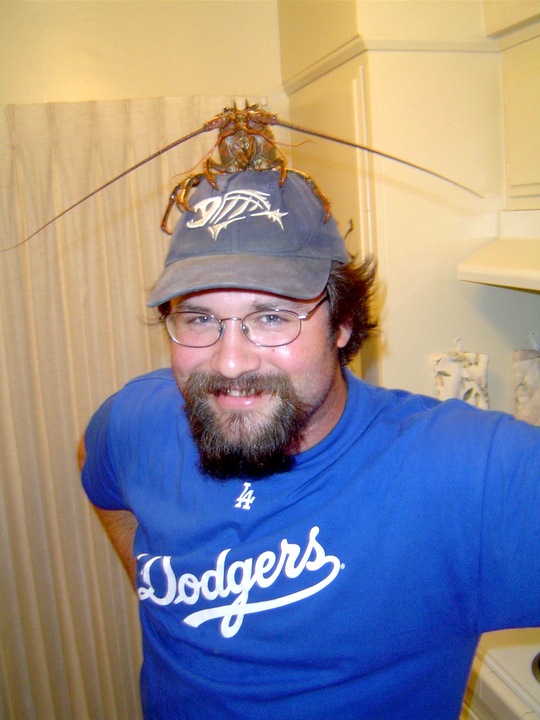 Being a Giants fan myself, I will have to say a prayer for Mr. Acker
My favorite part of the season opener is seeing the "hooping regulars" that you have not encountered for a year. Handshakes, smiles, and laughs are common. You might not see them again for the entire season, but they're always there on opening day.
On to the report: According to pier regular Tomas, the pier remained open (or at least populated) after midnight on Friday evening/Saturday morning. He walked the pier helping people get rigged up, and told me that only 10 bugs were caught, four of which were legal.
On Saturday afternoon, the bonito and some mack-truck mackerel made a showing at the end for the splasher brigade. Buckets were full, but most of the fish appeared to be mackerel. In the surf, a few yellowfin croaker to about a pound were coming in on mussel and anchovy tails.
I dropped my hoops around 5:30, anxious to get in the water and, if nothing else, defrost the bait. My dad kept one hoop on the pier, choosing instead to send down a live sardine we yanked-up on the Sabiki. In a matter of minutes, his rod doubled over when a bass engulfed his offering and made a spirited fight. It escaped at the top of the water, and from the look of the bite marks on the 'dine, it had never actually been hooked.
My first pull at 5:45 resulted in a lot of salad and the kelpfish pictured. My second hoop also had a kelpfish! I have never caught a kelpfish at San Clemente, so it was a first, and a second. One thing is certain—the kelpfish must have felt right at home, considering the amount of seaweed fouling nets.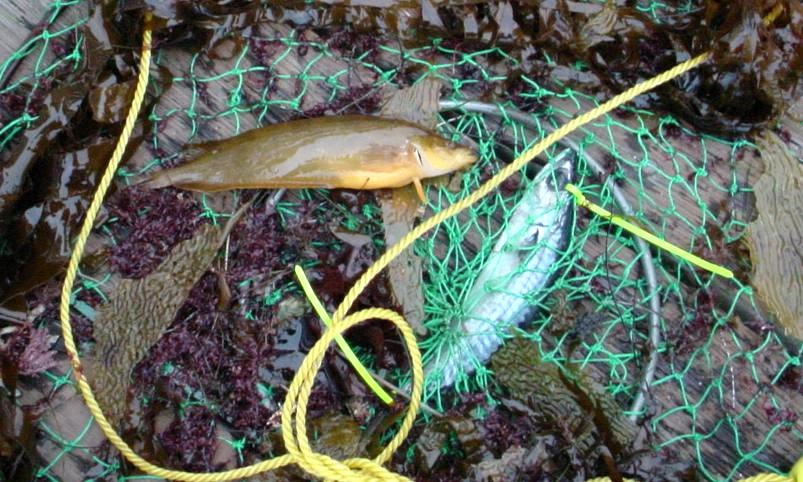 Kelpfish
 Around 7:00, the tide turned and the weeds went by the wayside. The nets were coming up cleaner on 25 minute sets, but they were TOO clean—not a bug in sight.
I walked the pier several times during the evening, and found that only a few short bugs had been caught. Several small sculpin were also caught in the hoops. One angler had a bat ray give him a tussle in the hoop. It seemed like everyone was observing the regulations, and managing to have a good time.
Around 9:00, a regular named Randy pulled up a nice legal right across the pier from us. The lobster had a 4-inch carapace—well over legal. Here and there, a bucket would have a lobster in it. I counted a total of eight. Most appeared to be just legal.
Feeling lucky, I returned to my spot and pulled up…a big octopus. My dad followed suit with…a starfish. No bugs and no love.
All said, we ended the night with a goose egg. Still, it was a spectacle of which I enjoy partaking. It is interesting to see how crowded the pier is for opening night. As I walked the pier, one family had set up a tent for their small children to play and remain occupied. Many anglers had their significant others on the pier, much to the delight of some of the more salty regulars. Portable heaters, DVD players, and folding chairs gave the pier an air of celebration, a feeling that for the briefest of moments, all is right with the world.
In a matter of weeks, they will all be gone, trading the cold of night and the promise of rope burn for a warm house. There is nothing more beautiful to me than a deserted pier at night, especially after such a busy summer. The tourists were out in force today, and as always, I remained cordial. One of them had a lot of questions, and he wanted them answered immediately:
"Are these your own PERSONAL nets?" (No, the city provides them for general use.)
"So, you just buy these [nets] and bring them out here?" (No, the nets fell from space, and, with their transcendental powers, willed me to this spot…in accordance with the prophecy…)
It looks like I'm going to have to share my lone bug with Mrs. DOMPFA tonight, and make an extra baked potato… but hey, at least the Dodgers won! DOMPFA, Ben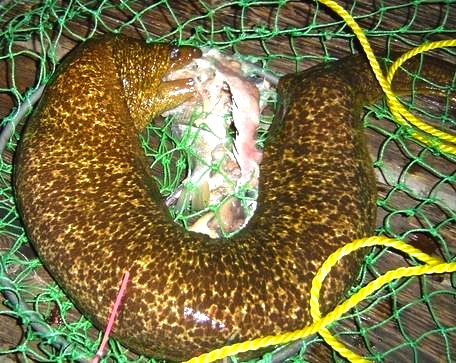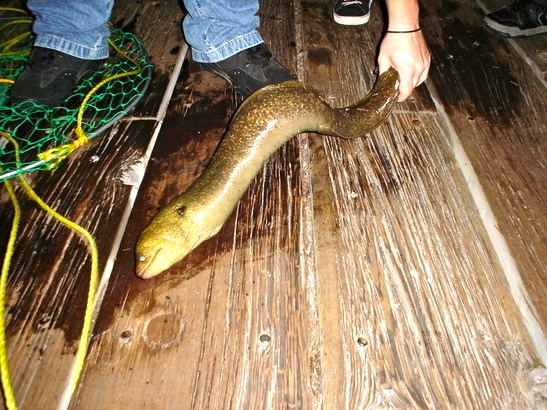 A moray eel caught by Ben in October
Date: November 4, 2004; To: PFIC Message Board; From: dompha ben; Subject: San Clemente, 11/3/04, 9P – 1A
I was joined by my brothers (Dan, Zach, and Jonny) and cousins (Bryan and Andy) for a little impromptu hooping session last night.
We arrived at the pier around 9:00 P.M. and there was a light breeze blowing. We dropped two hoops each, thoroughly covering our usual spots on the pier. Talked to local Ed, who said he got a couple of shorts earlier in the evening.
I got a short on my first pull, as did Bryan and Zach. Jonny got a nice legal (3.5" carapace) male, which he gave to me and my wife (is he the greatest baby brother in the world, or what?) Bryan pulled a heartbreaker (3.2499999″ carapace… a little rattle on the saddle) that we released for one more molt.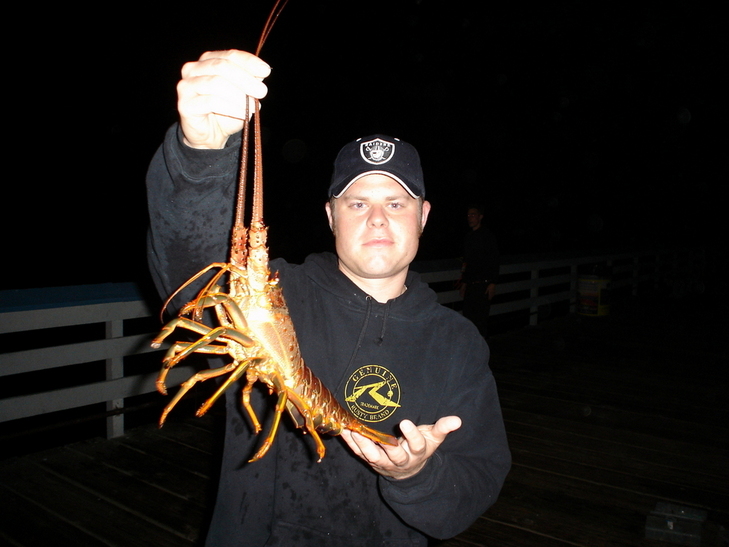 Ben's brother Dompfa Dan and a "bug"
All told, we pulled 7 bugs last night—4 very short, 2 "close but no cigar, Pete", and one deci-legal. In my ongoing attempts to try to understand the habits of these critters, last night proved once again that when they're crawling, they're CRAWLING! Like clockwork, we stopped pulling them. I think there must be something that triggers them all to come out and feed at once, or at least move around, and then, just as quickly, they go back to ground. The crawl just stopped around 11:00.
Incidentally, the calm wind out of the south reversed around 10:30, and became a howling north wind. A few raindrops on the glasses, but nothing soaking. A cold night at the pier, but a great time with family.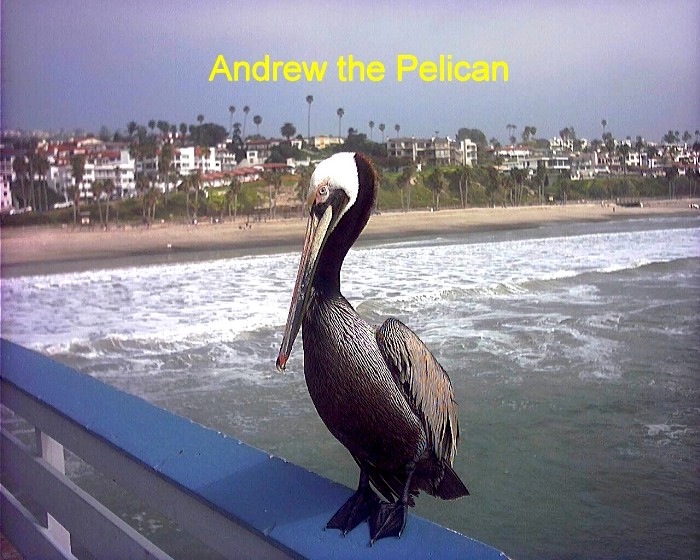 Date: December 4, 2004; To: PFIC Message Board; From: dompfa ben; Subject: San Clemente Pier hooping, 12/3/2004, 8p – 12A
Around 11:15, I saw them coming. An attractive couple sauntered down the pier in our general direction. They were walking in the most peculiar fashion, a kind of sideways shuffle-step that seemed to rely heavily on the gait of the other. As they approached my cousin Bryan and I, the heady scent of scotch slapped me in the face.
"What kinda (racist epithet omitted) shtuff y'all catch down here? Puffers? Fiddler crabs? Dogfish?" asked the man, either a tourist or a Neanderthal, his lamb's wool Eddie Bauer trench coat hanging precariously close to my bloody lobster bait-bucket.
"No, uh, we're trying for lobsters," I said dryly, angered that this fool would walk up to a perfect stranger on a dark pier, and feel it was acceptable to use that kind of language. I continued, "…and if you use that word in front of me again, we're going to have a serious problem." I'm not a fighter; I'm not a tough guy. But the orange glow from the overhead sodium lamps betrayed the glass in his hands, apparently swiped from the bar at the foot of the pier, and this guy just boiled my blood. A racist and a thief. "Wonderful," I thought. The guy half-apologized, acknowledging that I was a head taller than he, and probably outweighed him by 80 pounds. I acknowledged him with a blank stare, a combination "mad-dog" and "angry 6th grade teacher."
Without flair or fanfare, I motioned to his lady-friend's feet, covered by a few hundred dollar's worth of shoes to contrast the nickel's worth of brains between the two of them. She was also secreting a glass in her mittened hands, and seemed to be having difficulty focusing on me. "There's one in that bucket right there by your moon-boots."
She looked down, drunkenly oblivious to my slight, and almost fell headlong into the bucket. Sure enough, resting quietly in the bucket was a beautiful Panulirus interruptus. He had a carapace measurement of over four inches, and a large powerful tail curled under his body, protected for the moment by a tangle of orange and burgundy-striped legs.
"Whatcha-ketchum-with?" squeaked the man, his voice weaker now, annoyingly reminiscent of a hated grade-school teacher. A woman teacher, at that.
I didn't tell him that I had placed a frozen section of yellowtail carcass in the bottom of my hoop, securing it with a couple of zip ties. I didn't mention that the complete lack of current and minimal wave action, combined with pretty weak tidal flow was going to keep the scent of the bait from traveling very far from the hoop, so it was necessary to tie an extra length of rope onto the end of the existing rope to allow for a powerful Frisbee toss out next to the reef where the lobsters were likely hiding. I refrained from offering that all of my drops straight up and down were not resulting in any lobsters, but that when I had thrown the hoop out to a distance that was just up-current from the reef and not so far that I landed on top of it—or worse, beyond it, resulting in a big snag and a lost hoop—that it was then and only then that I caught the spiny beast at their feet. I failed to point-out that his girlfriend's fly was open on her $300 designer jeans. Instead, I kept my answer simple, attempting to avoid further conversation. "Bait," I muttered.
My plan worked, and somehow, despite the copious quantities of grain spirits this dynamic duo had apparently consumed, they stumbled back down the pier without falling into the surf zone. Part of me wished they had.
All told, we encountered a small octopus, a nice lobster, a couple of regulars braving the cold with us, an excellent view of the winter constellations, and a gorgeous moonrise. Great diversity. …And two hapless drunks that demonstrated bigotry is alive and well as we head towards the New Year. They were released without incident, but need a little deprogramming, and a healthy dose of diversity training. DOMPFA, Ben