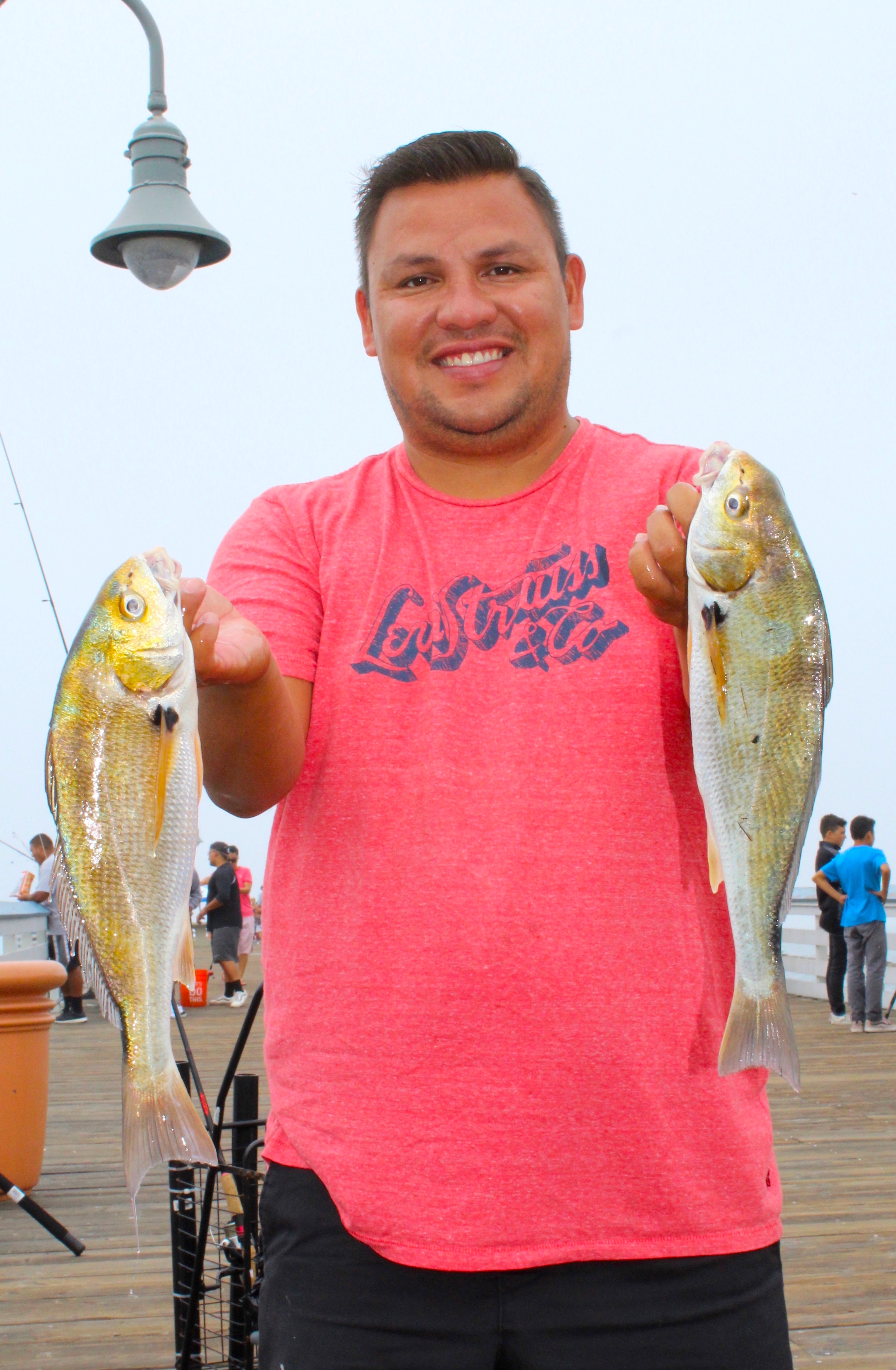 "Golden-phased" Spotfin croakers
Fish counts done by the Department of Fish and Wildlife since 2004 show a wide variation of species dependent upon water temperature. The most consistent over the years have been spotfin croaker, yellowfin croaker, walleye surfperch, jacksmelt, queenfish and Pacific mackerel. Few sharks or rays were recorded but San Clemente has long been considered a good pier for sharays.
The pier itself is located over the San Clemente Main Beach, to the north sits North Beach, and to the south sits heavily used San Clemente State Beach. A little further south sits the famous (at least famous to surfers) Trestles Beach.
Main Beach is sandy which means it attracts the normal sandy shore species of fish while the pier's pilings (it was first built in 1928) are heavily covered with mussels much of the year (although this has changed somewhat due to recent practices by the city). In addition, a Wildlife Conservation Board reef was constructed out near the end of the pier in the '60s. Inshore wave action is typically mild and though water depth is only moderate it is more than sufficient for most pelagic species.
Inshore, anglers should expect to see corbina, spotfin croaker, yellowfin croaker, a few sargo, barred surfperch, guitarfish, various rays, and small sharks. The mid-pier area will yield all of these (but in a lesser number) and, in addition, offer white croaker, queenfish, halibut, sand bass, silver and walleye surfperch, sculpin (California scorpionfish), salema and jacksmelt. Although not a noted pier for halibut, a 27-pound beauty was taken in August of 2007.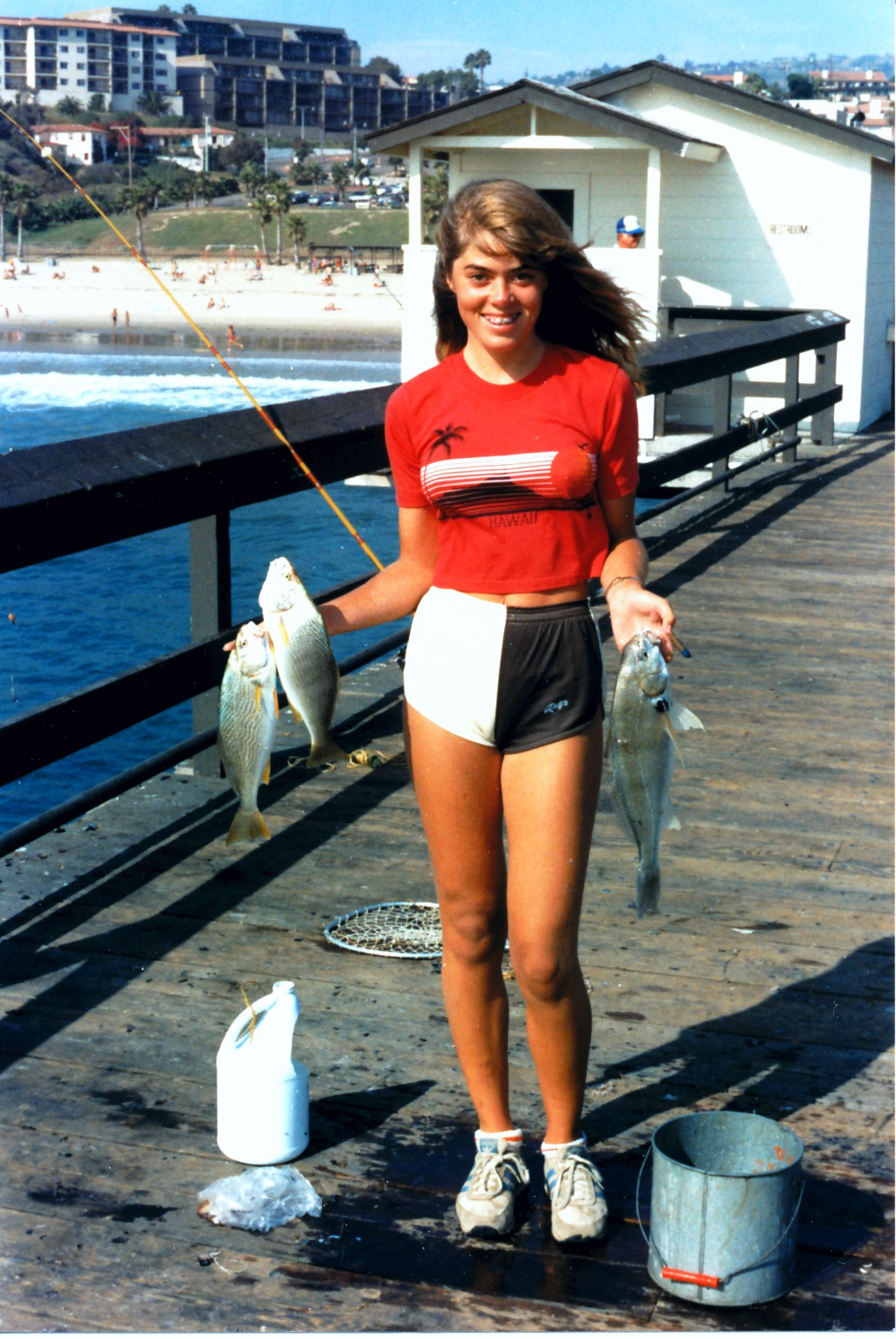 Yellowfin and spotfin croaker
The far end of the 1,296-foot-long (and 24-foot wide) pier will see all of these but also yields mackerel, jack mackerel, bonito (some years), barracuda (in the fall), and occasionally even a few small yellowtail.
Regulars also report that some years see good wintertime catches of pileperch—down by the pilings—using fresh mussels or small sidewinder crabs.
The piling areas, as well as the area by the reef (reachable with a good cast), also yields some sheephead, especially during the winter and typically the humpies bite best on live ghost shrimp. If live ghosties are unavailable, bring along some market shrimp or squid.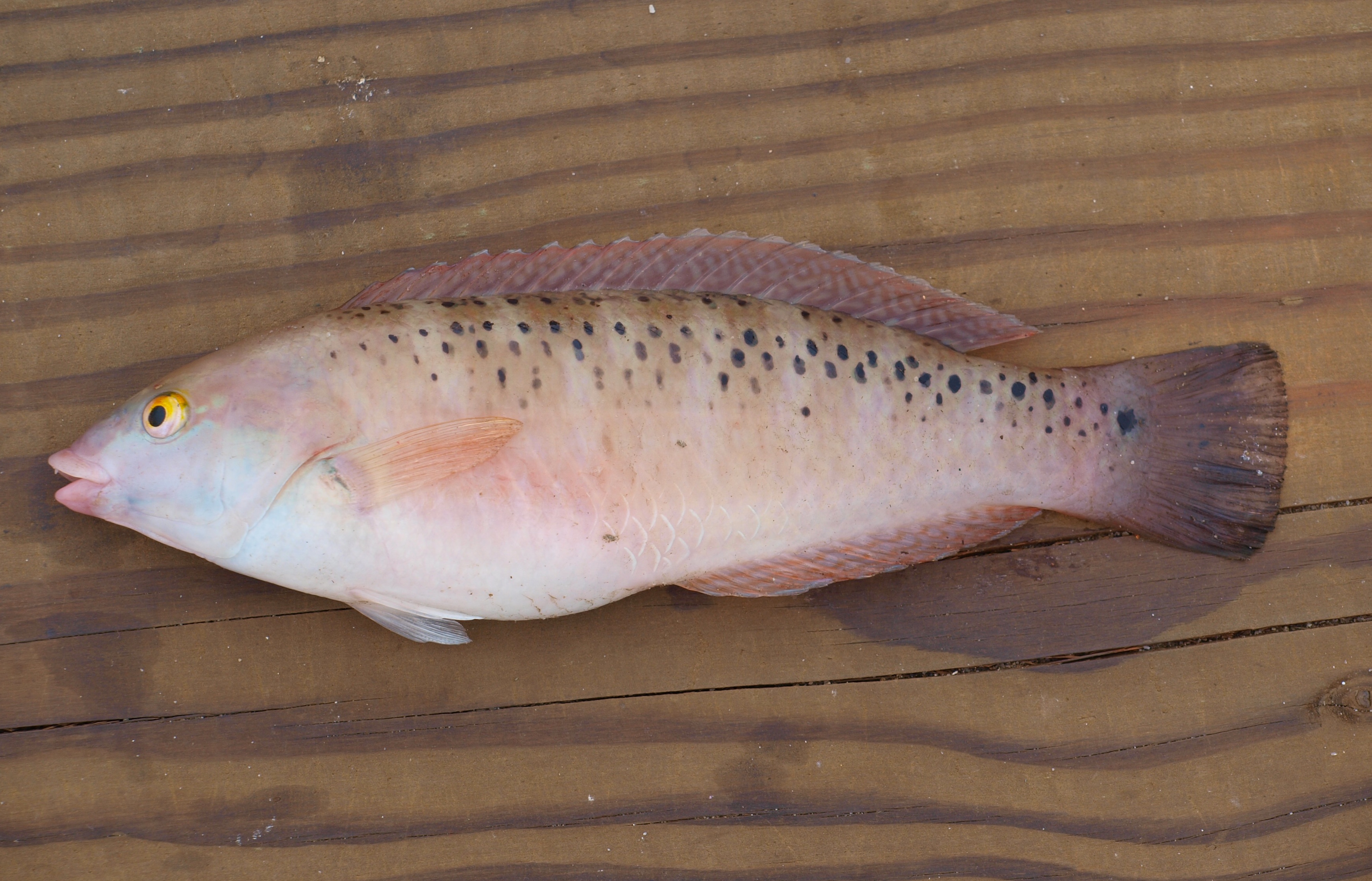 A female rock wrasse — a fairly uncommon catch at the pier
Although more sheephead have been caught in the winter months, quite a few large sheephead have been taken during the summer months—a 10 pounder in August 2010, 21-pound fish in August 2009 (caught on a whole live mackerel), a 25-pound sheepie in June of 2015, and a 30+pound fish in July 2010.
Unfortunately, even though the pilings and their mussels have always attracted fish that may be changing. The city has begun removing mussels from the pilings to lessen the weight and provide wintertime protection against storms. Fewer mussels on the pilings also mean less fish feeding on the mussels and the assorted Lilliputian critters that call the mussels their home. But then again, mussel-free pilings are still better than no pilings and no pier.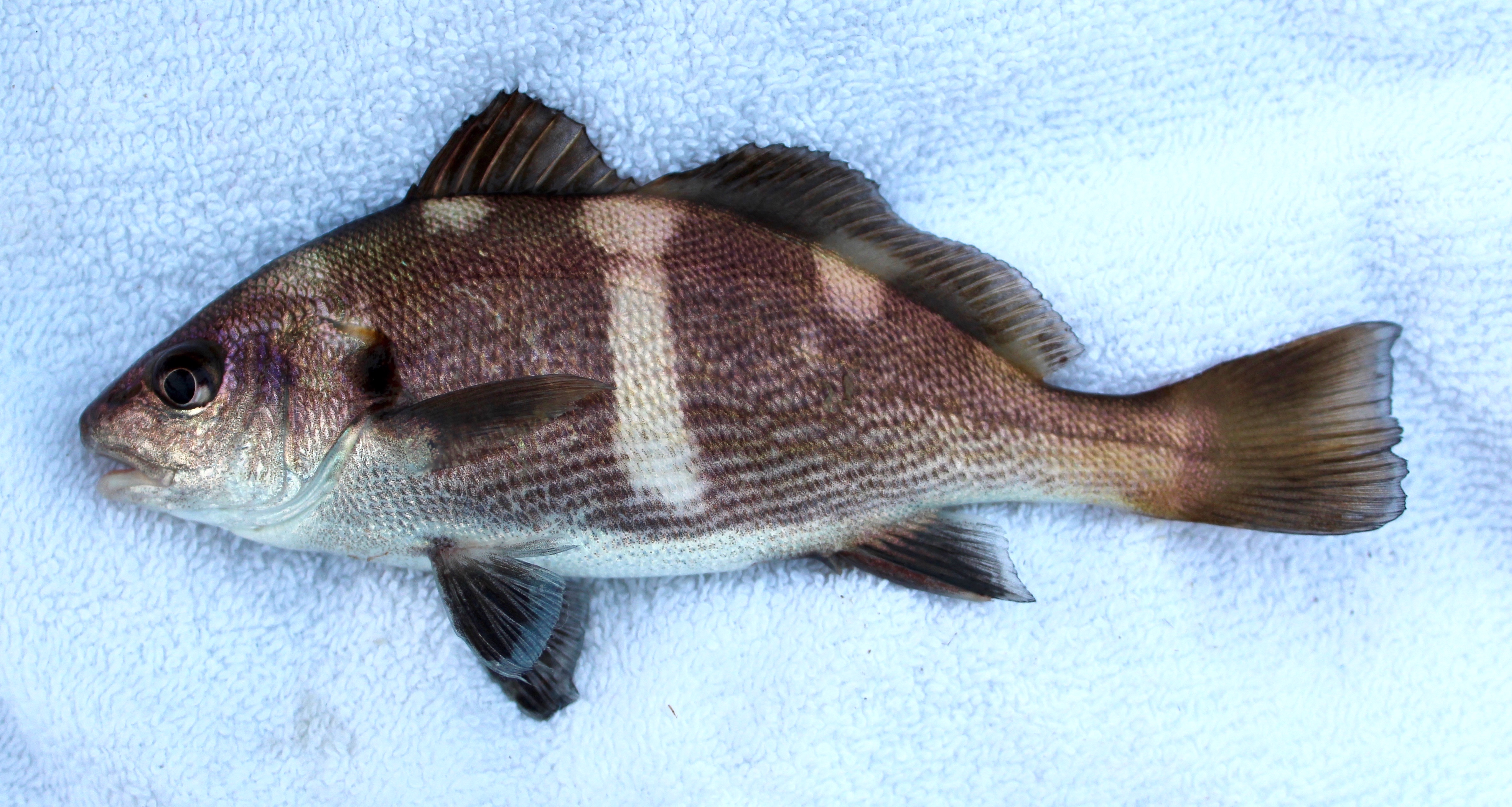 Black croaker
A new artificial reef is going to be built in San Clemente waters to mitigate some of the damage that was done to local kelp beds by the San Onofre power plant. When finished and (hopefully) when the kelp returns, there may also be a correlative affect to sightings of giant (black) sea bass at the pier, an endangered and illegal fish that already has seen a recent spike in catch.
PFIC reported a 60-pound youngster being caught in September of '97, followed by a 70-pound fish in July of '99. Sporadic reports then came in until 2005 when several of the fish were reported. Finally, in 2007 there seemed to be an explosion of the big fish with roughly ten being reported during the year including two in August that were reported to exceed 100 pounds.
Several more giant sea bass were seen in 2008-2010 with the biggest being a fish estimated at 200 pounds in August of '10. Multiple fish were again reported in both September 2013 and September of 2015 with one of those fish also estimated at 200 pounds.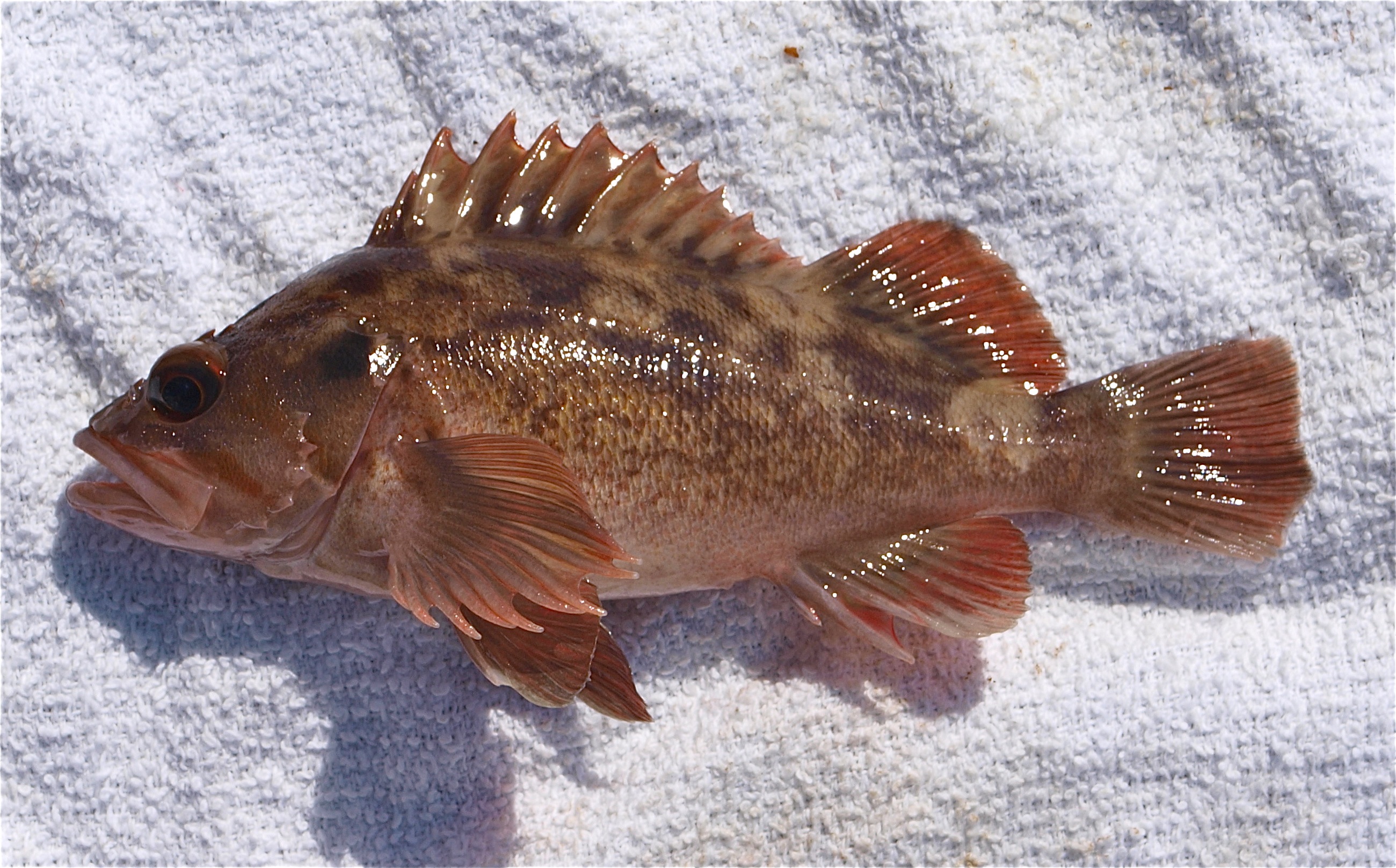 Brown rockfish
It certainly seems like the giant bass—Stereolepis gigas, a species prohibited to take since 1981, is making a comeback. However, some studies still show the comeback to be taking longer than expected due in large part to toxins (especially DDE and PCB) that have been found in examined fish. The big fish spend much of their time near the bottom and many of the bottom lurkin' species they eat contain toxins themselves. These toxins can affect everything from development of the larvae to normal reproductive behavior including (possibly) changing males into females (just say no Gabby/Gabrielle). It's a tangled web we've spun in our local waters.
I do wonder if the warm water previously released by the San Onofre power plant played a part in their return but that plant has now ceased operation so only time will tell.
The end section is also the preferred area for the "shark specialists" who at times will have their heavy outfits neatly lined up against and nearly covering the outer railings (and I'm not sure all remember the two rod per person rule). One afternoon, I witnessed the capture of two nearly 5-foot-long shovelnose sharks (guitarfish), several smaller smoothhound sharks, a couple of small rays, and a medium-sized bat ray. Another, truly huge, bat ray fought an angler for over an hour, up and down the south side of the pier, before breaking free as the angler's friends desperately tried to gaff it with their treble hook gaff. All of this in the space of two hours time.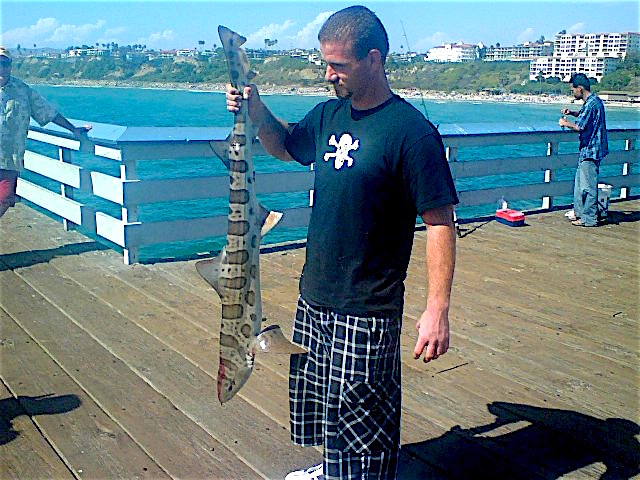 Leopard shark
Overall, the San Clemente Pier is a better than average sharay pier and most years will see a variety of Selachians (sharks) and Batoids (rays) being taken from the pier's waters. The largest are usually the big old mama bat rays (some exceeding 100 pounds in weight) but large leopard sharks (to 50 inches) and shovelnose guitarfish (to nearly five feet in length) provide many of the thrills.
Every year and virtually every month sees some nice rays and sharks but April 2008 may have been "Shark Month." A duo of four-foot-long 7-gill sharks, an impressive 36-pound angel shark, a horn shark, and a small mako shark joined an already strong showing of resident bat rays and leopard sharks. In addition, that month saw the capture of one of the pier's largest shovelnose guitarfish, a hefty fish that measured 66" in length.
Every year also sees some thresher sharks but August of 2010 included one of the largest— a ten-foot-long thresher shark. Soupfins are less common but December of '07 saw a 55-pound soupfin while additional soupfins showed in August 2011 and April 2014. 7-gill sharks are also a less than common species but several showed in July of 2013 and October 2016 (including an 80-pound fish).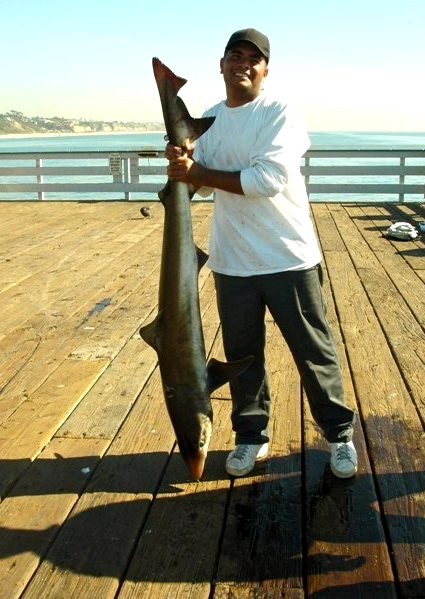 Soupfin shark

Additional angel sharks showed up in May 2008, another horn shark was reported in July 1999, a mako shark was reported in April of 2014, a swell shark was reported in May of 2008, and, just for a little variety, a hammerhead shark was reported in July of 2015. Additional hammerheads were spotted in the warm water year of 2017.
I do not know if there are more sharks at San Clemente than at other piers or more shark "specialists," which could be the causative reason for the good numbers of sharks, but I imagine it's a little of both.
Crustaceans. An added attraction at the pier is spiny lobster; it seems to be one of the best piers for the southern California delicacy. If you're seeking the big crawdads aka bugs remember that Panulirus interruptus is generally a nocturnal beast. Night hours are the prime-time "catching times" since that's when they move out of their hiding spots in search of food.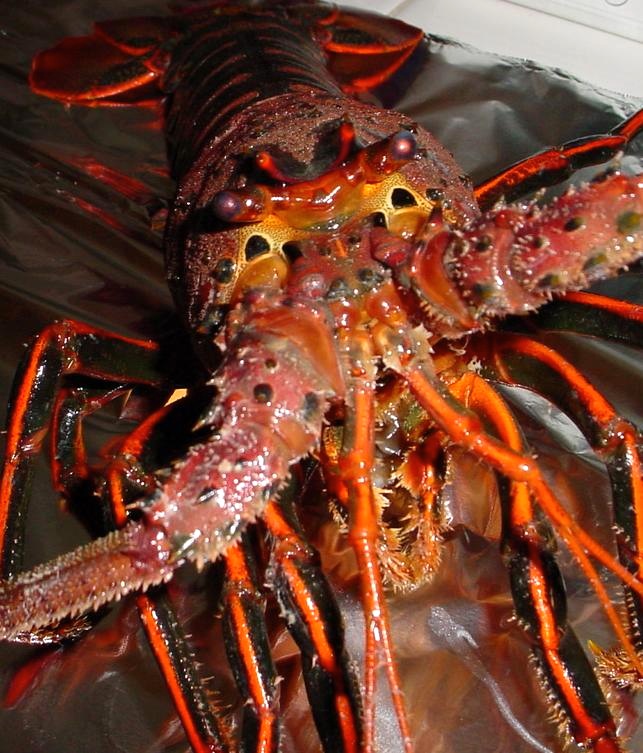 Of additional interest is the fact that where you find lobsters you will usually also find moray eels. The same is true here as seen in the 4-foot-long moray eel taken out by the end of the pier in June of '00 and a plethora of morays showing up in May of 2008 (although almost every year has seen at least a few reports of the twisty beasts). By the way, report lobster poachers! It's an ongoing problem and the increasing number of Knuckleheadus californiensis has decreased the number of lobsters taken from the pier.
Lobster caught by Ed
Fishing Tips. Although anglers might want to sample several spots on the pier, this is one pier where I recommend checking out the inshore area first. Use a high/low leader with number 6 or 4 hooks; bait up with bloodworms, lugworms, fresh mussels, ghost shrimp or sand crabs; and fish just outside the breaker area. Any time of the day may yield a nice yellowfin croaker or barred surfperch but early evening or night seems to yield the largest yellowfin and spotfin croaker, as well as corbina and an occasional black (China) croaker. Target the barred surfperch in the winter and spring, the croakers in the summer and fall.
The inshore and mid-pier area (starting just past the breakers and extending 3/4 of the way out on the pier) will offer up most of the pier's halibut. Prime months will be from April or May through the summer months into the fall. Fish on the bottom using live bait (and more and more anglers are using nets to capture live bait and air pumps to keep them alive). Smelt and grunion are the longest lasting baits, but anchovies, small queenfish and baby mackerel are the apple of the halibut's eye. Many anglers are also beginning to target the flatties with artificial lures. Some favorites from the Pier Fishing in California Message Board include small plastics (Worm King AAA, 3-inch Fish Traps or 3-inch Big Hammers), and Chrome/Prism Krocodiles in 1/4 to 1/2 ounce sizes. A slow retrieve along the bottom, and a little luck, is all that is necessary.
The mid-pier to end area offers a number of the smaller southland species: white croaker, queenfish, jacksmelt, butterfish, salema and walleye surfperch. Numbers of each specific species will change with the seasons but there is almost always some type of fish available. All of these can be caught by using size 8-10 Sabiki-type leaders, high/low leaders that contain size 6-8 hooks, or simply 2-3 small hooks tied directly onto your line. Fish from the bottom to mid-depth areas of the water and try small pieces of anchovy, mackerel or bloodworms as bait (although many like to use strips of squid). When these schooling species are around it can be almost hard to keep them off your hook.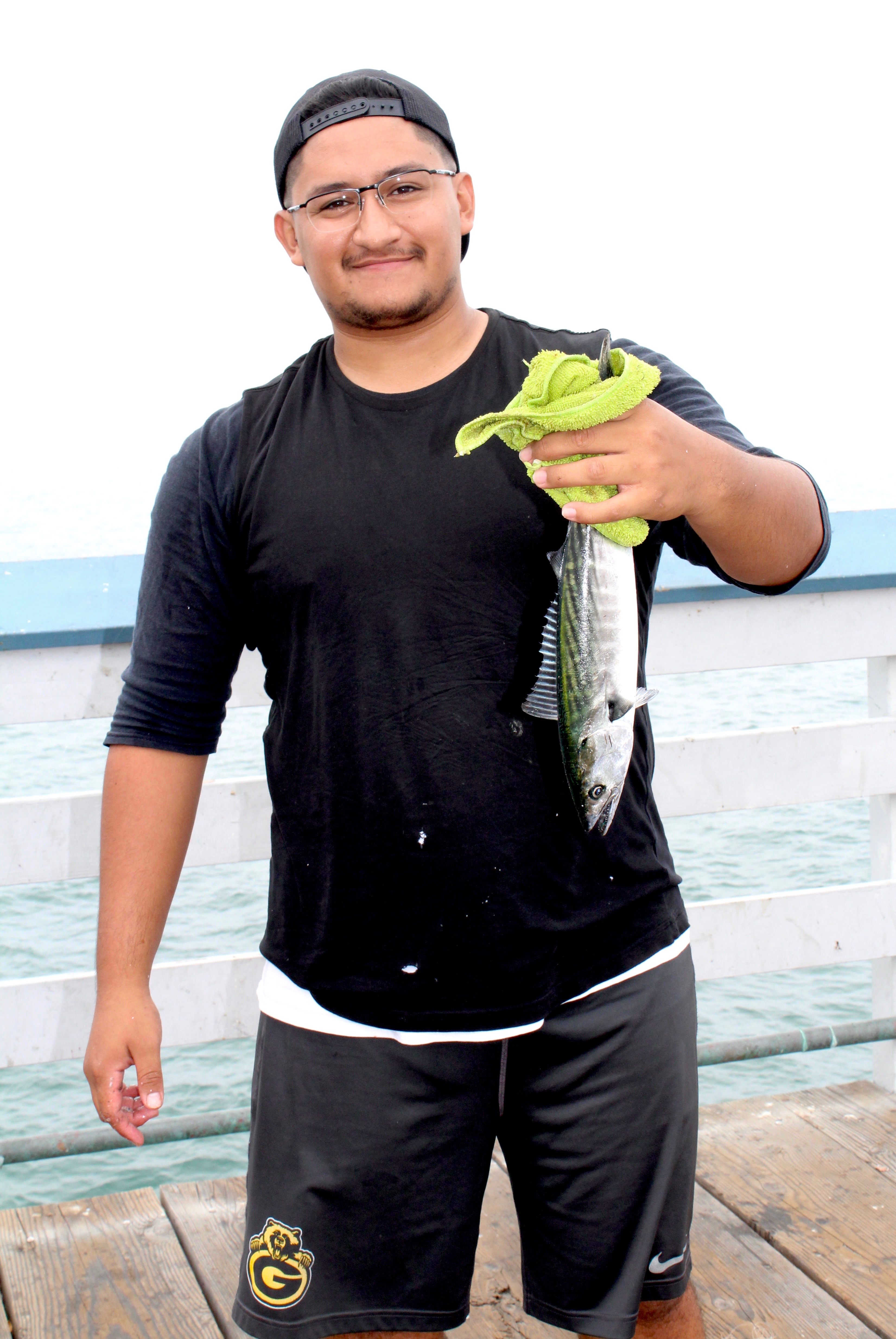 Bonito
Mixed in with these fish, if your bait is on the bottom, will be a few round stingrays, thornback rays, gray smoothhound sharks and shovelnose guitarfish. Since they tend to be larger, size 4-1/0 hooks and slightly heavier line may be appropriate. Other sharks, although less common, are horn sharks (sometimes called spotted horn sharks) and Pacific angel sharks; a few of the former will be landed most years while one of the latter will be landed every few years.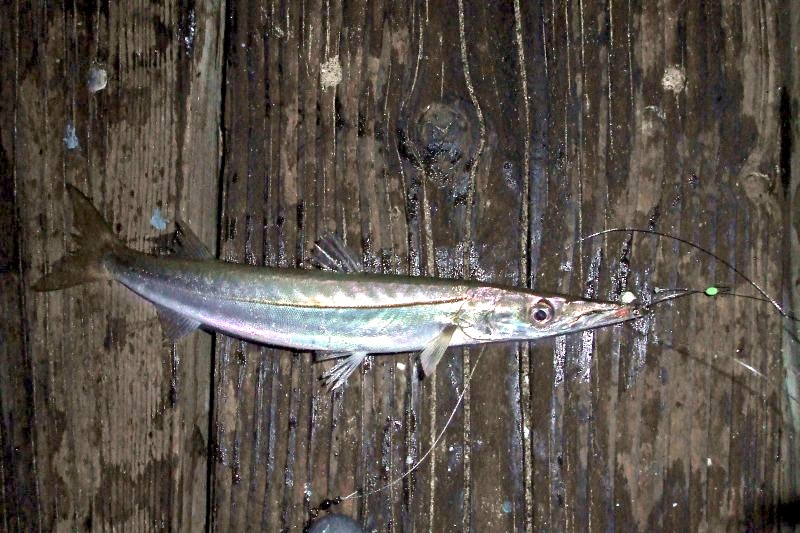 Typical pier-size barracuda
The end area is best for the pelagic species! Mackerel will hit strips of squid or pieces of mackerel, and bonito will grab feathers trailing behind a cast-a-bubble or a splasher of some sort. If barracuda show up (generally August-September), try for the toothy critters with Krocodile, Kastmaster or similar-type spoons. Yellowtail and white seabass prefer a lively sardine, anchovy, herring (queenfish), smelt or small mac but yellowtail in particular also will attack many different types of lures, i.e., MegaBaits.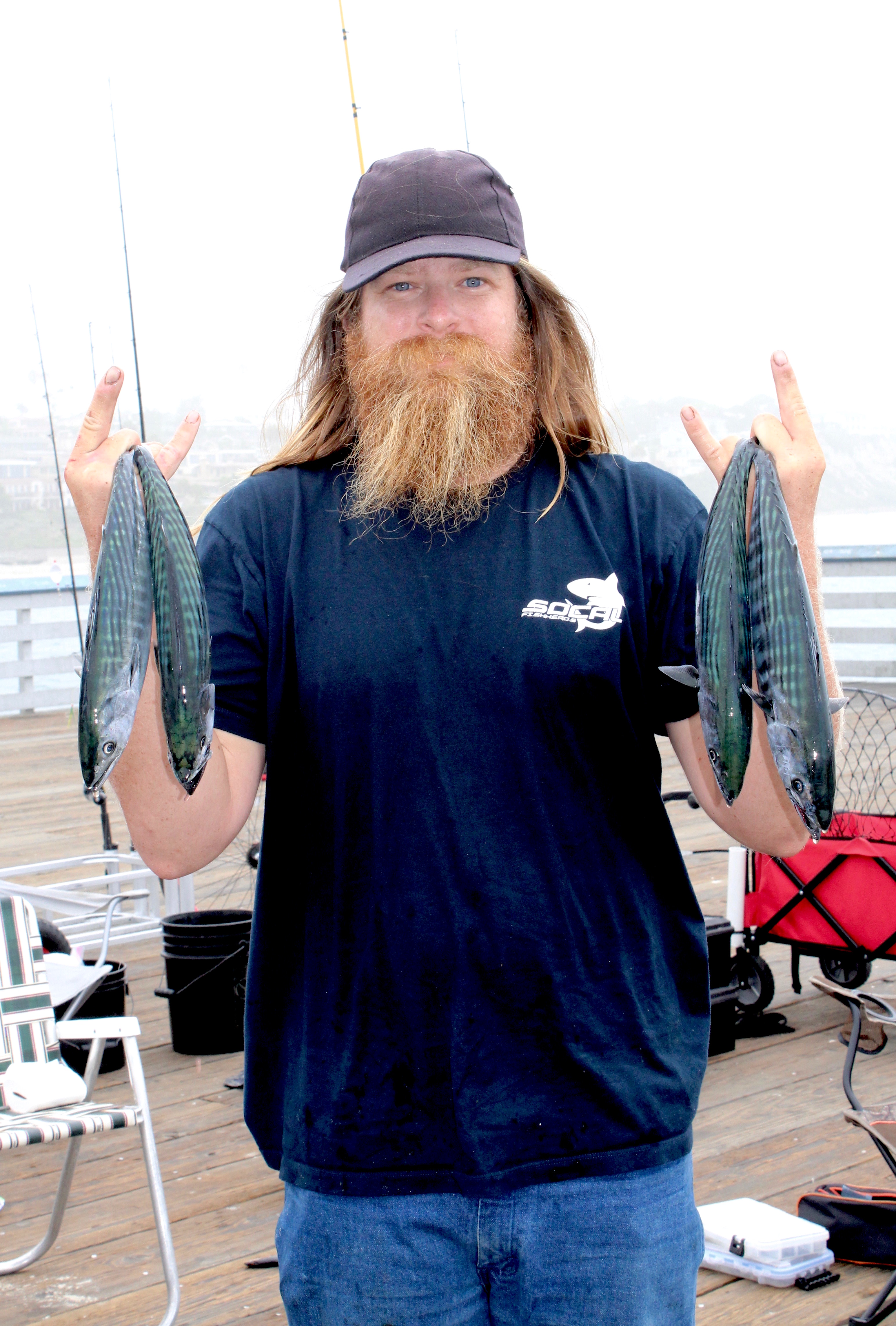 Bonito caught by Dusty
Nighttime (and daytime) will often also see some sharks and rays caught. Probably the favorite sharks for the shark "specialists" are thresher sharks and the big old bat rays, but more commonly caught will be shovelnose sharks (guitarfish), gray sharks (smoothhounds), and leopard sharks. A lively mackerel slid down the line on a slider is the most common method for the largest sharks (sometimes with a balloon to keep the bait near the top), while whole squid or cut mackerel is employed on the bottom for mid-sized sharks and rays. Since sharks and (many) bat rays have been landed here which exceeded 100 pounds in weight (including a 135-pound bat ray caught by a lady named June in November of '99), be sure to bring along sufficient equipment to get the large fish up the twenty-eight foot height (at low water) to the pier's surface.