Public Pier — No Fishing License Required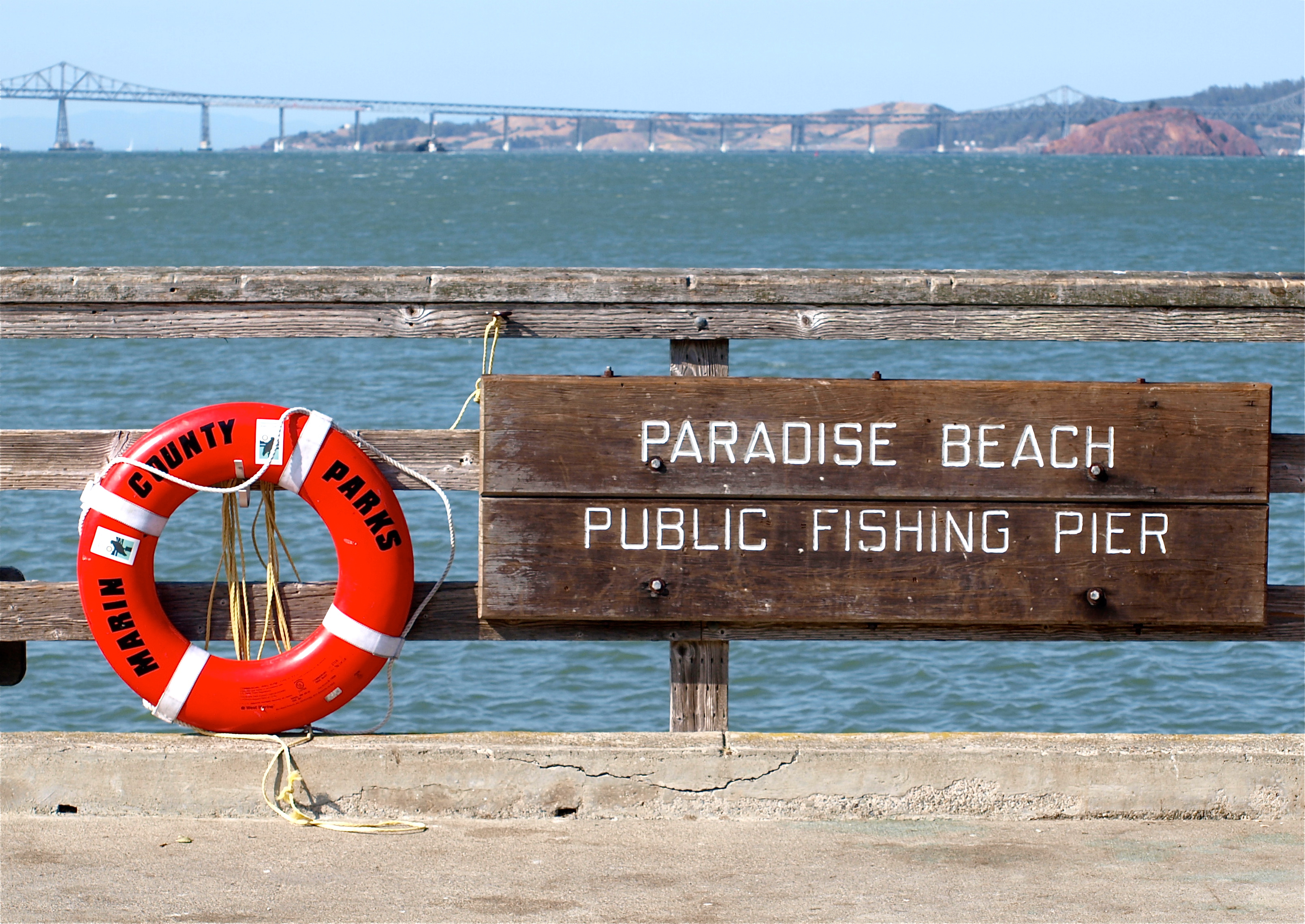 This is another of the Marin County piers that on a day-to-day basis offer only so so fishing but which, because of it's other facilities and surroundings, is a place visitor's return to cheerfully time after time. The pier is located in Paradise Beach County Park, a 19-acre park that contains large lawn areas, picnic facilities, and a small beach.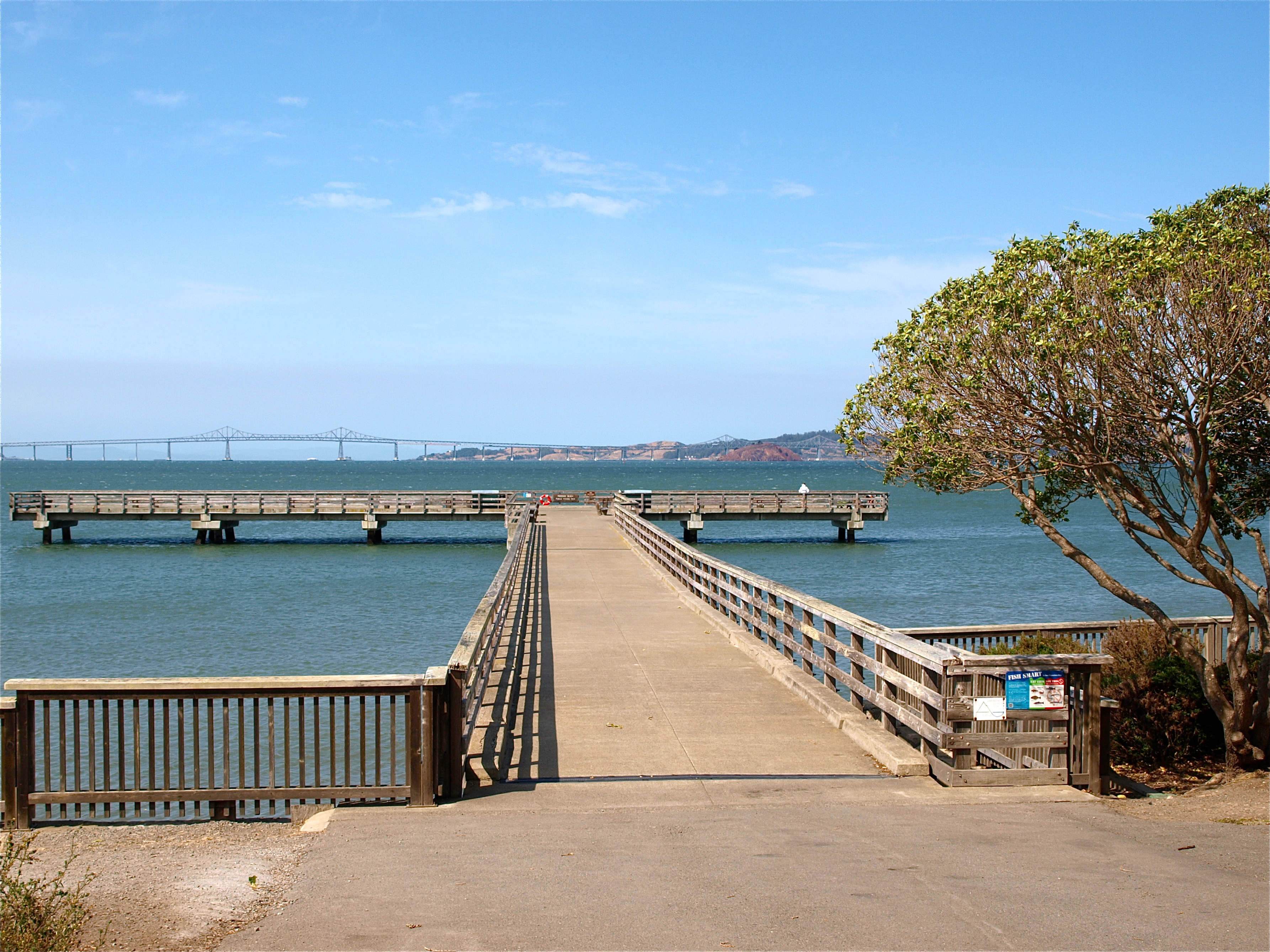 The Navy in World War II built a wooden pier here. Later, the county acquired the land for a park and that pier was renovated and turned into a recreational pier. It opened to the public in 1963. Still later, in 1980, a new concrete pier was built and it appears today to be in very good shape.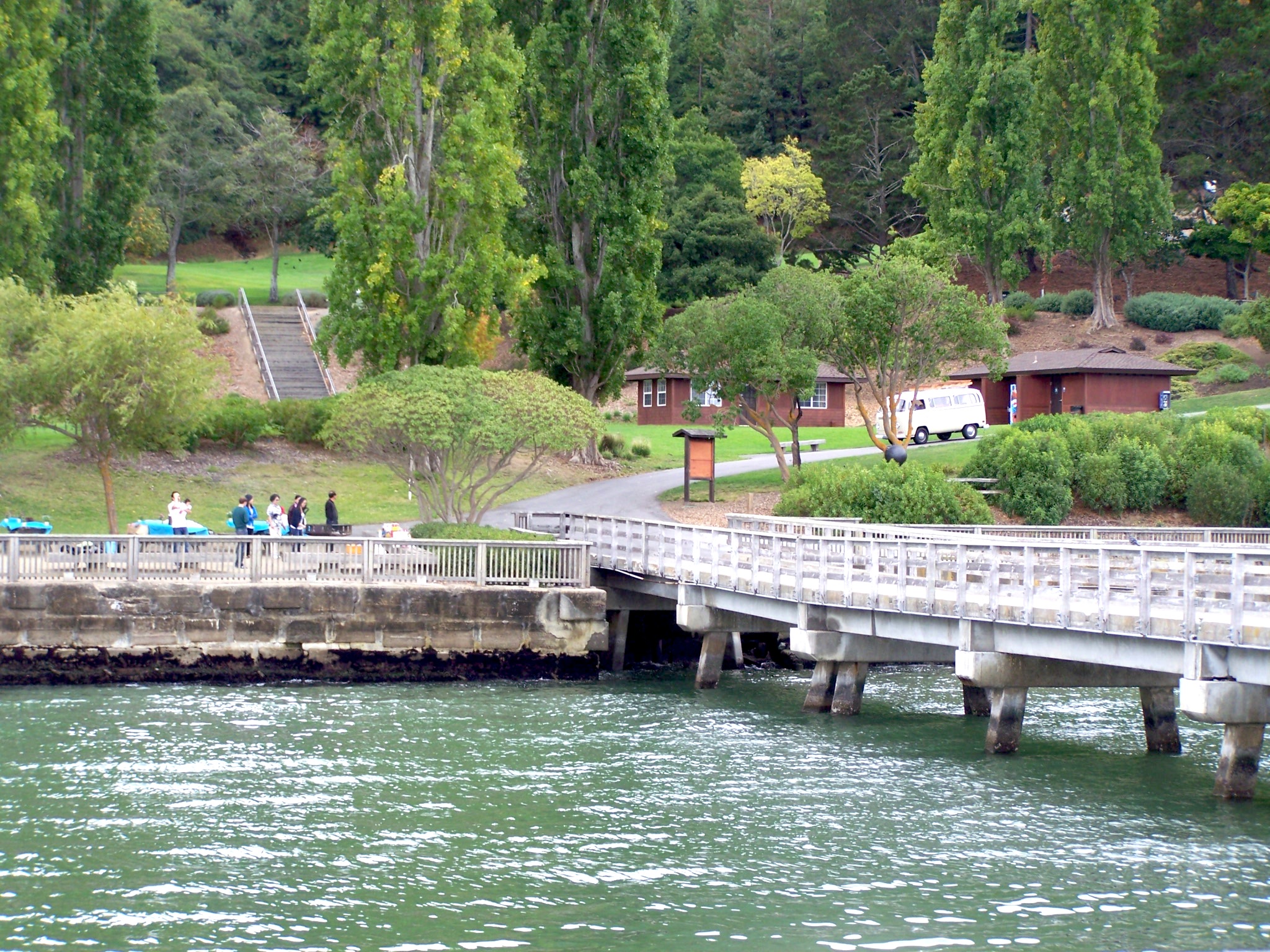 Environment. The pier fronts on Paradise Cove, the cove that runs from Point Chauncey to Ring Point (today's Paradise Cay, but formerly California City Point). The park sits just west of Pt. Chauncey and around the corner from the Romberg Tiburon Center (once the site of the Tiburon Marine Laboratory, and then its successor, the National Marine Fisheries Service). Although water is fairly shallow and results are usually only fair, it is an area rich in fishing heritage, especially in the fall when boaters try for salmon (and to some extent stripers and sturgeon) off of California City, a city which no longer is seen on maps but which sat just down from this park.
The pier itself is 302-foot-long and has a 194-foot t-shaped end. The bottom here is primarily mud with some grass and the concrete pilings themselves have little growth of fish attracting barnacles or mussel. Inshore, concrete blocks protect the shoreline and may attract some perch in the winter and spring.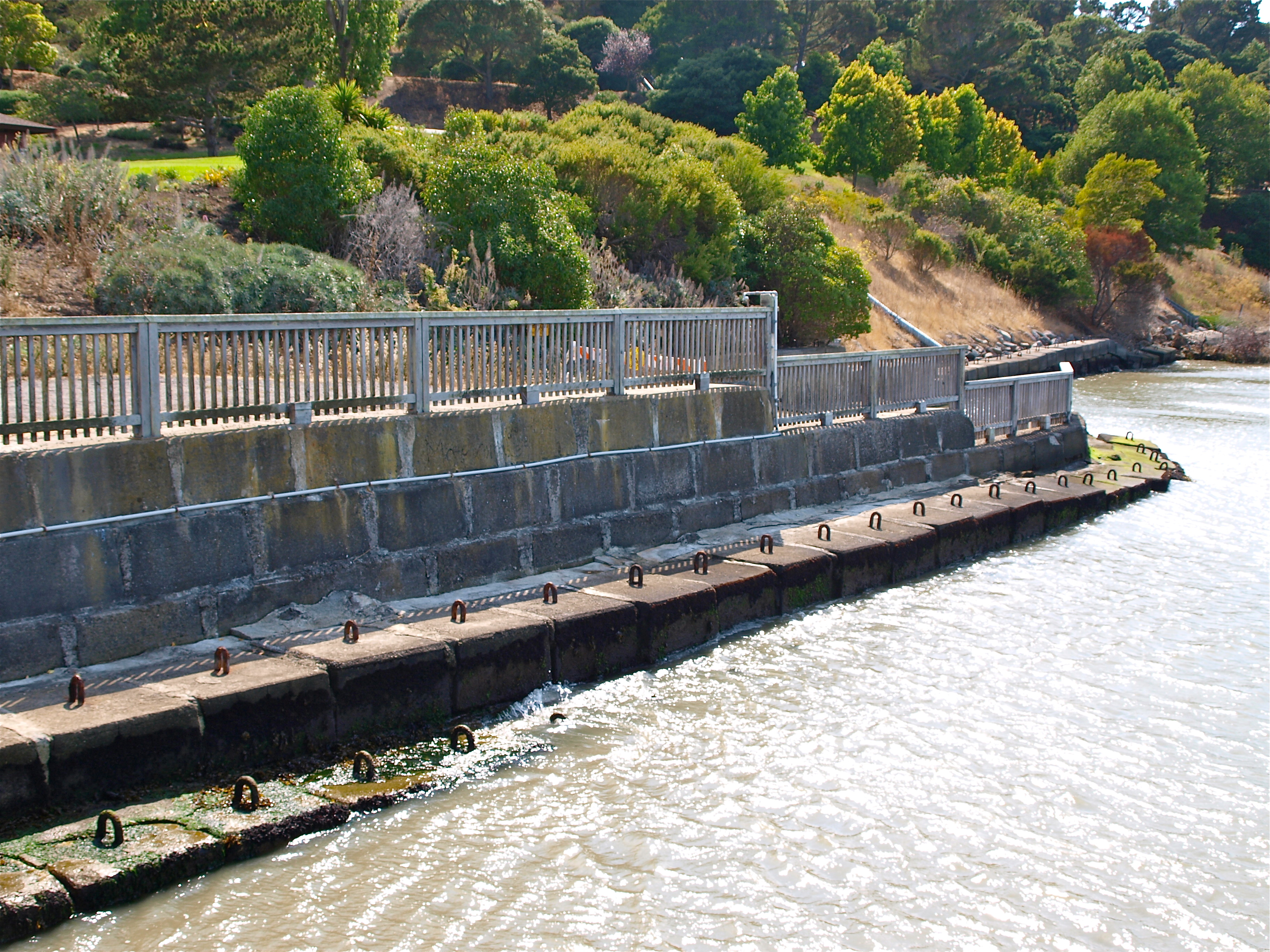 The main fish sought, depending on season, are starry flounder, California halibut, sharks, rays, jacksmelt, white croaker (kingfish), striped bass and white sturgeon (when the herring are spawning).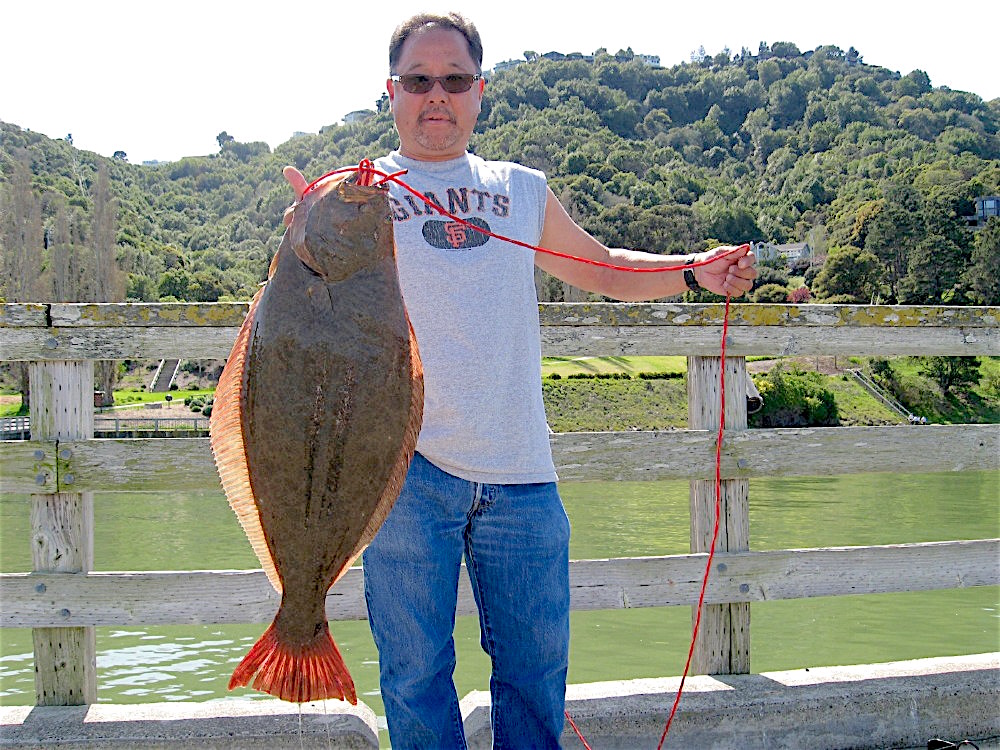 Mel and a nice-sized California halibut
All of these are common to these waters. Seasonally, generally in the late spring, one may also catch a few of the larger pileperch, rubberlip seaperch, blackperch (locally called pogies), white seaperch, striped seaperch, rainbow seaperch, and even a few redtail surfperch. Overall though, this pier generally isn't as productive for perch as piers in rockier areas like Sausalito. The exception is small shinerperch that can be far too numerous during the summer and fall months.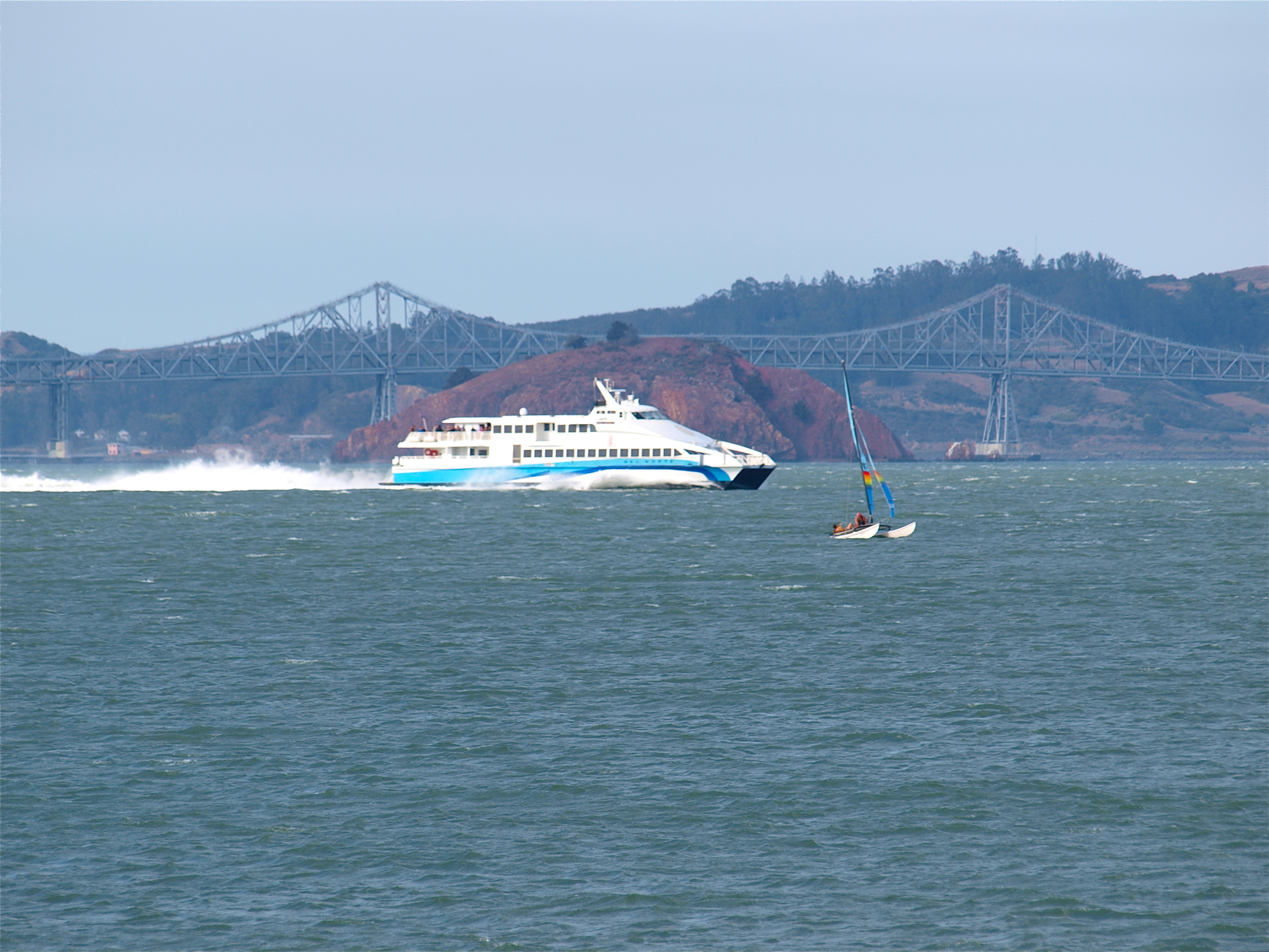 The pier and park sit on the northerly side of the Tiburon Peninsula. Mount Tiburon sits to the south, blocks much of the normal bay area wind, and provides visitors to this park some of the best waterfront climate in the Bay Area.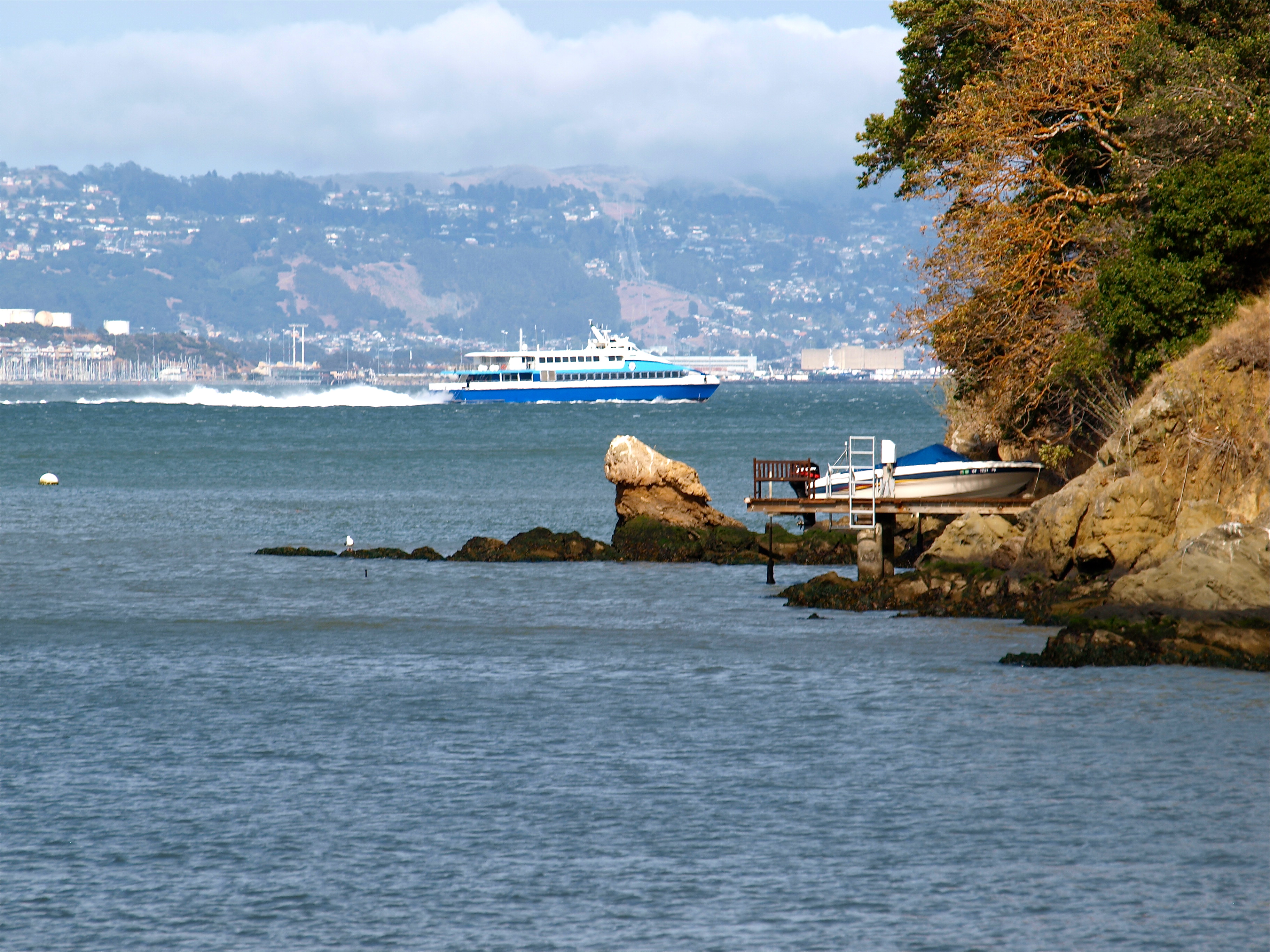 Fishing Tips. For the flounder, bass, and sturgeon, use similar techniques to those listed at the McNear Beach Pier and the same baits. Water here however is shallower and generally less productive, with one exception. This is an area where the bottom at times seems to be literally infested with staghorn sculpin (bullheads). If an angler is interested in getting some live bullheads for striper bait this is one place to go. This is especially true in the summer and fall months.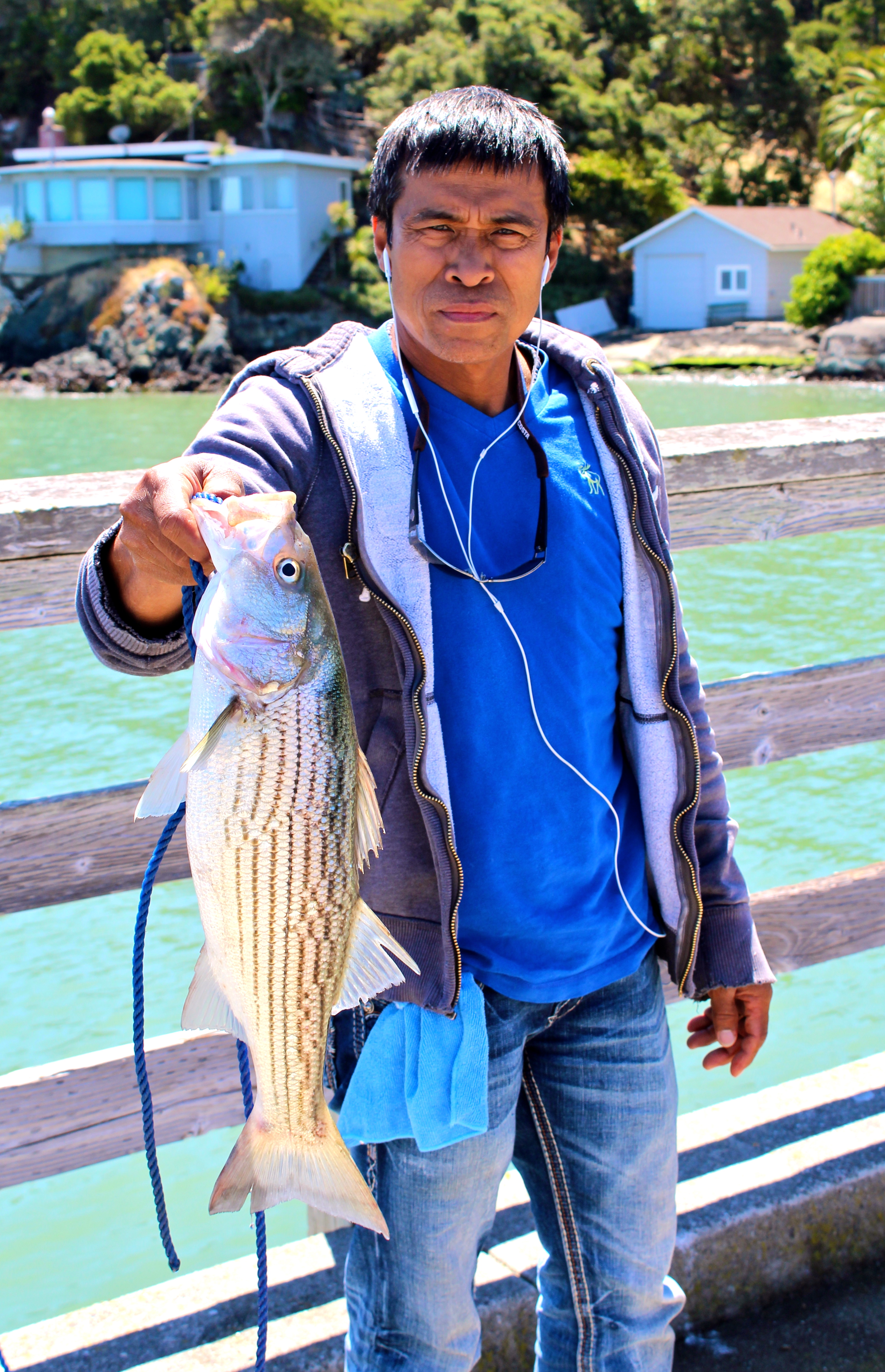 Striped bass
Of course a lot of stripers are also in the bay during the fall (don't forget the October World Series bite). Thus, a common approach for many is to catch some bullheads on their light outfits and then rig up for the stripers. Use a live bait set-up on a heavier outfit, and fish for stripers right from the pier. Although a number of stripers are caught from the pier every year, from the spring to the fall (including the spring "Easter Bite," the September and October months seem to be the best.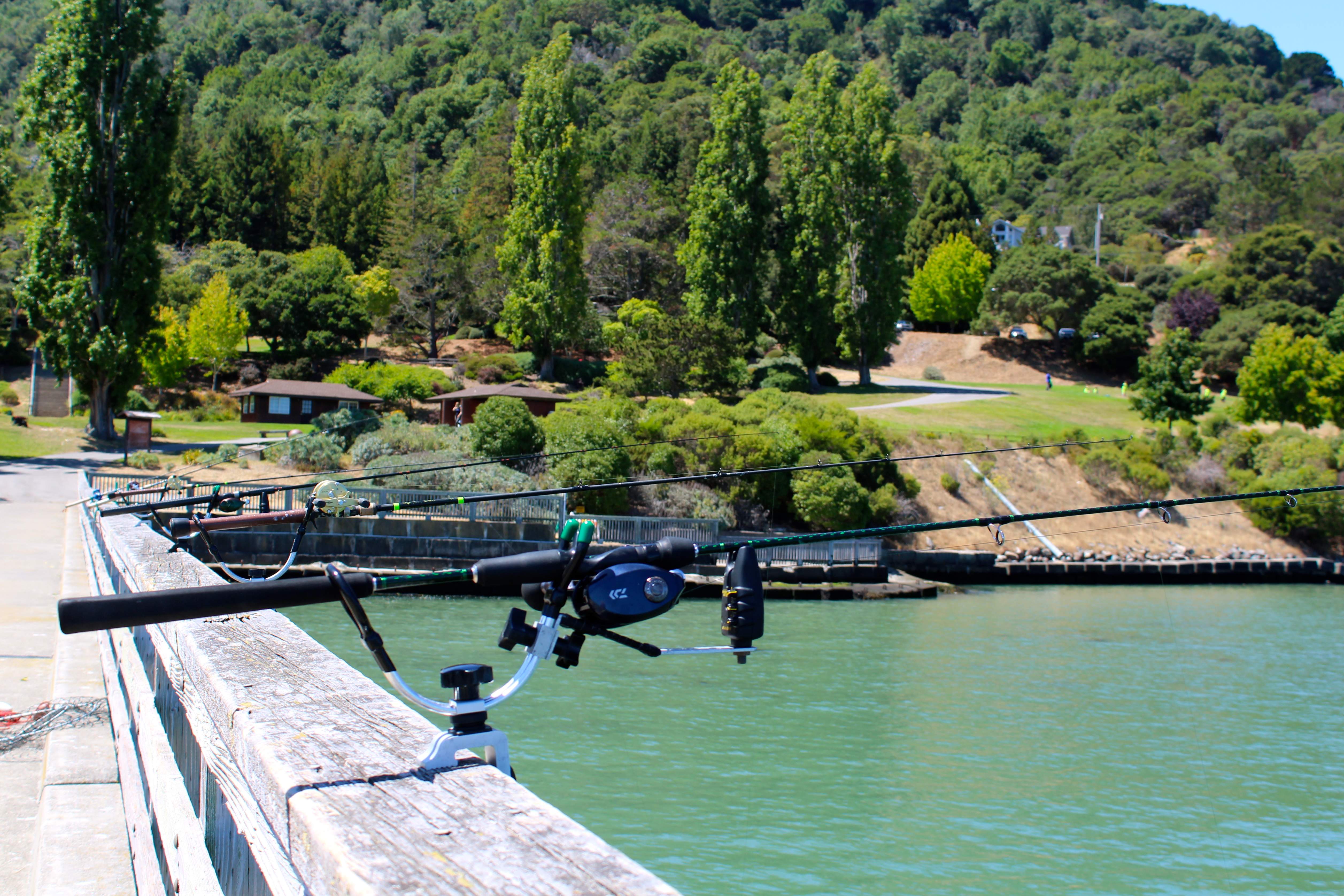 Some years this is also a pretty good pier for halibut during the summer months. When they're present, most of the trophy flatfish will be caught on sliding rigs baited with whole anchovies or live shinerperch. Cast straight out from the pier for the halibut.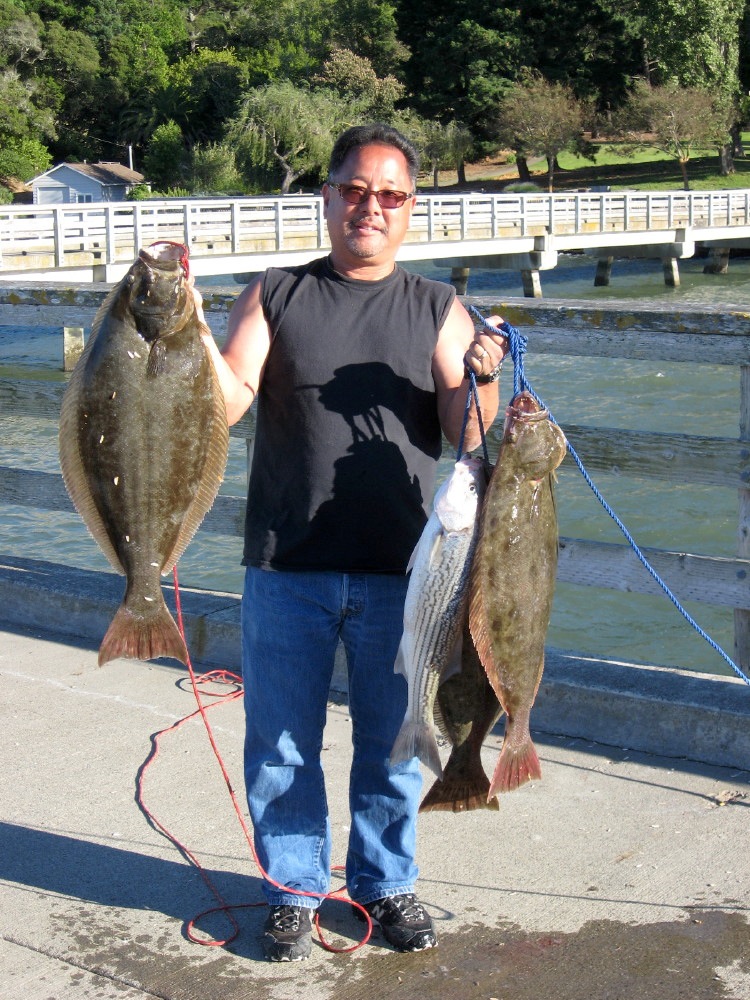 Mel with two halibut and a striped bass
For youngsters, a light outfit, baited with small pieces of pile worms, and fished mid-depth right around the pilings, will often yield small brown rockfish, shinerperch, walleye surfperch, and an occasional jacksmelt or topsmelt. The same outfit cast out from the pier will sometimes yield white croaker (kingfish) or small sole.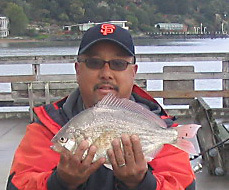 Mel and a redtail surfperch
Winter and early spring can see good runs of perch but they are normally shorter in duration than in saltier waters closer to the Gate. When the perch are present, most are taken down around the pilings or inshore. Best bait for the perch is generally pile worms on small hooks but increasingly anglers are using plastic grubs and Kastmaster lures—1/12 size with silver and green the preferred colors according to locals. Both lures are jigged straight up and down around the pilings.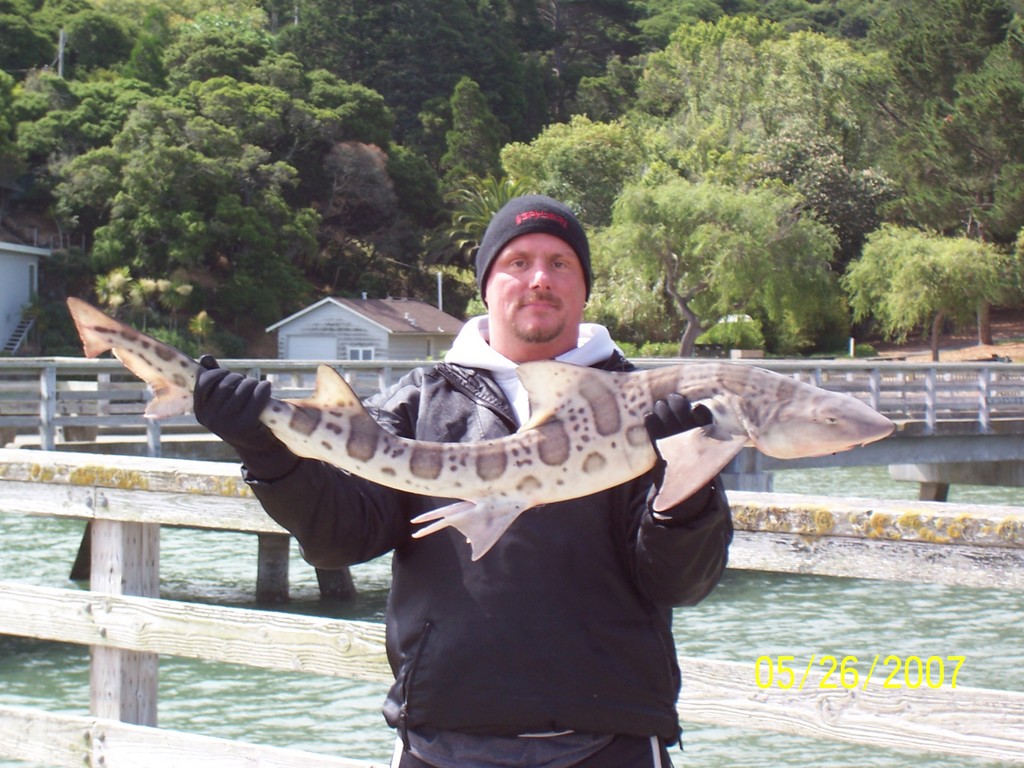 Thundrr and a large leopard shark
Spring (April) through fall will also generally offer up some large bat rays and skates, both longnose skate and big skate.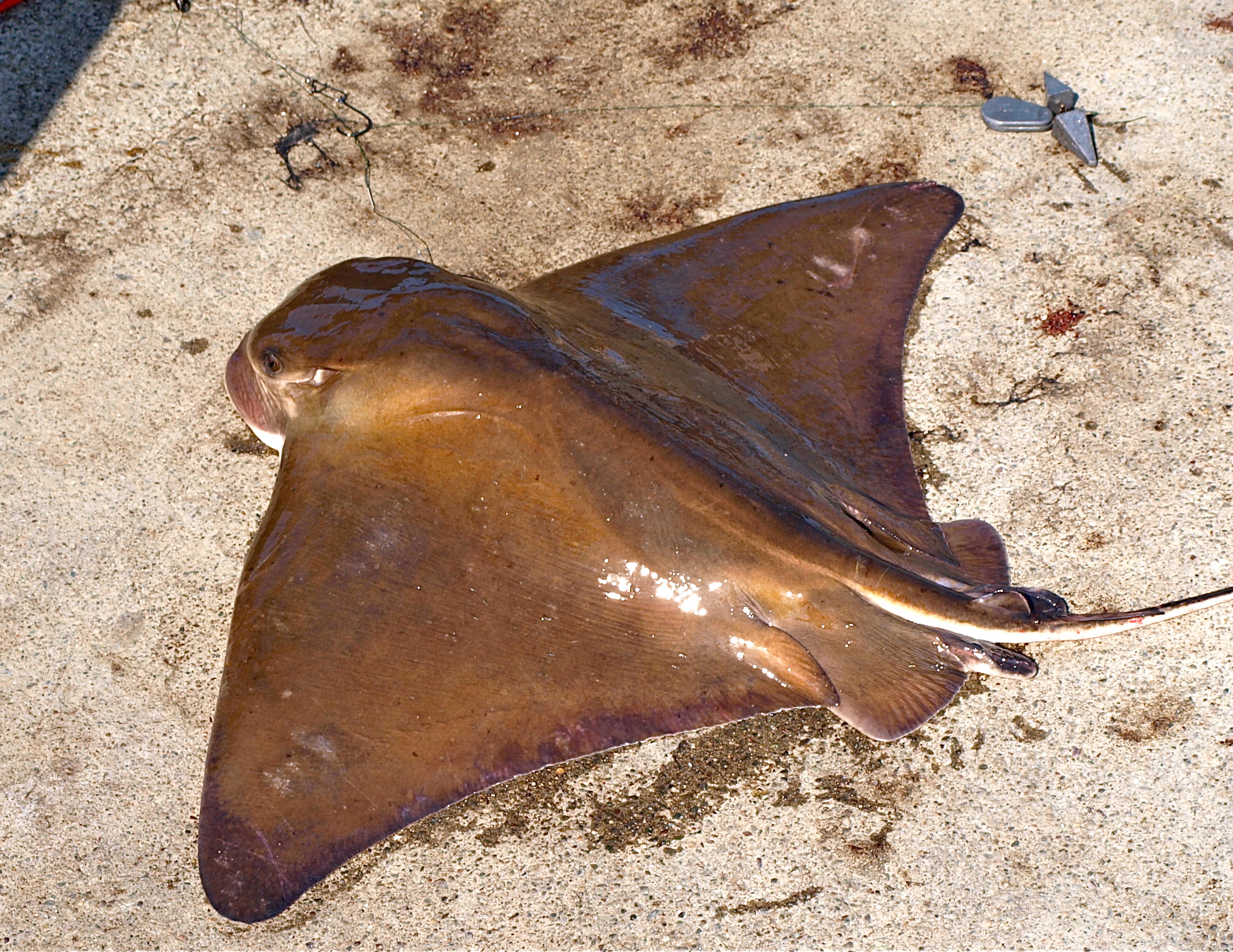 Bat ray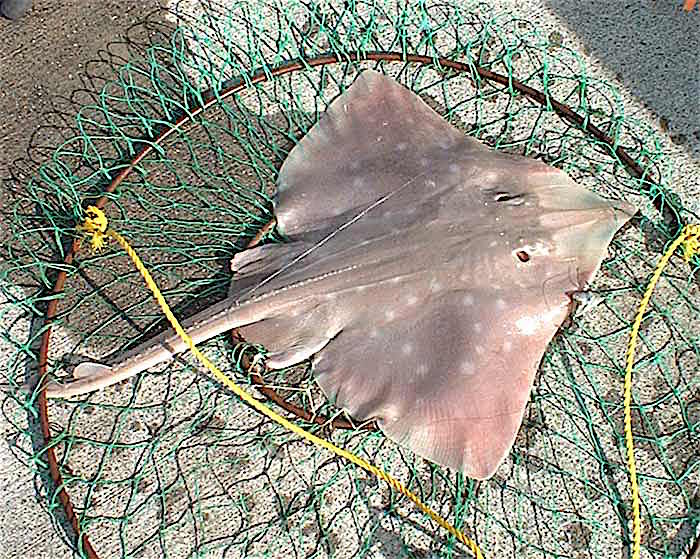 Big skate
Although less sturgeon are caught here than at the nearby McNears Pier, they are still around and some are indeed caught.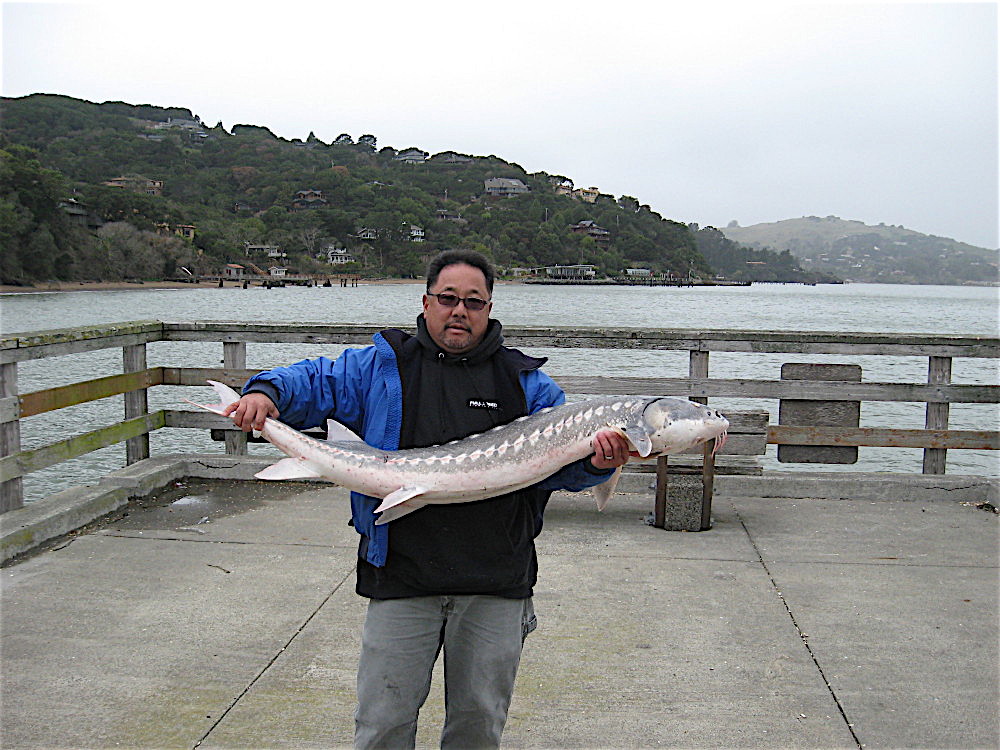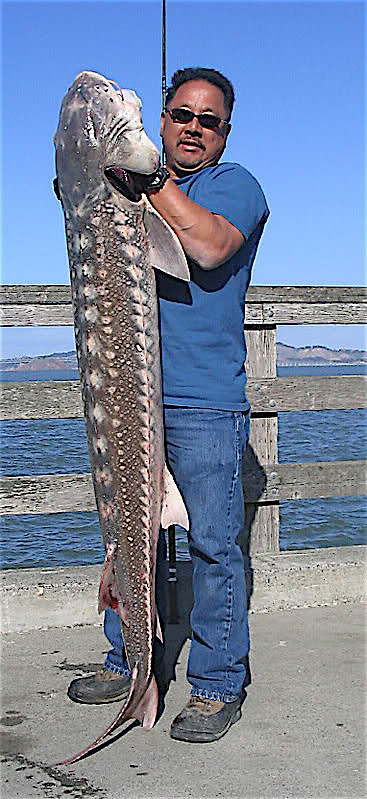 White sturgeon caught by, who else, Mel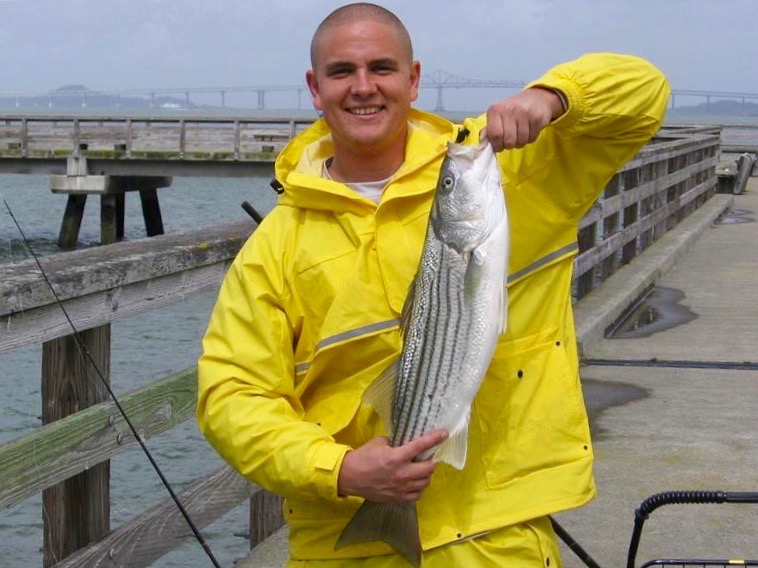 Striped bass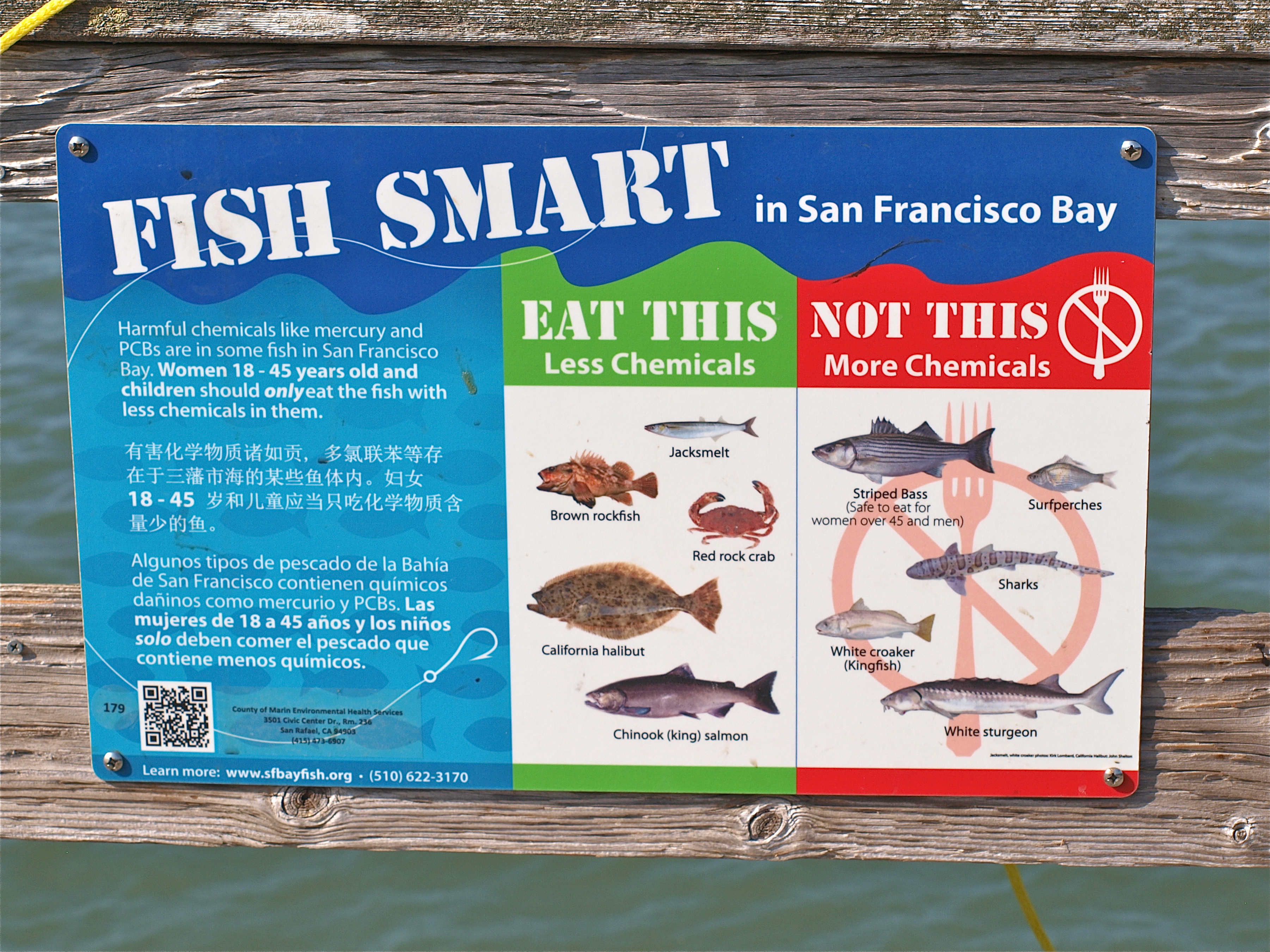 <*}}}}}}}}}>< — Special Bay Area Regulations:
A perch closure exits in San Francisco and San Pablo Bay from April 1 to July 31. No perch may be kept other than shinerperch (20).
In San Francisco and San Pablo Bay a fishing line may not contain more than three hooks.
Sturgeon Regulations:
A sturgeon report card and tags are required for anyone fishing for or taking sturgeon. (a) The card must be in the angler's possession; (b) a tag must be used for any sturgeon retained by the angler; (c) the angler must record information on the Sturgeon Report Card immediately after catching and   keeping or releasing the sturgeon.
White sturgeon can only be kept from 40-60 inches; larger and smaller sturgeon must be released.
Green sturgeon may not be taken or possessed.
History Note. This area has apparently been used for recreation since the 1860s when many San Franciscans made the trip across the bay to picnic at "Paradise Cove," the cove in which the pier sits. The number increased in 1891 when the San Francisco & North Pacific Railroad established "El Campo" (later Paradise Park) as a picnic resort. On almost any day, but especially on Sundays, the company's ferryboat Ukiah would be loaded with visitors. At El Campo they would find a wharf (where you could fish), dance pavilion, merry-go-round, bowling alley, shooting gallery, restaurant, and over 100 acres of picnic grounds. Newspaper articles reported that it was a family resort with a facility for "camping, bathing, boating or fishing, a mild air, warm water and absolute freedom from the incursions of hoodlums."
The area around and adjacent to the cove has a fascinating history. Initially it was a site of a Miwok Indian village. Later, in the early to mid-1800s, much of the land was used for farming by local settler John Reed and his family.
In 1852 Benjamin Buckelew acquired 320 Acres of Reed's land (where Paradise Cay is located today), brought in a shipload of prefabricated houses, and laid out the town of California City. But buyers never really came and California City ceased to exist.
In the 1860s a brick kiln operated in the cove. Next, in 1877 William Lynde and Howard Hough began the L&M Fish Company. Soon after, as many as 20 sailing ships were bringing in cod from Arctic waters. After docking at the "long wharf," the cod would be unloaded and then cured on drying frames. A related specialty was Dr. Fisherman's Lotion for Man and Beast. Their enterprise lasted until 1904.
The area then became the home for a huge U.S. Navy Coaling Station (which, among other things, refueled the Great White Fleet). In 1931, the California Maritime Academy took over that site and then, in 1933, the John Roebling Company bought the adjacent property and began shipping in wire and twisting cable for the Golden Gate Bridge. (This activity, forming the cable for the new bridge, apparently took place at today's park site). One final activity for this area occurred after the U.S. Navy took over much of the cove and peninsula during World War II and established a net depot. The biggest net was a six-thousand-ton, seven-mile-long net made to stretch across San Francisco Bay between Sausalito and Fort Point. During its tenure, the navy built the park's first pier. In 1958, the net depot closed and negotiations began which resulted in the land for the park.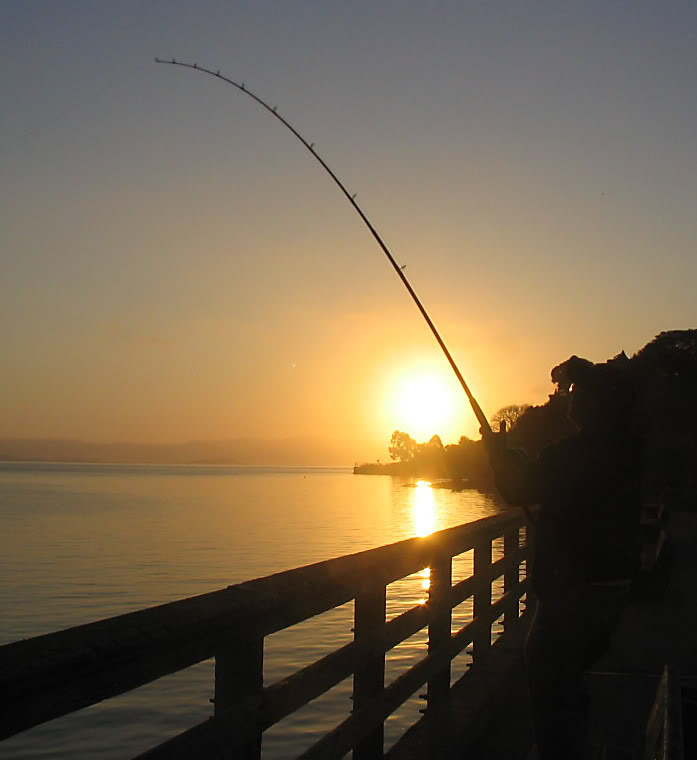 Paradise Beach Park Pier Facts
Hours: Spring/summer: 7:00 A.M. to 8:00 P.M. weekends and 10:00 A.M. to 7:00 P.M. weekdays. Fall/winter: 9:00 A.M.—5:00 P.M. daily.
Facilities: There are benches, water fountains, and fish cleaning sinks on the pier. In the park are restrooms, picnic areas and charcoal grills. Entrance to the park varies: the walk-in fee is $2; cars cost $8-10 during spring/summer; cars cost $5 during fall/winter.
Handicapped Facilities: Handicapped parking (one space). Trails down to the pier are steep but should not be a deterrent. Not posted for handicapped.
How To Get There: Take Highway 101 to the Tiburon exit (State Highway 131). Drive west on Tiburon Boulevard until you come to Trestle Glen Boulevard where you will turn left; follow this until you hit Paradise Drive where you turn right and drive a short distance to the entrance of the park.
Management: County of Marin – Department of Parks and Open Space.