Trouts and Salmon: Family Salmonidae
Species: Oncorhynchus tshawytscha (Walbaum, 1792); from the Greek roots onkos (hook), rynchos (nose), and tshawytscha (the vernacular name for the species in Alaska and Kamchatka, USSR).
Alternate Names: Chinook salmon, black mouth, spring salmon, tyee (large specimens over 30 pounds), quinnat, hookbill, tchaviche, and tshawytscha. In the 19th century these were called quinnat, California salmon, king salmon, choweecha, Sacramento River salmon (by anglers in California) and Columbia River salmon (by anglers in Oregon and Washington). Called salmón boquinegra in Mexico.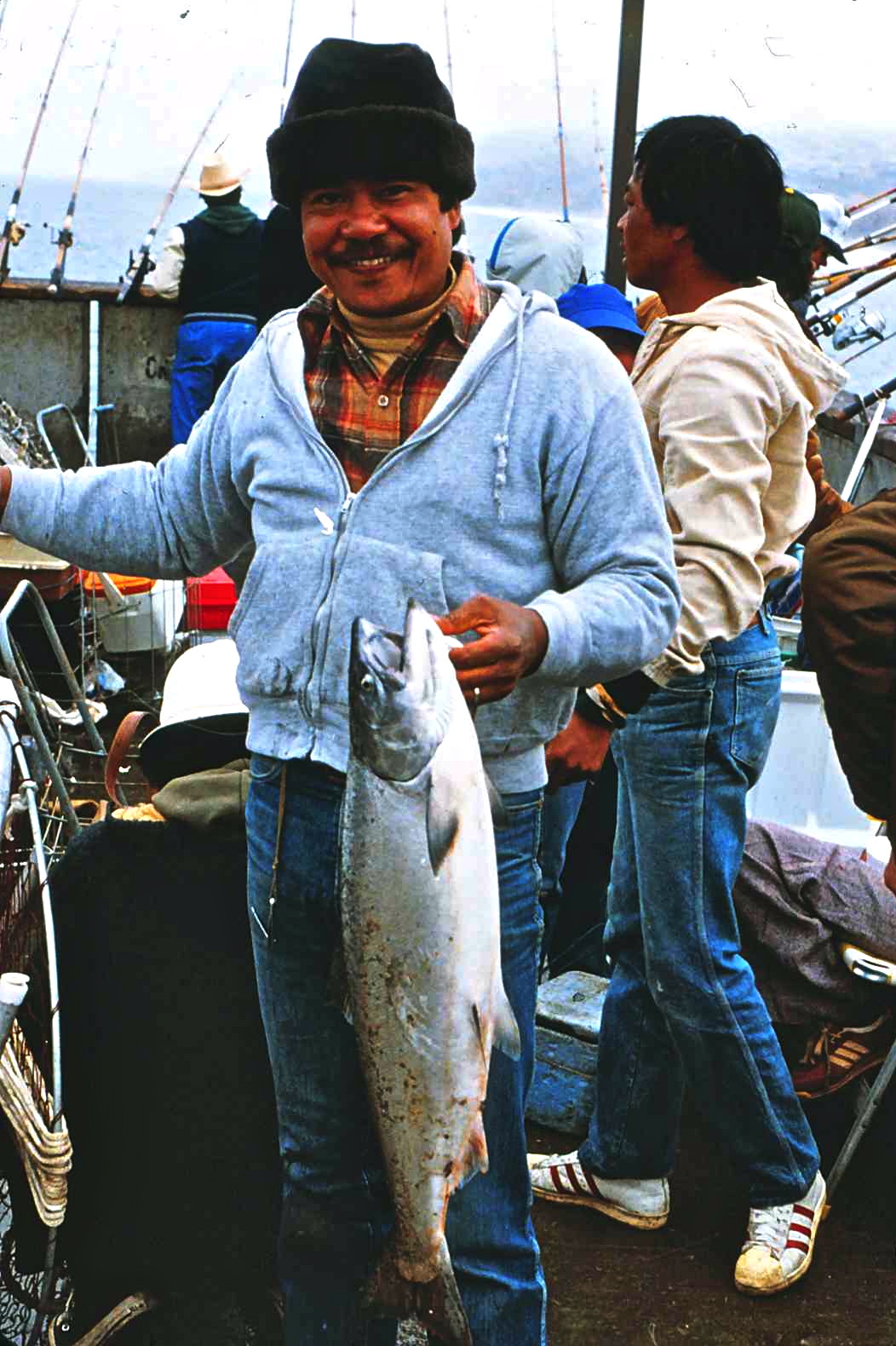 Salmon from the Pacifica Pier
Identification: Body elongate, mouth terminal, large, and teeth moderately sharp. Upper back and all of caudal fin, dorsal fin, and adipose fin have irregular black spots; gums are black at base of teeth. In saltwater their coloring is blue or greenish-blue to gray or black above, silver below. However, when spawning in freshwater their colors change. Males become very dark with smaller fish often a dull yellow. Larger males are often blotchy, dull red on sides. Females become blackish in color.
Size:  Up to 63 inches and at least 135 pounds; most caught from piers are under 20 pounds. The California record for an ocean caught king salmon is 65 lb 4 oz caught near Crescent City in 2002.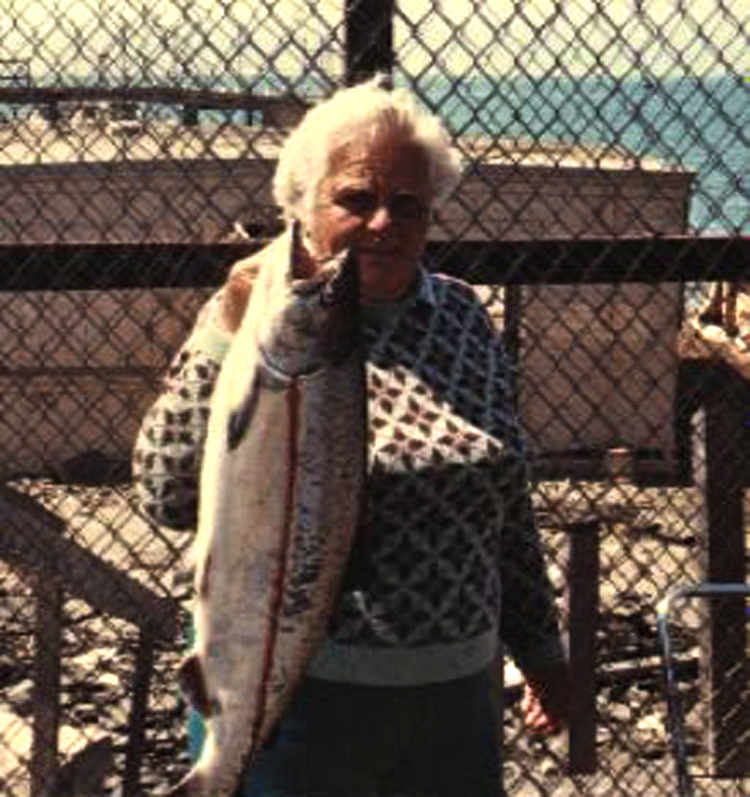 King salmon taken at the Seacliff State Beach Pier in 1997 by Rose Costa
Range: Bahía de Sebastián Vizcaíno, central Baja California, to Point Hope, Chukchi Sea, Alaska, with strays across northern Alaska to the Coppermine River in the Canadian Arctic; along the Asian Pacific coast from the Anadyr River, Russia to Hokkaido, northern Japan. Common from central California to the Bering Sea.
Habitat: King salmon are anadromous, spending part of their life in fresh water and part in salt water. Most of their adult life is spent in salt water before returning to their home stream, spawning, and dying. In the sea they are found from the surface down to a recorded depth of 1,765 feet.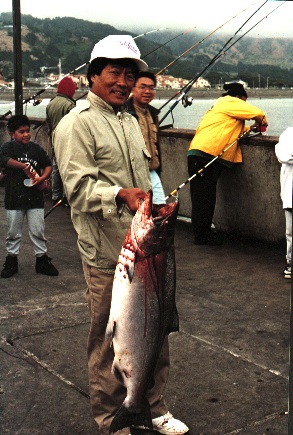 King salmon from the Pacifica Pier
Piers:  As a general rule, few king salmon are taken from southern California piers. However, I witnessed the catch of an unidentified salmon at the Balboa Pier one morning and Snookie, the expert on the Newport and Balboa piers, once caught a ten-pound king salmon at Balboa. She reports she has seen several king and silver salmon taken at both piers. Perhaps their proximity to the deep water Newport Canyon and its cold waters helps explain the salmon. Two additional king salmon were reported to PFIC, one at the Hermosa Beach Pier and one at the Santa Monica Pier. Most of the king salmon caught from California piers are taken in central and northern California. In central California they primarily are seen between Monterey Bay and San Francisco Bay. Best bets: Monterey Wharf #2, Seacliff State Beach Pier, Santa Cruz Wharf, Pacifica Pier and Fort Baker Pier. Top piers in northern California would be the Point Arena Pier, Trinidad Pier, and the B Street Pier in Crescent City.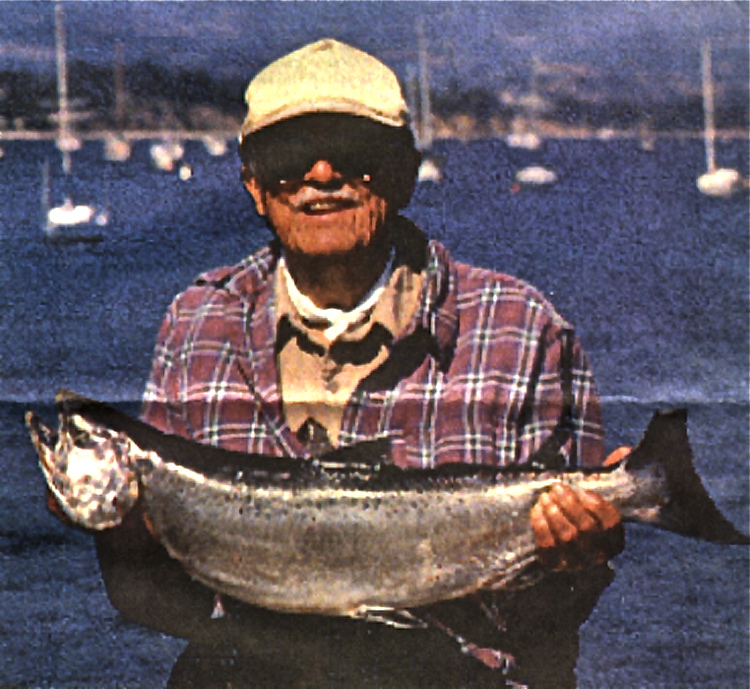 11-pound king salmon caught at Stearns Wharf by 90-year-old Sittin' Bill in 1994
During some years large runs of salmon take place at Pacifica where as many as a thousand salmon have been landed in a single day. Runs generally start in late June or July and can run for a month or more. In the fall, when the salmon move into the Carquinez Strait on their way upstream (to the Sacramento and San Joaquin Rivers),  they are frequently caught at both the Benicia 1st Street and 9th Street piers. However, far more salmon are landed by anglers casting from the nearby shoreline areas
Shoreline: Generally not taken by shore anglers in ocean areas but caught by anglers in the Carquinez Strait and in streams and rivers.
Boats: A major goal of boaters from Avila north to the Oregon Border.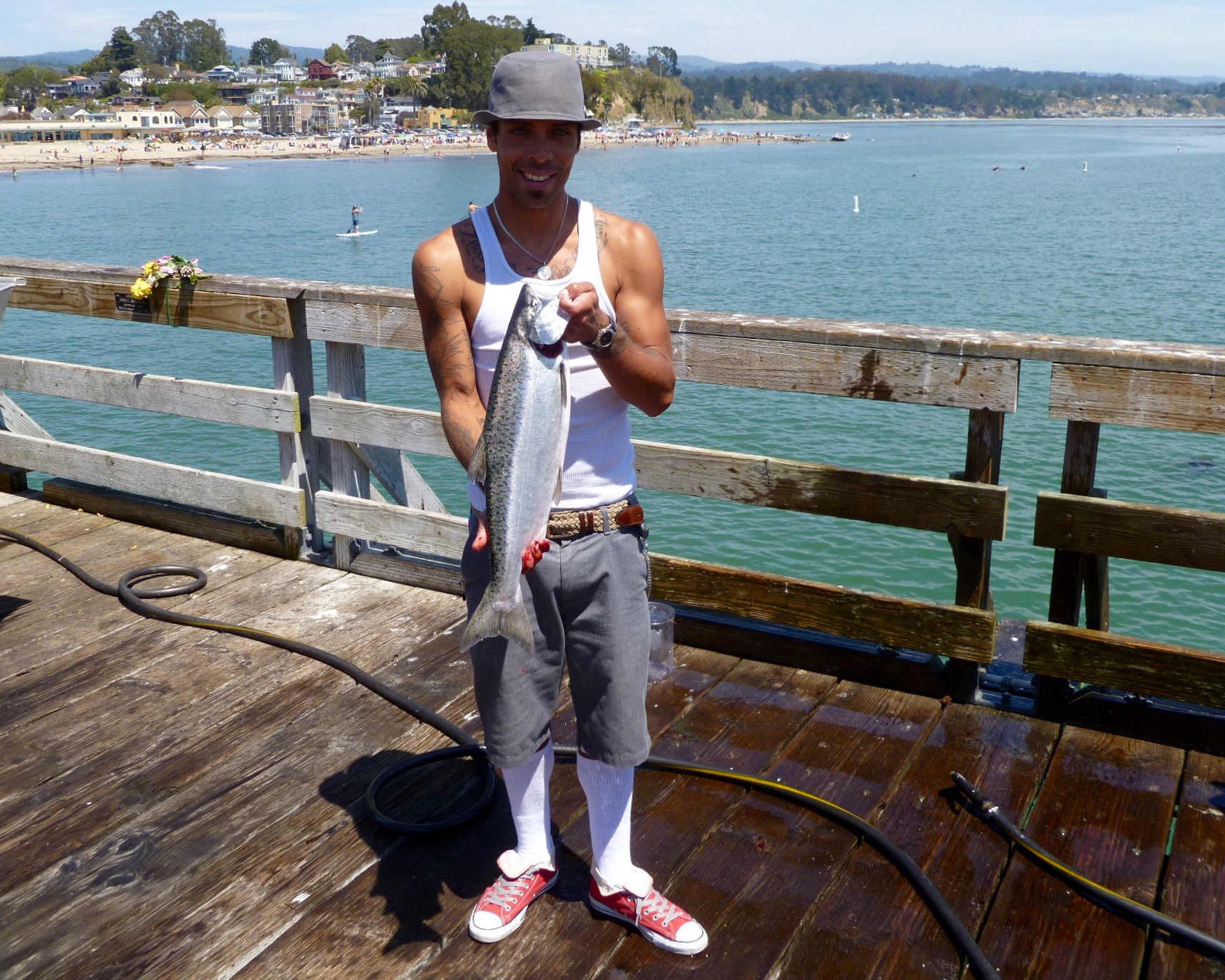 King salmon from the Capitola Wharf in 2012
Bait and Tackle: Live bait is generally the best bait for piers. Usually this means using whatever you can catch via a throw net or a Sabiki (which can injure the fish). Most commonly a small smelt or shinerperch is used although small herring, sardine or anchovy are even better. A second approach is to use a whole dead anchovy on a live bait leader; a float is used in conjunction with a short leader to keep the bait floating just below the surface. It's a different story when the salmon have moved upriver. By the time they reach the waters at Benicia they have quit eating and are primarily caught on lures. A panoply of lures are used but the favorites at Benicia seem to be spinners — Mepps #5 Aglia or Aglia-e, Mepps Flying C's (various colors but especially green/yellow), and Vee Zee spinners (made and sold at Benicia Bait & Tackle). Spoons such as Kastmasters Krocodiles also are favored by many.
Food Value: Excellent! One of the best tasting fish in our waters. Rich, dark orange meat with a high fat content. One of the best fish for baking, broiling and smoking.
Comments: Salmon are the most prized of the Pacific northwest fish and Chinook or Kings are the most prized of the prized. Although typically uncommon on piers, they one of the favorite fish for pier anglers. Beginning in the mid-'80s, and  occurring several times since, the Pacifca Pier has seen tremendous runs of salmon, primarily king salmon. Some weekends have seen over a thousand fish landed and naturally when that happens  the rails will be lined with anglers. Nevertheless, the results can be worth the hassle.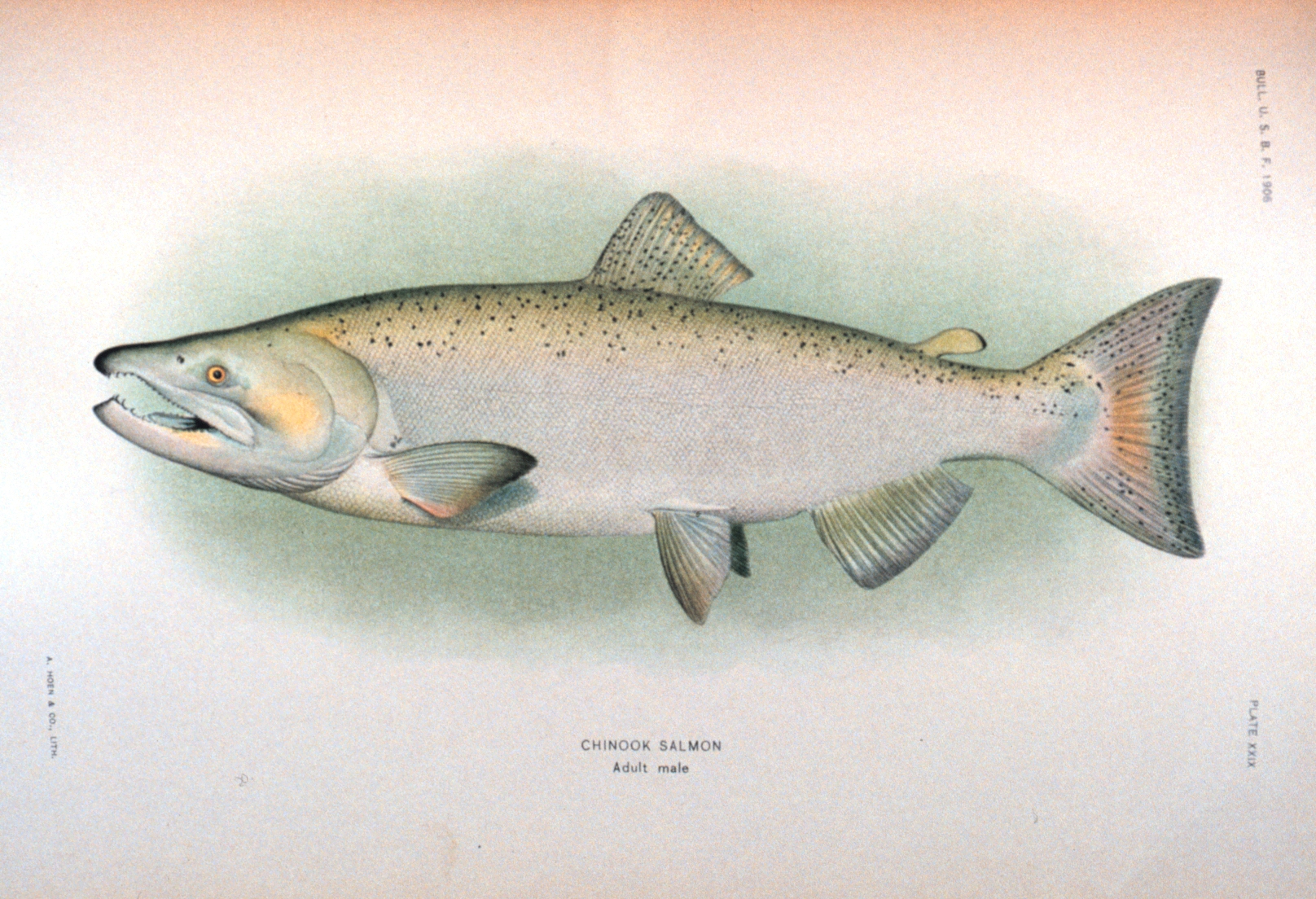 Male King Salmon — NOAA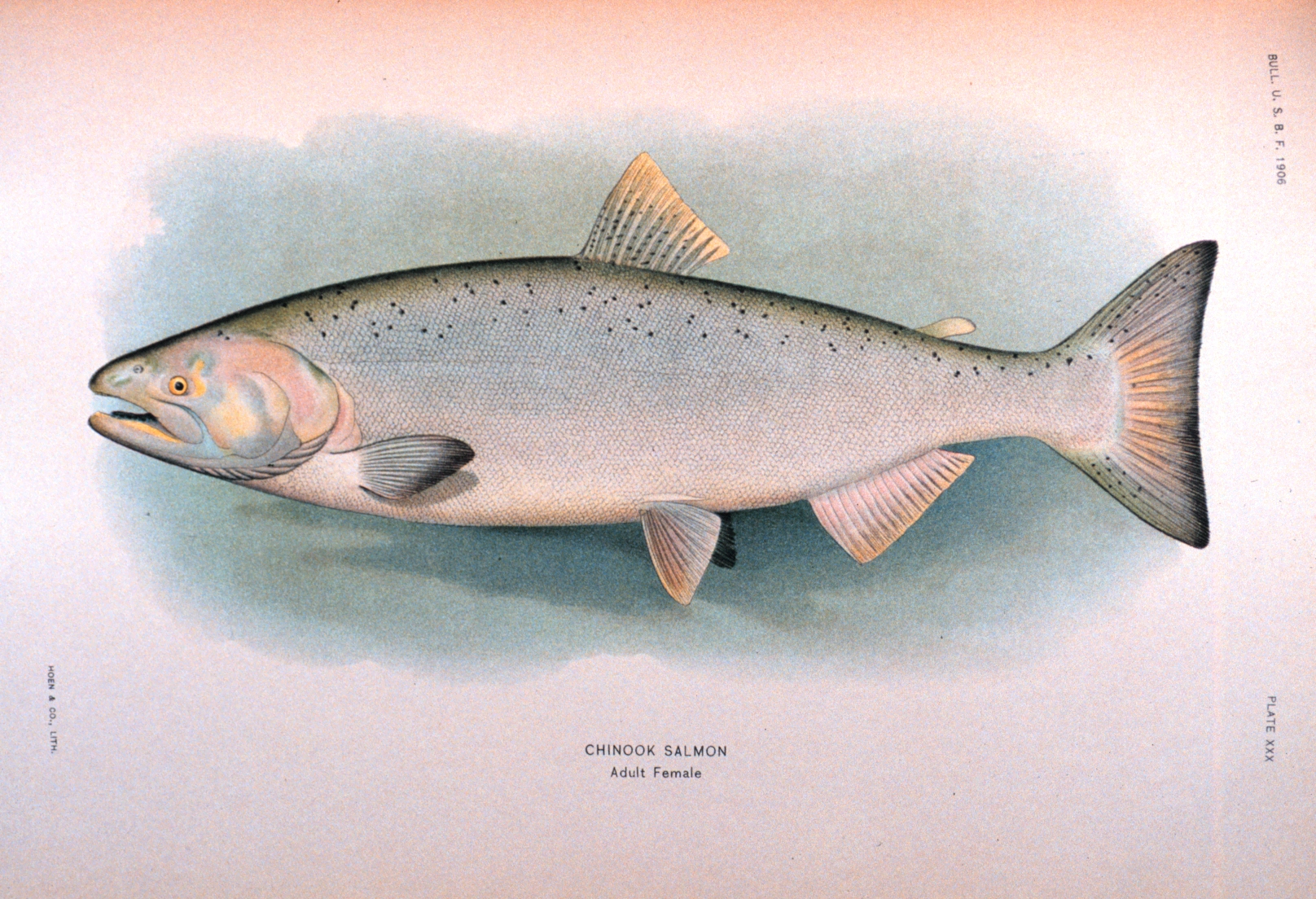 Female King Salmon — NOAA
Some pier caught king salmon
51 Lbs. — Pacifica Pier, July 2002 — Source: Pacifica Bait Shop/PFIC
≈ 50 Lbs. — Pacifica Pier, September 1998 — Source: Community Bait & Tackle (Pacifica)/PFIC
38 Lbs. — Paradise Park Pier, Steve Hay, July 28, 1975— Source: Fish and Game, Al Giddings, San Rafael Daily Independent, July 29, 1975
35 Lbs.* — Oakland Long Wharf, "Porky" Thomas, December 29, 1911—Source: Oakland Tribune, December 31, 1911 * Reported as a "Steelhead Salmon" — probable king salmon
≈ 30 Lbs. — Redondo Wharf #3, Sam Porter, October 24, 1925—Source: Los Angeles Times, October 25, 1925
25 Lbs. — Santa Monica Pier, September 1997— Source: Santa Monica Pier Bait & Tackle/PFIC
17 Lbs. — Berkeley Pier, June 1997—Source: Berkeley Marina Sports Center/PFIC