Date: July 24, 2004; To: PFIC Message Board; From: skrilla; Subject: IB Pier 7/23 bonito, sharks, rays…
Well, got to Imperial Beach pier on Friday at noon with my brother and his friend. We set up at the end behind the restaurant. First half hour was depressing. No fish in sight. I was thinking of calling it quits until all of a sudden we see huge schools of sardines come up from the bottom. I mean they swarmed the whole pier. Birds started diving miles up and down the coast. Moment's later schools of mackerel show up going up to 14 inches in length. Mackerel after mackerel all day with jacksmelt mixed in till the sun went down. Saw a fair amount of bucketfuls throughout the day. Saw many bonito attack the pier every now and then too, most being little 1-2# class fish. We used 3/8 oz Krocs to get them because they were only taking jigs. Lots of shovelnose taken from mid pier to the end, biggest one going over 20#. Saw a nice mako, thresher, and also a nice 32-inch halibut all taken towards the end of the pier. Didn't really see much going on mid-pier but heard of a few yellowfin croaker taken. As soon as the sun started setting we looked down and saw literally hundreds of rays heading out to sea. I managed to catch one off the bottom. Weird seeing so many rays just feet off the surface all heading out to sea. I wonder what they're up to. And to end the day we see a nice pod of dolphin come and play for a bit. All in all today was one of the best days I've spent on a pier. Reminds me of the El Nino days of '98.
[This large assemblage of rays is somewhat common and is called "a fever of rays]
Date: September 4, 2005; To: PFIC Message Board; From: jmobfishen; Subject: Imperial Beach Pier Sat 5pm 10:30pm
First time here. We hit the pier at 5:30. Fished at the beginning of the piers incline and on the right side. First cast my girls Ash and Alex were pulling in nice size sardines, which I immediately live, hooked on the big poles. This went on till sunset. I had had a few hits but no big fish, but then the clicker started rattling and a hook was set. And though I have caught many rays up north in the bay and ocean this was a new one for me. One guy on the pier referred to it as a butterfly ray….hhhmmmm. Not sure…. definitely different no real tail, very light in color not nearly as dark as most rays I've hooked. 25 to 28 in wing span 10 to 15 lbs with a decent fight in it. Once the sun was down it switch from dines to small queenfish/croakers, lizardfish and few smelt and macs mixed in. And right before we were going to leave Ash reels in a 2-ft plus eel. Not sure what type. I have seen a few moray's hooked on OB and this one was very different much stiffer of a body. It's gonna take me a bit to become familiar with some of the different variations of fish caught up on the central and north coast areas. We fished till 10:30. No other big fish hooked.
Here's the totals—50 plus Sardines; 10 to 15 macs; 10 plus Lizards; 10 to 15 queens; 2 small perch; One interesting "butterfly ray"; One even more interesting 2-ft non-moray eel of some kind; All released except for dines and a few macs and smelt for bait.
Date: August 30, 2007; To: PFIC Message Board; From: Ken Jones; Subject: I heard an angler caught a "live" hand grenade…
at the Imperial Beach Pier on Wednesday. Apparently the bomb squad came out and disarmed it. Now that's a catch and I'm surprised no one got hurt. BTW, how can you have a "live" hand grenade in the ocean? Wouldn't they degrade? Of course I don't know how long it was there. AND, how did it get there?
Posted by: SturgeonSlayer23
THIS should be "The Deadliest Catch"
Potpourri — Perhaps more than you want to know about the Imperial Beach Pier
<*}}}}}}}}}>< —  The pier makes a beautiful setting for pictures —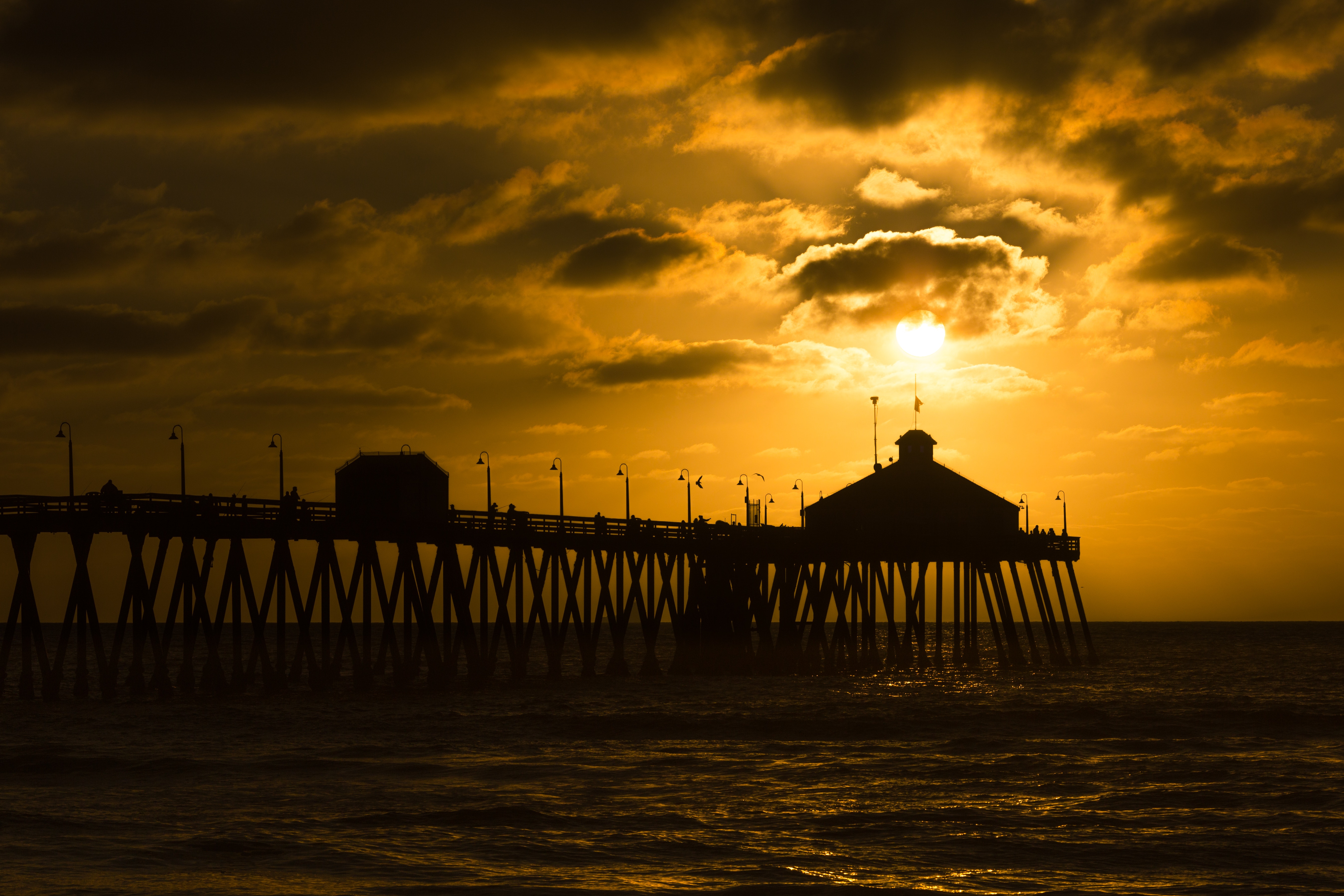 Picture by Patrick Fore and Upsplash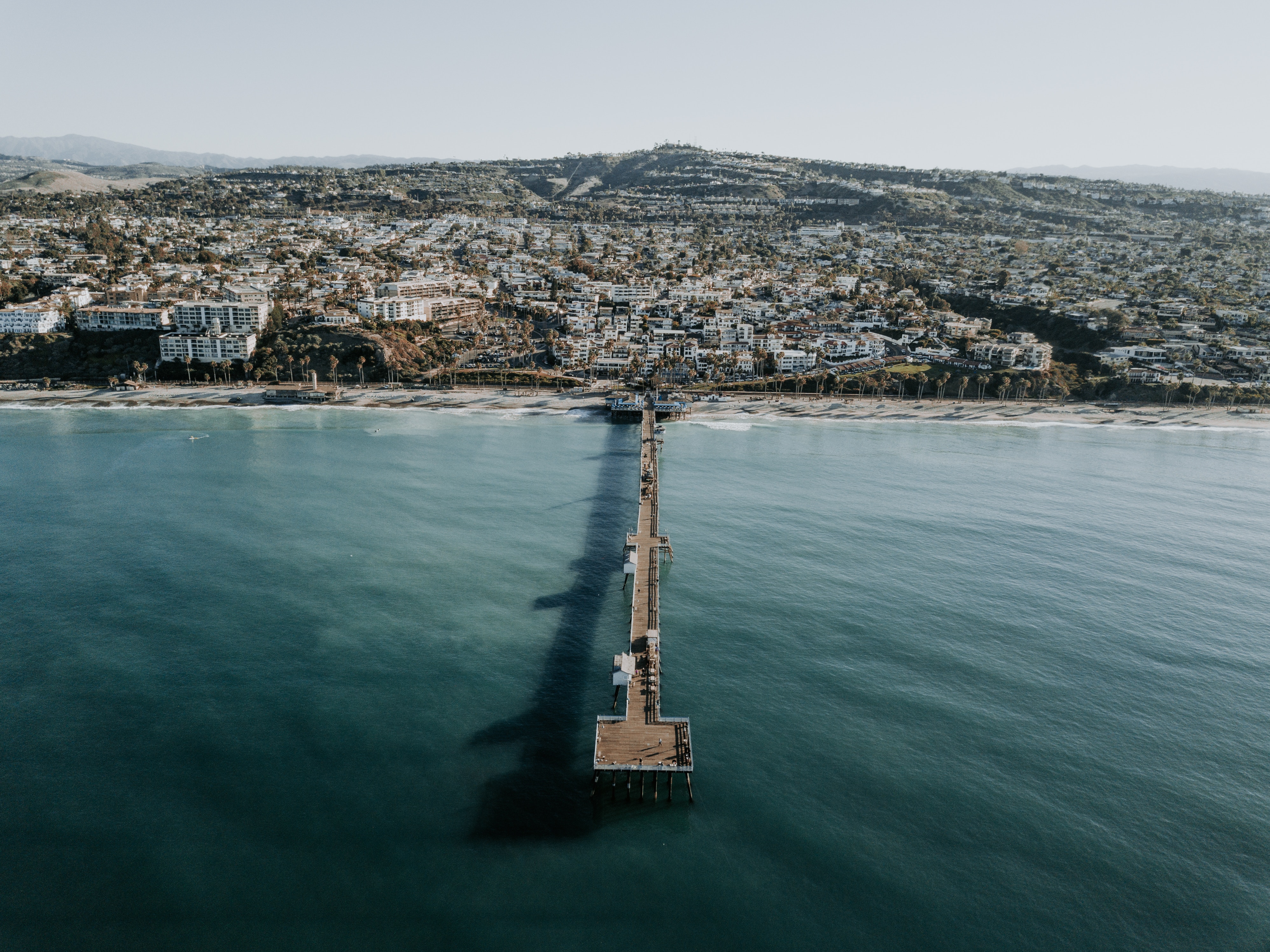 Picture by Jessi Pena and Upsplash
A couple of photographic sites —
https://www.flickr.com/photos/samantonio/26753231899
http://www.oceanlight.com/log/imperial-beach-pier.html
<*}}}}}}}}}>< — Fish surveys done by the California Department of Fish and Game from 2004-2009 showed a large number of species, 34, at the pier. Leading the list numerically were several schooling species, some of which were present during warm waters years but totally absent other years. The fish (listed numerically)  — Pacific sardine, Pacific mackerel, jacksmelt, bonito, walleye surfperch, queenfish, northern anchovy, barred surfperch, topsmelt, yellowfin croaker, white croaker, jack mackerel, barred sand bass, black seaperch, shinerperch, spotfin croaker, silver surfperch, rubberlip seaperch, corbina, bonefish, California scorpionfish,  sargo, spotted sandbass, calico surfperch, white seaperch, halibut, white seabass, cabezon, striped mullet, speckled sanddab, pileperch, shovelnose guitarfish, thornback ray and Mexican scad. Interesting are the number of bonefish (rarely reported), the small number of halibut, pileperch and sharks reported, and the total lack of any kelp bass. As mentioned, the very high number of schooling fish caught when present, i.e., sardine, can also give somewhat misleading figures.
<*}}}}}}}}}>< — The number one problem at the pier (in my opinion) is city officials! Surfers and swimmers are supposed to stay away from the pier but some do not follow the regulations. Instead they yell bloody murder if they swim in among the fishing lines and get hooked. In response the city places more and more restriction on the inshore surf area of the pier, the prime area for anglers to catch corbina and croaker. Perhaps the city forgets the role anglers played in helping the pier get built and the role of the California Wildlife Conservation Board?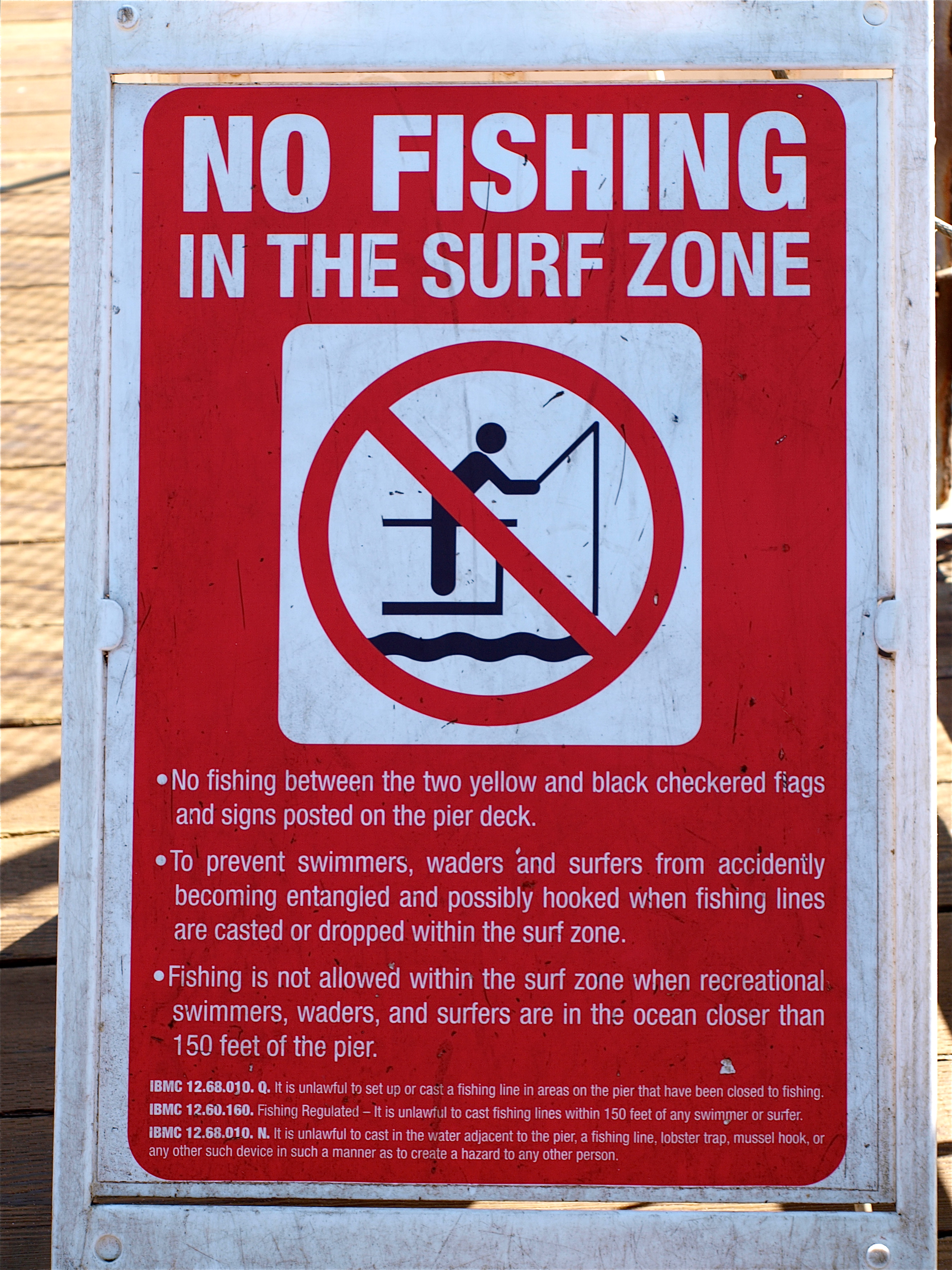 <*}}}}}}}}}>< — One day I received the following message from paul_e_easter who worked for the California Department of Fish and Game. It said: "Over the last couple of years the ROADNet project has deployed multiple high resolution cameras throughout San Diego county that automatically take photos at pre-specified rates. These photos are transmitted to a real time database here at SIO via the HPWREN project, and then displayed on the web via a Real Time Image Bank. The cameras operate 365-24/7. Last night's storm was recorded by the cameras, and there is one great image that captures lightning striking the Imperial Beach pier:"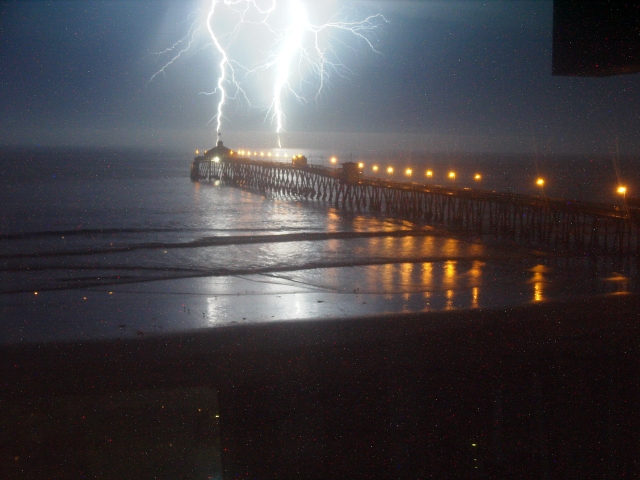 What a great picture!
<*}}}}}}}}}>< —  Are there still some big fish around the pier? I guess the answer is yes! As reported by several sources, a huge white seabass was taken at the end of the pier in October 2014. The fish appeared to be over 50 pounds and apparently it was taken on a live sardine being used as bait for a thresher shark. As reported on Oceanic Angler: "LONG-TIME I. B. PIER regular known simply as 'Oyuki' among locals recently hauled this monster white seabass on to Imperial Beach Pier. The big biscuit easily buried the 50-pound scale he attempted to weigh it on."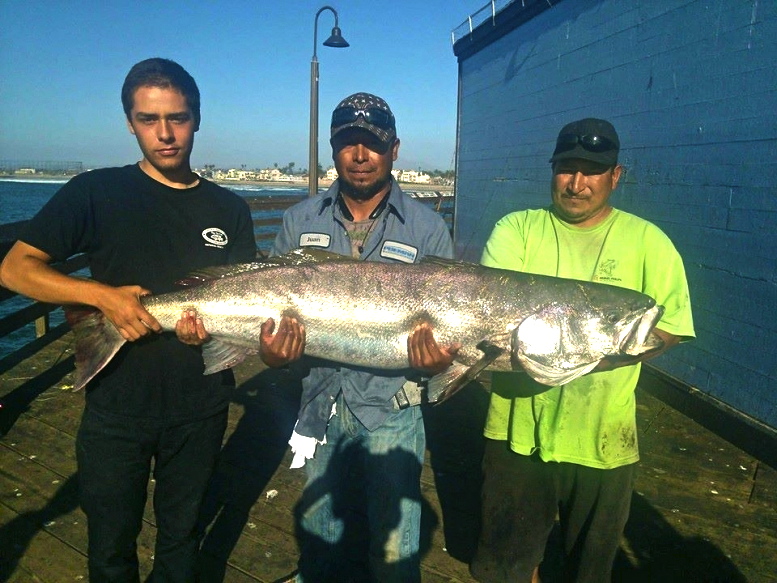 Picture of the white seabass (courtesy sdfish.com).

<*}}}}}}}}}>< — If the pier looks familiar it may because you saw the 2004 movie "Lords of Dogtown," a movie based upon a fictionalized version of the 2001 documentary "Dogtown and Z-Boys." The movie tried to recreate the look and feel of Venice Beach and its "Dogtown" in the '70s, a time when a group of surfers co-mingled their surfing and skateboard attitudes (and skills) to create the new skateboard culture. The I.B. Pier and surrounding area were used for six weeks in the production.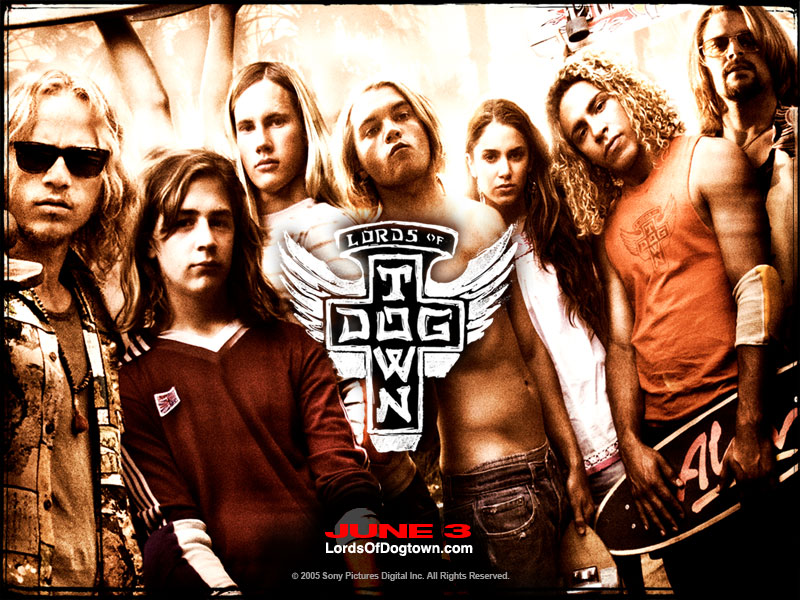 <*}}}}}}}}}><  — One of the traditions at this pier seems to be locals making hand-made bait rigs and offering them for sale. Almost every trip I've had to the pier has seen anglers asking if I am interested in buying the rigs, $3 each or two for $5, and they are good rigs, generally superior to the Sabiki rigs seen in most stores. You might want to try one.
<*}}}}}}}}}><  — Although it's a non-fishing activity, every July sees the U.S. Open Sandcastle Competition held near the pier. The sculptures can be amazing and deserve a visit on your way to fishing, coming from fishing, or totally ignoring fishing (although you still have to visit the pier). It's the nation's largest such competition and upwards of 200,000 people come to see the artistic creations. Arrive early to avoid traffic/parking jams.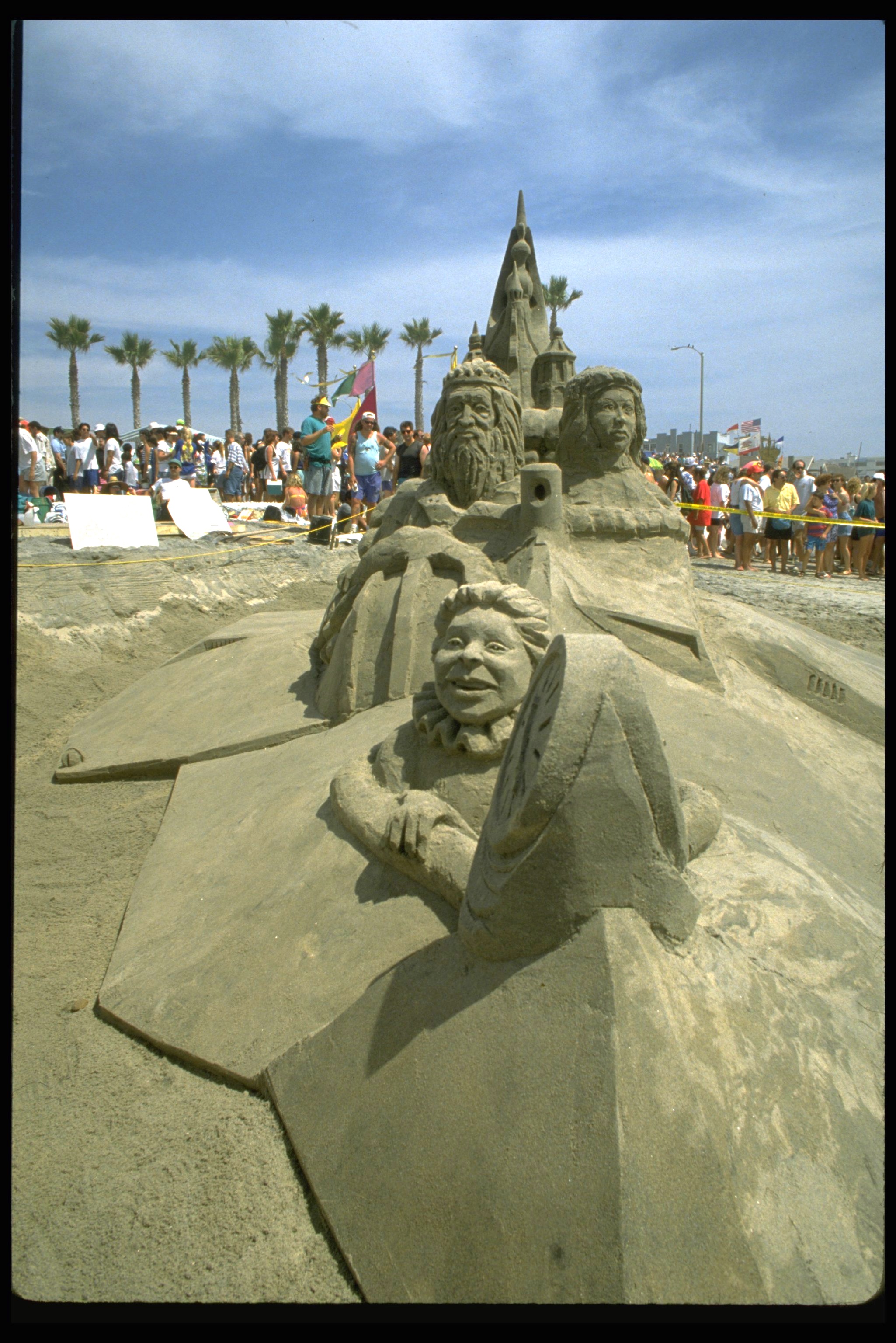 <*}}}}}}}}}>< — One of the sights you may notice from the pier is a large stadium that sits just 30 yards across the border with Mexico. The stadium is Tijuana's last remaining bullring. Its official name is Plaza de Toros Monumental de Tijuana, its unofficial name is Plaza Monumental de Playas de Tijuana or Bullring by the Sea. It sits next to the beach, dates to 1960, and has a capacity of 21,000 spectators. It is Mexico's second largest bullring. Supposedly it is "a stunning example of Post Modern Classical Architecture."
<*}}}}}}}}}>< — This is one of the few piers where I witnessed anglers using bow and arrows to fish although that practice is now at an end (at least at IB). The anglers (if you can call them anglers) primarily shot halibut, corbina, guitarfish and large mullet in the inshore surf and were pretty successful. Opposition from surfers (who aren't supposed to be near the pier anyway) and tourist-minded officials led to a prohibition against the practice. I thought I was the only person reporting this news (PFIC 1st and 2nd Ed.'s) until I saw the following newspaper story. I imagine a few more people knew about it after the story. BTW, should I tell him he's using the pier totals from the 1992 PFIC that are outdated and that it's corbina, not corvina?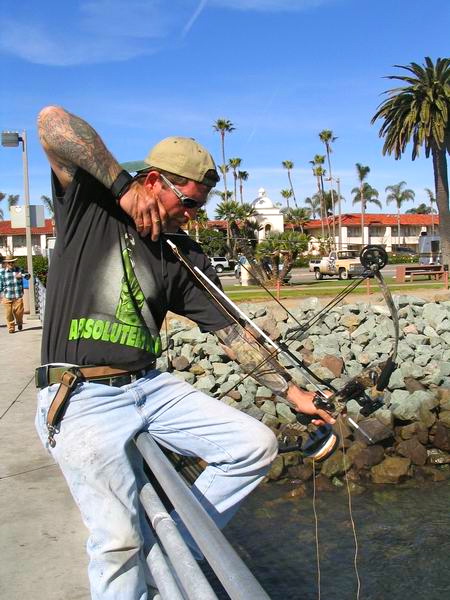 Bow fisherman — picture from the Shelter Island Pier but same person and bow
As Bowmen Hunt, Surfers Feel Like Targets
Imperial Beach, Calif., Nov. 13—There are 92 public piers along the California coast. Fishermen of all types inhabit them, but on only one, here in Imperial Beach, the last town before California succumbs to Mexico, is hunting fish with bow and arrow allowed.
On most days and nights, a handful of bow fishermen take up stations on the 1,500-foot-long pier, staring down with arrows ready for the telltale shadow or flash of scales of the corvina, or white sea bass, their most prized prey.
The ocean currents occasionally bring swimmers and surfers within the bowfishermen's range, setting off angry confrontations, although no humans have yet been impaled. But Imperial Beach officials, reflecting the town's rough-and-tumble character, have so far refused to ban the sport despite repeated protests from surfers and lifeguards.
Although the prime corvina feeding season had passed, Blake Jacobson was out recently with his bow watching for whatever might swim among the pilings. A school of mullet might occasionally pass, or a shovelnose shark, a stingray or a confused salmon too close to shore.
"Give me a big, fat, slow dumb guy, that's what I'm looking for," Mr. Jacobson said, his gaze never lifting from the water. His friends call him Blake the Caveman, and it is not meant as an insult. His hands are thick with calluses, his legs covered in scabs and bruises. He wears a torn black tank top with a tarnished silver fishhook necklace around his sun-reddened neck. His face looks as if his beard got the better of his razor some days earlier. He makes a living as a hand on an sport fishing boat, using traditional tackle.
On this day, he is wielding a compound hunting bow, modified with an open spool holding 350 yards of 100-pound-test monofilament. The arrow attached to the line leaves the bow at 300 feet per second, and if a fish happens into its trajectory, the tip will run right through it unless deflected by fin or bone.