Although the scorpionfish is commonly called a sculpin it is actually a member of the rockfish family. A true sculpin, the cabezon, is also occasionally caught at the pier, most commonly out toward the end and often down around the pilings. Fresh mussels, squid, bloodworms, market shrimp, ghost shrimp and cut bait will all work for the "king" of the sculpin.
Although fairly uncommon, a few lingcod have also been caught in this area (try a live bait such as a small queenfish).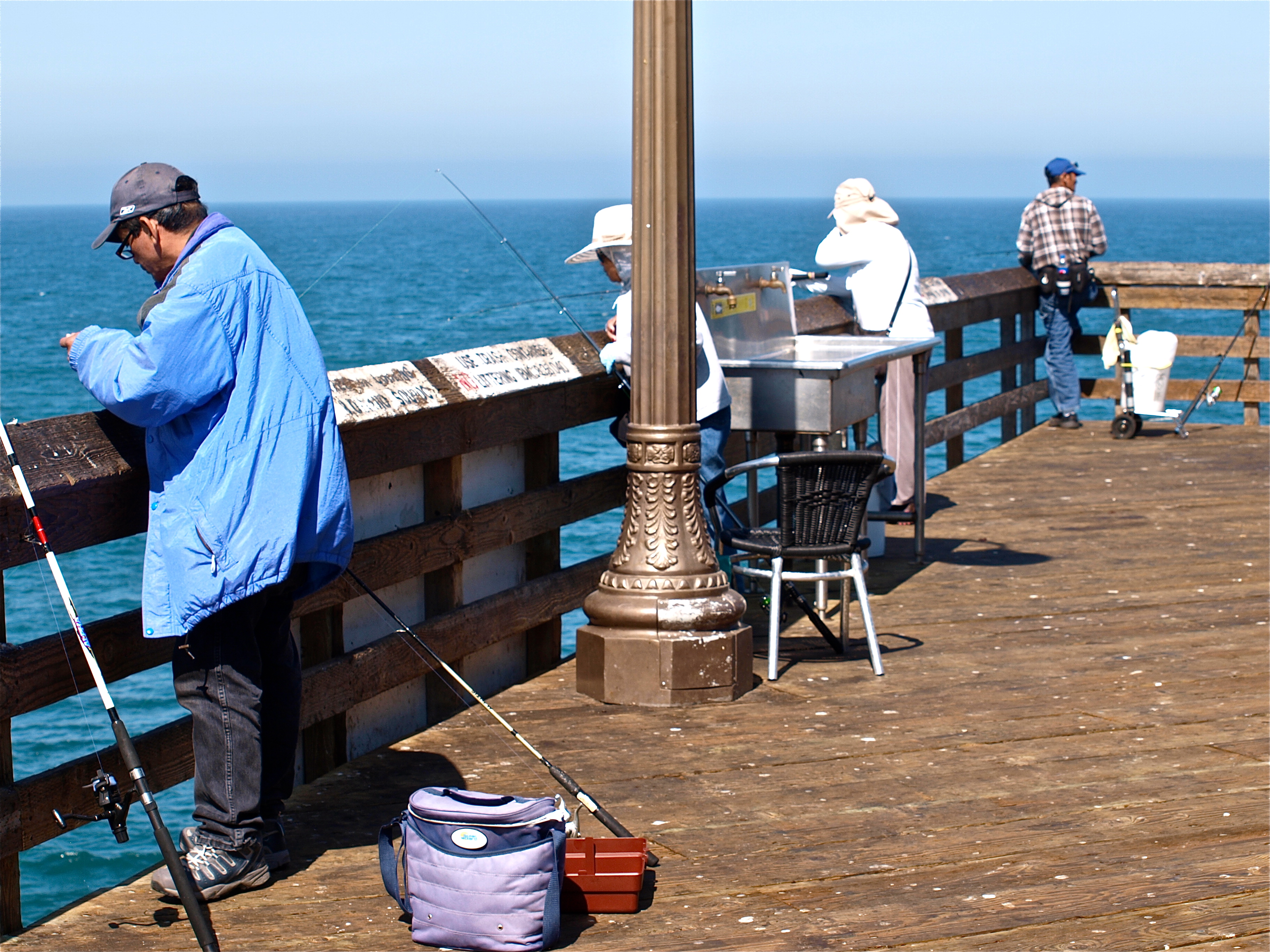 At the end
This deeper water area is also generally the best area for the larger sharks and rays as well as the sharkers — the guys seeking out the bigger sharks. Although most of the sharks will continue to be such species as  leopard sharks, shovelnose guitarfish (aka shovelnose sharks), or bat rays, the sharkers for the most part really are seeking out the large thresher sharks or something even larger (perhaps a 7-gill shark, a mako shark, or even a blue shark). Thresher sharks 6-10 feet in length are fairly common and large 7-gill sharks were taken in both 2015 and 2016. Although still a relatively rare sighting locally, a great white estimated at 16-18 feet in length by shark experts was seen close to shore in 2012. The great white of course is illegal to pursue, catch or keep.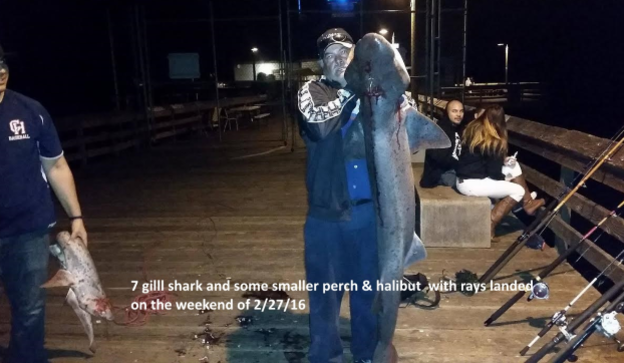 7-Gill Shark caught in 2016
Even though the numbers and sizes of most of the sharks aren't that large, that doesn't stop the stories. One day my son Mike and I were calmly catching fish at this pier when a stranger walked up and asked if we minded sharing the area. Of course, we didn't, and it turned out to be a wise decision. We were enthralled as we listened to some of the most interesting stories we had heard in a long, long time. The stories involved tuna boats, helicopter jobs (and crashes) in Africa, spies, insurance fraud and similar far ranging subjects. Apparently suffering from paramnesia, the veracity of the stories was unclear but the forceful and flamboyant nature of the teller was never in doubt. He said he lived nearby and was out on the pier to catch a tiger shark. "You know," he said, "a number of huge sharks have been caught off of the pier." To catch them he came equipped with a truly heavy pole (one better suited for fighting a marlin from a boat), a huge Penn reel, and a wire leader equipped with, I would guess, about a 16-0 hook. He stuck a whole mackerel on the hook, tried to cast it out (not too successfully), set down on the lawn chair he had brought, opened a beer, and then regaled us with his stories. After an hour, and no bites, he bid adieu! As said, large sharks are occasionally caught here but most often it's a thresher or a 7-gill and you only need medium to light-heavy tackle, not the monster tackle he possessed.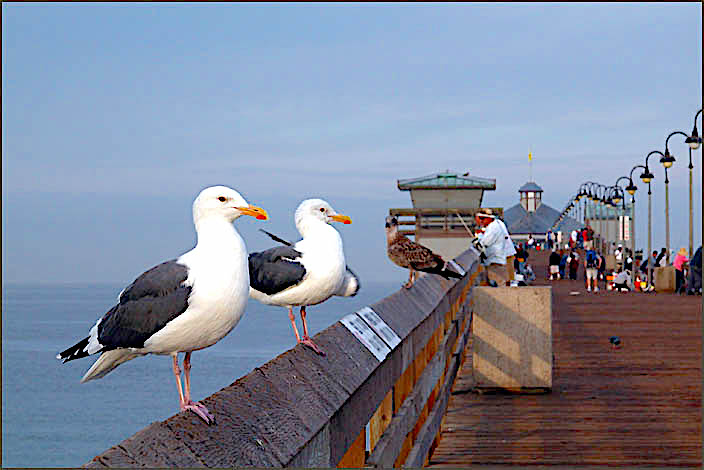 Another time, Mike and myself were fishing out toward the end the pier and catching far too many mackerel. In fact, we became somewhat bored given the ease with which we were catching fish. We finally decided to move to the shallower waters to see if we could catch some croakers or perch.
Just inshore from the restroom area stood a petite lady catching queenfish. She would cast out her leader, a multi-hook affair, let it bump the bottom, give a couple of jerks, and pull in a fish on nearly every cast. We fished next to her for ten minutes without a fish. Finally, this famous pier fisherman and author (yours truly) wandered over to her to see what she was using. She said she had the right jigs! The leaders were homemade and she sold them for $2 each. Unwilling to be further embarrassed, two of the leaders were purchased.
Author and son tied on the leaders and soon both were catching the queenfish; although the first fish caught was a small bonito that had the unfortunate audacity to strike the leader. Each leader had a number of green-colored flies with size 4 gold-colored hooks. I've used similar multi-hook leaders, and seen others use similar leaders, but I had never seen any leader work quite as well as those that this little 'lady' made.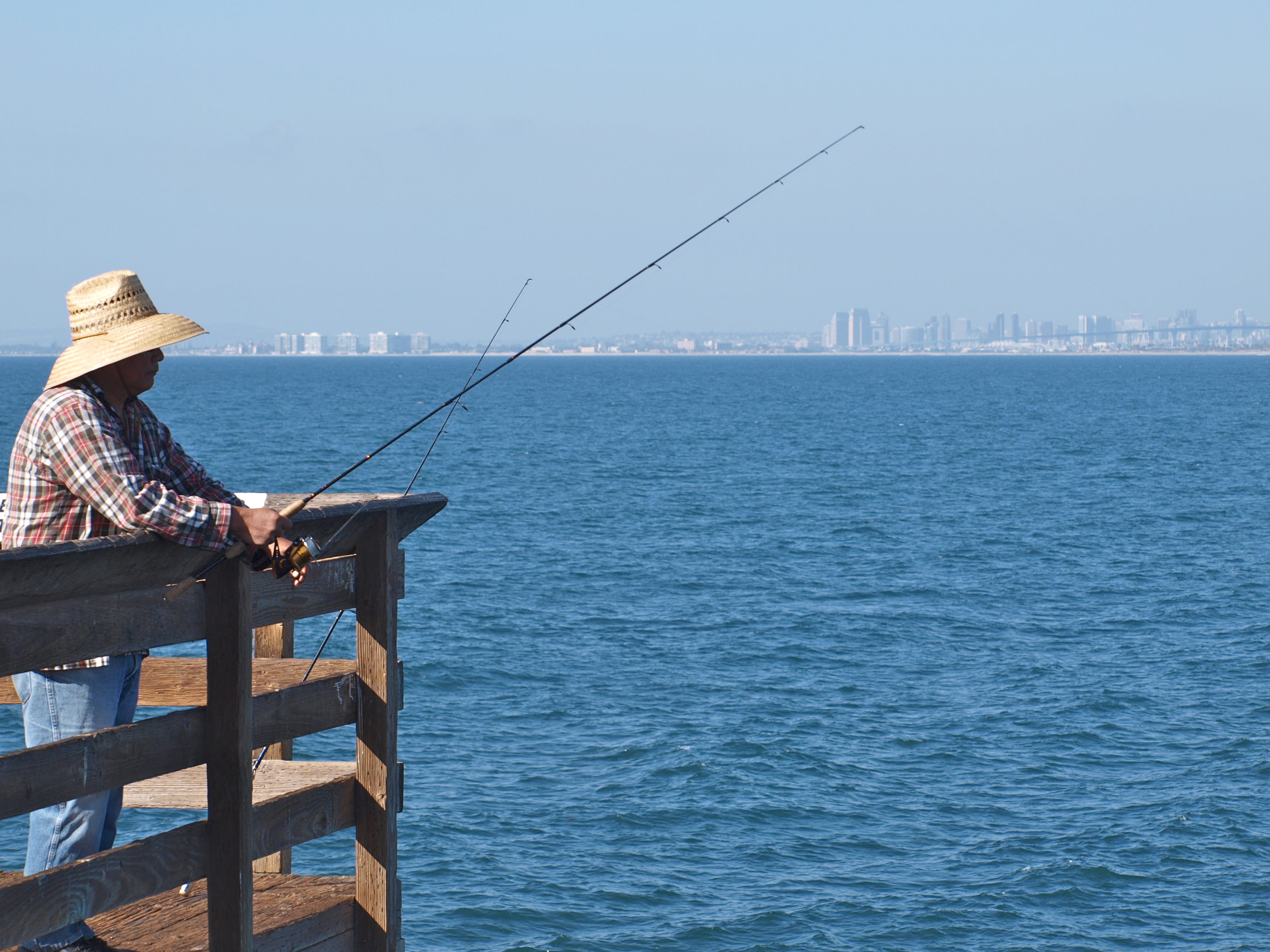 It's only a short distance to San Diego and its increasingly impressive skyline
Almost every area of the pier, from the surf line to the end will often see huge schools of the smaller pelagics—mackerel, jacksmelt and sardine. All three can be in evidence throughout the year although jacksmelt numbers always seem to peak during the winter months.
Sardines were rarely seen for decades due, most thought, to over fishing by the commercial fisheries, but they began to see an upsurge in numbers in the early nineties before once again plummeting around 2010. However, their numbers once again seem to be on the rise.
Although mackerel numbers were somewhat low in the 1960s' (when the number of bonito was amazing) they've been around in large numbers almost every year since the late '60s.
Sometimes all three species are present and you can usually be assured of good  numbers of fish if you are seeking them out. Sibiki bait rigs have become the favorites for all three  although I only use the Sabikis for sardine. For mackerel and jacksmelt, I prefer a high/low rig with size 6 or 4 hooks and a one-ounce torpedo sinker on the bottom. When using a Sabiki you normally do not need any bait. However there are times with both the mackerel and jacksmelt want a little piece of bait on the hook. I've always used pieces of mackerel or a small strip of squid for the mackerel while jacksmelt take a variety of baits—bloodworms, small pieces of market shrimp or a cut piece of fish.
Of course sometimes the mackerel are in their patented "mac attack" mode and anything you throw out will attract them. The Sabiki-lovers will pull in a mackerel on nearly every hook but inevitably three or four mackerel will tangle that Sabiki in an unmanageable knot and the Sabiki is only fir for the trash can. Sometimes the mackerel are a little less frenzied although their number and fight is the same. When this is the case tie a single hook (size 6-2 depending on size of the mackerel) baited with a strip of squid or a piece of mackerel and retrieve slowly for the hoped for fish. If that doesn't work, fish the bait under a float. Often the macs will also show a morning bite or early evening bite that begins as the twilight is fading. In the dark use a glow stick above your bait. It seems to help attract the mackerel and it's cool watching all the glow sticks heading every which way while the anglers are scrambling to keep their lines from tangling.
Crustaceans. Although the pier is not noted for crustaceans, two species are caught fairly often. The first is spiny lobster and anglers are out every lobster season seeking out the bugs. Unfortunately, many are also caught on fishing lines (illegal), some are caught out of season (illegal), and some are under the size limit but still kept (illegal). It's an ongoing battle.
Crabs too can be caught but for the most part the crabs that are caught are spider (sheep) crabs that look a little gnarly. Most people look at them and them throw them back not understanding that they are good eating (although a little hard to clean).
Exotic or Unusual Species.  Given the location of the pier, the closest pier to Baja, I've always thought that the pier would show some exotic  species from the south, species rarely seen at  California piers. However, we have not had a reliable reporter over the years to provide good input on the catch at the pier. Recent input from "Mav," a longtime angler in the area has provided some interesting feed back. Mav said, "You heard about the Black Skipjack that showed for three days at Imperial Beach Pier in 2015? Everybody made the promise to keep quiet the first day and nobody went to work the next day. Lol. Nasty fish if you don't prep them right. They have to be bled and prepped to be eaten raw. Any heat to the meat and it's cat food (throw-up face). Three small random Sierra were caught by different people that year also." The report may be the first record of black skipjack and sierra (mackerel) being caught from a California pier (although sierra mackerel were reported from the Hotel Del Coronado Pier in the early 1900s).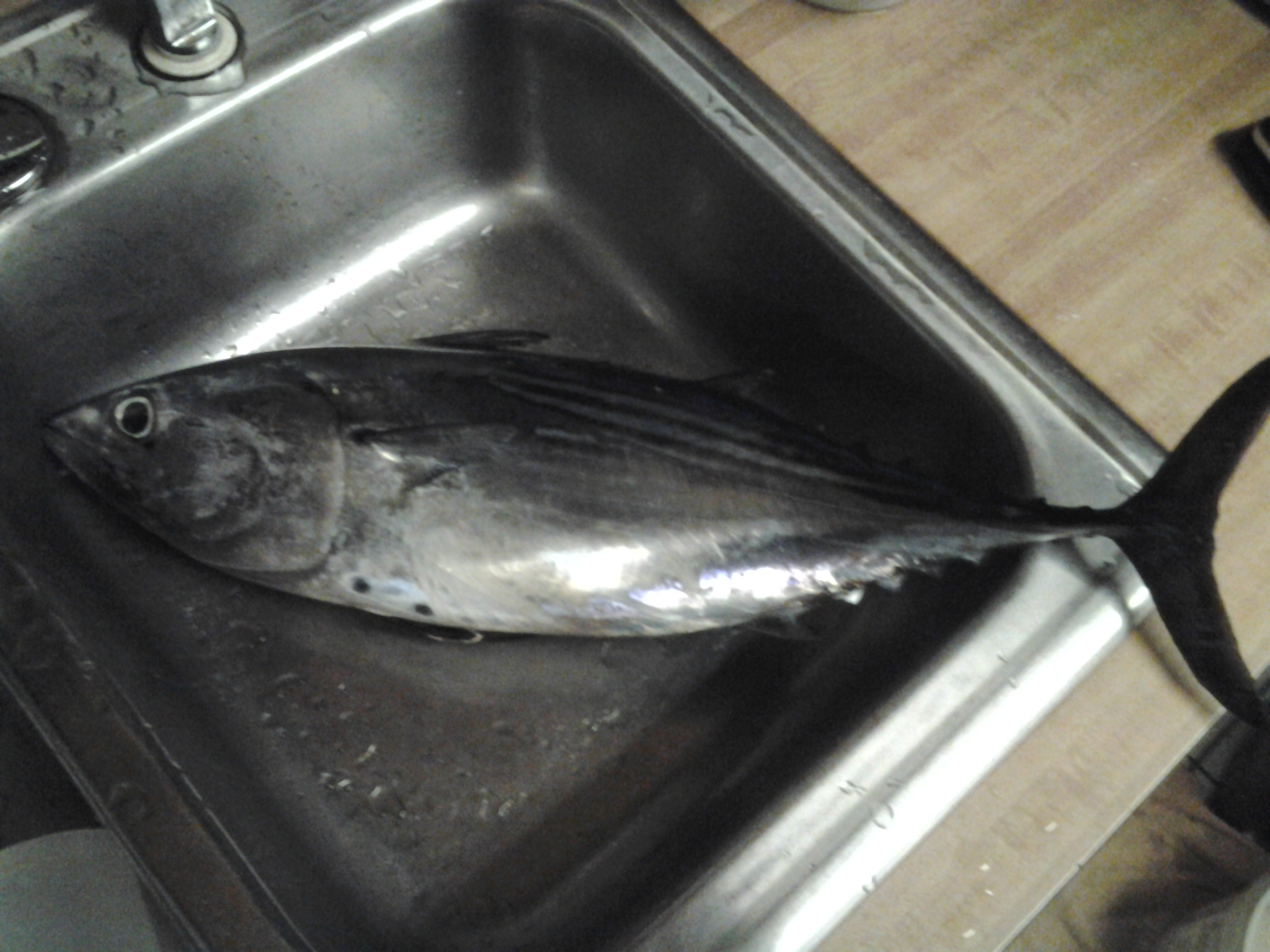 Black Skipjack — 2015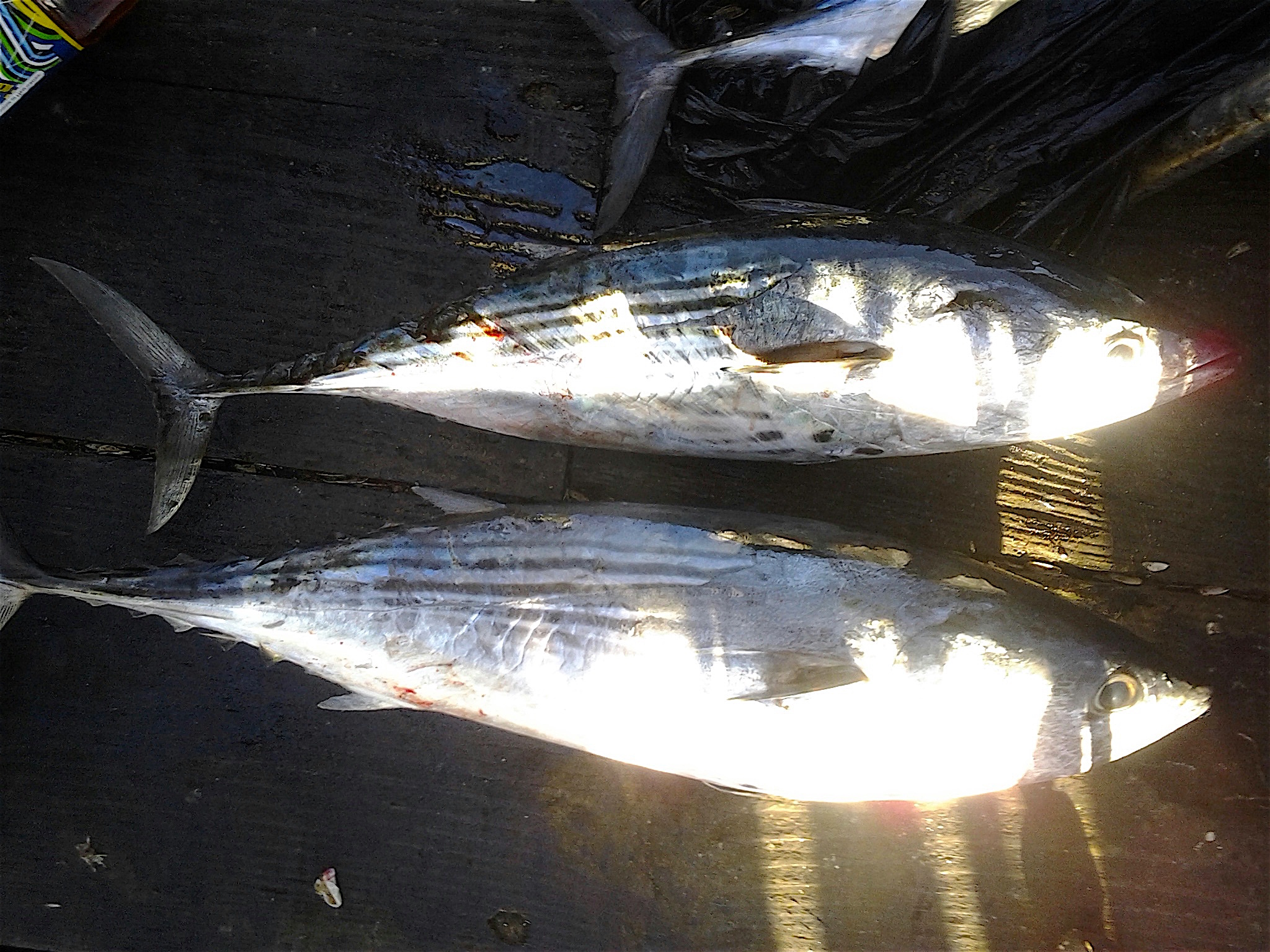 Strange Catches On Fishing Pier
Two fish which were far from home waters were caught off the Imperial Beach Pier this week according to Ralph " Big John" Johnson, operator of the bait shop there. Ordie Weller, Imperial Beach, caught a 5 1/2 pound ling cod in the shallow waters beneath the pier. Shortly thereafter Angelo Asuncion, San Ysidro, landed a 3 1/4 pound silver salmon. A ling cod is normally caught in more than 200 feet of water and the silver salmon is normally only found in Northern California.
—Chula Vista Star-News, April 9, 1967
John Slagle, Chula Vista, landed what Imperial Beach pier people say is one of the biggest cabezones ever caught in these parts. It was a seven pound, two ounce beauty and there's no doubt about this one. The pier people snapped a picture of it and hung it on the wall in case there are any non-believers.
—Chula Vista Star-News, March 27, 1966
The Pier Rats Speak —   A few messages to the Pier Fishing In California Message Board
Date: October 20, 2003; To: PFIC Message Board; From: adiefish123; Subject: Imperial Beach Pier WFO! 10/20
After hearing the inside scoop about the recent hot bonito and mack bite from some nearby locals, I decided to scout I.B. pier to see for myself. Decided to pack light, so I carried my trusty ol baitcaster and a couple 5/8 Krocs, prizm and blue-striped. Fished from 430-600pm. Flurries of bonito and jumbo-sized macks towards the end of the pier, with the majority of the bonies being caught behind and alongside the restaurant. However, it's crowded as hell at the end. I managed to squeeze in for a few mins hoping to score on a couple of boneheads but instead landed a couple of large mackerel, id estimate between 2-3 lbs! Apparently red tide has struck IB and cleared last week, and there has been a resurgence of sardines and anchovies congregated around this pier. Since then the fishing has been consistent and hot! A couple of legal hallies were caught midway on live sardines. Setting was perfect, kelp paddies everywhere to go along with perfect weather. SD crew if you're out there, I strongly suggest to get in on the fun before the bonito start heading back south. Tight lines, adiefish123
Date: February 10, 2004; To: PFIC Message Board; From: mocteuzoma; Subject: Imperial Beach Pier
I'm from San Ysidro (southernmost part of SD) and although I'm currently studying in LA, I would have to say that I catch at least one fish at the Imperial Beach Pier 90% of the time. It depends what fish you are targeting but a good bet is to throw 3" and 4" swimbaits next to the restaurant (between the tables and chairs and north of the gate). This is a good area b/c there there is a sandy bottom next to a big rock structure that has the potential to attract halies. Big sculpin are always a nice catch in addition to other shallow water rockfish. If that's not working, try the surf zone. Throwing small grubs at surfperch can be a blast on light line and there are some big perch there, up to 2/3 lbs. Depending on tide, try the first concrete bench to as you walk on the pier that's on your left (the left is usually the most productive side but I suggest moving around too). Hope this helps, good luck.