For many, many years, a small private pier was found near the marina in Rodeo. It was part of Joseph's Fishing Resort and was simply called Joseph's Pier by most anglers. What perhaps described the pier best are the words hit or miss. When fishing was bad, it was very bad, when it was good, it could be very good. When was it good or bad? It was hard to say; it could be very bad one day and very good the next. There were seasonal variations but they were not as noticeable as piers situated closer to the main bay area.
Nevertheless this was a pier from which many went to sit and relax and hope for an occasional fish; when I lived in the area, I was one of them. There continue to be rumors that a park and pier may someday be built near the site. If so, the lessons learned from the old Joseph's Pier may prove beneficial for the new pier.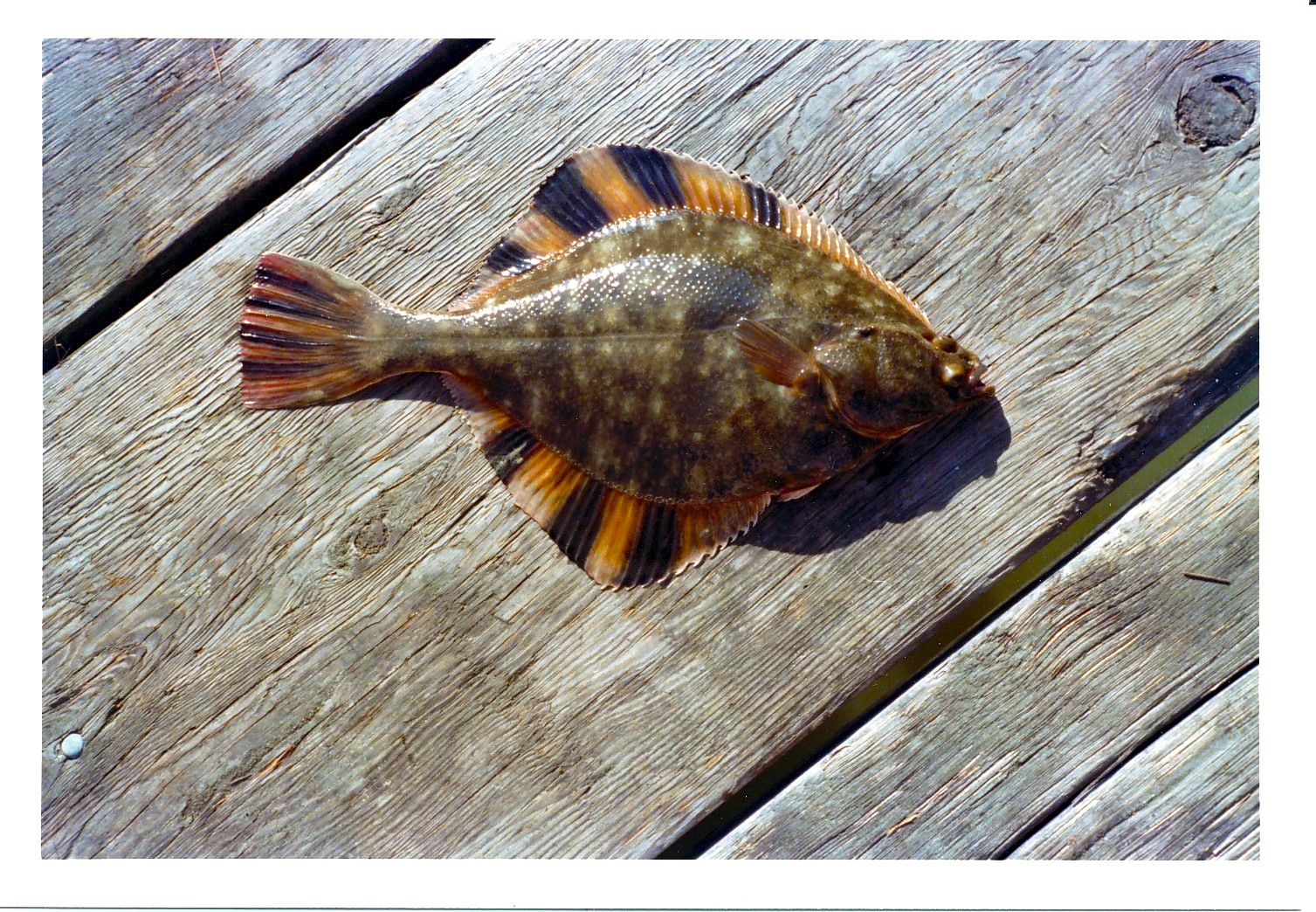 Starry Flounder
Environment. The old pier was short, jutted out into shallow water, and was located over mud with little vegetation. Nearby were rocks along the shoreline but they seemed to have little influence on the pier fishing. In more than twenty trips to the pier I caught only six species of fish: striped bass, starry flounder, bat ray, jacksmelt, shinerperch and staghorn sculpin.
Staghorn sculpin were hard to keep off the hooks on almost any trip, especially during the spring through fall months. Starry flounder were next in line, being caught about twenty percent of the time. Striped bass were caught primarily in the late fall, jacksmelt mid-summer to fall. I never saw any of the larger perch caught on the pier even though I caught very large pileperch and blackperch off both the Rodeo and Pinole shorelines. Sharks were rarely caught off the pier but I caught bat rays and saw others land skates.
Infrequently a sturgeon would be caught but most of the time you simply saw them jumping out of the water. I have been told that when sturgeon are jumping they will not bite. I doubt if this is true, but I have never seen one caught on a day when they were jumping (at least from a pier). Perhaps the sturgeon thought they were trout and needed a dry fly to entice them to bite! Nevertheless, when you see a five-to-seven-foot-long fish jumping completely out of the water it never fails to impress.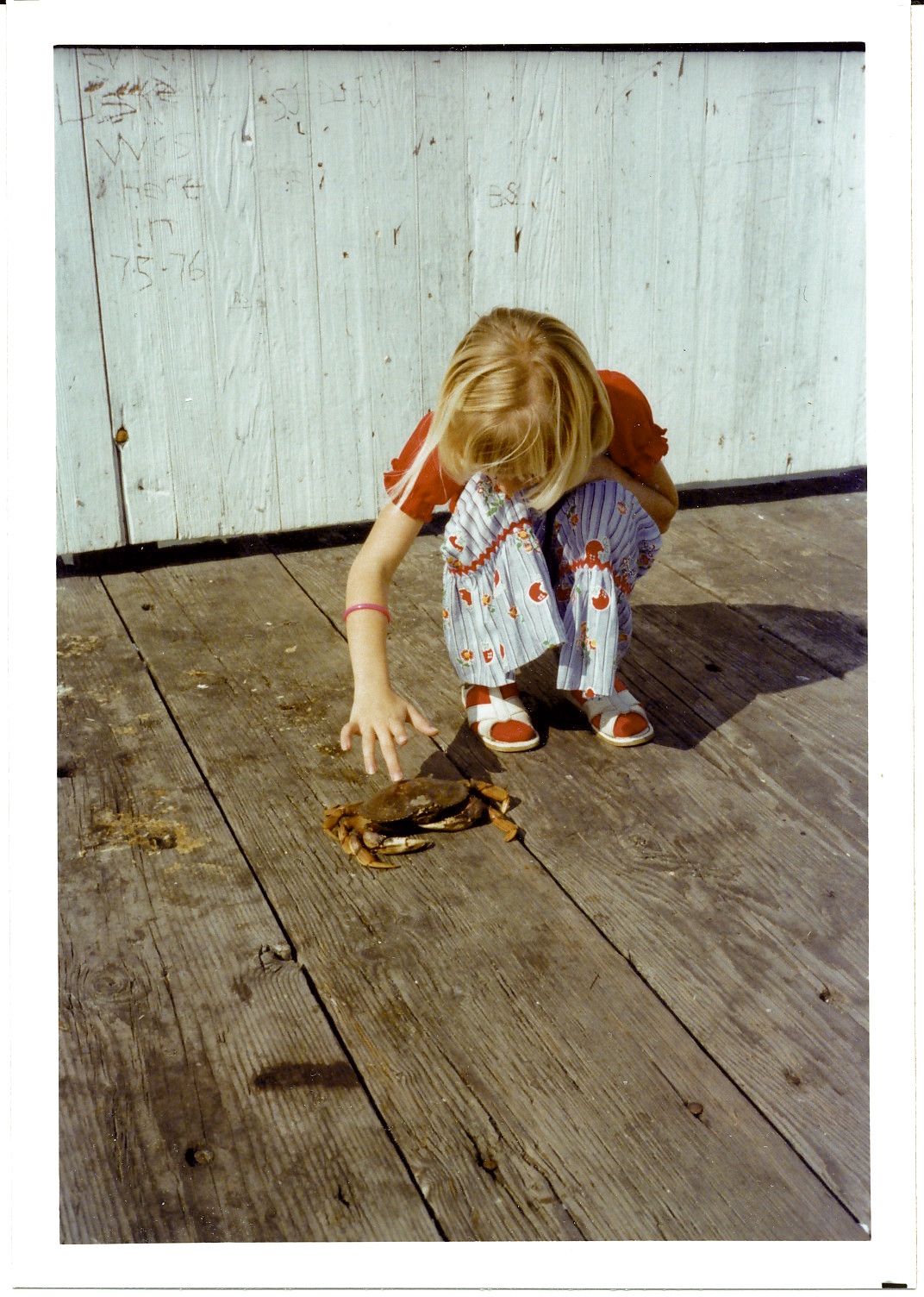 My daughter Kim would sometimes accompany me to the pier. There's nothing like taking a daughter or son or grandchild fishing.
Best bet here for most of the year, and especially from December to April, was to fish for starry flounder using a sliding sinker and grass shrimp,  ghost shrimp, or pile worm for bait, and, at times, you might accidentally hook a sturgeon on this setup. Second best was to try for stripers in the fall using pile worms, anchovies, or an artificial lure. A third option was to try for sharks, skates and bat rays using almost any bait, but especially squid. Best fishing for these critters was on the bottom after casting as far as you could from the left corner. If specifically trying for sturgeon, you needed to remember to fish with a heavy outfit and to have a way to land the fish (on a pier, the odds are on the side of the sturgeon).
History Note. Why Rodeo? This was a shipping site for cattle during the Spanish era and apparently many rodeos took place during the roundup of the cattle.