This was a pier that I fished regularly throughout much of the '70 before I headed north to Mendocino County. I lived in the Eats Bay community of Pinole and during the long summer days could easily drive over from Pinole after work and get several hours of fishing in before needing to head home. Usually I was alone but sometimes I had my young children, Kimberly and Mike, along with me. And, I usually caught fish.
When the first edition of Pier Fishing In California was published in 1992, I gladly included information about the pier — and continued to fish from it when I was in the area. However, the pier was starting to really show its age and a lack of upkeep.
When the second  edition of my book was published in 2005 I could no longer recommend fishing from the pier and wrote the following: Should I include this pier in the book? That was the question I had to consider after receiving an updated report on the pier from "Songslinger" in the spring of '00. I had asked this esteemed angler to look over my comments about his home turf (the North Bay) and his report was less than encouraging. I quote, "I went there and spoke to Mr. Carver, the owner of the marina. It's still okay to fish on the pier, though Mr. Carver (and others present) was anything but encouraging about it. The conditions of the pier is poor to semi-dangerous, with loose plywood patches and even some missing boards that could cause the unaware angler to break an ankle or worse. The railings are not secure. Also, with the retrofitting and new plan for an additional span on the Carquinez Bridge, this area will be suffering construction and detours for the next 10 years. When the pier collapses or they close it because of safety reasons that will be it. The bait shop is gone; so are the party boat facilities."
His comments pretty much describe the conditions I had witnessed on my last visit to the pier in 1998 when much of the pier was closed to visitors. Therefore, it is not a pier that I recommend you visit, nor should you take your children if you do make a visit. You fish from it at your own risk. Nevertheless, it is a pier still infrequently visited by anglers seeking white sturgeon, that elusive but highly prized fish from an earlier age.
Today, it's a pier "Gone But Not Forgotten," but I still have those memories from the earlier days.
Environment. Nestled just under, and to the west, of the Carquinez Bridge, this pier was located in an area once dominated by the California and Hawaiian Sugar Company (C&H Sugar) the main industry in Crockett. Today it doesn't get any sugar from Hawaii but still processes cane sugar from other sources.
The area around the harbor and pier itself were primarily dominated by  the angling fraternity, those  who fished the pier or from boats docked in the harbor. Of course there were also those visiting  the Nantucket Fish Company restaurant, a seafood restaurant built in 1930. The lives of both the Dowrelio Harbor and the restaurant seemed alike, in fact some local anglers used to call the old pier the Nantucket Pier.
The restaurant, known over the years as Dowrelio's, Galley Seafood, and Bouillabaisse was a simple place with good seafood (or at least that's what I thought). However, it too is now history, it closed its doors on February 17, 2019. A much fancier, more modern, and much more expensive restaurant sits on the bluffs above the harbor.
For years the Crockett Marine Service operated several partyboats from the marina that specialized in sturgeon and striper fishing. A visit to the bait shop would reveal pictures of the world record 9-feet, 6-inches long, 468-pound white sturgeon that was landed in nearby waters by Crockett's Joey Pallota in 1983.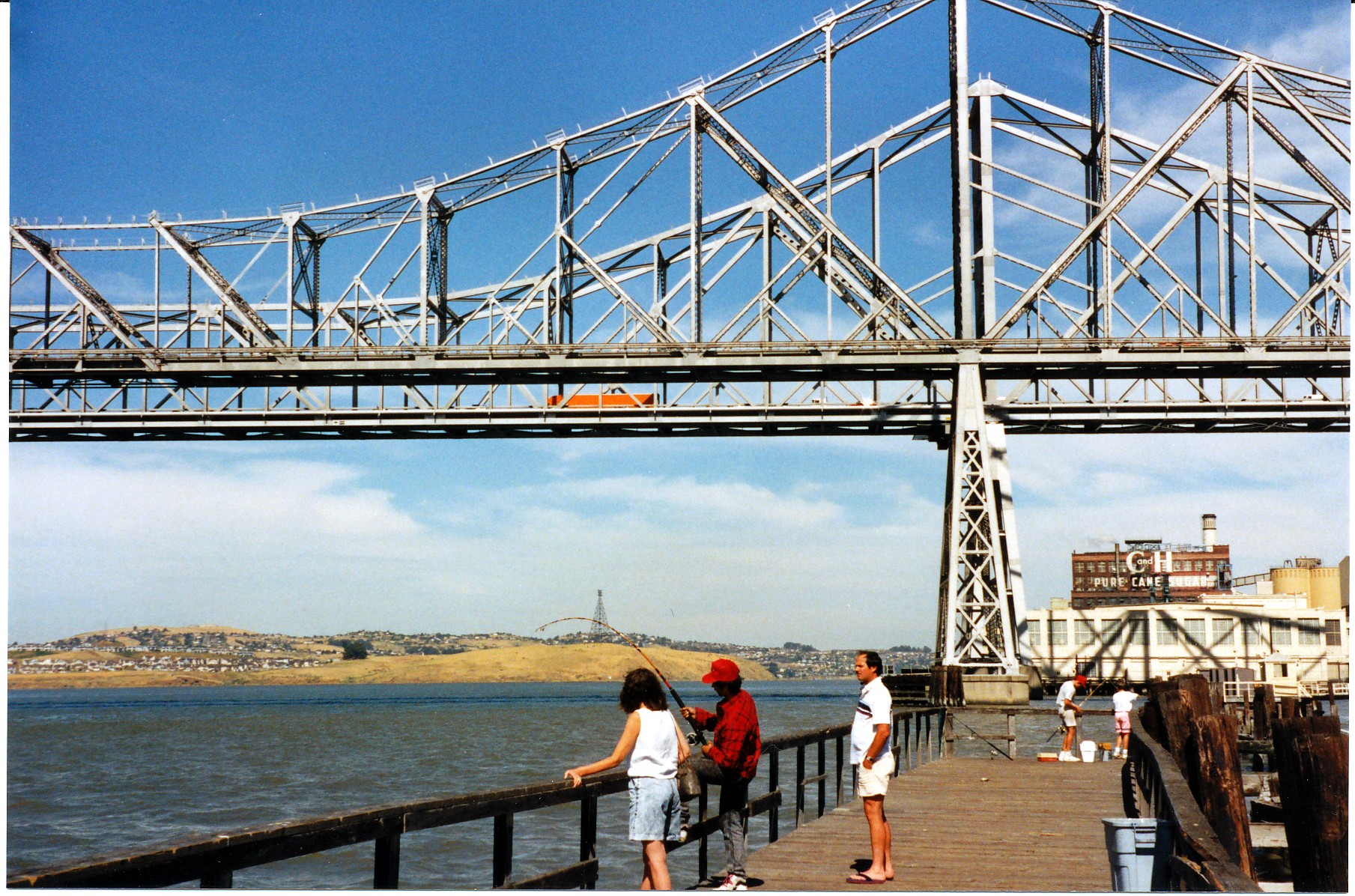 The Carquinez Bridge is the dividing line between areas designated saltwater and those designated fresh water. Fishing regulations thus change at the bridge. Dowrelio's was in water considered saltwater; in actuality the water in the Carquinez Strait is brackish. West of the pier San Pablo Bay begins, water here is very brackish but it becomes saltier as you pass the Richmond-San Rafael Bridge and enter San Francisco Bay itself. East of the pier are the Carquinez Strait, Suisun Bay, and the Sacramento-San Joaquin Delta; the further east or north you go the fresher the water becomes. The pier, being located at the narrowest confine of the strait, just before it widens and meets San Pablo Bay, presented exposure to those fish which travel back and forth from freshwater to saltwater: sturgeon, striped bass, starry flounder, shad, salmon and steelhead. For the first three it could be a fairly good fishing pier, the latter were far less common.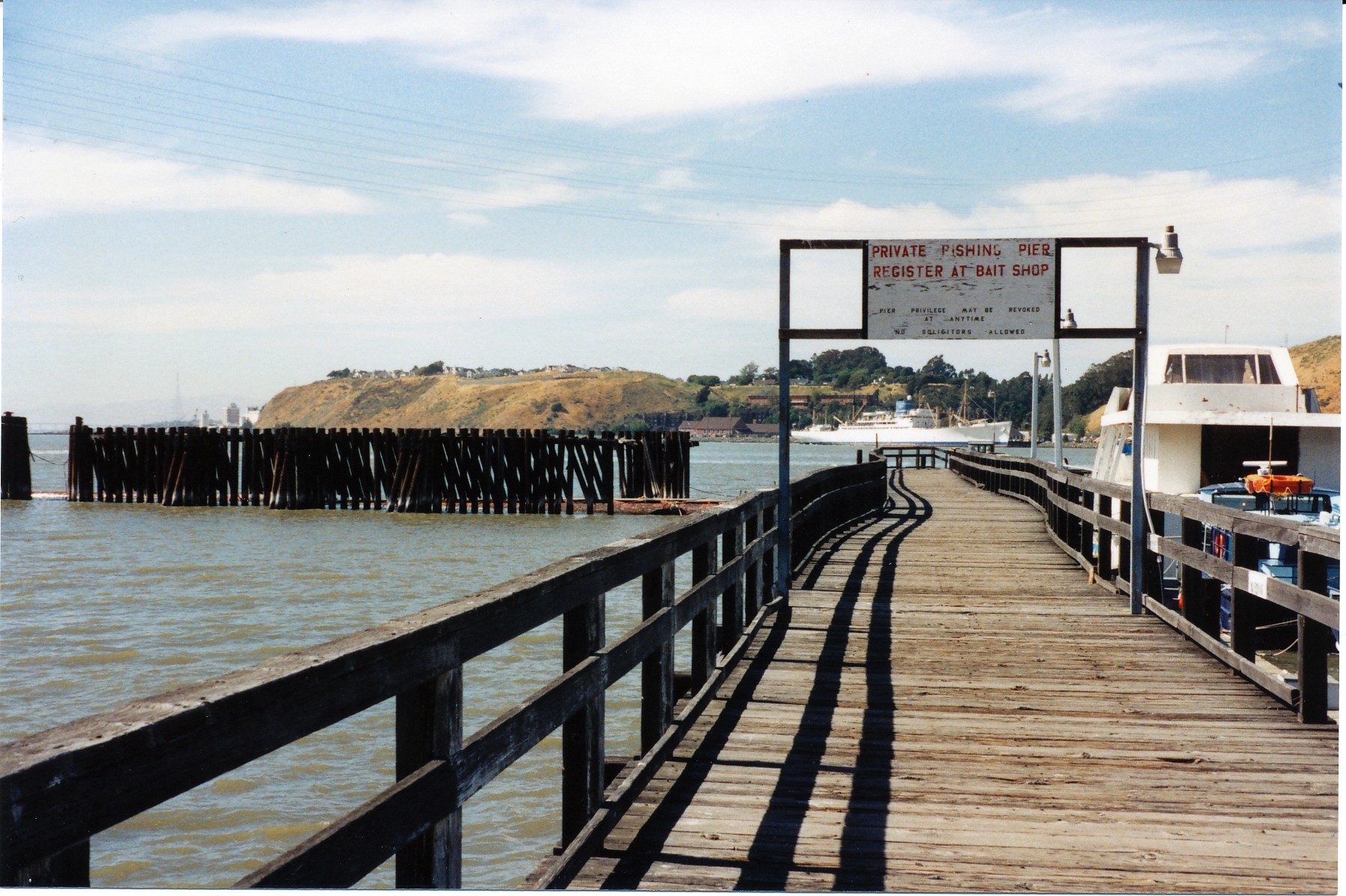 Across the strait sits the TS Golden Bear, the training vessel for the California Maritime Academy (now California State University Maritime Academy)
Fishing. Spring to fall was the time for sturgeon, spring or fall the time for stripers, and winter to spring the time for flounder. All of these were caught on the bottom using a sliding sinker leader baited with grass shrimp, ghost shrimp, mud shrimp or pile worms. Pile worms, anchovies, and sardines could produce stripers or flounder. In the fall a high/low leader, size 4 hooks baited with pile worms, and a cast close to the end pilings, around which there is a strong current, would  produce many small stripers. Sometimes, generally in the winter months, January to March, a few large pileperch might also enter the catch.
Fishing Reports — through the years:  As usual the Dowrelio wharf at Crockett drew a large crowd of enthusiastic Eastbay anglers, many of them taking home a good-size limit. —Oakland Tribune. November 11, 1932
At Dowrelio's Wharf in the Carquinez Straits results were positive. E. H. Harry of San Jose checked in a limit, up to four pounds. R. A. Torres brought in a 10-pounder and several smaller ones. H. F. Spender and M. Manyk hooked eleven between them, from two to four pounds. —Oakland Tribune, May 31, 1934
At Tony Dowrelio's, Crockett, T. R. Hardstay and Pete Pedersen took six bass from three and a half pounds to six and a quarter. —Bob Dwyer, Line On The Sportsman, Oakland Tribune, March 7, 1941
For the past few days anglers have been taking limits at both Dowrelio's Fishing Pier at Crockett and from the Martinez pier. To be sure the stripers only run from "keepers" to four pounders, but after all, these are the best eating size, and that's something to consider. —Mike Dwyer, Line On The Sportsman, Oakland Tribune, December 13, 1944
The striped bass moved into Crockett waters Sunday and were in such a cooperative mood that anglers tossing lines out from Dowrelio's pier accounted for 41 fish. —Line on the Sportsman, Mike Dwyer, Oakland Tribune, September 12, 1950
There seems to be a terrific number of small bass lolling around. Nadine Lessley of Dowrelio's Crockett Harbor told me a Haywardite, Angler Long, with his wife and daughter, claimed that the family, fishing from the Crockett Pier, hooked and released 158 striped bass in order to take home three keepers. —The Fishin' Fool, Ralph Stevens, San Rafael Independent-Journal, September 7, 1961
Both Rodeo Marina and Dowrelio Harbors showed a spurt in midweek action…Bullhead fishermen took the top fish… but the best one came off Dowrelio Pier. It hit 13 ½ pounds. —Andy Morgensen, Oakland Tribune, March 16, 1962
Jeffe Valderama of Crockett caught his first fish and it was one for the books. It was a 67 ½ inch sturgeon that tipped the scale to 85 pounds. He got it on bait off Crockett's Dowrelio Pier. —Andy Morgensen, Oakland Tribune, June 12, 1962
Congratulations to a San Lorenzo lad for landing a legal size sturgeon from the pier at Dowrelis. Name? Joe Gaipo. —The Fishin' Fool, Ralph Stevens, San Rafael Independent-Journal, July 19, 1962
A sturgeon weighing in at 130 pounds was landed (at low tide) from Dowrelio's Pier this past week: measured six feet, four inches and had a 34-inch girth. —San Rafael Independent-Journal, November 27, 1962
(Yearly review) In March… Oaklander Bill Lillenthal started all with a 41-pound striper off the Dowrelio Pier. —Andy Morgensen, Oakland Tribune, January 1, 1963
Winds whipped most San Pablo Bay anglers, but Mrs. Gladys Siles of Oakland beat 'em all by landing a 52 pound sturgeon off the Dowrelio Pier at Crockett. —Andy Morgensen, Oakland Tribune, May 21, 1963
From the Contra Costa side of the San Pablo, the word was as good — maybe even better. Nadine Lessley of Dowrelio's Harbor at Crockett chortled with glee at being able to say: "They're here, Steve! Lots and lots of them…Even the pier paid off with fish to 20 pounds. Not many but at least three that I checked from 16 to 20 pounds. The average was probably around 8 to 10 pounds, but there were a flock of them in that weight range. —The Fishin' Fool, Ralph Stevens, San Rafael Independent-Journal, November 1, 1963
Lowell Biagi of Dowrelio's Crockett Harbor reported… John Gamba of Vallejo fished from the pier and won out over a monster (sturgeon) measuring six feet, six inches in length and weighing 130 pounds. —The Fishin' Fool, Ralph Stevens, San Rafael Independent-Journal, March 17, 1964
Nadine Lessley at Dowrelio's Crockett harbor noted that two stripers to 13 ½ pounds were taken on bullheads from her pier. —The Fishin' Fool, Ralph Stevens, San Rafael Independent-Journal, December 4, 1962
Charles Schmelz of Crockett is the top fisherman in his area. He landed a 52-inch sturgeon Friday off the Dowrelio Pier, then hauled in a 33 pound striper Saturday. He topped off the week with a 60-inch sturgeon Sunday. How about that? —Andy Morgensen, Oakland Tribune, October 18, 1966
Two additional reports are of interest although they concern two different piers in Crockett.
Proof that high winds, hell and high water will not stop a real striped bass fisherman was presented by Christian C. Holtum, chaplain of the tenth district, American Legion, and past commander of Piedmont Post. Fishing alone the other day off Bill's Pier at Crockett in a wind storm that made it almost impossible to cast, Holtum had the strike he had been shopping for. In fact a strike that was a little more than he had hoped for as he was fishing with 5-0 hooks and light tackle. After making sure he had the striper hooked, he realized that it would be impossible for him to play the fish, and handle the gaff from the high pier. He concentrated on one thing at a time, the first job, playing the fish, taking him more than 25-minutes. Finally when he saw the fish turn on its side he stuck the rod in a hole in the pier and climbed down with the gaff to do the final honors. The fish 22 ½ pounds, 38-inches long, was weighed in by Mazie Davis. Lucky Bait Shop. —Bob Dwyer, A Line On The Sportsman, Oakland Tribune, December 12, 1938
This week again we have to give top credit to the ladies, both for fish caught and the courage to brave any kind of weather to go out after them. Mrs. Robert Claiborne, who has been making the column at regular intervals lately, took Mrs. Louis Gomes with her to Martin's Pier at Crockett and caught fish despite a pouring rain. "These lady fisherettes," writes Bait Dealer Lee Anderson, "bought their bait and left in a pouring rain. They just pulled their raincoats around them and let 'er pour." On this trip they left his store at noon and were back in at 4:30 p.m. with a three, six, seven and eight-pounder. Both warned that the fish were hitting very light and had to be struck the minute they touched the bait. —Bob Dwyer, Line On The Sportsman, Oakland Tribune, March 7, 1941
History Note. The town was named in 1881 for Judge J.B. Crockett of the California Supreme Court. Its early history was primarily that of a port. Later, the large J.L. Heald Foundry brought an industrial tone to the city. Still later, the foundry buildings were acquired by the C&H Sugar Company. When the Carquinez Bridge was completed in 1927 as "the World's Highest Bridge," the easy pace of the town was changed once more. Today though it seems to have recaptured its small town flavor.