Most any month may produce small brown rockfish although summer months are peak. They are really too small to keep but give great fun for the youngsters in the group. Use size 8 hooks on a high/low rig and bait up with pile worms or small pieces of shrimp.
Striped bass are, of course, one of the most popular species. Best times will be the spring and fall months with a variety of baits and lures producing the fish. Favorite baits include cut anchovies and sardines, pile worms, ghost shrimp, bullheads (staghorn sculpins) and mudsuckers (longjaw gobies). High/low rigs with hooks size 2 to 2/0 as well as sliding sinker rigs can be used for the bass. Popular lures include Fish Traps, Hair Raisers, Rapalas and Kastmasters.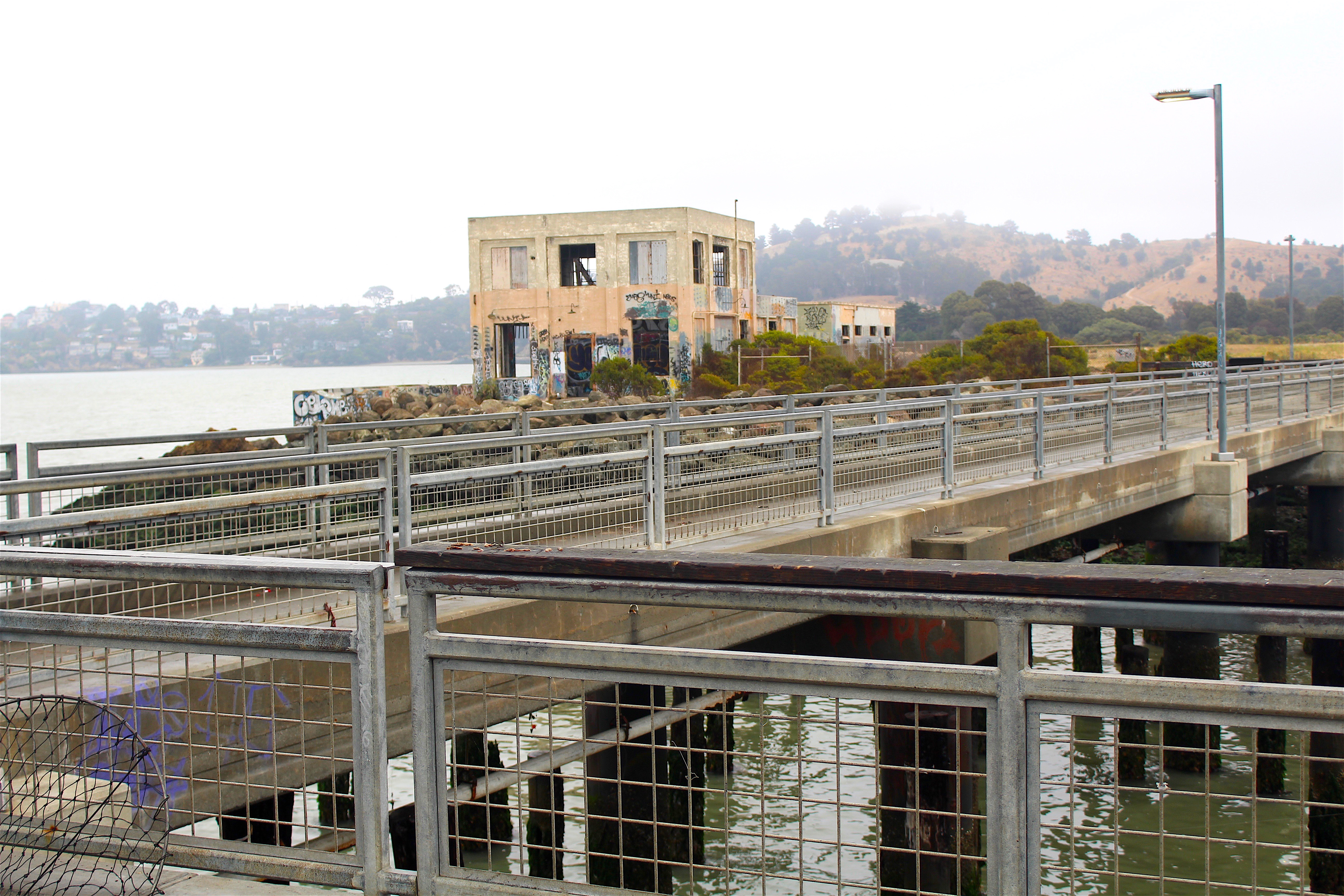 Another prize fish is white sturgeon. Winter and spring, especially when there is a good run-off from inland waters, will sometimes produce a few fish (and two sturgeon were reported during the first month the pier was open). In addition, most years see Pacific herring spawn by the pier, generally January-February, and the pier may be lined with fisherman casting out their nets and filling buckets with the fish. Sturgeon too will be attracted to the pier's waters.
Sturgeon, with their syphon-like mouths (sort of like vacuum cleaners), cruise along the bottom sucking up whatever food they happen to find. When the herring enter the bay to spawn they carpet some of the shallow areas with their sticky masses of eggs. When that happens, the carpet slurpin' sturgeon are in 7th heaven and it's one reason why the herring roe is sometimes used for bait. Of course some anglers also swear by herring fillets and will add a little Pro-Cure herring oil to the bait. Then again, some locals tell me that they rarely catch sturgeon during the herring runs, perhaps the big fish are already too stuffed with food?
Most of the year the prime baits for the sturgeon are ghost shrimp, blue mud shrimp, grass shrimp, and eel and all work — at times. Unfortunately, less and less bait shops seem to have live bait; it's a risky business. If you decide to seek out the big bruisers be sure to have stout tackle, a net, and perhaps a friend or two to help you net the elusive diamondbacks. Also remember (1) that only fish between 40 and 60 inches can be kept (smaller and larger fish must be returned to the water), and (2) you need a sturgeon card if you're fishing for the sturgeon.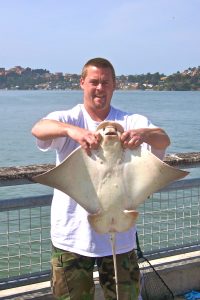 A small bat ray
Perhaps the most common fish, especially during the summer months are the sharays — sharks and rays. In fact, bat rays are one of the most reliable fish at the pier. Guaranteed fish? I was told by a regular that a diagonal cast out from the far left corner of the pier will almost always guarantee a bat ray (and the regulars are usually the ones who know). Whatever the case they are one of the most common fish and often they are huge with some of the old mama bat rays approaching 100 pounds or more. You need appropriate, strong tackle, a good saltwater rod and reel, at least 50-pound test line and a net to bring the bat rays (aka mud marlin) up onto the pier.
Some are caught on high/low rigs but more will be caught with sliding sinker type rigs, strong 2/0 to 4/0 hooks, and squid for bait. They will hit any hour of the day but are really on the prowl during the nocturnal nighttime hours.
Leopard sharks and brown smoothhound sharks are also common. Most of the smoothhounds are small, less than 30 inches in length, while some of the leopards can reach nearly five feet in length. The smoothounds will hit on most bait but oily baits like anchovies and sardines and/or bloody baits like mackerel are generally the best bait. Squid is also commonly used for the smoothhounds. Leopard sharks will take all of these baits but often prefer live bait such as a midshipman or a mudsucker. Hooks size 2 to 4/0 are used with both high/low and sliding sinker rigs working.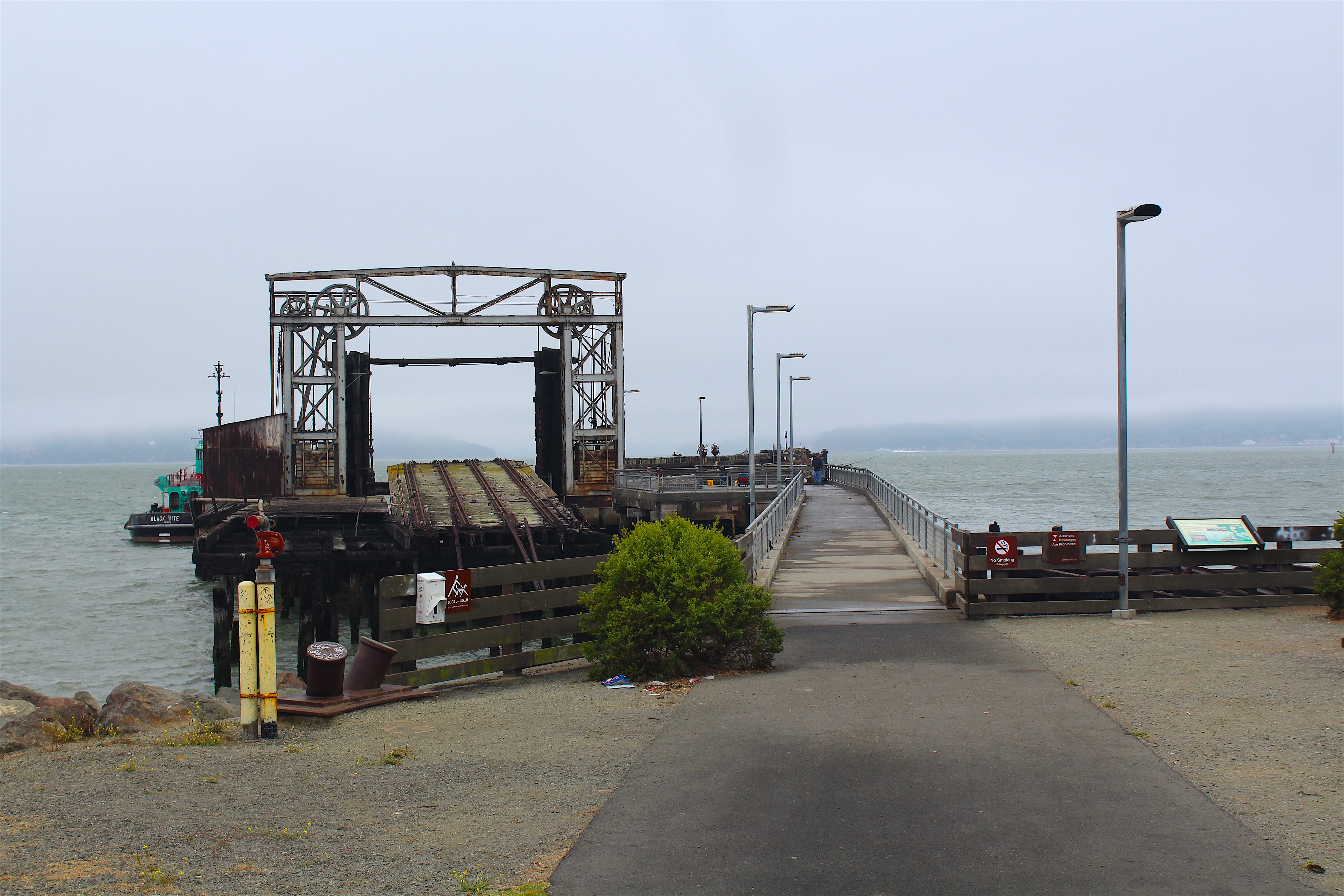 By the way, in talking to a local one day (Eloy) he told how he had once overturned some inshore rocks looking for pile worms but instead found a number of midshipmans, fifteen in all, in a small space under the rocks. He now checks the rocks on a regular basis. So, live bait may be available.
Since the pier is near moderately deep water, a number of 7-gill sharks will also be landed and some may approach pretty good size. As with all sharks and rays, have a medium to heavy size rod and reel, an appropriate rig (in this case a wire leader) and a way to bring them up onto the pier.
Finally, there is the possibility of seeing king salmon passing through the area, generally in the fall months as they head inland toward their birth streams. Although common in the area, very few will be hooked or landed. Salmon generally have stopped eating by the time they reach these waters and (wisdom has it) can only be hooked by lure. Since few anglers seek out the salmon at the pier, it stands to reason that few of the trophy fish will be hooked.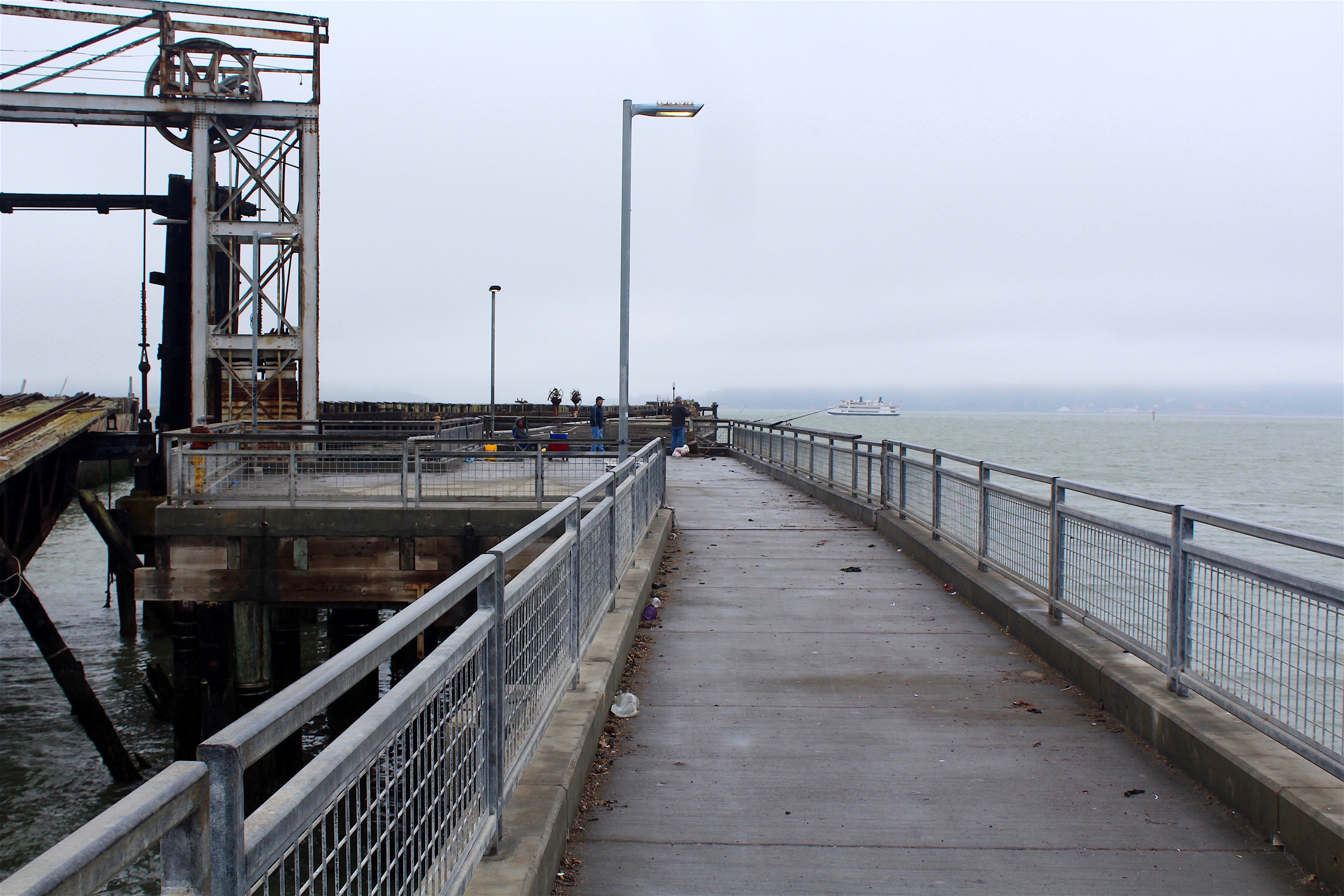 A dirty pier one cold and gloomy morning
Although fairly uncommon for the area, both lingcod and kelp greenling have been reported from the pier.
The most unusual catch, by a long shot, was the reported catch of a triggerfish in September 2016. Although no photo has surfaced, numerous people reported seeing the fish being caught by a little old lady who, soon after, asked PFIC for help in identifying the fish. She reported that it had "weird, human-like teeth, a strange little tab near the top of the head [a fin with a spike?], and a tail with one long point at the top and one at the bottom. "After seeing a picture of a finescale triggerfish she reported that yes, that was the fish. Although its range is recorded north to Alaska, finescale triggerfish are considered uncommon north of Baja California and rare north of Southern California. It's hard to say what it was doing on the east side of San Francisco Bay.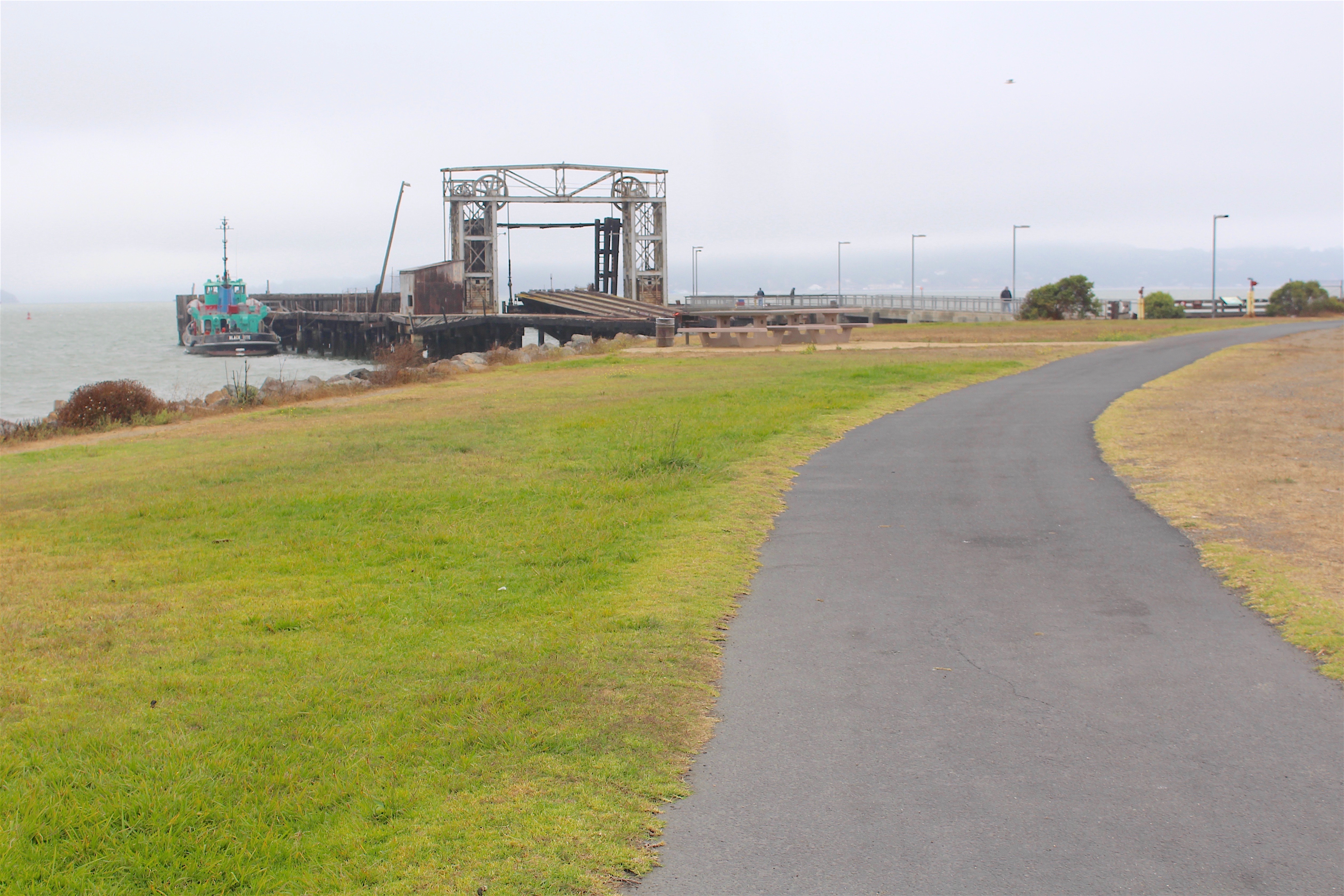 Potpourri
<*}}}}}}}}}>< — This is the only pier that I fished before its official grand opening. I had been eagerly awaiting its opening when I received an e-mail early in 2002 announcing that yes indeed, the pier was finally open. Soon after, I headed down to the pier to try it out. What I found was unexpected: a smallish pier devoid of fish cleaning stations, adequate trash cans, bait cutting stations or even well designed railings. The pier was a major disappointment even though I was glad it was finally open. Overall it gave the appearance of an ill-conceived, hastily constructed, Mickey Mouse job. It surprised me because the East Bay Regional Park District normally does a good job with its piers.
What was expected was a group of anglers fishing and they already had a few perch to show for their efforts. However, upon leaving I noticed a sign laying face down near the entrance stating that the pier was not yet open. And upon arrival back home I received another e-mail message, this one stating that there was some confusion about opening dates and that anglers might possibly receive tickets if they fished from the pier.
A little confusing and it didn't get any better during the next couple of months as anglers continued to use the pier and authorities kept saying it wasn't officially open. A plethora of reasons were given but to this day I've never heard a conclusive explanation as to the cause of the delay (although a shutoff of promised funds may have been the reason).
By the way, my first visit, on February 27, 2002, a short hour and a half trip, produced a less than impressive 7 fish: 5 blackperch, 1 bonehead sculpin and a shinerperch. However, subsequent trips later in the spring proved to be much more productive.
The pier is built on the site and remains of the old Santa Fe Ferry Landing, residue that still dominates the scene at the end of the point. It became a popular site for local fishermen as the railroad activities decreased in the '70s but was partially burned down in 1984. After that, the inshore section of the pier was removed and the pier's use by anglers ceased.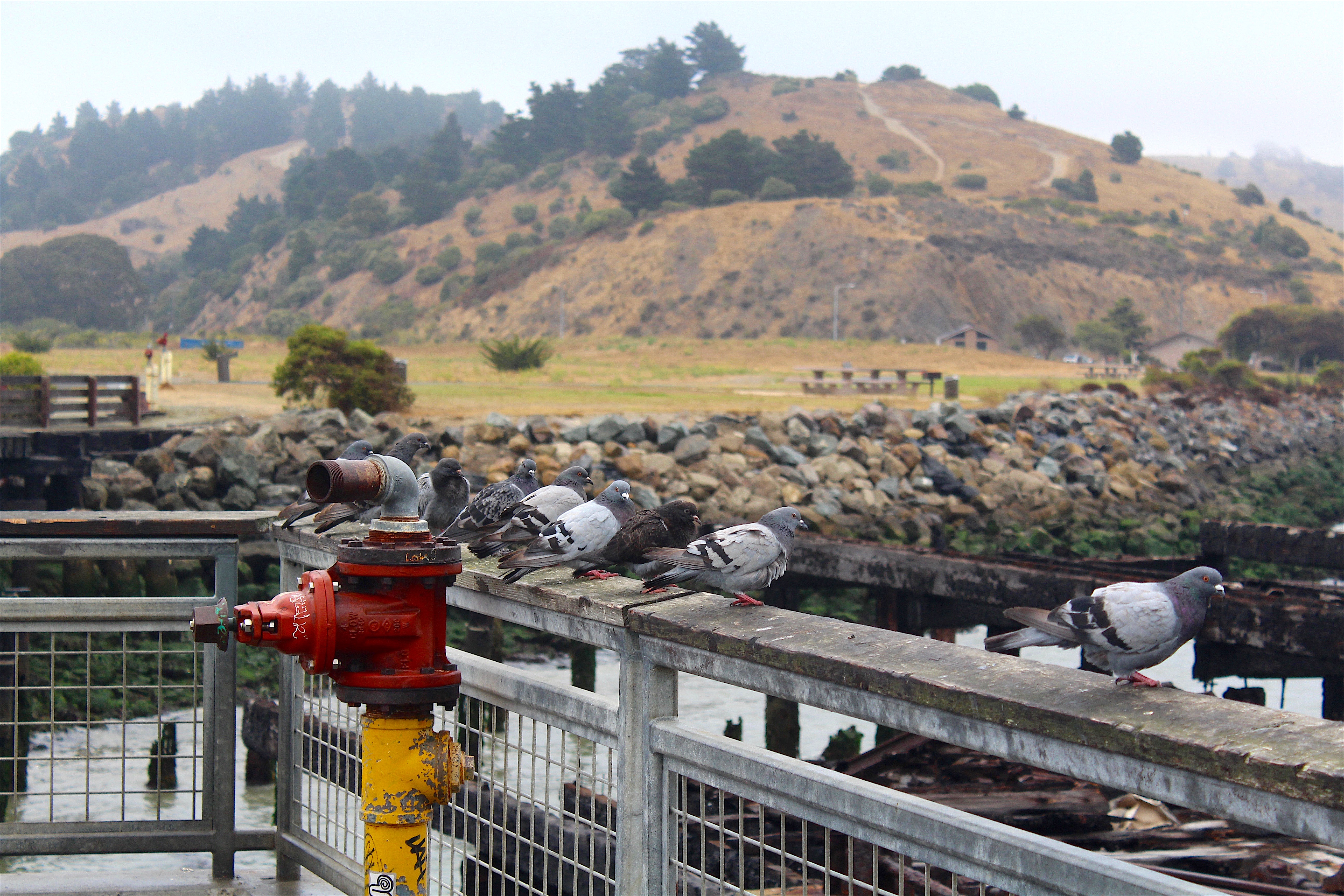 <*}}}}}}}}}>< —  Fish surveys done by the Department of Fish and Wildlife show jacksmelt as being the number one fish caught at the pier as far as sheer numbers but they also show that jacksmelt were not counted every year (undoubtedly simply missed). White seaperch and black seaperch were counted every year of the survey and they led the list of perch followed by (in numerical order) walleye surfperch, shinerperch, pileperch, striped seaperch, and rubberlip seaperch. White croaker were surprisingly not that high in the counts and while cabezon, kelp greenling and bat rays were counted at the pier no sharks were counted. Again, they were undoubtedly missed.
<*}}}}}}}}}>< — An old shark tale: Girls Battle With Savage Shark — Man-Eating Monster, After Hour's Battle, Captured by Two Fair Heroines
RICHMOND, Aug. 15. — Battling for almost an hour with a seven-foot shark of the man-eating variety two Richmond girls yesterday afternoon captured their prize off the wharf of the Richmond Navigation Company. The girls were Miss Marguerite Lauritzen daughter of Captain H. P. Lauritzen, head of the navigation company and Miss Gladys Pratt, who is visiting at the Lauritzen house. The fish, after being exhibited for several hours on Washington Avenue, was later tethered by a line to the wharf, where it may be viewed by curious visitors.
Miss Lauritzen and Miss Pratt watched the huge fish for several hours before they made up their minds to capture it. They then secured two large hooks, which they spliced to long poles. The torment then commenced. Finally one of the young women managed to hook the shark in the gill, and they almost landed it when the splicing broke and the hook was released,
The fish then dived out of sight, but soon reappeared. With a quick and steady jab one of the hooks was thrust into the side of the shark, about a foot below its side fin. The combined strength of the two young women was required for its freedom. Without enlisting the aid of anyone, however, they finally brought the monster to the wharf.
Captain Lauritzen was then informed of the catch. When he viewed the fish he almost collapsed. Loading it onto a large auto truck, he carried it into the city, where he had it weighed. The fish, which is apparently about ten years old, tipped the scale at 149 pounds. It measured seven feet and three inches in length.
Both Miss Lauritzen and Miss Pratt are justly proud of the feat, for real man-eating sharks are very seldom seen in this section of the bay and are but seldom captured.
—Oakland Tribune, August 15, 1914
<*}}}}}}}}}>< —The scene at the pier! Some decry the decay and gritty nature of the pier, others find it interesting. What was that building? How many kids sneak in there at night? How did the machinery work on the landing? How were those various cables used? A million and one questions.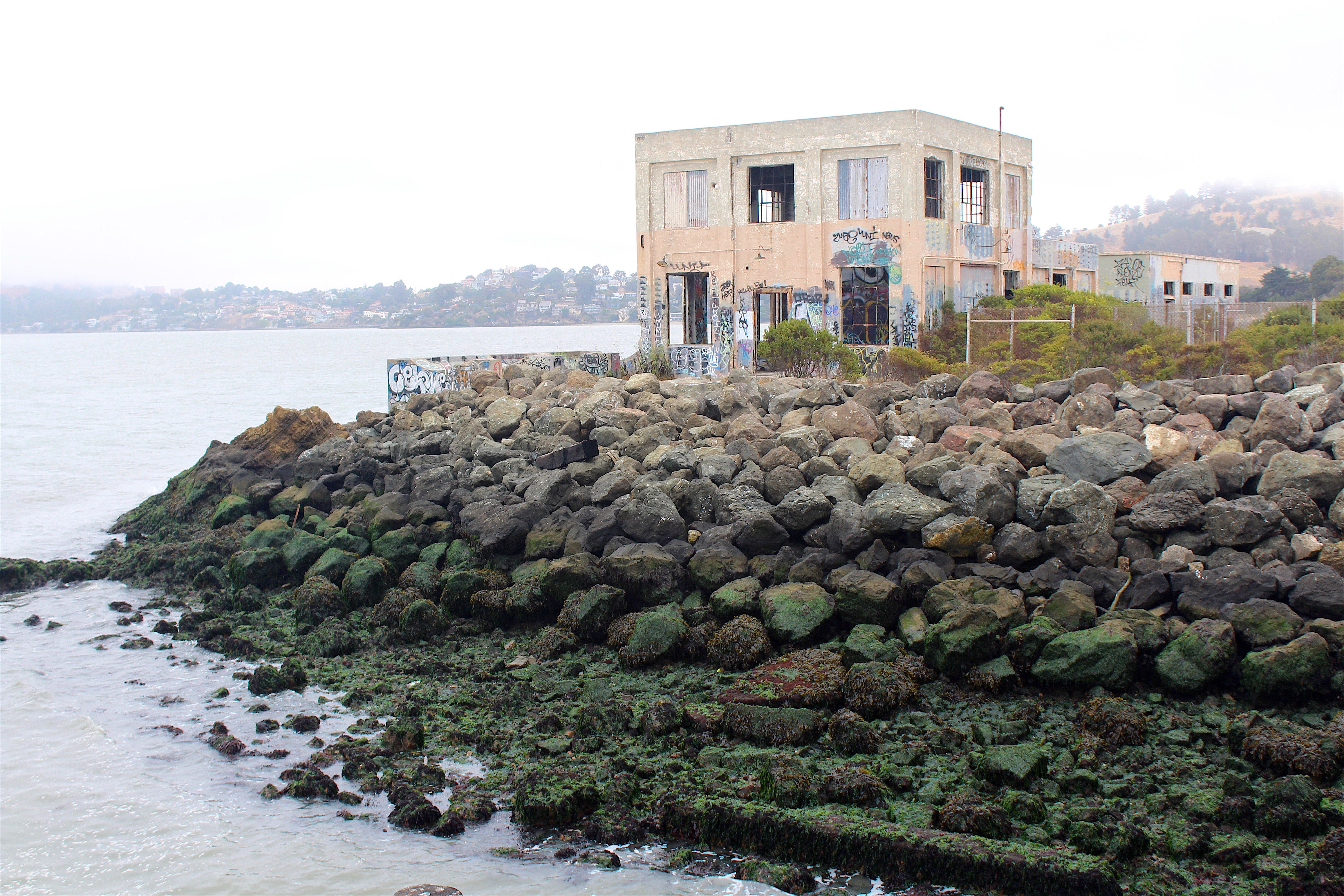 This old building is used by kids and the homeless at night.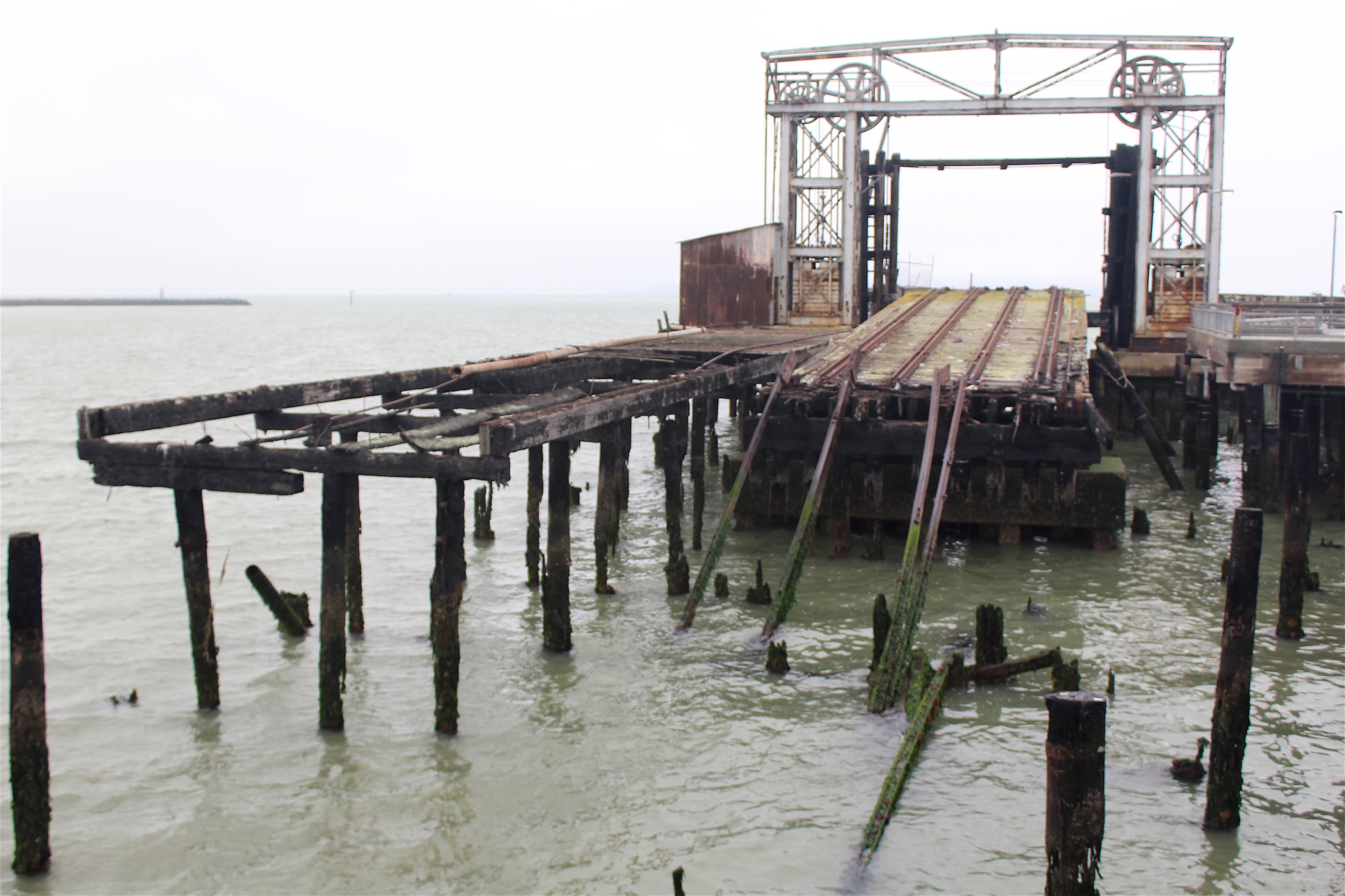 The old Ferry Landing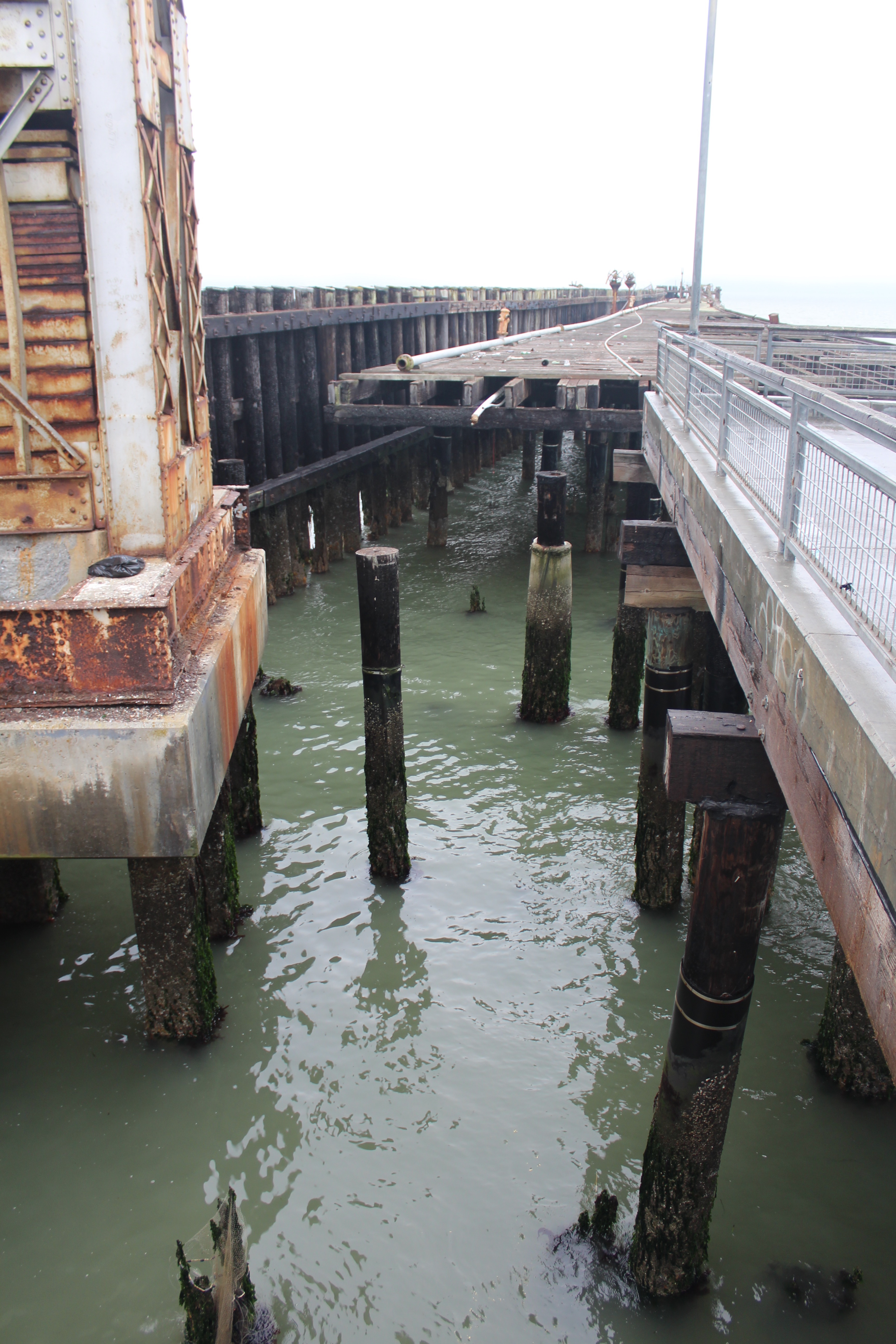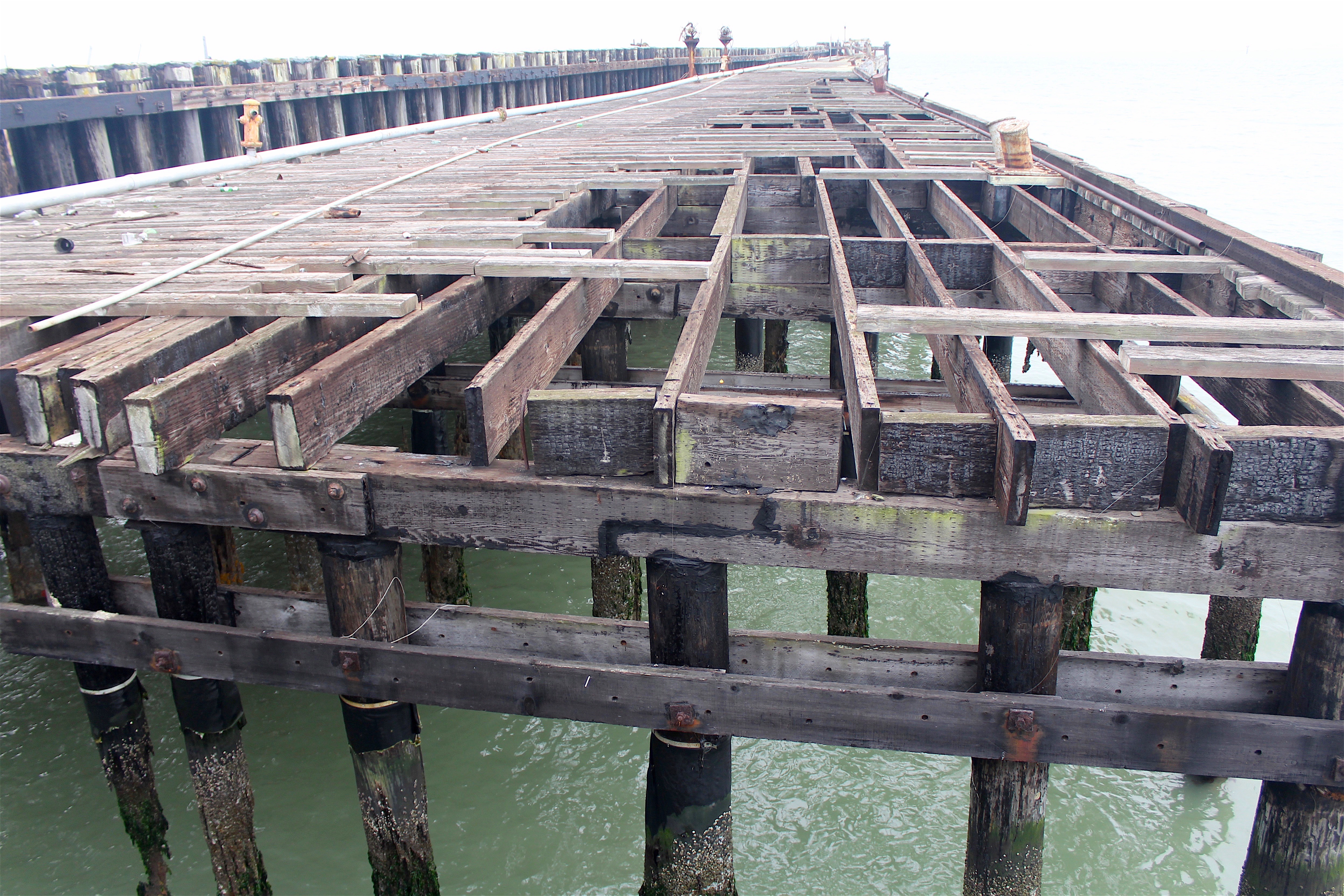 A pier built to the end of the structure would have meant more fishing space and more fish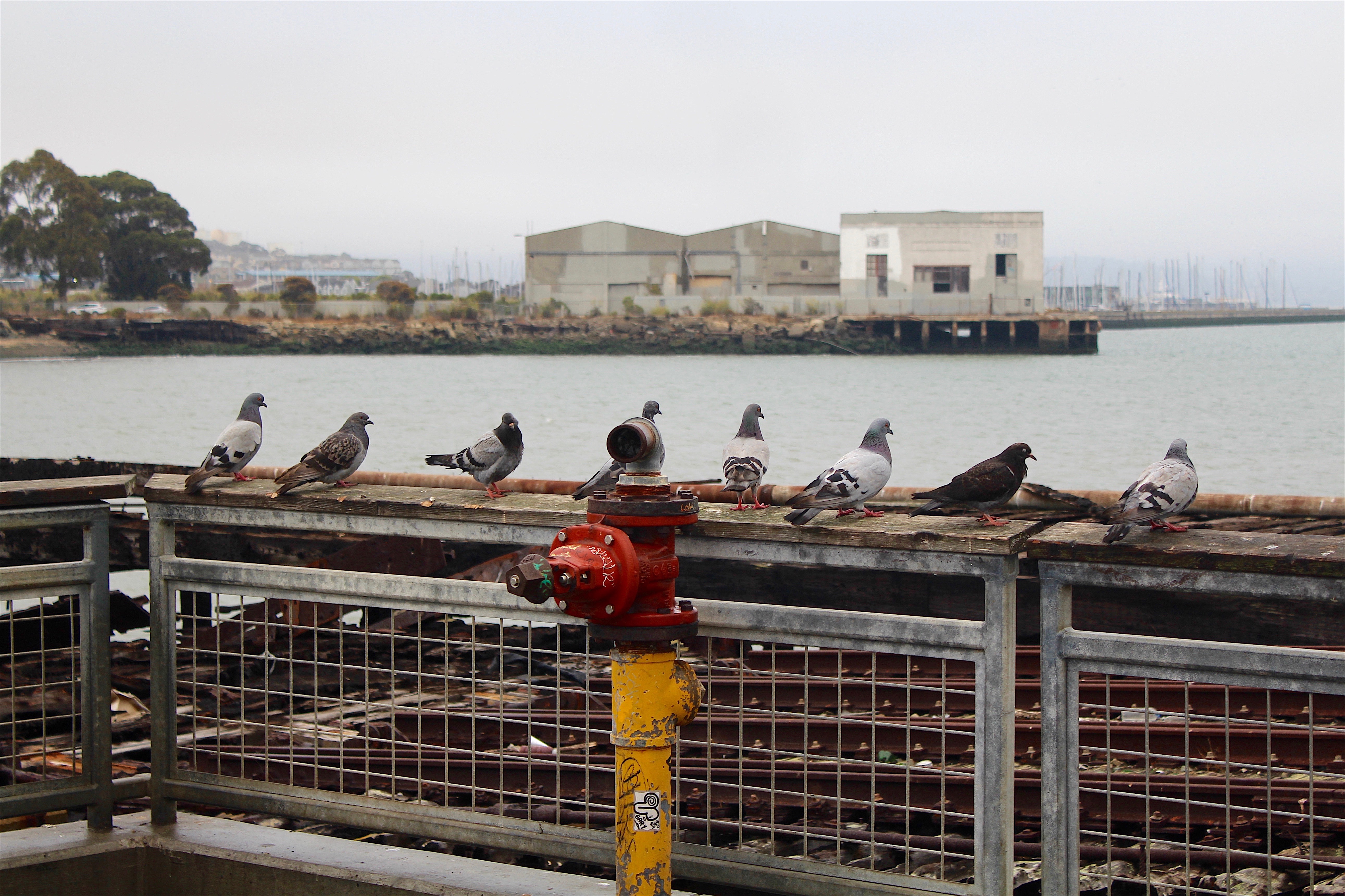 Da Birds!
<*}}}}}}}}}>< — Special Bay Area Regulations:
A perch closure exits in San Francisco and San Pablo Bay from April 1 to July 31. No perch may be kept other than shinerperch (20).
In San Francisco and San Pablo Bay a fishing line may not contain more than three hooks.
Sturgeon Regulations:
A sturgeon report card and tags are required for anyone fishing for or taking sturgeon. (a) The card must be in the angler's possession; (b) a tag must be used for any sturgeon retained by the angler; (c) the angler must record information on the Sturgeon Report Card immediately after catching and   keeping or releasing the sturgeon.
White sturgeon can only be kept from 40-60 inches; larger and smaller sturgeon must be released.
Green sturgeon may not be taken or possessed.
History Note. The area today known as Point Richmond was long the home of native Americans before coming under control of the Spanish in the early 1800s. The area became known as The Potrero (pastureland) of Don Francisco Castro's huge Rancho San Pablo; later the point was called Point Stevens, appearing on charts of the Bay in 1850. Finally, a U.S. Government survey party designated the point of land jutting into the Bay as "Point Richmond."